It's halfway through October and we are well and truly into Autumn now. I've said it so many times recently but I'm going to say it again anyway – I don't know where the time is going. I blink and it feels like whole weeks have disappeared without me realising.
I've been meaning to write this post since the start of September. I love the warmth of summer but Autumn is definitely my favourite season. The chill in the morning air. The leaves starting to change colour and carpet the ground in layer upon layer of reminders to let go of the things we don't need to hold on to any more. The incredible light at this time of year – awesome sunrises and sunsets that seem to light the sky on fire in contrast to that gorgeous golden glow of the late afternoon sun. The first frost combined with clear blue skies, giving way to moody clouds and evenings that make you want to snuggle up on the sofa with your loved ones. Warming, nourishing, healing food. The return of Strictly Come Dancing and The Great British Bake-Off. Crisp walks in the sunshine in boots and jumpers and scarves. I love it all!
We always have a Summer Bucket List for those lovely sunshiney months and the six-week holidays, so I've decided to create one for Autumn as well. Because why not? There is just as much fun to be had in this season as during the warmer weather and as a family we already have a few traditions that we like to do each year anyway.  So the girls and I sat down and wrote a list of all the things we'd like to do during September, October and November – including some new things we'd like to try and new places we'd like to explore!  Some of them we've already done and they've been lovely, and some we're saving for half term.  Here's what we've got planned:
1.  The 'Stepping Stones' Walk
This is one of my favourite local walks to do in Autumn – the leaves changing colour on the trees is glorious, plus it gets us out of the house and in the fresh air stretching our legs after those long weeks at school and work.  These photos are from last year.  We have actually already ticked this one off the list this year – the girls and I went last Sunday while the husband was at work – but I'm saving those photos for a separate blog post as it was such a beautiful day and we had a really lovely time together that I wanted to document it properly in a dedicated post of it's own.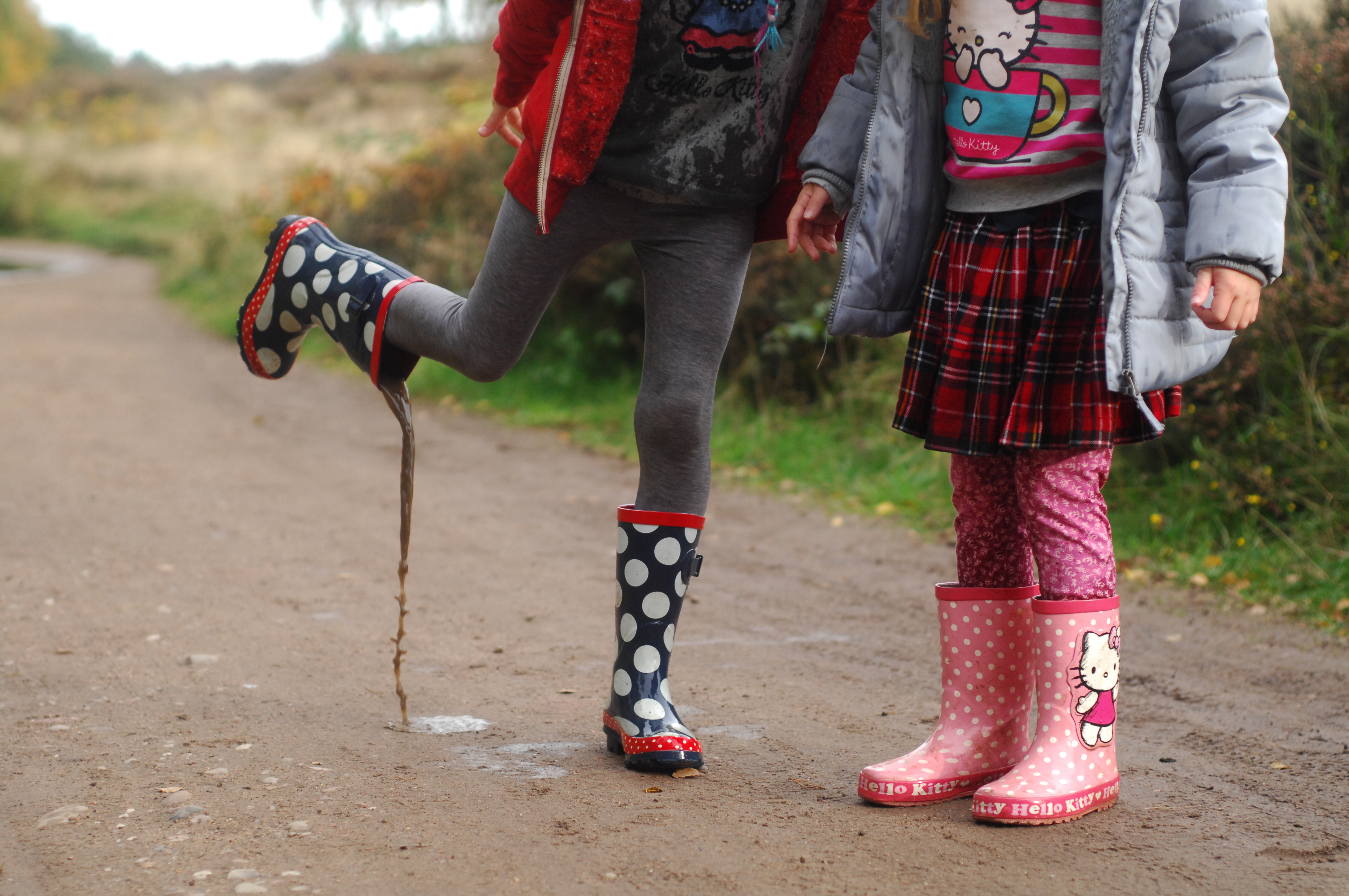 2.  Sparklers in the garden
We've not really been to any fireworks displays as a family – when the girls were little I was worried that the loud bangs would frighten them, plus I get so very cold that I knew I'd never be able to enjoy it properly, so we've tended to stick to having a few sparklers in the garden.  The girls look forward to it every year on 5th November and it does make for some fun photos 🙂
3.  Bonfire & Fireworks Display
Despite what I said above, this year I would really like to  take the girls to a fireworks display – I want to see the wonder on their faces as they watch the sky light up in a shower of rainbow sparkles.  Plus, I LOVE fireworks and am determined to be able to enjoy them this year by making sure I wrap up in as many layers as I can manage to keep myself warm!
4.  Collect conkers and other Autumn 'treasures'
There's nothing like a walk in the woods collecting conkers, leaves of every colour imaginable, pine cones, acorns, 'helicopters' and feathers.  Maybe we'll even do something creative with them this year like spray paint the pine cones gold and use them as Christmas decorations or make leaf-rubbing pictures using crayons… Or maybe not! (Who am I kidding?).
5.  Visit the local pumpkin farm to choose our Halloween pumpkins
We're planning this one for half term so they stay fresh for Halloween.  We've been for the last two years and the kids have a blast – there is a little tractor/train that drives them all round the field and they love wheeling the wheelbarrow and choosing the biggest pumpkins they can find.  There's usually a stall selling local honey too, so I might be tempted to pick up a jar of that as well to spread on toast and use to glaze roasted root veggies with a Sunday dinner.
6.  Carving pumpkins
This usually takes a whole afternoon as we do one each, and with Sophie with us this year plus the girls insisting that we make a little cat-faced one for our kitten (also called Pumpkin!), it turns into a bit of a family event.  They draw on their designs and we spend ages scraping out all the insides (accompanied by plenty of exclamations of ""Eeeew, gross!" and "That's disgusting!" along the way).  I love seeing their eyes light up and listening to their squeals of excitement when we light the candles and switch off the lights so they can see their creations glow and come to life.
7.  Baking
Apple crumble and carrot cake are the orders of the day.  We made apple crumble last weekend and it was polished off in just two days, so we might need to make another one!  And carrot cake is one of my favourites (second only to chocolate cake).  It's also a way of getting something resembling a vegetable in to my daughters as well.  I've got a couple of different recipes so we may well end up making two.  There's something so comforting about baking on a chilly, rainy day isn't there?
8.  Pick blackberries
I think we may be too late for this one as all the brambles I've seen near us have already been emptied of blackberries by the birds.  If I can find somewhere though we'll definitely pay a visit so we can add them into the next apple crumble we make.
9.  Explore somewhere new
There are two places relatively nearby that we've not visited before – Weston Park and Attingham Park.  I'm really keen to go and visit them both and I'm sure they'll have some activities on during half term week so it'll be a good time to go and have some adventures.
10.  Flip Out
As we move further into Autumn these lovely sunny days will inevitably turn to drizzly rain and any last lingering warmth will give way to the biting cold.  So I've got some indoor fun planned for half term just in case.  Lola went to a friend's birthday party at a local place called 'Flip-Out' – it's basically a massive warehouse full of trampolines of all different shapes and sizes.  It's awesome!  She's been begging to go back ever since and Ella and Mimi haven't yet seen it, so I figured half term might be a good (if busy) time to introduce them to it.
11.  A trip to the cinema
Another indoor activity.  When we went to see The BFG during the summer holidays there were trailers for a couple of children's films that looked quite funny – 'Trolls' (though I have to say this did come across as rather…psychedelic?!) and 'Storks'.  I'm pretty sure both are out at the end of the month so I'm sure we'll be able to squeeze in a visit to the local cinema to watch one (or both!) of them.
12.  Play in leaves
I loved doing this as a kid and watching my girls experience the same innocent joy makes my heart happy.  I need to get better at capturing the shot though!
13.  Treasure Trail
I've already written about the local Treasure Trail we did over the summer.  There are loads more trails near us so I'm hoping we'll make the time to do another one over half term.  It always amazes me how many new places we discover along the way that we never even knew existed and it's a great way for all of us to spend some time together doing something different.
14.  Visit the Roald Dahl Museum
This will be a day trip for sure as it'll take up about two and a half hours to get there.  I can't wait to see Roald Dahl's writing desk and have a wander around the village to see all the places that inspired his stories and I know the girls are excited about it too after all the 100th birthday celebrations back in September.
So there you have it!  Our Autumn Bucket List.  I think we're going to have a busy few weeks in store 🙂  What are your favourite things to do during this most beautiful of seasons?  Do your family have traditions?  As always, I love to hear from you, so please do feel free to leave a comment below.