This post, all about Pirate Island Adventure Golf and our day at Epcot,  is Part Two in a travel diaries series about our trip to Walt Disney World in Florida in October 2017.  You can read Part One, all about the gorgeous villa we stayed in and our first ever visit to The Magic Kingdom, here.
WEDNESDAY – PIRATE'S ISLAND ADVENTURE GOLF
After our adventures at The Magic Kingdom yesterday everyone was pretty worn out.  I hadn't anticipated quite how much all the walking would take it out of the girls, and when you combine it with the overwhelming amount of things to see and do and take in with all of your senses, it's far more tiring than you might think!  When I was initially researching our trip I realised that there is so much more to the Orlando area than the Disney Parks and so I'd made a list of places we could visit in between the park days.  I wanted to give us plenty of options to choose from even though I knew that we probably wouldn't be able to do everything.
Today's vote was overwhelmingly to go and play crazy golf at Pirate's Island Adventure Golf, which was about half an hour away from our villa at Balmoral Resort, near-ish to Kissimmee.  Kissimmee is another place I desperately wanted to visit, purely because of the name, but sadly we didn't have time to explore it so we'll be sure to do it if when we go back – that's the intoxicating thing about Florida, once you've been it's inevitable that you'll find a way to visit again because it's so amazing that you can't help but fall in love with it.
Pirate's Island Adventure Golf was, quite simply, the BEST crazy golf course we've ever played on (and we've played a lot of crazy golf!).  We opted for the trickier 'Blackbeard' course which was definitely challenging but not too tough.  The attention to detail was incredible (as everything in Florida seems to be) and there was even a hole to play on the pirate ship itself – thankfully none of our balls ended up in the water.  We did get subjected to one of Florida's infamous downpours and had to take shelter for a while, but it soon blew over and the sun came out, drying off our clothes in no time.  Ella was thrilled to get a hole-in-one (earning herself a high-five from Mimi!) and we all had an absolute blast.
We headed to IHOP (International House Of Pancakes) for lunch and I think just one portion would have fed all three of the younger girls – they were huge!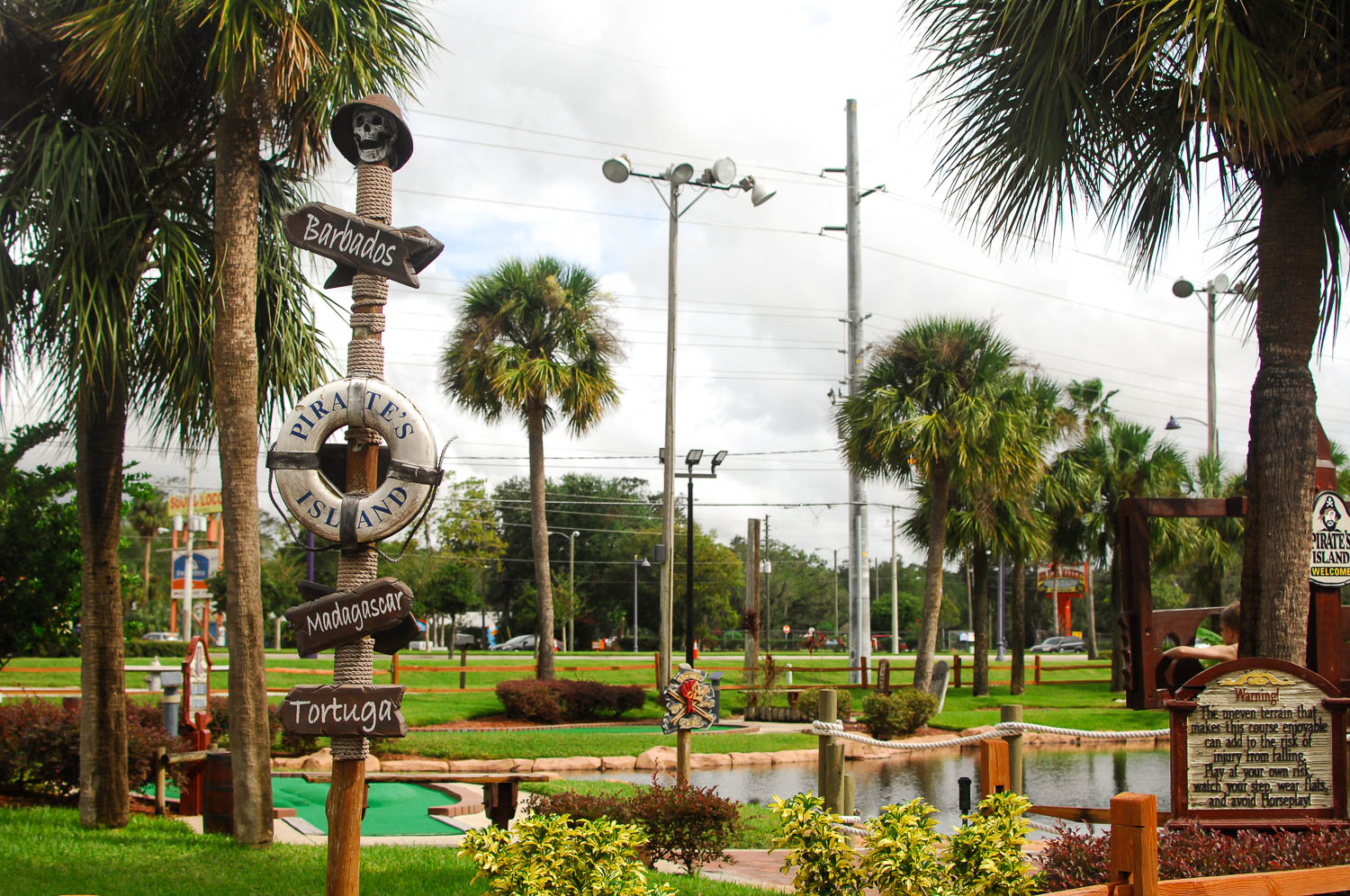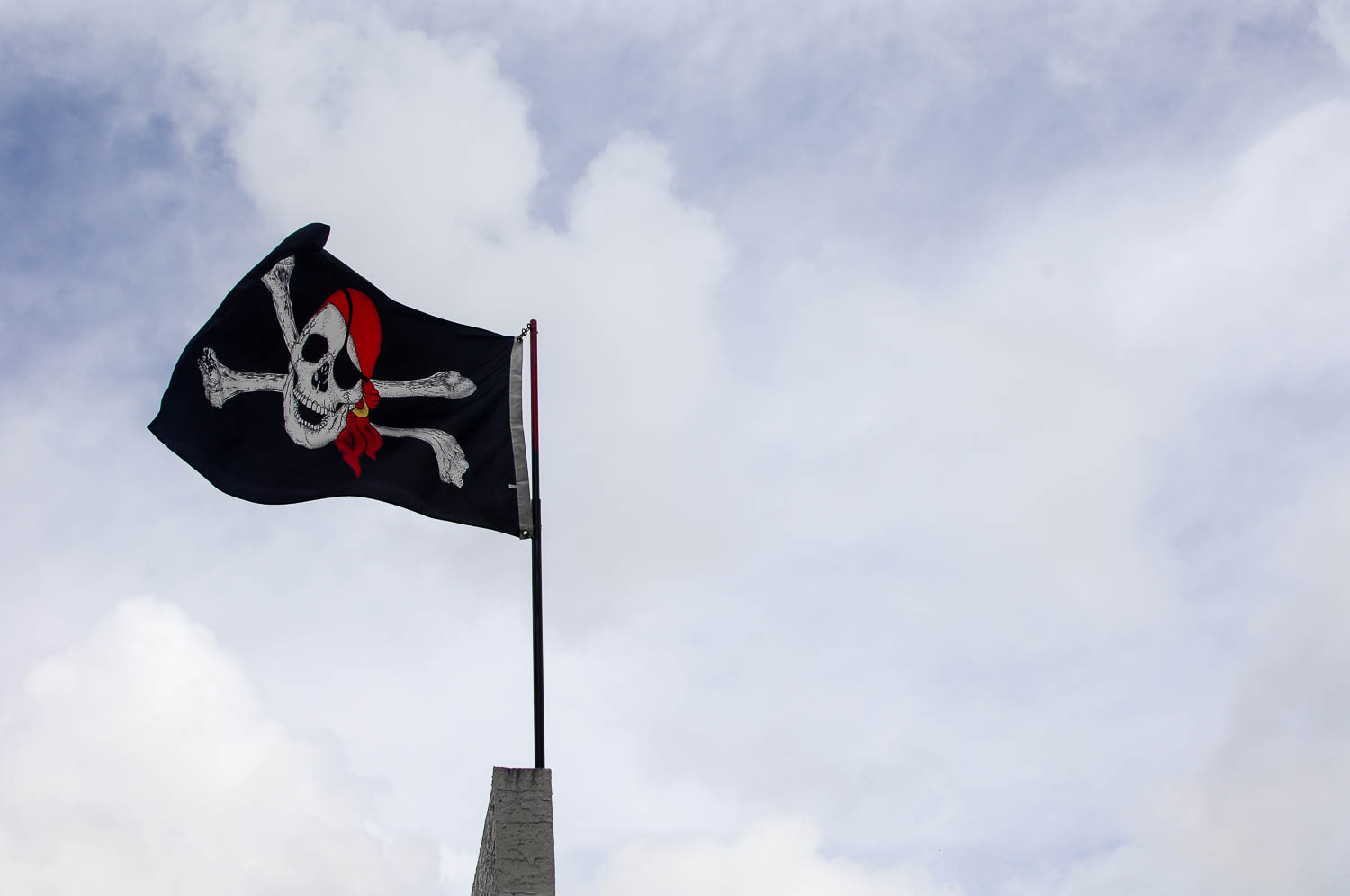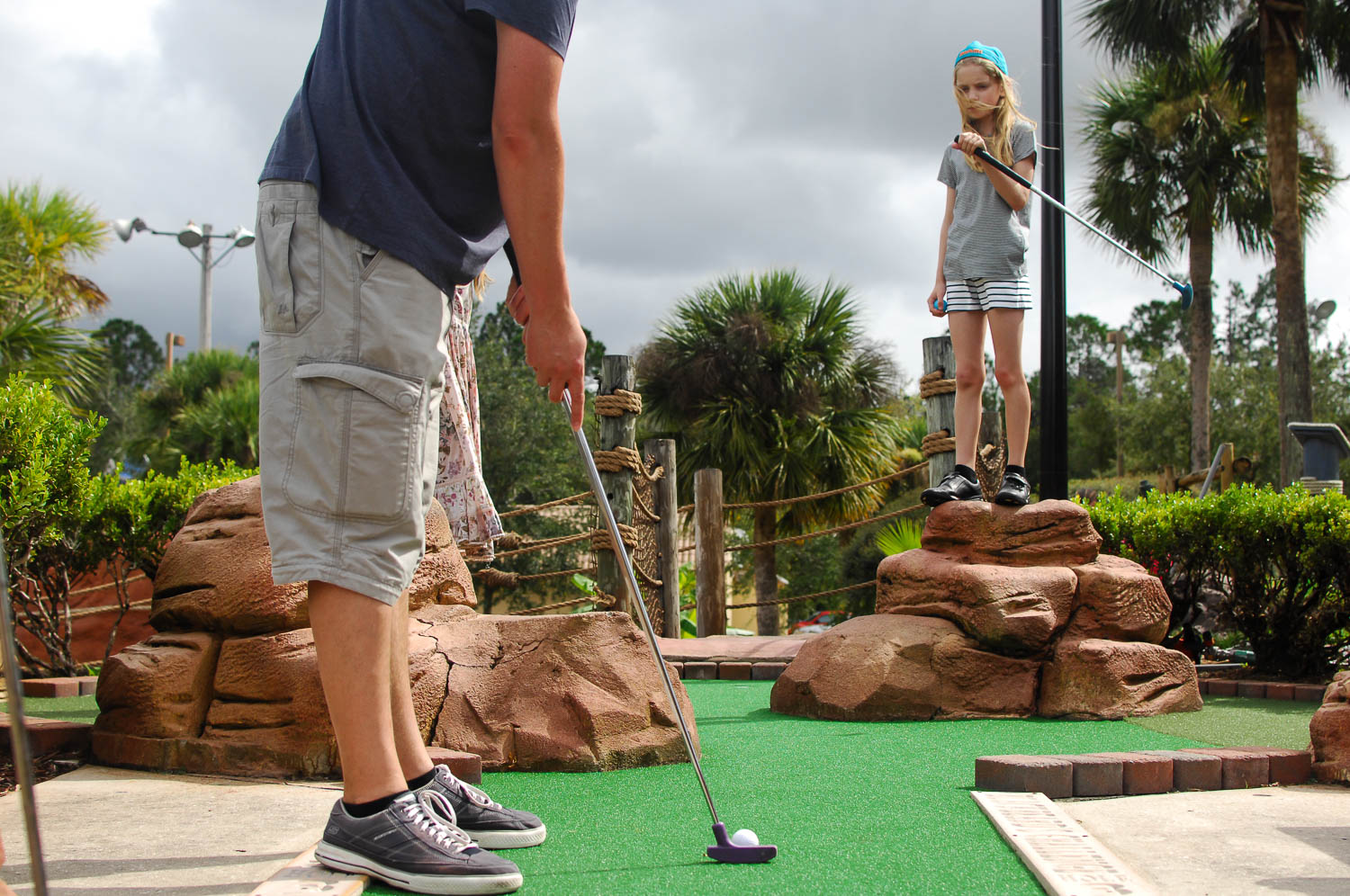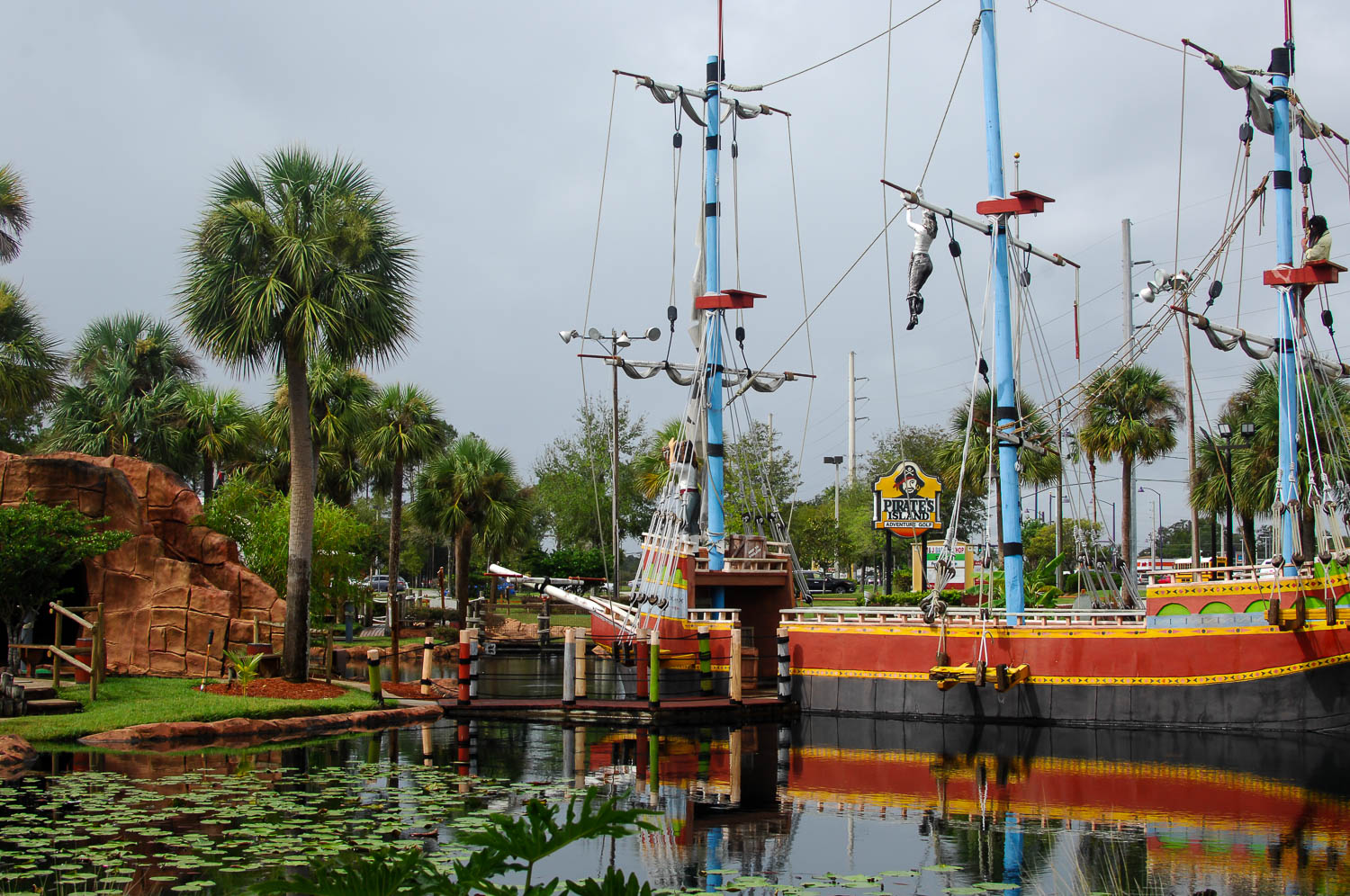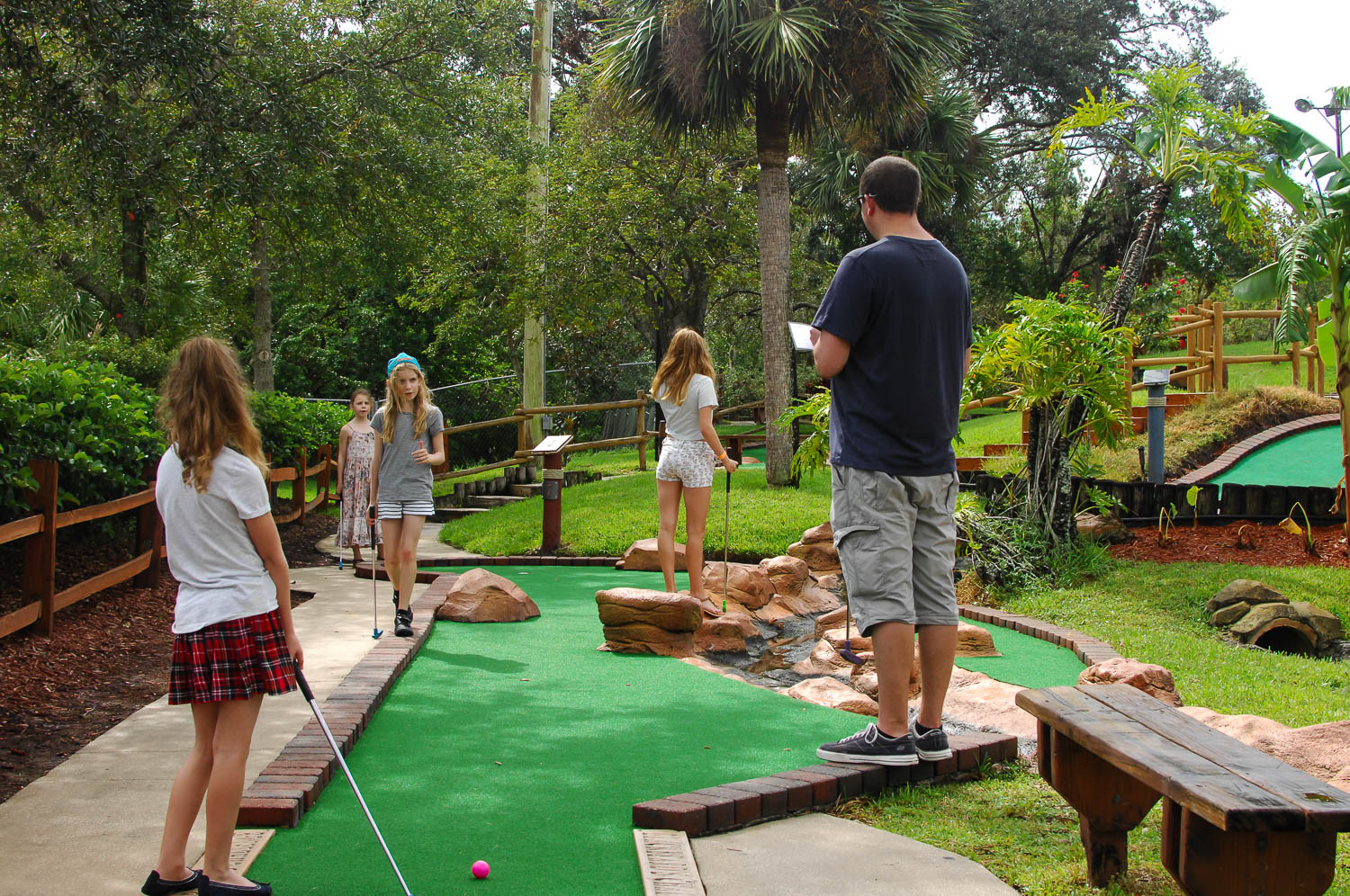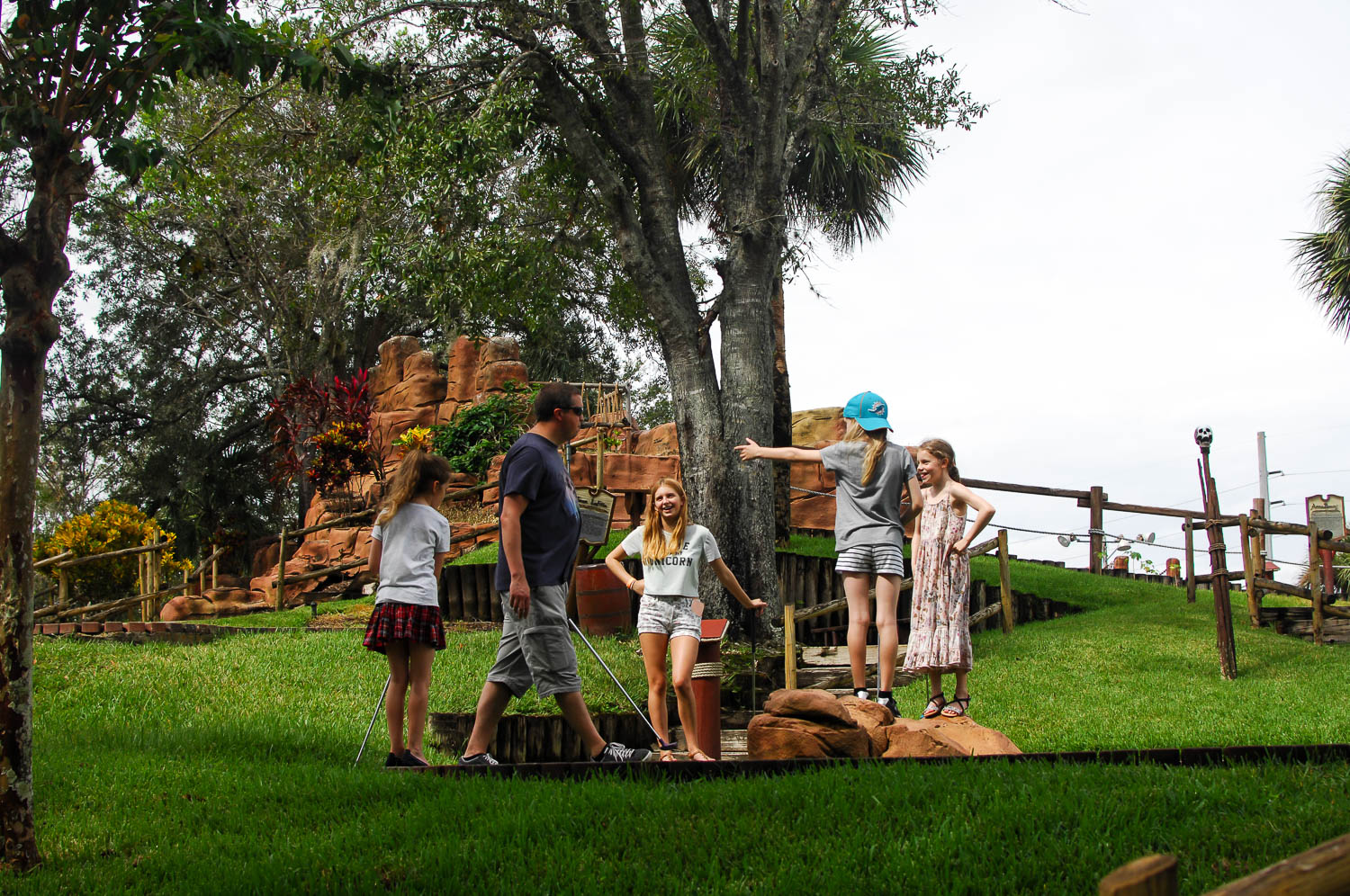 We spent the afternoon playing in the pool at our villa and even in just a couple of hours I could see the girls' confidence in the water increasing.  It was important to us that we had our own pool to retreat to as well as the resort pool to play in, as we knew we could make as much noise and do as much splashing as we wanted here and no-one would mind.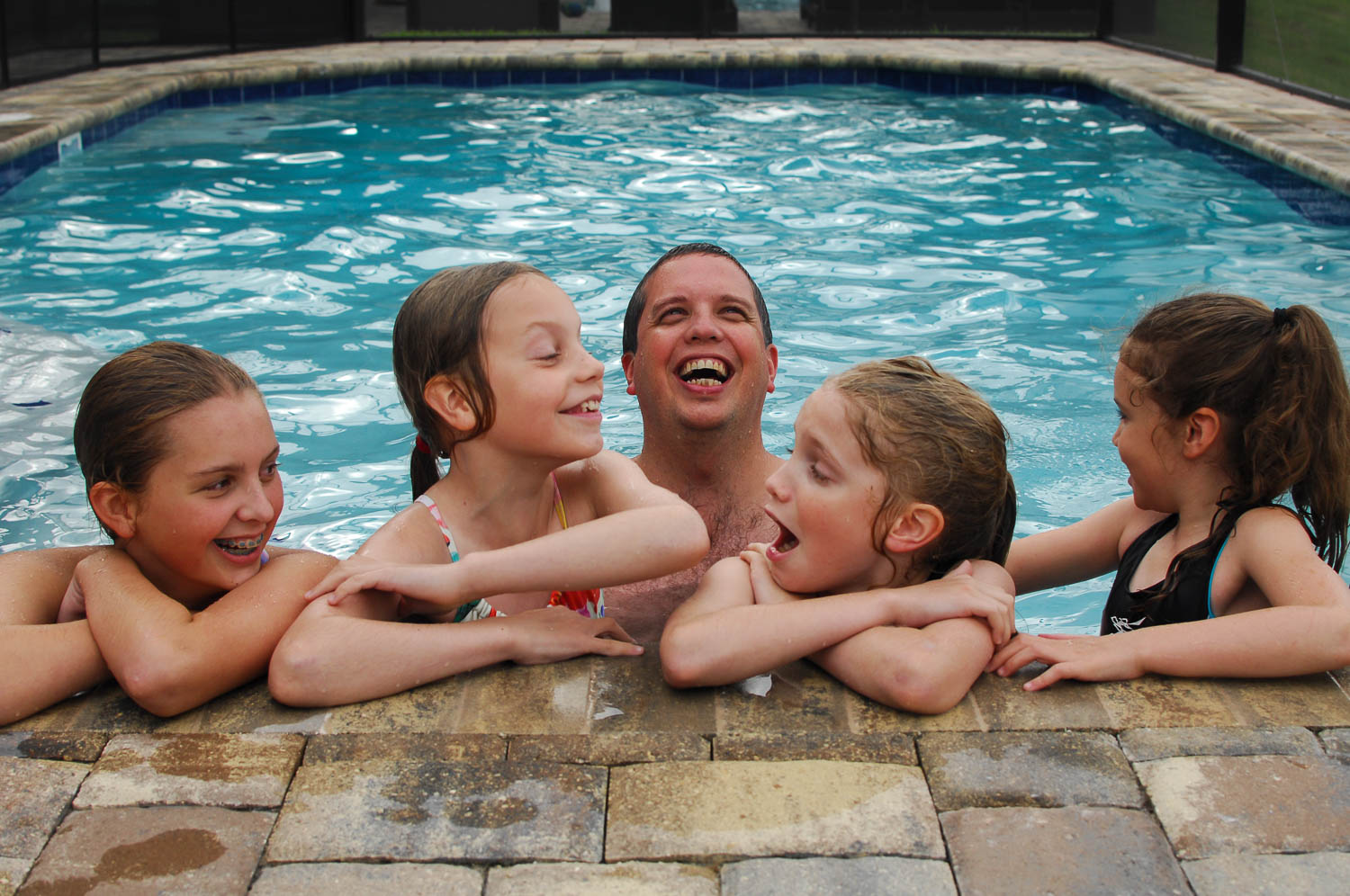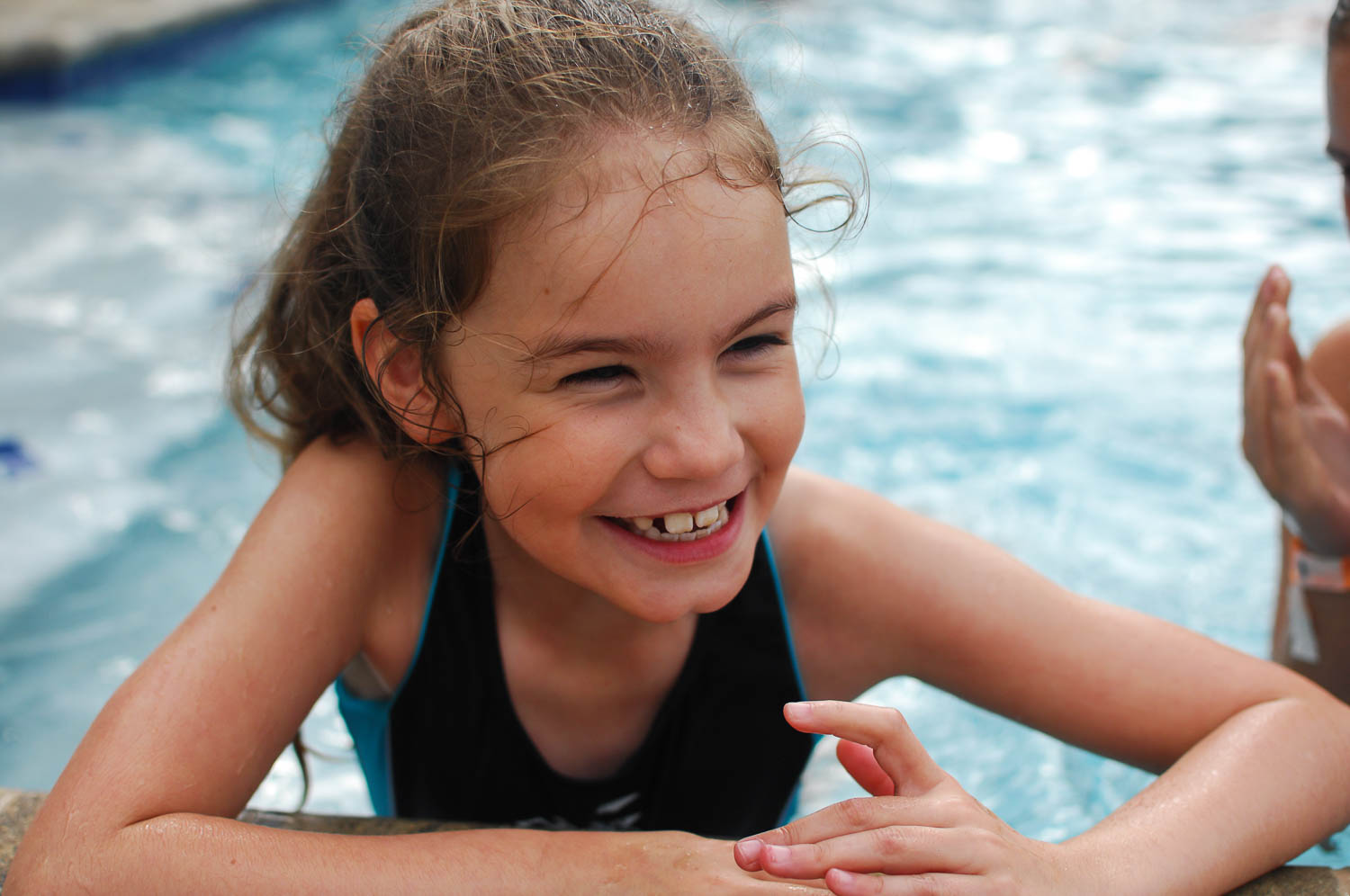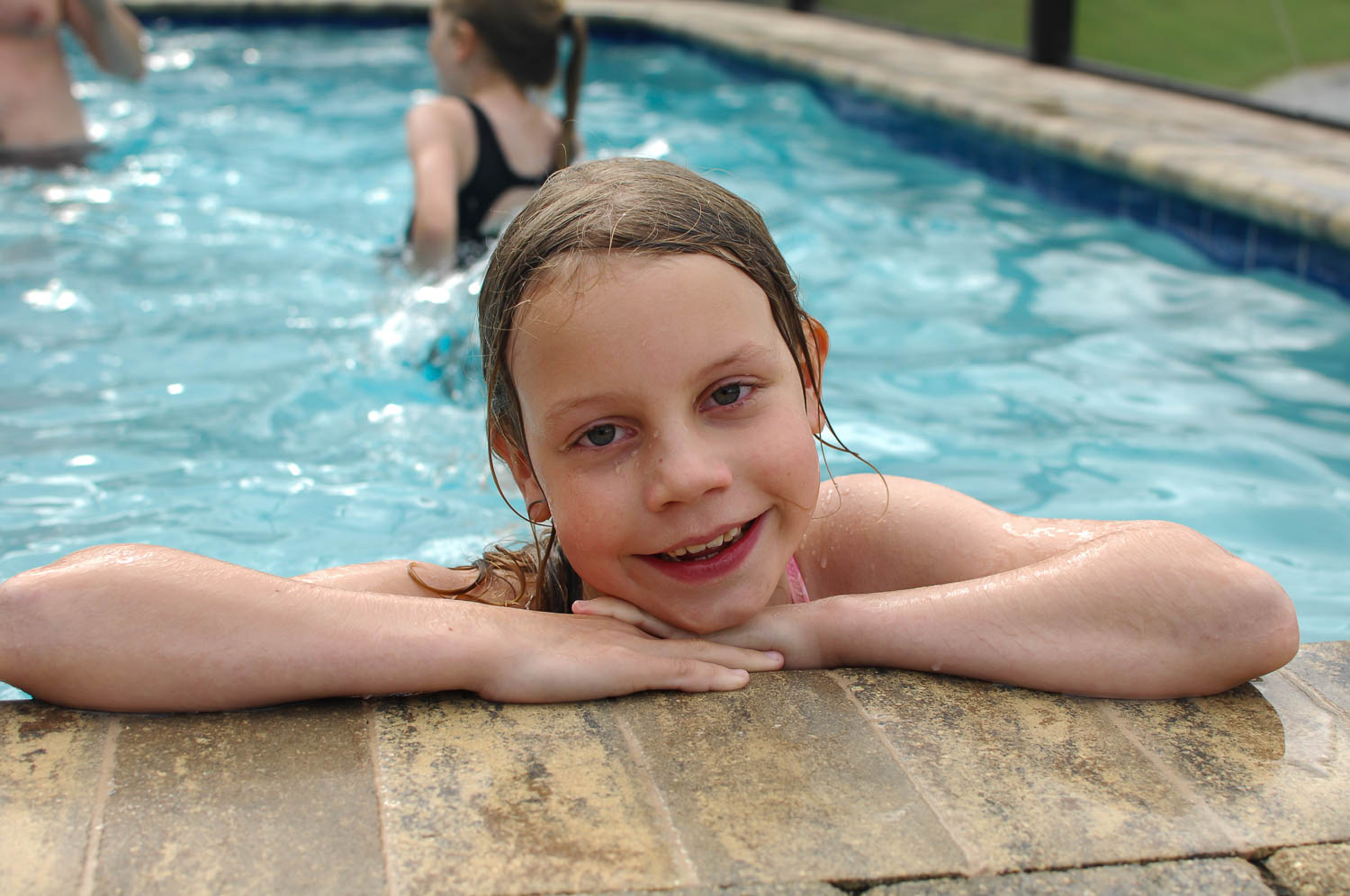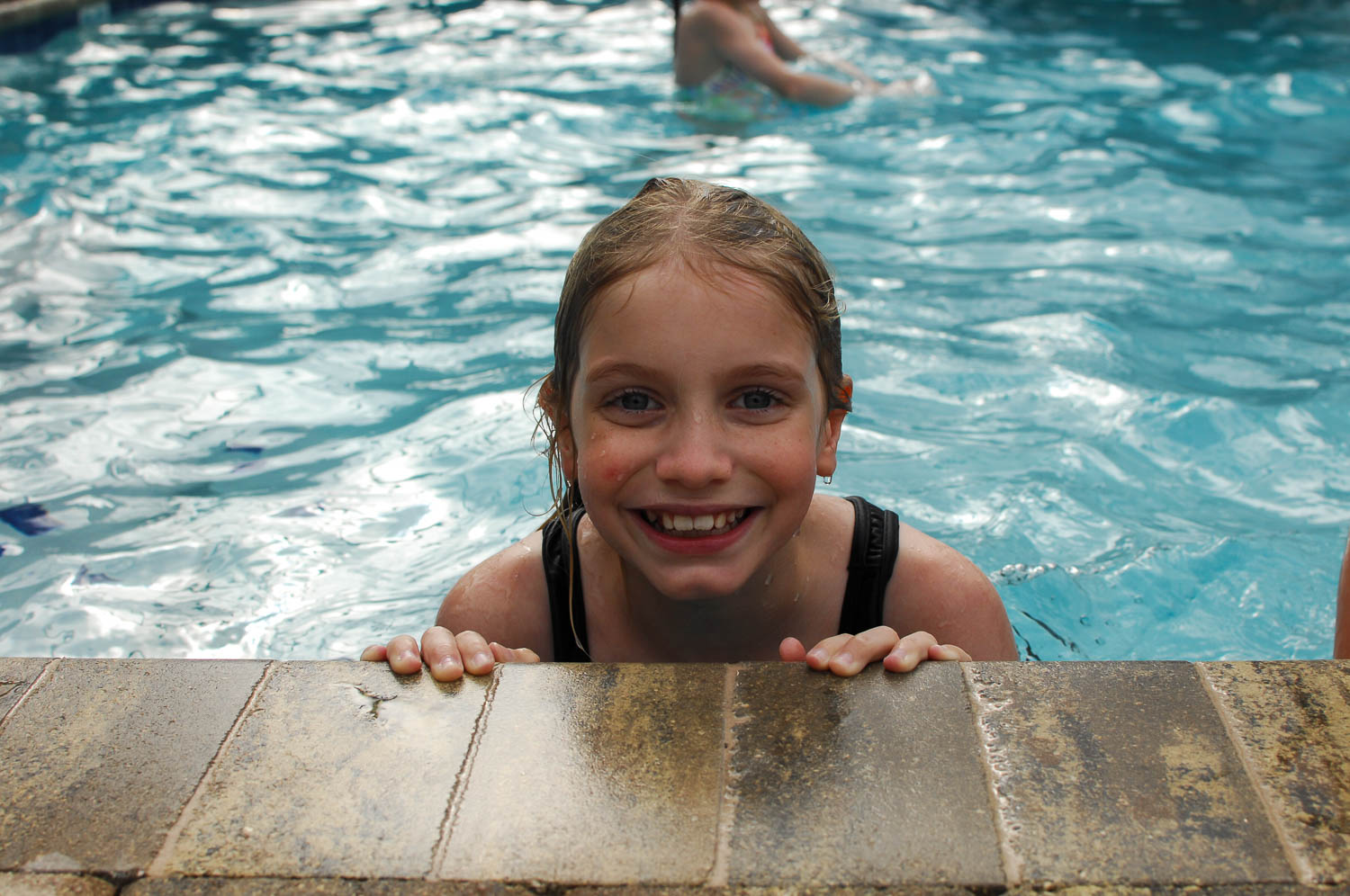 The day ended with one of the most beautiful sunsets I've ever seen. Sunrises and sunsets have always had a magical quality to me and I try and catch them whenever I can. I've seen some amazing ones before but this one was breath-taking. I took a little solo walk down to the lake by the resort pool where I knew I'd be able to capture some reflections and I'm so glad I did. As I stood there watching the sun rapidly disappearing down below the horizon I thought about how lucky I felt to finally have been able to bring our girls somewhere we've wanted to visit for the longest time. Travel, even in it's touristy form like Disney World in Florida, really is something I love to do and want to do infinitely more of – opening our eyes to the rest of the world, exploring all the amazing places there are to see and experiencing the vast variety of adventures there are to be had simply can't be beaten and I vowed to myself that we'll find a way to continue taking trips like this together as a family.
THURSDAY – EPCOT
We'd figured out by now that we needed to adopt a 'day on, day off' kind of approach to Disney World.  As we had a day off from the parks yesterday, today we decided to head to Epcot.  I didn't know much about it beyond there being a big lake, a huge golf ball lookalike structure and lots of replicas of different countries from around the world so I wasn't really too sure what to expect.
In a word, it was brilliant!  I really loved Epcot because it's so vastly different from all the other parks.  A quick bit of research told me that today was mainly going to be about meeting as many characters as we could rather than going on rides – the girls were absolutely determined to fill their autograph books.  We made a list of who was where and set off.
We began at the Epcot Character Spot, not too far from the main entrance, where we queued for about 40 minutes to meet Mickey, Minnie and Goofy.  All four of our girls had a favourite character they wanted to meet during our time in Florida, which we made sure we fulfilled, but for me the ultimate goal was to meet Mickey Mouse.  I'd not really got emotional at any of the character meets so far, I just felt happy seeing the girls faces light up with joy and excitement and I assumed I'd be the same here too.  But honestly, when we rounded the corner and Mickey Mouse was right there, smiling and waving at us, I welled up.  For me, this was the moment where I realised that my dream had come true, that we really were at Walt Disney Word in Florida.  I stepped up for a hug, got a kiss on the cheek and simply couldn't stop the smile spreading across my face.  Pure magic, right there.  It's a photo and a memory that I'm going to treasure forever.
One thing I will say about all the characters is that you never feel hurried along.  The queues might be enormous but they really do spend a decent amount of time with each family, carefully signing books and posing for photos, interacting in whatever way they can and asking questions (if they're a character who can talk).   They make you feel like you matter and it means that the whole experience is even more memorable.
From there we moved on to meet Baymax from Big Hero Six, who was firmly near the top of Mimi's must-see list.  She very much identifies as a tomboy, isn't girly in the slightest and prefers all the 'boy' characters (and villains!) to the princesses and heroines.  Initially I was a bit worried and thought that there wouldn't be much to capture her interest at Disney, but I couldn't have been more wrong.  We also met Joy and Sadness from the fantastic film 'Inside Out', who were brilliant – Joy even got the husband twirling in a circle with her infectious positivity.
We moved on and started our journey anticlockwise around the lake, hoping to visit each of the eleven countries featured in the World Showcase before the day was done.  We moved fairly swiftly through Canada and the United Kingdom (which had a real pub, a fish and chips shop and even a quaint thatched cottage!) before arriving in France, where we ate delicious ice cream from L'Artisan de Glaces (we were too hungry to wait until we got to Italy for proper gelato!) and joined the queue to meet Belle from Beauty and the Beast.  I can't even begin to describe how excited Ella was to meet Belle – she's her idol because she's a bookworm like her.  It was actually pretty good to have a rest from walking for a while, to just stand and observe the ferries shuttling to and fro across the lake and people-watch as the crowds passed by.  Belle was lovely (of course), Ella talked to her with adoration in her eyes and on we continued.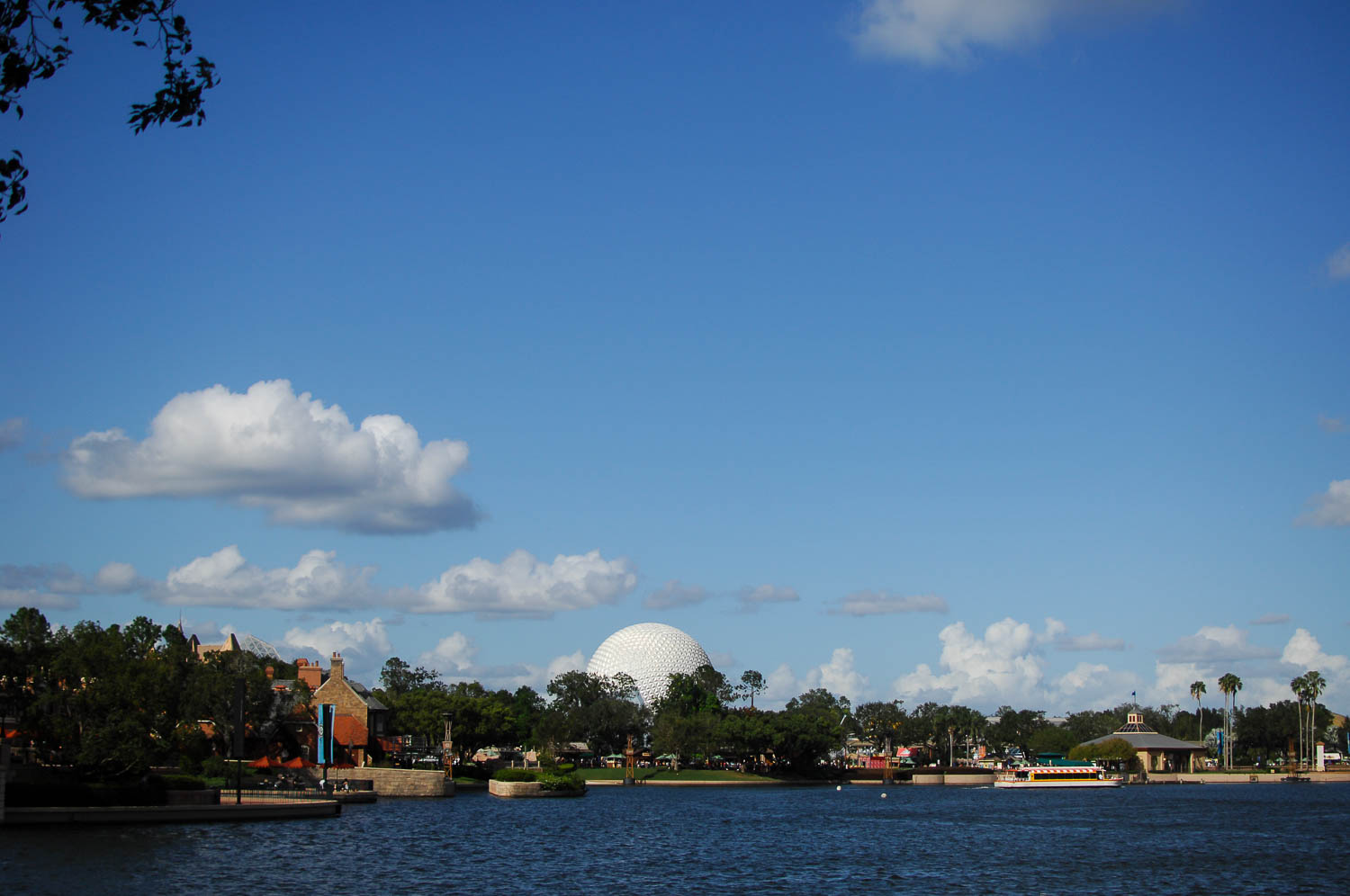 I'd started feeling quite unwell by this point (too much ice cream perhaps?) and wasn't really sure how much longer I'd be able to last and so we scooted fairly quickly, wide-eyed in wonder, through Morocco, Japan, the USA, Italy, Germany, China and Mexico before arriving at Norway to meet Anna and Elsa from Frozen.  You might expect them to be Lola's choice of characters to meet but no, this time it was the husband's turn 😉  Surprisingly the queue wasn't too long and whilst there were a few grouchy moments (I think everyone had reached their limit by this point) once we were inside the Royal Sommerhus everyone settled down.
Of course the husband was thrilled to receive a hug from both Anna and Elsa and I have to say they were so attentive and genuine with the girls they were easily my favourites after Mickey Mouse.
As we wandered back through all the countries we spotted Pluto and had a quick photo/signature with him before heading to Spaceship Earth, which was one of the few things we'd actually booked using a Fast Pass.  Somehow we managed to miss out Snow White, Sleeping Beauty and Mulan along the way, which was a little disappointing as I was determined that we'd collect everyone's autographs.  I guess it means we'll just have to make a return visit one day!
I'd already made sure that Spaceship Earth, which takes place inside the giant golf ball itself, was a mild ride after the fiasco with Big Thunder Mountain a couple of days prior and I felt pretty sure that even the littlest one would be ok on it.  She sat with me (gripping my hand tightly bless her) and everyone else divided into pairs before we set off on a journey through time and space.
It was actually really cool – a complete history of the Earth and human existence over the course of a few minutes.  It was interactive too – you could answer questions on a little screen in the front of your cart and at the end of the ride it produced a little synopsis of your 'future' based on the answers you'd inputted.  My favourite bit was near the end, where everything goes completely black and suddenly you're surrounded by hundreds of thousands of tiny 'stars', as if you're right in the centre of the galaxy.  There are no photos from the ride as I was too entranced by it all to even think to pick up my camera.
Ella, being the history buff that she is, absolutely loved it and wanted to go back on it again immediately, but we had to go and get some dinner before the next event we'd booked on to – IllumiNations: Reflections of Earth – which was an evening fireworks show by the lakeside.  We also managed to squeeze in a visit to the souvenir shop and bought a couple of gifts for the girls friends at school and some magnets for our fridge at home – I collect one from every place we visit so of course I had to have one from Walt Disney World.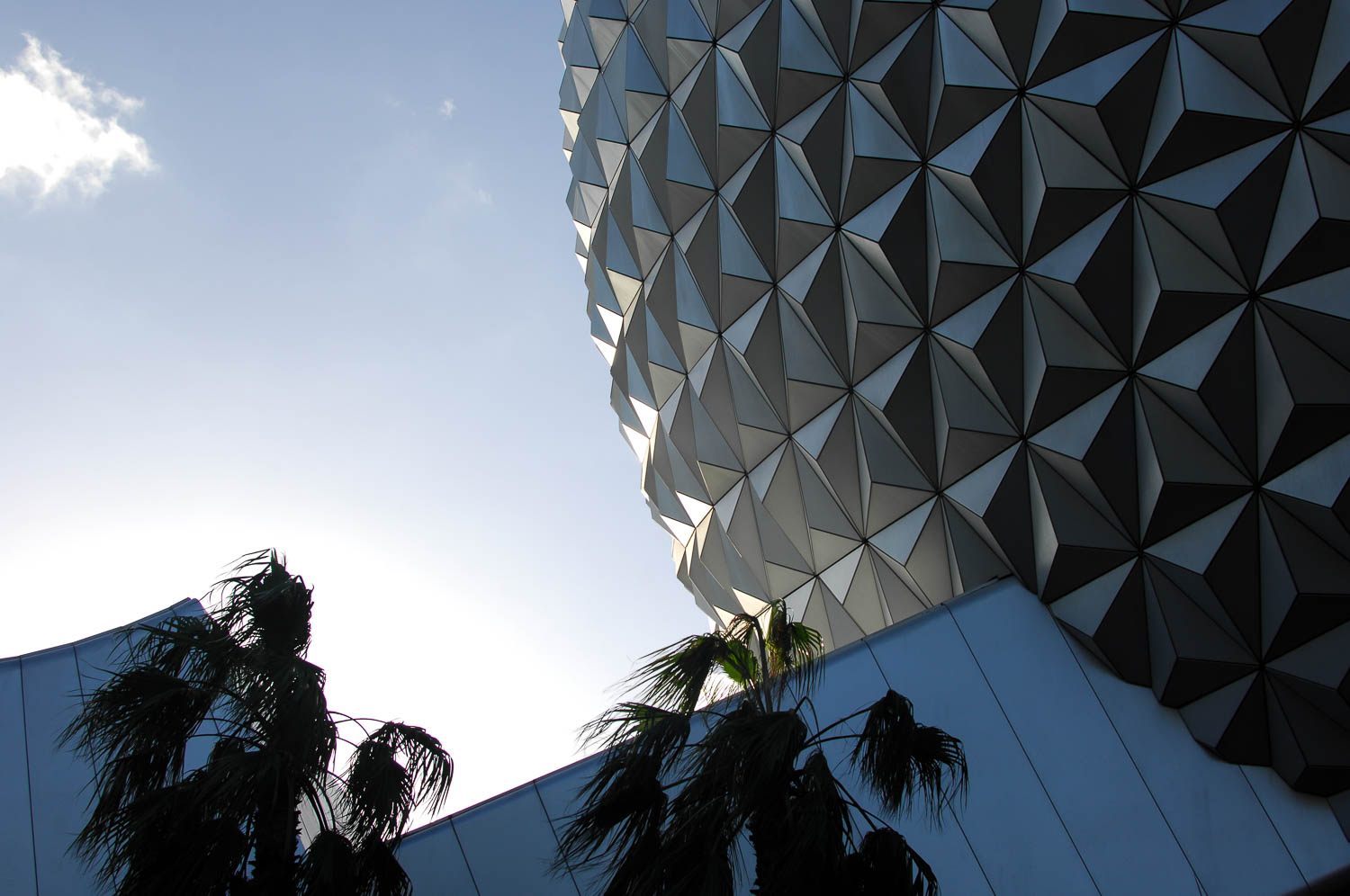 We dutifully took our places by the lakeside ready for the IllumiNations fireworks display and I watched the girls as they gazed around, taking it all in. The look of wonder on their faces as they experience something for the first time is something I will never, ever tire of seeing.
The show started, music played and fireworks lit up the night sky.  And that was all I saw as Lola, poor thing, completely freaked out at the fireworks and went into a complete panic, screaming and trying to run away.  I could see how terrified she was so I picked her up and carried her as far away as I could, almost back to the entrance of the park, where she began to calm down a little bit though her breathing was still short and sharp with fear.  I honestly hadn't expected that reaction at all – she's never been to a fireworks show before but she's seen them on TV and heard them outside on Bonfire Night at home so I thought she'd be fine.  Of course this means there are no photos of the fireworks either, though if you watch the little video from our trip (below), you'll see Ella's expressions as the show begins.
Neil and the girls reliably inform me that the show was spectacular and definitely worth watching, so you'll have to take their word for it.  Once the show was over and we were all reunited again we headed back to our villa, the girls all falling asleep in the car on the way home (even the teenager), exhausted after a full-on day and dreaming about what adventures tomorrow would bring…