December has felt like an extraordinarily mixed month, as I'm sure it has for many people.  I think everyone has experienced the entire spectrum of emotions in rollercoaster form on repeat over the last few weeks:
Frustration at extra layers of restrictions and the 'too little too late' response from the Government regarding case numbers rapidly rising;
Hope thanks to the news that vaccines have been developed, approved, released and implemented;
Sadness at family Christmases being cancelled;
Confusion around what all the new tier rules actually mean and what we are & aren't allowed to do;
Gratitude for being able to make Christmas (almost) as magical as it usually is for the girls despite everything going on.
We came out of the month-long November lockdown and our area was placed immediately into Tier 3.  Shops were allowed to open again (helpful for all the birthday and Christmas shopping I needed to do for things I couldn't get online, not so great for soaring Covid cases), the husband was still furloughed, I was still working and otherwise not much else had changed.  Mimi finished self-isolating and then was Lola's turn because one of her classmates tested positive.  Then, on the day that everyone was finally supposed to be returning to school, Ella was poorly in the night with some kind of strange tummy bug so she was off again for a few more days.
Thankfully they were all back at school for the final week before the Christmas holidays which is their absolute favourite because it's all festive fun and zero actual work.  It was the only week out of the entire term where all three girls lasted the whole week without having to come home.  I love that schools still managed to make the season feel special despite all the limitations in place and I think teachers are doing an absolutely phenomenal job of keeping our children feeling motivated and secure.
The festive period was… different.  There was no mini-Christmas with Sophie, no traditional big buffet with the grandparents whom we still haven't seen for months and months.  The new highly transmissible virus strain that's recently evolved led to the creation of a Tier 4, which the majority of the country moved into on Boxing Day.  All non-essential shops are shut (again), the start of the new term at school is going to be delayed and just to top it all off I fell down the stairs on New Years Eve just to end the year in style!
Even with all of this, December has been really lovely in many, many ways.  Birthday celebrations x 2, lots more time together as a family, a couple of lovely walks (on Christmas Eve and New Years Eve), a few days off work and remembering the joy in the simple things.
Here are all the little things I've been loving lately throughout December…
READ
Lord Of Shadows:  I started 'Lord Of Shadows' (book two of Cassandra Clare's 'The Dark Artifices' trilogy in the Shadowhunters series) this month and I'm about halfway through so far.  I'm enjoying it – it's action packed with loads of content and I'm always kept guessing as to what twist might happen next.
The Shadowhunter books are such a good escape from what's currently going on in the world, bridging the gap between real and imaginary so seamlessly that you begin to wonder whether there is any kind of possibility that there is a whole supernatural universe out there.  There are lots of new characters to get to know and I'm still trying to figure out who's on which side of the good/evil fence – I have a feeling there are going to be more surprises still to come.
WATCHED
Christmas movies:  December is a time for snuggling up under a cosy blanket and watching Christmas movies.  It's not something we do very often to be honest because we rarely find a movie that everyone agrees on!  The girls watched 'Noelle' at the start of the Christmas holidays which they thought was "ok". We had a list of other new Christmas movies that had come out that we wanted to watch too and somehow never quite got round to: 'The Christmas Chronicles' (1 & 2); 'Godmothered'; and 'Jingle Jangle'.  I've added them to our list for next year.  And I STILL haven't seen 'Elf'!
One classic that we always watch is 'Home Alone' and I arranged a bit of a special treat for us all – we went to see it at the Great British Drive In.  We'd already been back in the summer holidays and loved the experience so I thought it would be fun to do during the festive season too.  The girls wore their extra warm onesies and we took duvets and blankets and hot water bottles too.  It was brilliant!
Strictly Come Dancing final:  I've said before just how much I love watching Strictly, there's something about it that gets me all emotional every single week.  I know it's only a TV show but watching the final the weekend before Christmas is always bittersweet as I'm excited to se all the dances and find out who wins whilst really not wanting it to be over!  I've loved that Lola has joined us on the sofa to watch it with us this year and that she shares my passion for it, it's been really lovely having that one-to-one time with her.
We all made our predictions at the start of the very first live show as to who we thought would be the eventual winner and it's always fun to see if we were right.  Bill was my favourite the whole way through (I've loved him ever since the days of 'Black Books' on TV!), although I thought that Maisie or Hrvy would win.  I was absolute thrilled when Bill was announced as the winner – the joy on his face every single time he danced was just wonderful to watch, you could tell that it really meant something to him.
HEARD
Squeals of joy:  There is something magical about Christmas-time, there's no denying it.  I have tweens and teens now and all of them still get so excited in the lead up to and during Christmas Day.  My husband too to be honest – he's just a big kid at heart.  Thankfully, even though Christmas has been a bit different this year to how it usually is, the magic has remained.  The squeals of joy I heard from the girls when they woke up on Christmas morning and saw that Santa has been, plus the happiness and gratitude they all expressed as they opened their gifts was just wonderful and it reminded me that even in the most difficult of circumstances, simple joy can still be found.
There were more squeals when, a few days later, we woke up to a blanket of snow!  As soon as they were done with breakfast the girls pulled on coats and gloves and disappeared into the garden for snowball fights.  They were out there playing for ages and it was just lovely seeing them having so much fun together.
MADE
A new tradition:  2020 has been such a rubbish year in so many ways and I wanted to try and end it on as positive a note as possible.  I decided to start a new family tradition – an activity advent calendar!  Knowing that the festive period was going to be different from usual and that we weren't going to be able to see the people we love, I wanted to try and make the lead up to Christmas Day as special as I could, to try and create some happy memories to counteract the disappointments of not being able to spend time with Sophie or either set of grandparents.
It turned out to be a huge hit!  Indoor snowball fights; winter walks; painting their nails in Christmassy colours; and drinking festive hot chocolates were all favourites.  I've written a list of 50 activity advent calendar ideas you could include if you decide to give it a try next year.
Natural decorations:  The 2020 Instagram trend seemed to be making natural Christmas decorations such as dried orange garlands.  I'm not usually one to follow the trends at all, but this one was too pretty to miss out on, so we gave it a try.  I'm thrilled with how they turned out!  They were really easy to make too so we'll definitely be doing them again next year.
Christmas crown:  This was one of the activities on our advent calendar too although, admittedly, it was probably more for me than for the girls.  I've been wanting to try making a spring/summer wildflower crown for ages so thought I'd practice a winter version first, using simple foliage and berries I foraged from the trail near our house. I'm really pleased with how it turned out and it was easier than I thought it would be too.
Christmas dinner: Last Christmas (2019) we'd only been living in our new house for a couple of weeks, both Ella and Mimi had been really ill with flu and all I wanted was for Christmas Day to go without a hitch.  It wasn't to be – the fresh turkey I'd bought (which was still well within it's sell-by date) had gone rotten and we ended up having Christmas dinner with all the trimmings but minus the turkey.  I can laugh at it now and it's become a funny story that we tell, but more than ever this year I really wanted Christmas dinner to be a success.
Thankfully, it was!  The turkey was fine, everyone was happy and ate well (even Lola, who only ever has stuffing and ketchup, bless her), and we talked and laughed around the table for ages, telling Christmas cracker jokes and talking about our favourite memories from this year.  One of those moments that you want to bottle up and keep forever.
A snowman:  There was enough snow left after all the snowball fights to make a happy little snowman too.  Look at the proud grins on their faces – it really is the simple things that matter most.
WORE
Silly Christmas glasses:  One of our advent calendar activities was to take some silly Christmas photos so I ordered these glasses from Amazon and they were a hit!  It took us a few attempts to get this shot using the self timer but it kind of worked and I think our various expressions pretty much perfectly sum up how we've all felt about 2020.
Christmas jumper:  It wouldn't be Christmas without me wearing my light-up Christmas bauble jumper and the husband wearing his Christmas suit on Christmas Day.  This year he paired it with shorts (because he's set himself the challenge of going for a whole year without wearing long trousers).  The girls groan every single year when he pulls it out of the wardrobe but again, it's one of those things that I hope will become part of the fabric of their Christmas memories that they'll look back on fondly as they grow up.
AND FINALLY…
Ella's birthday:  We have a fourteen year old in the house!  Ella's birthday fell on a Monday at the start of the month and she was the only one out of the three girls who had to go to school as the other two were still isolating and got to stay at home.  I felt a little sorry for her and was tempted to keep her off anyway so we could all celebrate together at home for the whole day (after all, what's one more day when so many have already been missed?) but she was keen to go to school and see her friends.
In the end we opted for a decadent cookies-and-cream chocolate birthday cake with sparkler candles and opened presents by the Christmas tree after school and it was perfect.  She was thrilled with every single gift – especially the Hamilton-themed ones as she's currently obsessed with 'Hamilton: The Musical'.
I can't believe that the one who made me a Mama for the very first time is already fourteen years old.  I'm all too aware of how quickly the time is slipping away and how precious that time is – I want to soak up every minute I possibly can with her so I can see all the details of her becoming the wonderful person she's growing into.
House anniversary:  December saw us 'celebrate' our one year anniversary of being in our new house.  I've put 'celebrate' in inverted commas because truthfully, we've done precisely nothing to it since the day we moved in!  We'd planned to live here for a few months with everything untouched so we could get a feel for it before deciding what to change and how to decorate and then the global pandemic happened and that kind of got in the way.  It meant that we weren't allowed any workmen in the house during either of the lockdowns and they were all booked up over the summer months in between when we were allowed a little more freedom of movement.  We'd have done it ourselves if it was fairly simple stuff but the jobs we need doing are, unfortunately, beyond out limited DIY skillset.
I can't wait to be able to get started on it properly in 2021.  We have a clearer idea of what we want to do now and I'm impatient to be able to transform the house inside and for it to feel more like our home rather than someone else's.  We did manage to have a new garden fence installed this month though after being delayed since September, so that was a definite positive and it looks so much better than the old one which was, quite literally, falling down.  Garden plans are also starting to be formulated in our heads now too so hopefully that'll be another project to get started on next year.
Neil's birthday: The second of three festive birthdays in our family!  I always try to make a big fuss of Neil on his birthday because of how close it is to Christmas – in the past before we got together it was often overlooked so I do my best to make it an extra special day. I opted for birthday doughnuts instead of a birthday cake and I'm pretty sure that a new tradition has now been born.  December really is one long month full of celebrations for our family and whilst of course it's lots of extra work in terms of getting everything organised for each occasion, I absolutely love doing it.  Especially when the smiles are as big as the ones in the photo below.
Winter Walks:  Getting the girls out of the house for any kind of walk nowadays is virtually impossible, but we have the tradition of always going for a walk on Christmas Eve and New Years Eve.  It's usually just the girls and I because Neil is normally at work, but with the pubs still being shut it meant he was home and could come too.  One of the biggest bonuses of Covid has been having him off work and home so much more.  We were blessed with lovely weather on both days and each walk filled my soul with whatever it was it had been needing.
Christmas:  Christmas Day itself was lovely and also sad.  We managed to video-call Sophie and speak to her as the girls opened their presents.  We tried the same with my parents but the connection just wouldn't work (presumably because everyone in the country was trying to do the exact same thing at the same time) and there were tears on both sides as we'd both been looking forward to seeing each other.  I just hope that next year everything is a bit more 'normal' and we can spend time with each other properly again.
Santa sacks and gifts under the tree were opened, lego was built, books were read, music was listened to, games were played, we cajoled the girls out of the house for a short walk, and dinner was a success.  All in all I'd say it was a good day and memorable for lots of reasons.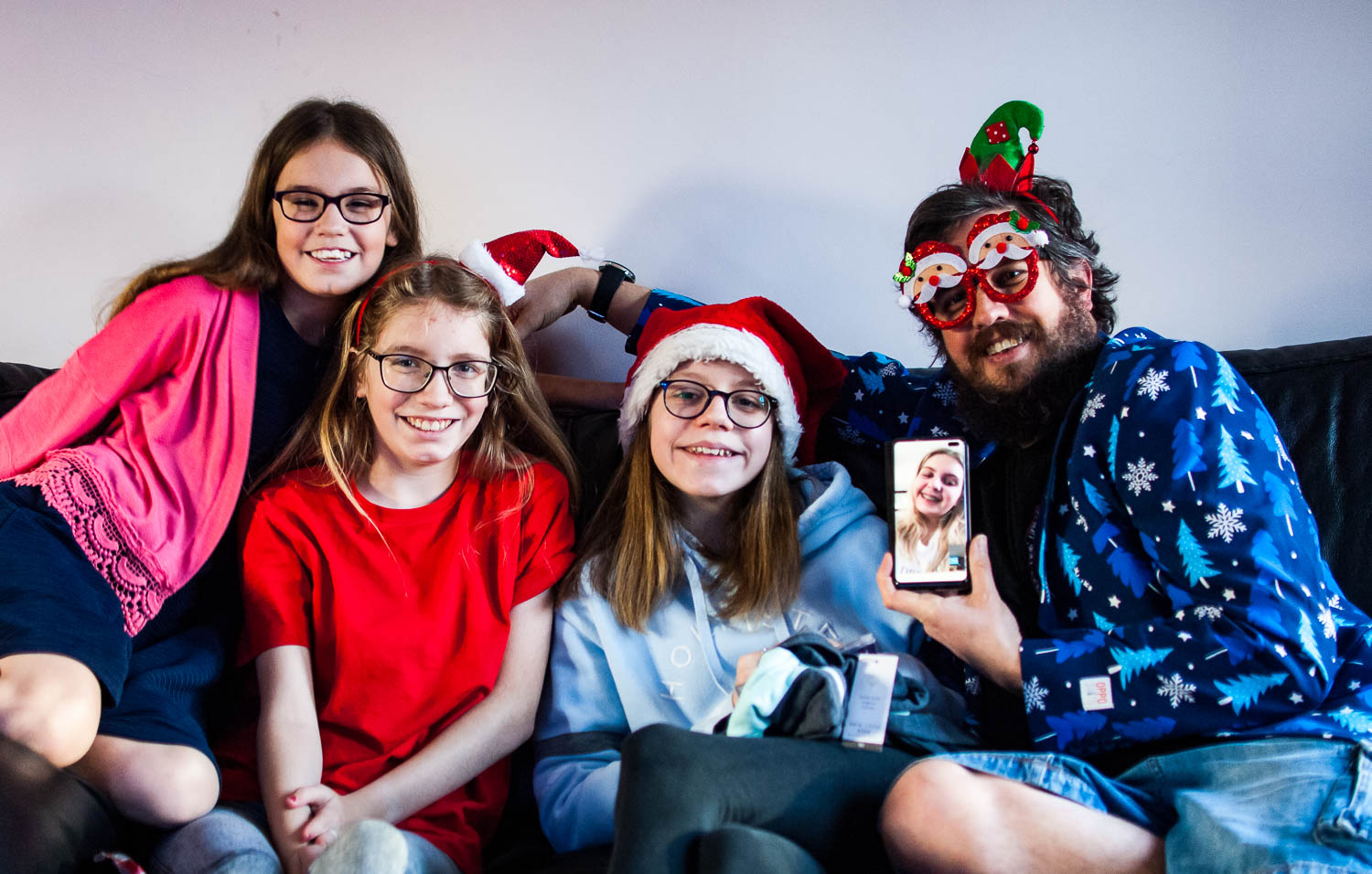 Video calling Sophie on Christmas Day. Together but apart.
New Year is always a quiet affair in our house and, truthfully, although of course we wanted to celebrate the end of 2020 and the start of 2021, I'm not sure it's going to be that different to begin with.  We spent NYE at home on the sofa (as usual), watching the time ticking down as the strangest year any of us have ever experienced drew it's final chapter to a close.
I'm very much hoping that 2021 will be better (although nervous that we're not actually through the worst of it yet) and keeping everything crossed that the arrival of the vaccines will allow all of the restrictions to ease up and that we'll be permitted a little bit more freedom of movement (whilst still being careful of course).  Mostly I just want to be able to hug my parents and spend time with people I love who I don't happen to live with.
I hope that overall December was a good month for you and that you found plenty of little things to love, even if it did look and feel different to how you wanted it to.  And I hope that the start of the new year is as positive as possible for you , and that you carry health and happiness with you each day as you move through the next set of twelve chapters in your life.
Here's to 2021 and everything it brings.  Stay well x
(Joining in with Sincerely, Anna and #LittleLoves)