Cornwall is jam-packed full of a huge range of National Trust sites: beautiful gardens; impressive houses; wild beaches and idyllic countryside walks.  The vast majority of them are located along the county's breathtakingly rugged coastline.  We have already explored some (Boscastle, Northcott Mouth beach and Morwenstow's 'Hawker's Hut' – the National Trust's smallest property – to name a few) though there are many, many more that I would love to venture to one day.
There are a small number of notable exceptions to the rule – a couple of properties that are set firmly inland in Cornwall's rural and equally as picturesque interior.  One that I've been keen to visit for a long time is Lanhydrock (near Bodmin) and I was absolutely determined to make a day trip to Lanhydrock whilst on our annual family holiday to Bude earlier this year.
I think perhaps the husband and our girls sometimes get a bit tired of visiting National Trust properties – we've been to so many whilst on our travels around the UK, doing our very best to make the most of our annual passes – and I'm fairly sure that they would prefer to be at the beach.  I, on the other hand, love a long walk amongst pretty flowers and the chance to admire grand old houses.  There's always a bit of a protest when I make the initial suggestion, but once we're there they always have a good time, even if it does take a tiny bit of ice-cream-shaped bribery along the way.
I think it's important that the girls get the opportunity to soak up a bit of culture and history, even if they don't remember all the details.  The world they're growing up in, the one that we adults are still learning how to navigate ourselves, is so vastly different to the world that once was and I hope that letting them see that contrast means that they'll learn to appreciate and take care of what we now have, preserving it for future generations to marvel at in the years to come.
A Day Trip To Lanhydrock
I'm so glad we went on a day trip to Lanhydrock as it was absolutely beautiful and definitely lived up to my expectations.  We chose a good day to go too – there was glorious sunshine coupled with a gentle breeze and although it was pretty busy, it wasn't too overwhelming.  We arrived for our day trip to Lanhydrock late morning and it was easy enough to find using satnav and then following the unmistakeable brown signs.  Once parked, we strolled down the long path through the grounds towards the Visitor Reception, past the Adventure Playground (promising plenty of time to play on our way back to the car at the end of our visit), the toilets and the main (huge!) café.
An enchanting carpet of bluebells danced under the woodland trees off to our right and soon the imposing Gatehouse came into view.  We opted to let the crowds die down a little before going in, and instead headed off down an avenue of trees to kick the football around and let off a bit of steam after being in the car for almost an hour.
When it seemed that people had thinned out a little bit we made a beeline for the second-hand bookshop (always the first place we stop at on any National Trust visit), hoping to find a few more elusive Nancy Drew books to complete our collection, though sadly there weren't any. One day we'll get them all!
Next on our day trip to Lanhydrock was lunch – tea and sandwiches and Cornish Pasties and generous slabs of flapjack – at the tiny little 'Refreshments Room' in the courtyard off to one side.  (Tip: if you'd rather not queue for ages, take a picnic with you or grab lunch when you arrive from the main café near the parking areas: it has far more choice of food and ten times the amount of seating space).  Tummies satisfied, we explored some more of the hidden corners of the immediate vicinity of Lanhydrock House.  It seemed like everywhere I turned there were gorgeous old doors, archways in virtually every wall and flowers carving their paths through and around the historical brickwork.
Lanhydrock House
On our day trip to Lanhydrock we learned that it is a late Victorian-era country house, stunning on the outside and fascinating on the inside.  It clearly depicts the stark differences in quality of life between the upper and lower classes in Victorian times, demonstrating examples of how the servants would have lived and worked downstairs, versus the luxurious and comfortable lifestyle of the family that lived upstairs.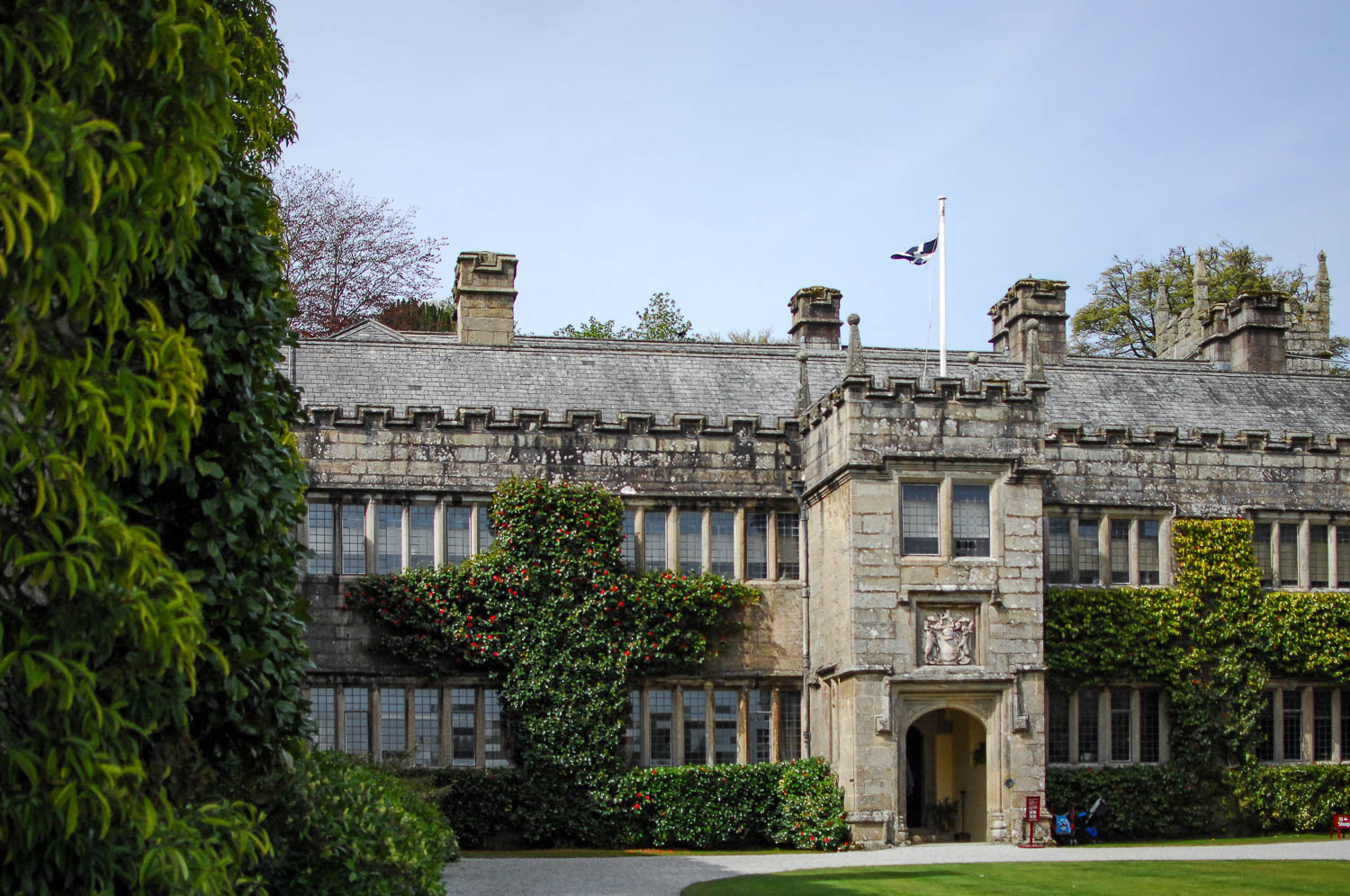 Lanhydrock House has over fifty rooms to explore and there is a trail laid out for you to follow at your own pace.  It's marked with ropes and signs that helpfully tell you which direction to go in next – it is a bit of a maze once you're inside!  There are short cuts where you can duck out of the trail and make your way to the exit if you need/want to, but we decided to stick it out for the full experience.
It was worth it. The girls didn't get too bored as they enjoyed trying to spot the items in each room that were listed on the scavenger hunt sheet they were given at the start.  Guides in costume brought the tour to life, sharing information and answering questions as their characters.  My favourite bit was that certain rooms had an authentic smell – different scents were pumped through to make it an even more real experience.  And the interior décor was impressive – there were plenty of 'wow' moments.
Gardens at Lanhydrock
Once we emerged, blinking in the bright sunlight, we decided to wander up through the Higher Gardens behind Lanhydrock House.  A myriad of intersecting pathways led us through a mix of formal flowerbeds, blossom-tree-lined avenues, spectacular displays of magnolia trees and rhododendron bushes, and the delightful and unexpected discovery of a thatched cottage nestled into the hillside.
Lola was thrilled to spot a Kindness Rock tucked away underneath a bench we sat on for a quick rest.  She's building up quite a little collection now and we're currently planning out places to hide them for others to find, passing the kindness and positivity forwards.  She's got so much joy from finding these colourful little rocks, I hope whoever finds them after we leave them somewhere gets the same amount of happiness from them as she has.
Ella loved practising with her camera and is really starting to get to grips with it and discover her own eye for what she sees through the lens.  And Mimi enjoyed some time walking with her Dad – she's not a fan of crowds and I think she needed a bit of room to breathe after being in the close quarters of the house.
The views from the very top of the Higher Gardens, looking back down towards Lanhydrock House, were stunning. You could see for miles and I'm glad we made the effort to make it all the way to the top of the hill.
We meandered back down, winding our way through gentle paths framed with more bluebells and queued up for ice cream in the courtyard, just around the corner from where we'd eaten our lunch earlier in the day.  It had evidently been a busy day for ice creams though and they had run out of most flavours so we decided to head back up to the café near the main entrance and try there instead.
Thankfully there was a chest freezer full of tubs to choose from so we settled in the shade to eat them before the girls chased each other into the adventure playground, their legs miraculously not quite so tired as they had been five minutes earlier!  They played for a good half an hour or so, clambering over solid wooden climbing frames and challenging each other to races along the obstacle course, before we decide to call it a day and head back to the car to make the hour-long journey back to Bude.
I'm so pleased we did our day trip to Lanhydrock – that's another National Trust property ticked off the list now and it was an absolutely beautiful one.