This is part two of a blog all about our unexpected little mini-break in Dorset over half term.  You can find part one here.
MONDAY
I woke up early (as always) to the sound of torrential rain.  I'd checked the weather the night before and it had forecast rain so I'd been expecting it, but part of me was disappointed as I knew it would affect what we'd be able to do today.  The girls actually slept in a bit – I think the combination of an early morning, a long walk and lots of sea air yesterday wiped them out!
The husband wasn't feeling great either – a touch of man-flu – so we had a bit of a lazy morning.  I caught up on some blogging, the girls played and we had a family Bananagrams tournament before deciding to brave the rain and head out to explore Dorchester a bit.  We walked into town along tree-lined avenues, past beautiful buildings and plenty of coffee shops to browse around a fairly standard high street where all the usual shops were interspersed with independent stores.
The solid rain continued all day so we decided the only sensible thing to do this afternoon was to head for the cinema.  On the way into town in the morning we'd passed an area called Brewery Square, which was home to an Odeon, lots of shops and tons of restaurants.  We tried to get in to see 'Trolls' but it was full so instead we booked tickets to see 'Storks'.  We had a little time to kill before it started, so we popped out to a nearby café for an ice cream (well, we are on holiday!).
The film itself was funny – the wolves absolutely stole the show for me – and as usual Lola ended up on my lap, pressing her face in to my chest during the sad bits.  She's so very emotional and feels things incredibly deeply.  I whispered to her that there's always a happy ending and she snuggled even deeper.  When we eventually emerged, blinking into the fluorescent lights, she clung onto my hand and whispered back "Mummy, you were right – there WAS a happy ending!"
It was quite late when we came out, so we decided to go out for dinner.  It was tough to decide where to go as there was so much choice, but we needed something relatively kid-friendly for the younger ones, so we picked Brewhouse and Kitchen.  Burgers and macaroni cheese were a hit, and I had the aubergine parmiagiana which was basic but tasty.  There was an open fire in the middle of the restaurant and you could buy giant marshmallows to toast in the fire, but we declined – the girls had already had two lots of ice cream and we figured that any more sugar might push them over the edge.
TUESDAY
Another lazy morning – the girls slept in again (9.30am for Mimi – a world record!) and the husband still wasn't feeling great.  So we stayed in and played before heading out to Corfe Castle after lunch – the sun had come out and we wanted to take advantage of it while it was there!
The drive to get there took us through beautiful countryside splashed with gorgeous Autumn colours, and as the castle came in to view we all exclaimed out loud – it's quite an impressive sight perched on top of the hill overlooking the tiny, sleepy little village in the foothills below.
The first thing the girls did was run to the top of the massive hills at the entrance and roll all the way back down them again (it was just too temping for them not to!).  As we went into the castle itself we admired the spectacular views and ignored the stern 'no climbing' signs so we could explore the ruins inside and out.  I love places like this – I find it somewhat awe-inspiring that I'm literally walking in the footsteps of people who lived hundreds of years ago, my hands touching stones that ancient hands carefully crafted to create this magnificent piece of history.
Ella's new topic at school is Medieval England, so she was thrilled to be able to tell her teacher that she'd been to a real medieval castle.  And she was even more excited to learn that Corfe Castle was Enid Blyton's inspiration for Kirrin Castle in the Famous Five books.  (Actually, I think I was the most excited to find out that little titbit of information – I LOVED the Famous Five books as a child).
By this point it was getting towards late afternoon and Mimi wasn't feeling too good, so although we'd planned to visit the Model Village and Gardens we decided to give it a miss this time.  We had a slow wander through the pretty little village back to the car  and headed home for dinner and an early(ish) night, knowing that we'd be back on the road heading home early tomorrow morning.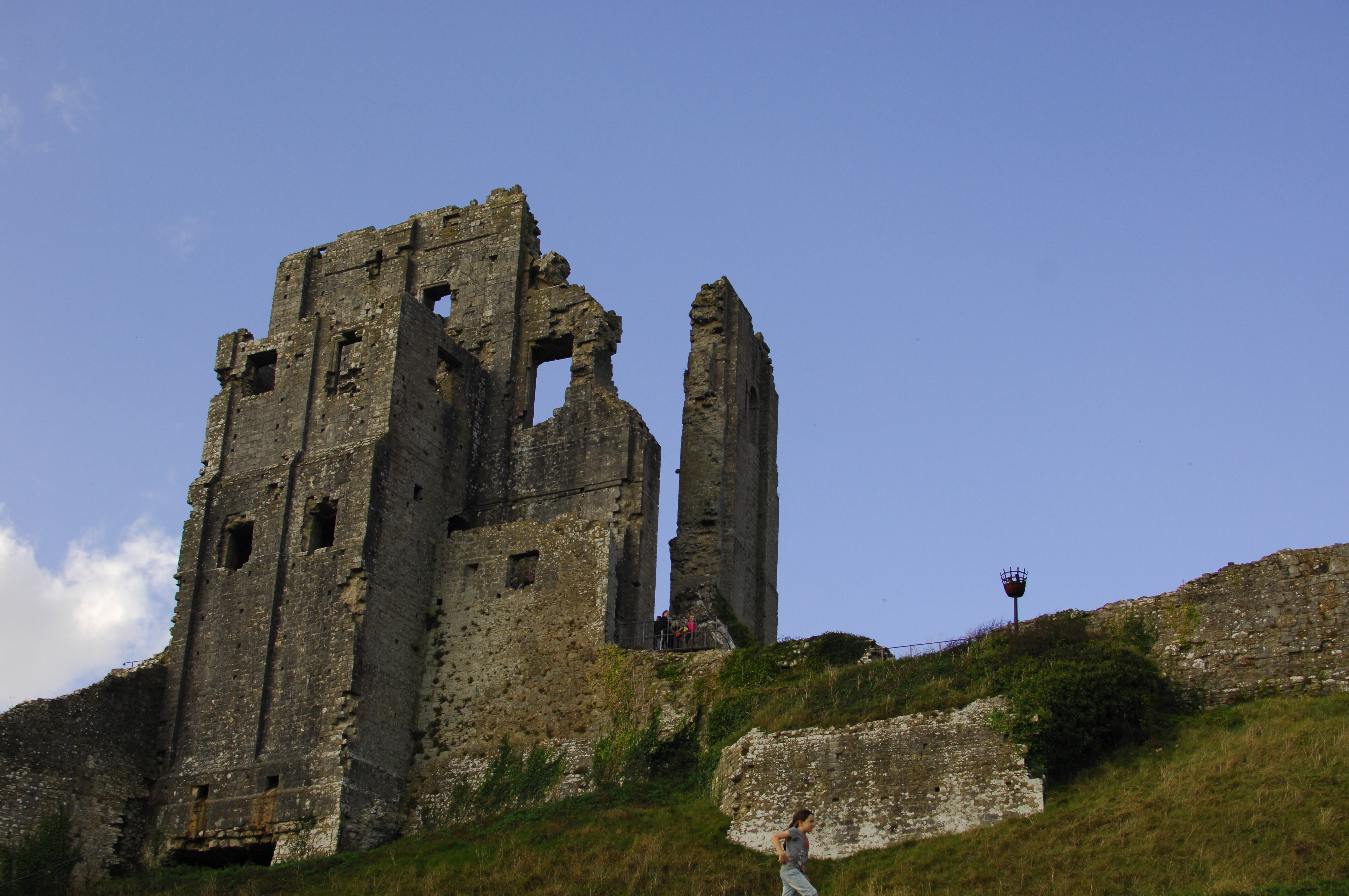 We left 6am the next day, sad to leave the lovely house we'd been staying in (sending another huge thank you to my friend for letting us house-sit!).  We'd planned to pop into Bath on the way home to have a little nose around, but Mimi and Neil were still feeling a bit under the weather so we changed our minds and headed straight home instead, thankfully having a good run and little traffic.
We had a really lovely time in Dorset and I know that we'll be back again for sure in the not-too-distant future.  It felt like we'd only just scratched the surface of what it had to offer – there were so many more places we wanted to explore and discover – the Blue Pool, Weymouth Beach, Lyme Regis, Swanage (my Mum used to go there on holiday as a child so I really want to go and see it!), Poole, and plenty more castles and historical places.