In exactly three months time I'll be on a plane somewhere over the Atlantic Ocean, on my way to Denver, Colorado.
Back in January I entered a competition to win a space at Leap Retreat, an intimate workshop for just ten women, hosted by Sarah Cornish of My Four Hens Photography, who's incredible family photography work I have admired for several years.  Never in a million years did I ever think I'd stand a chance of winning, especially considering there were almost five thousand entries in total.  And yet, by some crazy twist in the fabric of the universe, it was me that got chosen!  Words can't even begin to describe how lucky I feel and how grateful I am for being gifted this opportunity.
The initial overwhelming excitement I felt when I found out the news hasn't waned in the slightest – it's still one of the first things I think about when I wake up in the morning.  Every time I imagine myself there my heart starts to pump a bit harder and my imagination goes off on wild tangents at what might possibly unfold.  These past six months seem to have absolutely flown by and now suddenly there are only three months to go until I fly out there – I still have so much to do!
In no particular order my to-do list reads as follows:  buy new lens for landscape shots; start shooting RAW; practice editing in Lightroom/Photoshop; buy new/multiple/bigger memory cards; buy a camera for vlogging with (and practice actually using it!); find somewhere to stay in Denver for the first night I'm there; research things to see and do in Denver before the retreat starts; figure out who I'll be hitching a ride with up to the cabin in the mountains where the retreat is taking place…. the list goes on!
It's not just practical things I need to get organised though – there are mental and emotional challenges I need to navigate too.  There's definitely a reason why my intention for this year is 'Letting Go'.  The biggest hurdle for me by far is going to be leaving my girls.  The longest I've ever spent away from them is overnight, and now here I am going to be staying away for five days/four nights.  I know my husband is more than capable of handling everything and that everyone will be absolutely fine whilst I'm gone, but the tiny part of me that worries relentlessly is insisting on putting in an appearance.  I'm not even sure how much reception for wifi and phone signal there'll be so skyping and calls to them might not be possible.  Perhaps that's a good thing?
It's going to feel very strange being away from my husband for more than a night as well – we have done it before when he was working a different job that required him to travel away a lot, but neither of us liked it much.  And that was about eight years ago, so it's been a while.  I'm also going to be missing my best friend's wedding in order to be able to attend the retreat, which I still feel awful about.
I need this though.  It's going to be so good for me to be away from it all for a few days.  I've talked before about how I feel like I've lost myself a little bit (a lot) and, without wanting to sound like a cliché, this is one step on the path towards rediscovering myself again.  The me I want to be, the me I am, is still in there somewhere, I just need to coax her out of hiding.  And pushing myself waaaay beyond my comfort zone by flying to a country I've never visited before, on my own, without my little tribe, to spend three days with a group of women I've never met, to learn things that I don't yet know about is about as far past my comfort zone as I can go.
Deep down I know full well that I'm going to be absolutely fine.  Sure, I'll feel nervous, but so will everyone else.  Sure, I'll be out of my depth with regards to my knowledge and experience of photography compared to everyone else, but that's ok – I've been in situations like that before (and I know perfectly well that comparison is the thief of joy anyway).  And as for the actual travel side of things, I backpacked around Australia and New Zealand for fifteen months – I'm fairly sure I can handle a three day trip to the USA.  I love exploring.  I like experiencing new things.  I thrive on having adventures.  I've just got out of the habit of stretching myself thanks to the comforting routine we've created at home.
I'm looking forward to waking up in a strange place, and to wandering around a new city taking in the sights and exploring down the less-obvious routes to see what interesting things I can find.  I can't wait to see the incredible scenery of the Rocky Mountains in autumn – the leaves will just be beginning to turn their colours whilst I'm there.  Swapping the sunrises and sunsets over the rooptops of Stafford for the awe-inspiring mountains of Colorado is going to be just utterly incredible. I'm really excited to meet a group of women from all different walks of life, our common bond being nothing more than a passion for recording moments and memories, for capturing love and people's hearts and souls.
It's also going to be good for my girls to be without me for a little while I think.  They're pretty resilient and independent in many ways but they do rely on me an awful lot for certain things.  Rightly so (up to a point anyway), after all, I am their mum and they are still quite young.  But experiences like this only come along once in a blue moon and I think that them seeing me leave them for a few days to go off and bravely take the leap to follow my heart will teach them far more than me turning down the opportunity and staying home with them instead – what kind of message would that give them?  It's not an easy choice to make by any means, but I do believe its the right one.
Anyway, the purpose of this post was to share a little of the planning and preparation I'm beginning to do for my trip – with only three months to go I need to make a start and keep track of what I have and haven't done otherwise I'll never be ready in time!
I've booked my flights via British Airways, the only airline to fly direct to Denver from the UK.  I could have got cheaper flights by going with a less well-known airline and having a stopover either somewhere random like Iceland or in another US city, but it would only be for an hour or so and it didn't seem worth the extra travel time – 16 hours as opposed to ten – as I wouldn't have got the chance to actually explore outside of the airport anyway.  Plus BA are such a trusted company – I know I'll be well looked after.
I've bought my Lonely Planet Guide to Colorado – they are the only travel guides I'll use.  My long-standing loyalty to them began when I first went travelling to Australia in my late teens and now it's a bit of a tradition that I buy one for every place I/we visit.  So I've been poring over that at every opportunity I get, making notes and planning where I might stay and the things I might do whilst I'm in Denver for the day before the retreat starts.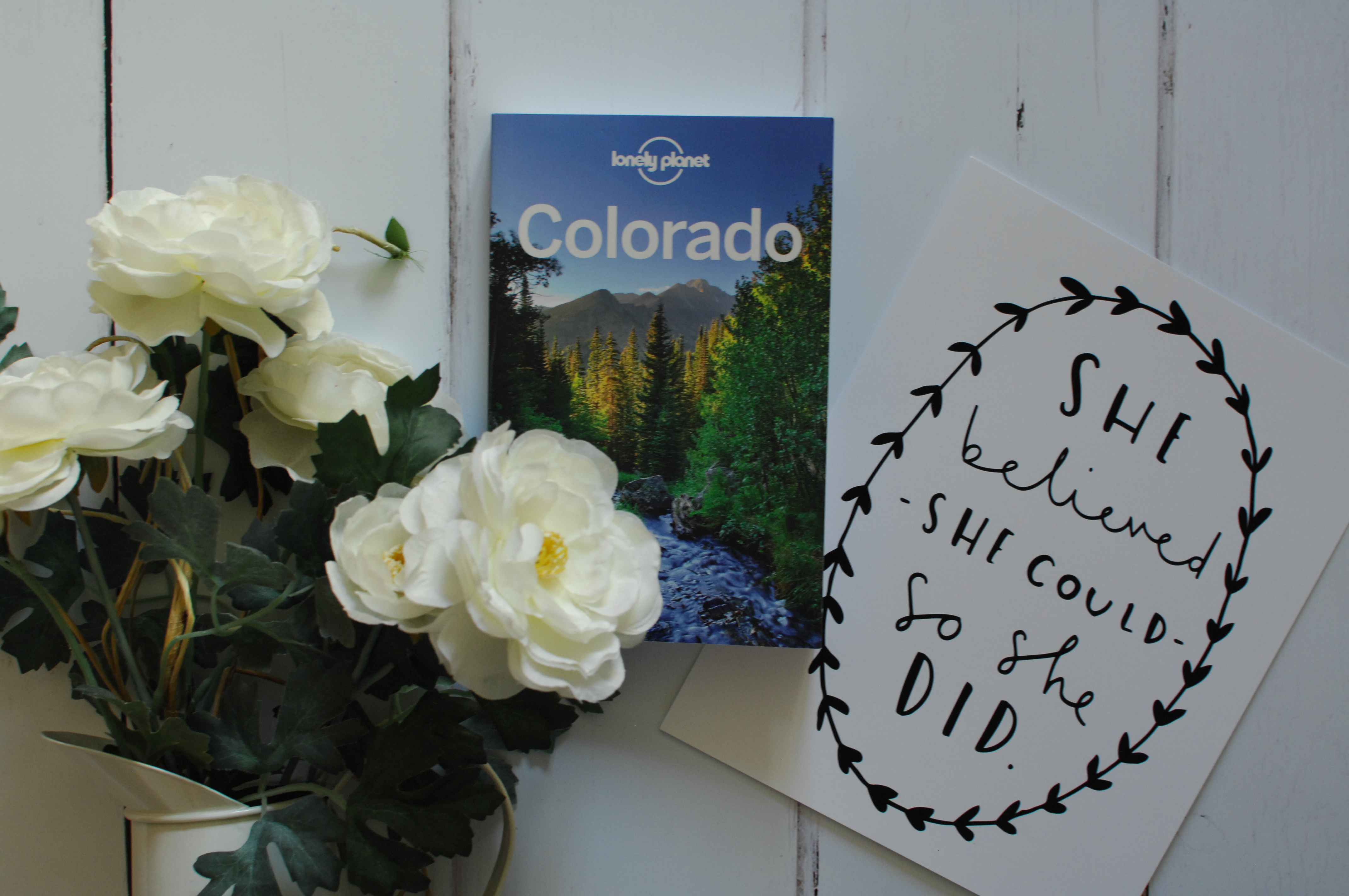 I've also been connecting with the other women and our host in our private Facebook group and everyone seems really lovely.  Already the feel of the group is one of encouragement, support, friendship and fun, and I can't wait to meet them all in person.
And finally I've started trying to figure out what clothes and equipment I might need to pack to take with me.  I have no idea what the weather is going to be like at that time of year, what our accommodation is like (beyond it being a cabin in the mountains!) or how much outdoorsy stuff we'll be doing, so I think I might need to take a bit of a selection of things to cover all eventualities (there goes my original plan of packing light!).  I've got my eye on a snuggly sweatshirt from 'The FMLY store' in case the nights are chilly and I want to invest in a decent camera that I can use specifically for vlogging while I'm there (because I know that no matter how many photos I take I'm going to want to remember this trip in more ways than just through images).
I'm pretty sure that once the summer holidays arrive in just over three weeks, the time is going to zoom past even faster than it already is so I really need to get cracking on some of the things I mentioned.
If any of you lovely readers have ever visited Denver, any recommendations for funky hotels to stay in and what would be top of your list for interesting places to explore would be very much appreciated.  Rest assured I'll be writing plenty of blog posts once I'm back to document my experiences and I have no doubt that I'll have about eleventy-billion photos to share with you all as well.  Thanks in advance for any insights you share with me!