This time last week, my eldest baby, Ella, turned twelve.  TWELVE!  How am I a mama to a twelve year old?  I remember the day she was born like it was yesterday and now suddenly we're here, on the cusp of teenagerhood, having almost completed her first full term at high school.  I can't quite believe it.  And yet at the same time it somehow felt like she'd already been twelve for a while in the lead up to her actual birthday, so that by the time it arrived it was almost like a familiar milestone had been reached.
We didn't really know how to celebrate Ella's birthday this year.  I wanted to make it special for her and we went back and forth through many different ideas together in the weeks leading up to the big day: bowling; cinema; a sleepover; a movie night; a meal out…?
At the end of November, a couple of weeks before her birthday, she and I were able to spend a special day together (just the two of us) thanks to a well-timed inset day.  We went for tea and cake at her favourite local café, did some clothes shopping and then spent the afternoon snuggling on the sofa together watching her favourite YouTube videos.  It was really lovely to be able to focus fully on her for six whole hours and I'm sure she felt the benefit of having my undivided attention – we talked and laughed a lot together.
Ella's actual birthday, in early December, fell on a Friday and we wanted to keep that weekend for our family celebrations, so in the end we decided that she could do something with her friends the weekend before.  She opted to keep it simple and decided to take two friends to the cinema to see 'The Grinch' – we've just had a brand new Odeon Luxe open in our town after eighteen months without any cinema at all (yay!) so she was keen to try out the luxury reclining seats.   I have to admit to getting a little emotional as I waved the three of them off in the foyer for her first cinema trip without an adult being present.  Silly, I know – of all the things to get emotional over! – but it really hit me in that moment that she's growing up and will soon be doing more and more without me as she becomes more independent.  I have to learn to let her go.  I've given her strong roots (I hope) and now I need to let her stretch her wings.  The cinema trip was, of course, a complete success and, fuelled by popcorn and slush puppy, she talked excitedly about it the whole way home.
I say it multiple times every year but I'm going to say it again anyway: there definitely needs to be a rule stating that you don't have to go to school or work on your birthday.  Sadly, because no such rule exists, we squeezed in watching Ella open her main cards and presents from us first thing in the morning (before even the sun was awake!) in advance of heading off for a full day of learning at school.  At least she had her favourite lessons that day (English and Art, and no Maths!).  We bought her a laptop and she was absolutely thrilled with it – up until now she's been using my ancient, ridiculously slow, discarded one to do her homework on.  Now she has one of her own and will be able to use it for writing her stories, storing her photos and contributing to her own little corner on this blog too.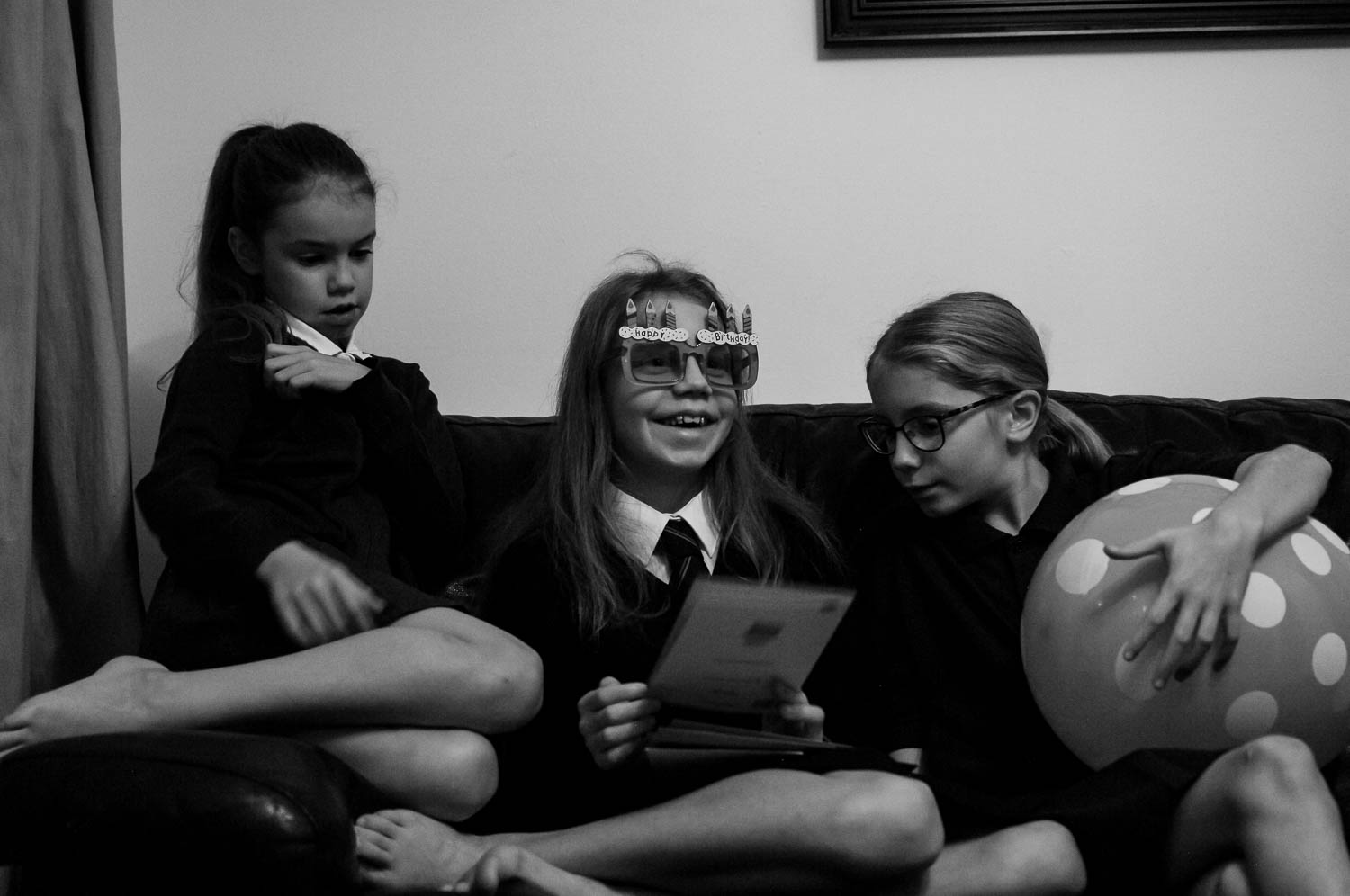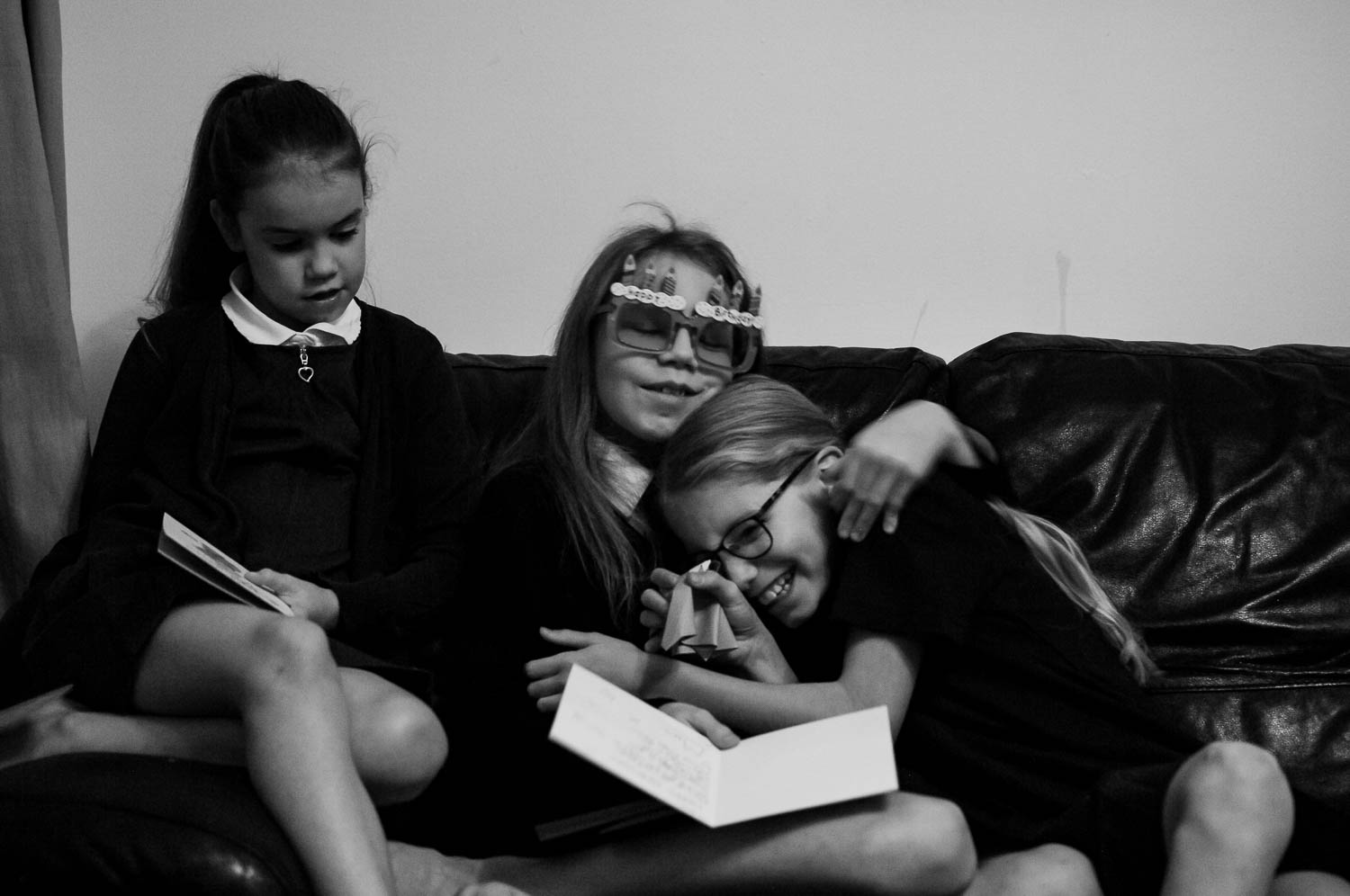 After school we sang her happy birthday and she blew out twelve candles on top of twelve cupcakes, a huge smile lighting up her face, before we all headed out for a family dinner at her favourite place to eat: Pizza Express.
The teenager came up to visit for the weekend and the birthday celebrations continued.  Ella opened the rest of her presents from family and friends and was delighted with every single thing she received.  She was full of gratitude too which was lovely to see and made me feel incredibly proud of who she's becoming.  Each of her gifts were so thoughtfully chosen and absolutely perfect for her, which she recognised.  This year I noticed even more of a shift in the kinds of presents she's been given than I did last year.  Clothes, perfume, make up, stationary and vouchers plus plenty of books – I'm glad that she still loves reading so much and it has remained her constant even now.   I don't think she stopped smiling the whole day and she kept running up to me, giving me a huge hug and saying "I'm so happy!".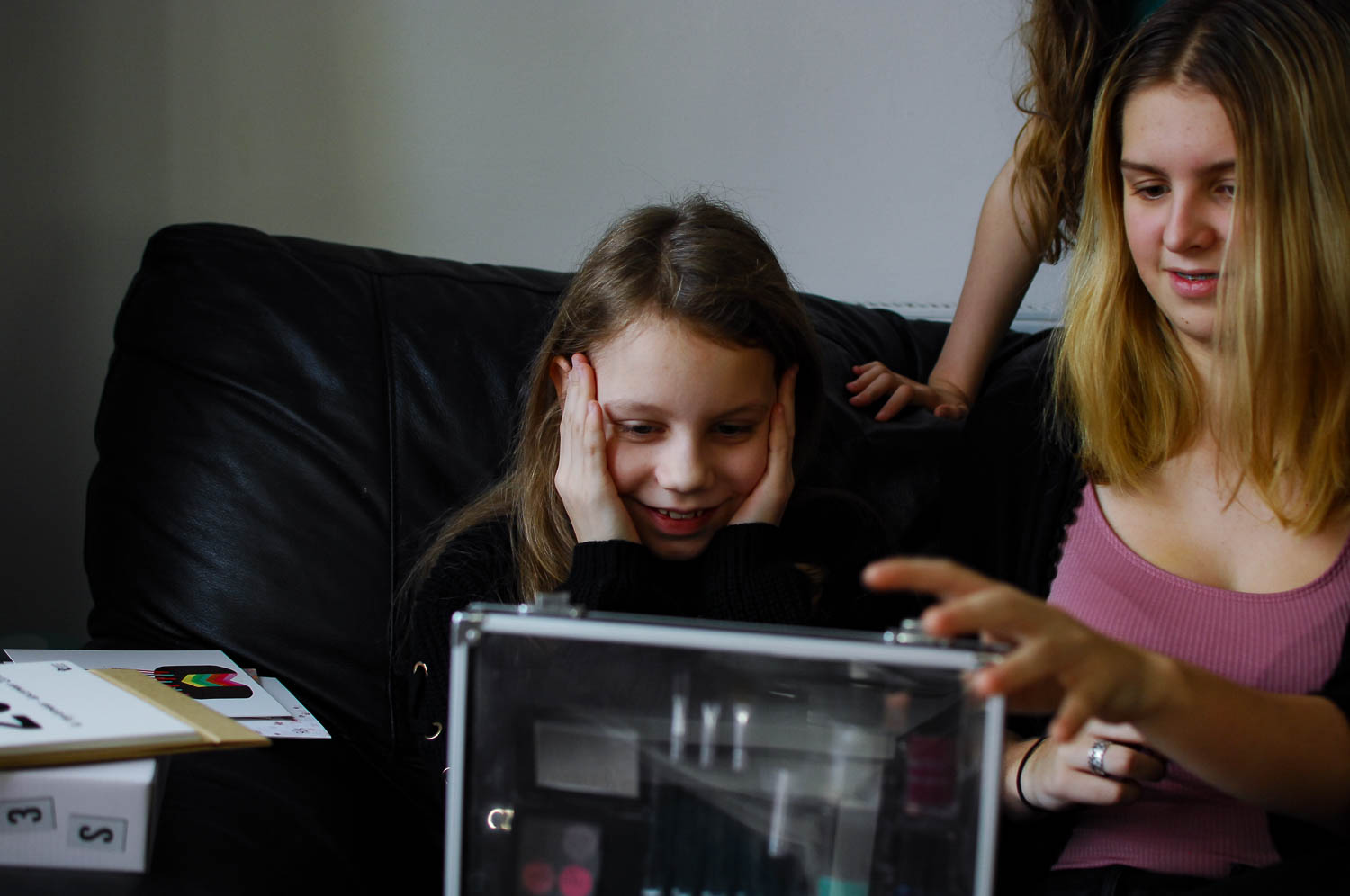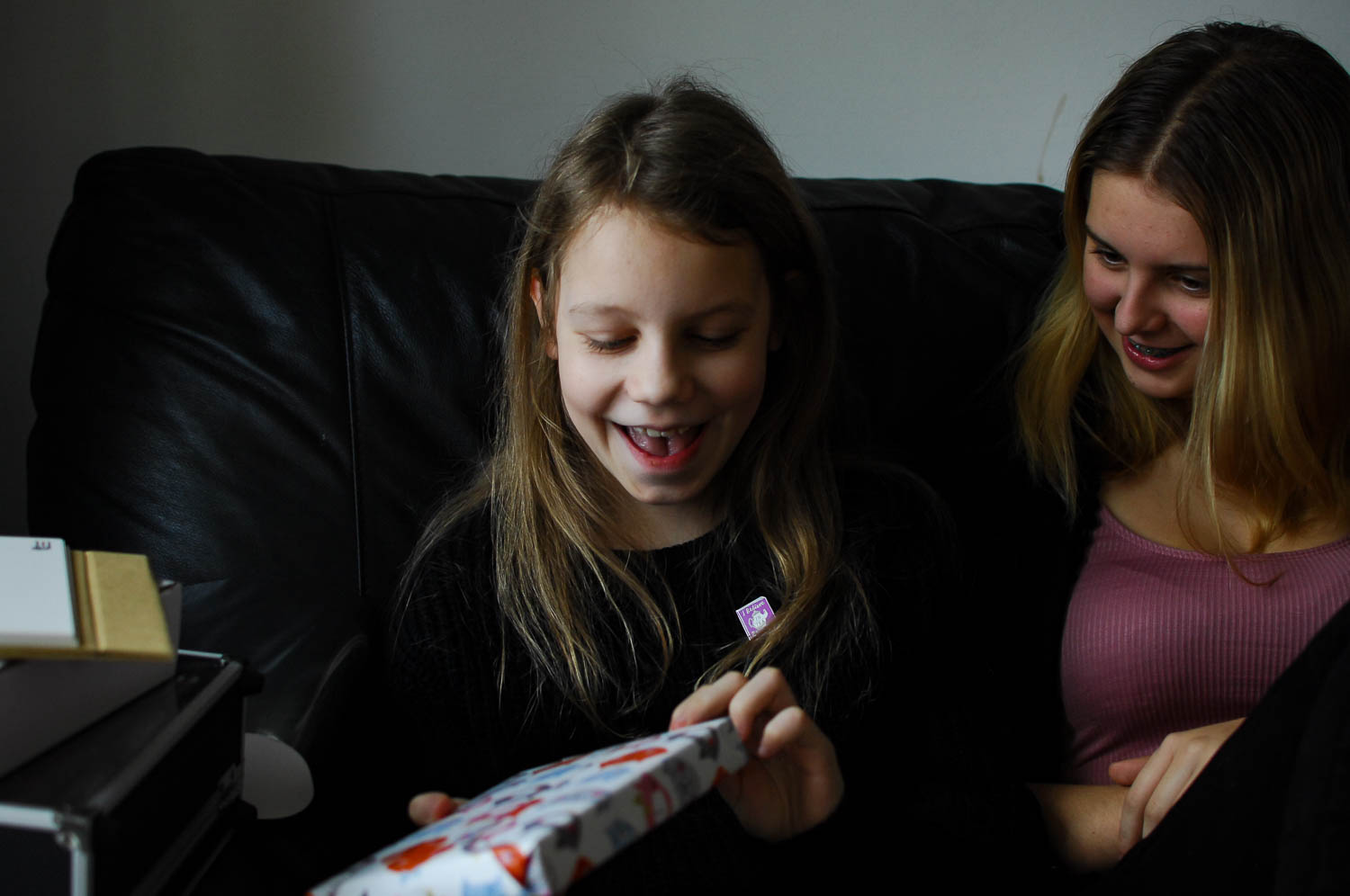 I asked her to answer each of the following questions – I want to document them as they change for each of the girls over time.
This is Ella, aged twelve…
~  Favourite book: "I can't choose!  'The Mortal Instruments'; 'The Hunger Games'; 'Divergent'; 'Twilight'; and 'Percy Jackson'."
~  Favourite band: "Now United and Ariana Grande"
~  Favourite thing to do: "Read!"
~  Favourite film: "The Greatest Showman"
~  Favourite food/meal: "KFC!"
~  Favourite colour: "Orange, like a sunset"
~  What she's into: "Watching YouTube videos (AmandaRachLee; MummyDaddyMe; and How To Cake It), shopping for clothes & books, and baking."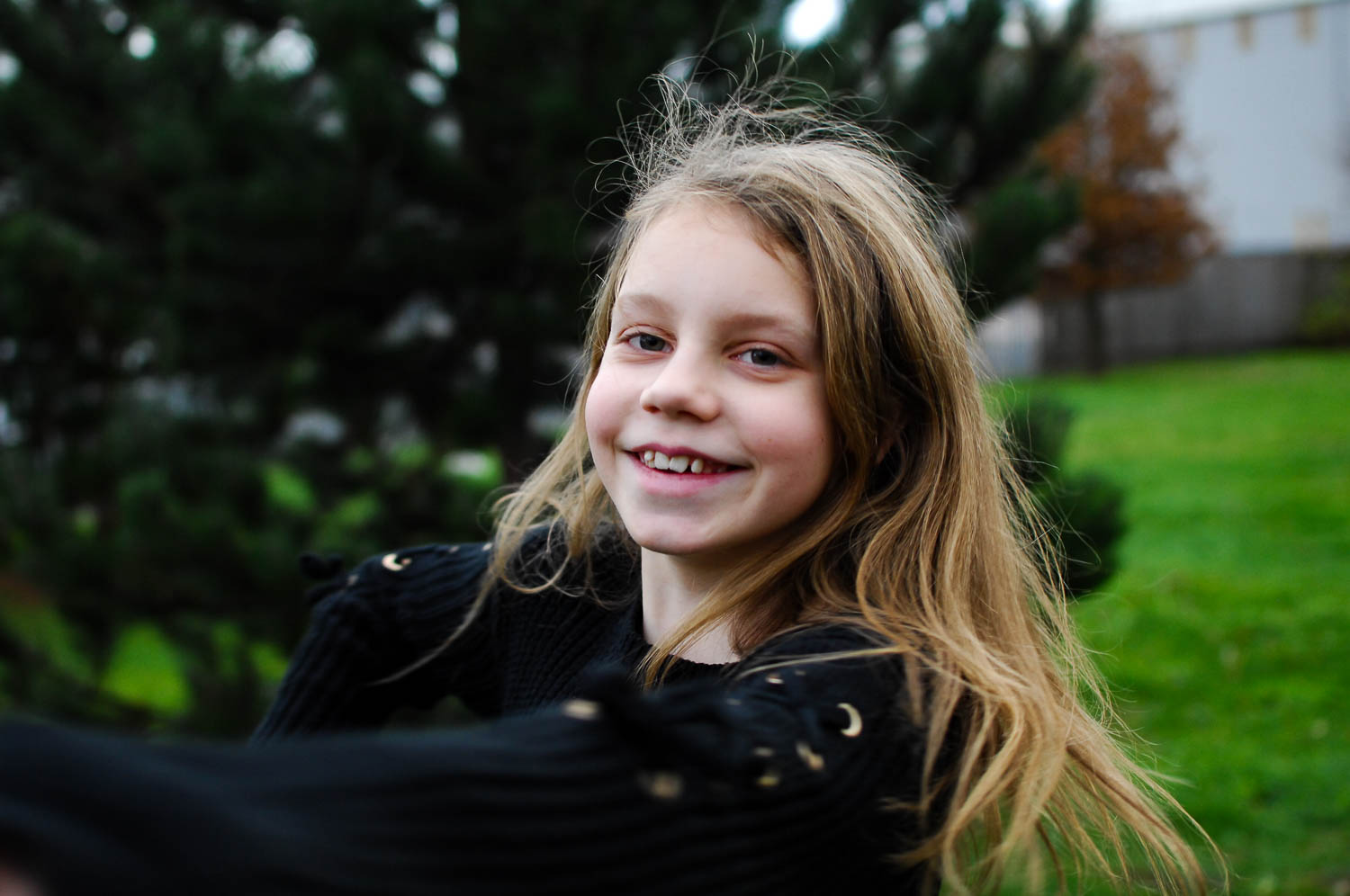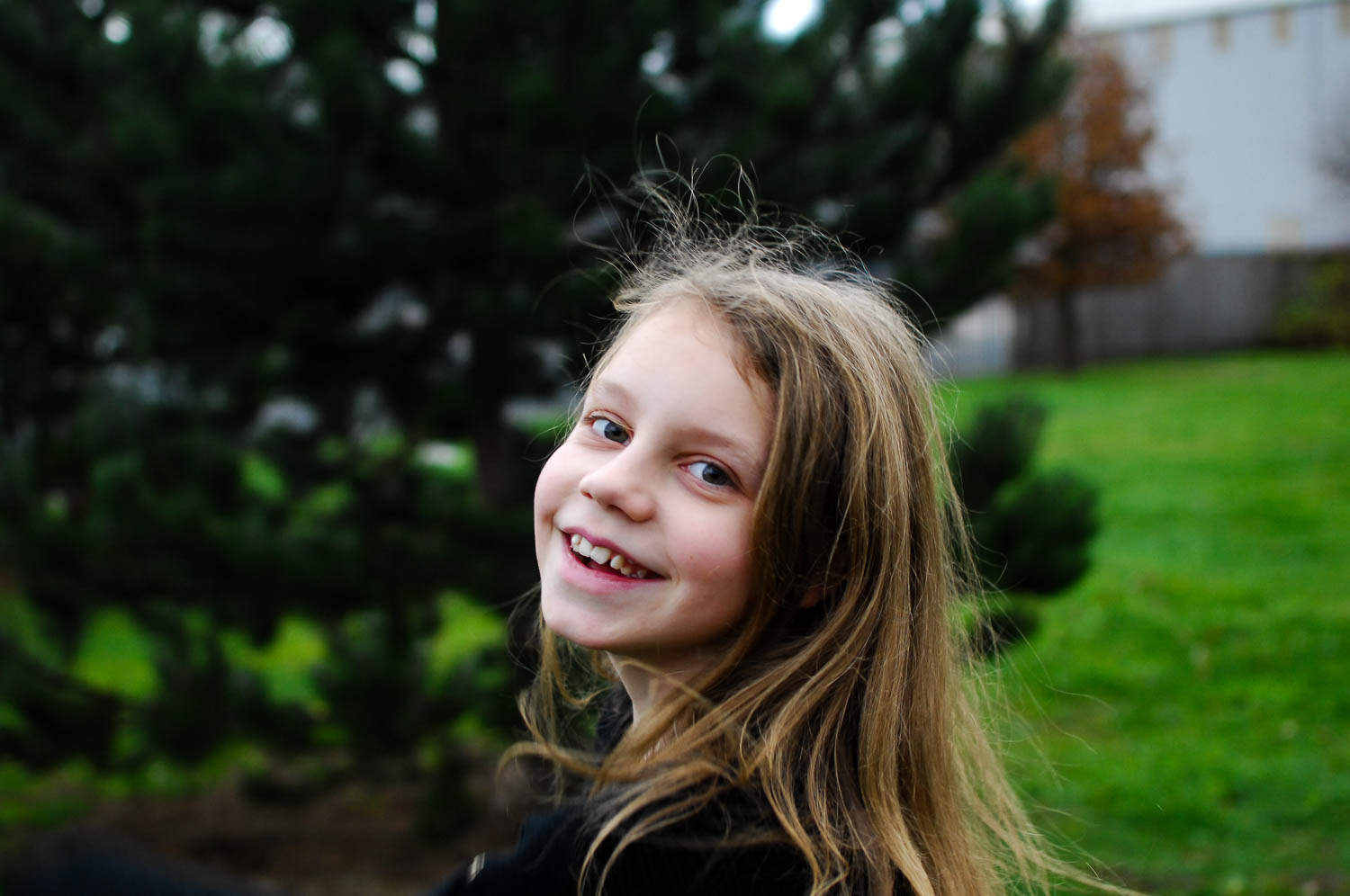 I've learned a lot over the last twelve years – she's taught me so much.  We've experienced so many 'firsts' together, she and I.  And we still have so many more to come.  I marvel at her every single day and I hope we continue to stay as close throughout her teenage years as we are now.  I hope she knows that she can talk to me about anything, that I will always support her in following her dreams and that I believe she can achieve anything she puts her mind to.
Happy twelfth birthday Ella – we love you more than you will ever know.