June seems to have passed by quite quickly and I'm not entirely sure how we're halfway through the year already.  I said that to someone the other day and their response was to cheerfully let me know that "it'll be Christmas before we know it!".  Um, no.  Just, no.
In contrast to the last four months though, the pace of each day has felt much slower which has been a very welcome change.  I've deliberately worked less, I've actually sat down to read in the evenings, the girls haven't been quite as busy with school-related activities and I feel a little bit more rested.  I think maybe the craziness of February through May finally caught up with me and my body and mind let me know that I needed to slow down.
Here are all the little things I've been loving lately throughout June:
*Please note that this post contains affiliate links (marked with a *).  This means I will receive a small commission for any purchases made by clicking through the link, at no extra cost to you*  
READ
Hashtag Authentic: 'Hashtag Authentic' by Sara Tasker was on my birthday wish-list and I was so happy when I unwrapped it last month!  I've been saving it for when I knew I had some quiet space to properly immerse myself in it, read it slowly and take it all in.  I'm really glad I did: I took my time over several evenings; made plenty of notes; underlined words/sentences/whole paragraphs that resonated with me; and found myself nodding along in so many places.
It's a beautiful book.  The soft and muted colours, the texture of the cover and the pages, the layout and the space inside.  Visually it's just so… aesthetic? Comforting? Pleasing?  I'm not sure what the right word is.  Maybe it's all of them combined.  I found myself poring over the images, trying to work out what it was about them that made me feel something and what it was that I felt.  It was a useful thing to do and I think I need to go back and do it again.  I also need to revisit the book so I can work through and complete each of the exercises – I can already tell they're going to be incredibly useful at helping me figure out my vision and develop my storytelling skills.
It's definitely a book that needs to be savoured, slowly, with steam rising from a mug of hot chocolate, a blanket over your feet and a cat curled up by your side. Absolutely perfect reading material for the solid two weeks of non stop rain we had at the start of the month.  If you're creative, a storyteller in any form, and/or enjoy using Instagram to showcase your work/art, then this is well worth a read.
Photography Articles:  I've been diving into photography a lot this month, determined to make the most of the free membership to ClickinMoms that I won at the start of the year.  This article:  How I Found My Unique Photography Style By Doing These 5 Things by Click Pro Jess Buttermore (@jessi.b.photo on Instagram) really struck a chord with me and I'm going to work my way through the exercises she suggests.  A good reminder that it all comes down to remembering your 'why', creating images that you're proud of and sharing stuff that YOU love.
And this article: Unexpected Locations That Make For Picture Perfect Backdrops by another Click Pro, Karlee Hooper (@karleehooperphotography on Instagram), who's work I love, has given me some new ideas for scouting different locations and has inspired me to turn it into a bit of a treasure hunt.
ClickinMoms has been a huge source of inspiration, learning, support and encouragement for the last six months and I'm certain I'll be renewing my membership once my subscription runs out.  If you love photography, whether you're an experienced pro or a newbie hobbyist, there's something there for you.  You don't have to be a Mum either and all kinds of photography is covered, from families to weddings to macro to landscapes and everything in between.  You can find out more about ClickinMoms and become a member here*.
The Book Of Dust:  I'm SO close to finishing 'The Book Of Dust' by Philip Pullman.  I found it fairly hard going at first – I was enjoying it but, because I only have short snatches of time to read, it was taking me a while to get into it each time and as it's quite complex I found myself putting it off.  This last week I've been making a conscious effort to take it with me around the house instead of my phone, so whilst I'm waiting for the kettle to boil or waiting for the girls to finish getting ready for school I can read a few pages instead of mindlessly watching Instagram stories or checking my emails.  It's made a huge difference and I'm picking it up more and more often.  I think I've got just over 100 pages left to go now and I have no idea how it's going to conclude.  The intricacies interwoven in the storyline, the way it all links in with the 'His Dark Materials' trilogy, the incredible scene-setting and descriptions… it's brilliant.  I'm already looking forward to reading The Secret Commonwealth (set after His Dark Materials) when it's released later this year.
WATCHED
Aladdin:  Avid Disney fans that we are, we'd all been ridiculously excited to see Aladdin at the cinema as soon as possible after it was released.  The rain-soaked weekend at the start of the month was the perfect opportunity and it was so good!  I'd been a bit worried that Will Smith wouldn't be able to live up to Robin Williams' role as the Genie but actually, although there were some undeniable similarities, he also made the role his own.  I cried when they sang 'A Whole New World (yes, I'm THAT mum in the cinema) and I was mesmerised with the colours and costumes and cinematography, which were just wonderful.  Thumbs up all round.
Sunrises:  The mixed weather throughout June has had one redeeming factor – the beautiful sunrises it's produced.  The early hours are my favourite time of day – the house is quiet and I get to watch the world wake up.  Here are a couple of my favourites this month:
HEARD
Music:  This collaboration between James Bay and Lewis Capaldi…
…and this beautiful song that I stumbled across via Instagram.  It was the background music of a family video that someone I follow had shared and I fell in love with it.  There is something so very special about family films – they make me cry every single time, without fail, even if I don't know the family personally.  How daft is that?!.  I'm desperate to have one made of us, and I'd love to learn the art of creating them myself so I can offer them to other families once my photography business is more established.
High School news:  We found out which form tutor Mimi will be having when she starts high school in September, and also who out of all of her friends will be with her in her tutor group.  Thankfully her request was granted and she'll be with her best friend, which she's thrilled about.  I still can't believe that in three weeks time she'll be leaving primary school for good and that come the new school year two of my girls will be in high school.
Competition winner:  I heard that I won another competition!  This time it's a year-long subscription to Click Magazine.  I'm absolutely thrilled as it's jam-packed with so much fantastically inspiring and informative photography-related content.  I can't wait to receive my first issue.  That's three photographic competitions now:  1/ the opportunity to attend Leap Retreat in Colorado back in 2017; 2/ a year long membership to ClickinMoms*; and now 3/ a year long subscription to Click Magazine.  Photography and writing are all I really want to do – I think perhaps it's about time I actually pay attention to all of these little signs and nudges in the right direction and actually take action on turning my dream into a reality.
MADE
Travel vlog:  I made this video of our trip to Cornwall during the Easter holidays.  They take me absolutely ages to put together but they are so worth the time and energy I invest in creating them.  The girls (and I) love watching them back and remembering all the fun we had, and I'm sure they'll be a source of fond memories for years to come.  (If you fancy seeing more of what we get up to on our travels, hit the subscribe button!  There will be a Boston/Cape Cod video coming soon).
A spur of the moment decision:   I'd ummed and ahhed for ages and finally, on the very last day for registration, I made the spur of the moment decision to sign up for an online photography workshop through Hello Storyteller, another photographic community akin to ClickinMoms.  For as long as I can remember I've been obsessed with capturing the details of a scene, and of my girls.  Eyelashes, hair, hands, skin, the curve of a spine.  It's such an important part of the overall story.  So when 'Minutiae: Documenting The Details', taught by Angie Mahlke, was announced, I knew I wanted to take part.  There were five different assignments, all to be completed within the course of a week – shooting & editing – it was pretty intense as I was doing it on top of my job and all the kids various activities.
I'm so pleased I did it.  I love the photographs I captured of our ordinary, everyday moments.  The ones I've shared below are a small selection from the second assignment (and my favourite one) – capturing a single detail in a single setting in multiple ways.  I chose Lola's pigtails as I love her hair like that and it was something I really want to remember.  Angie gave brilliantly helpful feedback on every single image I submitted and it has definitely made me see things differently.  My main learnings have been to slow down, be more intentional when I'm shooting and really think about what story I'm trying to tell.
Rainbow Cheesecake Brownies:   Ella had an inset day off from schoool at the end of June and I always try and make them into lovebombing/'yes' days, where the girls get to choose whatever they want to do (within reasonable time and financial boundaries) and we do it.  On this day, she chose baking – the first time we'd done any since the kitchen has been finished.  We made rainbow cheesecake brownies, it took us all morning and we had a lot of fun together.  This one-to-one time is a rare and precious thing and I'm doing my best to soak it up with every chance I get.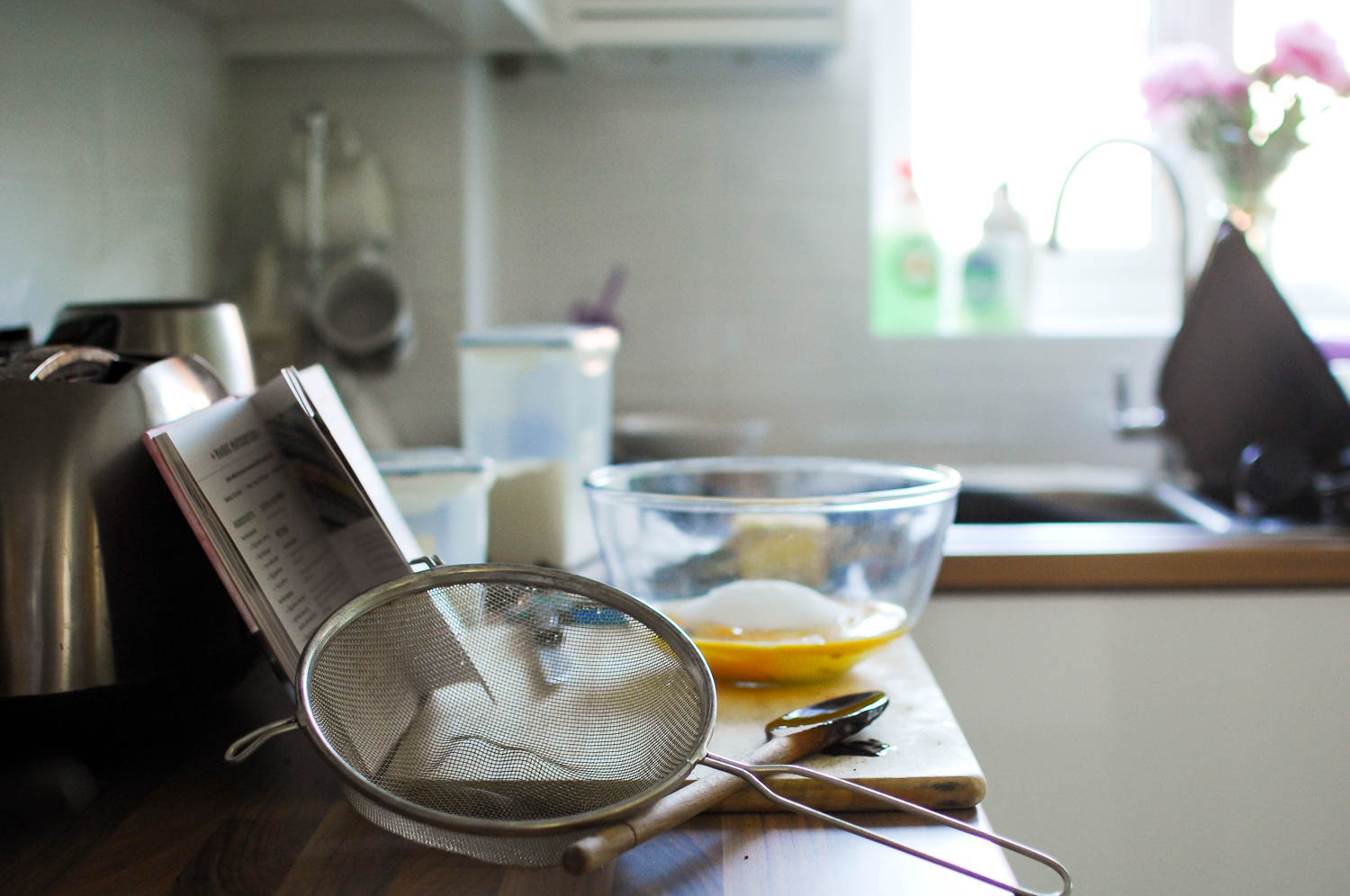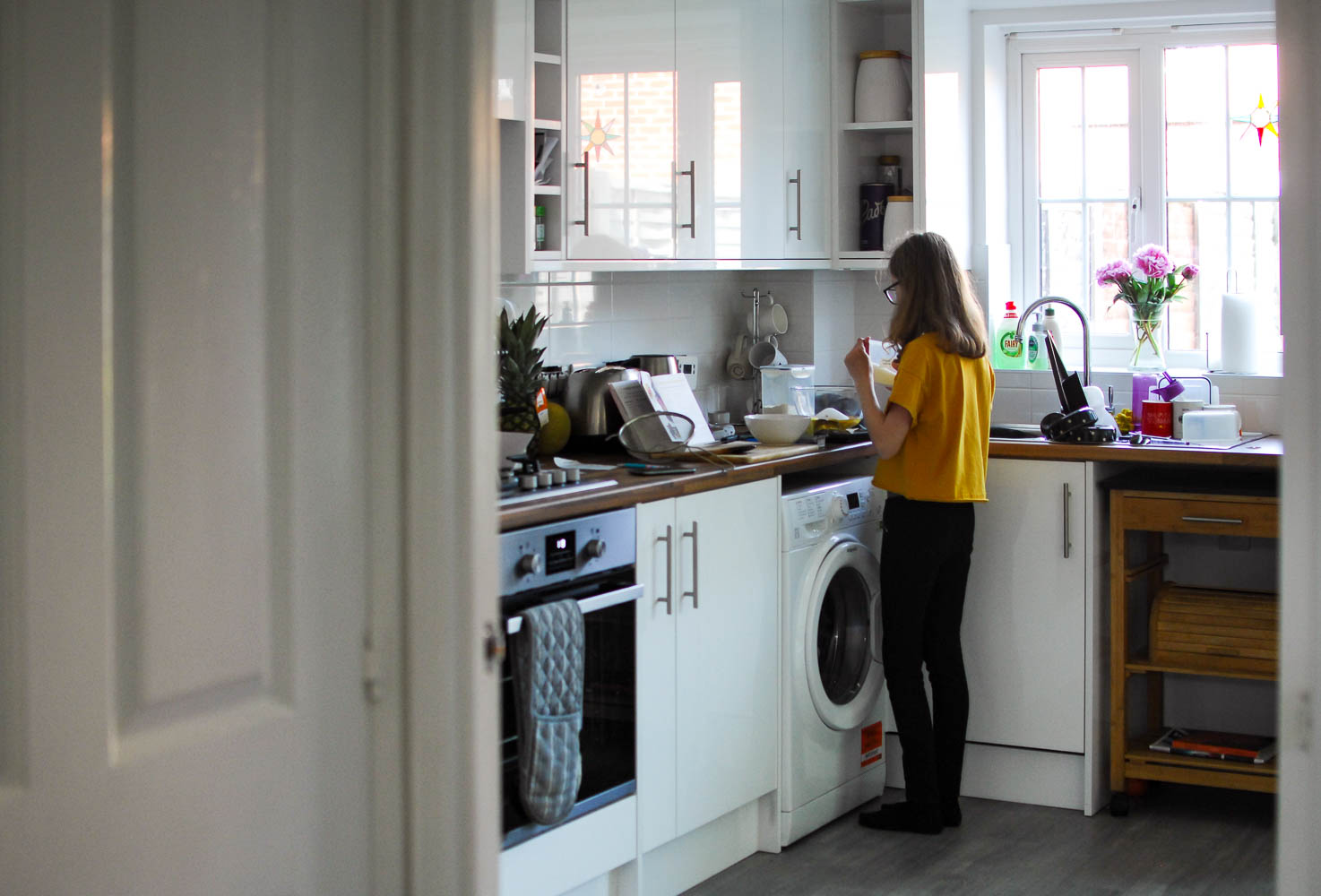 WORE
We arrived home in the UK from our US trip to three solid weeks on non-stop rain, meaning that we all pretty much lived in the snuggly warm Boston and Cape Cod hoodies we'd bought as souvenirs.
This final week of June has been the complete opposite with a mini-heatwave sweeping the nation.  It's meant Red Sox baseball caps being worn so that our partings and the tops of our ears don't get sunburnt, and swimming costumes & topknots in the paddling pool!
I really wish the weather would make up it's mind and that summer would properly arrive (and stay this time!).
AND FINALLY…
June also saw our five-year wedding anniversary pass by in a haze of ordinary moments (plus a surprise delivery of a beautiful bouquet of red roses); the work on our kitchen FINALLY being completed (four and a half months after the fire); and both Mimi and Lola compete in sports competitions for school (athletics, the county finals of tri-golf and football).  No photos because they prefer me to just drop them off and pick them up now rather than stay and watch, which I feel a little sad about whilst simultaneously being pleased that they are confident and independent enough to feel comfortable with me leaving them.  Oh motherhood, it's such a conflicting thing!
We did also manage to get out and about for a couple of weekend adventures too, which has made a huge difference to my mental wellbeing.  I NEED fresh air and green space and movement.  We took a trip to the rope swings on Cannock Chase:
We also made it up to Trentham Gardens for the first time since the start of the year and it was looking rather beautiful with all the flowers blooming in the grounds:
July sees the end of the school year rapidly approaching, along with all the activities and emotions that go along with that: Sports Day; high school transition day; and Mimi's 'Leavers Assembly' to watch.  I can't wait for the summer holidays to arrive and for there to be more unstructured time for a little while.  As we've already had our holiday this year (to Boston and Cape Cod in May half term) we'll be spending the six week break at home, hopefully with a mix of both busy days and slow days.  I'm sure there will be a fair amount of arguing and cried of "I'm bored!", but I'm going to do my best to make sure that thee is a lot of memory-making involved and there honestly is no place I would rather be than with my girls.
Joining in with Sincerely Anna and Little Loves.