Over the last couple of years Instagram has become my favourite social media channel by far.  I love the feel of community that has developed, the interesting conversations I have with people, the creative inspiration I draw from those I follow and, of course, the gorgeous images that I get to scroll through on a daily basis.  I follow quite an eclectic selection of people and I really enjoy having such a diverse mix of styles in my feed.
The majority of people I follow consist of photographers (mostly UK, US and Australia based) whose passion for capturing those moments of connection feeds my own photographer soul on a daily basis; family bloggers who make me laugh out loud at the antics their children get up to; and, more recently, family travel bloggers who make me want to grab my suitcase out of the loft and head off on an adventure with my girls immediately.
Instagram can be a great source of information and inspiration for those who love to explore the world, whether you're an armchair traveller, a serial wanderluster or somewhere in between.
I've picked up many tips from family travel bloggers on potential accommodation to stay in, hidden corners of a destination that are off the beaten track and well worth visiting, and recommendations for attractions and landmarks to visit in areas we've travelled to.
Travelling with kids, no matter what their ages, can always a little bit of a challenge and I've found that the more prepared I am in advance, the better it is for making a trip go smoothly.  If I can get insider information from someone who's been there and done it before it definitely makes a positive difference, and we've now got plenty of wonderful memories thanks to taking on board suggestions from family travel bloggers that we might not have known about if I hadn't been following them on Instagram.
Family Travel Bloggers To Follow On Instagram
This list of family travel bloggers are just a few I like to follow on Instagram.  I could have listed plenty more and may well end up writing another list in the future as there are so many others I enjoy following.  If you're on Instagram and enjoy travelling or have a travel wish-list that you're continuously adding to, I recommend giving these family travel bloggers a follow.  In no particular order…
Daisy: Dais Like These
Daisy blogs at Dais Like These and has three children like me. She covers everything travel-related including hotel and product reviews, ideas for family days out and travel tips.  Her Instagram feed is full of colourful images that are a mix of gorgeous wish-list destinations and UK based family fun.
Laura: Have Kids Can Travel
Laura blogs at Have Kids, Can Travel which is home to a huge wealth of travel inspiration and advice.  She and her husband home educate their four children (three teens and an almost-teen) which I am in awe of as it's something I'd love to be able to do myself.  She focuses on family travel close to home in the UK and Europe.  Her Instagram feed is full of outdoors adventures, sunsets and family selfies – exactly the kinds of things I love to do with my girls.
https://instagram.com/p/Bm22GJZnFhB/
Katie: Mummy Daddy Me
Katie blogs at Mummy Daddy Me and is one of the first family travel bloggers I ever followed on social media.  I love her travel blogs in particular – as a family with three children and a serious case of wanderlust, following her adventures with her family around the globe gives me continual inspiration and tips for where to go next.  Her Disney blogs in particular came in super handy when we visited Florida last year.  Her Instagram feed is always colourful and is a mix of images from their trips and life at home with honest and heartfelt captions.
https://instagram.com/p/BjWcD8nhvQz/
Maria: One Tiny Leap
Maria blogs at One Tiny Leap and writes about destinations around the world that she's both lived in and/or visited with her husband and son.  Her Instagram feed is a mix of fun family shots and beautiful views from across the globe.
Cathy: Mummy Travels
Cathy blogs at Mummy Travels, documenting her adventures near and far with her young daughter after refusing to swap a passport for a pushchair when her little girl was born.  Her Instagram feed is full of bright colours and travel inspiration from cities to countryside to coast.
Stuart, Sue and Annabel: Normans Running Wild
Stuart is a good friend of mine.  Almost three years ago he, his wife and his daughter (then aged ten) sold everything they owned – including their house and car – apart from what they could fit into their backpacks and set off on a worldschooling adventure.  They've travelled all over the world, including trekking to Everest Base Camp, and document their travels at Normans Running Wild.  Their Instagram is reflection of wherever in the world they happen to be – most recently Mexico although they've now moved on to the Pacific North West coast of America.  I can't wait to see where they end up next.
https://instagram.com/p/BnB9nk8HgO-/
Jenny: Travelynn Family
Jenny blogs at Travelynn Family promoting 'fearless family travel' and showing that adventurous travel with young kids is possible.  I love following their explorations on Instagram which have recently included an epic four month long African road-trip and a year spent living in India and travelling around Asia.  They've just put down roots in the Peak District (not that far away from me!).
https://instagram.com/p/Bna6EAOHx5j/
Sarah: Extraordinary Chaos
Sarah blogs at Extraordinary Chaos and travels solo as well as with her husband and teen boys. She loves going on cruises and covers places of interest in the UK as well as further afield. Her Instagram feed is lovely – full of pretty travel spots and family fun.
https://instagram.com/p/BllVWM6BOO-/
Chloe: Sorry About The Mess
Chloe blogs at Sorry About The Mess, which covers all aspects of family life with three kids.  It's her travel vlogs that I love most – a recent one about Rome brought back so many memories from when I visited there fourteen years ago.  As I'm just getting into travel vlogging myself it's inspiring seeing how she puts her videos together so beautifully.  Her Instagram feed is full of special moments and memories made with her boys.
Susanna: A Modern Mother
Susanna, one of the co-founders of Britmums, blogs at A Modern Mother where she focuses on travel inspiration for families with teens, often getting her kids involved with their thoughts on the paces they visit.  Her Instagram feed is full of images of delicious food and beautiful destinations covering California to Cornwall and everywhere in between.
Charly: Pod Travels
Charly blogs at Pod Travels and shares experiences of and ideas for both family travel and places more off-the-beaten track.  Her Instagram feed focuses mostly on the places they travel to as a family with discovery, exploration and adventure at the heart of every colourful image – seeing her photos as I'm scrolling always makes me feel like the sun is shining.
Monika: Mum On The Brink
Monika blogs at Mum On The Brink showcasing how living with less helps them travel more.  As a family of five ourselves, it's inspiring reading about how downsizing makes a difference.  Her Instagram feed is a mix of their sailing and campervanning adventures as well as life at home.
Vanessa: Wanderlust Crew
Vanessa and her husband blog at Wanderlust Crew about their worldschooling adventures with their four children. In my perfect life I'd be doing the same thing with my family and I love following other families who are living their dreams. Their Instagram feed is bright and colourful and they're always very honest about the realities of travelling with kids – the chaos and disasters mixed in with the fun and adventures – which I think is really important. In this social media focussed world it can be so easy to get sucked in to thinking that the perfect little squares on Instagram are people's real lives rather than their highlight reels. I find Wanderlust Crew to be a really refreshing antidote to that.
https://instagram.com/p/BnJXDtkgRTq/
Nell: The Pigeon Pair And Me
Nell blogs at The Pigeon Pair and Me, sharing her family's adventures across the UK and Europe.  Their recent trip to Loch Ness was a particular favourite of mine to follow – it's somewhere I've always wanted to visit.  Her Instagram feed is mostly made up of lovely landscape shots with a few cheek appearances from her son and daughter enjoying themselves and having new experiences too.
Me: Picture Taker Memory Maker
You can find me on Instagram too 🙂  I share images from our family travels: local fun on our doorstep in Staffordshire; adventures around the UK; as well as travels across Europe and further afield.  We've got lots of exciting plans already mapped out for next year so I'll be adding plenty of photos, tips and inspiration as the months go by.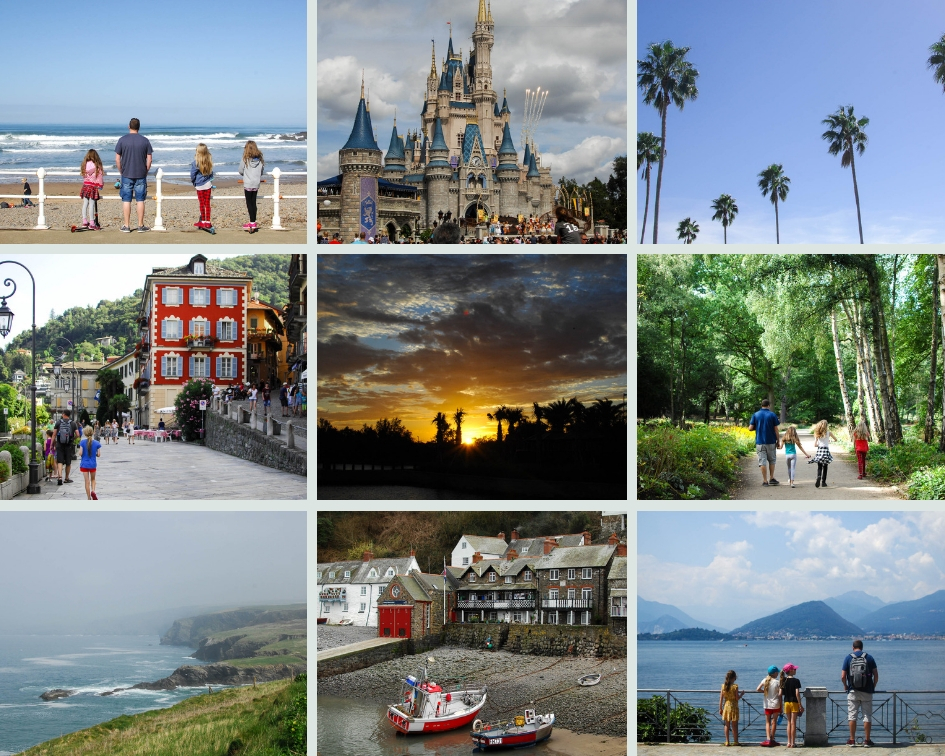 Do you have favourite family travel bloggers (or other accounts) that you love to follow on Instagram?  If so, please feel free to leave their Instagram handles in the comments below.  I love finding inspiring new people to follow!