September is my favourite month of the year and it feels like it has zoomed by.  I always see September as my 'new year' and begin the month full of ideas and with plenty of grand plans I want to put into action.  It takes me until we're a couple of weeks in to finally remember that it's a month of transition: from Summer to Autumn; from the freedom of the holidays to the routine of school: and from long, light days to darker mornings and evenings.  It always takes time to readjust and settle in to the new season, and I think it's important to allow ourselves that time and space to make the shift on a personal as well as a practical level.
Here are all the little things I've been loving lately throughout September…
 READ
I'm sad to say that I've not picked up a single book to read this month – a stark contrast to August when I managed to finish two books in just a couple of weeks.  The new school term has been full on and evenings seem to have been taken up with homework and spellings and times tables and reading practice and after school clubs.  Once I've eaten dinner and the girls are in bed I've been using the time to work rather than choosing to read and relax – I think I need to set aside a Friday evening to switch off and read instead.
I have bought some lovely new books though!  I've heard plenty of good things from various friends about 'Girl, Wash Your Face' by Rachel Hollis and am looking forward to getting stuck into that.  I have a feeling it's going to be very honest and possibly quite challenging – perhaps that's what I need right now.
I've followed Atticus Poetry on Instagram for a couple of years now and I love his writings.  He's anonymous so you never see his face, and he comes across as a very genuine and kind person.  I'm not usually a fan of poetry, but his words give me shivers sometimes – he has a way of getting right to the heart of something in such a simple way and it almost feels like the poems were written just for you.  I can't wait to read both of his books.
And finally 'Create Your Own Happy', co-written by my lovely friend Penny.  It's aimed at 7-11 year olds so I'm planning to work through it with all three of my girls during October half term.  It's all about helping them realise that they are in charge of choosing their own happiness rather than letting external things dictate how they think and feel.  It's something I teach and incorporate in to sessions with my therapy clients all the time, and I do my best to instil the same message in my girls too but I guess sometimes a colourfully illustrated book with fun activities to do gets the message home better than me explaining it to them.
WATCHED
Right at the beginning of the month we'd booked to go and see The Greatest Showman at an open-air cinema sing-a-long and we were all really looking forward to it – one last bit of fun for the end of the summer holidays before school started up again.  Sadly we ended up being unable to go for various reasons and rather than disappoint everyone we decided to have a family movie night instead.  So we piled onto the sofa with a blanket and bowls of sweets and popcorn and snuggled up together to watch it at home.  It was a late night for the girls but we all really enjoyed it and I might make it a monthly tradition (maybe with pizza!).
I've been thoroughly enjoying watching the new series of The Great British Bake Off and Strictly Come Dancing – I'm so happy that they're back!  I barely watch anything on TV any more as I'm usually working in the evenings, but these are two shows that I really get a lot of pleasure from.  It's hard to explain why – I think I love the wholesomeness of GBBO (and Noel Fielding and Sandi Toksvig are BRILLIANT!) and Strictly just makes me feel happy inside.  I'd give anything to be able to dance like that – they always look like they're having so much fun and I have a deep yearning inside me to give it a try and be able to move my body so freely.  Learning to dance is on my '40 Things Before I'm 40′ list so maybe this year will be the year I actually do something about it and sign up for some lessons.
I also watched Mimi run in her first cross country competition of the season.  It was an absolutely glorious evening of gorgeous sunshine and she did fantastically.  Her goal was to beat her 16th place position from the same race last year and she did it, coming in 15th out of a field of almost a hundred girls.  I'm so proud of her!
HEARD
September has been a big month of transitions all round.  I've heard all about Ella's first few weeks at high school.  She was so nervous in the lead up to her first day, bless her, and she came out brimming with positivity.  She's enjoying all of her classes, particularly English, Ethics, History and Art, and she likes her teachers too which is always a good thing – I think having good teachers who are firm whilst being fair (and fun!) makes such a difference to the overall experience of high school.  She gives me a detailed account of her day as we drive to pick up her sisters from their primary school and I love hearing all about what topic she's learning about in each lesson, who she sat with to eat lunch and how she's feeling about everything.  I know lots of children don't really share what they do at school with their parents so I feel very lucky that Ella does tell me everything and I'm soaking it up while it lasts.  Those 10 minutes I get to spend with her one-to-one are very precious.
It hasn't been totally smooth sailing – there have been a few wobbles too.  Her two biggest worries before she started were about getting to classes on time (and not being late), and finding herself lost in the maze of corridors because they weren't given a map to help them find their way around.  After her first week of being there the tiredness and overwhelm really hit home and I listened to her pour her heart out to me amidst lots of tears late on the Saturday night when she couldn't sleep for worrying and feeling sad.  She said that she's been feeling quite lonely too as she's not in any classes with her friends from primary school and hasn't found the courage to talk to anyone new yet, so I think she's felt like she's been dealing with it all on her own.
I'm so glad she feels able to talk to me about these things and I really hope that continues as she gets older and faces the ever changing challenges of growing up in this world we're in.  Together we figured out some things she could do differently and worked out ways that she could calm herself down and thankfully she seems to have taken them on board.  She still talks a lot about navigating her way around the school but it's got a more positive slant on it now – "I found a short cut that gets me to the Maths rooms more quickly" and "I know where I'm going now to get from the Art department to the Science rooms" for example – so hopefully she's settling in a bit more.  I guess it's always going to take time to adjust to a big change like this.  She's made friends with a girl in her tutor group now and has joined the choir too so fingers crossed we're through the bumpiest parts.
I also heard all about Mimi's adventures on her very first week-long residential trip with her school.  I remember Ella going last year and having a brilliant time and I knew that Mimi would love it too as all the activities are stuff she loves to do – physically challenging and a little bit risky.  She had a go at caving, climbing, high ropes and archery; they did bridge building, a blindfold trail and team building games; they spent a day on a long hike over The Roaches (somewhere I've not been yet but would love to go to!); and her most favourite thing of all was the BMX biking activity they did one afternoon.
She came home with a suitcase full of soaking wet and muddy clothes, minus her trainers (how on earth they disappeared I have no idea?!) and her torch which seems to have vanished into thin air, and with a huge smile on her face talking non-sop about it all.  It sounds like she made plenty of memories, had a lot of fun with her friends and gave everything a try – I'm so pleased it was such a positive experience for her.  It was ever so strange not having her at home for a whole week and whilst the slightly-reduced chaos was lovely I did miss her terribly and was so happy when she got home!
MADE
I've never been one for a Spring clean – I much prefer an Autumn declutter instead.  We had a bit of an impromptu bedroom reshuffle and shifted the girls furniture around a bit late one Sunday afternoon at the start of the month.  Of course it was then complete and utter chaos for a couple of weeks as we worked our way through the piles of stuff, deciding whether to keep it, give it away or sell it.  A trip to Ikea, a day spent making all the furniture we bought and as a result all three girls now have a desk to do their homework on (plus 'spinning chairs' which they've been desiring for a very long time); everyone has bookcases big enough to hold all of their books; and all three have somewhere to hang up their clothes.
I made a video of our trip to Italy and I love watching it back with the girls – we made so many lovely memories whilst we were there.  I love all of our little travel vlogs (you can see more of them on my YouTube channel – please do hit the 'subscribe' button whilst you're there!).  I'm still pretty new to capturing video and need a lot more practice, plus editing takes me days, but it's so worth it for the end result, even if it's not all that polished yet.  I can't wait to create more travel videos from other adventures we have planned in the future.
I also finally managed to put together a little vlog of my solo adventure to Leap Retreat in Colorado this time last year – it's only taken me twelve months to do it!  It was my first ever attempt at capturing video and so there is far too much talking and nowhere near enough footage of the details of the retreat itself but it does bring back some truly wonderful memories of an incredible three days with a group of inspiring women that I am privileged to call my friends.  I'd do it all over again in a heartbeat if I could.
WORE
The girls have been back to wearing their school uniforms now that a brand new term & school year has started.  Ella needed an entirely new uniform now that she's started at high school and has to get used to wearing shirts and ties and blazers – very different from what she was familiar with at primary school.  We practised tying her tie in the days leading up to her first morning and she's got it sorted now – I'm so pleased I captured these few shots of her learning how to do it because it's the details like this that I most want to remember.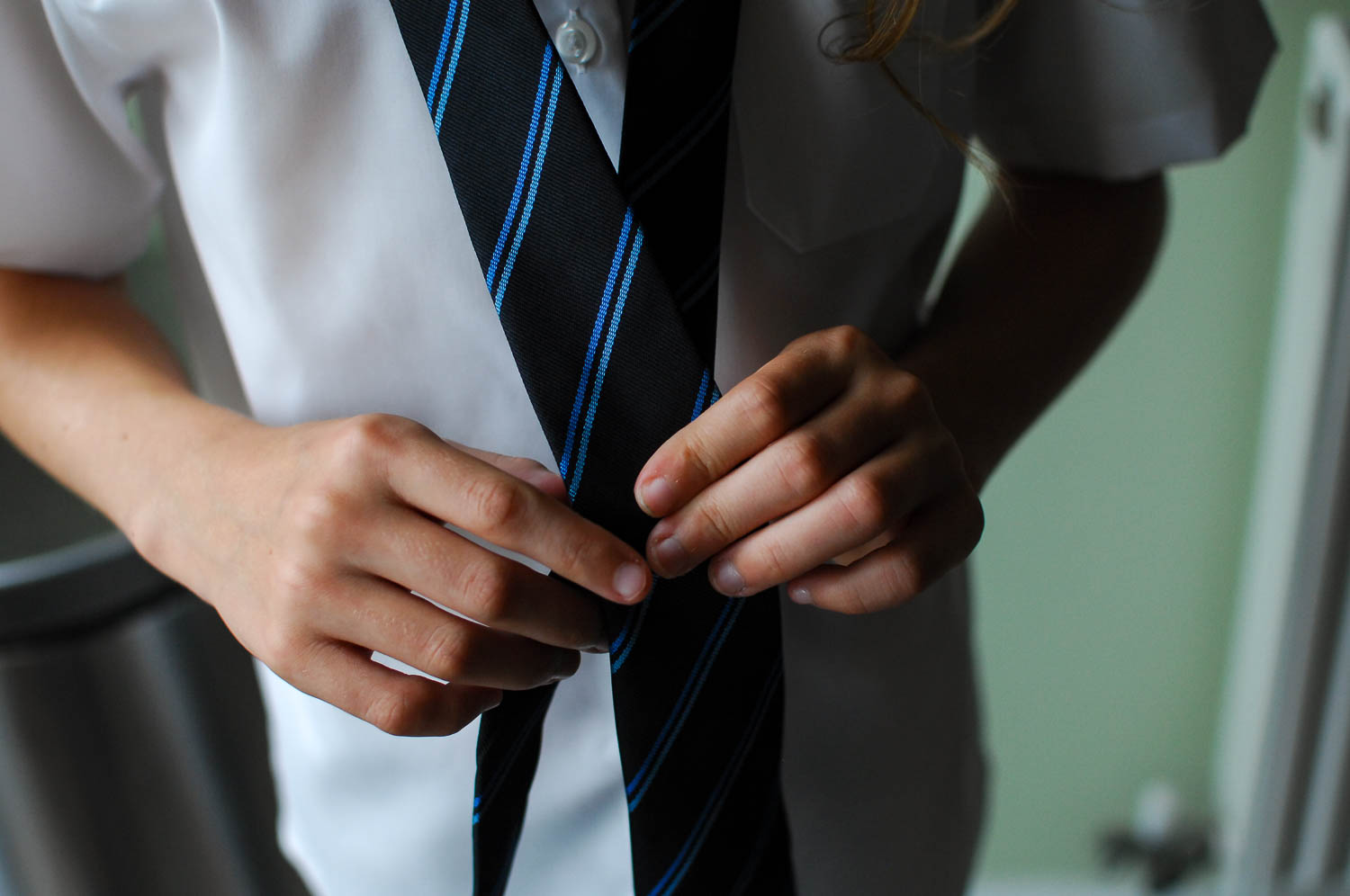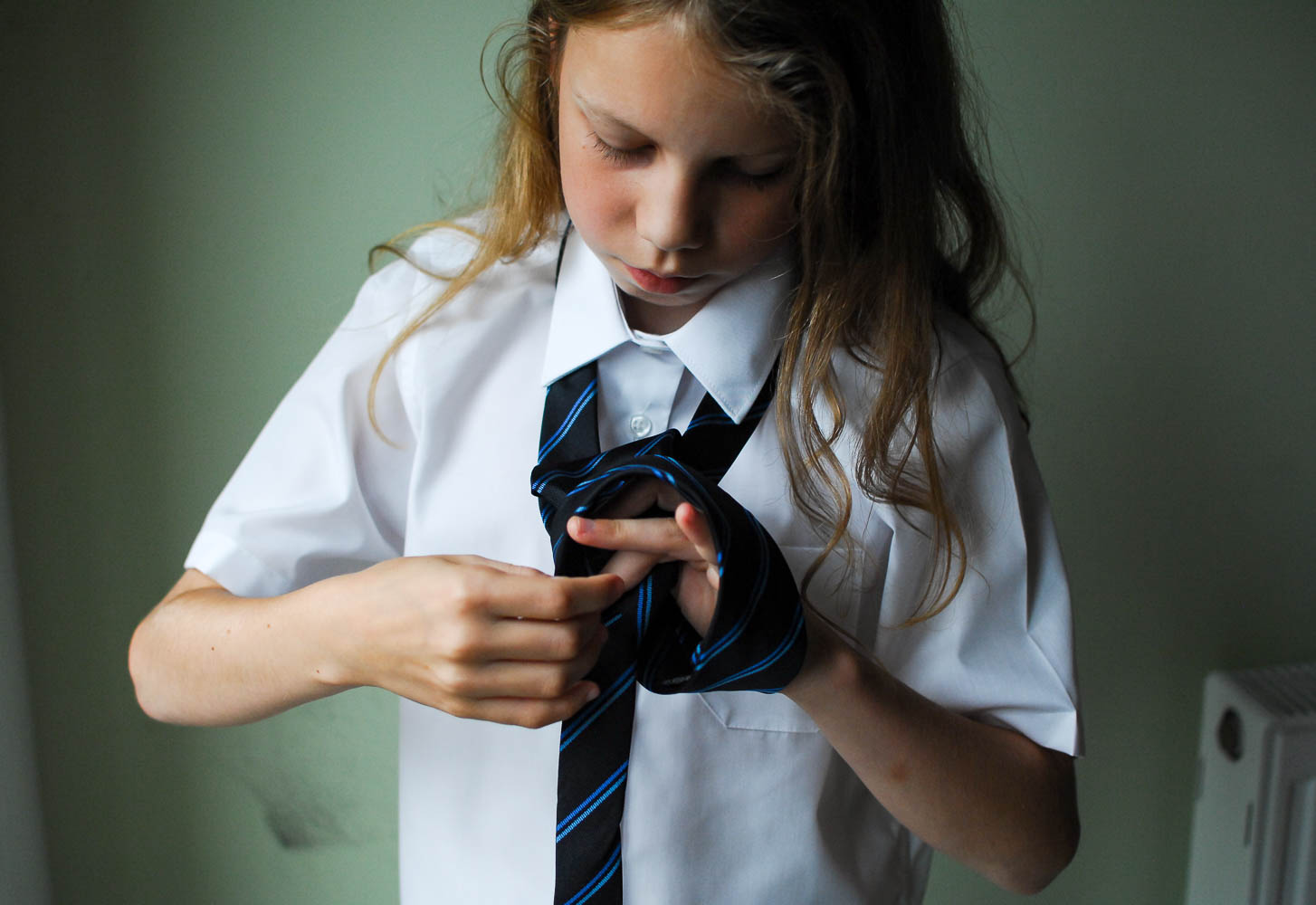 Ella has also been wearing her new glasses after finding out she needed them last month.  I think she looks ace in them!  She chose two different pairs: one of which is her favourite that she'll wear most of the time; and the other is a pair that she's planning to wear when she fancies a different look.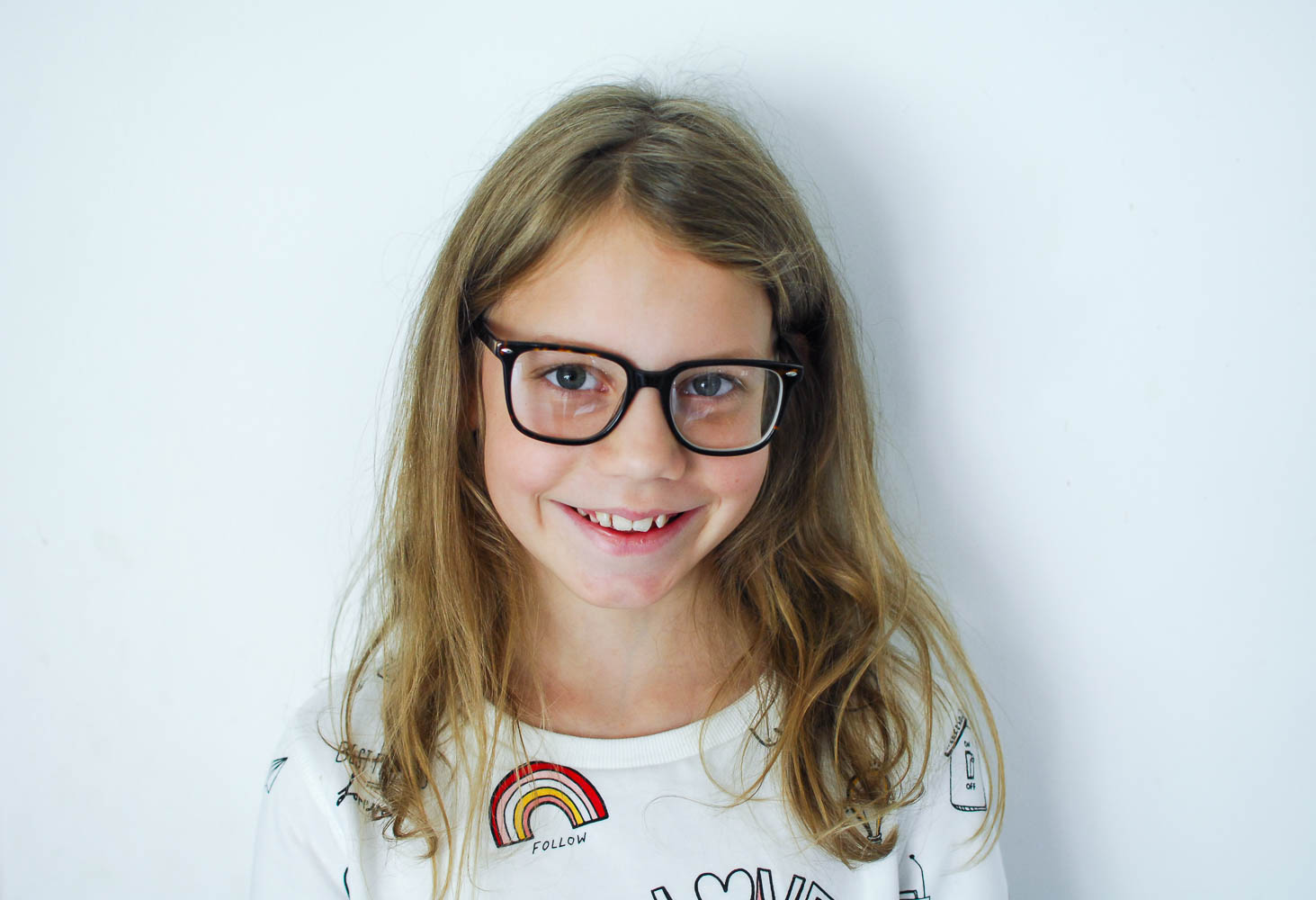 Ella wearing her favourite pair of glassesShe's turning into quite a fashionista actually.  She's discovered a love of shopping (particularly in H&M), has very clear ideas on what she does and doesn't like and puts together outfits that I wish I could wear!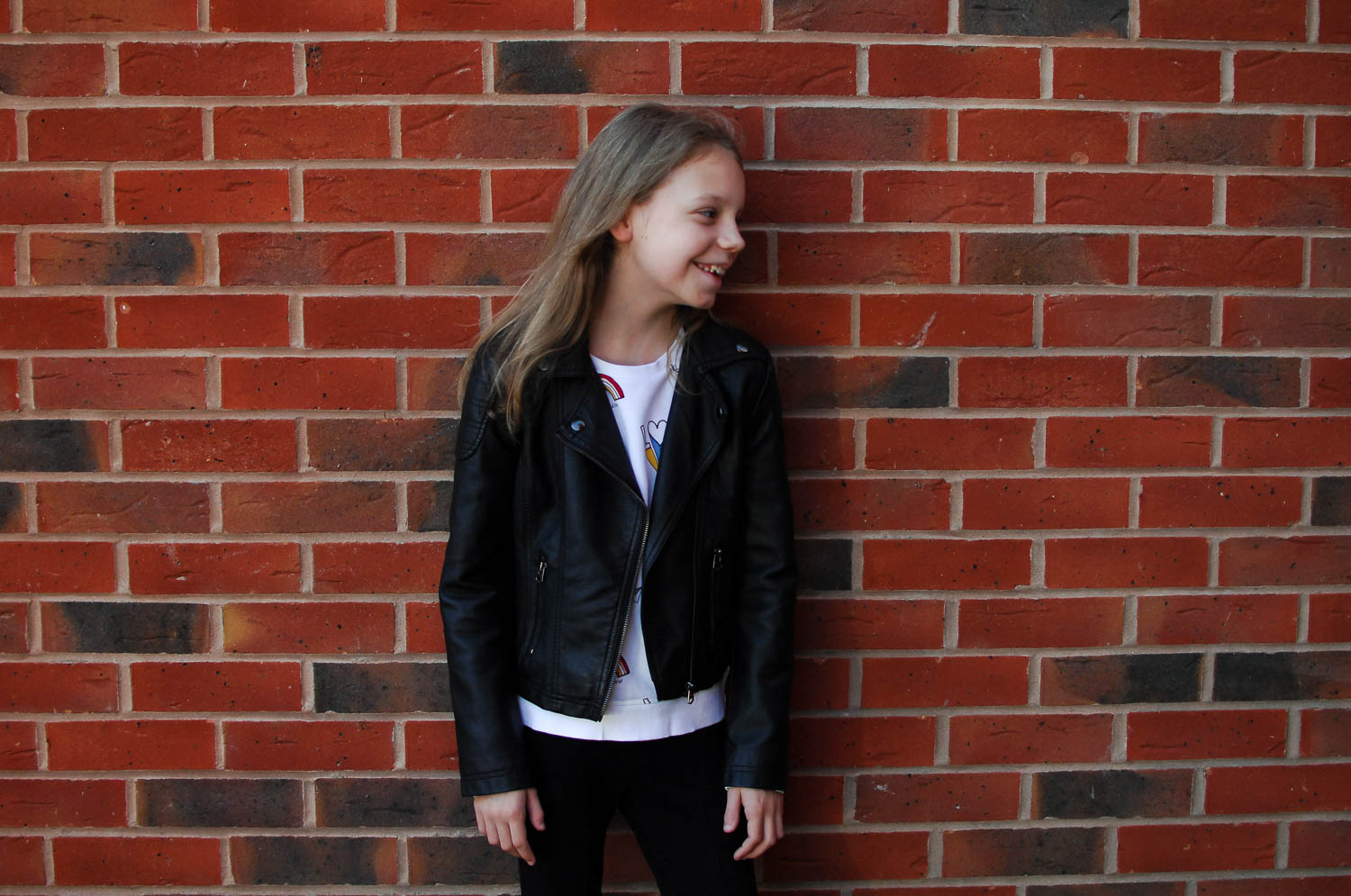 I will never, ever be this cool. I love this shot of her – I managed to capture her natural smile (as opposed to her posing-for-a-photo smile)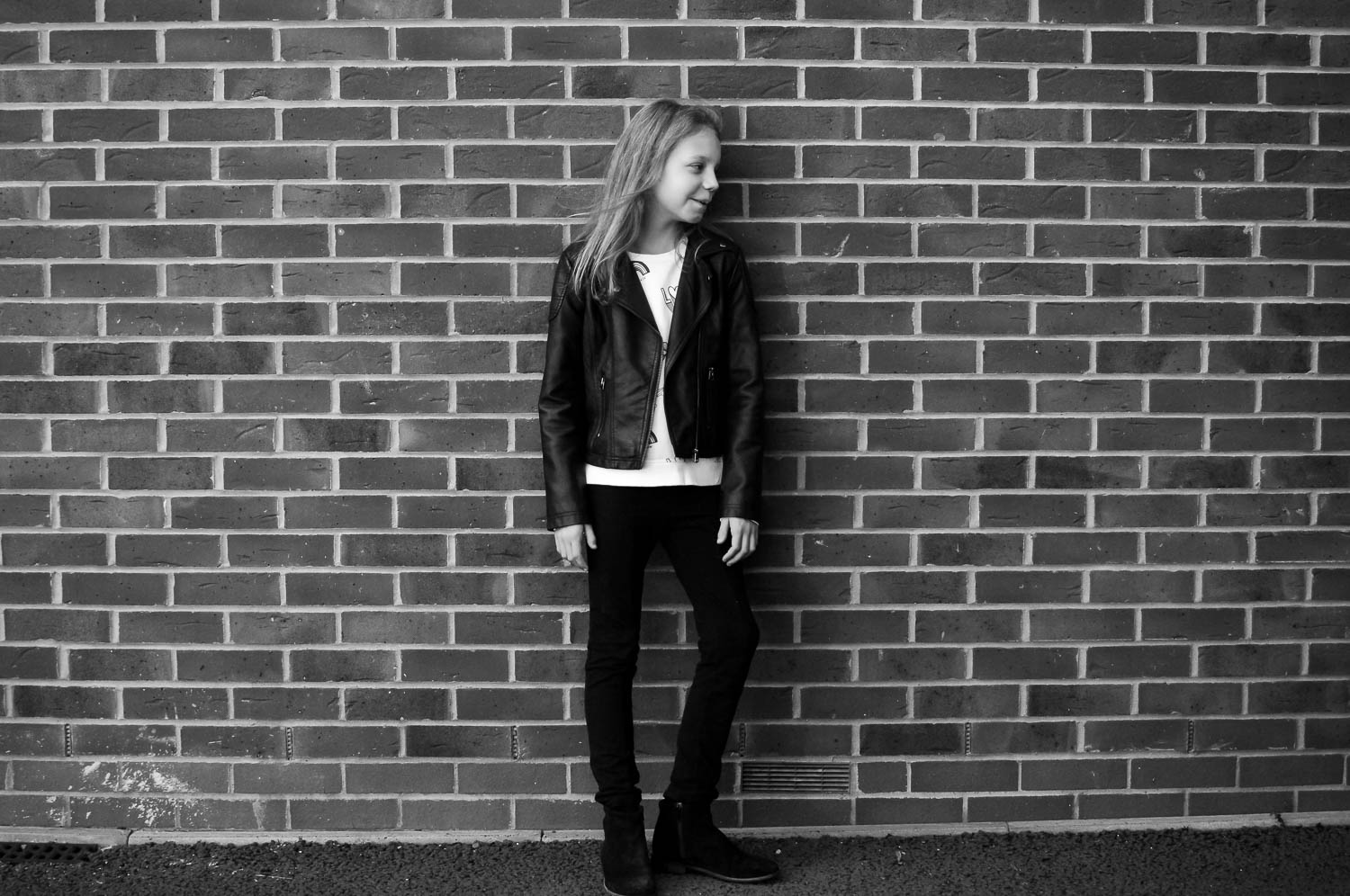 AND FINALLY…
Although the temperature has dropped quite dramatically and we've had our fair share of windy, rainy, autumnal days, the sunshine has definitely been showing it's face and we've enjoyed some sunny September walks at our favourite local spots on the weekends when we've all been together.
We visited Trentham Gardens and had our final ice cream of the year: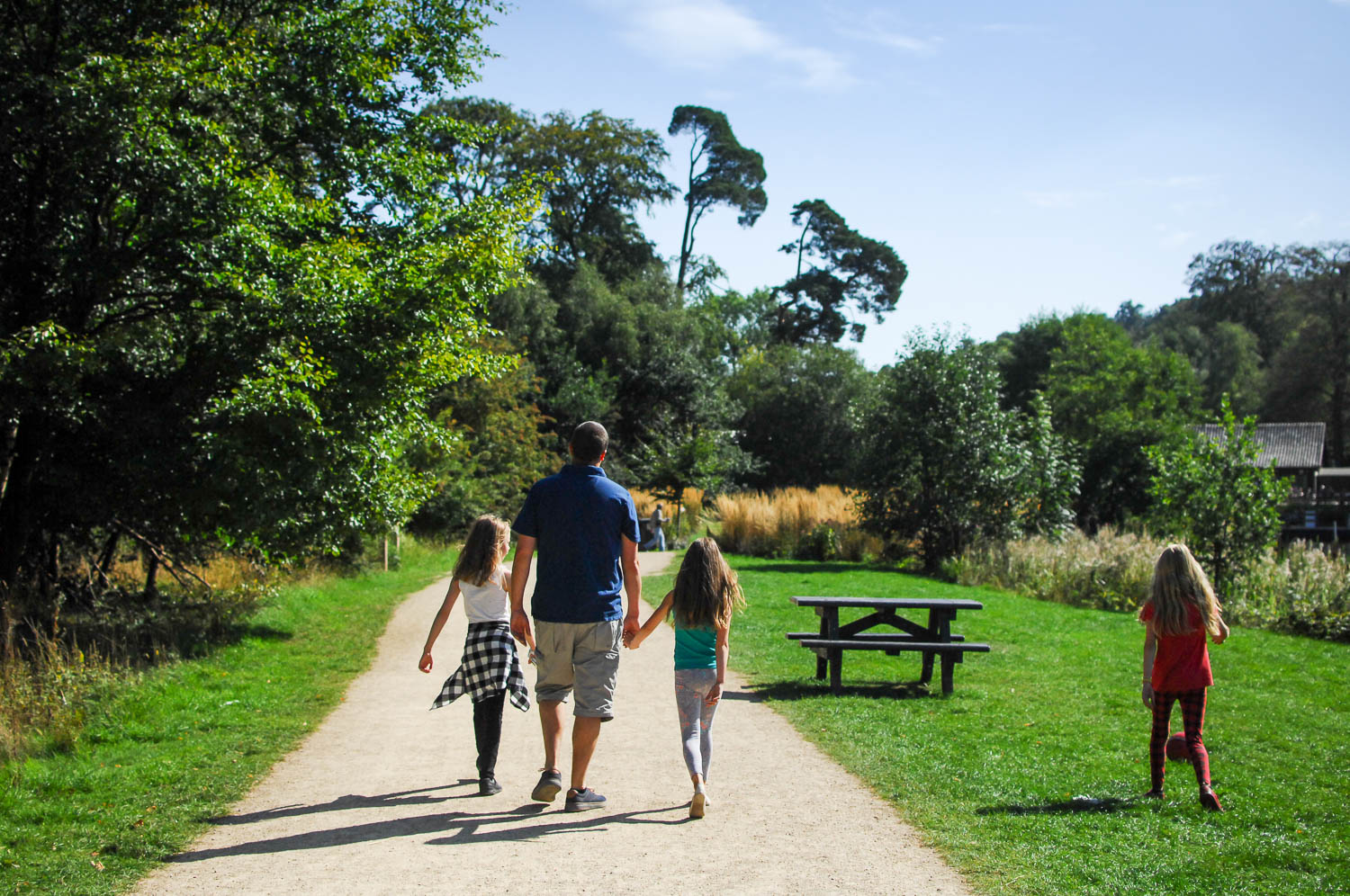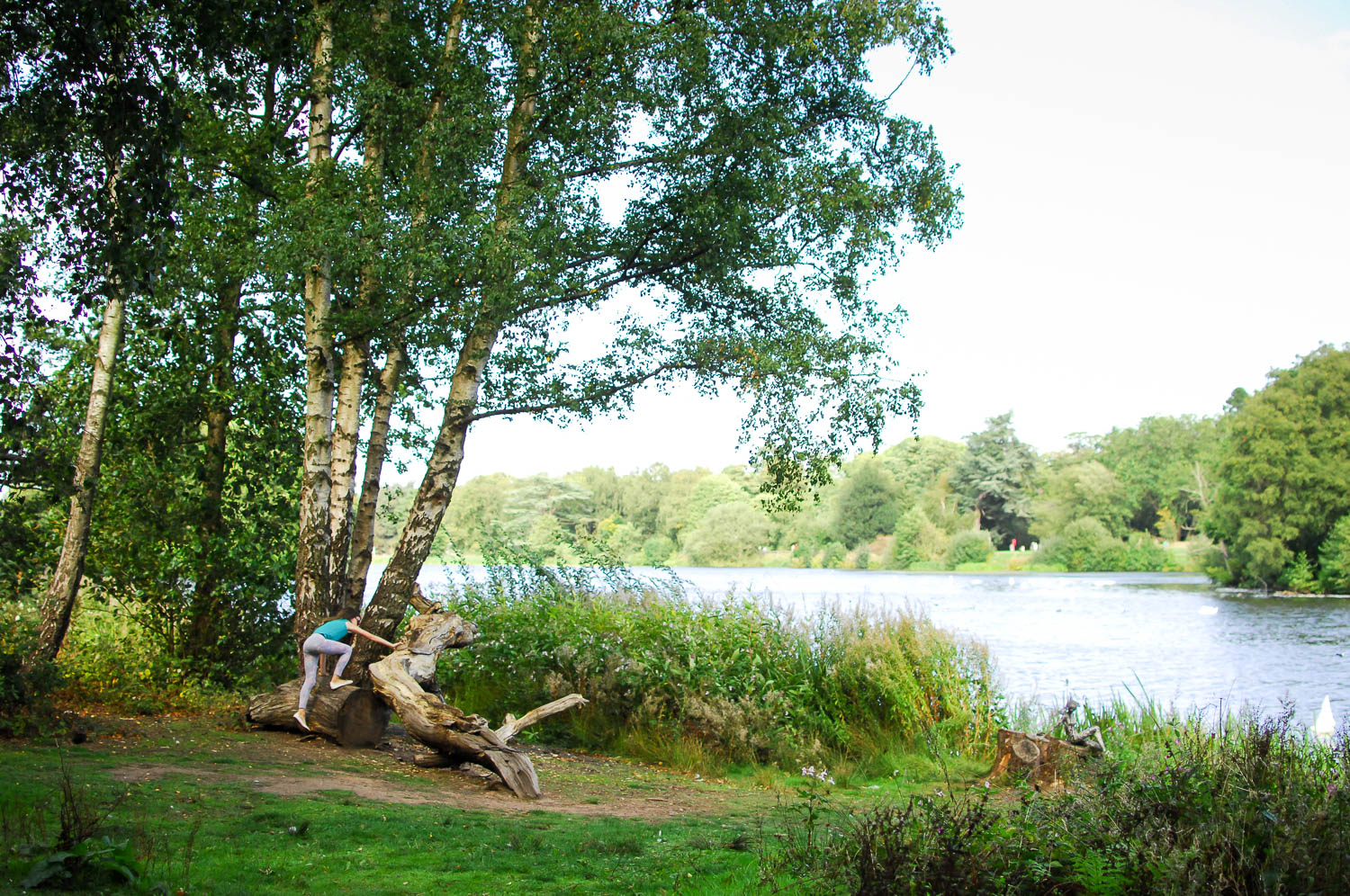 Played at the Stepping Stones: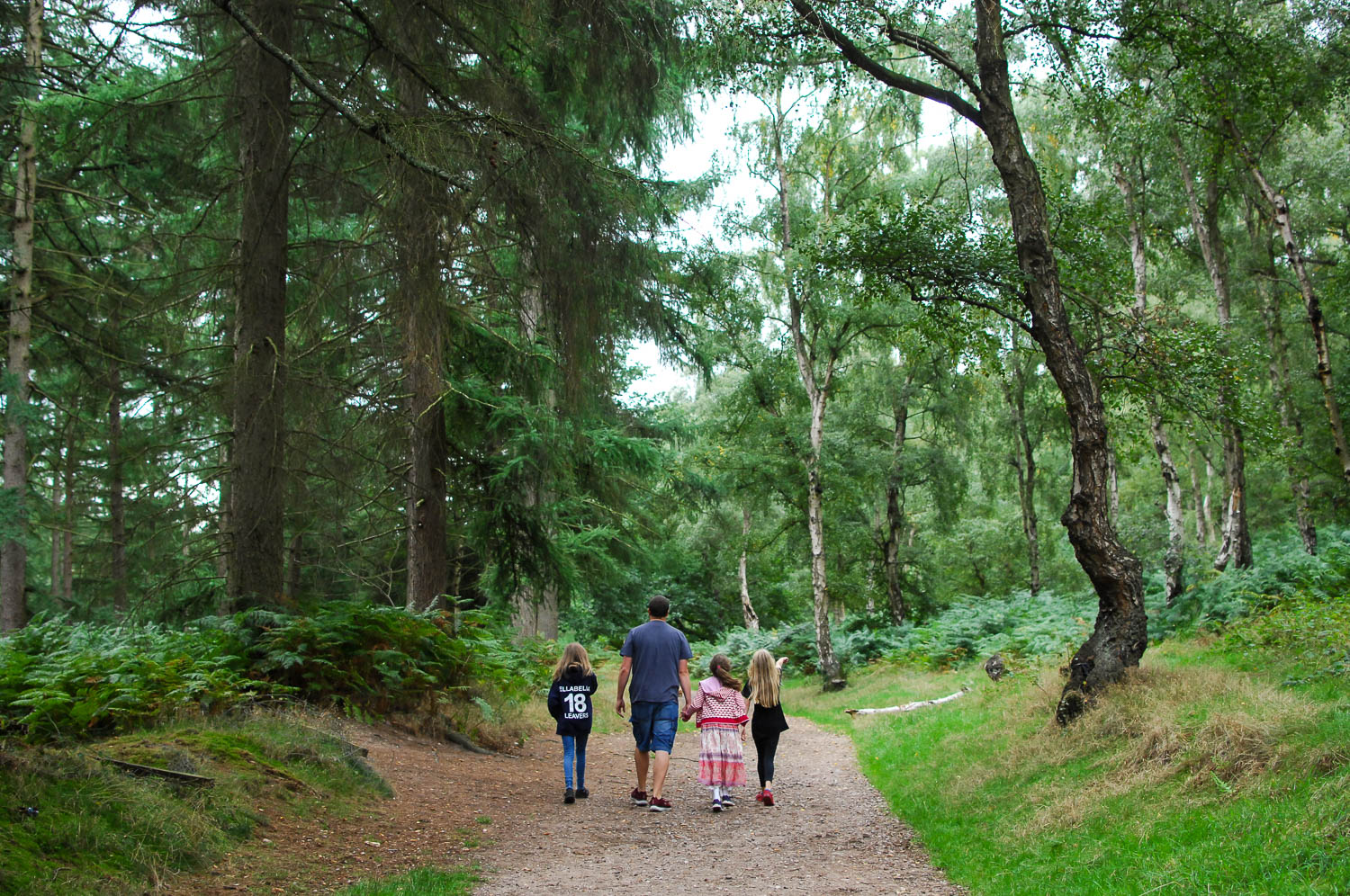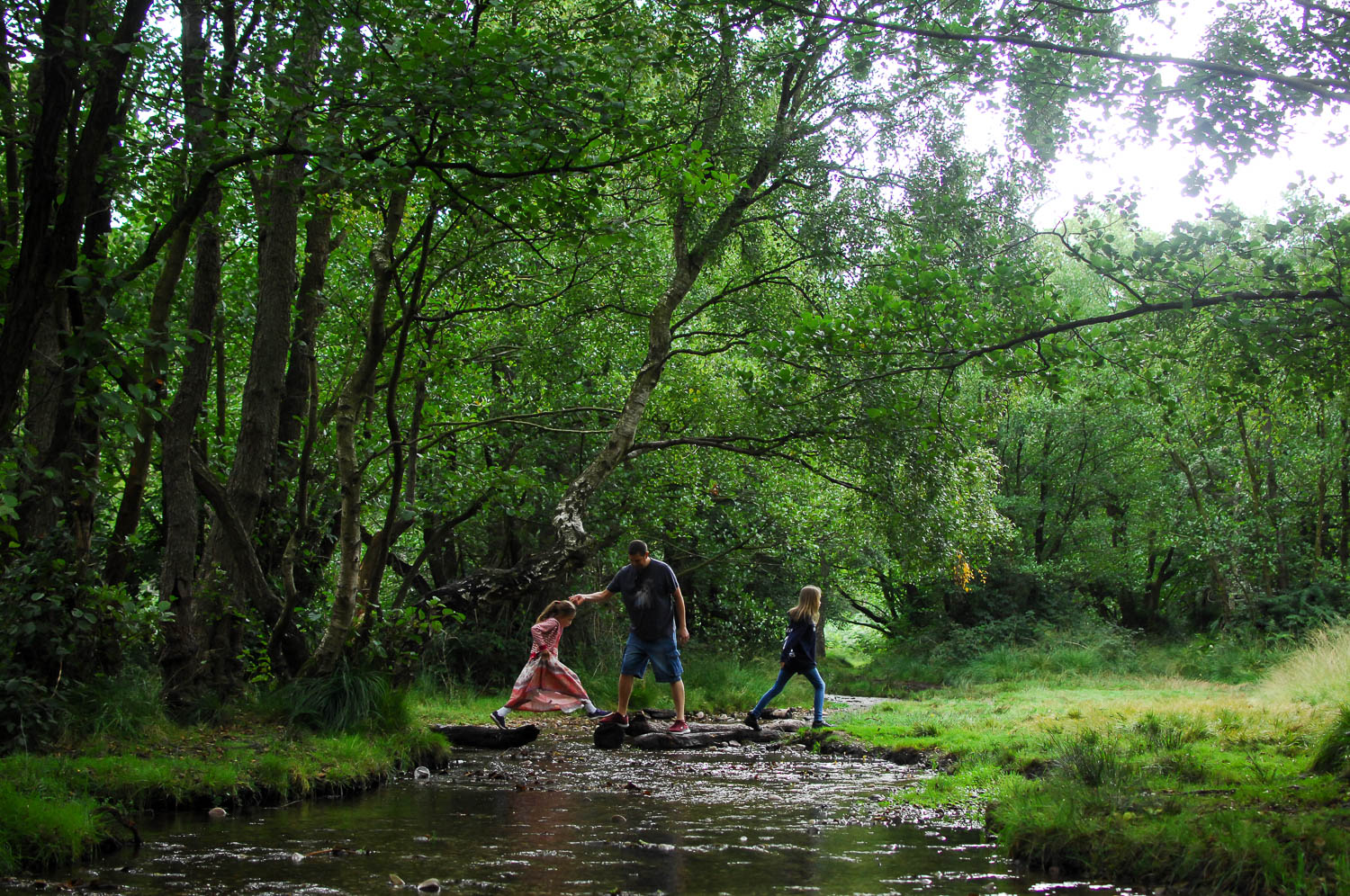 And had fun at the rope swings when the teenager came to stay: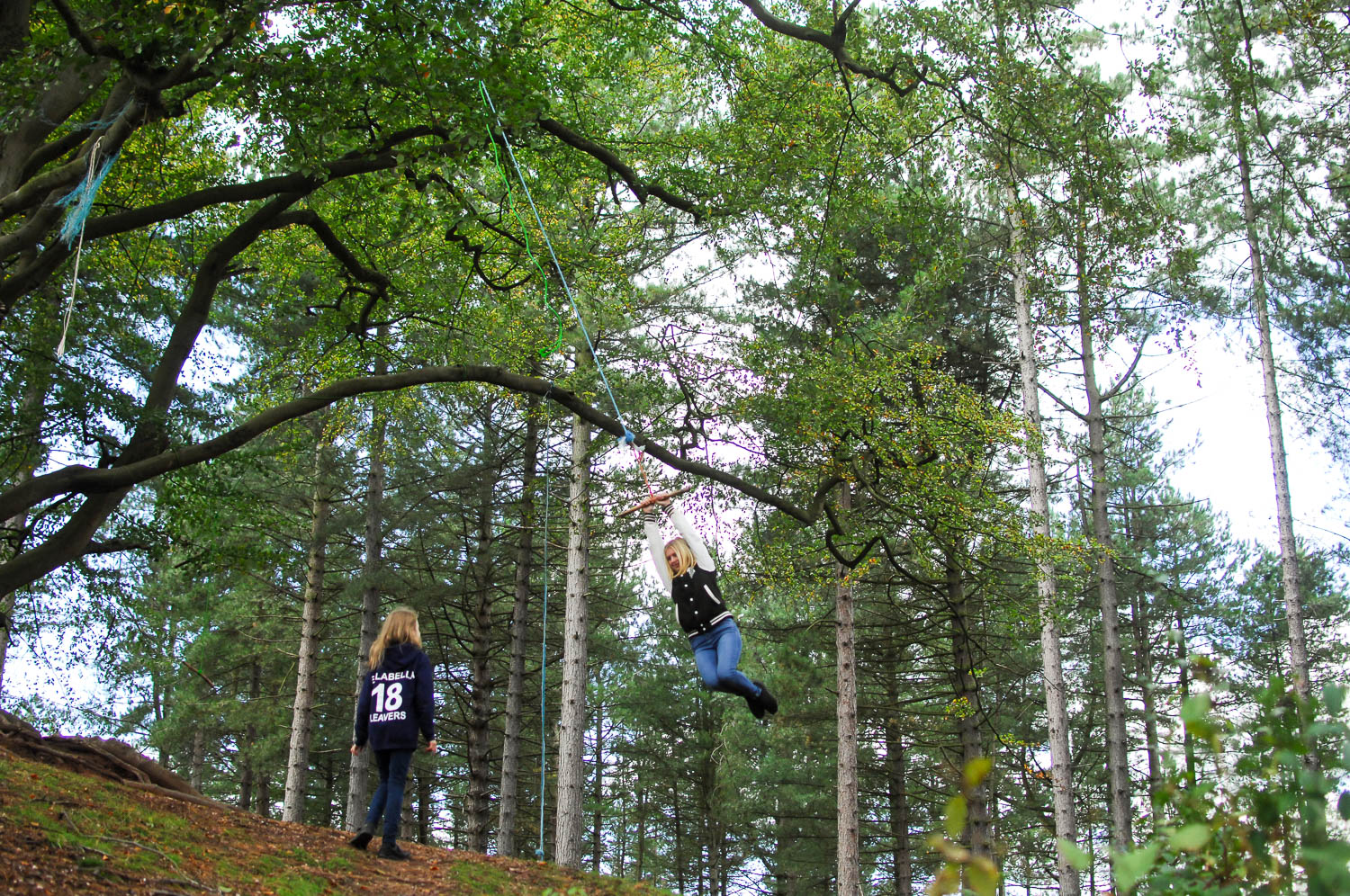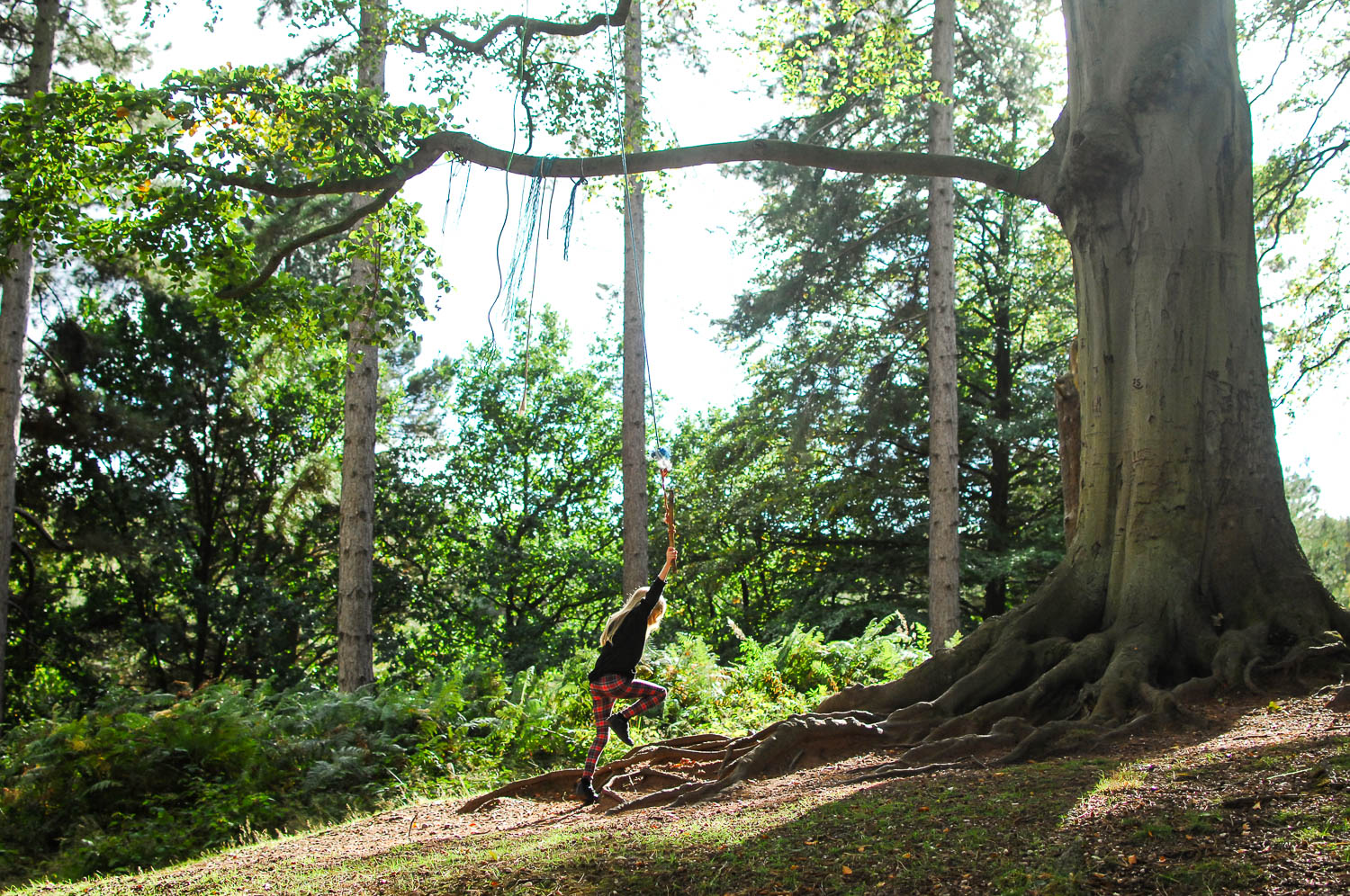 The light at this time of year is particularly special and September skies are just glorious.  I desperately want to take my girls out for a sunset photoshoot, though they're so tired in the evenings after a full-on day of learning at school that they're not really up for it.  I'm working on it though!  With the absence of willing subjects I've had to content myself with capturing the views of the sunrise and sunset from our home instead.  I love the first and last light of the day and one of my favourite quotes is "May every sunrise hold more promise and may every sunset hold more peace".  These are a few of my favourites from this month: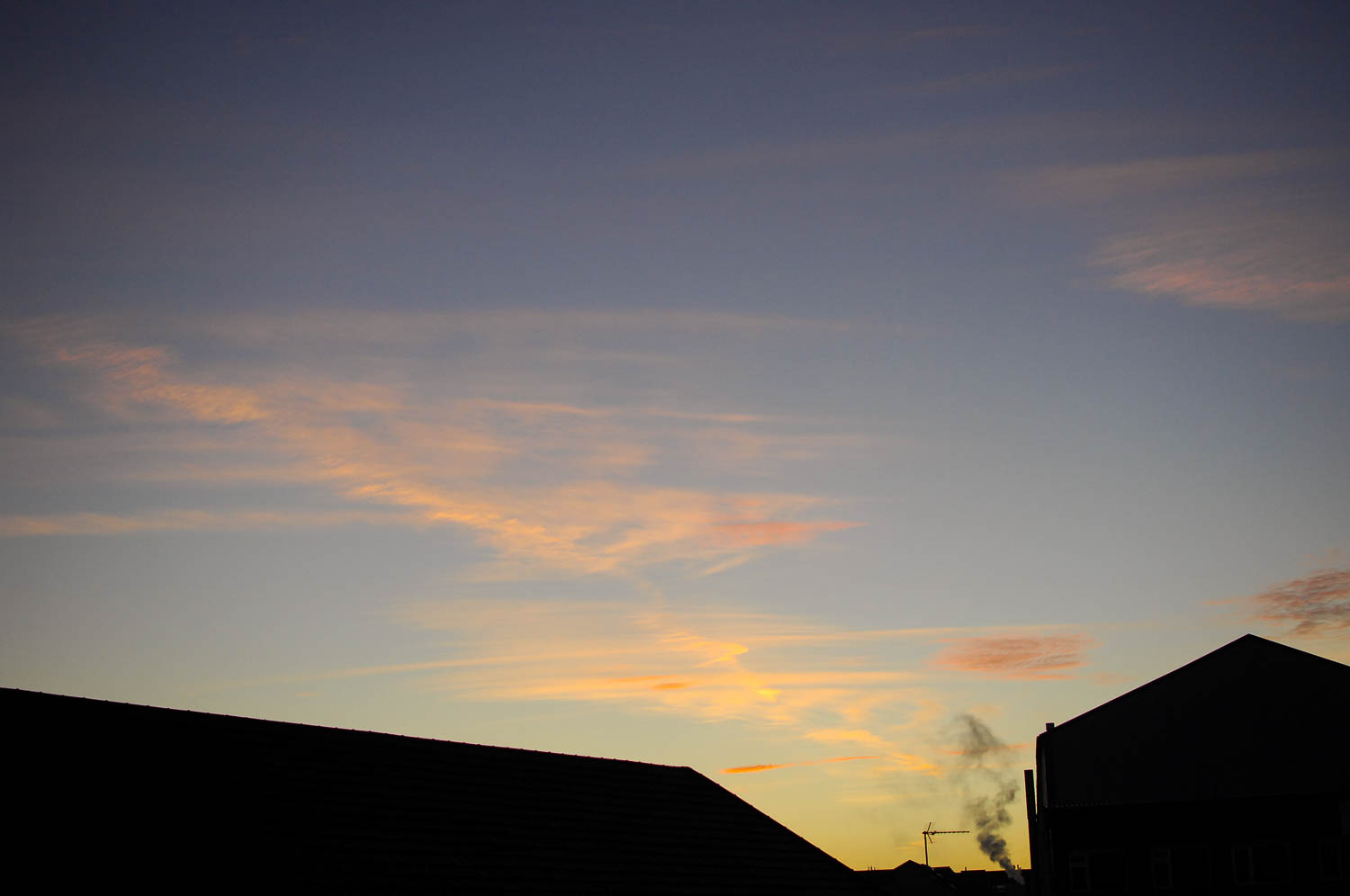 Sunrises…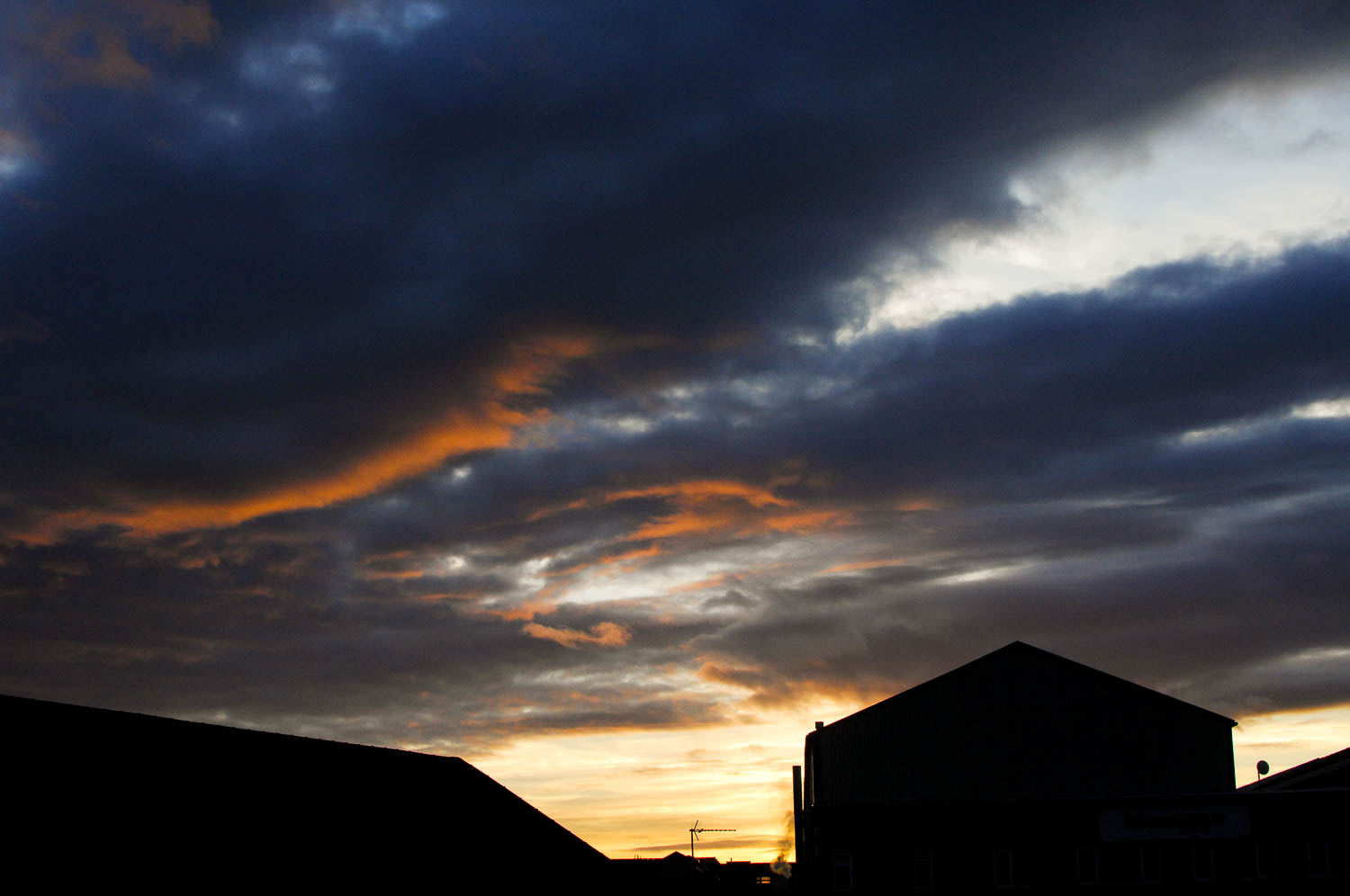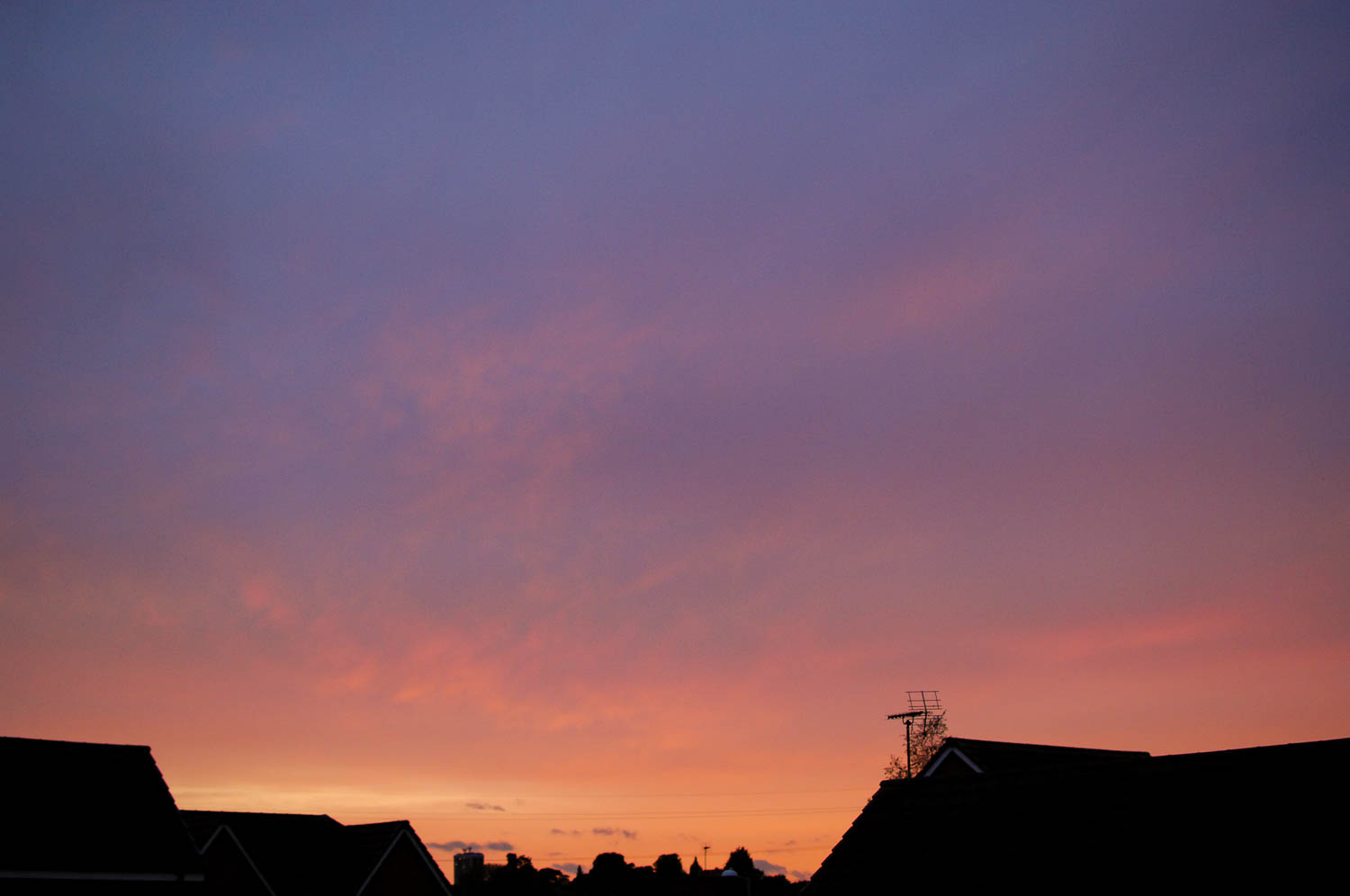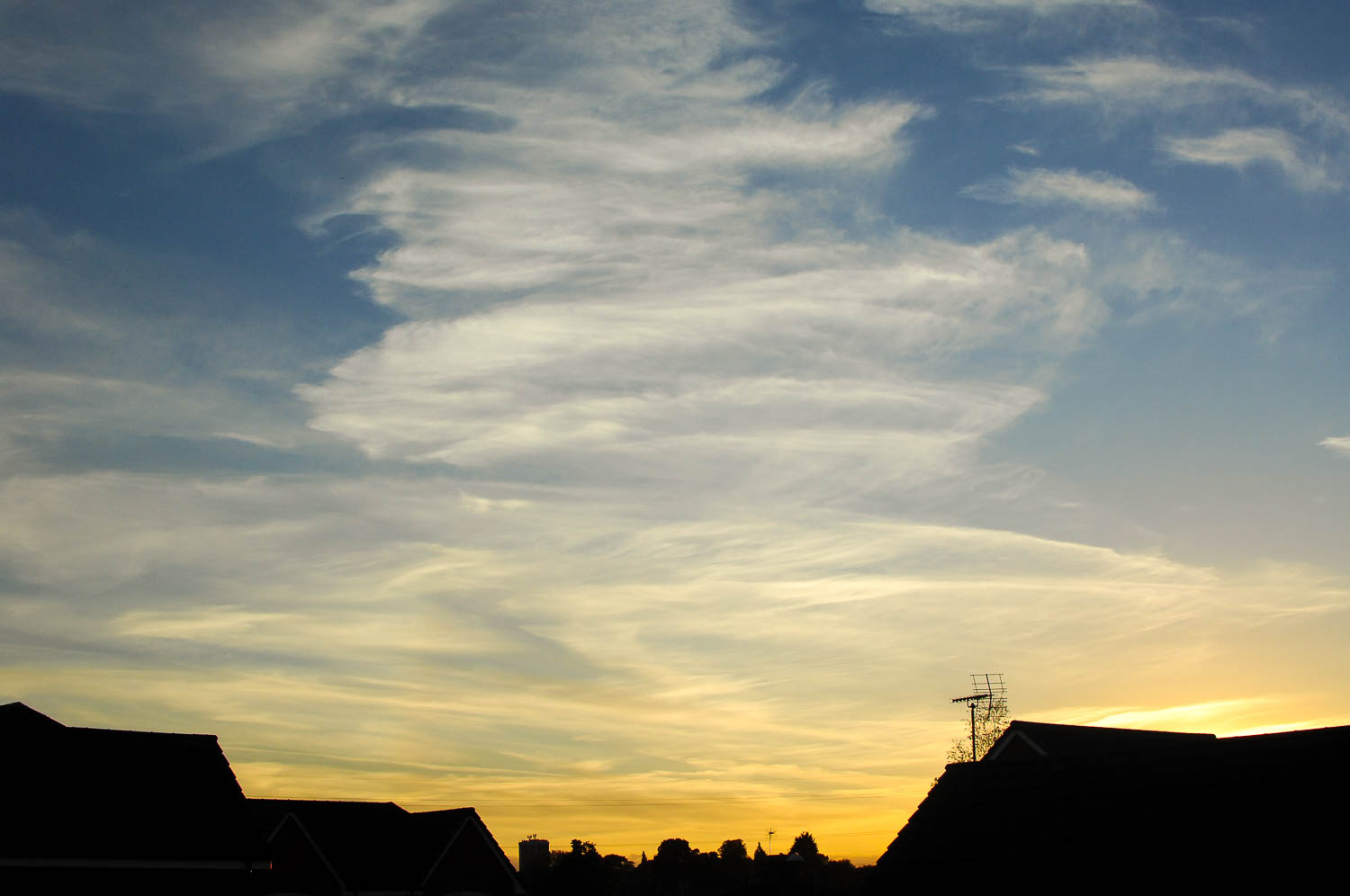 We don't have many plans for October yet.  I have a feeling this final quarter of the year is going to feel like it's on fast-forward if September is anything to go by, so I'll be focusing my attention on soaking up everything I can when we're together as a family and enjoying all the lovely things that this season brings.
Linking up with Coffee Work Sleep Repeat's 'Little Loves':