Back in the summer of 2016 we spent a week exploring Jersey in the Channel Islands and the girls have been begging to go back ever since.  It's an absolutely beautiful, completely unique place – the perfect, short-haul getaway destination from the UK.  And there are so many family-friendly things to do in Jersey!
I always feel torn when planning our trips and adventures each year.  Do we go somewhere new or do we re-visit somewhere we've already been that we fell in love with?
On one hand I adore discovering new places each year: the excited feeling I get in my belly as my eyes take in fresh sights; the anticipation and adventure of the unknown; getting lost and stumbling upon hidden treasures – be it an unexpected view, a local restaurant or a fascinating insight into the history of a place.  Nothing beats the inexplicable urge to travel, the deep craving I have to explore, the intense wanderlust that I experience literally on a daily basis.
And yet on the other hand a part of me also feels that we only ever scratch the surface of a location in the short week or so that we get to spend there.  There is always more to see, more to experience, more to learn about a destination – it never feels like we have enough time to do everything.  In that case, re-visiting places that we've already been to makes complete sense: it's an opportunity to dive in a bit deeper; to peel back the layers and uncover what a place is really about; to immerse ourselves more fully into a destination.
I definitely felt that about Jersey.  Even though it's only a tiny nine miles by five miles in size, you could easily spend a month there and still not see everything it has to offer.  We will definitely be returning one day, I know that for sure.  Even though we packed in a lot during our stay, there is such a multitude of things to do in Jersey that we didn't even work our way through half of our list!
Top Ten Things To Do In Jersey
As with any destination you visit, there are certain experiences that are unmissable 'must-do's' and this is certainly the case with regards to things to do in Jersey.  With the help of the girls I've put together a list of the things to do in Jersey that we believe you have to experience on this spectacular little island.  In no particular order, here is our list of Top Ten Things To Do In Jersey…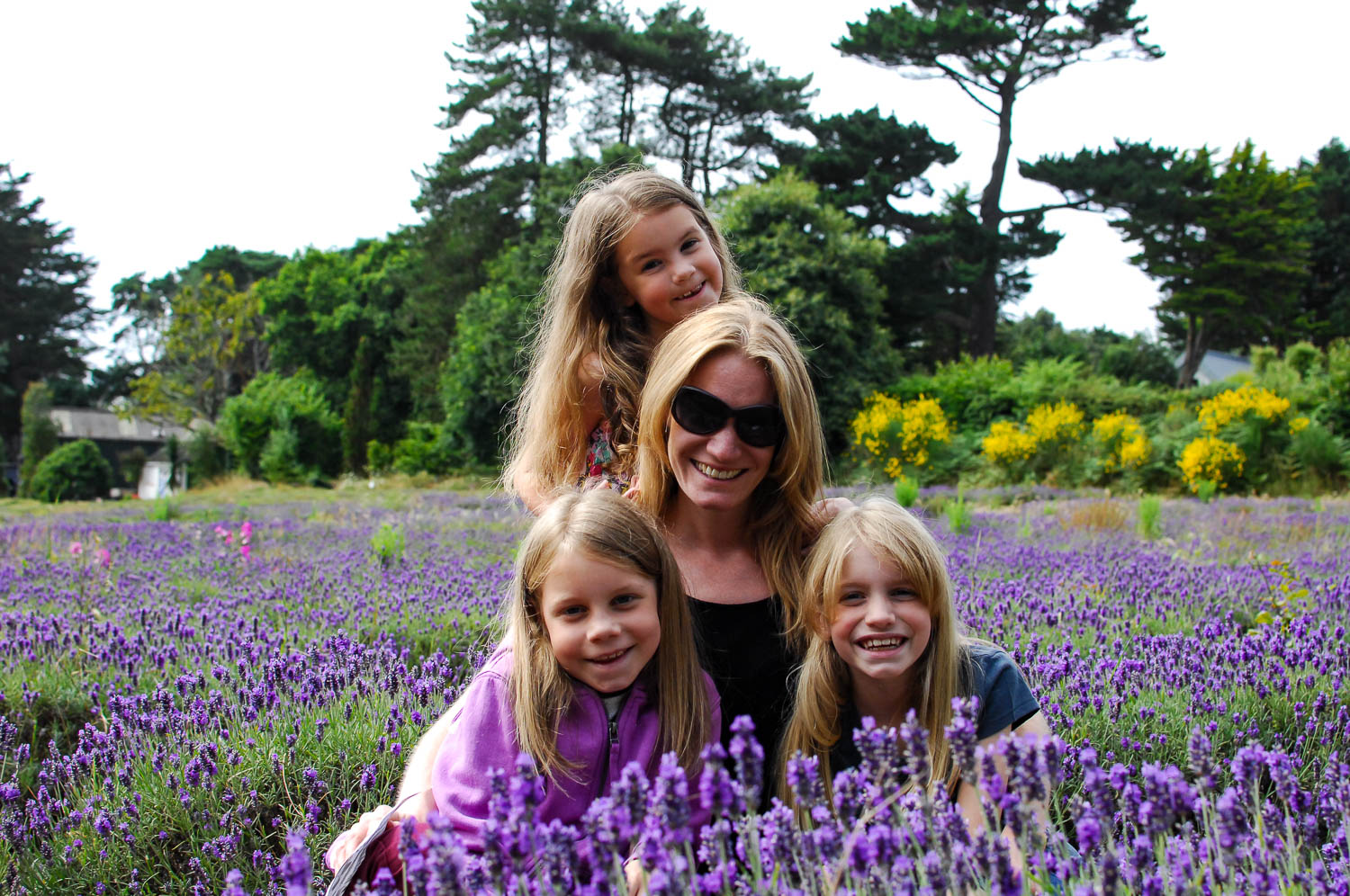 1/  Explore The Beautiful Beaches
If it's beaches you're after you're in luck – Jersey has them in abundance!  In fact, you're never more than 10-15 minutes away from the beach no matter where you happen to be.  They're all different depending on which side of the island you're on:  the northern and eastern beaches are sheltered by towering cliffs that lead down to secret coves; the southern beaches are perfect for sunbathing and building sandcastles; whilst the wide beaches to the west stretch the length of the island and are subject to the ebb and flow of the Atlantic Ocean.
North
We loved Greve de Lecq Beach and spent ages there building sandcastles and paddling along the shoreline.  Parking is limited.  Also, be sure to visit at low tide in order to have the biggest expanse of sand to play on.  Sitting on the breakwater eating an ice cream from Colleens Café is one of my favourite memories of our time in Jersey.  I've also heard good things about other northern beaches such as Rozel Bay, Bouley Bay and Plemont.
West
St Ouens Beach dominates pretty much the whole western side of the island.  It's a wide expanse of golden sand just perfect for kids to run around and play. It wasn't crowded when we were there and we pretty much had the place to ourselves, though I imagine it gets busy in the warmer summer months.
South
The southern beaches are typically suntraps and they range from touristy to more secluded.  We spent golden hour at Ouaisne Beach after eating dinner nearby and it was just beautiful.  Havre des Pas, St Aubins Bay and St Brelades Bay are all popular too.
2/ Buy some 'Hedge Veg'
Dotted around the island, hidden down tiny country lanes and nestled comfortably by the side of the road, are numerous un-manned stalls selling fresh produce ('Hedge Veg') such as fruit, vegetables and flowers.  Essentially they're honesty boxes: you take what you want and leave your payment inside the locked container provided.
If you're there at the right time of year (May through to the end of July) one of the essential things to do in Jersey is to buy some Jersey Royal new potatoes.  Jersey Royals are grown by a total of about twenty farmers on the island and they are the only place in the world that they are farmed.  They're all hand-dug and when you buy them from a hedge-veg stall you can immediately see what time they were picked and which farm they came from thanks to the handy and informative label on the paper bag.  They're absolutely delicious too!
3/ Visit The Marinas And Harbours
Being an island, Jersey has a plethora of marinas and harbours dotted around it's exterior and they're all interesting to have a wander around, especially if boats and pretty views are your thing.
Gorey Harbour, which lies in the shadow of the imposing Mont Orgueil Castle, and the main harbour of the island at the capital of St Helier (which has impressive views of Elizabeth Castle) were the two we visited.  We like looking at the names of the boats and making up stories about how they got their names as well as choosing which one we would most like to own to sail around the world in!
It's also lovely just to walk along the Esplanade leading out of St. Helier.  Seeing the waves dramatically crash against the sea wall when the tide was in was nothing short of spectacular.
4/ Get Back To Nature
Red squirrels were introduced to Jersey in 1885 and they can be spotted in woodland all over the island.  I'd never seen one before so I was absolutely thrilled that they paid regular early morning visits to the garden of the accommodation we were staying in.  I didn't manage to capture a photo of one though unfortunately – I didn't have a long enough lens on my camera and they were too nervous to let me get close to them so I had to content myself with watching them through the kitchen window.  They're such pretty little things!
Durrell's Wildlife Park (also known as Jersey Zoo) is also definitely worth a visit.  We saw gorillas, orang-utans, meerkats, flamingos, giant fruit bats and reptiles.  It's a really good way to spend an afternoon – the educational and conservation aspects of the zoo are brilliant plus there is a great café that serves excellent food and a really good children's play area.
5/ Soak Up Some History
Jersey is steeped in history.  From ancient burial grounds through to World Wars and much more besides – this island has a lot of stories to tell.  Did you know that the Channel Islands were the only part of the British Isles to fall into enemy hands in WW2?  Jersey was occupied by German forces between 1940 and 1945 until Germany announced it's surrender on 8th May.  9th May is now Jersey's Liberation Day celebration.
There are many historical sites to visit on the island including castles, lighthouses, ruins and war tunnels.  We didn't make it to the War Tunnels but those who have been have said how moving it is.  What we really liked is that all the historical places to visit and things to do in Jersey are made to be interesting, fun and immersive for kids.
We visited Grosnez Castle ruins, Corbiere Lighthouse, and Mont Orgueil Castle, though there were plenty more we could have explored too such as Elizabeth Castle in St Helier and of course the aforementioned Jersey War Tunnels.
6/ Eat Jersey Ice Cream
Something that should be top of your list of things to do in Jersey is to eat Jersey ice cream.  It's pretty much a law* (*it's not but it should be!).  Made from the rich milk of Jersey cows, I can confirm that it's utterly delicious.  Fun fact – every single Jersey cow's ancestry can be traced back to the original Jersey herd.  There are now about 30 herds on the island altogether.
Our favourite was Colleens Café at Greve de Lecq beach but you can get Jersey ice cream in most places on the island.
7/ Get Lost In Pretty Towns
One of the best things to do in Jersey is to simply wander around all the pretty little towns that are scattered like confetti across the 45 square mile little island.  St Aubin was our favourite with it's colourful blooms, pastel painted buildings and narrow streets.  It was the perfect place to get lost amongst the variety of cafes and delis, the breathtaking views that we accidentally stumbled across and the pretty little harbour strung with fairy lights and bunting.
There are, of course, plenty more places to choose from to enjoy an afternoon people watching or window shopping, from sleepy little hidden villages to the bustling capital of St Helier.
8/ Watch The Sunrise And The Sunset
One of my favourite things to do on any holiday is to catch the sunrise and sunset at least once.  Jersey is the perfect place to do this and is blessed with sublime skies no matter what time of year you visit.  Watch the sunrise on the east coast and the sunset on the west.
We didn't actually make it to either coast at the right time of day and I captured the sunset in the photo below from the back garden of our accommodation so it's something I've added to my list of things to do in Jersey when we one day return.
9/ Eat Good Food
Jersey is famous for it's food, which, given it's small size, is quite an impressive accolade.  Beach cafes, old pubs, chic restaurants, bustling farmer's markets, artisan delis, cosy cafes and more – there is no shortage in the variety of places you can eat.  As well as Jersey Royal potatoes and Jersey dairy products (ice cream, cheese, cream, milk and more), Jersey is also renowned for it's lobster and seafood.
The girls and the husband aren't particularly big fan of seafood but we did try out The Old Smugglers Inn at Ouaisne Beach one evening.  It was good traditional pub food made from locally sourced ingredients wherever possible and we loved finding out the history behind the place.  It has been there since the 17th century and was frequented by pirates as well as local fishermen.
I've also heard that the authentic wood-fired pizzas at Portelet Bay Café are pretty phenomenal (with views to match).  Another reason for us to return!
10/ Marvel At Spectacular Natural Landcapes
As I'm sure you've figured out by now, Jersey has a very diverse natural landscape to explore.  Towering cliffs, a dramatic coastline, patchwork fields, beautiful beaches and sweeping sand dunes all make it a great place to soak up some fresh air.  We walk as much as possible when on holiday as I truly believe it's the best way to get to know a place.
With the island being so small, one of the best things you can do in Jersey is to go for a hike – you never know what you might discover.  It could be a breathtaking view out across the ocean, or it could be a statue of a devil!
We went for a gentle walk to see the Devil's Hole –  a natural blowhole that has been eroded by the sea into the roof of a cave.  On the winding path down we came across this metal statue of a devil.  The story behind it is that a French boat got shipwrecked in 1851 and the figurehead got thrust into the cave by the tide.  A local sculptor carved the wood into a devil, complete with horns.  However wood doesn't withstand very much against the power of the waves, so a metal replica was created and positioned in a natural pool by the side of the path down to the blowhole.
Another recommendation we had was to head to Plemont where there is a natural waterfall that you can walk behind.  We didn't have enough time to squeeze it in and so that's also now on our list of things to do in Jersey during our next visit.
This is by no means a comprehensive list of things to do in Jersey.  There is so much more to this little island with a larger-than-life personality than I've mentioned here.  We visited Jersey Lavender Farm and Aquasplash Waterpark and I also had Samares Manor, Tamba Park and perhaps even hopping over to Guernsey on our list.
It's a place that captures your heart, feels like an adventure and is comfortingly familiar all at once.  We'll be back for sure.
(Joining in with Fearless Family Travel – go and check out some inspiring travel posts from other families exploring the globe)