For several years now (since 2017) I've been tracking my year in numbers – measuring the year according to all the things that are important to me and which I value the most: family time; love and connection; travel; creativity; helping others and personal challenges/growth.
2021 has been yet another strange year and honestly I think that makes it even more important for us to pay attention to the stuff that really matters.  I don't think any of us anticipated the Covid-19 pandemic going on for so long and having such an immense impact on our day to day lives.
Even with the world continuing to feel a bit wonky, putting together this post has been a fascinating (and lovely) process of reflection on the last twelve months – 2021 has been both challenging and wonderful in a variety of ways.
Here it is: 2021 as it was for us in numbers…
# Of Trips Taken: 4
2021 had slightly fewer adventures than 2020, which both does and doesn't surprise me.  With all the travel rules and restrictions fluctuating so frequently none of us felt comfortable with attempting to go anywhere too far from home, even though there were less lockdowns and a bit more freedom in general compared to the previous year.  I'm very grateful that we were able to take the trips that we did because knowing that they may not have happened at all made them all the more special.
We visited Bude twice, made it up to Scotland for our first ever visit north of the border and we squeezed in a little weekend jaunt down to Southampton as well.  There was no international travel for us in 2021.  I wished desperately that we could have got on a plane, travelled somewhere new and wandered along foreign shores and pathways but it wasn't to be.  Neil was supposed to go to Madrid with his friend for a music festival in the summer and that trip ended up being cancelled – he was gutted, especially after 2020's trip to New York for the same friend's 50th birthday didn't happen either.  Hopefully his planned adventure for 2022 will be able to go ahead – third time lucky!
BUDE (part 1)
Our first expedition of the year was to our happy place – Bude in North Cornwall – in the Easter holidays.  We were originally supposed to be going for the full two weeks, spending a week at The Beach Haven first before moving on to a new property, still in Bude, to try out somewhere new and have a bit longer there to unwind after such a stressful previous year.  However, restrictions were only lifted in time for the second half of the trip so our 14 day stay ended up being shortened to just six days.  We are so thankful that we were lucky enough to get to go at all and the property we stayed in – The Old Bakery  – was lovely.  We did all our traditional favourite activities and kept it fairly low key, not really venturing very far from our base and it was exactly what we all needed.
SCOTLAND
We finally made it up to Scotland at the end of May for the Whitsun half term.  We were supposed to go in 2020 and of course the pandemic meant we had to postpone.  It was 100% worth the wait.  We spent four days exploring the glorious city of Edinburgh, followed by three days at Cameron Lodges (who kindly hosted us in return for a review), situated on the stunning shores of Loch Lomond in the west.
Each location was beautiful in it's own unique way – I loved Edinburgh's stoic grace and hidden nooks & crannies which, when you peered around the corner, gave way to scenes that took your breath away.  Loch Lomond's majestic scale and the peaceful natural environment of Cameron Lodges felt like they were a whole world away from the hustle and bustle of the city, which was the perfect way to unwind before heading home.
The contrast between the two vastly different experiences of Scotland that we had was fascinating and it's left me wanting more – I'm pretty sure we each left a piece of our hearts in Scotland and we've all said we want to go back and explore further one day.
We stayed close to home all summer.  I deliberately didn't make any plans as I didn't want the disappointment of having them cancelled.  I ended up regretting that decision though – I worked far more than I wanted to, the girls barely left the house and spent way too much time on screens and I learned that as lovely as it is sometimes to not do very much, we need some direction and purpose.  I really wish we'd had a few more excursions – we definitely won't make that mistake again.  It's much better to have the possibility of an adventure than nothing at all!
SOUTHAMPTON
We made it down to Southampton for a weekend in mid-October to visit my best friend and her family (we last saw them a year ago – her babies have grown so much!) and to spend an afternoon with Sophie too.  We wanted to see her student house now she's in her second year at uni.  If the last two years have taught me anything it's how important it is to spend time with the people who really matter and so we're making as much effort as possible to see them all as often as we can.
Whilst in Southampton we went to a new-to-us National Trust property (more on that in the section below), had a Sunday morning walk in the forest and explored a bit more of the city centre too.  We came home from that mini-trip with full hearts and are already planning our next visit down there.
BUDE (part 2)
Our final trip of the year was a return visit to Bude for October half term, this time to reside at our usual accommodation – The Beach Haven.  I'm so happy we managed to sneak in a stay there after our Easter visit was cancelled due to travel restrictions being lifted that little bit too late.
Thankfully the weather was a bit better than when we were there in October 2020 when it rained non-stop pretty much every single day!  This time we had plenty of blue skies and all the windswept walks on the beach were very much needed after the first seven or eight weeks of being back at school for the new academic year.
As well as our usual excursions for ice cream, paddling in the (freezing!) sea, wandering around the shops and playing crazy golf, we tried out a few new things this time around too, paying a visit to the Rebel Cinema (which I've wanted to go to for years!) and Electric Bakery.  It never fails to amaze me just how much there is to do in Bude, even if you've been many times before.  It really is a treasure trove for making memories.
I'm just so grateful that we were able to have those few trips as I know that many people were still unable to go anywhere at all.  We definitely haven't taken any of them for granted.
We also squeezed in a spontaneous day trip to Telford to climb The Wrekin in September – something we've only done once before when the girls were much smaller.  There was just as much complaining about tired legs this time around but it was totally worth it for the views from the top and the sense of achievement from having scaled it.  It's pretty spectacular.  Finally, I had a solo day trip to Essex in November to visit my Stepmum.  When I visited last year I stayed overnight in a nearby hotel (there isn't enough room for me to stay at her one-bedroom bungalow) but this time I made the journey there and back in one go – it was a very long day but I was happy to do it to be able to see her and make sure she's ok.
# Of New National Trust Properties Visited: 2
We visited two new-to-us National Trust properties in 2021 – double the amount we made it to last year which feels like quite an achievement!
Once restrictions lifted in the Spring, we spent a sunny Sunday afternoon in April exploring Calke Abbey.  The grounds were huge and we definitely want to go back for another (longer) visit one day so we can explore the house and make sure we see all of the gardens.  Mostly it was just lovely to go somewhere different and tick another one off the list that I've wanted to go to for ages.
Then six months later, whilst in Southampton visiting my friend and her family, we spent an afternoon at their local National Trust property – Mottisfont.  Again, we didn't venture inside (my friends have a toddler and a preschooler so we figured it might be tricky to keep them entertained around so many valuable items!) but we spent ages wandering through the grounds.  I'd forgotten how different the pace can be with small people around and it was actually really lovely to just meander.  I loved the secret mosaic angel I found hidden amongst some ivy on the side of the house itself and the walled gardens were beautiful – I think they were my favourite part.  A perfectly sunshine-y Autumn day.
# Of Photos Taken: 6,308
I'm quite pleased that I took 629 more images in 2021 than I did in 2020 (taking into account 'big camera' photos only, phone photos aren't included in this otherwise the number would be MUCH higher!).
I upgraded my camera to a Nikon Z6 mirrorless system in February 2021 and absolutely love it.  I know that gear isn't everything but in comparison to the ancient secondhand D2X I had been using for years it's made a huge difference to the quality of the photographs I create.
I definitely had some dips where I didn't want to pick up my camera at all and some periods where I was so busy with work that I didn't have the headspace to make any time for creativity.  As frustrating as it is at the time when this happens, I know it's ok.  I'm pleased with how I documented our time together, all the ordinary moments when we're just hanging out at home as well as the special ones such as when we're travelling or celebrating a special occasion.  They all matter in ways that I'm probably not even aware of yet.  I really do see every image I capture as a part of a legacy, a little piece of the puzzle of 'us' taking shape over time.
# Of Photoshoots: 8
All of the photoshoots I did in 2021 were for portfolio building purposes.  In June I took part in the Wild Rover travelling dress project, organised by the lovely Anna Hornby.  Anna sent an exquisitely beautiful Reclamation Design Company dress around twenty different photographers scattered throughout the UK and we each got to keep it for five days before sending it on to the next person.
I managed to squeeze three shoots into the time I had the dress for and I'm so pleased with how they all turned out.  They all had quite different feels despite the dress being the common theme and the stories behind their reasons for wanting to do the shoots were what has stayed with me the most.
Off the back of the Wild Rover travelling dress project, Grace, one of my models, asked me to capture some images of her setting up a deeply immersive yoga workshop which she runs on a quarterly basis at Ingestre Orangery.  The location was absolutely stunning and photographing her in that space was both a joy and a privilege.
My intention for 2021 was for it to be my year of confidence, so I found some deeply hidden courage, stepped out of my comfort zone and got in front of the camera for my very own photoshoot.  It was a photoshoot with a difference though as I was at my home in Stafford and the photographer was at his workspace in Leeds.
Let me explain… I first met Tim Dunk at a wedding photography workshop I attended several years ago.  Tim is primarily a wedding photographer, so when the pandemic first hit and all weddings were cancelled, he needed to come up with a way to keep working and stay creative.  He pioneered the concept of remote, virtual photoshoots – capturing people in their homes using their own phone and a special app that allows Tim to control every image from a completely different location – and the idea went viral.  He's set up a whole new business (cleverly called FaceTim Photography) as a result and it's become phenomenally, globally successful.
Tim's directions and genuine (very lovely) encouragement – using only a can of baked beans and a hair bobble as props – meant that he managed to capture some shots of me that I actually like!
I think it's good to get in front of the camera from time to time – it's important to be able to understand and empathise with what photography clients experience when they're in front of me and my camera, and it definitely boosted my confidence enough for me to try out some self portraits later in the year – something I would NEVER have done before.
The last three photoshoots of 2021 were captured in late Autumn.  I put a call-out on Facebook asking for local families to volunteer for a free photoshoot to help me build my portfolio in return for a selection of digital images.  There was a much larger response of interest than I was anticipating, which was wonderful, and then Covid and logistics got in the way for all but three of them.  It didn't matter though – I absolutely loved capturing Helen, Kelly and Ella with their families and am now so excited to be able to launch my website (coming very soon!) and start doing it for real.
# Of Client Therapy And Supervision Sessions:  342
Seventy more sessions than last year – that wasn't part of the plan!  But with more and more people reaching out and asking for help it's very hard to say no – so many people are struggling massively as a result of the pandemic and I can't bear to see people in pain – I just want to help everyone in whatever way I can.  It's been full-on and I've been at my absolute limits with regards to my own emotional resources but hopefully I've helped make even a small a difference somehow.
I'm very grateful to be able to do this as a job because it's flexible enough that I can work around my girls' needs and I love being self-employed.  I made a significant decision midway through the year and gave myself a 12 month deadline to execute it.  I'm still working towards being able to put this into practice in 2022 – it's going to take time, commitment and a whole lot of belief and faith in myself – hopefully the ripple effect will end up benefitting more people than I can work with on a one-to-one basis.
# Of New Additions To Our Family: 0
No new pets and no new babies this year!
# Of New Experiences: 30
Somehow we managed a fairly impressive increase on 2020's total of new experiences, going from 21 up to 30!  They were mostly positive ones overall and some were things I never in a million years would have anticipated.  Saying an enthusiastic "yes" to trying new things is an attitude I really want to instil in the girls, as is the resilience to be able to manage it when unexpected events pop up.
Right at the start of January our boiler broke down for the first time ever (1) and we ended up with no heating for 6 days and no hot water for 4 days, just as we'd had a heavy snowfall.  It was awful and not an experience I ever want to repeat, particularly as schools were closed and the girls were homeschooling at the time.  They were sat at the kitchen table wrapped in blankets and cuddling hot water bottles trying to keep warm whilst working on their laptops, bless them.  Not the best start to the new year, that's for sure!  It certainly made me appreciate just how lucky we are to have heating and hot water without any issues most of the time and I vowed never to take them for granted again.
February brought with it the first time any of us had to have Covid lateral flow and PCR tests (2) – if we'd known back then how many we would need to do as a household throughout the rest of the year it wouldn't have seemed like such a big deal.  It feels like they've become a standard part of everyday life now.  I also invested in a brand new camera that is both full-frame and mirrorless (3) and am so ridiculously happy with it, it was worth every single penny.  March saw me experiencing my first ever virtual parents evening (4) which felt exactly like what I imagine speed dating to be!  Four minutes with each teacher before being abruptly cut-off and hustled on to the next one.
In April I managed to get hold of some white eggs and we spent a happy afternoon during the Easter holidays getting creative and painting them (5).  We made our annual trip to Bude, staying somewhere different this time (6), although we ended the week with Lola badly spraining her ankle whilst playing on the sand dunes on our last day there and being given crutches (7) when we took her to A&E the day we got home.
In May I attended my first ever online photography conference (8) called Phlock Live as a bit of a birthday gift to myself and as a way of fuelling my creativity seeing as in-person events were still unable to take place.  A week or so later I ended up being fitted with a 48-hour heart monitor (9) to track my heart function as I'd been having a few issues with breathlessness and palpitations for a couple of months.  I also had my first dose of the Covid vaccine (10) which felt like a really big milestone.  May half term was very exciting as we headed north on a mini road trip to visit Edinburgh (11) for the very first time!  We loved it there, it's such a beautiful city.
Half term stretched over into June and for the second half of the week we moved westwards to stay at Cameron Lodges, ticking seeing our first Scottish loch (12) off the travel bucket list.  We hired bikes (13) whilst we were there and even though it's not technically my first time riding a bike, the last time I spent any time on two wheels was at least 25 years ago (possibly even longer!) so I figured it counts as a 'first'!  Once we were home and settled back into the rhythm of school and work, I took part in my first ever travelling dress project (14), something I've been wanting to do for a very long time.
I needed to summon up quite a lot of courage in July.  I stepped in front of my (phone) camera for a remote virtual photoshoot (15), went for some lung function tests (16) at the hospital to try and figure out what was causing me the health issues I'd been finding challenging, and I rescued a little bat (17) who we found clinging determinedly to the blind on our landing!  We called him Bruce and he was very cute indeed.  After consulting the right people, we managed to release him safely back into to the wild the following evening and it was rather lovely seeing him fly off as dusk fell.
It was quite a busy month actually – Lola had her first ever sleepover at someone else's house (18), we hatched butterflies and released them into the wild, and I tried out an app called 1SE – which stands for One Second Everyday – and made my first mini movie with it (20).  This is one that I've continued with throughout the rest of the year and beyond – I LOVE capturing these snippets of memories in this way.
In August Lola finally had her ears pierced (21) after patiently waiting since January to have them done.  She's so happy with them!  And I was finally diagnosed with Super Ventricular Tachycardia (SVT) a heart condition that means I get extra bonus heartbeats every so often.  Apparently, during the two days I had the heart monitor on for back in May, my heart beat an extra 3,378 times.
The end of the summer holidays saw all three girls and Neil testing positive for Covid (23), falling like dominoes just as the new academic year started in September.  Somehow I managed to escape it thank goodness – I'm still not quite sure how.  When everyone was well again and finally out of isolation, I realised that all three girls are now in high school together (24) and we've begun a whole new season of our lives as a family.
October felt like a really positive month.  Neil and I spontaneously booked last minute tickets to see a Meatloaf tribute act (25) at our local theatre and it was absolutely brilliant!  We had so much fun and I'm really glad we did it (thank you Grandad for staying with the kids while we escaped for the evening).  I used some more of my newfound bravery and took some self portraits (26) on a whim when I saw some pretty light in my daughter's bedroom.  I actually really like them and am very pleased with how they turned out.
Whenever we visit Bude I make a point of finding something new for us to do – we've been so many times now that I sometimes worry that we might end up getting a tiny bit bored if we don't keep things fresh.  In October half term I managed to plan in two new things – seeing a movie at the Rebel Cinema (27) and paying a visit to Electric Bakery (28) – both of which I highly recommend trying if you ever find yourself in Bude.
We had an unexpected early snowfall in November (29) – I'm sure there must have been snow in November before but I don't remember it so I'm calling it a first!  Then in December I had the chance to try out my very own Instax polaroid camera (30), which was a much longed for Christmas gift from Neil – I love it!
# Of Date Nights With The Husband: 3
Three dates in twelve months is SO much better than the zero dates we managed in 2020!  Granted, one was a midweek, child-free shopping trip to Ikea (heaven for me, hell for him) and all of our dates were squeezed into a three week time period rather than spread out throughout the year, but I'll take it.  Our girls and our jobs have taken priority recently and our relationship was feeling it – these little snippets of time with each other made such a difference.
As well as our Ikea date we also went to the cinema to see 'No Time To Die' (which was excellent) and as I mentioned before we also went to see a Meatloaf tribute act at our local theatre – a spontaneous decision that ended up being one of the best things we did all year.
We usually try and have a date night for Neil's birthday in December but we didn't quite manage it this year so our annual dinner-and-a-movie became takeaway-and-tv and we've postponed the proper date night until January.
# Of Books Read: 15
Every year my goal is always to read one book a month as a minimum.  I rather ambitiously aimed for two a month in 2021 (so 24 books altogether) but I didn't manage it – didn't even get near it.  I actually ended up reading three less books in total than I did in 2020!  I'm putting that down to being busier than ever with work and simply not having the brain space to read.  I'm determined to change that in 2022 and prioritise reading more.
Here's the full list of books I read in 2021:
Lord Of Shadows and Queen of Air and Darkness (Shadowhunters: Dark Artifices trilogy) by Cassandra Clare
Where The Crawdads Sing by Delia Owens
How To Stop Time by Matt Haig
The Night Circus by Erin Morgenstern
Dear Edward by Ann Napolitano
The Starless Sea by Erin Morgenstern
Lonely Planet Guidebook to Scotland and Lonely Planet City Guide to Edinburgh
The Secret Commonwealth (Book of Dust Volume 2) by Philip Pullman
Writers and Lovers by Lily King
The First Phonecall From Heaven by Mitch Albom
Once Upon A River by Diane Setterfield
The Top Five Regrets Of The Dying by Bronnie Ware
A Girl Made Of Air by Nydia Hetherington
It's a somewhat eclectic mix, as usual.  There are some YA (Young Adult) books, one memoir, a few bestsellers, a couple of lesser-known titles/authors and of course some travel books as well.
My top three were most definitely: 'The Night Circus'/'The Starless Sea' (yes I'm cheating slightly and counting them as one as they're by the same author and whilst they're wildly different storylines, characters and settings, the feel is the same); 'The Secret Commonwealth' (I cannot wait for the third installment!); and 'Where The Crawdads Sing' which was beautifully written and touched me deeply in ways I still can't quite explain.
I've set the goal of reading 22 books in 2022 so I'm going to have to up my game from this year.  I'm already curious to find out what they might be!
# Of Times I've Said "I Love You":  39, 241, 765, 803, 924 approx.)
More than last year and still nowhere near enough.
# Of Sunrises And Sunsets Watched: 181
Fifty-seven fewer than last year but that's ok because some of the ones I did get to witness in 2021 have earned a place among the list of my most favourite sunrises and sunsets ever.  Watching the sun set over the ocean feels something akin to magic for me and the ones I saw on both of our trips to Bude this year were truly spectacular.  I managed to convince Ella to come out with me one evening and chasing the sunset with her, our cameras in our hands, is one of my best memories of the whole year.
# Of 'Likes' On Instagram Photos: 6,479
According to the 'best grid' app, I received 6,479 likes over 138 posts (an average of 47 likes per photo) on Instagram.
I KNOW the numbers don't matter.  Really I do.  I have cared a lot less about them in 2021 which can only be a good thing.  Going forwards I'm still determined to continue capturing and creating images that tell our story, regardless of what kind of response they get once they're out there in the world of Instagram.
I do find it really interesting to see which images are the most popular.  No family selfies or travel photos this year – the focus was more on emotive images.  A self portrait (which got the most likes of all), big feelings about isolations, home-schooling, faffing with flowers and sending messages of love out into the world all featured in my 2021 top nine.  I wonder what next year's grid will look like?
If you aren't yet following me on Instagram and would like to, you can find me here:  https://www.instagram.com/picturetakermemorymaker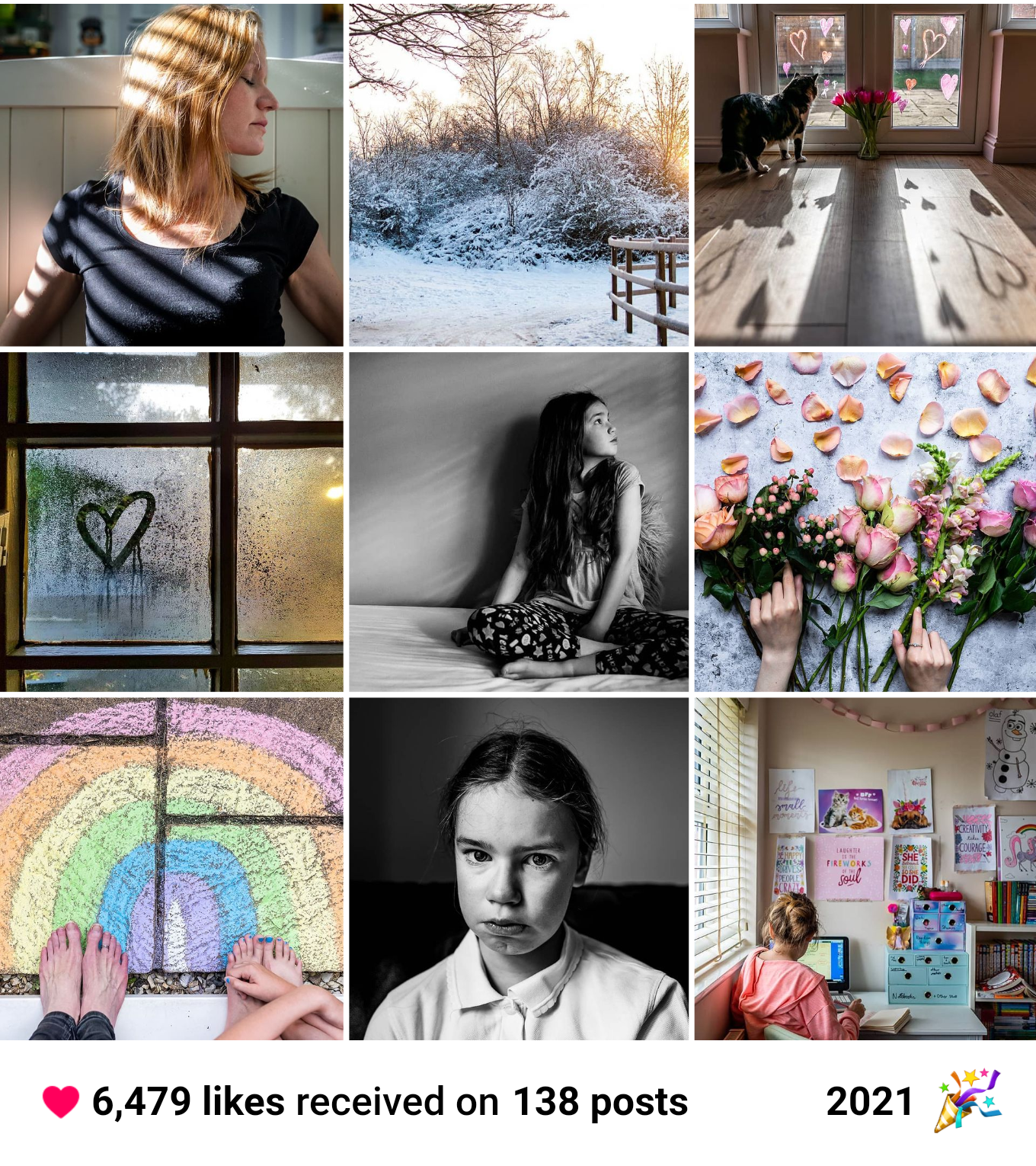 # of cinema trips: 3
All of our cinema trips were squeezed in during the last quarter of the year.  Neil and I went to see the new James Bond film 'No Time To Die' (which was excellent) in October for a very long overdue date night and then all of the other movies we've watched have been kids films!  We saw 'Addams Family 2' whilst we were in Bude for half term – I've been desperate to go to the Rebel Cinema for years and we finally made it there.  I loved the retro vibes.  The third and final cinema visit was to see 'Encanto' with the girls on an inset day in late November at our local cinema.  I wasn't really sure what to expect but we all absolutely loved it!
We managed to snuggle up for a couple of family movie nights at home throughout the year as well.  I'd love to make this a monthly event but the reality is that no-one can ever agree on what to watch so it's rare that we find something for everyone!  'Enola Holmes' was a big hit, especially with Mimi, and we're eagerly anticipating the second installment coming out in 2022.  'Moxie' was a good conversation starter (though perhaps a little bit too grown up for Lola), and we all thoroughly enjoyed 'Cruella'.
# Of Items Ticked Off My '40 Things Before I'm 40′ List:  1
I'm slowly coming to the realisation that I'm probably not going to be able to tick off all of the challenges on my '40 Things Before I'm 40' list in the next year and a half as there are just too many left to do and the pause I had to put on everything for the last couple of years (because of the pandemic) put quite a significant dent in my progress.
I'm pleased that we did manage to tick off one thing from the list in 2021 though: #13 Explore somewhere in UK we've never been to before.  We completed that with our trip to Scotland!
I'm very much hoping the number in this section is higher in 2022 as I'd still like to get as many as I can.  I wonder which ones they'll be?
Looking Forwards To 2022
And that's it!  My 2021 in numbers.  It's been another out-of-the-ordinary year.  So much is different from the experience that was 2020 and yet so much has somehow stayed the same.  It's been challenging in many ways and utterly wonderful in others.  There has been a great deal of learning for all of us and I've done my absolute best to embrace it and make the most of it even amidst the uncertainty and constant change.
I'm hopeful that the plans we have in place for 2022 actually happen because there is a lot for us to look forward to.  When we reach the end of next year and I write another post like this I want to be able to record that the husband and I have been on significantly more date nights, that I've read more books, that we've taken more trips, that we've had many more new experiences as a family and that I've ticked several more things off of my '40 Before I'm 40′ list.
Let's hope it's going to be a good year