Every year, we have a week-long family holiday in Bude in North Cornwall.  (You can read all about last year's holiday here).  We were due to go in May half term this year, but by the time January came around it felt like far too far away and so we decided to bring it forwards to the second week of the Easter holidays instead.  I'm so glad we did – we've had what's felt like the longest winter ever and we were all craving a change of scenery from the four walls we'd been enclosed in for months on end.  This trip was the breath of fresh air we'd all been needing and even though we visit every year we still found plenty of new places to explore and different things to do (as well as staying loyal to our favourite traditions too).
We always spend our family holiday in Bude staying at The Beach Haven, which over the last five years has truly become our home-from-home.  We relax as soon as we arrive, the welcome we receive from Tim and Maria is second to none and there is more than enough space for everyone.  The teenager usually comes with us, but this year she chose to stay at home to study for her upcoming GCSEs instead. We really missed having her with us, though we know all her hard work will be worth it in the end.
SATURDAY
We always aim to leave our house at 6am on the day we drive down to Cornwall.  It's a four hour trip (plus a break halfway down for a wee and a drink).  The Beach Haven isn't ready for us to check into until the afternoon, and rather than leave later (getting stuck in traffic and spending the entire day travelling) we prefer to be on the road super-early, arrive mid-morning and make the most of our first day by walking along the beach and eating lunch in a lovely cafe rather than in a motorway service station.  The girls and I love watching the sunrise on the way – we were lucky this year and it was a really beautiful one.
Unfortunately the gorgeous sunrise gave way to rain part way through our journey and we arrived in Bude to a downpour.  Never ones to let the weather get in the way of having fun (well, we try not to, though we all have our limits) we put up our hoods, grabbed the umbrella and took our favourite walk 'over the top' from Crooklets Beach to Summerleaze and then on into the town centre itself.  Despite the howling wind and stinging rain smarting our faces, we briefly stopped to marvel at the crazy people out surfing before taking shelter in a café and spending much of the afternoon in there colouring, reading and (*ahem*) using the free wifi to watch the football.
When we got the call to say that The Beach Haven was ready we headed straight over there to find Easter chocolates for the girls, a freshly baked batch of scones and a delicious looking homemade Victoria sponge cake on the kitchen side, plus wine, milk, jam and clotted cream in the fridge.  Honestly, the welcome we get every time we visit is so fantastic and the girls spend a lot of our journey time trying to guess what cake we might get this year!
After settling in and unpacking a bit I realised that the weather had cleared up.  The husband was tired from the long drive and the girls had exhausted all their pent-up energy playing tag around the circular layout of the bungalow so I decided to go out for a walk on my own.  I hate 'wasting' good weather as you never know when you're going to get the next bit of sunshine!
I took the same route we'd walked earlier on in the day and the difference was incredible – blue skies, gorgeous light, golden sunshine and calm waters.  I took so many photos.  It was beautiful and I just wanted to capture it forever.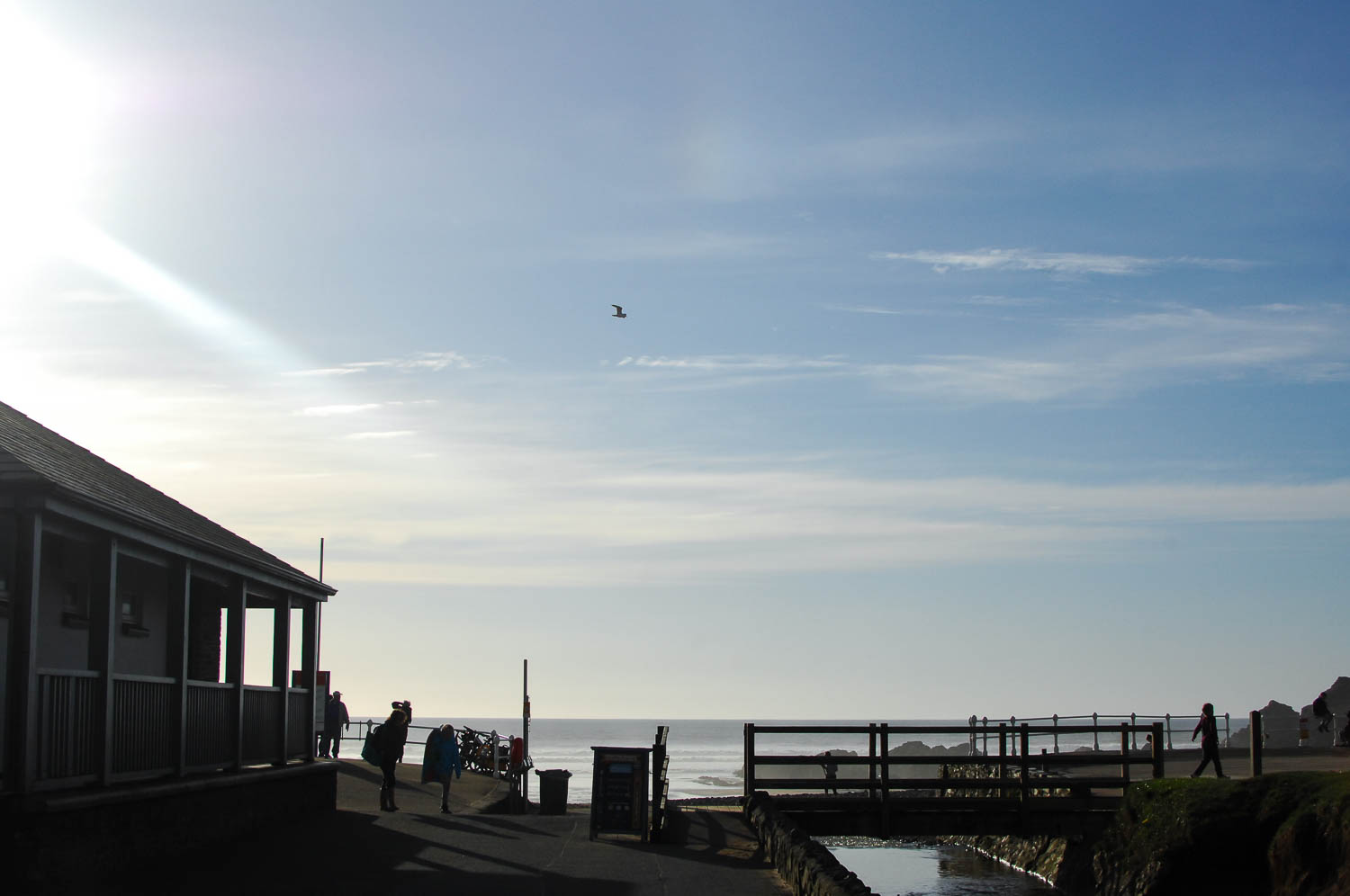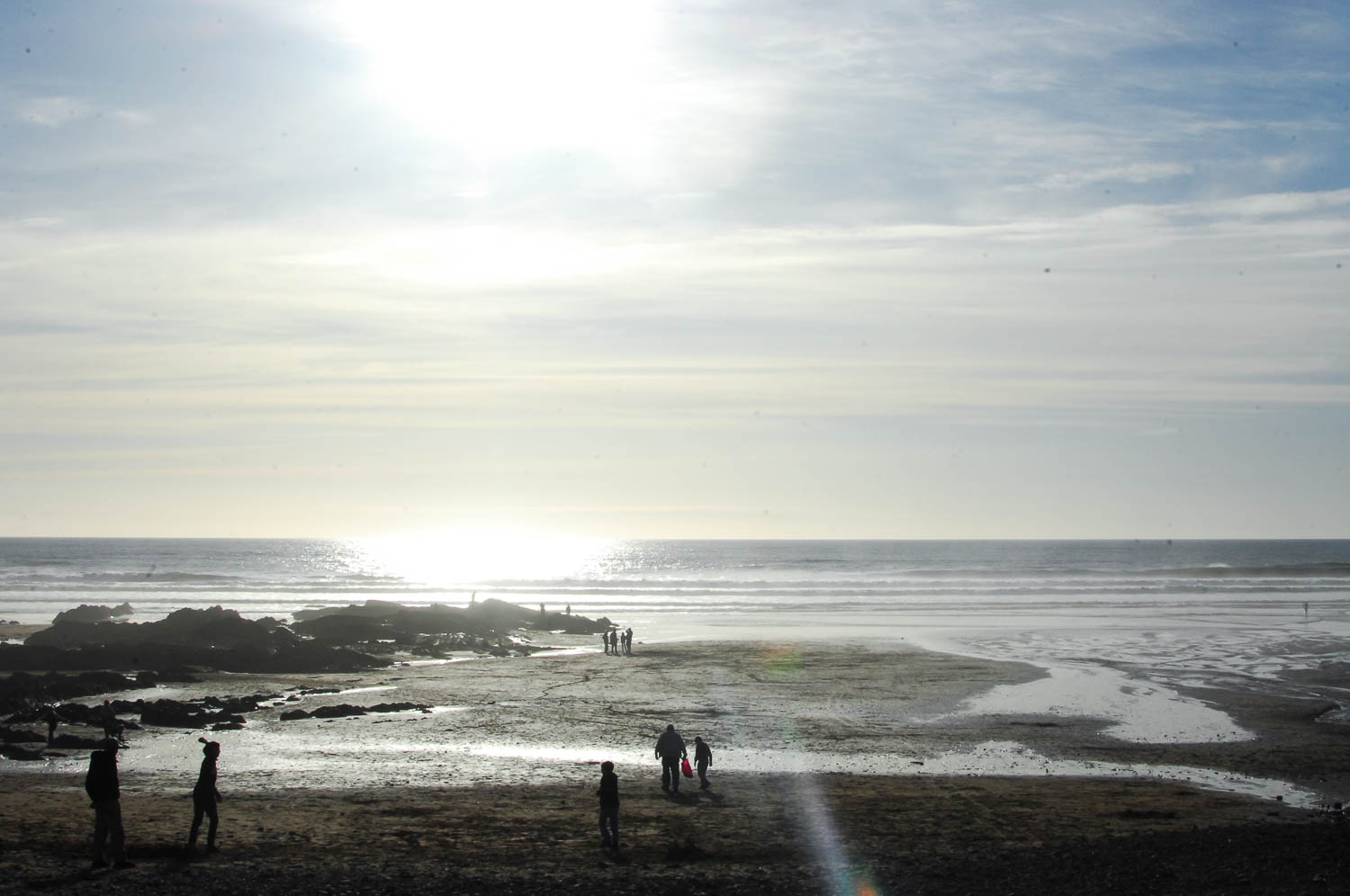 SUNDAY
We awoke to gorgeous clear blue skies and decided to take full advantage of them by heading down into Bude (via the beach of course) to tick off one of our favourite annual traditions – play crazy golf!
I remember playing the very same course multiple times when I was a little girl visiting my cousins during the summer holidays and it seemed so big to me back then – the obstacles were tough and it felt like it took us all day to complete the course – we were having so much fun that we lost all sense of time.
Now each year when we revisit it I marvel at how tiny it looks compared to what I have stored away in my memory.  Nevertheless, we absolutely love doing it and this year TWO holes-in-one got scored (though the husband still took the winner's crown).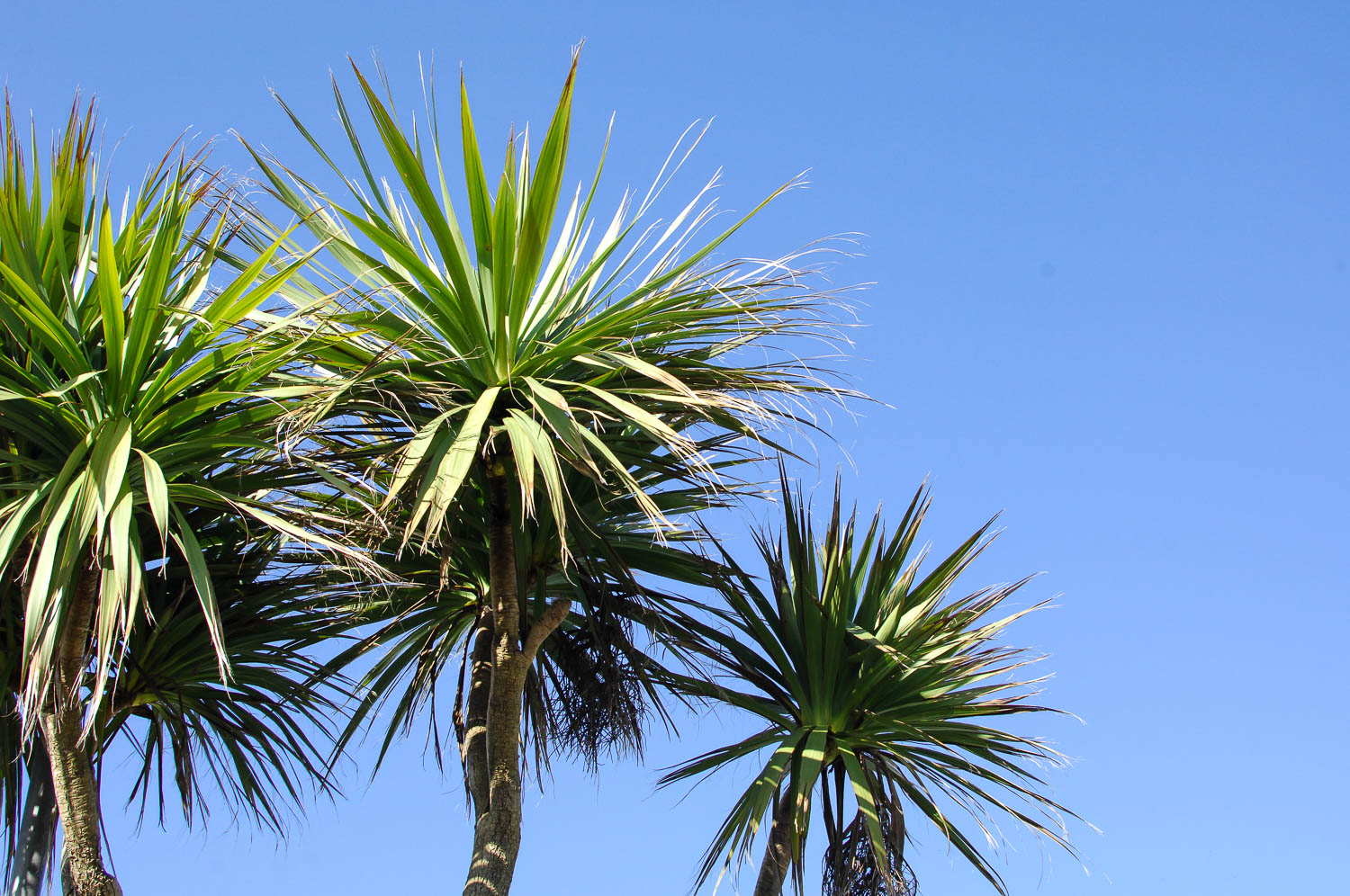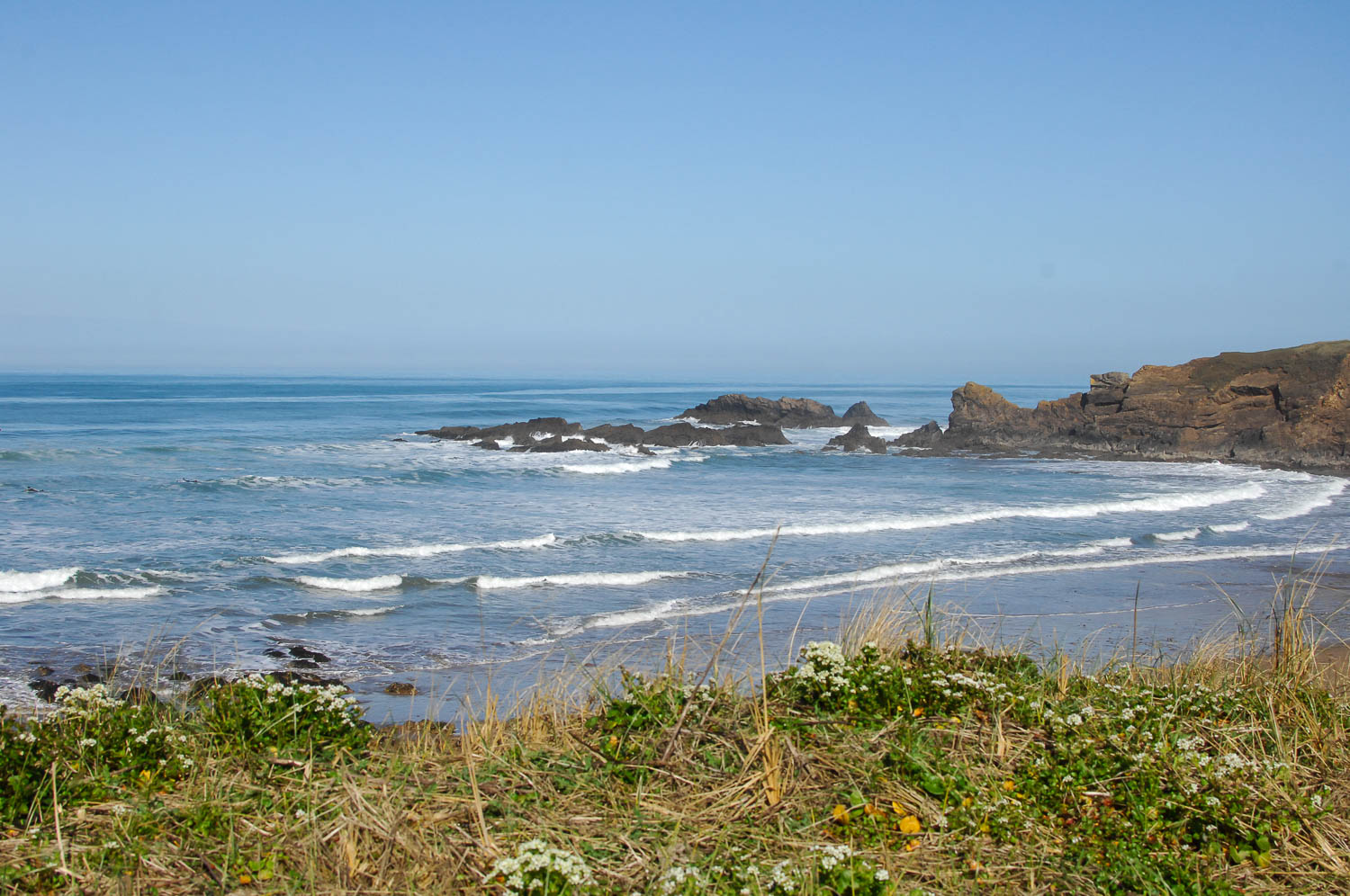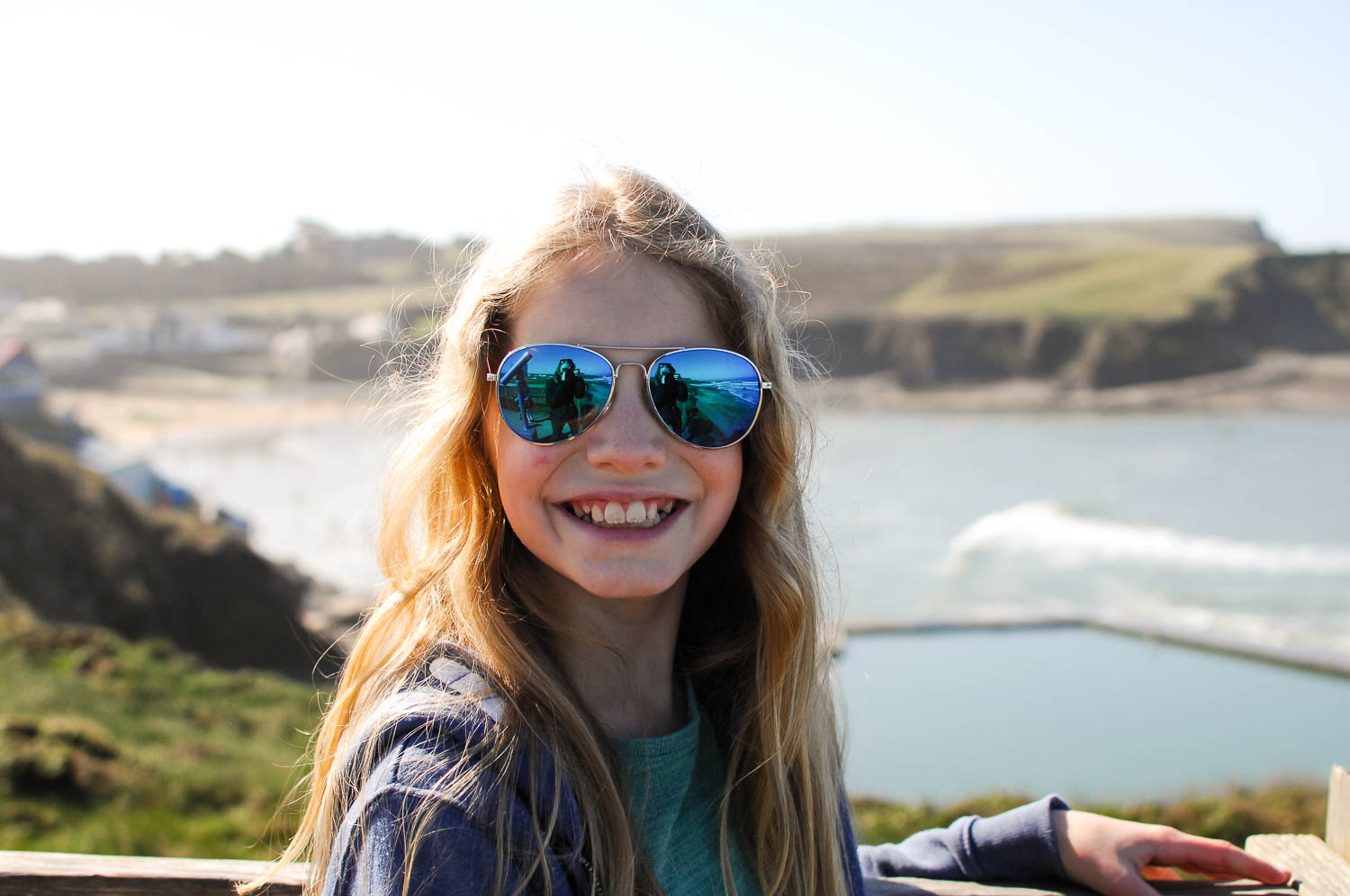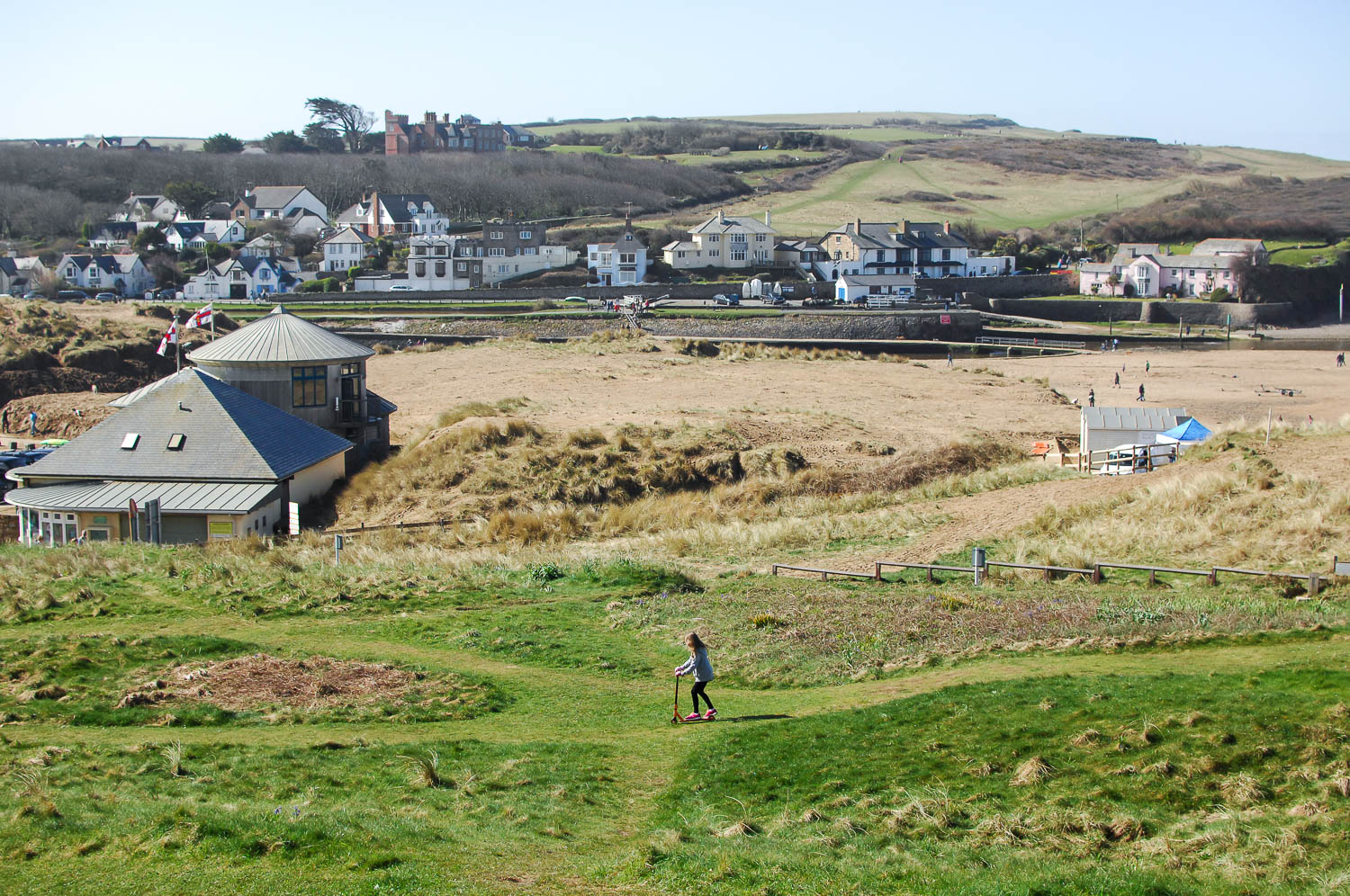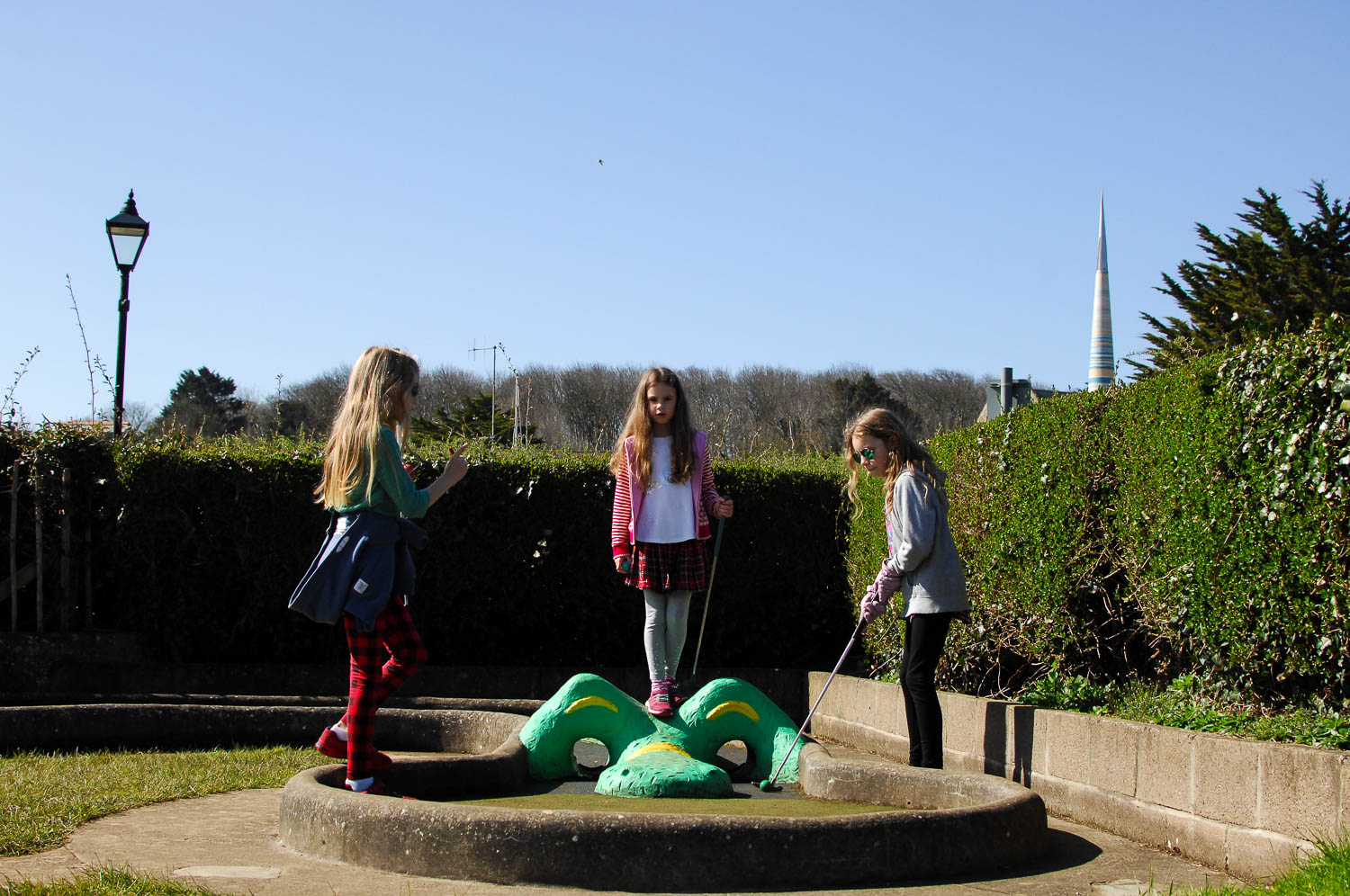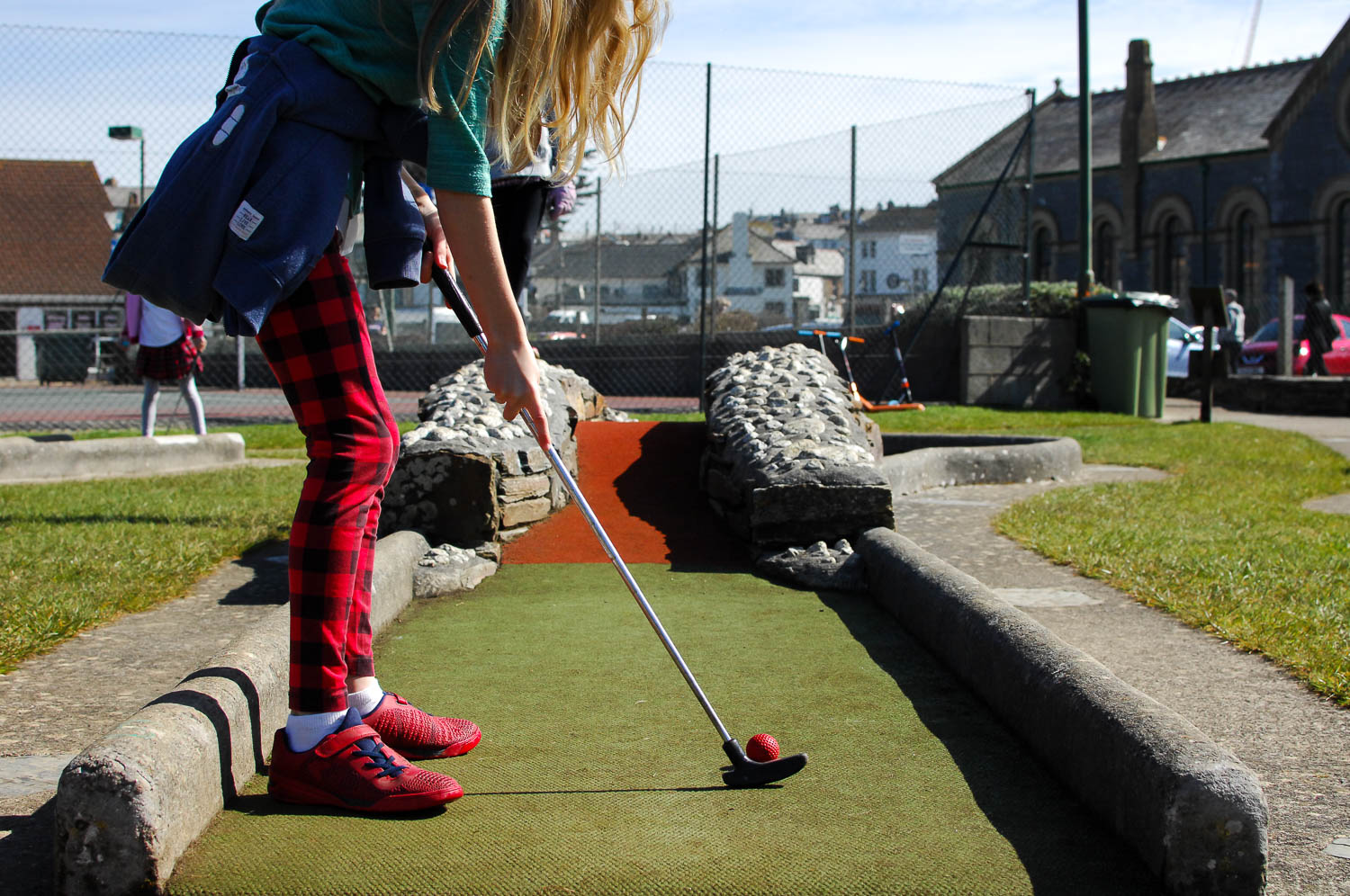 A quick lunch back at The Beach Haven and we were off out again, this time to explore St Nectan's Glen.  I'd found out about it when we had our family holiday in Bude last year, but we hadn't had the time to fit it in and I was determined that this year we'd go and see what it had to offer. I'm so glad we did – it was absolutely beautiful!
Situated halfway between Boscastle and Tintagel, a steep walk inland takes you through some stunning woodlands, following the path of a stream until you reach St. Nectan's Glen itself, home to three impressive waterfalls.  We spent ages there wading through the water, listening to the roar of the falls and taking in the rather magical atmosphere.  I'm pretty sure we'll be making a return visit.  It definitely got added to my list of favourite places to go.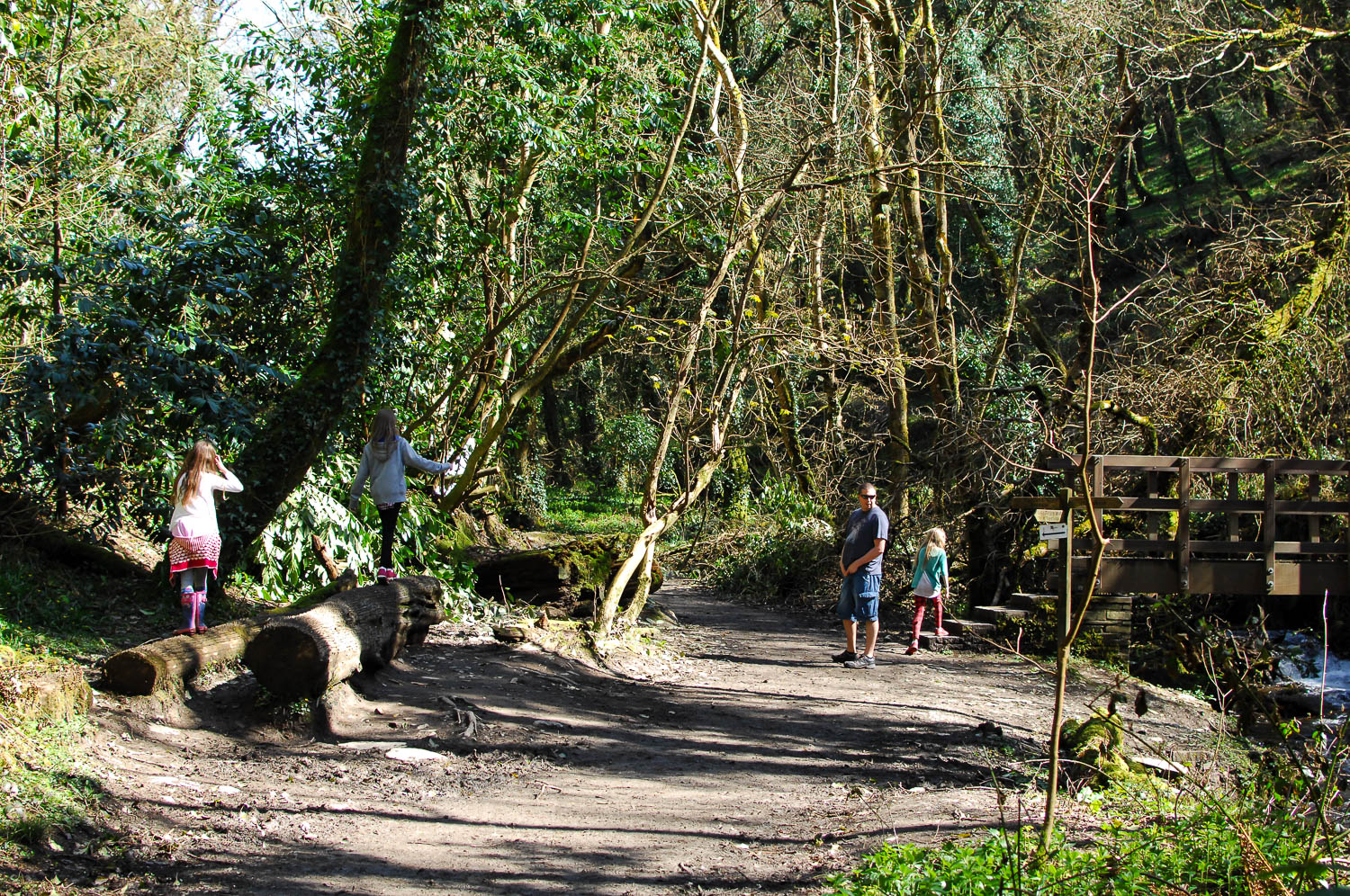 MONDAY
Monday dawned hazy and bright.  The girls' only request was to go and play on the beach so that's exactly what we did.  We played catch, jumped the waves and clambered over rocks for ages and watching the girls having so much fun doing such simple things always reminds me to stop overcomplicating things.
I have a tendency to try and cram our family holiday days full of activities – places to go and things to see & do – and I forget that sometimes, even though they're growing up, they still like to simply play.  I could have watched them for hours as I breathed in the clean air, felt the breeze whipping my hair and tasted the salt on my tongue.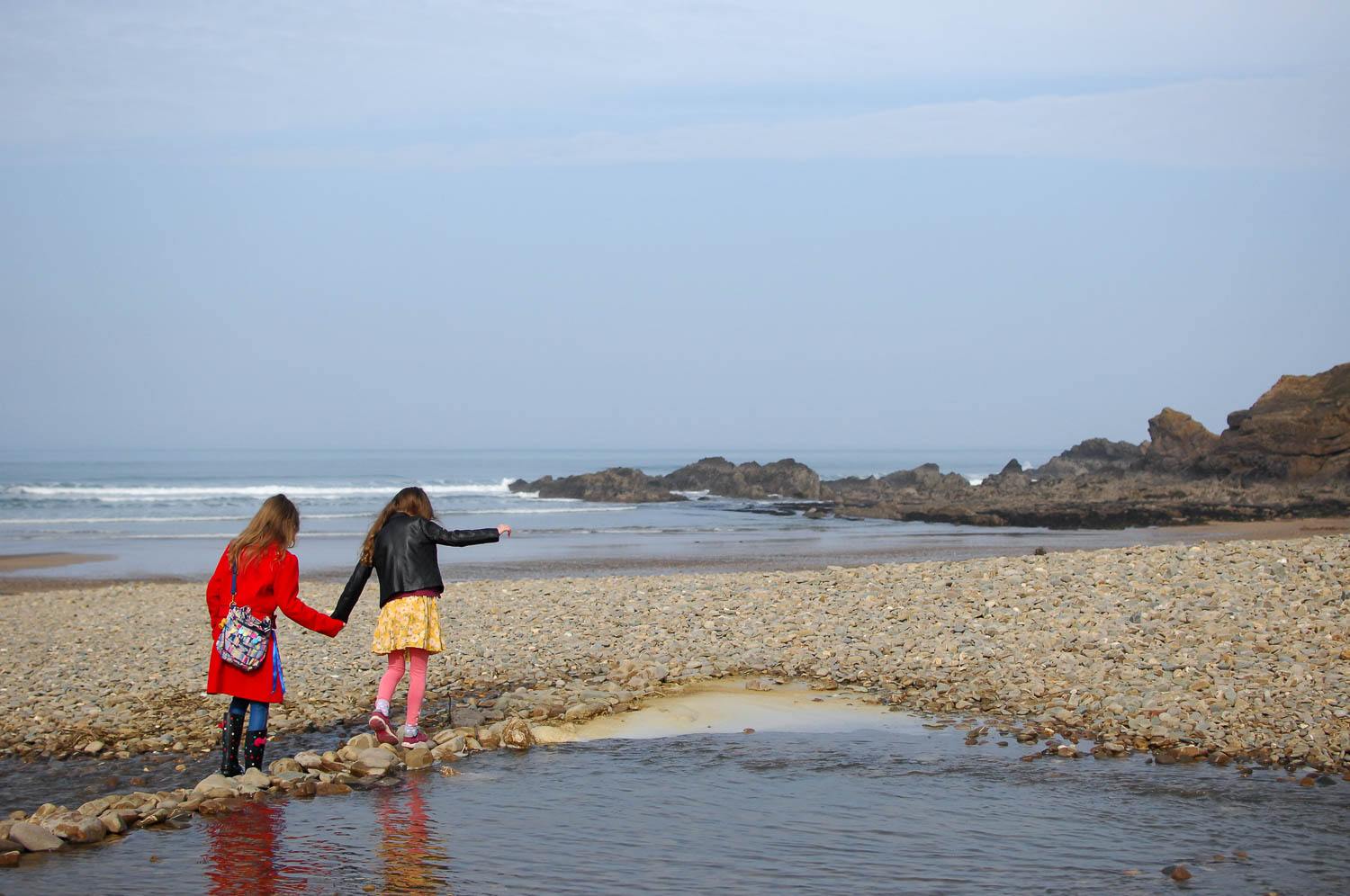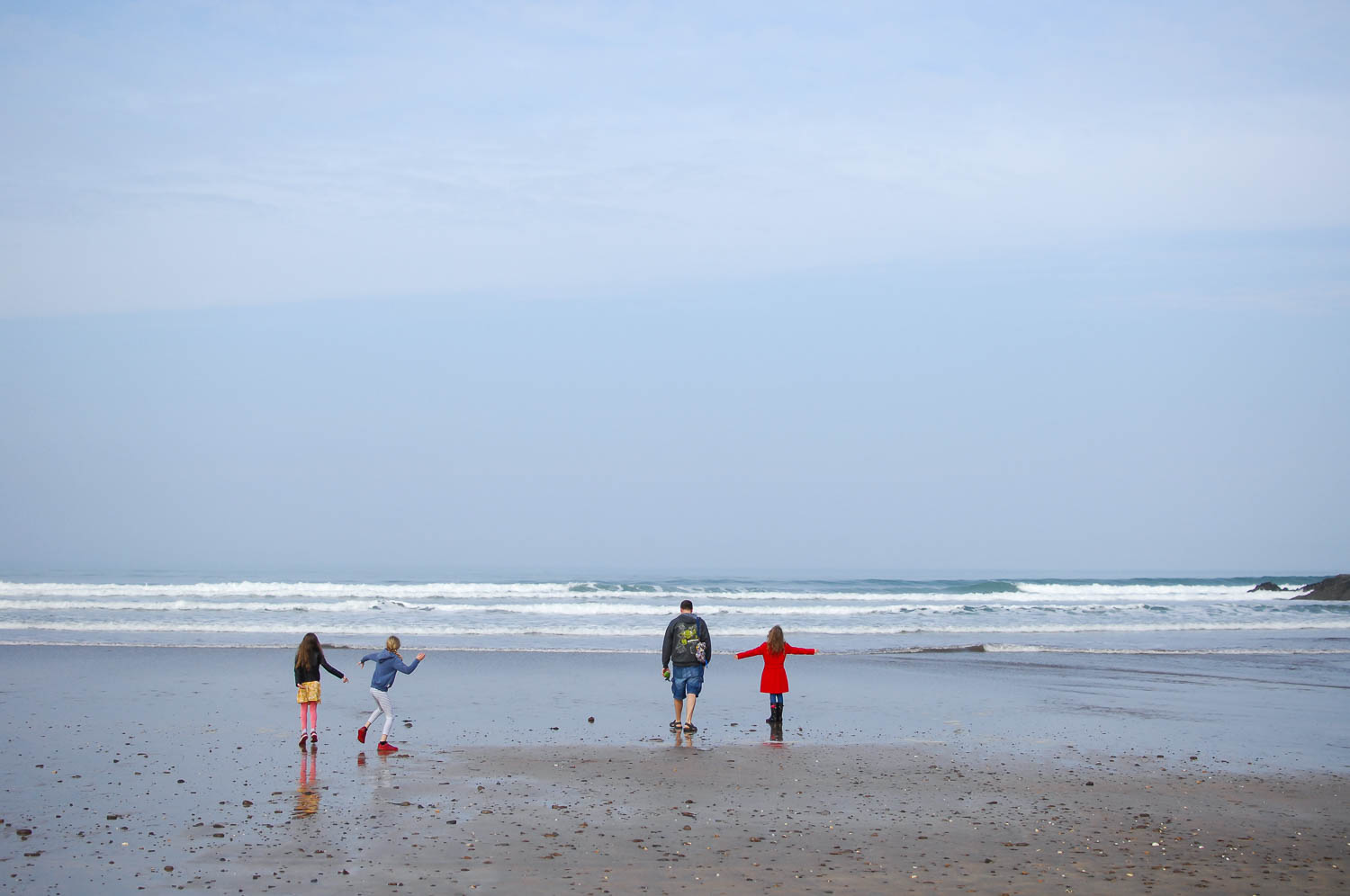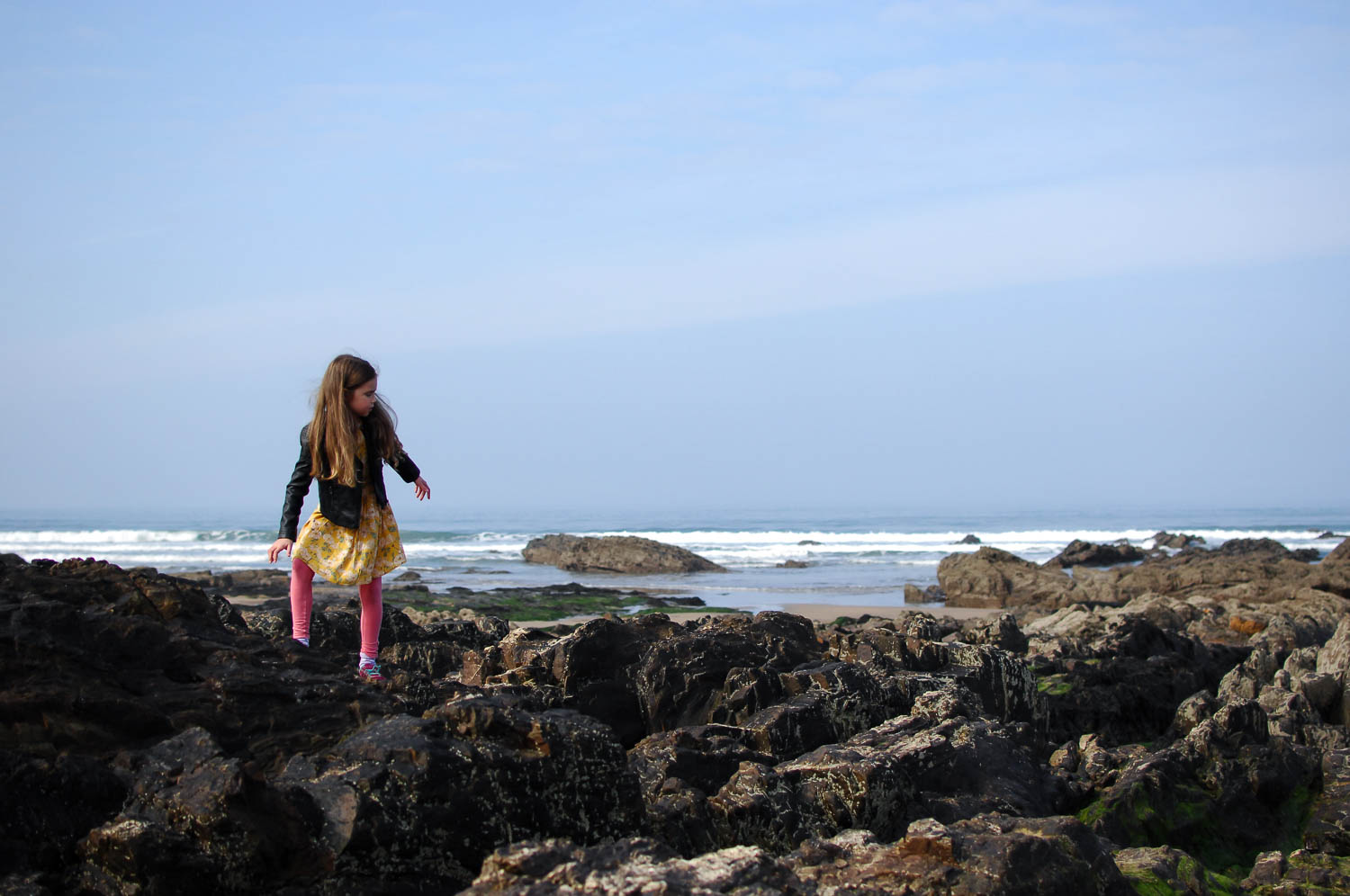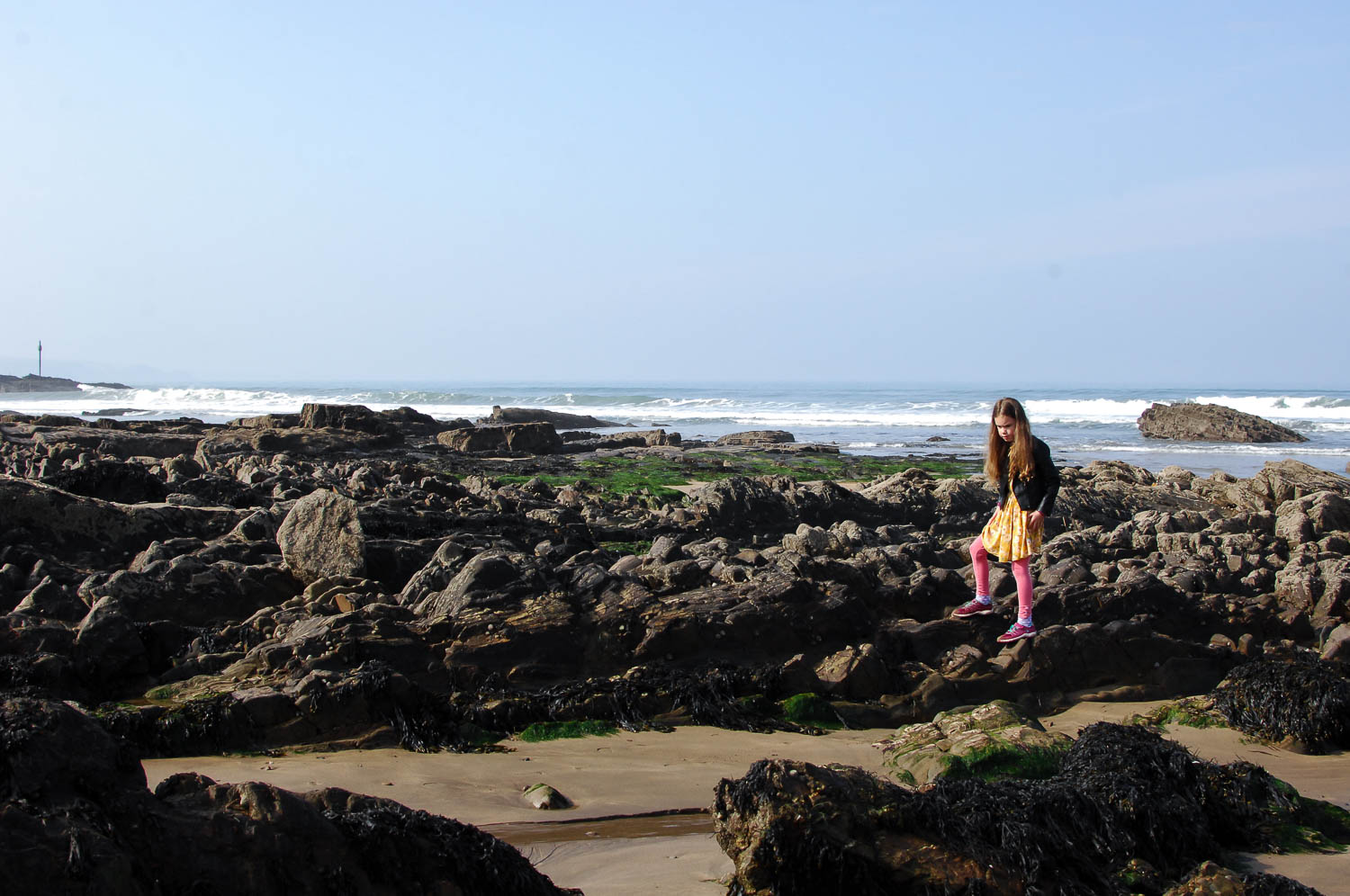 The weather forecast suggested that today may be the last 'good weather' day we were going to get.  Considering the day before we arrived it had said it was going to be torrential rain all week we all felt very lucky to have had several days of glorious sunshine, even if the temperatures were still a little on the chilly side.  To make the most of it, we decided on an impromptu afternoon visit to Clovelly.
Clovelly is actually in Devon, not Cornwall, which I hadn't realised before and it has a firm 'no-car' policy.  I had no idea what to expect from it and I have to say it was definitely worth a visit.  Steeply cobbled streets, an Easter trail for the girls (hunting out fifteen fluffy yellow chicks hidden throughout the village), a picturesque little harbour and a waterfall on the beach made for a really fun afternoon and we happily spent a lot longer in Clovelly than we thought we would.
It was certainly an action-packed few days that got our family holiday in Bude off to a great start.  I've got so many new favourite photos from all of our little adventures.  Part Two, with the details of what we got up to in the second half of our family holiday in Bude, will follow soon.
In the meantime, here's a little video of our holiday that I put together. I still need more practice but I'm really loving creating these memories of our family holidays for us to look back on as time goes by.