In May half term we embarked on our first ever mini family road trip through Somerset, Dorset and Hampshire, visiting family and friends and staying for a couple of days in each place.  You can read all about our time at a beautiful, wisteria-covered farmhouse in Somerset in Part One and this post – Part Two – covers our time in Dorset, where we had our first ever experience of staying in an AirBnb.
Part 2: Dorset
We left my family's beautiful home in Somerset late morning on the third day of our trip, after a quiet few hours followed by a last minute flurry of packing, photo-taking and saying our goodbyes.  I always find it hard to say goodbye to people, especially if I don't see them very often.  We probably won't see them again now for a year or more, so I'm very glad we've got such lovely memories of the time we spent with them.
Back on the road, our end destination for the day was to be a little town in Dorset called Sherborne, the halfway point of our trip.  It was only about an hour away from where we'd been staying in Somerset, but there was a stop I wanted to make on the way before we got there.
Since losing my Dad three years ago, I've had in my head the idea of following a little pilgrimage of all the places I associate with him.  I'm not really sure why – it just feels like an important thing to do, a way of finding out more of his story, somehow getting to know him after his death better than I knew him whilst he was alive.  Maybe in doing so I'm hoping to get to know myself better too.  A couple of years ago I returned to his old flat in London, which is where most of my earliest memories of him take place and, whilst it was cathartic in lots of ways, it left me thirsty for more.
Several years before I was born, Dad used to run a pub called The Podymore Inn, in a little town called Podimore just north of Yeovil in Somerset.  When I was planning the route for our road trip I was stunned to find that it took us directly through Podimore and so it seemed that it was somewhere I was meant to visit.
We pulled up outside the pub at midday-ish and I sat in the car for a moment or two, gathering my thoughts and emotions whilst the husband took the girls inside to get some drinks and order a bite to eat for lunch.  I was grateful that he recognised that I needed a few minutes to myself.  It's always strange doing something like this – reconnecting with my Dad in some way – and I'm never really sure how to feel.  I'm gradually learning that however I feel is usually exactly how I need to feel – it's all part of this unpredictable journey called grief that I suspect simply needs to run it's course in whatever form it's going to take.
I'd arranged to meet one of Dad's oldest friends, Tony, at the pub. I'd not seen him since Dad's funeral three years ago, and before that the last time I saw him was when I was tiny.  I was both nervous and curious, keen to hear some of Tony's memories of Dad and stories from Dad's time at the pub forty years ago and ready to learn about a part of his life that I knew nothing about.  We spent a couple of hours chatting, reminiscing, exchanging anecdotes and tales of escapades and adventures and mishaps.  I learned all about the infamous 'PodyBurger' that Dad introduced to the menu, the story behind the frog theme still inherent in the pub today, the wild parties that used to be held there and the changes that Dad made to the interior that still exist now.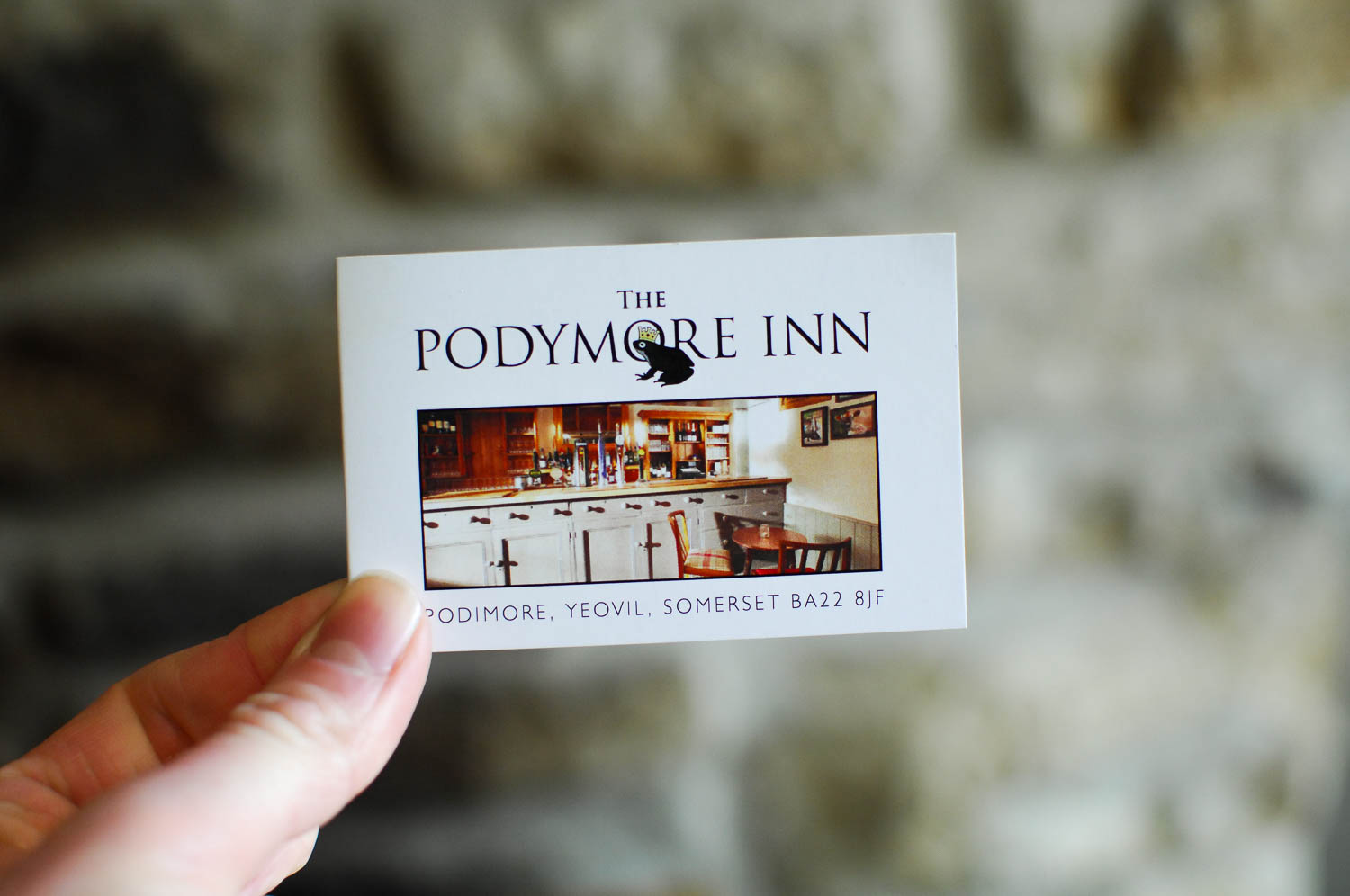 By mid-afternoon the time had come to move on.  The girls were beginning to get restless and we knew we needed to get to where we were staying in time to pick up some basic supplies for our two-night Airbnb stay before the shops all closed early due to it being Bank Holiday Monday.  We piled back in the car and I gazed at the pub one last time, trying to commit the details of it to memory, filing it away in the box in my head labelled 'Dad'.
Half an hour later we arrived in Sherborne, just over the county border in Dorset.  Our first stop was to the pharmacy to get Mimi some stronger hayfever medication, eye drops and tissues because she was still really suffering bless her.  We also did a quick shop in Waitrose (luxury food, such a treat!) before heading to our Airbnb to check in.
We'd never used Airbnb before this trip and I spent ages looking at all the different options for the area, trying to find somewhere that fitted with what we needed for the five of us that was still within our budget.   I drew up a shortlist of three different options and kept coming back to one of them in particular, so that was the one we went with in the end and I'm glad we did.  It was a gorgeous, light-filled two bedroom apartment above a book/stationary shop right on the High Street.  The check-in process was smooth and we settled in for a much-needed chilled out evening after the busyness of the previous few days.
The next morning dawned with overcast skies and muggy temperatures, with rain forecast for the afternoon.  I had originally wanted to venture South, down to the spectacular Dorset coastline to explore the Isle of Portland and Portland Bill lighthouse, but with the weather not looking particularly pleasant and Mimi still being a bit nervous of 'wiggly' car journeys we sadly decided to give it a miss this time.  We headed out on foot to explore Sherborne itself mid-morning instead and made our way through the town up to both the Old Castle and the New Castle.  We didn't go in to either site (for a family of five the entry fees soon add up!) but it felt good to get some fresh air and a stretch of the legs.  I'm pretty sure both castles would have been a lot of fun to explore and I imagine they would offer two completely different experiences too.
We did stop at the magnificent Sherborne Abbey as we headed back towards the Airbnb.  It's imposingly impressive architecture stopped us in our tracks as we wandered through the pretty streets and I couldn't resist popping in for a quick look.
I love churches, cathedrals and abbeys even though I'm not in the slightest bit religious.  There's something so peaceful about them – I love the quiet, the sense of hushed reverence, the people sitting lost in their thoughts, the magnificent interiors, the beautiful stained glass windows…
Sherborne Abbey absolutely lived up to my expectations – it was stunning and I definitely recommend paying a visit if you're ever in the area.
After lunch the heavens opened.  We dashed out for a wander around the quirky little shops before returning with soggy feet and nothing else planned other than to read and play a few board games (thoughtfully provided by the Airbnb owners) together.  We introduced Mimi to chess and draughts, had an epic game of Monopoly and I even managed to finish my book!
With my husband and I each being introverts, we were both grateful for this little quiet haven in between our visits to family and friends on this road trip. I'm definitely going to factor little stops like this into any future road trips we plan – a slower pace for a day or two is definitely necessary for us all to re-set before moving on to the next location. We're pretty new to this way of travelling as a family and I'm still learning that everyone has different needs that are important to meet which are vastly distant from my own obsession of constantly exploring and discovering new things. Compromises are required so that everyone gets a little bit of what they need, which means that ultimately everyone has a more enjoyable time.
Another relatively relaxed evening ensued, as we prepared to check out the next morning ready for the third and final stage of our family road trip – staying with my best friend, her husband and their new baby in Southampton, Hampshire.