I first visited Italy with my cousin way back in 2004.  During our Italian adventure we explored Rome and all it's history; soaked up the holiness and reverence of the Vatican; just about defied death-by-moped in Naples; walked through the ashes of Pompeii in sombre silence; and wandered wide-eyed around the breathtakingly beautiful island of Capri together.  I loved every single second of it – the mouthwatering food, the friendly people, the iconic sights, the fast-paced atmosphere, the stunning views.  Italy really got under my skin and I completely fell in love with the country, vowing to return one day to explore it some more.
Fourteen years, one husband and three children later I finally made it happen, booking a week-long family trip to Lake Maggiore in the north of the country for the first part of the summer holidays.  We were literally counting down the days from January, planning what we might want to do and getting excited for all the things we were hoping to experience.  I did a ton of research, reading my Lonely Planet guide cover to cover and poring over invaluable blog posts from Katy at Otis and Us, Lisa at Travel Loving Family, and Kate at Pouting in Heels for ideas of things to see and do.
This post is the initial part of our travel diary, covering the first half of our Italian adventure.  Part two of our trip will follow in the coming weeks.
SATURDAY – DAY 1, TRAVEL DAY
Our Italian adventure began at 2.30am (well, 1am for me which is when my alarm went off after just two hours sleep!) when we left our house to make the long drive from where we live in Staffordshire down to Heathrow airport, where we were flying from.  Normally we try and book flights from either Birmingham or Manchester – our two closest airports – but British Airways had a January sale on and we saved a fair bit of money doing it this way, even if it did make the time spent on the road that bit longer.  Parking the car using Meet and Greet (we do this every time we travel – it makes things so much easier!); checking in our luggage; getting breakfast; and the flight itself all went remarkably smoothly and we landed at Milan Malpensa airport at 11am local time (1 hour ahead of the UK).
We had a bit of an issue with our hire car – after patiently waiting for an hour and a half to collect it we discovered that the 'family-sized' one we'd been allocated simply wasn't big enough for the five of us and our luggage (which consisted of only two relatively small suitcases between us all plus a couple of backpacks) and so we had to head back inside to request a different one, which took a bit of time to sort out.  This, coupled with hungry and overtired children, made the start of our Italian adventure more than a little bit stressful but we finally got on the road at about half past 1 and headed for Lake Maggiore, eventually arriving in Luino at about 3pm with a bit of a sigh of relief.
We collected the key to our villa from a beautiful looking local hotel and found somewhere to eat.  Bellies satisfied, we went for a quick wander along the lakefront promenade in Luino – we were all feeling the need for some fresh air and the chance to stretch our legs.  As first impressions go, it was a pretty spectacular one.  Our first proper glimpse of the Lake and the mountains beyond and I knew we'd made a good choice for our annual adventure somewhere new.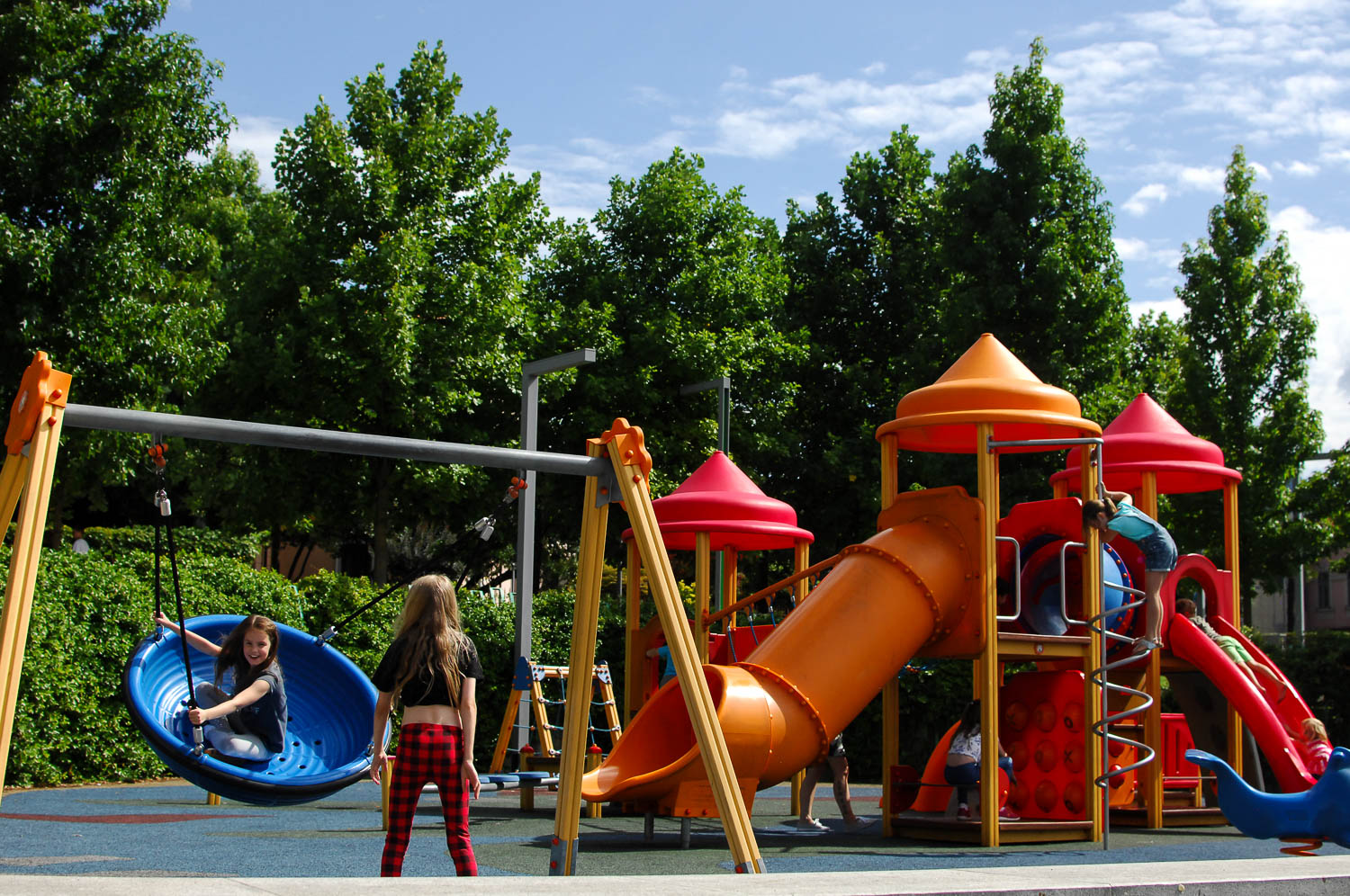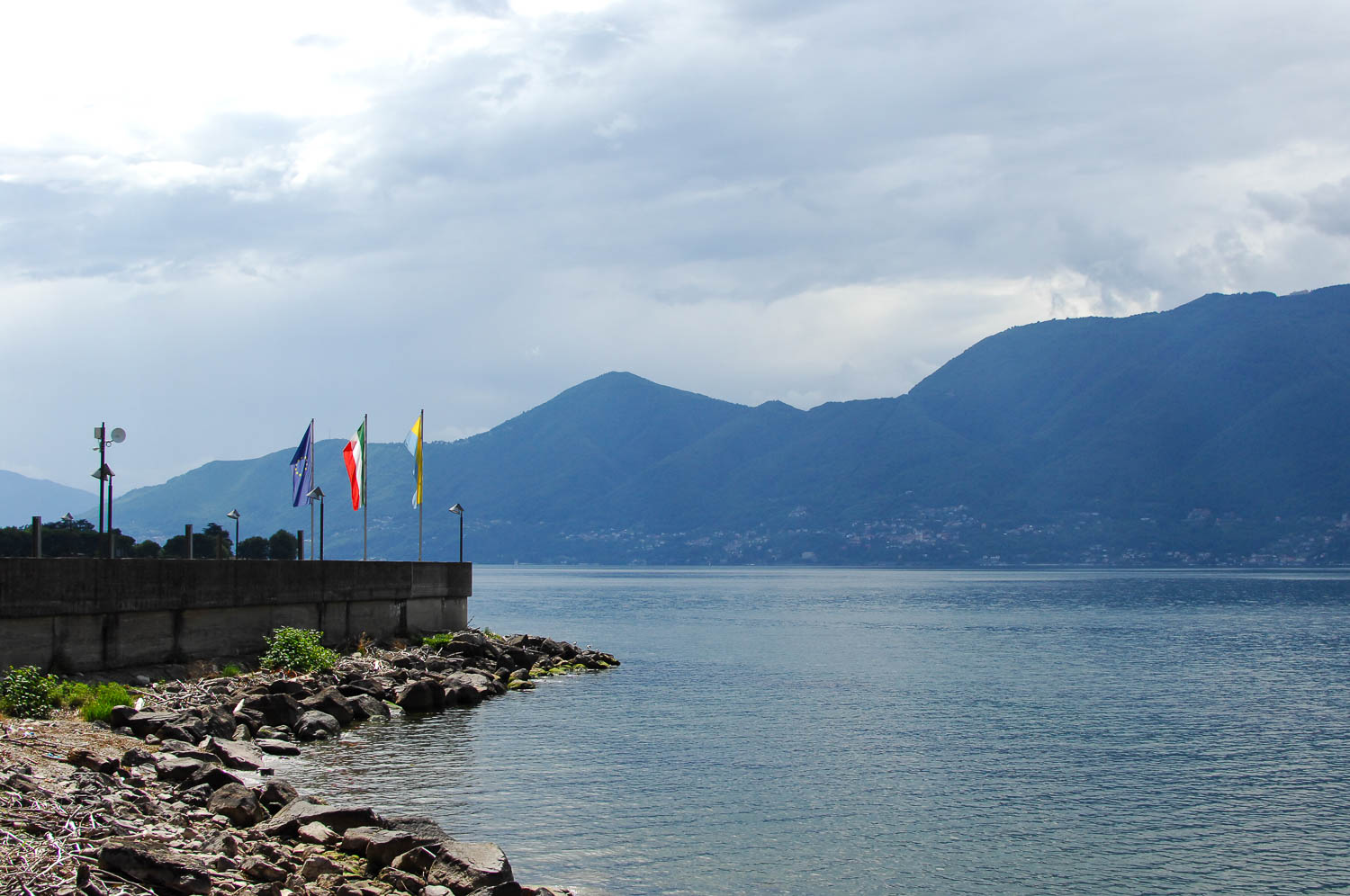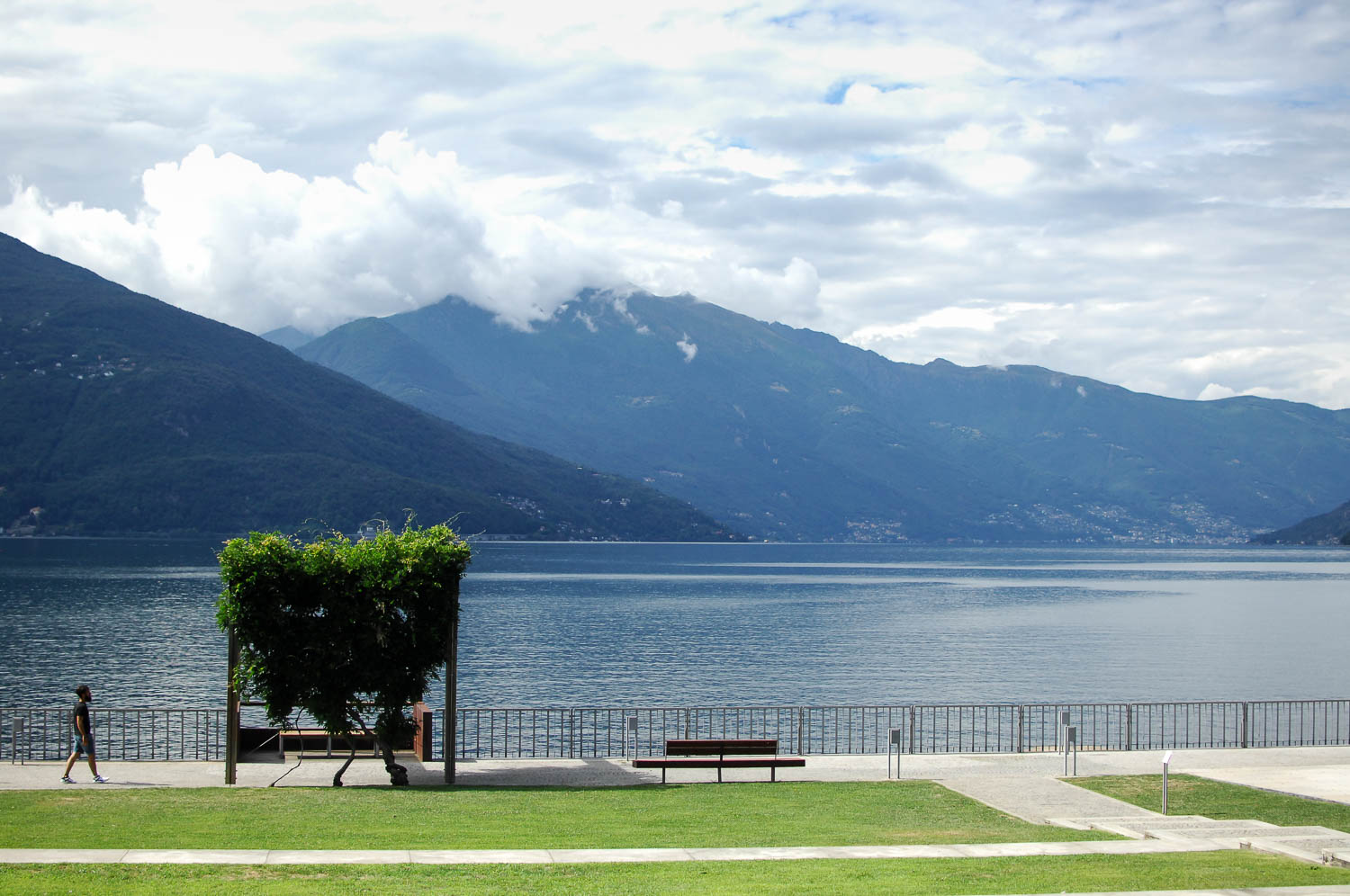 By now the travel fatigue was beginning to set in so we headed for a supermarket, bought some basic supplies for breakfast the following morning and made our way to our villa.  We opted to stay in Villa Caruso, one of the many choices of accommodation offered by holiday company Bookings For You, run by a lovely lady called Jo who really added a personal touch to our trip. It was exactly what we as a family look for when finding somewhere to stay on holiday – a tastefully decorated self-catering villa with plenty of light and space, enough bedrooms for us all and absolutely stunning views.  It was situated only a 10-15 minute drive from Luino in a tiny village in the hills called Dumenza – relatively conveniently placed for all the places we wanted to visit but oh gosh that short drive was pretty hair-raising!
We'd already experienced a bit of what Italian roads and drivers can be like on our way here from the airport but this was a whole other level.  Hairpin turns where the narrow road seemingly folded back on itself all the way up a mountainside when you're driving on the 'wrong' side of the road are no joke and I certainly had a few heart-in-my-mouth moments.  I have never been more grateful for my husband's confident driving skills in my life.  Truth be told the roads did cause us a few issues during our stay as two out of three of our girls struggle with feeling sick on twisty journeys and I hadn't anticipated just how wiggly they'd be.  But we tried not to let it affect us too much and managed to remind ourselves most days that it was all part of the Italian adventure!
All of that was forgotten the moment we stepped inside Villa Caruso – it was as pristine as the photographs on the website suggested and we lost no time in getting settled in for a quiet evening and an early night (after watching an outstanding sunset from the balcony), ready for exploring Lake Maggiore the following day.
SUNDAY – DAY 2, GETTING OUR BEARINGS
I've always been an early bird and so, on waking, I had the villa to myself for a couple of hours before the girls and the husband joined me.  I do love those quiet times when the rest of the world is still sleeping – starting my day off slowly and peacefully is important to me and it meant that I could begin to plan our adventures for the day ready for when everyone else woke up.  I quickly discovered that we had both a handsome peacock and some cheeky donkeys for neighbours – much to the delight of the girls – and that our views across the Lake are even more spectacular in the morning light than they were at sunset last night.
We had a (much-needed) lazy morning of reading books, doing puzzles and snuggling on the sofa.  Yesterday was such a long travel day (I worked out that it was 14 and a half hours door to door even though the flight itself is only two hours long!) and it always takes us a little while to find our bearings in a new place.  We popped down into Luino to pick up a few more supplies to last us the week and had another walk along the promenade as it had been so beautiful the day before.
One thing I really loved was how green it was everywhere.  After our heatwave back home in England everything looked brown and scorched and yet in Italy (with even higher temperatures) everywhere still looked lush and healthy.  I definitely recommend that you keep looking up as you wander around as the buildings are, quite simply, fantastic: beautiful old facades with wrought iron balconies; colourful flowers climbing gracefully up walls; traditional shutters on windows; delicately painted murals; stunning architecture – a history-lover's dream.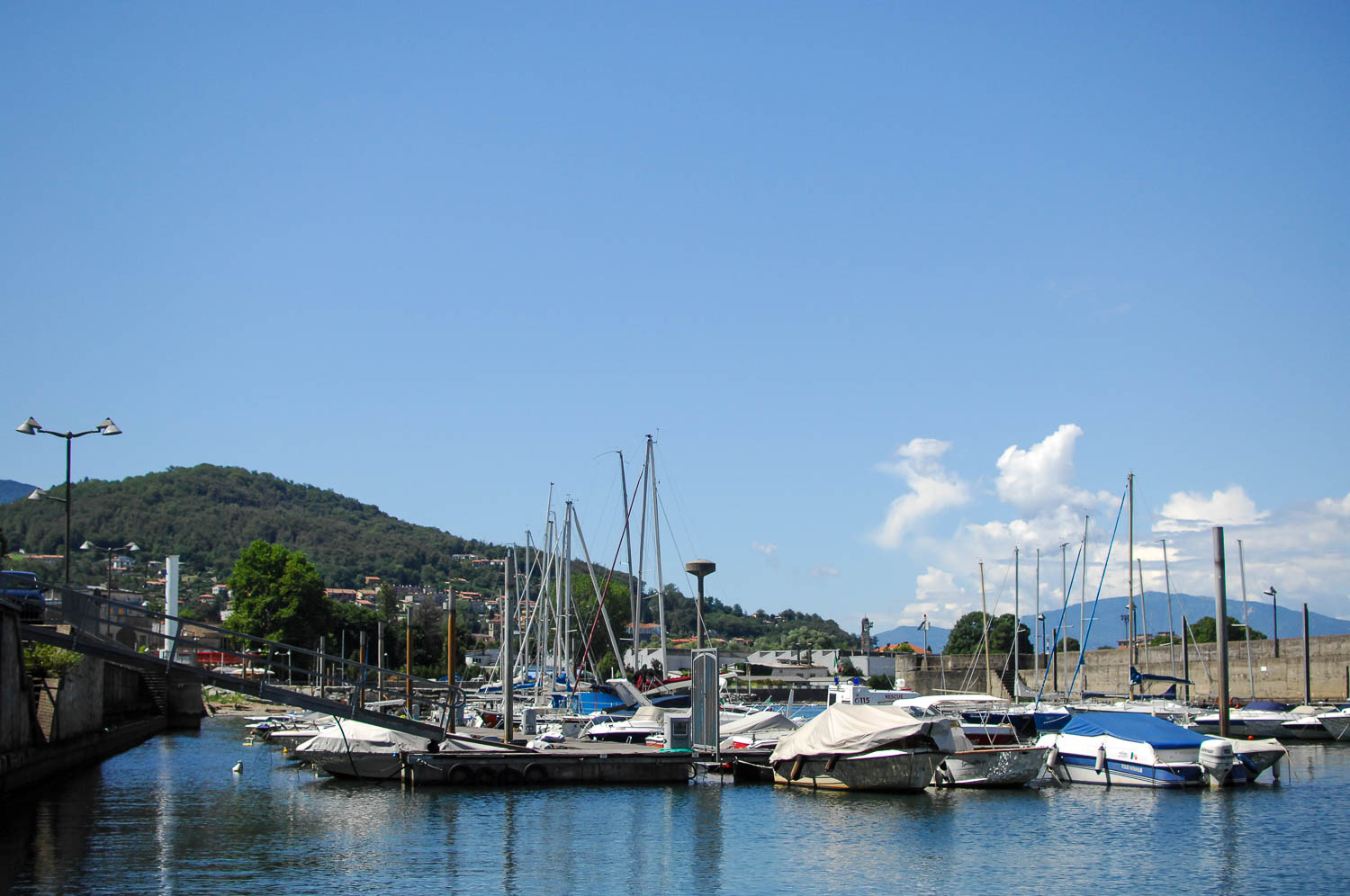 After a spot of lunch back at the villa (and a little nap for some of our party members) we decided to seek out our nearest beach at Maccagno, about the same distance from the villa as Luino is but heading north along the Lake rather than south.  It took us a while to find somewhere to park amidst all the teeny side-streets that led to the lakefront (this would become a recurring theme throughout our holiday – we found parking quite tricky) but once we snagged a space we were rewarded with a really lovely few hours together.
Maccagno is clearly a popular beach – it was absolutely packed with people on this particular scorchingly hot Sunday afternoon: families; lovers; friends and children all enjoying the sunshine and the water with picnics and inflatables (my favourites were the flamingo and the doughnut!).  There were plenty of trees which provided us with some much-needed shade and the water itself was cool, clear and inviting.  There were more waves than I'd been anticipating – all the ferries and speedboats that navigate the centre of the lake create ripples that spread to the shore, causing squeals of delight to erupt from the girls every time a new one arrived.   We paddled and swam and skimmed rocks and dried off in the sunshine and the girls declared it the "best holiday ever" which I think was pretty good going considering it was only our second day!
Back to the villa for a home-cooked dinner (pasta!), which we all ate together (a very rare occurrence back home unless we go out for a meal) and as the sun set the husband and I watched a storm erupt in the mountains on the other side of the lake – flashes of lightening against a backdrop of deep purple clouds dramatically lighting up the entire sky.  It was quite something to see.
MONDAY – DAY 3, MACCAGNO BEACH
We had made plans to try out one of the famous ferries and head to the western side of the lake to explore the medieval town of Cannobio today, but it seemed the universe had other ideas.  At this point we were still finding parking pretty tricky (even with a satnav) and so we missed the ferry we wanted to catch and the next one wasn't leaving for several hours.  But, if travelling teaches us anything it's about how to be adaptable and flexible and resilient, so instead of giving up and returning to the villa in disappointment we decided to make the most of the day anyway and headed back to Maccagno Beach on the girls' request.
We actually ended up spending several hours there doing much the same as our slightly shorter visit the day before – paddling, skimming rocks, playing on the park and people-watching (I love people-watching!).  Because we'd been anticipating going on a day trip we didn't have our swimming costumes with us and so Ella and I, both feeling a little restless, ventured a bit further together, walking along the water's edge from where we had settled in the shade to eat our picnic.  During our wanderings we came across a river, a museum and a large wooden platform tethered further out in the deeper waters of the lake which was crowded with children and teenagers clambering up on to it and leaping off with gleeful shouts of carefree abandon.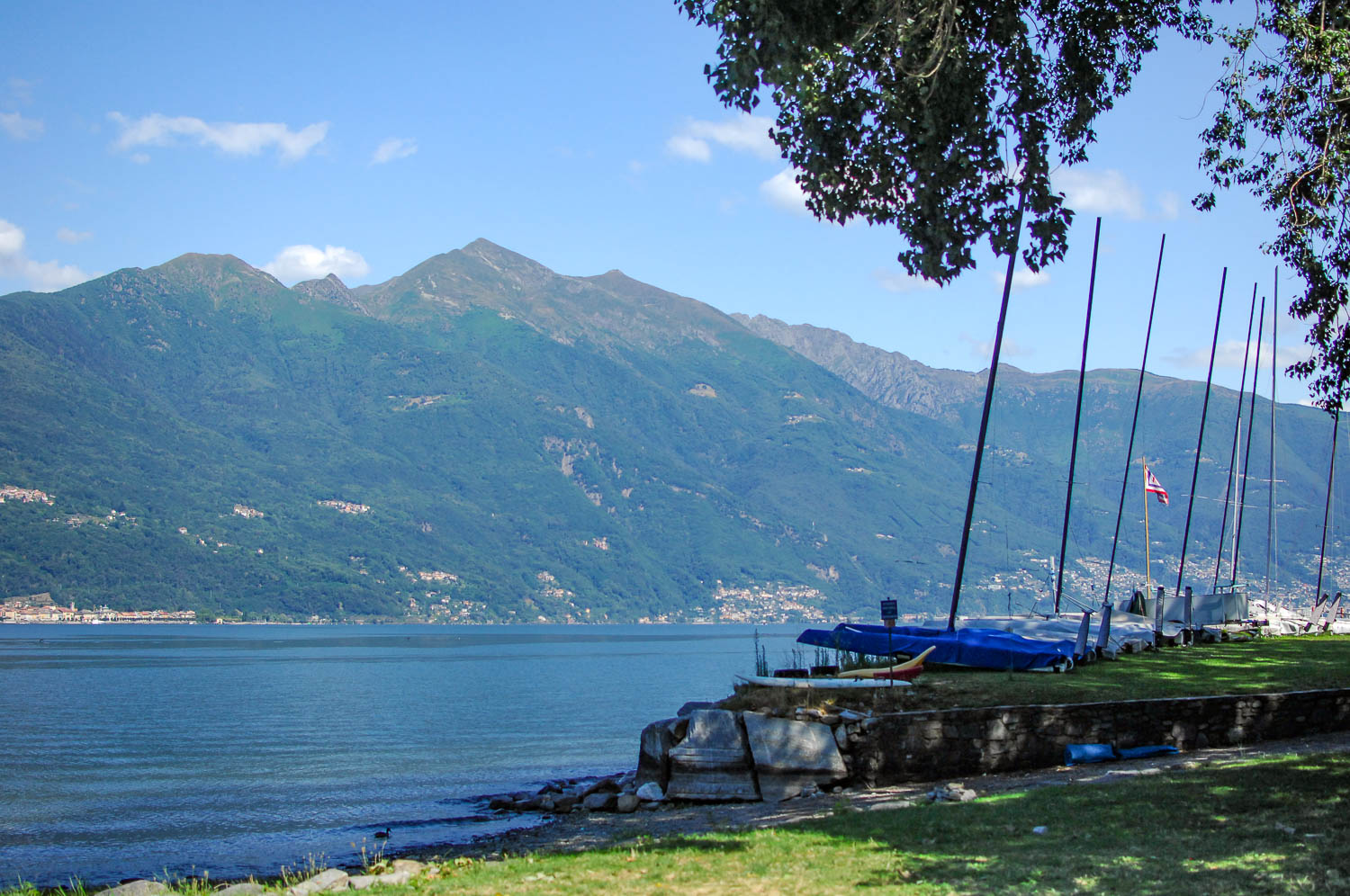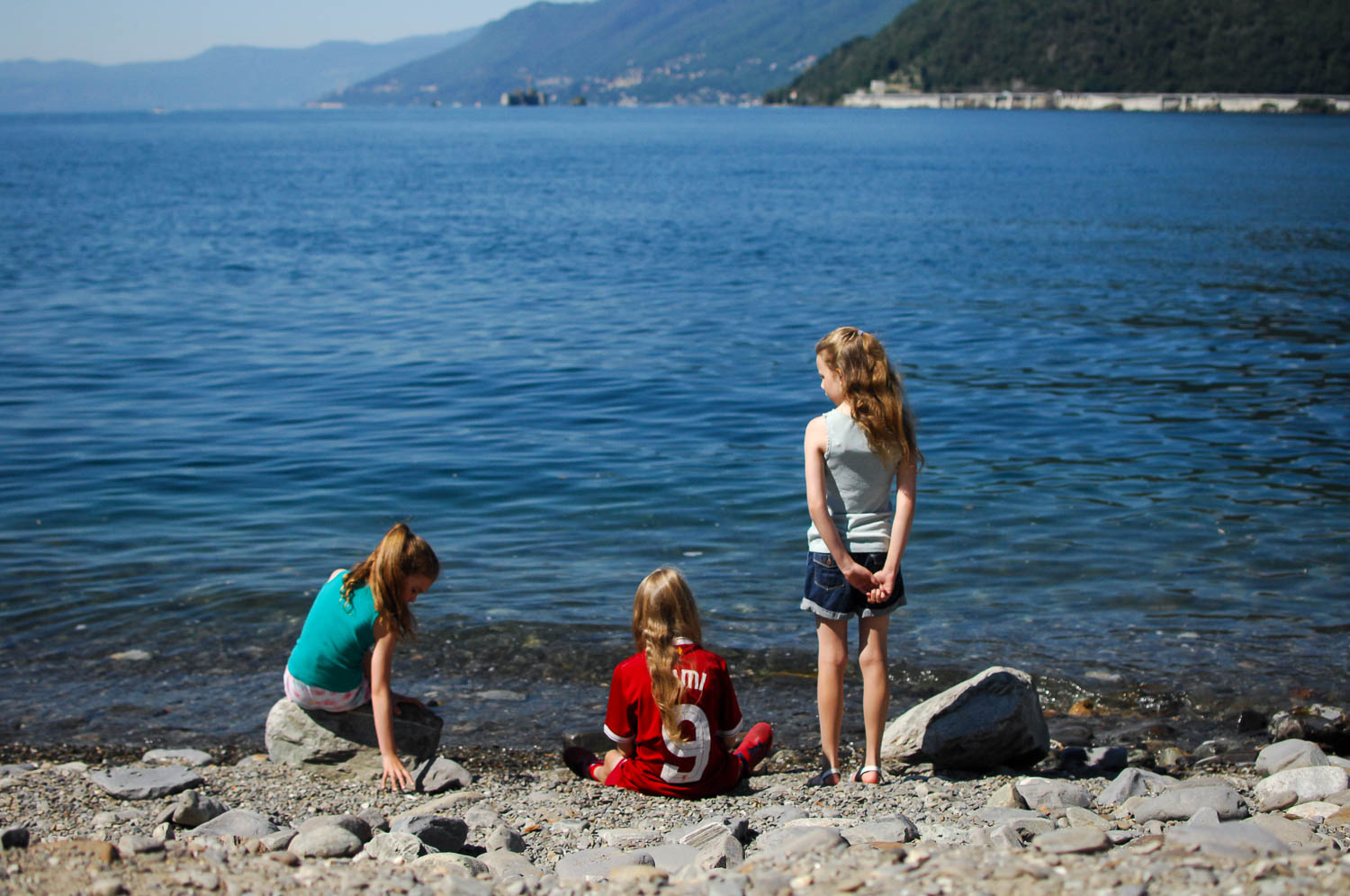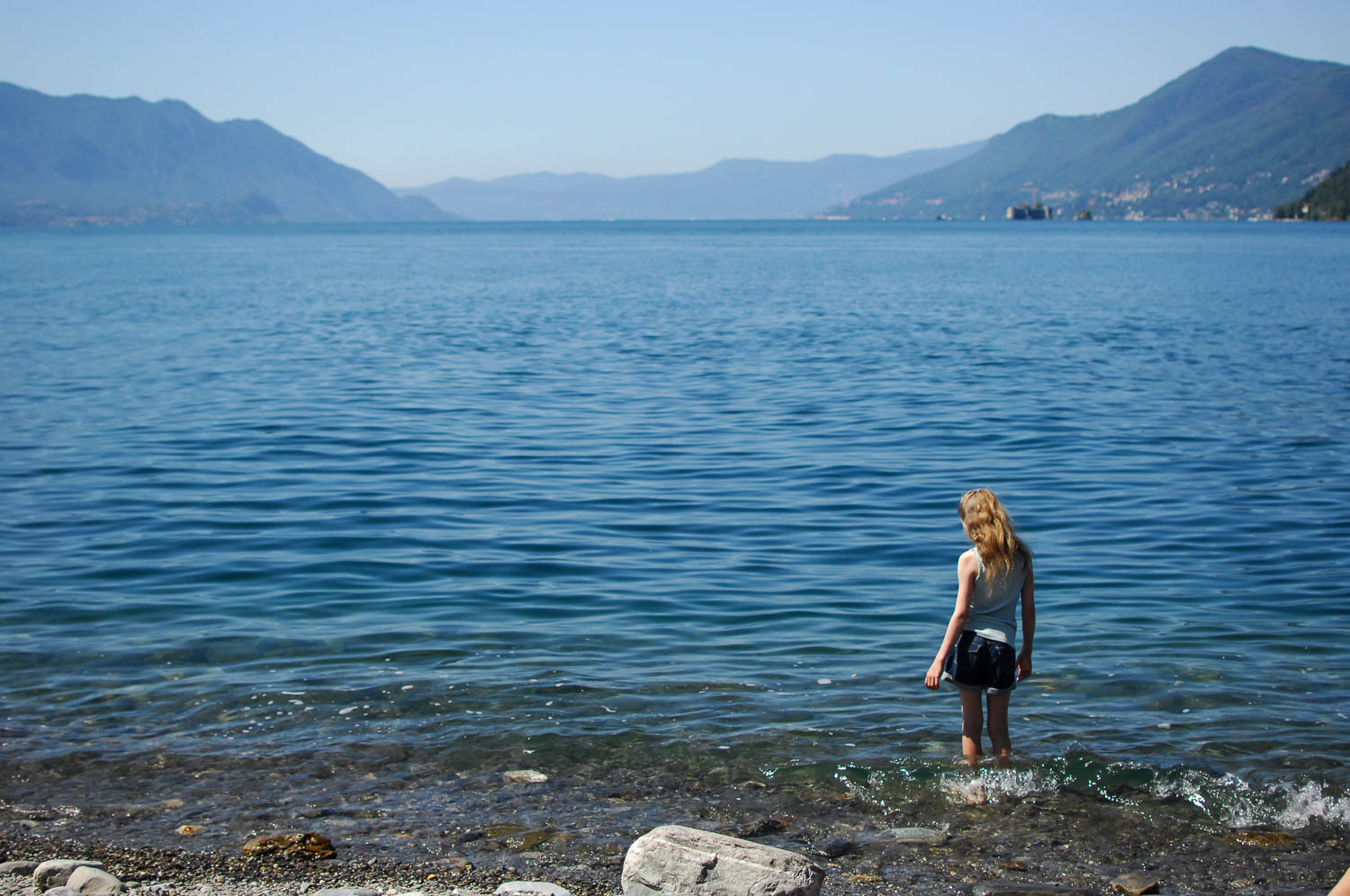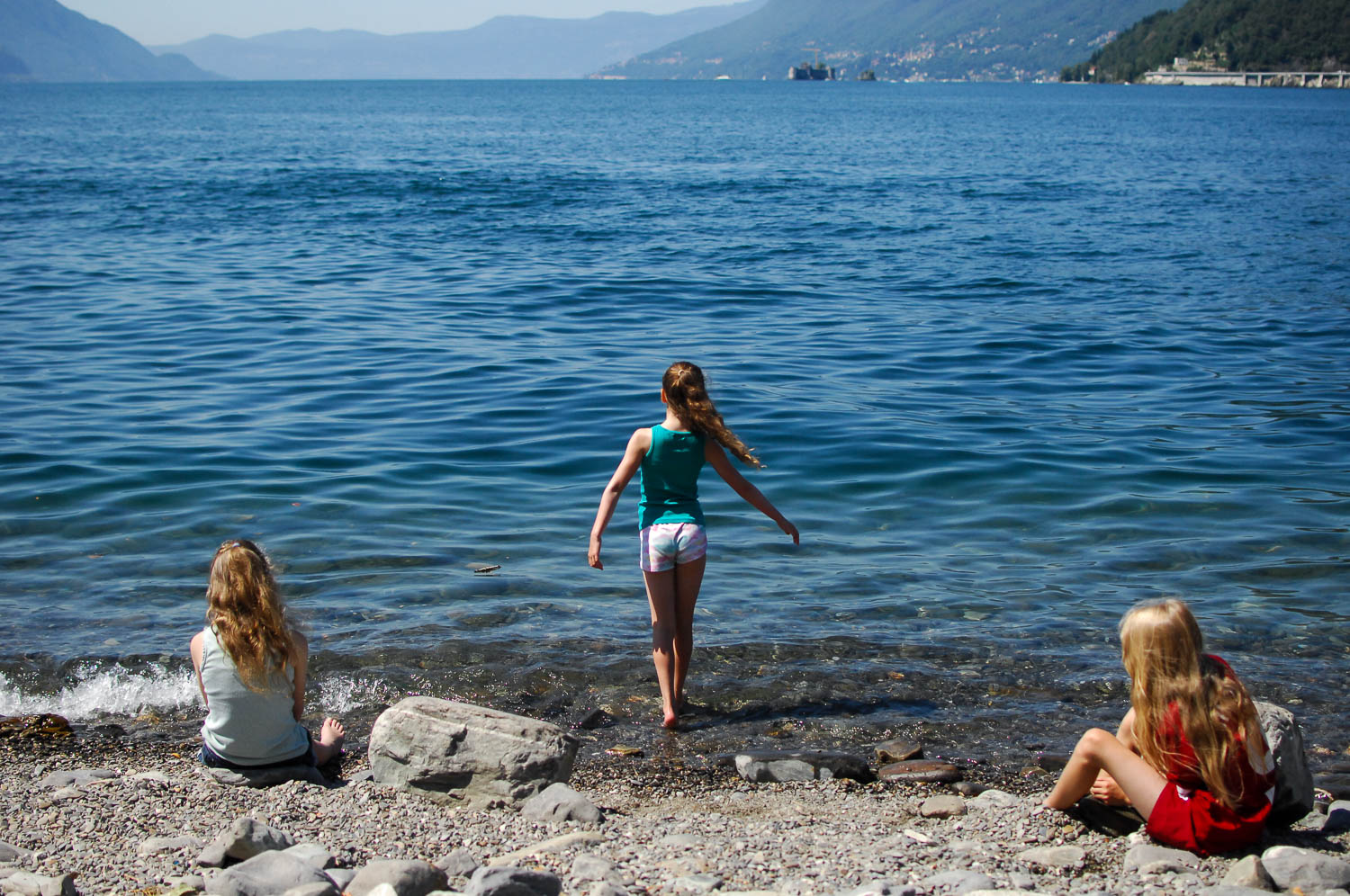 At about 2pm we slowly walked back to where we'd parked the car, following along the water line, where we found a quieter part of the beach; more spectacular views; impressive boats; and rocks to scramble on (always a winner in my girls' eyes!).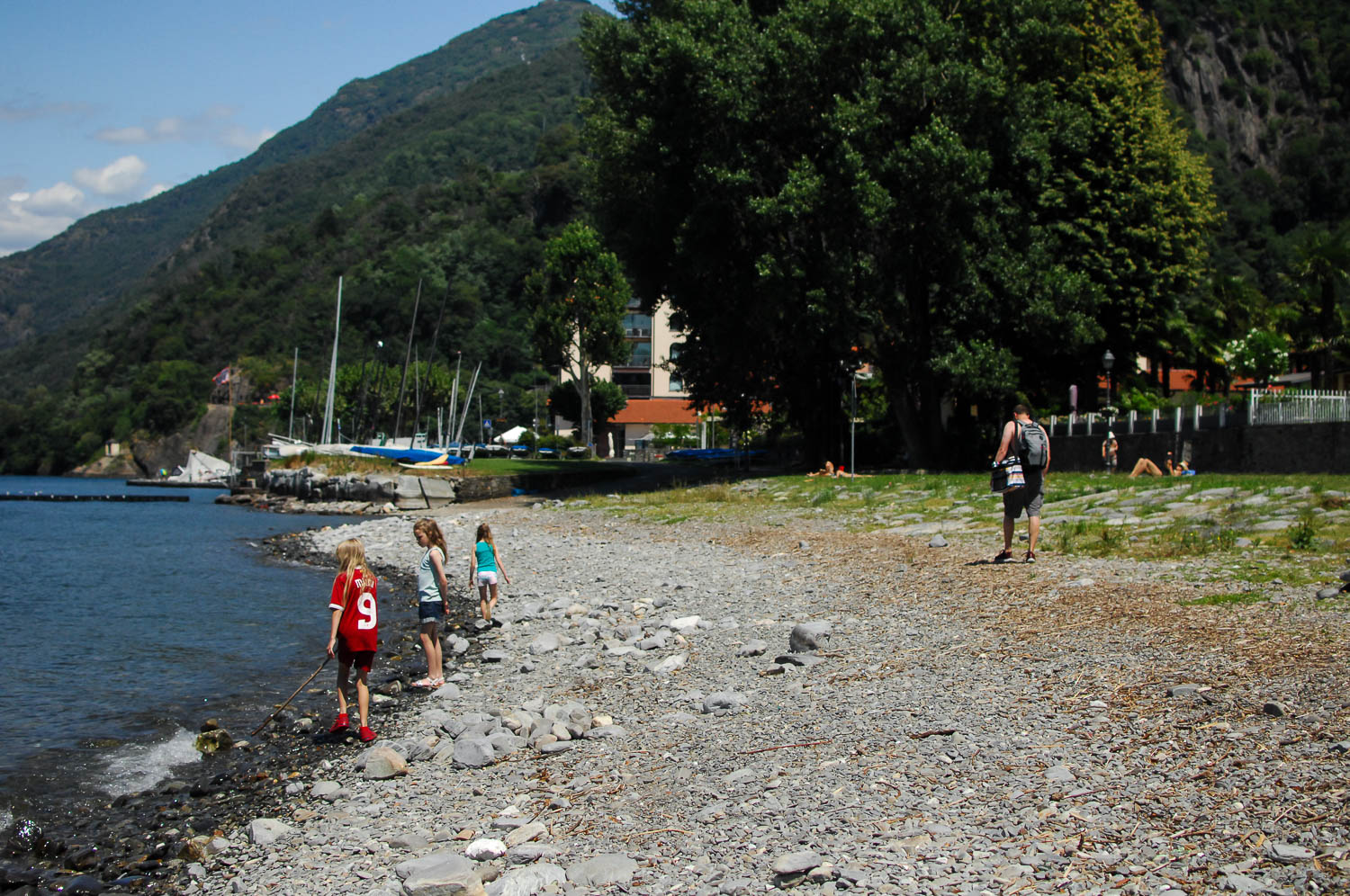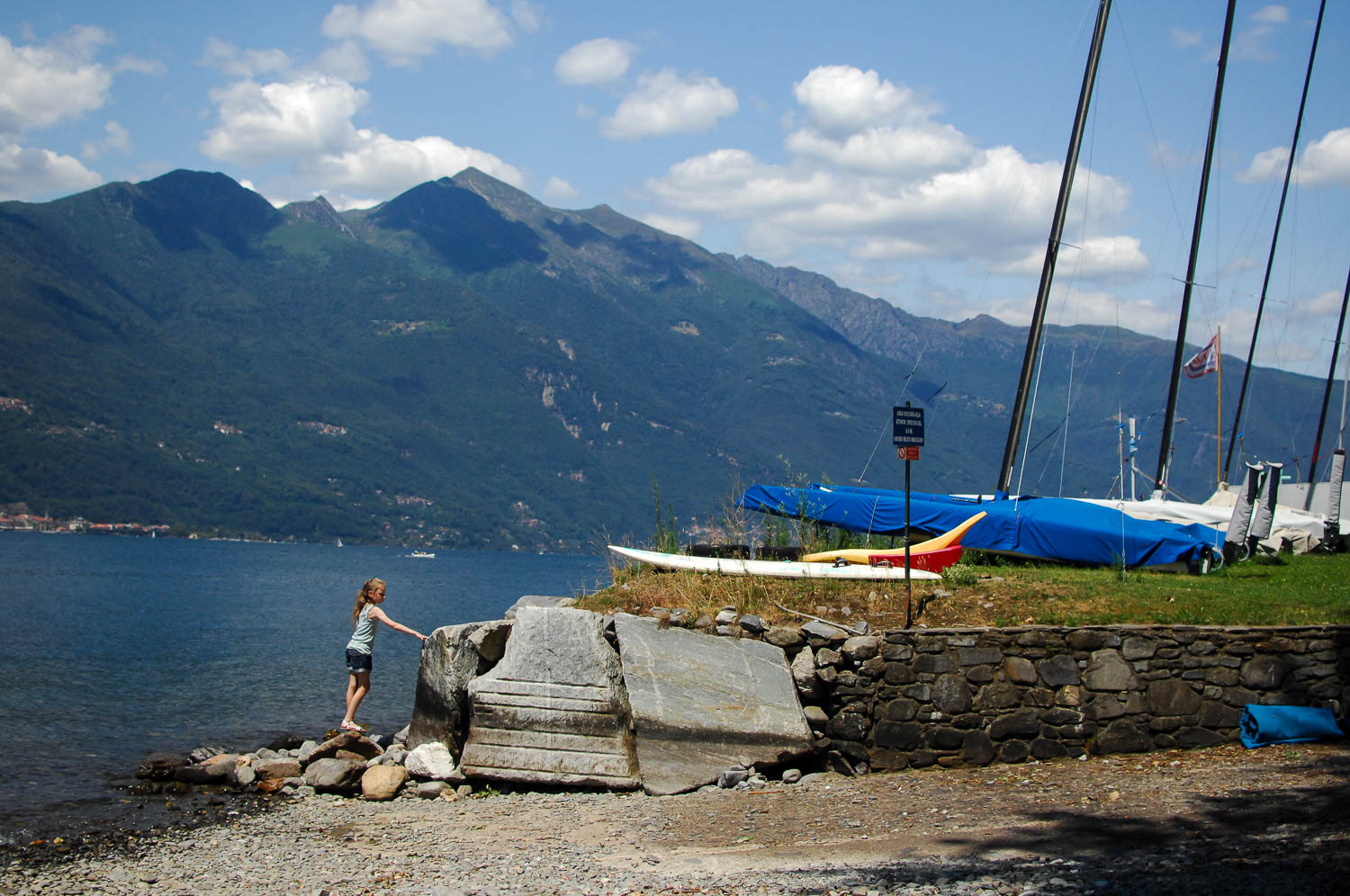 We spent a few hours back in the cool of the villa, letting the fierce heat of the day begin to disperse whilst we piled on the sofa to read our books, wracked our brains over crosswords and soduku and coded puzzles, played with the board games we found in the lounge (chess, draughts, snakes and ladders, ludo and more), and coloured in together.  The girls discovered a stash of toys in one of the bedrooms.  They were clearly meant for younger children but the girls lost no time in creating a fantastic racetrack for the cars and spent ages actually playing together which was just so lovely to see. I love watching their imaginations spark with an idea when they have limited things to play with – they get so creative in making their own fun.
We decided to venture out for dinner, opting for one of the restaurants that came highly recommended in the information handbook in the villa.  Pizzeria La Vecchia Pesa in Luino had a wonderfully authentic feel to it, was clearly popular with the locals and our waiter was fantastic.  I wanted to have a go at speaking some Italian as I absolutely love languages and think it's only polite to try whilst you're in a different country, and he told me that he'd just spent 18 months in London to learn English and he wanted to practise it on us.  Between us we managed to make ourselves understood, with a little bit of stumbling and a lot of laughter along the way.
We wanted to try out some real Italian pizza and the huge menu made it easy to choose.  The husband ordered the Rustica (Italian ham with melt-in-the-mouth onions) and I opted for the Vegetariana (which came piled with delicious roasted peppers, courgette, aubergine and black olives).  Mimi decided on Pasta Pomodoro in the end (pasta in tomato sauce) and we ordered a pepperoni pizza for Ella and Lola to share.  Or so we thought anyway.  What I hadn't realised was that 'pepperoni' in Italian is actually the plural of 'peppers', and so they ended up with a margherita pizza covered in roasted peppers!  Oops.  Thankfully they were good sports about it and even, shock horror(!) tried a pepper, though most of them eventually ended up being dished out between mine and Neil's pizzas.  It's all part of the experience 🙂 The pizzas were ENORMOUS – I only managed a third of mine and one pizza would easily have fed all three of our girls.  The husband valiantly battled through his and it very nearly beat even him. We took our leftovers home in a thoughtfully provided pizza box to finish off the following day.
After dinner we wandered through the streets and came across one of the many gelaterias in town.  Of course we couldn't resist and the girls delightedly devoured one each for pudding as we strolled along the promenade, bathed in that gorgeous pre-sunset, golden-hour light back towards the car, ready to sink into our beds for a good night's sleep in preparation for whatever the next day of our Italian adventure would have in store for us.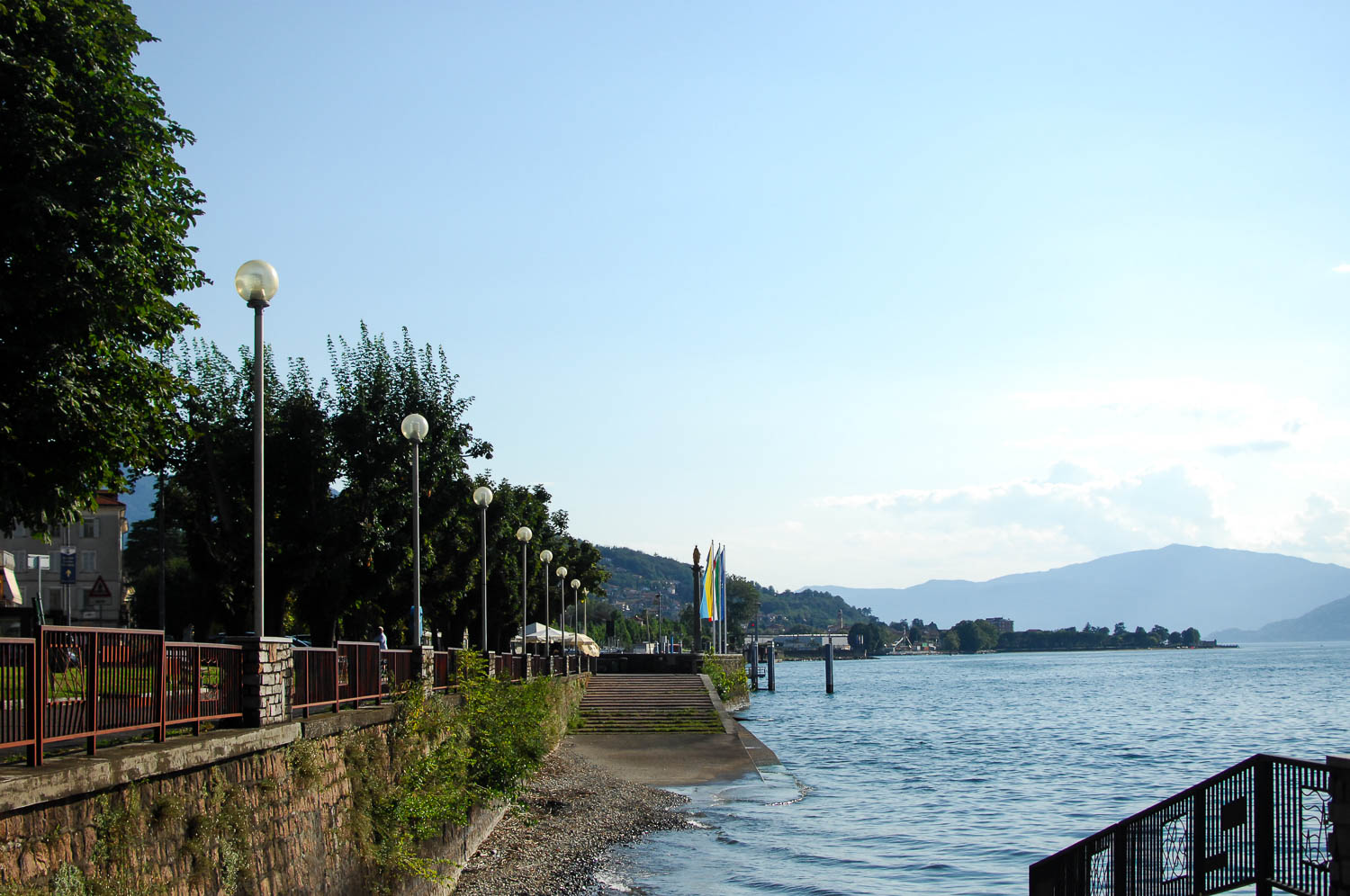 The first half of our Italian adventure was certainly an experience to remember and I have so many new favourite photos as a result.  Part two of our time at Lake Maggiore in Italy will follow in the coming weeks and below is a vlog of our whole trip. These videos take me absolutely ages to put together but I love looking back at our travels and all the memories we've created together as a family.