Way back in January, when I first learned that I'd been chosen out of nearly 5,000 people as the winner of a place at Leap Retreat, all I could focus on was the time I'd be spending in the Rocky Mountains with the other attendees, soaking up anything and everything we could about photography from our incredible teacher, Sarah.
As the date gradually drew closer and I started doing grown up things like booking flights, arranging my hotel and figuring out transport, it slowly dawned on me that I'd have some time to spare in Denver (approximately twelve hours in total) as I'd be arriving the day before the retreat started.
The last time I travelled solo was before I met my husband over fourteen years ago – instead of going to university I opted for a trip of a lifetime to Australia, spending a whole year in Oz and then three months in New Zealand.  I was only twenty years old at the time, young enough and naïve enough to be blissfully unaware of all the things that could go wrong and not giving a second thought to any form of forward planning beyond the next day's adventures.  I slept in a car for six months in Australia, worked 18 hour shifts in order to fund the next stage of travel and hitch-hiked my way around New Zealand (much to my Mum's horror!).  That trip was simultaneously one of the best and scariest things I've ever done and I've been itching to go off exploring again ever since.  The travel bug bit me…hard.
Since my husband and I have been together we've done a few holidays to Spain with our girls, but nothing more long-haul or unfamiliar than that.  As a result the itch got stronger and the sense of restlessness it gave me increased year by year.  So when I started researching Denver and what there was to see and so, a little light inside me flickered into life.  The nerves were there of course – in almost eleven years of being a parent I've never left my babies for more than one night and this trip would mean leaving them for five – but the excitement was far, far greater.
I love exploring new places – there's not much that makes me happier than time spent wandering around unknown streets, stumbling across unexpected corners and soaking up the energy and feel of wherever I am.  It doesn't matter whether it's a part of the town I live in, a previously un-visited (is that a word?!) corner of the UK, or somewhere on an entirely different continent – it's all exciting to me.  Of course, having travel companions like my husband and our daughters enhances the experience,  but there was something inside me that knew that this trip was something I needed to do on my own.  I needed time to myself, needed to let go of the labels of mummy and wife and daughter and therapist and friend, needed to rediscover the 'me' that has quietly become invisible as the years have gone by.  Solo travel, even for a flying visit, was exactly what I craved.
Fast forward to late September and the journey to Denver couldn't have gone more smoothly.  I caught a Virgin Train to London Euston (the same journey I make every week for work), tube-hopped my way to Heathrow Airport, was first in the queue to check-in and the British Airways flight (the only airline that flies direct to Denver from the UK) left on time.
Arriving at Denver International Airport was surprising.  I'd expected to see mountains but actually there was nothing for miles around – just plains.  I quickly learned that it was the first of what was to be many (wonderful) surprises about Colorado!  The airport itself was easy to navigate, security was thorough yet speedy and I was reunited with my suitcase with no trouble at all.  I headed for the train station inside the terminal to catch the A-line train, which whisked me directly to Union Station in the centre of Denver in 37 minutes for the modest sum of just $9.
It was beginning to get dark by the time I arrived in central Denver (a full 19 hours after setting off from home earlier that morning).  I was utterly shattered and desperate to crawl into bed and thankfully my hotel, The Oxford, was literally right opposite Union Station, less than half a block away.  The Oxford is the most historic hotel in Denver, first opening it's doors to guests in 1891.
As I checked in and the receptionist handed me my key (complete with ornate tassel) she informed me that my room had been upgraded at no extra charge.  To say I was thrilled was an understatement – things like this just don't happen to me so it was the icing on the cake for this weary traveller.  I made my way up to the second floor in the lift (sorry, 'elevator') and padded across the velvety carpets past bookcases jammed full of reading material, writing desks in hidden corners and the occasional sign directing the way to the Ballroom.  My room was huge and luxurious, far beyond what I'd been expecting (even for an upgrade).  The mattress on the bed was so deep that I actually had to do a little hop to get onto it and there were so many plump pillows that I didn't know what to do with them all.  I peeked in the bathroom at the enormous shower cubicle and then spotted the free-standing roll-top bath and instantly knew that that was where I would be spending my evening.  After a relaxing soak I sank into bed, slept soundly and awoke naturally at 4am, body clock still a bit confused thanks to the five hour time difference, ready to explore the city by daylight.
After a quick shower I popped down to reception and asked where the nearest coffee shop was.  It turns out it was two buildings down from the hotel, and the best place in town to get an early morning brew.  I don't drink tea or coffee so I opted for a hot chocolate instead and I can confirm that it was, indeed, excellent.  'Amante' was EXACTLY as I imagined an American coffeeshop to be and everyone there (more people than I expected at 5am on a random Friday in September) was fascinated with my English accent.  Hot chocolate in hand, I retreated to my hotel room, curled up in the overstuffed armchair by the window and watched the city wake up as the dawn slowly spread across the sky.
Denver, the 'Mile High City', is divided into several different districts: Lower Downtown (LoDo); River North (RiNo); Five Points; Cherry Creek; and Highlands, with each area having very distinct characteristics.  As I only had limited time before being collected to drive up into the mountains for Leap, I decided to explore the LoDo area near my hotel.  It was a tough choice though as there were so many places I wanted to see!  The first place I headed for was the Tattered Cover Book Store.  I love a good book shop and actively seek them out whenever I'm in a new place.  This one did not disappoint – it was absolutely enormous and filled to the brim with every book imaginable.  There were little nooks with comfy armchairs, a café selling delicious-smelling coffee and mouth-watering treats and a section for stationary.  I could have spent hours in there but knew I didn't have the luxury of time so I breathed in as much of it as I could and somewhat reluctantly headed back out into the bright-but-chilly morning light.
I wandered past numerous quirky bars, restaurants and coffeeshops, each as inviting as the next and bustling with people grabbing breakfast on their way to work, and then unexpectedly stumbled upon this fantastic installation (see photo below) from Generation Wild, which aims to reconnect kids with nature and the great outdoors. Isn't it beautiful?  And honestly I can't think of a better place for such a movement – Colorado seems to be full of opportunities to get outside and explore.  Generation Wild has created a list of '100 Things To Do Before You're 12′ (a little bit like our National Trust's '50 Things to Do Before You're 11 and 3/4') and you can bet I'll be trying to get my girls to tick off as many as possible.  The words in the central panel say this:
"The future belongs to the fearless.  The future belongs to the imaginative.  The future belongs to the creative.  These aren't qualities you pick up playing video games or binge watching YouTube.  Those are things that are grown and strengthened playing outside.  Challenging yourself.  Having fun.  Living loud.  The future belongs to the self reliant, the self confident and the self assured.  The future belongs to the generation of kids who play outside, letting their imagination and their curiosity run wild.  The future belongs to them.  The future belongs to Generation Wild"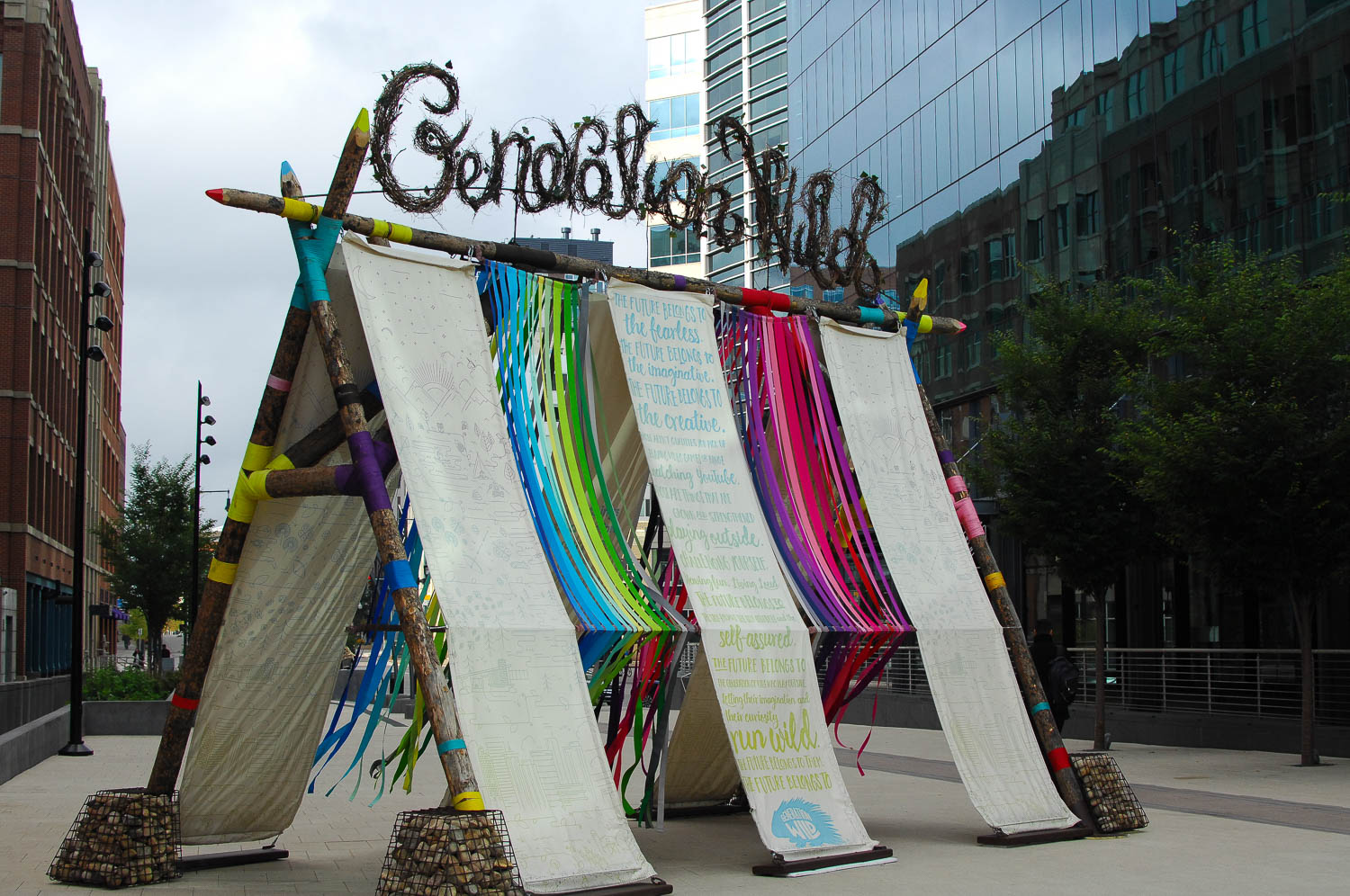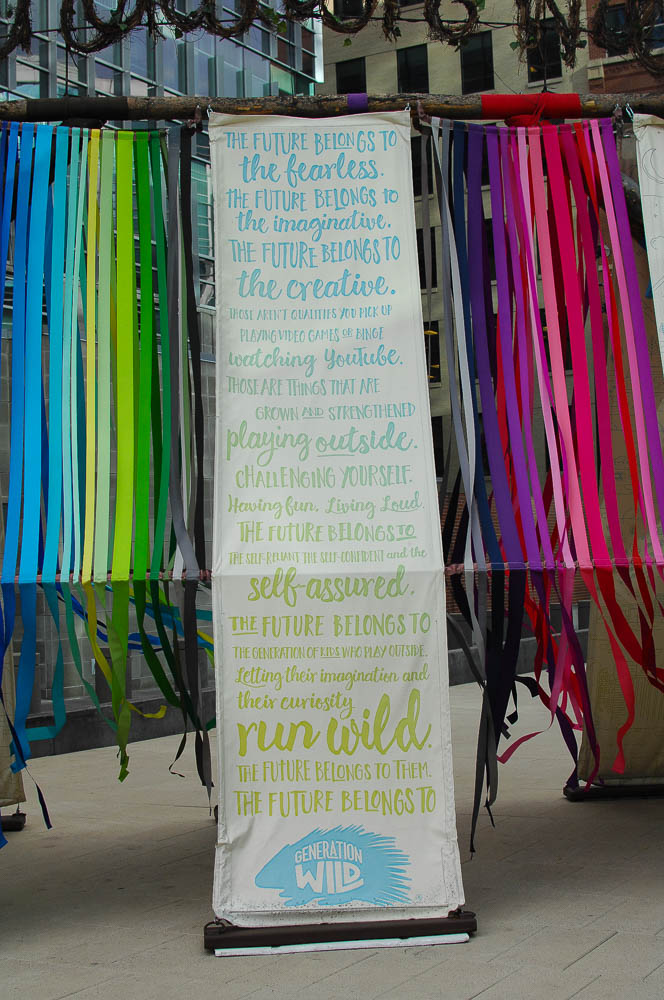 After spending a short while there doing one of my favourite things to do – people-watching – I continued on my way and reached the impressive Millennium Bridge just a few minutes later.   It's a pedestrian walkway that leads to the river where gold was first discovered and the city of Denver was born.  Crossing over the bridge led me to the Highlands district and the greener parts of the city: Commons Park, Confluence Park and Centennial Park – all very different from one another.  Commons and Centennial Park are both stretched along the banks of the South Platte River, and Confluence Park, sandwiched between them, is where a second river (Cherry Creek) joins in – there are rapids there which are apparently very popular for swimming and splashing during the summer months.  It's quite something to see the water thundering past knowing that the hum of the city is just a short walk away.
One of my favourite things about this part Denver was the incredible street art that lined the cycle paths, walkways and tunnels.  It was bright, bold and colourful and often had a powerful message.  I quite literally walked around open-mouthed at the variety of pieces and how skilfully they'd been painted.  I didn't even take any photos – I was so enthralled with them that I completely forgot to capture them on camera.
By this point it was late morning and almost time for me to check out of my hotel and be picked up to go to Leap, so I slowly retraced my steps, encountering a poet who I stopped and chatted to for a little while.  He told me his story and I asked him if he did anything else for work and he proudly told me that this was his only job, he earned enough money from it to keep a roof over his head and he loved it.  I love listening to people's stories.
There was so much more I wanted to see, and not enough time to do it all in – if I'd headed in the opposite direction out of my hotel I'd have seen the 'Big Blue Bear', the Bronco Buster sculpture and the Colorado State Capitol government building (whose 13th step lies exactly 1 mile above sea level), to name but a few more iconic sights.  I'd planned to have another little wander around the city after Leap was over and before I needed to head to the airport to catch my flight home, but my head was so full of everything I'd learned and the experiences I'd had that I simply couldn't take in any more, choosing instead to charge my various devices, do some writing and soak up the atmosphere of Union Station, a fabulously beautiful building in it's own right.
I loved my short time in Denver and definitely want to go back and explore all the bits I missed. I've heard there are tons of fun things to do for children too (the zoo is supposed to be fantastic) and I know for sure my girls would love the city as much as I did. Denver…we'll be back.