This month's Little Loves post was always going to be all about our family trip to Florida.  It feels strange to be writing that when I remember that September's post was written whilst I was in Denver, Colorado for Leap Retreat.  Considering we haven't been abroad for four years, to have been able to say yes to two incredible adventures in the space of a month seems more than a little crazy to me and I am immensely grateful for the experiences we've had – it's certainly a very long way from our 'normal' life and I've been doing my best to embrace it all and soak up as much of it as I possibly could.  September and October have involved a lot of travel and so much busy-ness with work, home and school that I'm actually quite looking forward to a slower November just to gather myself together and recharge before the Christmas madness begins in December.
We've only been home from Florida for a couple of days and I think we're all still processing the experience we had together.  The jet lag is totally worth it for the fun we had – we packed so much into the ten days we were there and we still didn't see even half of what Florida has to offer – it's definitely going to require a repeat trip in a few years time.  It's been a long-anticipated holiday we've been saving up for over the course of the last few years and it was a very much-needed break from our regular routine.
So, without further ado, here are all the little (Florida-related!) things I've been loving lately throughout October…
READ
It's become a bit of a tradition of mine to buy a Lonely Planet guidebook whenever we visit somewhere new.  The first thing I did after booking our trip way back in January was to order the 'Pocket Orlando and Walt Disney World Resort' guidebook and tuck it away ready to read nearer the time of our holiday.  Once we'd told the girls about our upcoming adventure (we managed to keep it a secret for nine whole months!) and I didn't have to hide it any more, I spent every spare minute I could reading through it, marking helpful pages and making notes of useful tips, places we wanted to explore and things we could do whilst we were there.
The My Disney Experience app was also immensely useful, even if I did only start using it about a week before we travelled.  It allowed me to read about and research each park individually – which rides were where, which characters could be found in each park, the different restaurants we could try out and all the magical experiences we could have.   I also re-read all of Mummy Daddy Me's Disney blogs from their last couple of visits to Orlando – her photos are beautiful and it got me so excited for our own adventures there.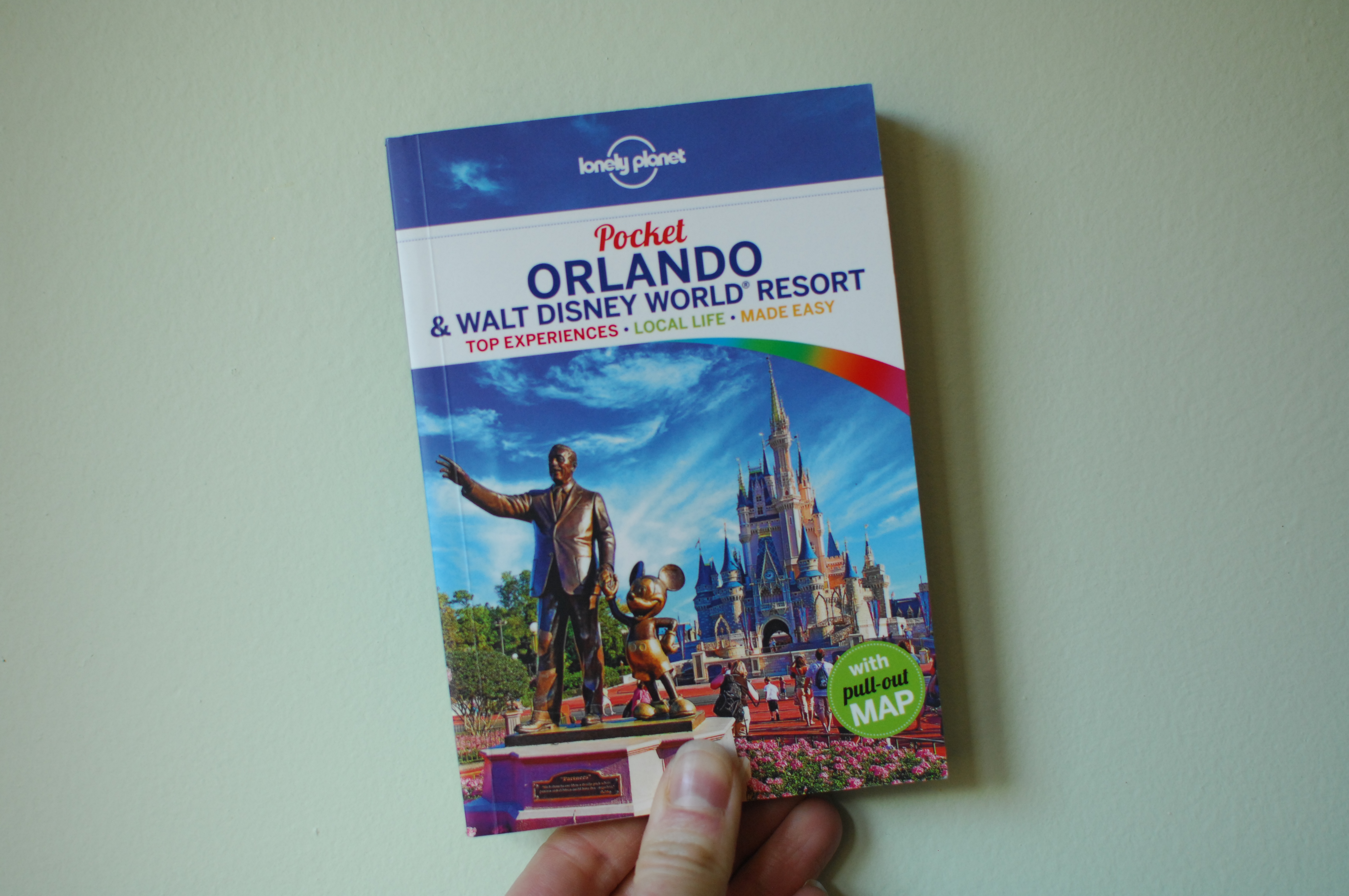 WATCHED
Disney is a full-on experience, there's no doubt about that.  The amount of things you can do, rides you can go on and experiences you can have is, quite simply, mind-blowing.  We watched so many shows while we were there:
~  the 'IllumiNations: Reflections of Earth' firework spectacular at Epcot;
~  the 'Festival of Fantasy' parade and 'Happily Ever After' fireworks display at the Magic Kingdom;
~  the 'For the First Time in Forever' Frozen sing-a-long celebration and 'Star Wars: A Galaxy Far Far Away' live stage shows at Hollywood Studios;
~  the 'Festival of the Lion King' musical, 'Flights of Wonder' bird display and 'Rivers of Light' night time spectacular at Animal Kingdom.
And that's just giving a few examples!  It's impossible to pick a favourite – they were all incredible in their own unique ways.
I also watched the girls grow in confidence in the swimming pool whilst we were there.  We don't take them swimming very often here in the UK and, whilst they've had private lessons in the past and the eldest two go swimming with school during the summer term, none of them are particularly confident in the water.  We stayed in a villa with a private pool at the fantastic (and brand new) Balmoral Resort, so on our quieter 'rest days' in between the busy days at the parks the girls spent time playing in the pool and practising their swimming – Ella and Mimi were soon jumping in and trying out swimming underwater.  And whilst Lola rarely strayed from the side of the pool to begin with (clinging on to the edge for dear life bless her), after a few days Daddy had her swimming a length of the pool with only a bit of help.  The resort also had a gorgeous communal pool and water park of it's own so we spent a couple of mornings there as well.
HEARD
We heard pretty much every single Disney song ever created whilst we were there.  It's impossible not to get caught up in the magic of it all, it just surrounds you wherever you go – in every shop, every show, every speaker in the street.  I'm still humming 'Hakuna Matata' and 'Let It Go' now!
The villa we stayed in was a little way out of Orlando and it took us about 40 minutes in the car to get to the parks each day.  Thankfully we managed to find a good radio station – Mix 100.7fm – which played songs from the 90's through to now.  I was in my element when they played the Goo Goo Dolls' 'Slide' and Lifehouse's 'Hanging By A Moment', neither of which I've heard for absolutely ages (though the girls weren't impressed!).
And, of course, we heard the American accent wherever we went. I love it, and the girls were fascinated by it, trying to mimic it and asking what the English/American equivalent of certain words were.  We all got used to using 'restroom' and 'fries' and 'elevator' pretty quickly.
MADE
It's going to sound like such a cliché but we made the most magical memories during our time in Florida.  Meeting Mickey Mouse himself was a pretty special experience and seeing the girls' faces light up when they got to meet each of their favourite characters was just wonderful to witness.
I bought the girls a personalised book each for them to use to collect character autographs whilst we were there, and they all decided to make it into a sort of scrapbook, sticking in tickets and dollar bills and photographs as well as writing about their experiences.  I love that they chose to do that – it'll be a keepsake that they'll have forever to look back on and remember all the things we did together.
WORE
It's pretty much compulsory at Disney World to wear Mickey/Minnie Mouse ears and TShirts.  In fact, I'd go as far as saying that it's an unwritten rule.  We wore these ears almost consistently the whole time we were there, whichever park we happened to be visiting.  The Mickey ears were supposed to be for my husband but Mimi refused to wear the Minnie Mouse ones ("too girly") and so she wore the Mickey ones instead.   It's a good job he's so chilled out and doesn't mind things like this!
It was so lovely to be able to wear shorts and TShirts after a fairly rubbish English summer.  The heat and sunshine felt so good!  It was incredibly hot in Florida – even during the second half of October – with temperatures hitting 30 degrees celcius and the humidity reaching 97% on some days.  I can't even begin to imagine what it would be like during the summer months – this was pretty much perfect for us.
AND FINALLY…
There are, of course, going to be sooooo many blog posts all about our trip, so I'll apologise in advance for that.  For now, a couple of my favourite photos from our time in Florida…
October has been spectacular, to say the least.  It's not been without it's challenges of course, because it turns out that keeping six very different people happy is actually pretty tough, especially when one doesn't like the food, another is terrified of fireworks, a third isn't a fan of the heat, one wants to explore some different places outside of the parks, someone else wants to swim in the pool all day and the last one isn't too keen on crowds…(!) In the end though it didn't matter – we compromised, we made sure everyone did something they wanted to do and we ended up having a brilliant time.  November has a lot to live up to 🙂
Linking up with Coffee Work Sleep Repeat's 'Little Loves' link: