It's felt like a funny old half term.  We missed most of it because of being on holiday in Florida, and lost the second half of it to jet lag.  Of course it was totally worth it, it's just left me feeling a little out of the loop season-wise.  It definitely hasn't felt like Halloween!
Even so, the girls were keen to keep up with our little tradition of visiting the local pumpkin patch to choose some pumpkins to carve.  That's pretty much all we do to celebrate Halloween (apart from a bit of spooky baking on rainy half term days), so it felt important to keep the tradition going and, truth-be-told, I really love doing it with them.  It's a lovely way to spend an afternoon, getting creative and working together.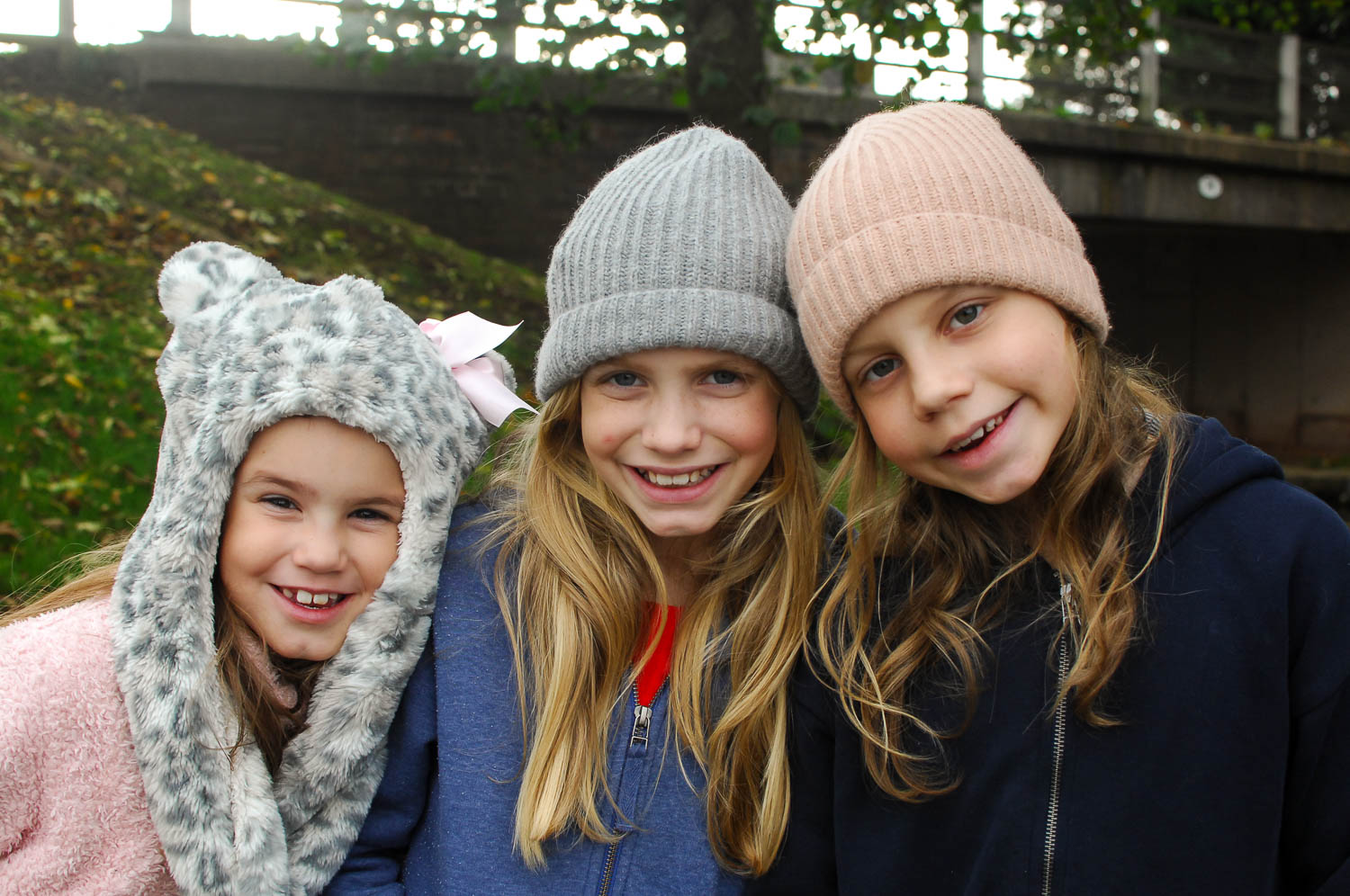 Over the last few years we've always headed to the well-established pumpkin patch at Bednall.  There is an enormous field jam-packed full of pumpkins of all different shapes and sizes, a barrel-train ride for the little ones, spooky scarecrows at every turn, a stall selling locally produced honey and even a coffee station to keep the parents warm whilst the children race off armed with wheelbarrows to pick their perfect pumpkin.  It's always a fun event, though as it's got bigger and bigger over the years it can sometimes feel a little overwhelming for those of us who don't really like crowds.
Instead this year we decided to head to our new favourite place, Canalside Farm.  We've picked strawberries and raspberries there during the summer months for the last two years and when I found out that this year they were growing pumpkins I knew I wanted to support them and get our pumpkins from there.  So, last weekend we popped down to see what they had to offer, leaving the teenager and the husband (who were both feeling a bit under the weather) at home.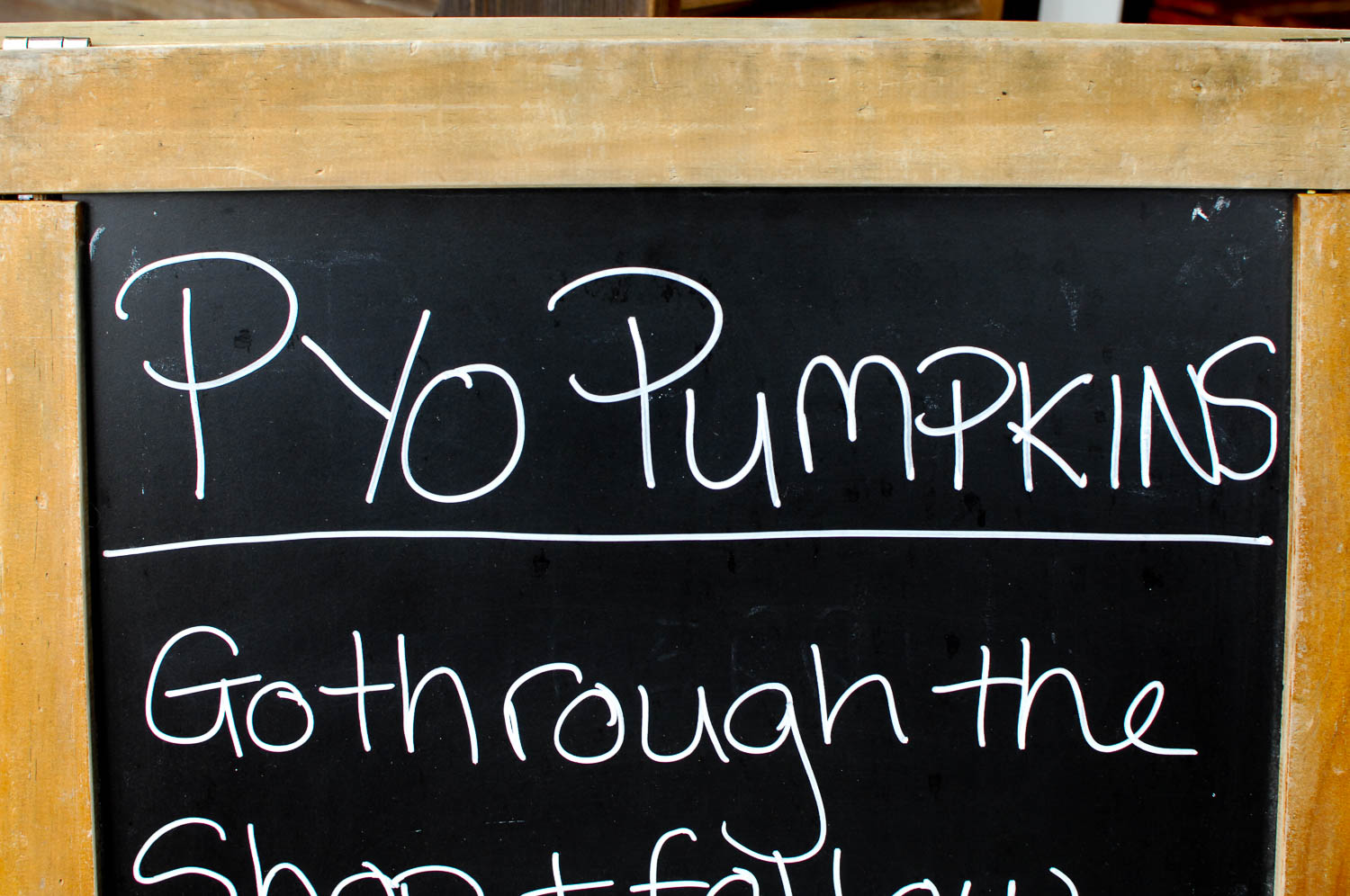 There was a smaller but perfectly decent-sized patch of pumpkins and it's obviously been a very popular place for people to go this year as the vast majority of them had already been picked.  I guess that's what you get when you leave it until the end of half term to go and pick your pumpkins!  We didn't leave empty handed though – the girls hunted out some good-sized, solid ones that I knew would be perfect for carving.  After a standard bit of bickering over whose turn it was to push the wheelbarrow (of course!) we headed back into the Farm Shop to pay, passing the 'Guess the Weight of the Giant Pumpkin' competition on route.  I thought the pumpkins we'd chosen would cost me a fortune as they seemed enormous but as they get priced by weight they actually ended up being very reasonable, only £2 and £4 each.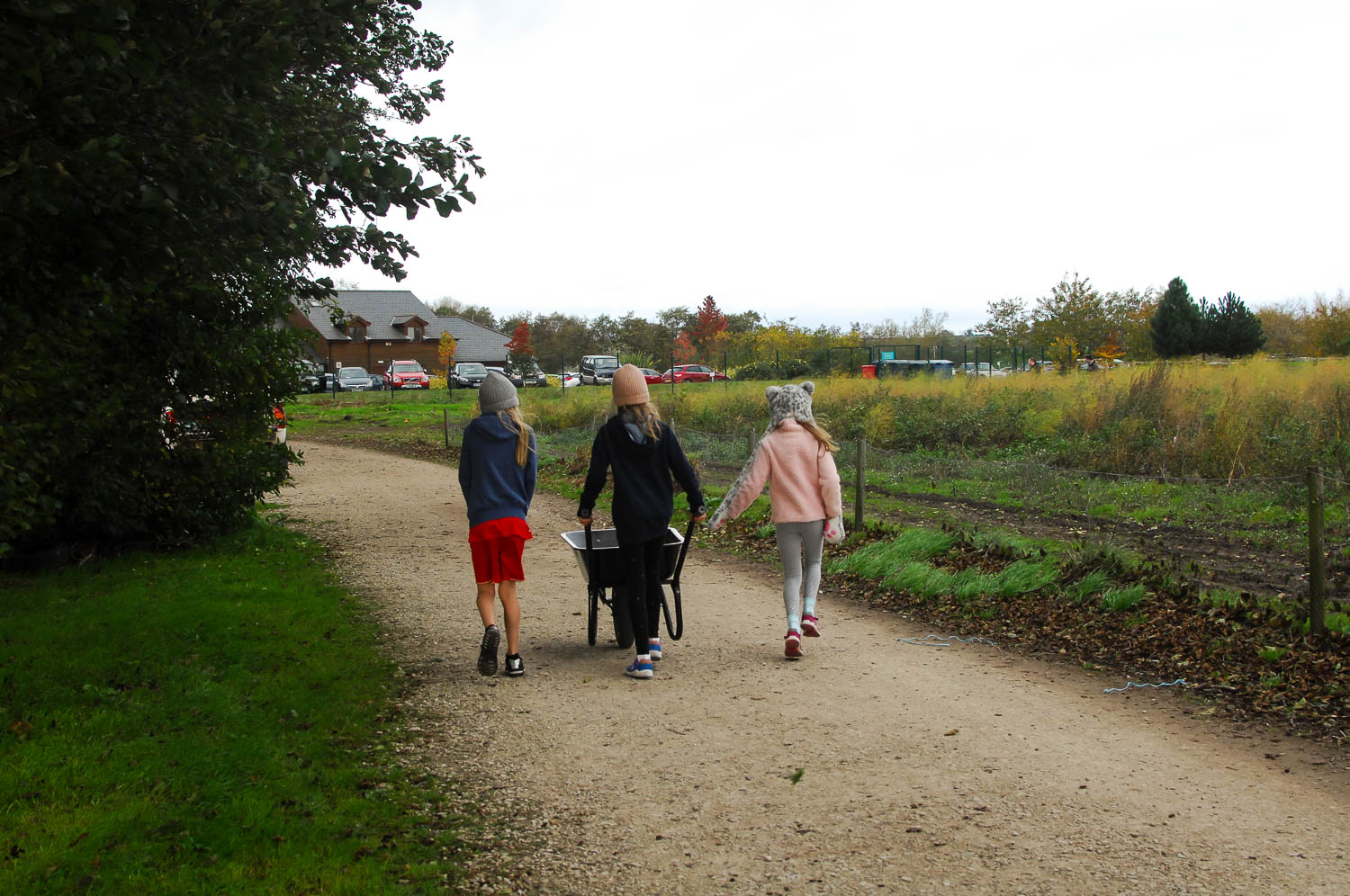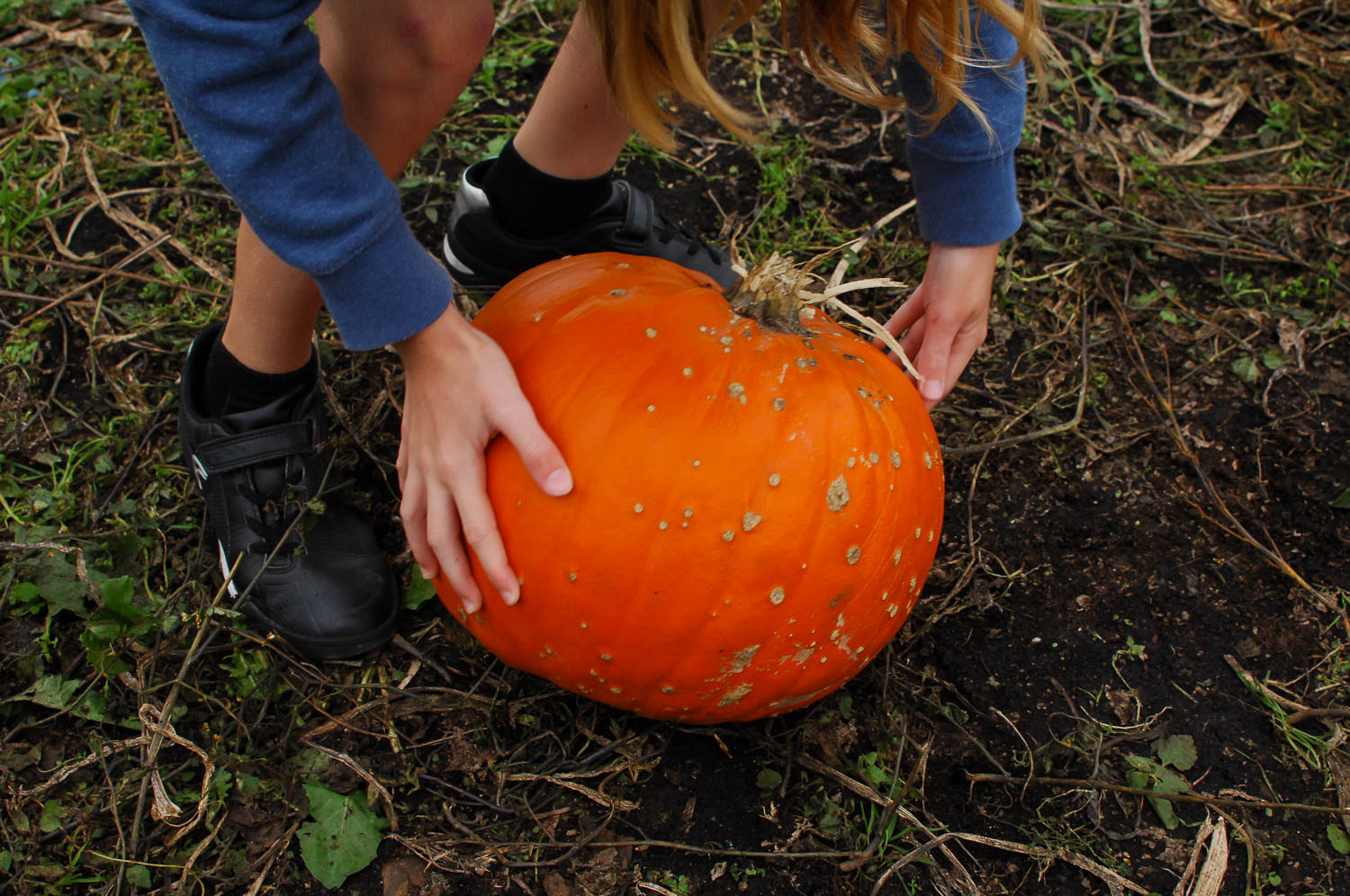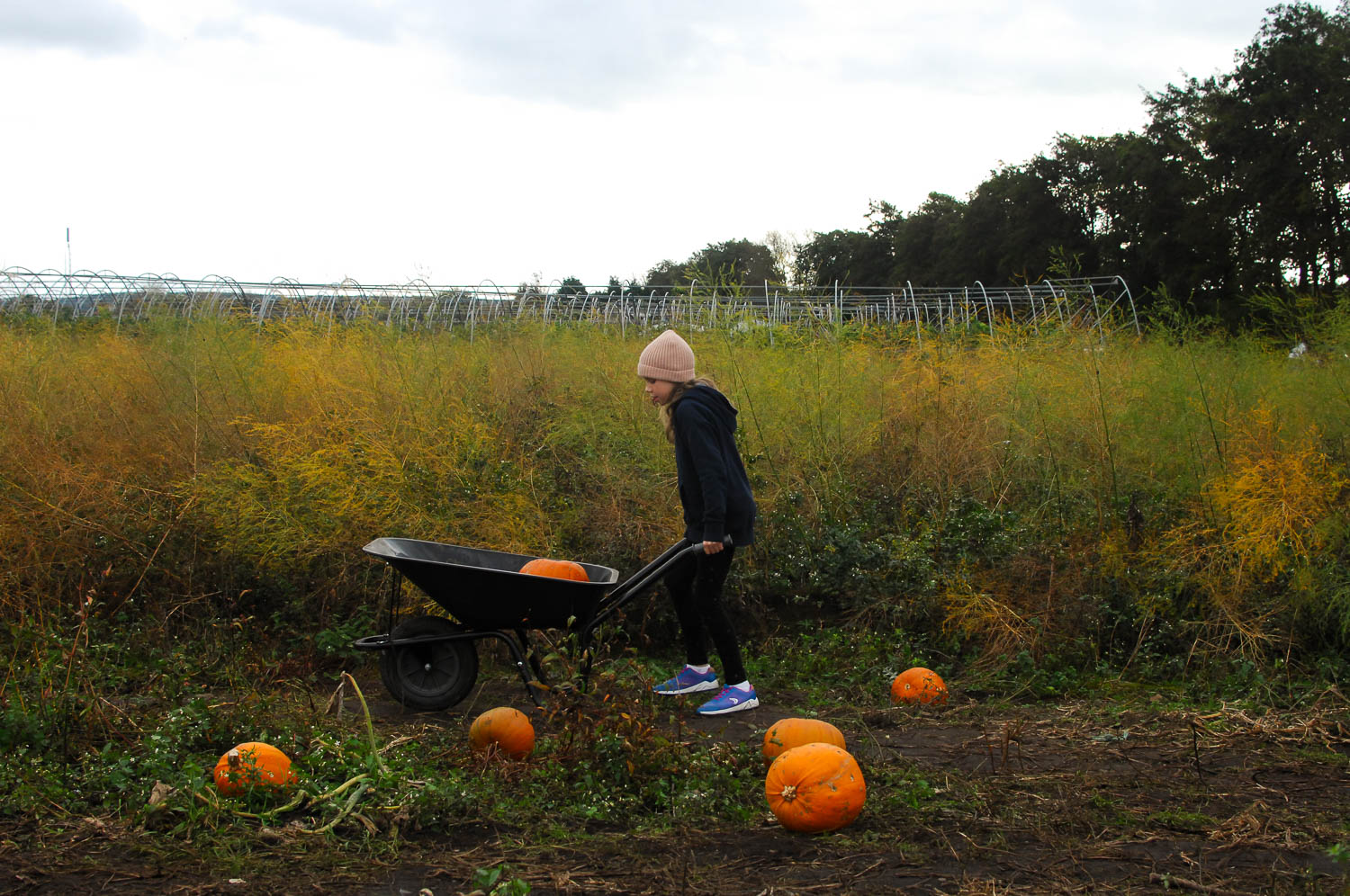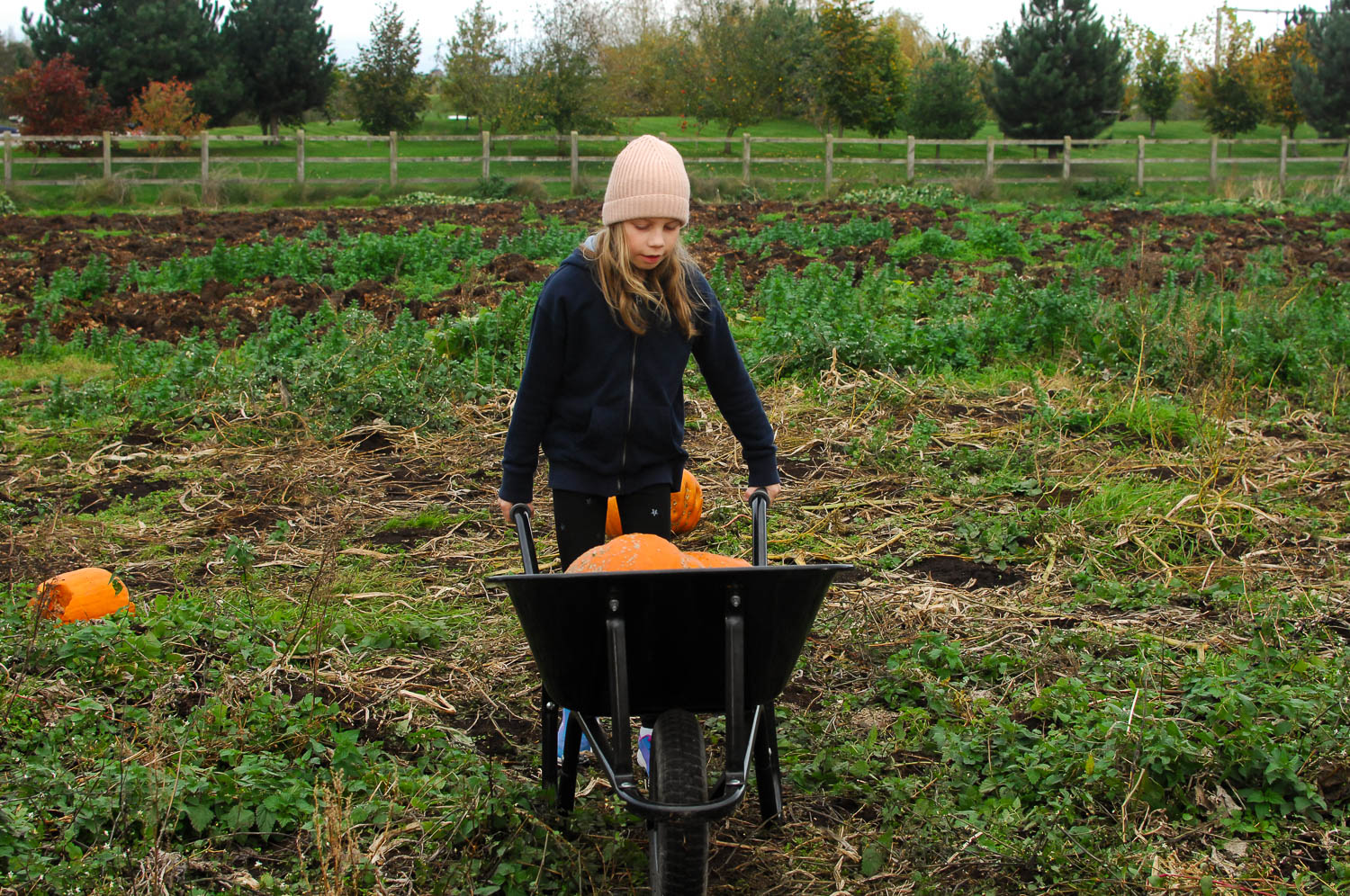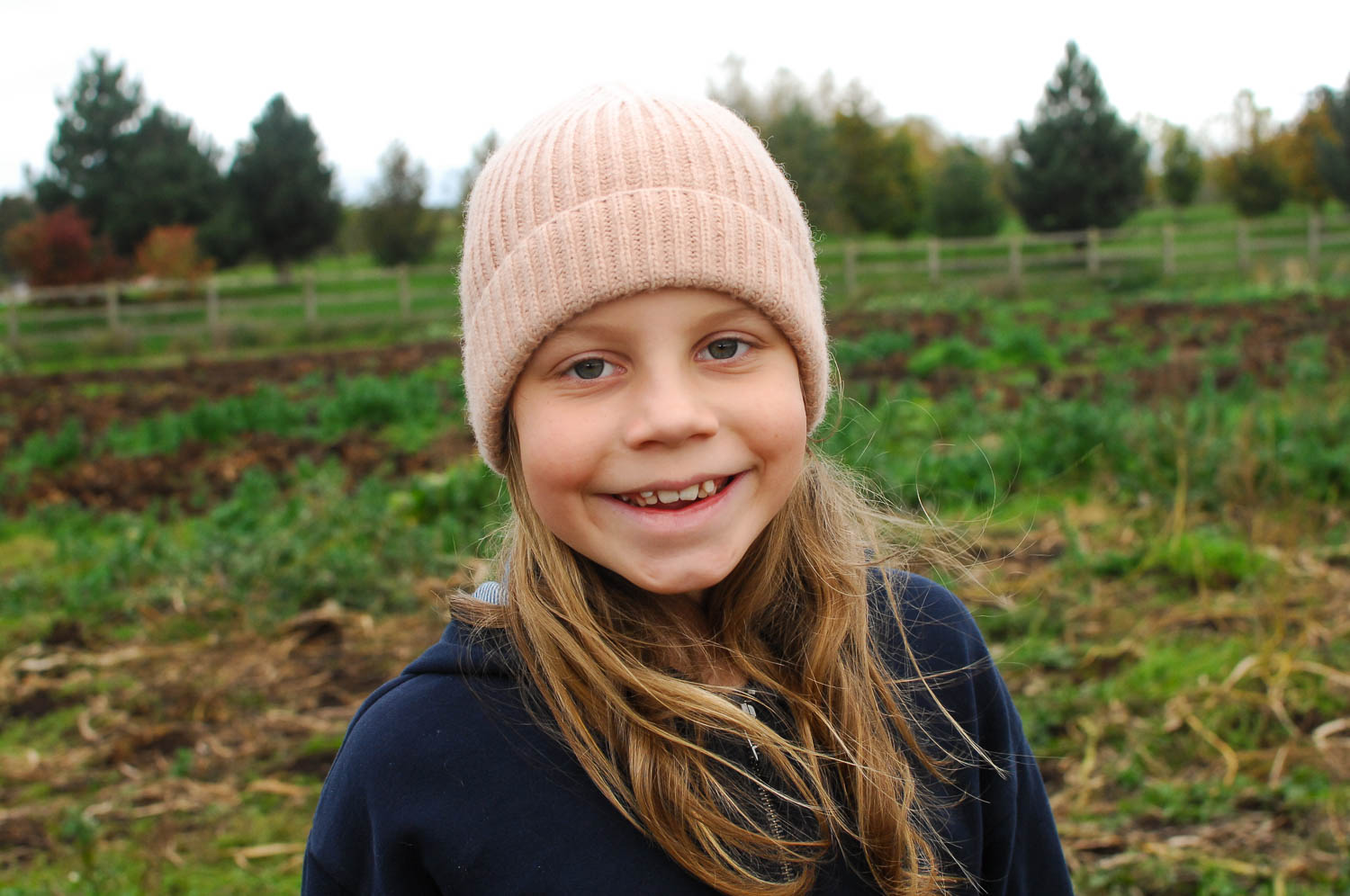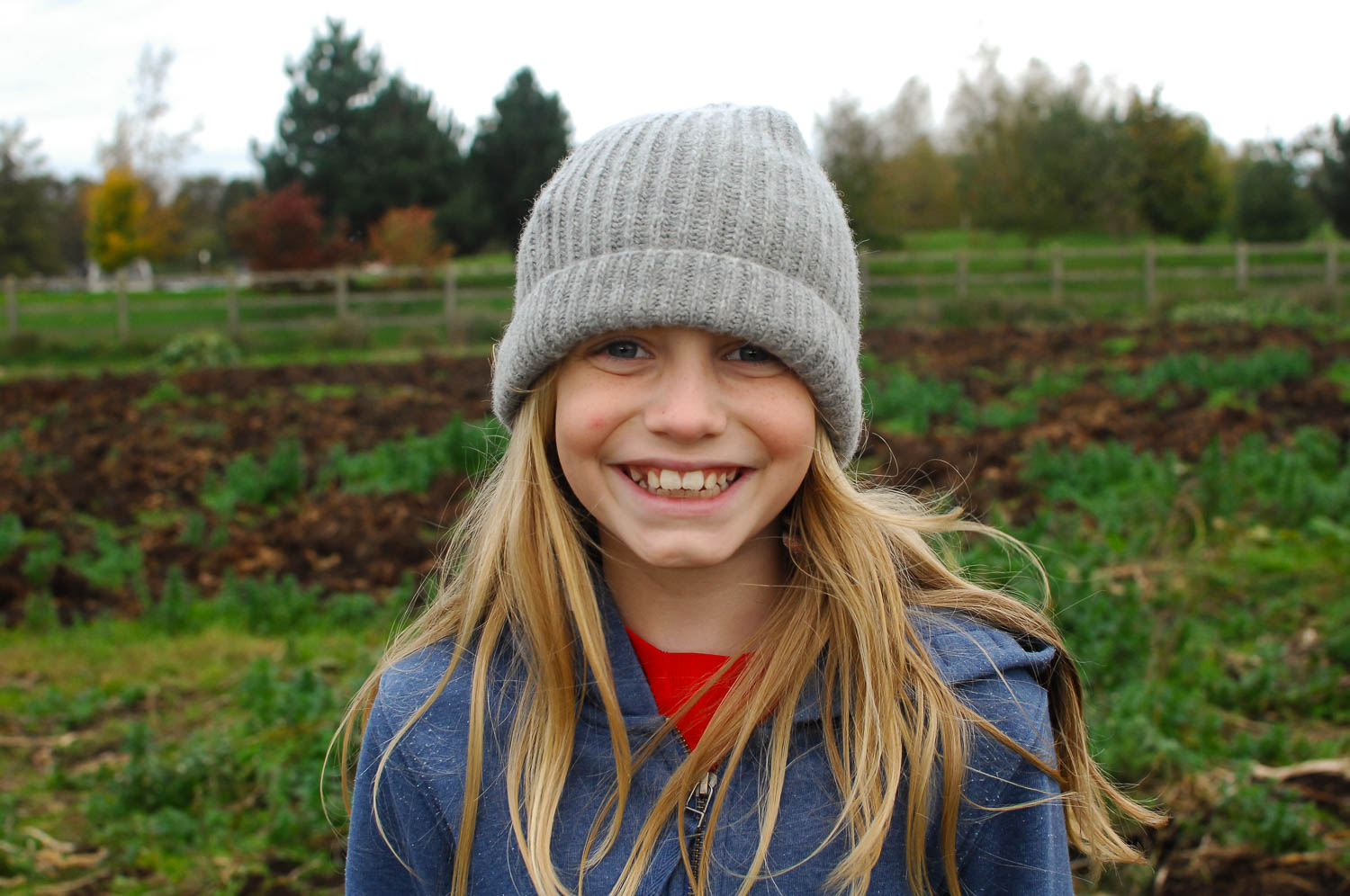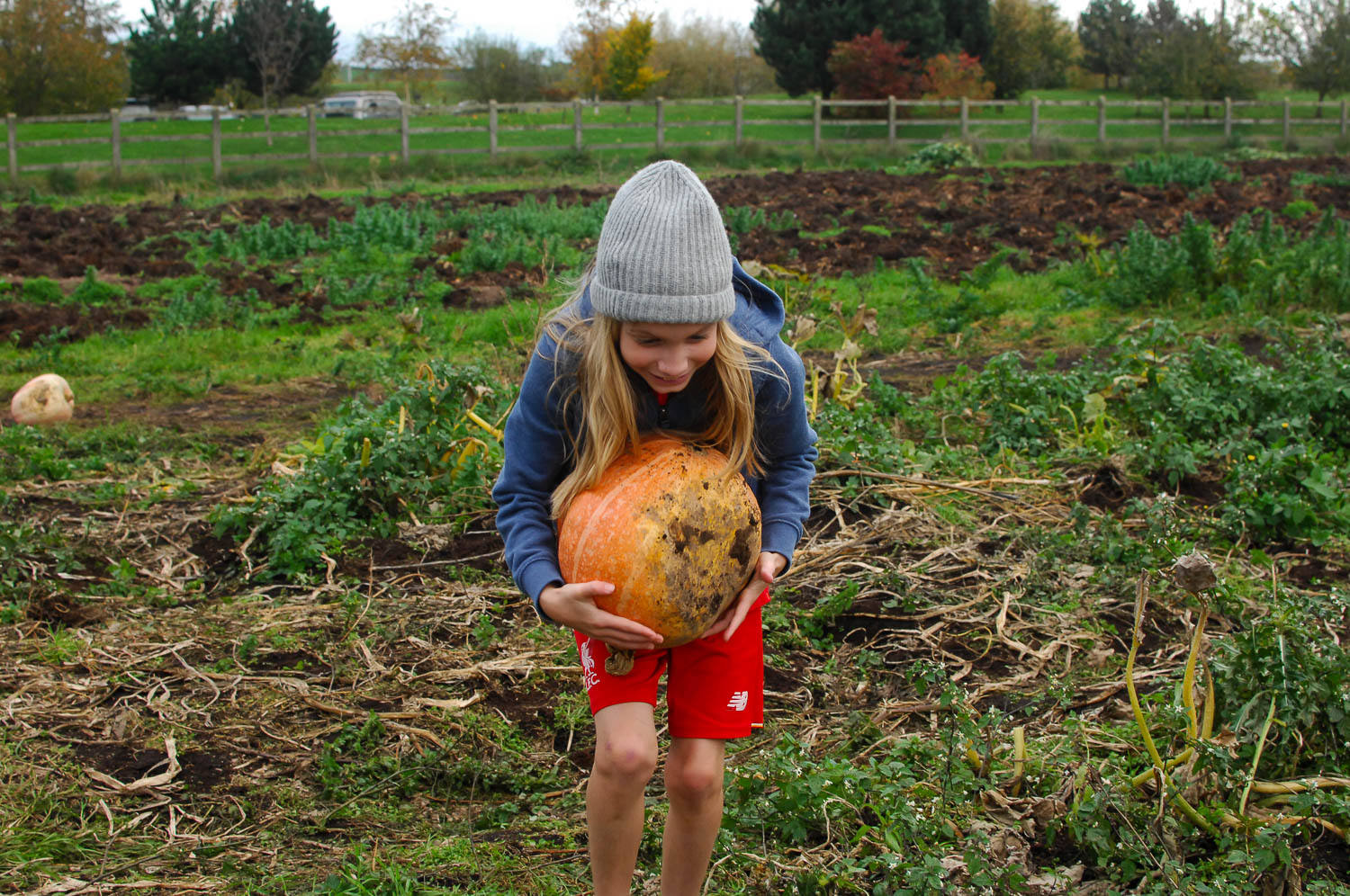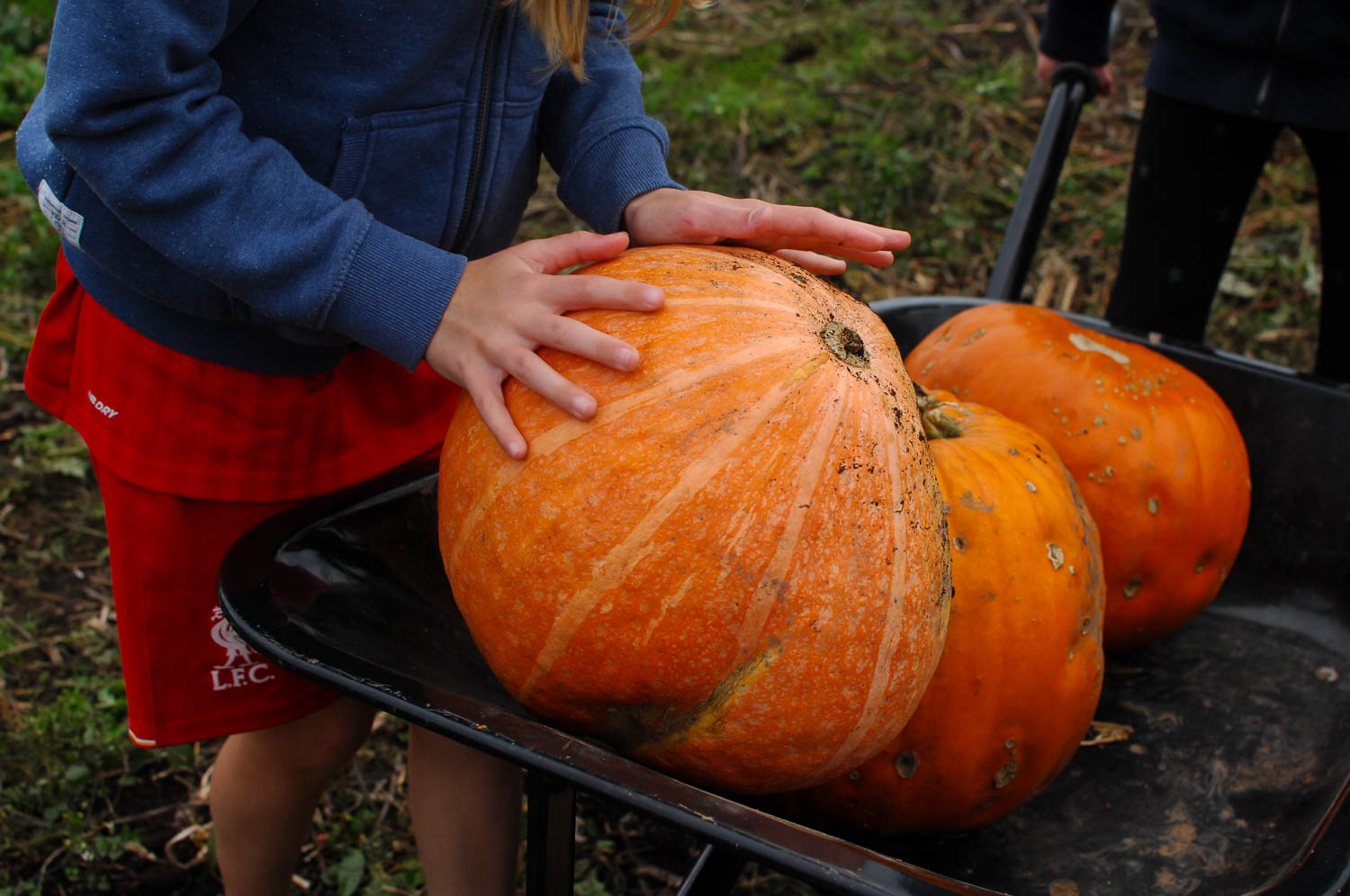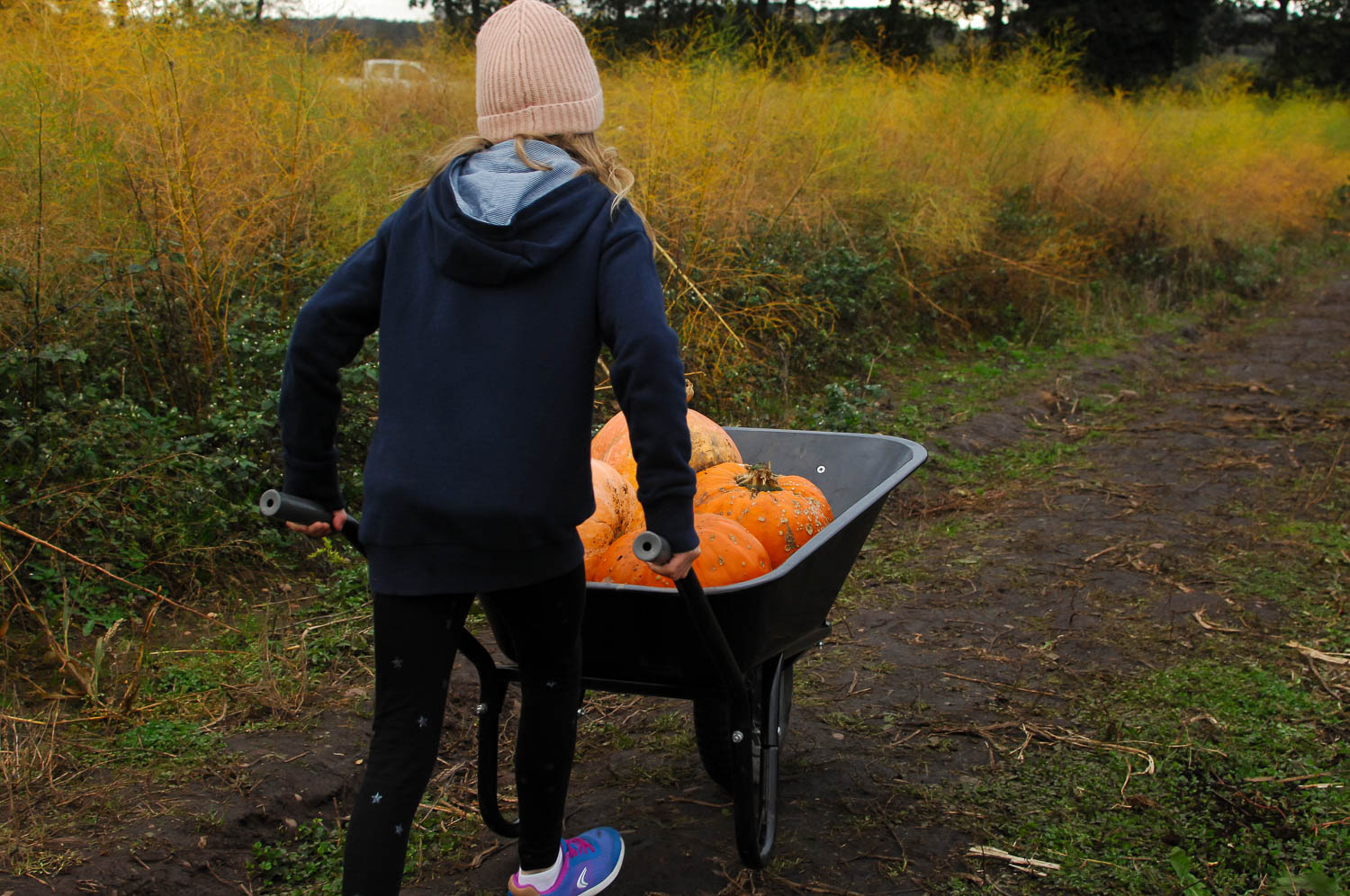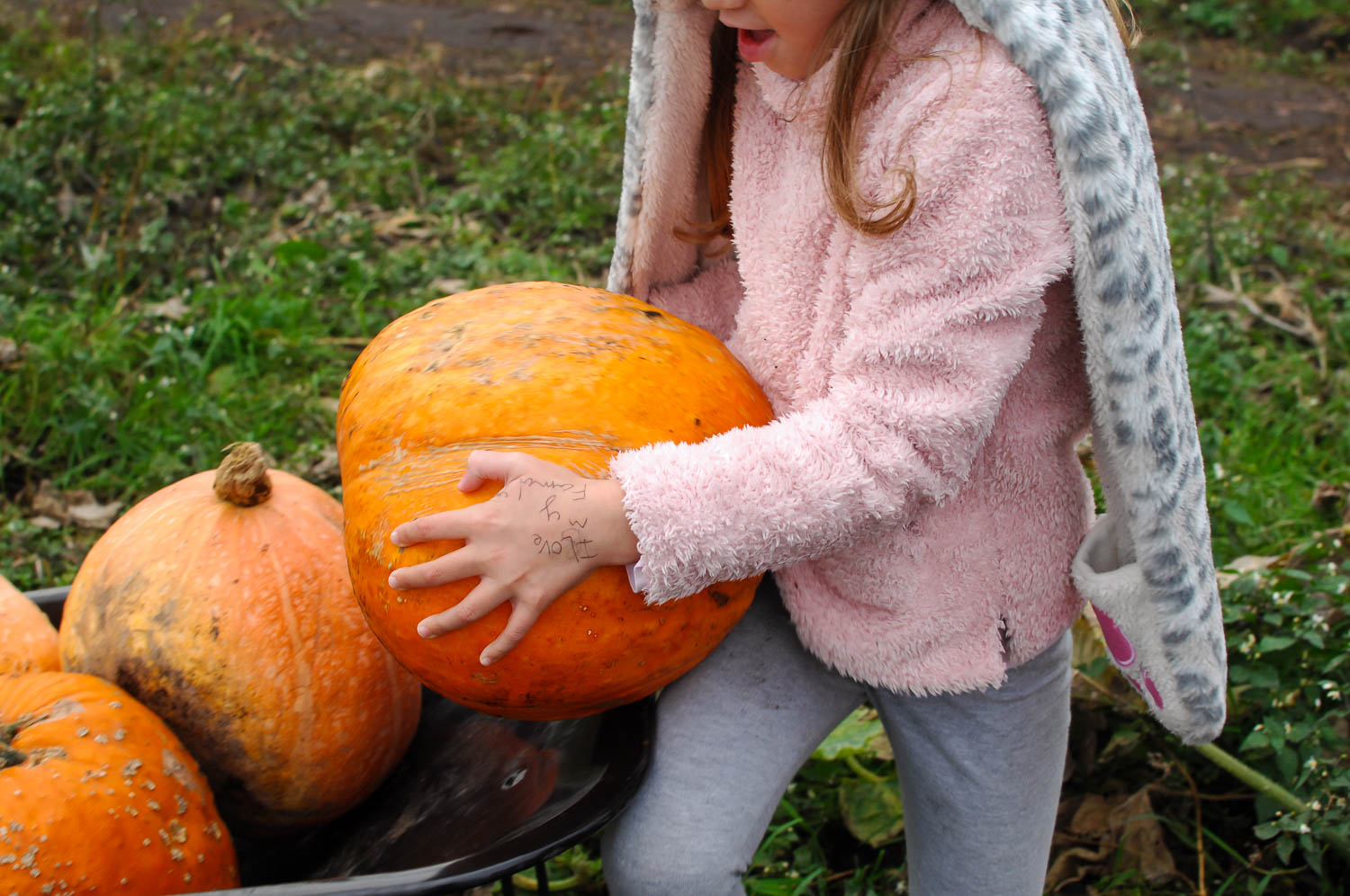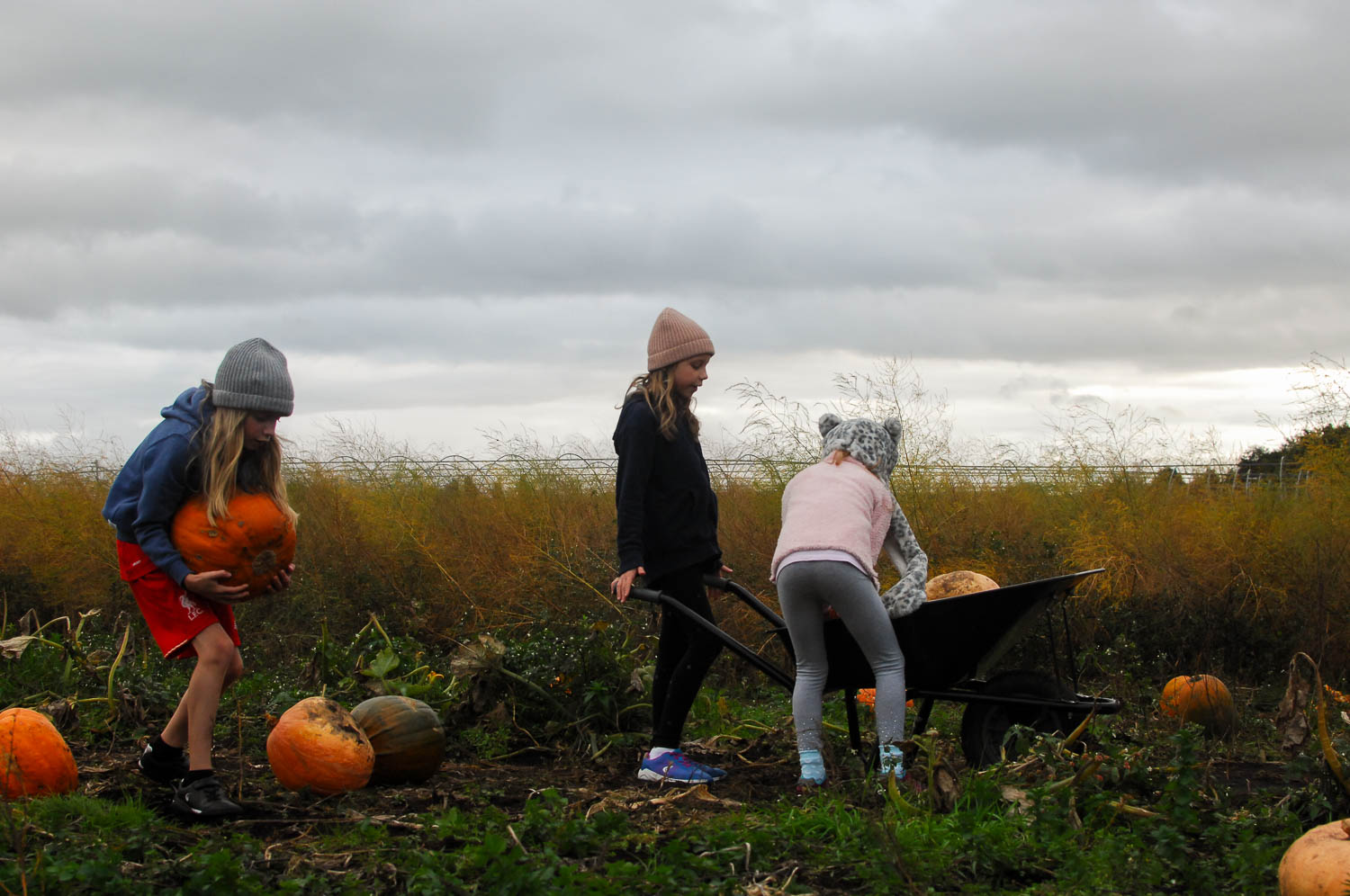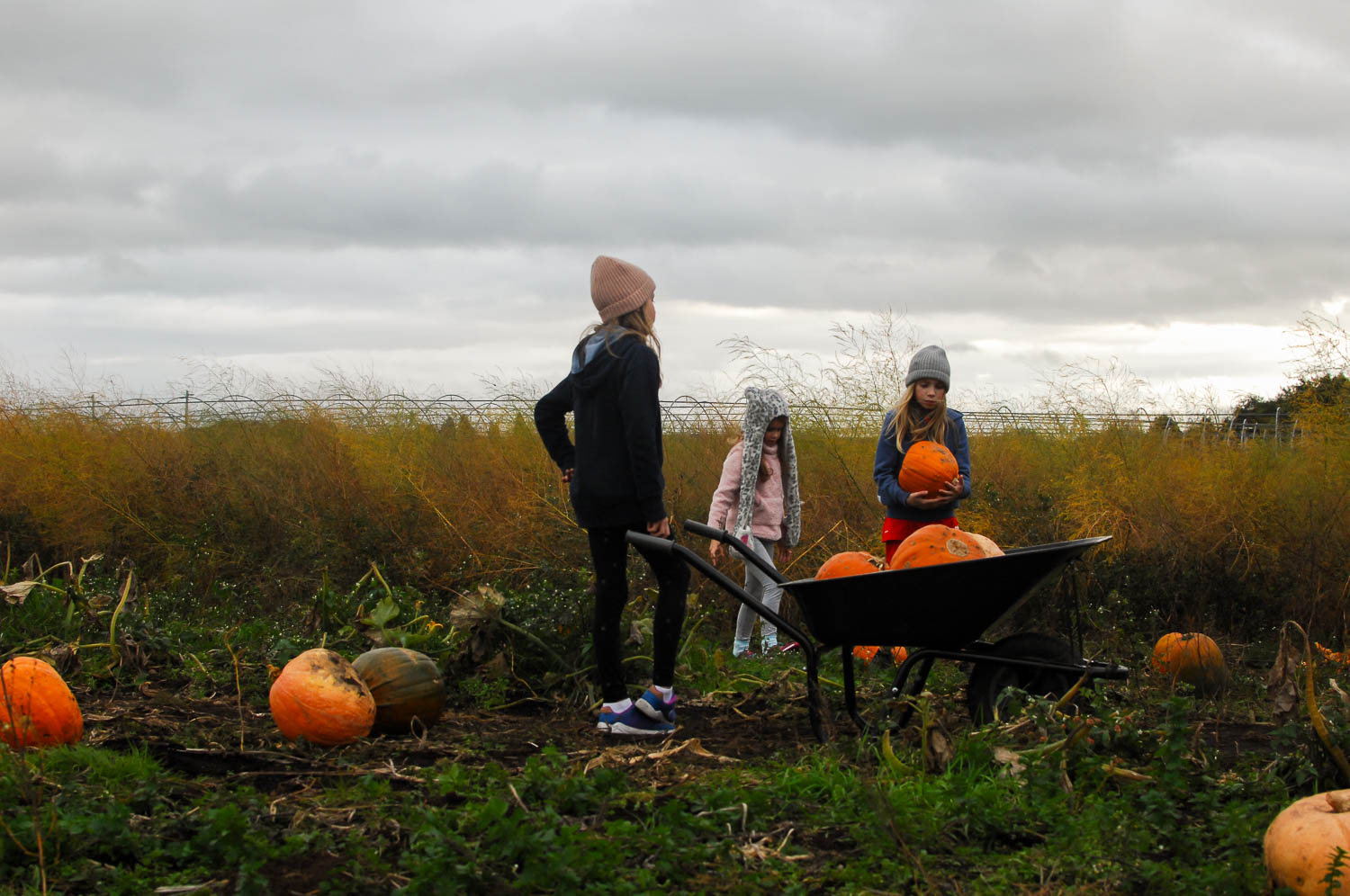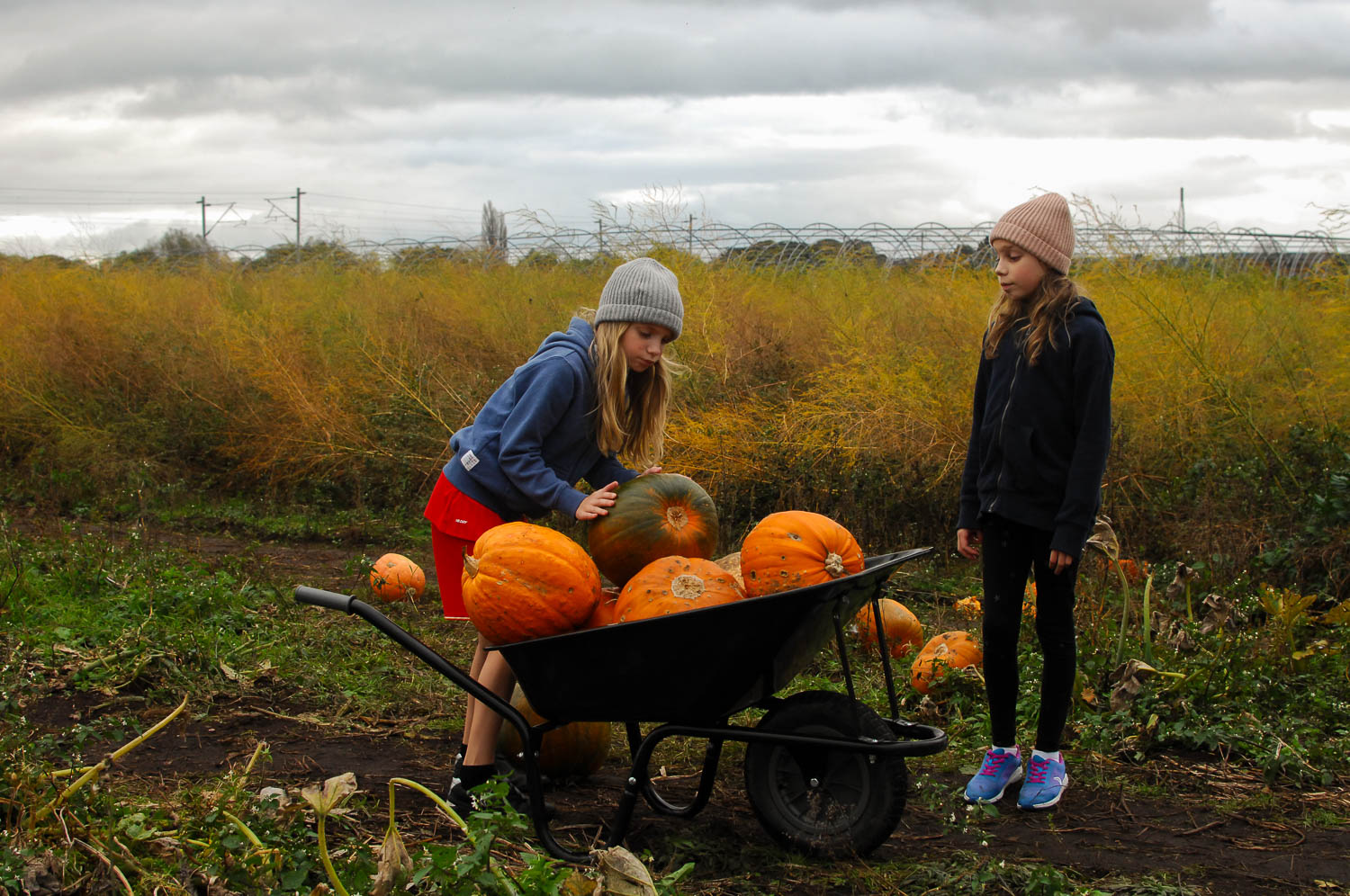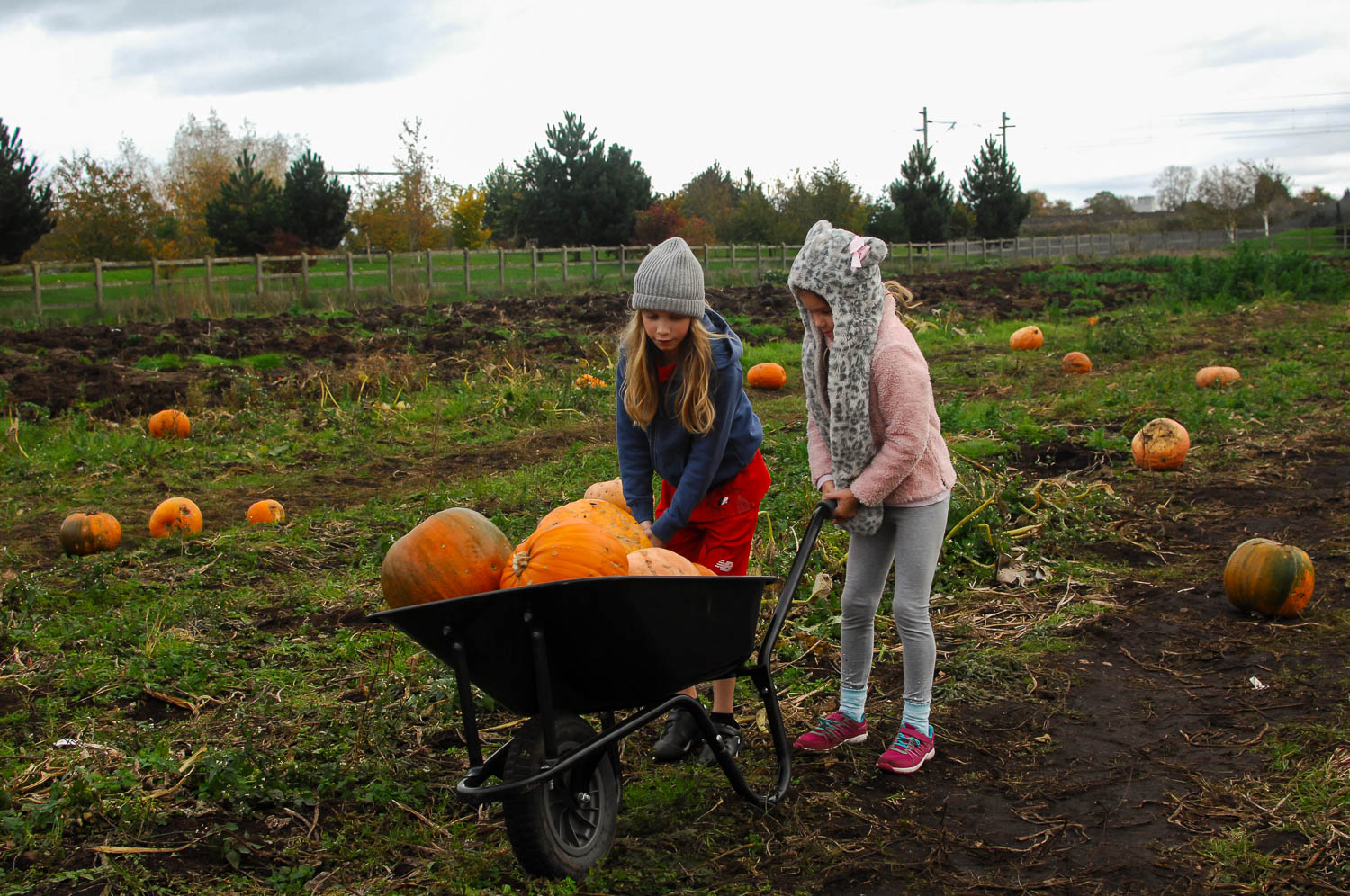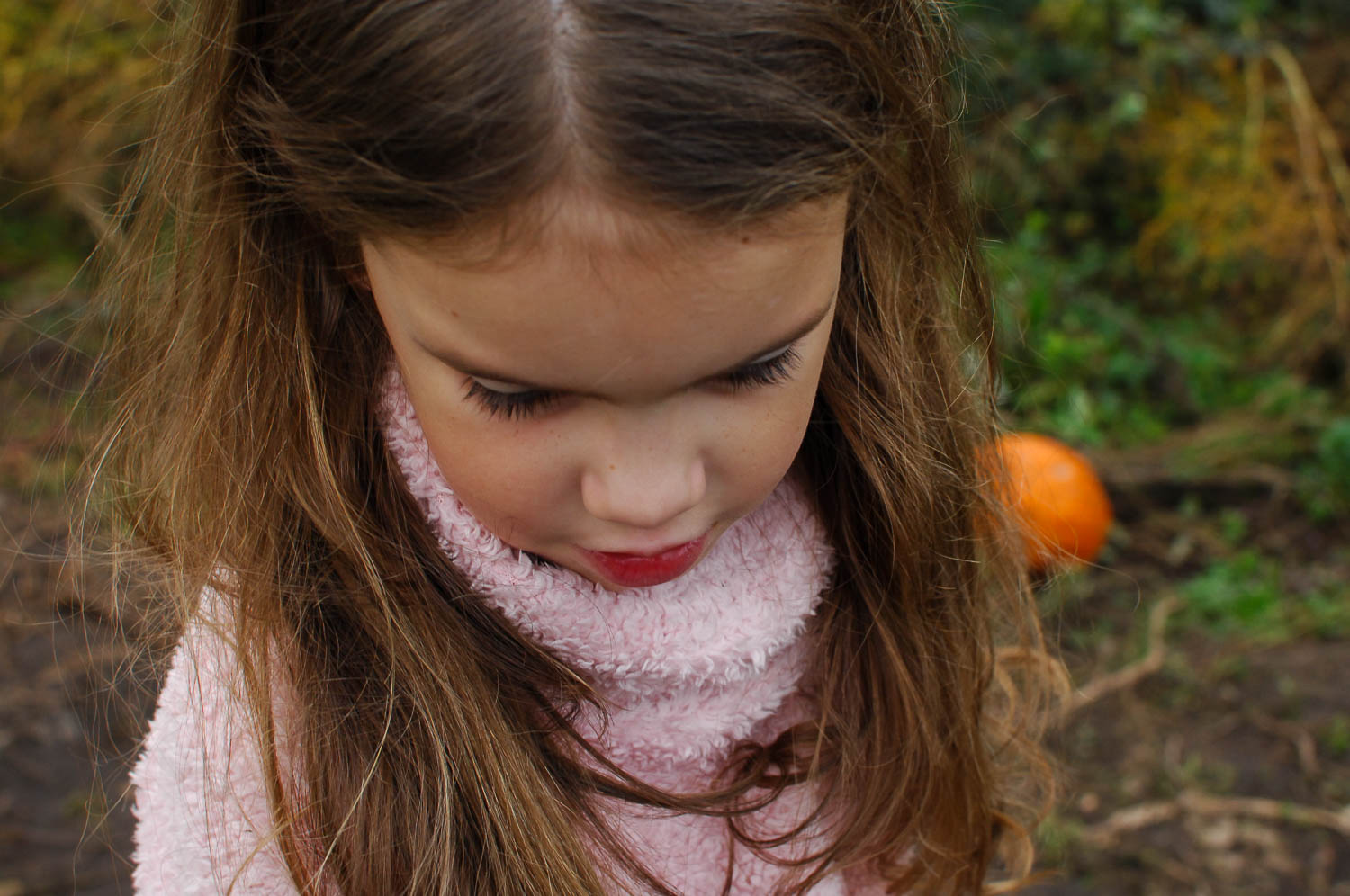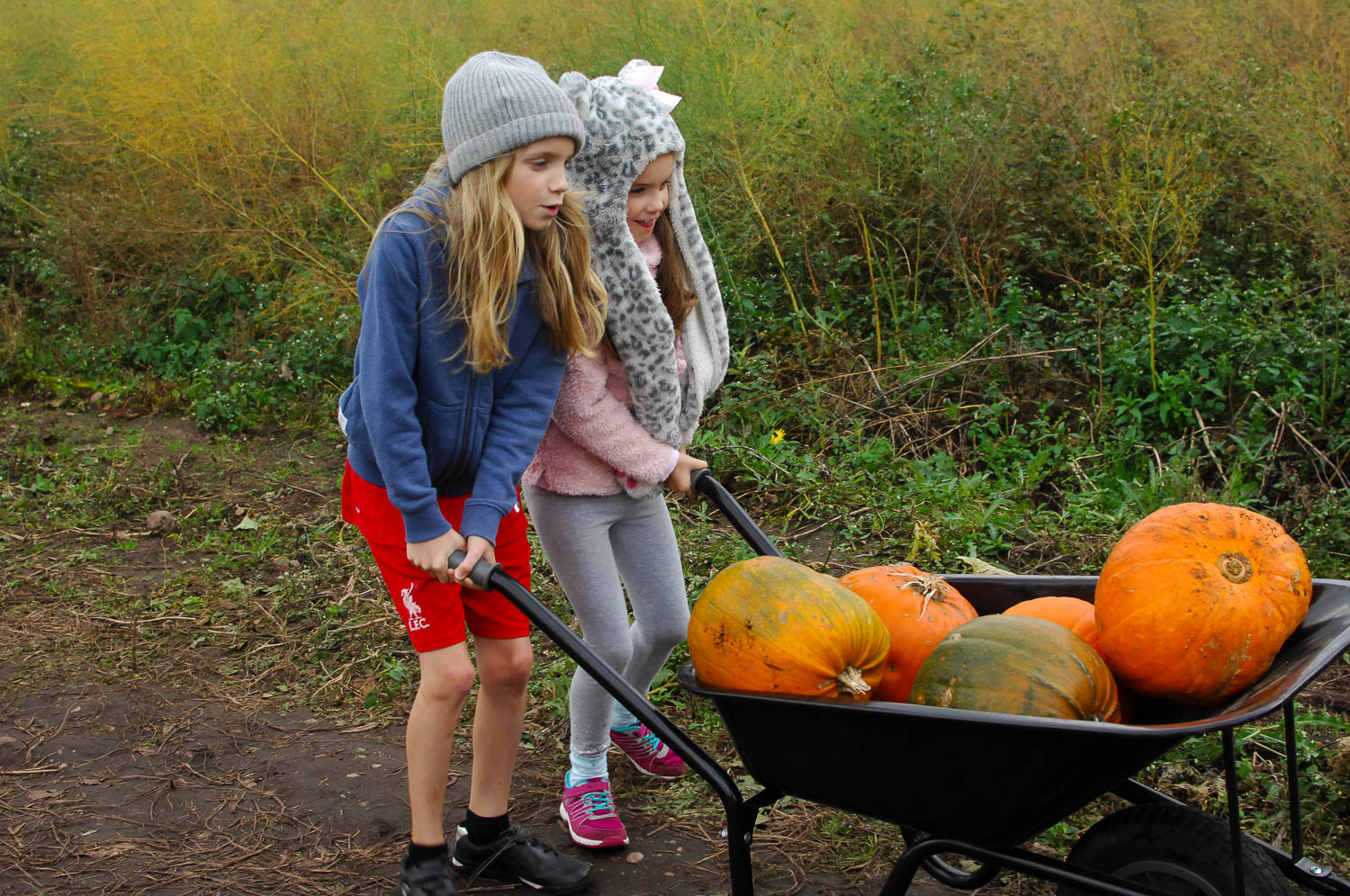 We carved our pumpkins the very next day, scooping out the cavernous insides amidst giggles and squeals of "that's disgusting!", saving as much of the vibrant orange flesh as we could for roasting later on with our evening meal (the husband and I – the girls wouldn't dream of trying pumpkin!).
I wanted to wait until tonight – Halloween itself – to light them, but with Ella heading off on a week-long residential trip yesterday it didn't seem fair to leave her out and so we lit them that night as the sun set and left behind it's golden glow for the evening.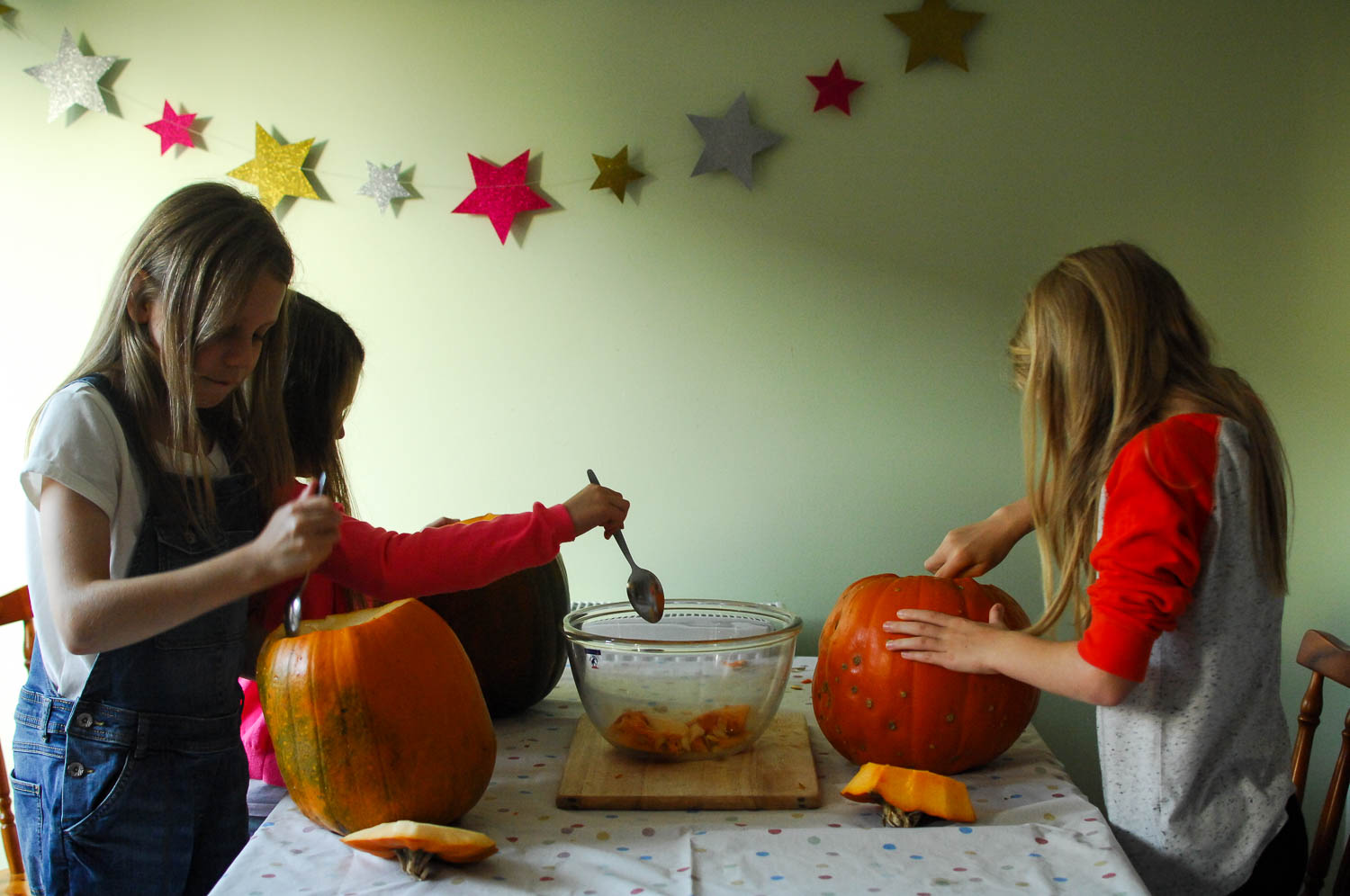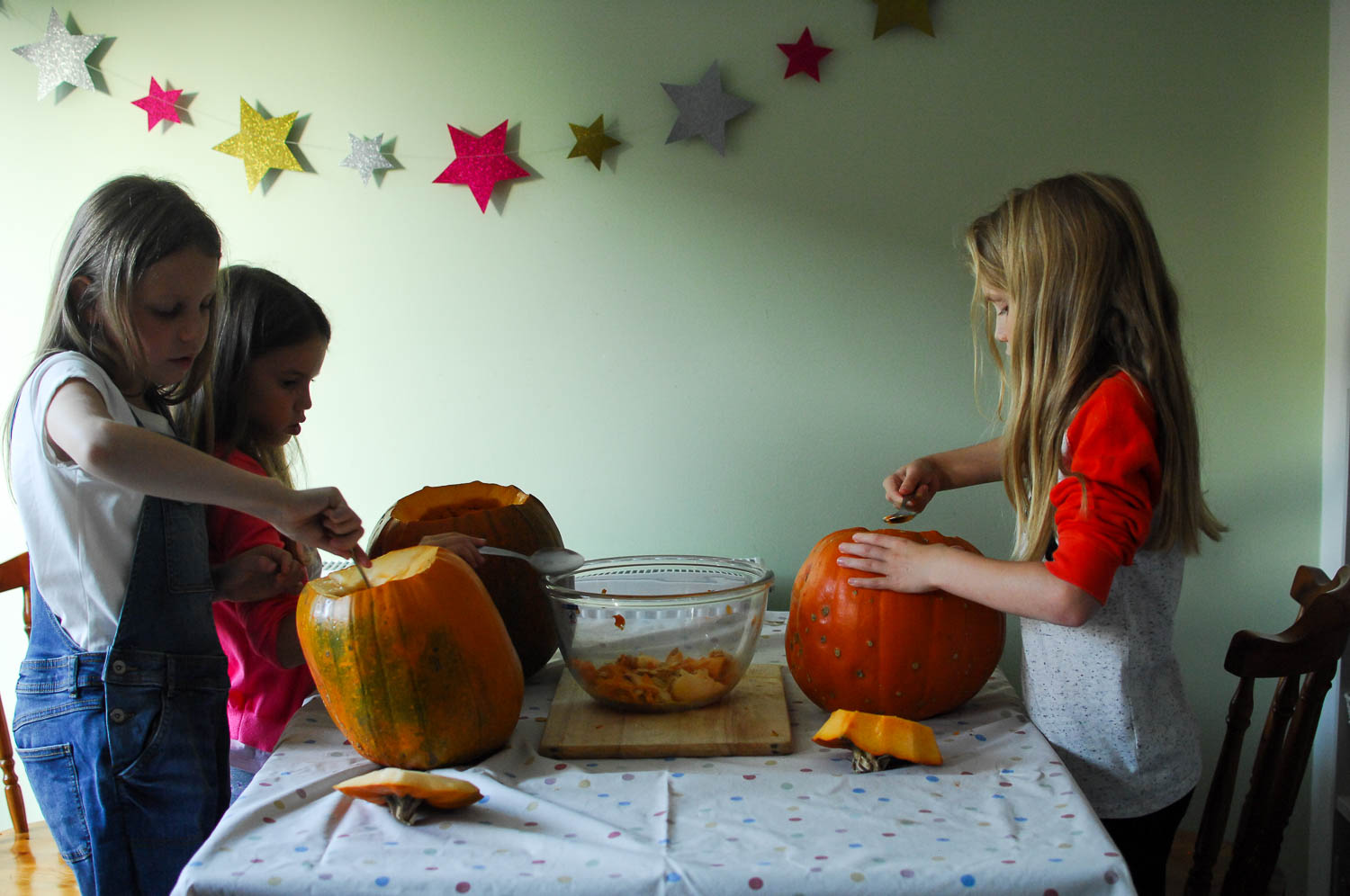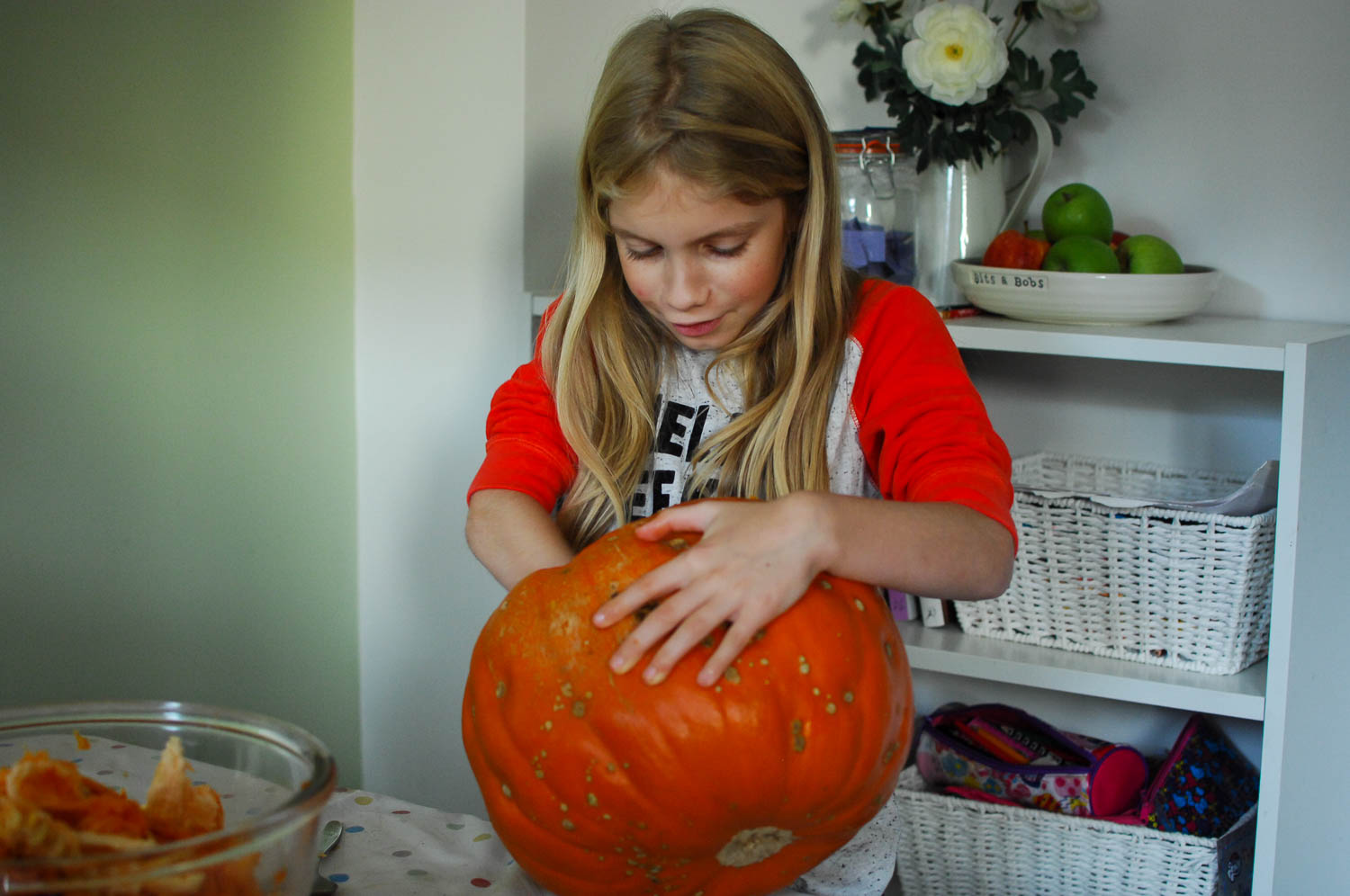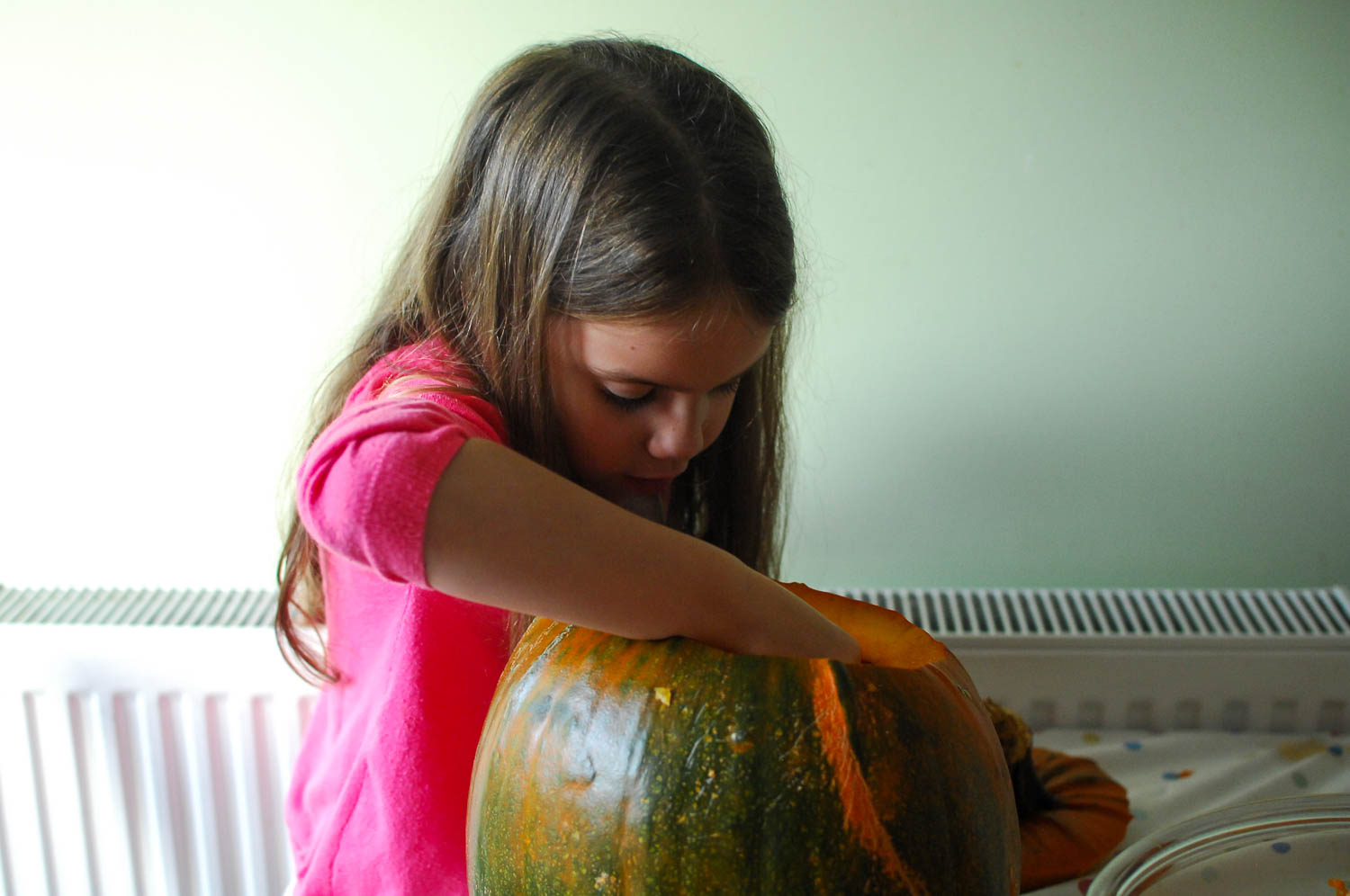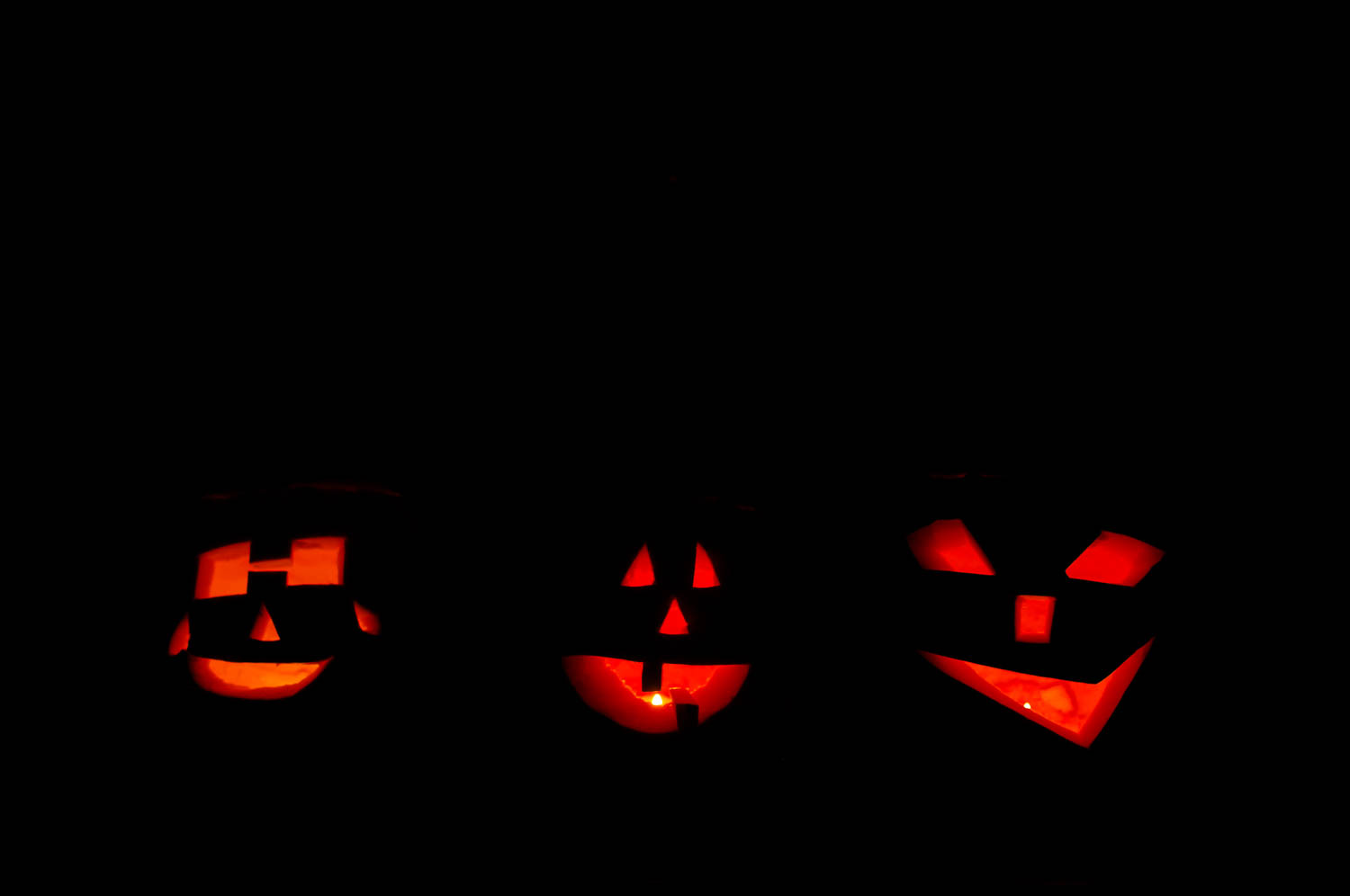 I still can't quite wrap my head around fact that it's November tomorrow.  In two months time we'll be on the cusp of 2018 and I've not given a single thought to Christmas or the various (numerous!) birthdays that are coming up before then – my head has been too full of Leap Retreat in Colorado and then Walt Disney World in Florida.  Perhaps that's a good thing?  I like to be organised and plan things in advance but I'm slowly learning that looking to the future all the time means that you miss the enjoyment of the present.  It probably seems obvious but I think it's such an ingrained habit in our modern day society to always be moving at top-speed towards the next thing that actively choosing to slow down and just 'be' is hard work (and makes such a difference when you do manage to do it).
Plus, November can such a beautiful month to enjoy!  It often gets a bit overlooked I think as it bridges the gap between September sunshine, the October colours and the start of the Christmas build-up in December.  But it can be absolutely lovely in it's own right if you choose to look at it in a positive light.  We had the first frost the other morning and seeing the glass glittering in the morning sunlight under bright blue skies, feeling the chill wind on my cheeks and the crunch of the leaves under my boots gave me a little thrill of excitement.  It's going to be a quieter month for sure, and we'll definitely be spending it closer to home after so much travelling in recent weeks, though I'm sure we'll still manage to squeeze in a couple of adventures here and there.
Joining in with #MyFamilyAdventures with Life As Our Little Family