Just before the summer holidays started, the lovely team at Lucky Gecko sent the girls some of their Discovery Boxes to review.  They arrived on a busy mid-week morning amidst a flurry of end-of-term excitement – all three girls were so surprised to have had parcels delivered that were actually addressed to them that they wanted to open them immediately.  I have to admit, I was really keen to see what was inside them too –  I'd had a peek on the Lucky Gecko website to see what kinds of things would be included and knew that the girls would absolutely love the contents.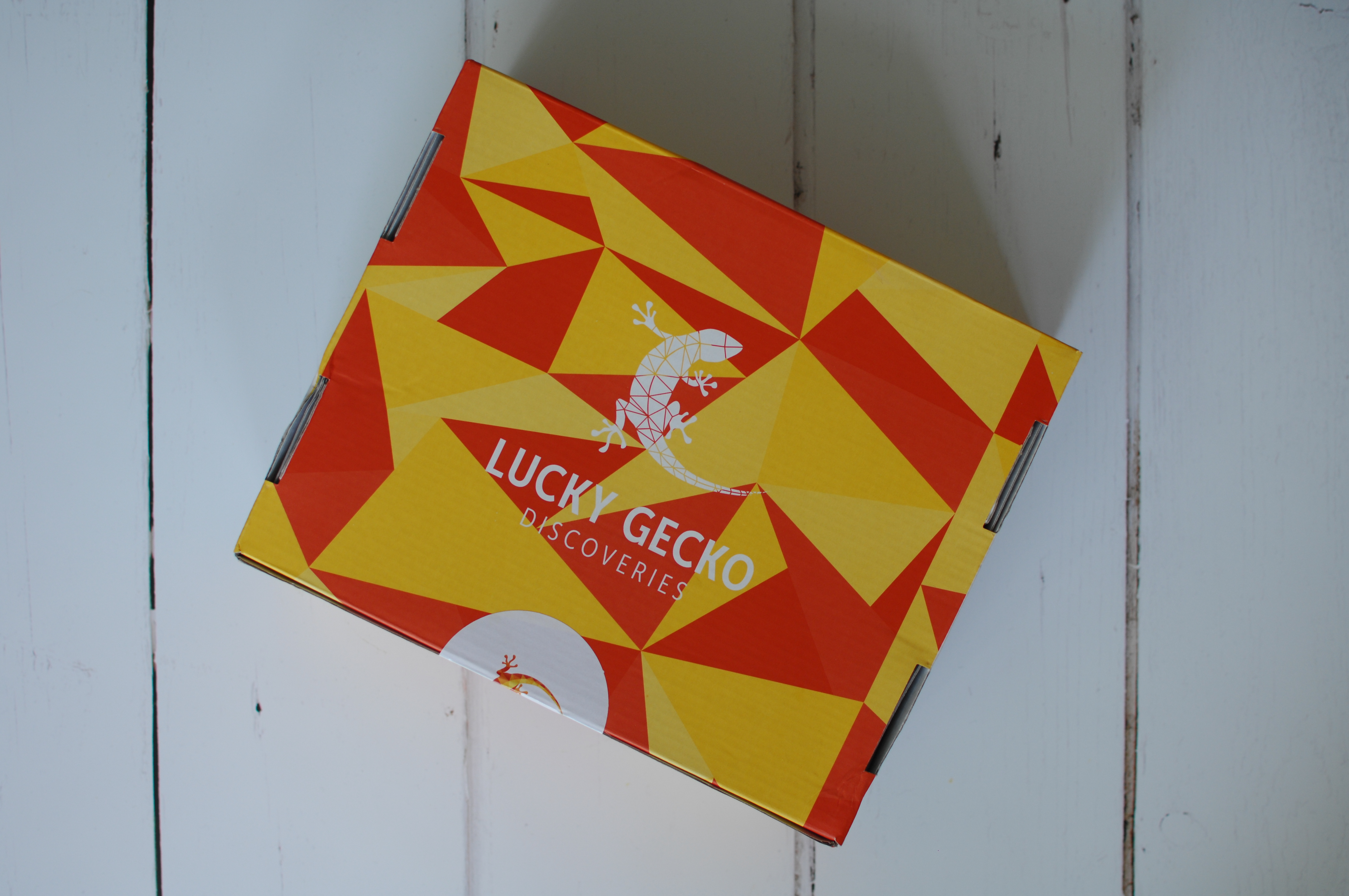 The idea behind Lucky Gecko Discovery Boxes is that the monthly subscription boxes provide "inspirational learning to encourage children to think differently, and to help them connect the dots between what they learn at school and the world around them.  They're designed to give them the confidence to be curious, to dream and to think for themselves.".   I'm a huge believer that most learning takes place outside of the classroom, and in my work as a therapist and my role as a parent to three completely unique daughters I'm well aware that everyone learns differently, so I was really interested to see what these Discovery Boxes had to offer.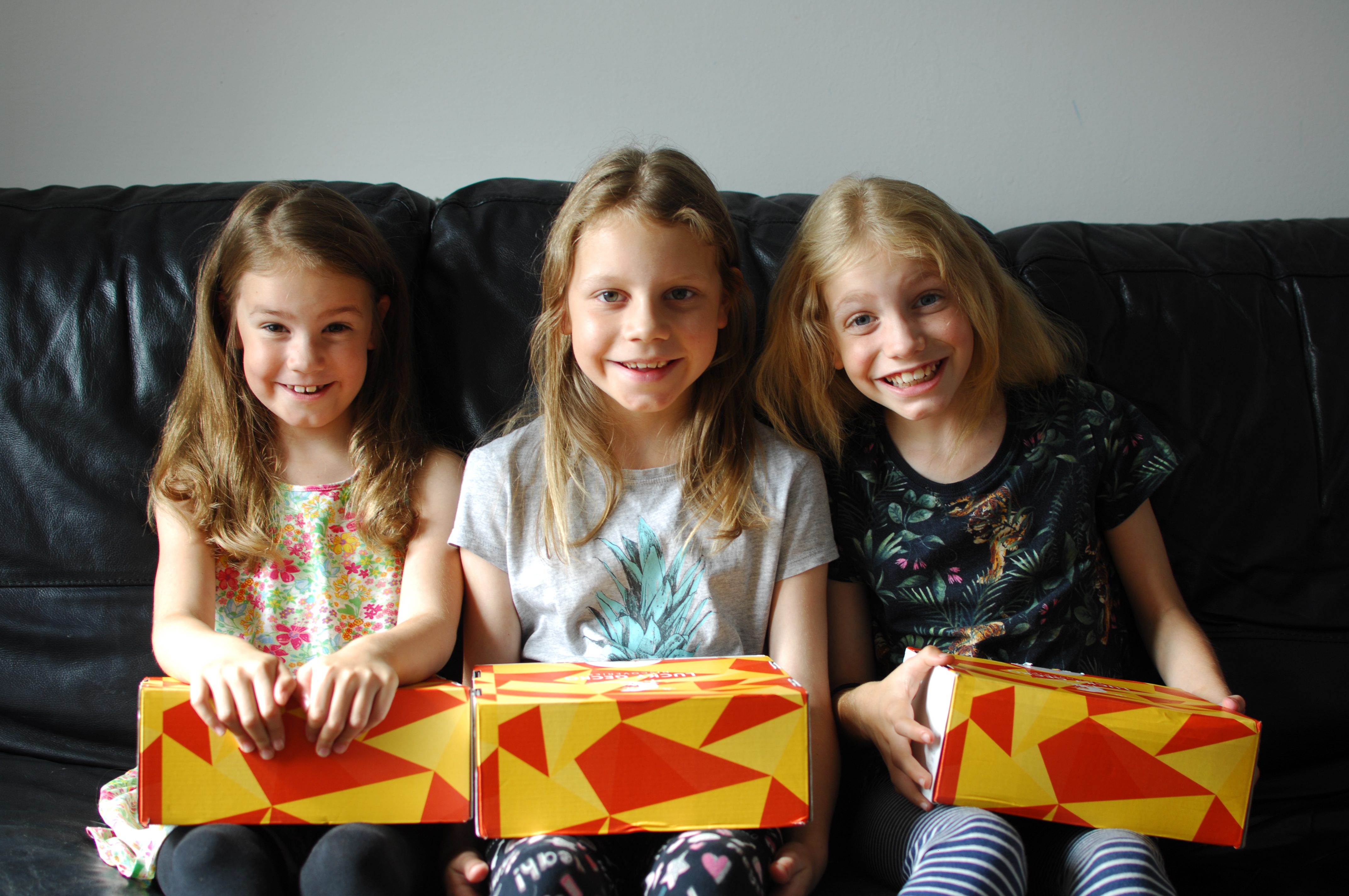 There are three different kinds of boxes – Imagination, Curiosity and Wisdom – and they're aimed at children aged 9-12 years old, with a different theme each month.  The Imagination Box was perfectly suited to Ella with her love of reading and her fierce desire to become an author – it uses stories and creative thinking as it's main way to encourage learning.  The Curiosity Box was ideal for Mimi, who, despite being incredibly bright, is more than a little bit insecure about her abilities in the classroom, bless her.  Mimi wants to work as an inventor/scientist when she's older, so the practical experiments and problem solving skills required for this box were right up her street.   As Lola is technically below the age range that the boxes are aimed at (she's only seven), the Lucky Gecko team kindly put together a little selection of age-appropriate things that they thought she'd enjoy (they didn't want her to feel left out) and they got it absolutely spot on for her – she loved everything they sent her.
Despite the girls being desperate to open the boxes as soon as they arrived, I made them wait until the first day of the summer holidays and I'm so glad we did.  We've had a few days of sunshine here and there but for the most part it's either been pouring down with rain or just cold, grey and damp, feeling more like November than July or August, and so we've been at home a lot more than we've been out and about.  The Lucky Gecko Discovery Boxes are fantastic for rainy days or wet weekends as they're so full of different things to keep the girls occupied.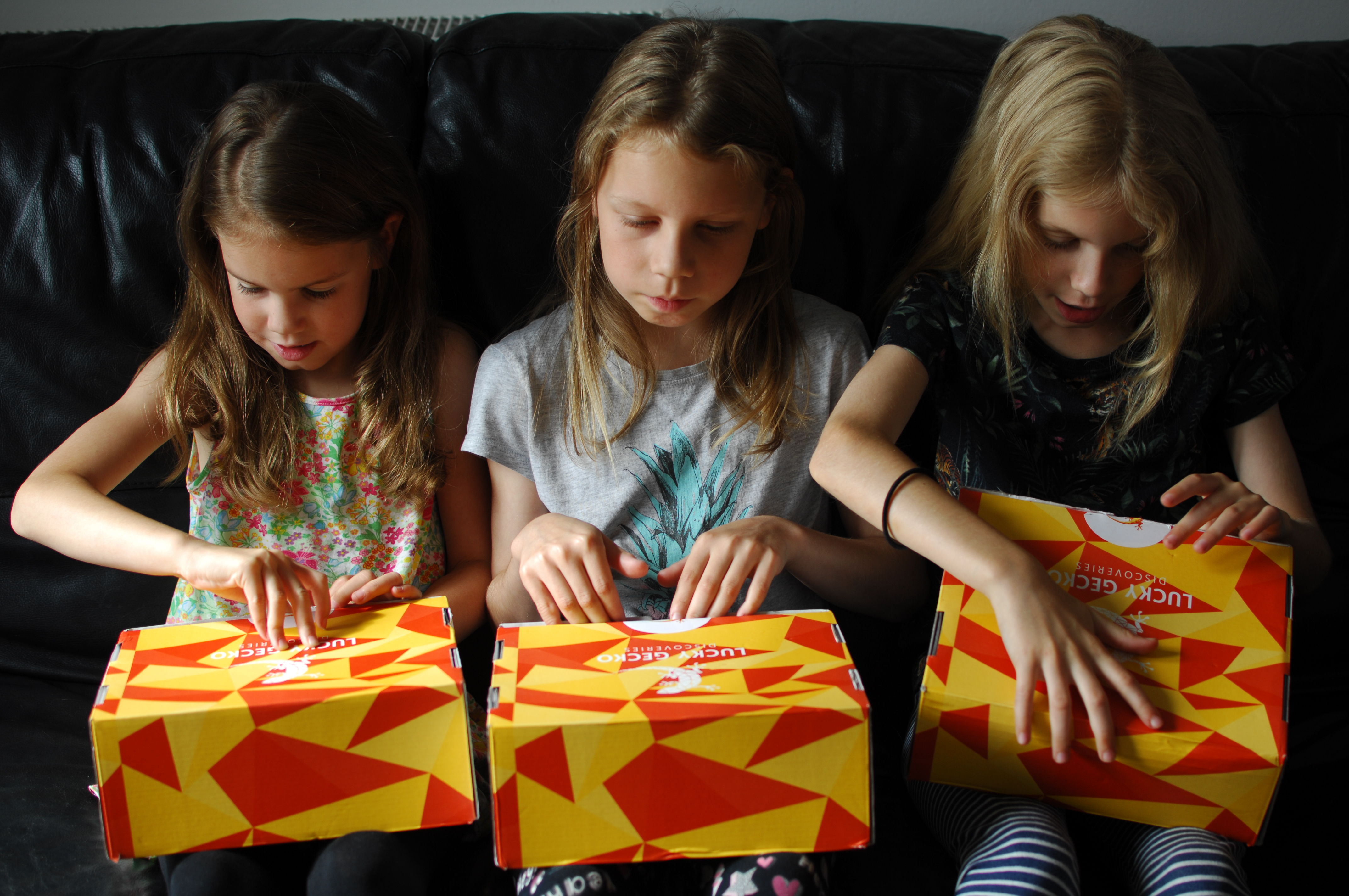 Ella and Mimi's full boxes each included:
~  a superhero pencil;
~  a miniature robot to build (with a spare 'fizzbit' motor so they could make another one out of whatever they could find in the recycling box, plus an Inventors' Guide to inspire them to create something independently);
~  a copy of 'The Phoenix' comic;
~  a pocket notebook so they can create their own comic strip story.
The main item in Ella's Imagination Box in addition to all of this was a book – 'The Accidental Prime Minister' – which she has been wanting to read for ages, so she was absolutely thrilled.  Mimi's Curiosity Box main item was a game called 'Cortex' – she loves playing board games so this was a real bonus for her.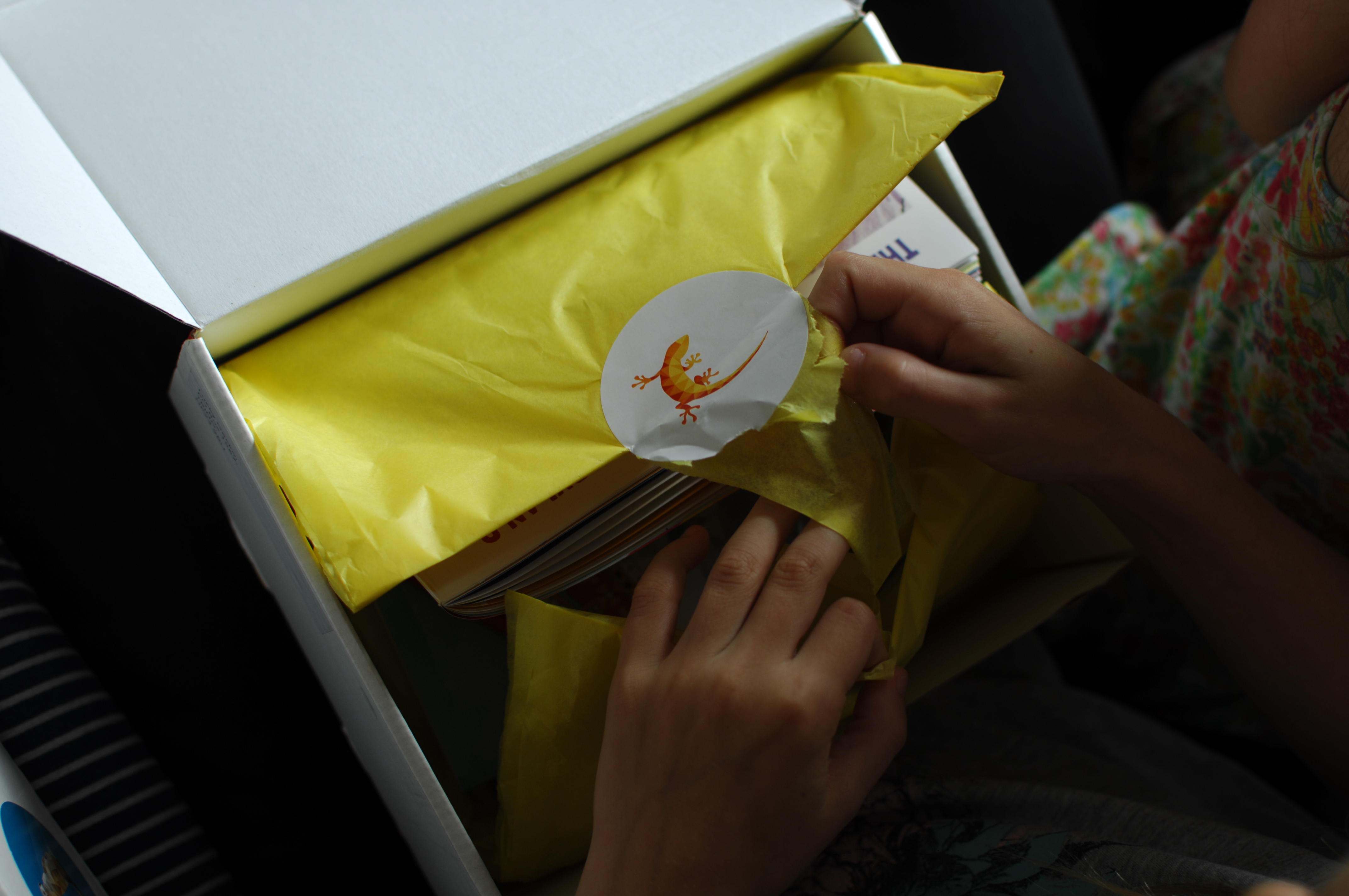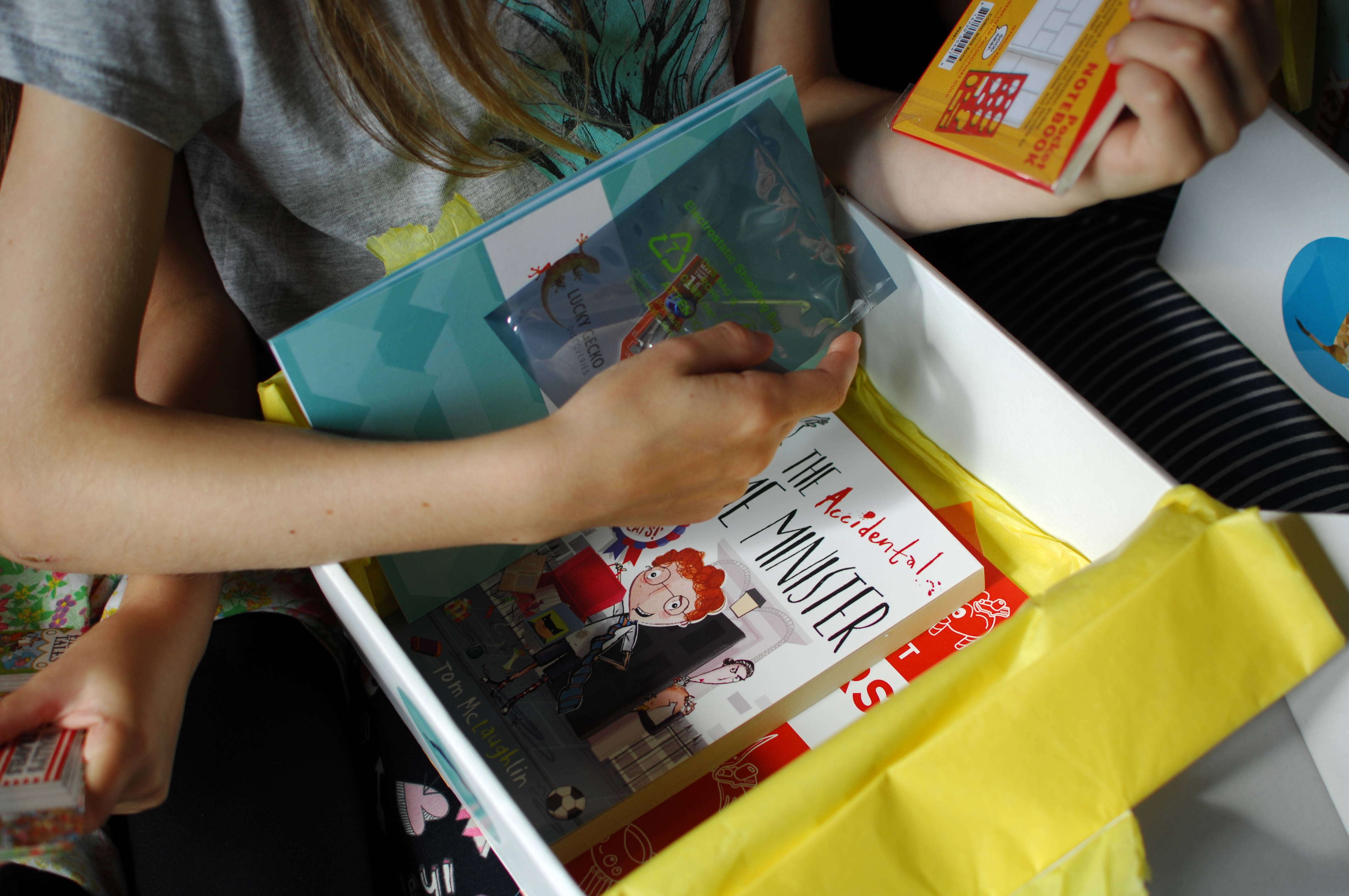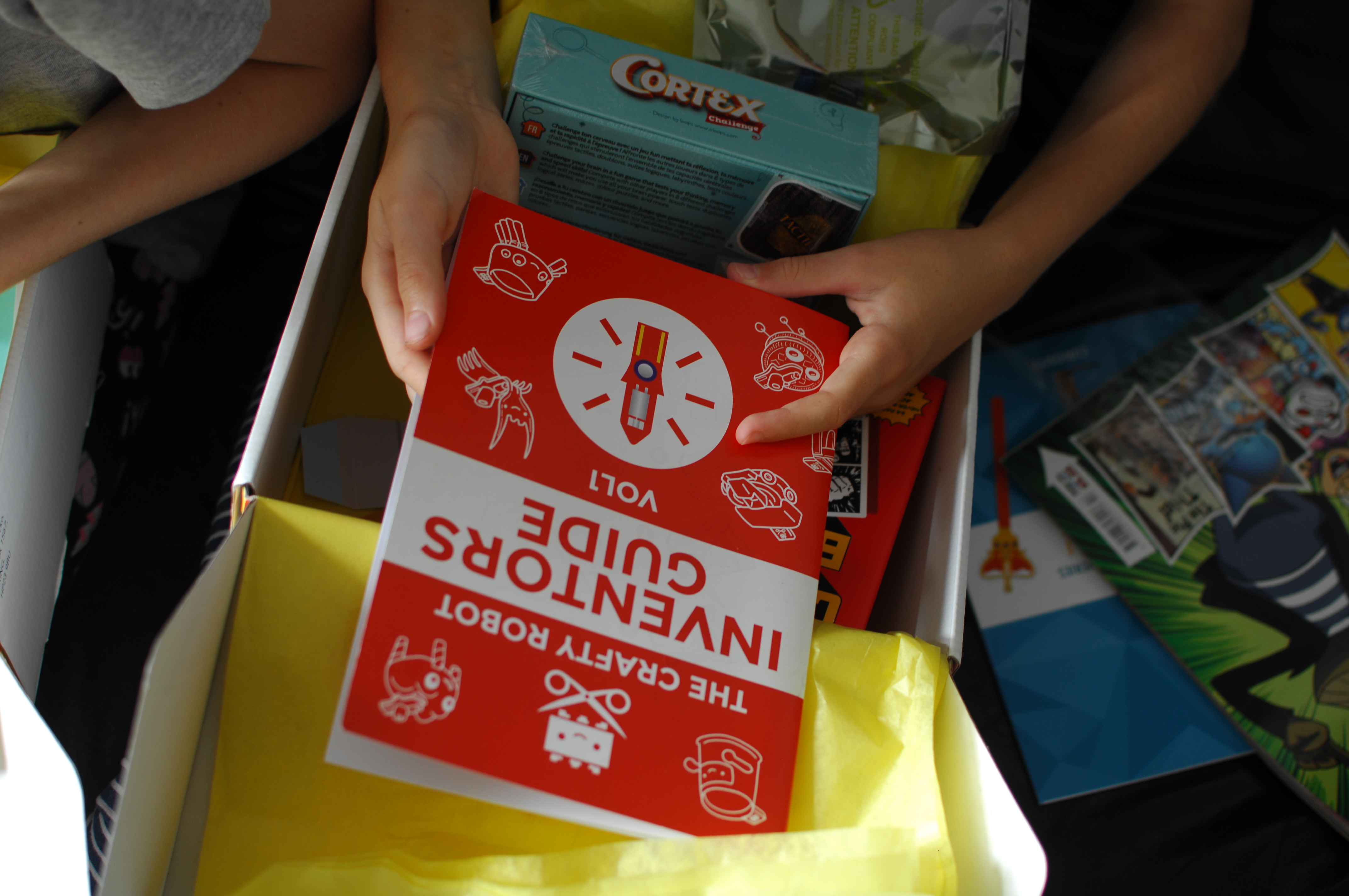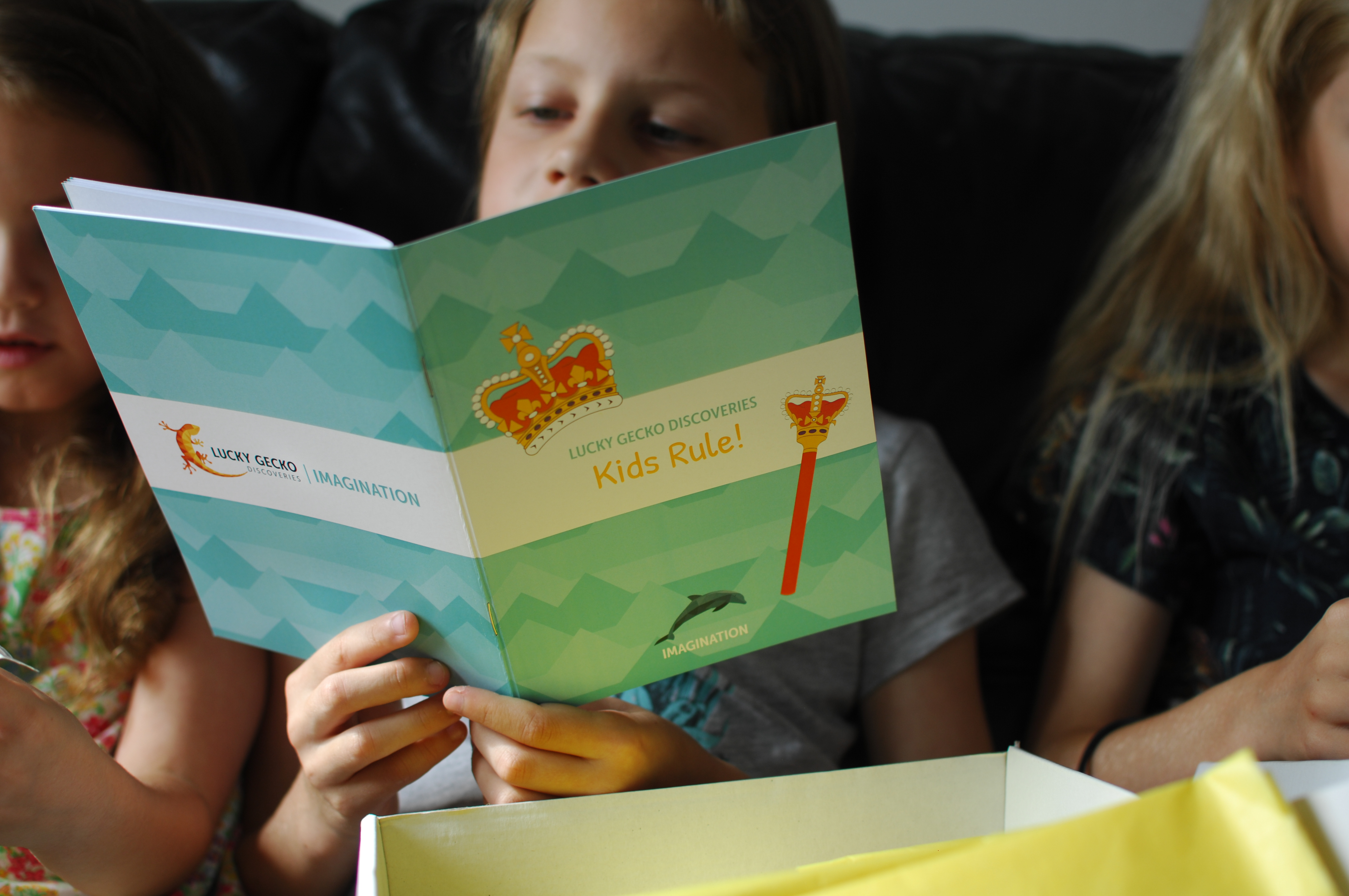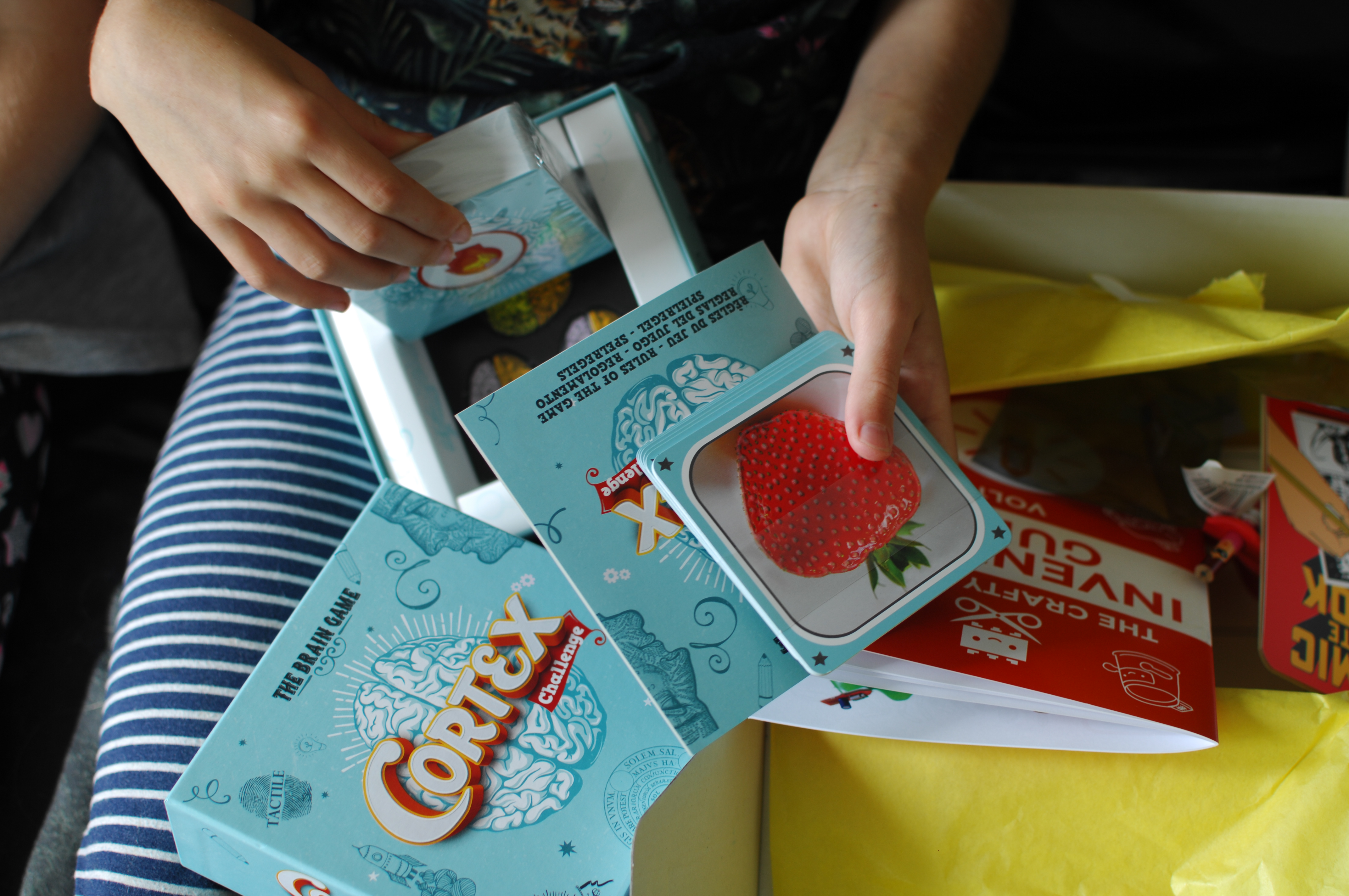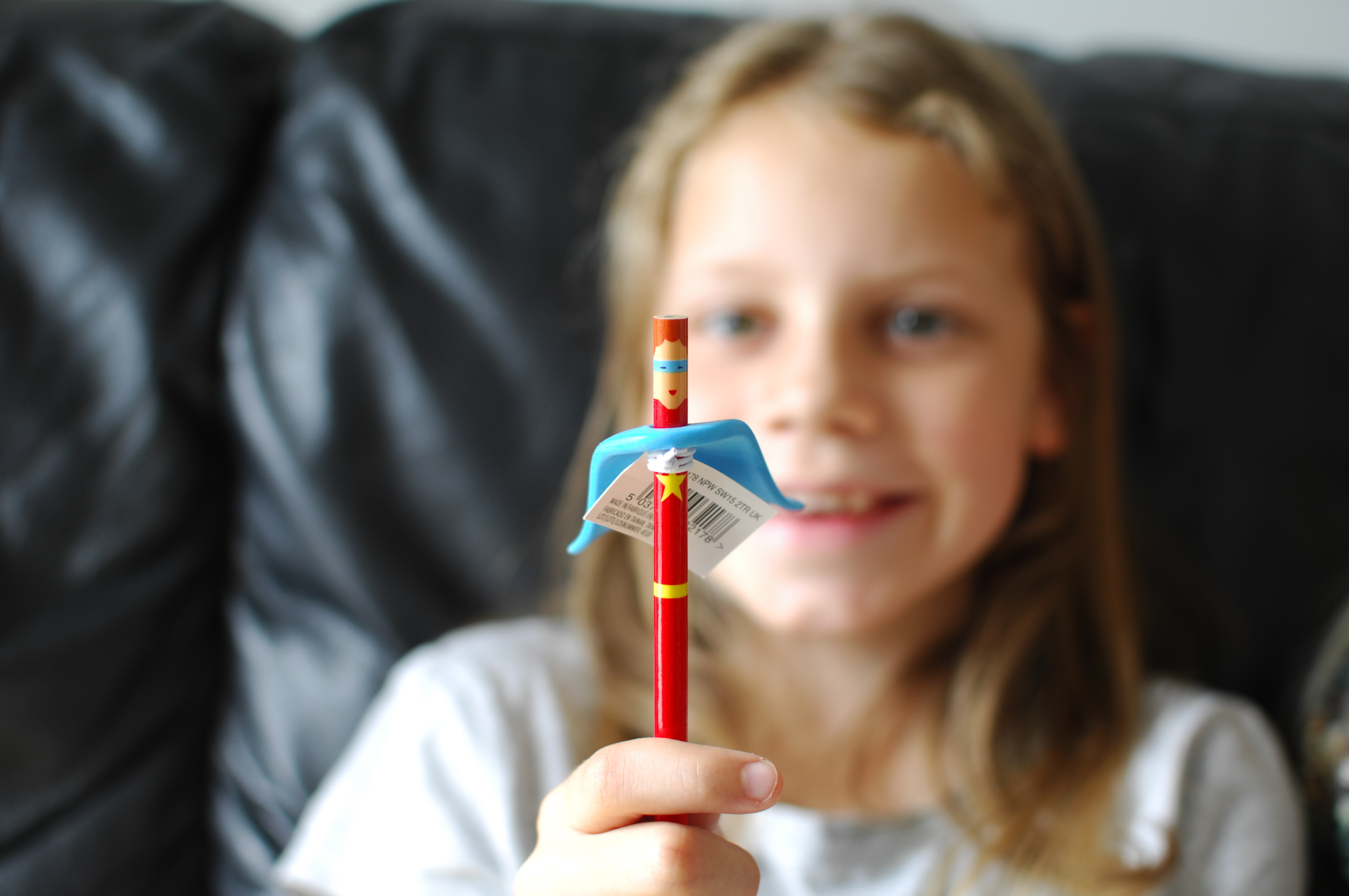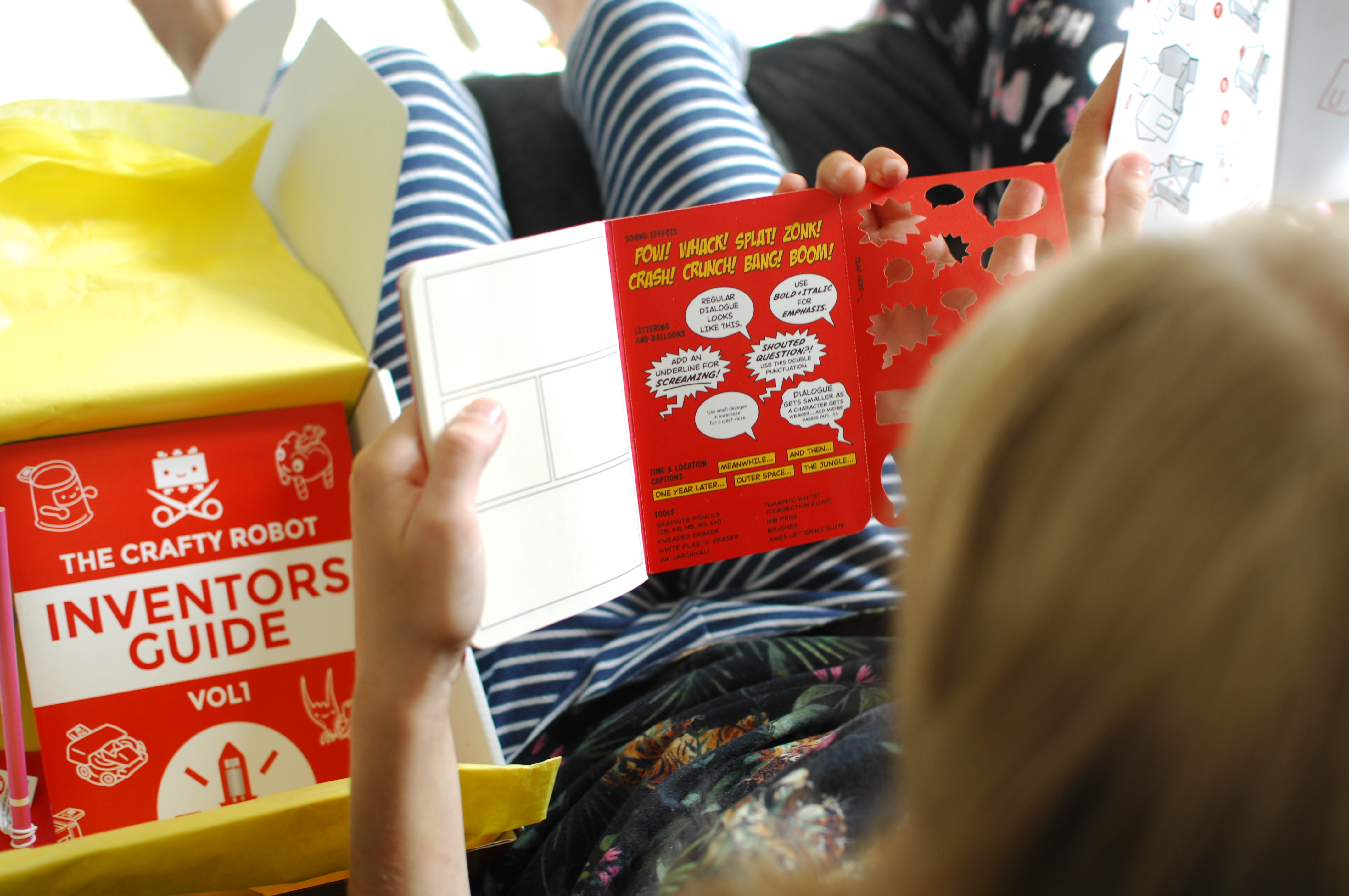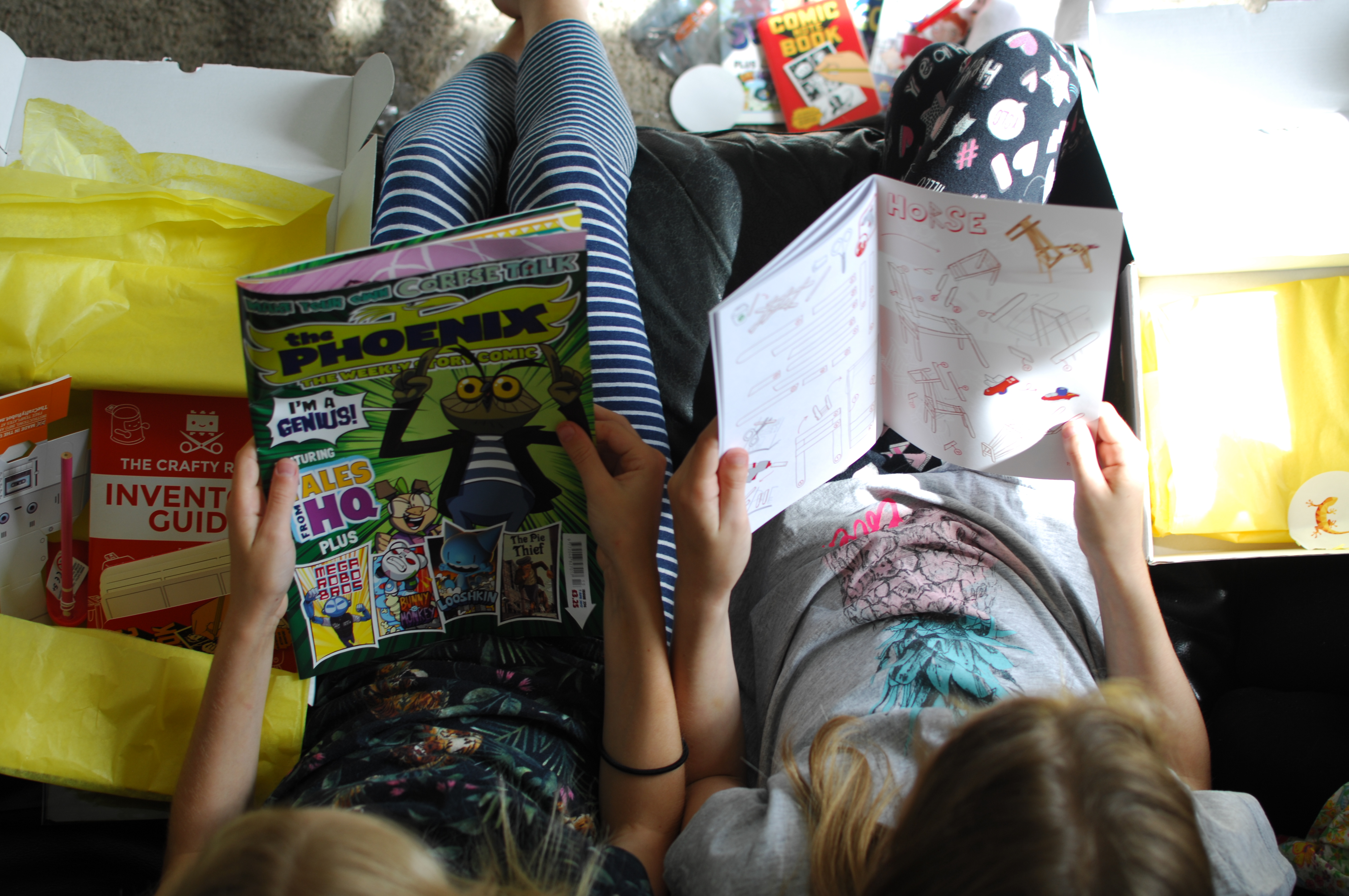 Lola's little selection contained stickers, a bookmark, a badge, 'invisible ink' pens, a toy figurine, a fantastic magnetic jigsaw puzzle, some 'Where's Wally' cards and a brilliant Smart Egg Labyrinth Puzzle.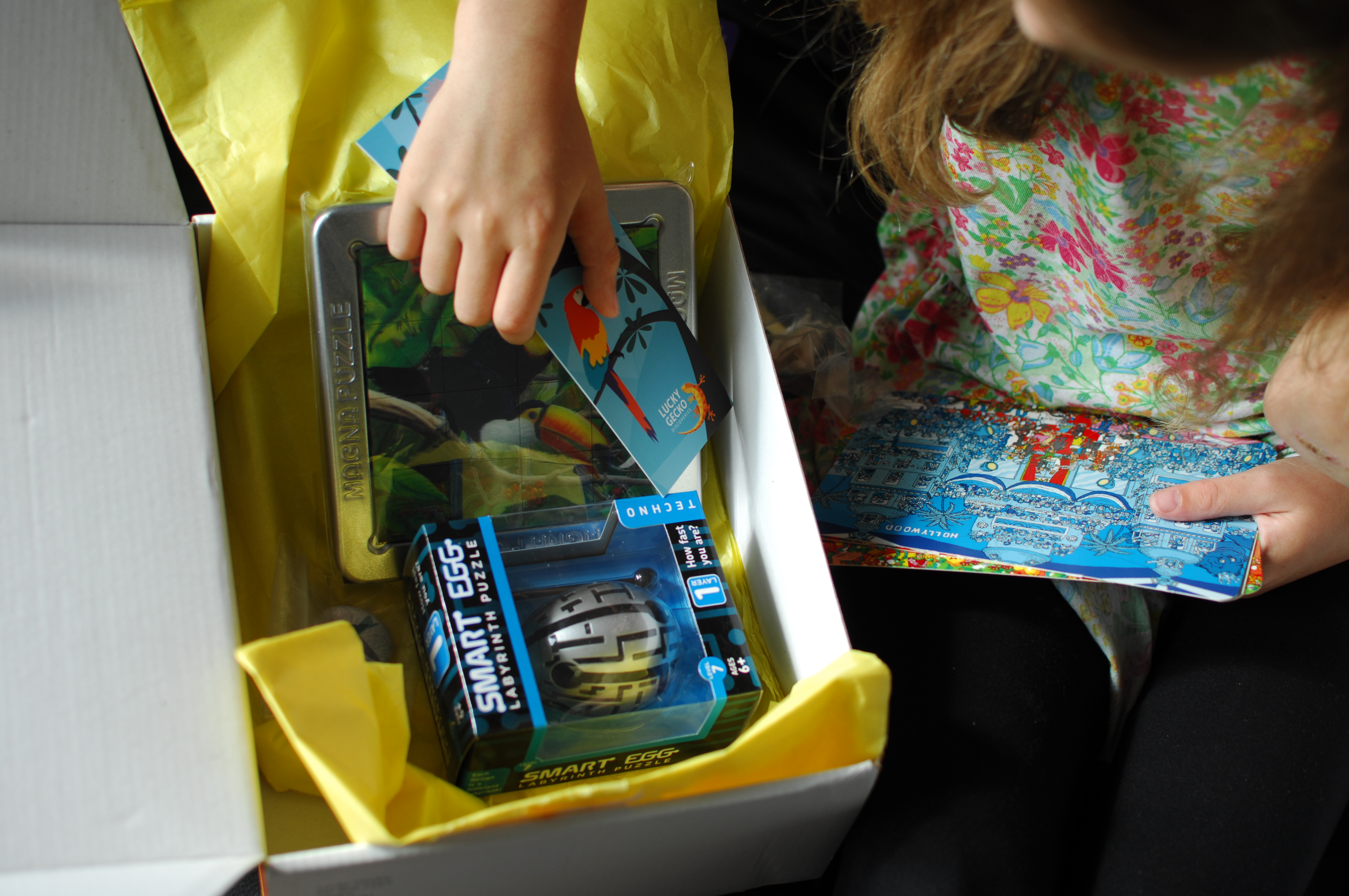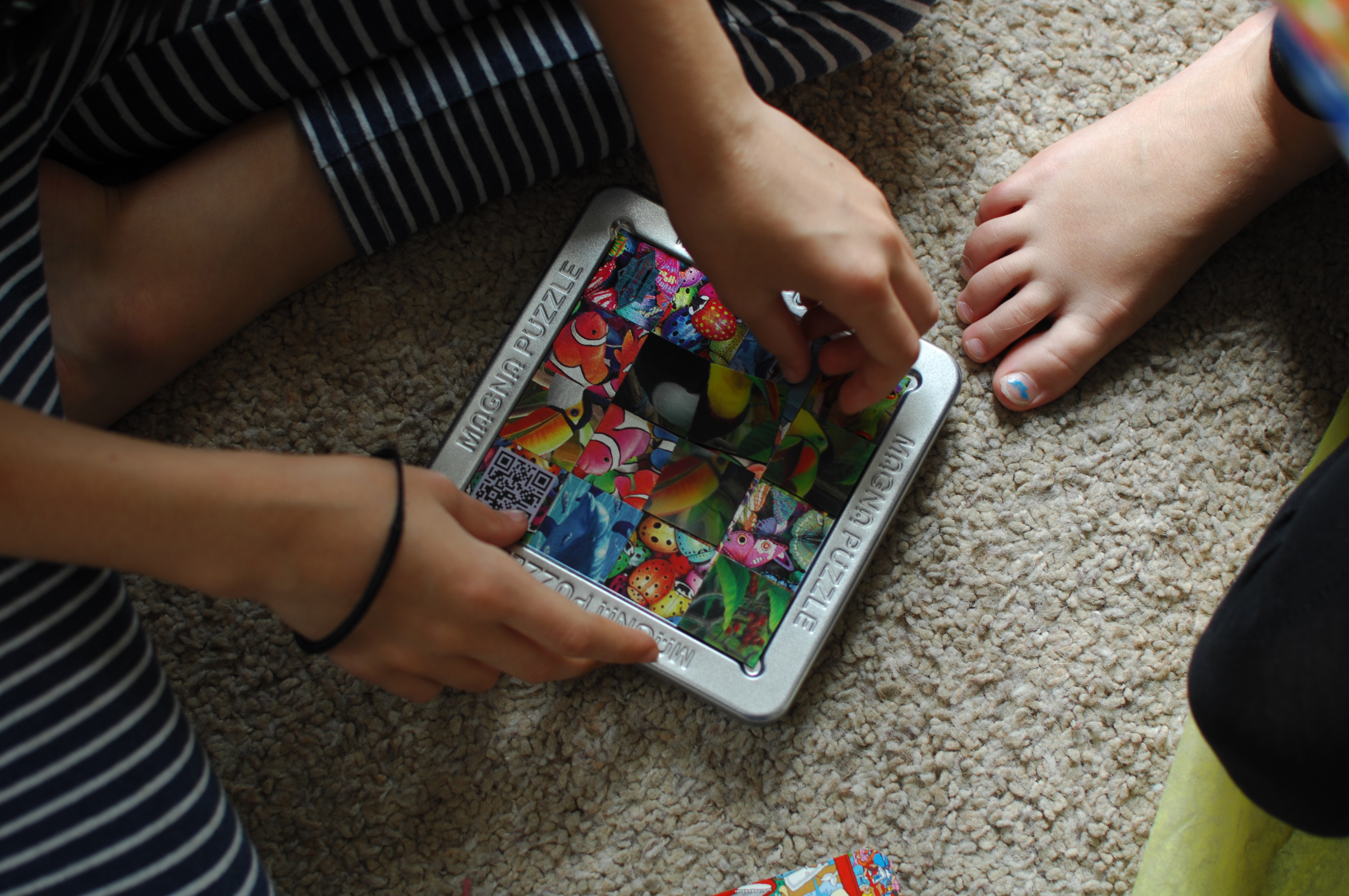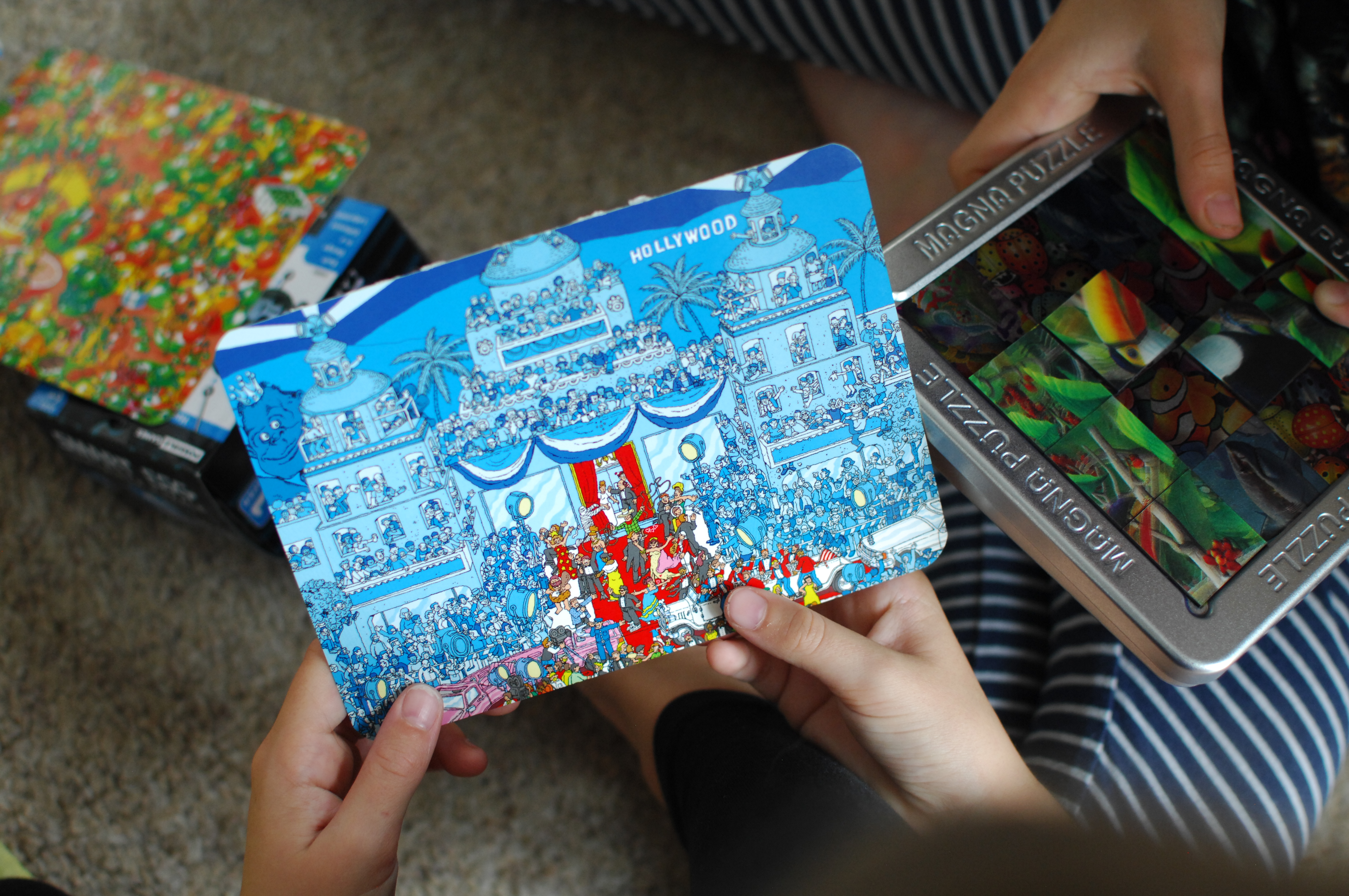 As I mentioned before, each month's subscription box follows a particular theme.  July's theme was 'Kids Rule', which was designed to show children that kids can achieve anything they put their minds to.  Alongside all the activities, each box also contained a booklet that was jam-packed full of interesting information, inspiring facts, fun puzzles and tricky challenges about how children can and have changed the world.
I think this theme is utterly brilliant – so many children feel that they don't really have a voice and I really believe in how very important it is to teach them that their ideas and what they have to say matters, to show them that they have the potential to really make a difference to this world in so many ways, and to instil in them the belief that their creativity and imaginations will help them come up with things that might seem impossible at first but with perseverance and hard work could actually become reality.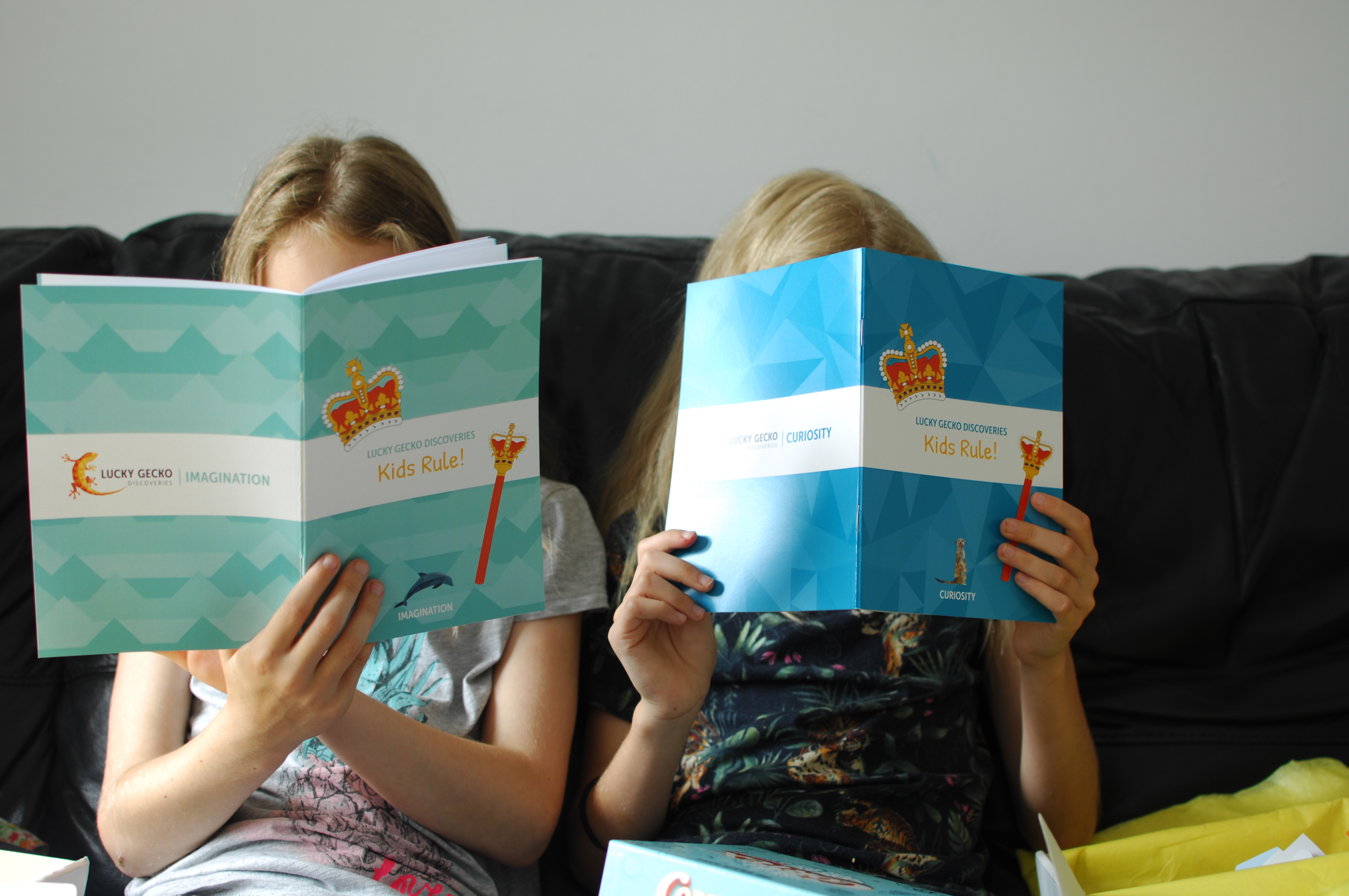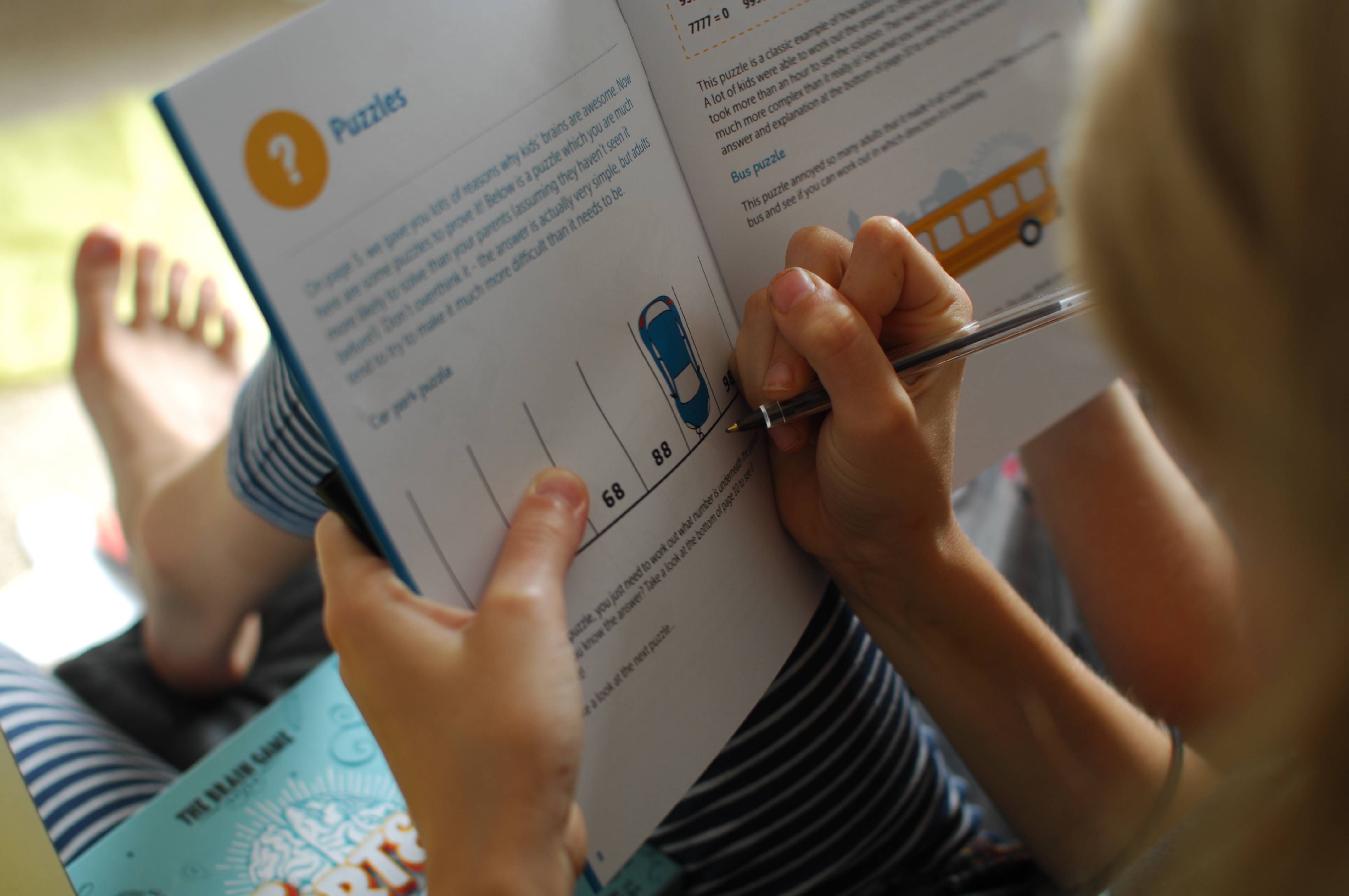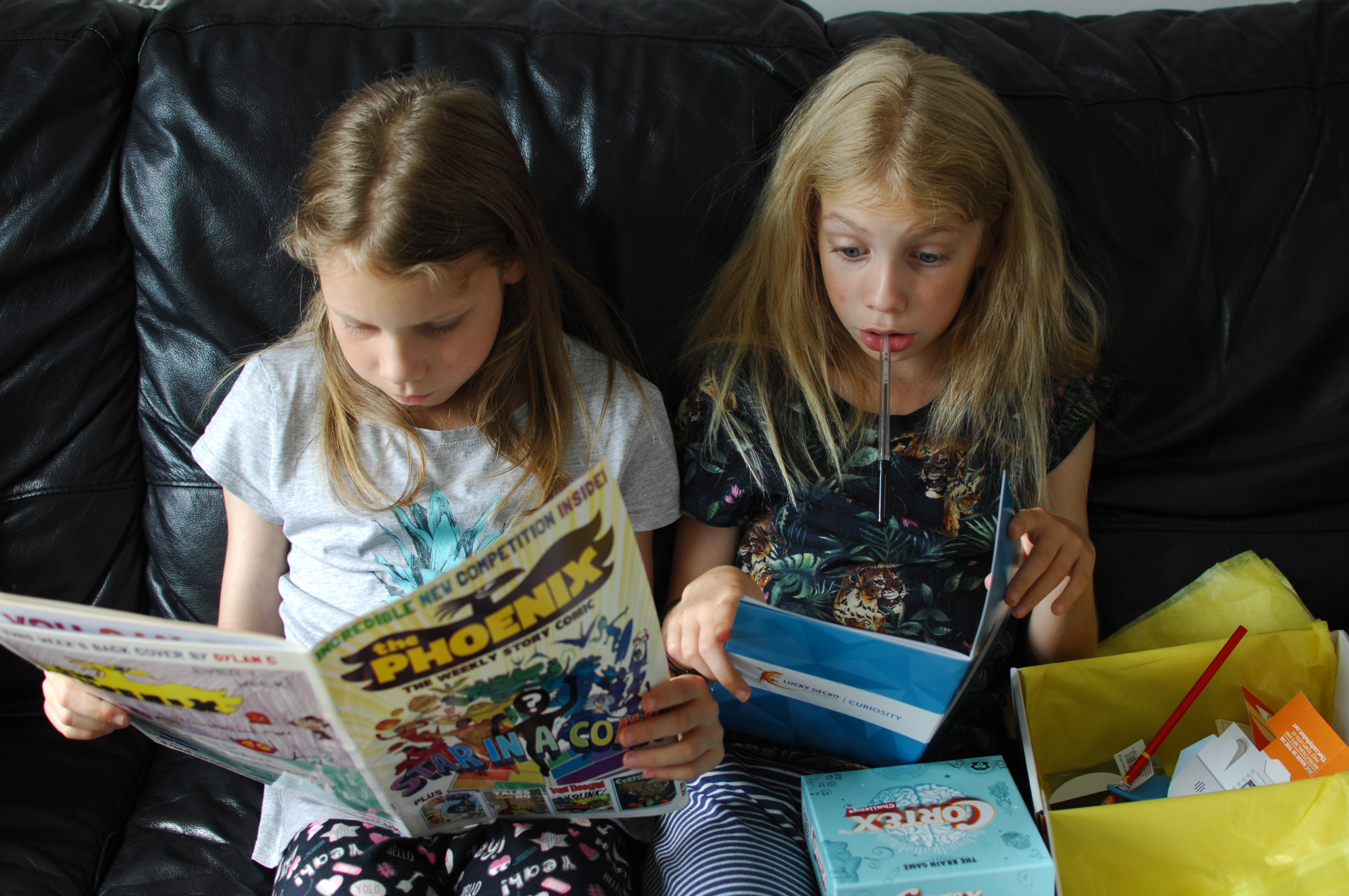 As you can see, each box is full to bursting of cool stuff and I think the girls were a little overwhelmed at first – there were so many things they wanted to do that they didn't really know where to start or what to try first!  Thankfully, a 'Parent's Guide' for each box gets emailed to you to explain what each of the items is and how it can help your child's learning and creativity.  It even contained some recommended reading suggestions for little bookworms who enjoyed the book that came in the Imagination Box.  Ella was particularly excited about this when I told her – she loves discovering new authors to try out and new books never fail to spark her imagination for writing her own stories.  She's currently saving up her pocket money to be able to buy the first one on the list.
We spent the whole day playing with the different items, though I think the favourite activity by far was building the miniature robots – they loved doing it!  I didn't really have to get too involved at all.  Ella figured it all out pretty quickly by following the instructions in the Inventors' Guide (and with a tiny bit of help from her Dad), and then she helped Mimi put hers together.  Seeing them work as a team together was really quite heartwarming – Mimi quite often competes with and compares herself to her big sister, and in her eyes comes up short.  She doesn't really of course, and I think sometimes she forgets that she's 18 months younger than Ella (as do I occasionally!) but it affects her confidence in herself massively and sometimes ends up in a bit of a squabble.  Not with these robots though – both girls were super-proud of what they'd made and you could see the sense of achievement they got from doing it together.  They named their creations 'Bobby and Robbie: The Robot Twins', and were delighted when they scuttled around the kitchen floor after charging the fizzbit motors for a minute in the USB port of my laptop.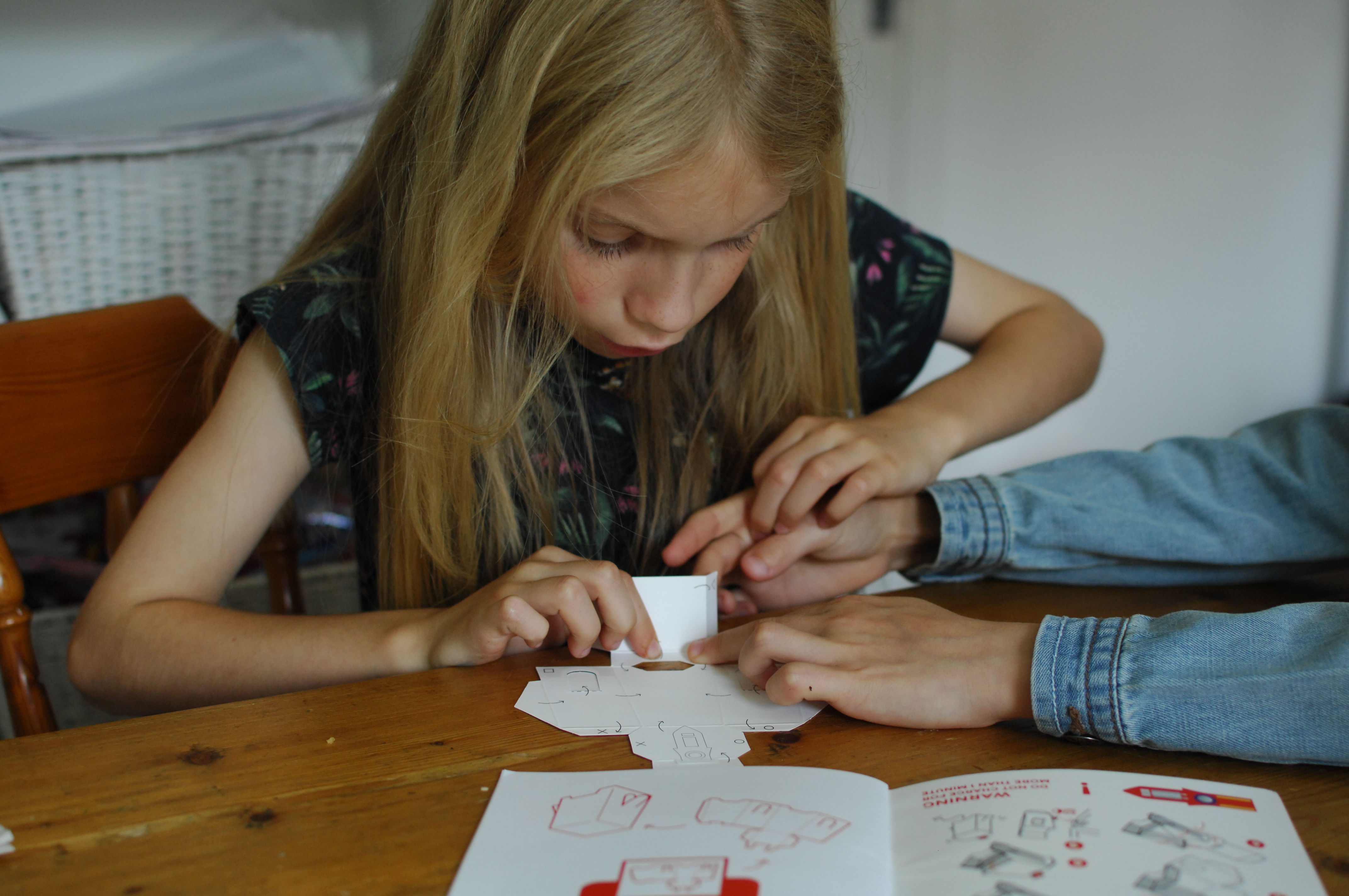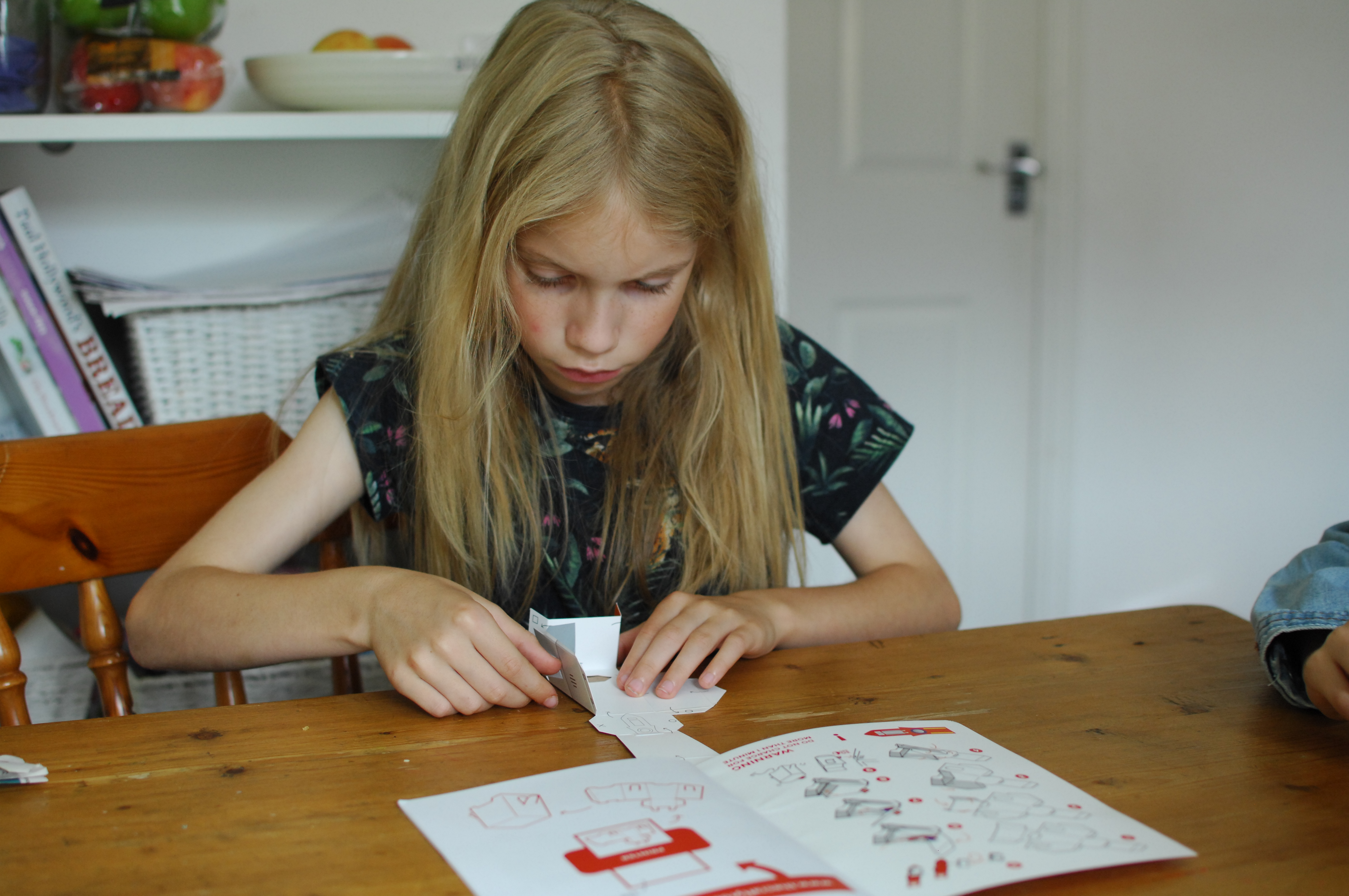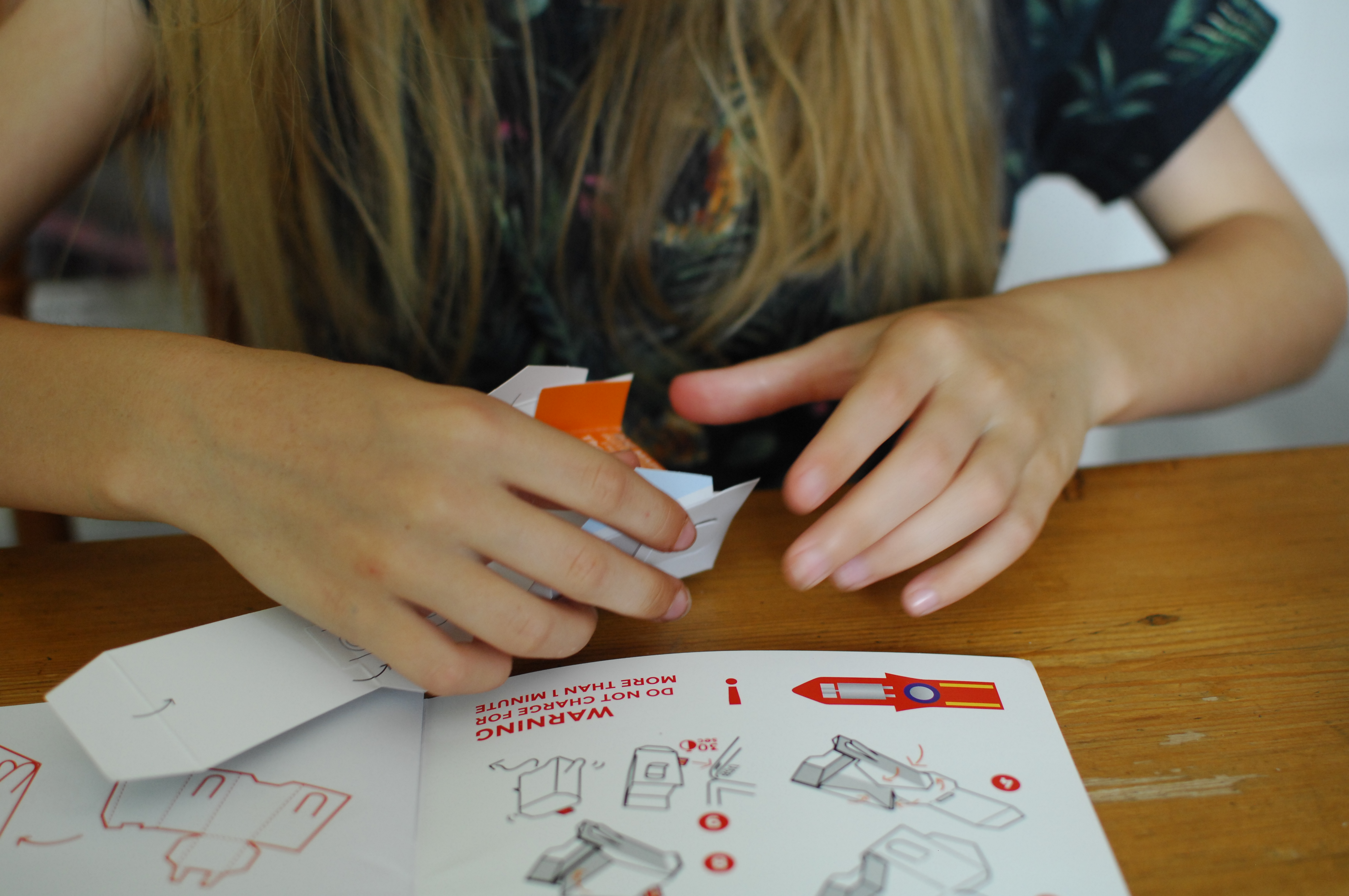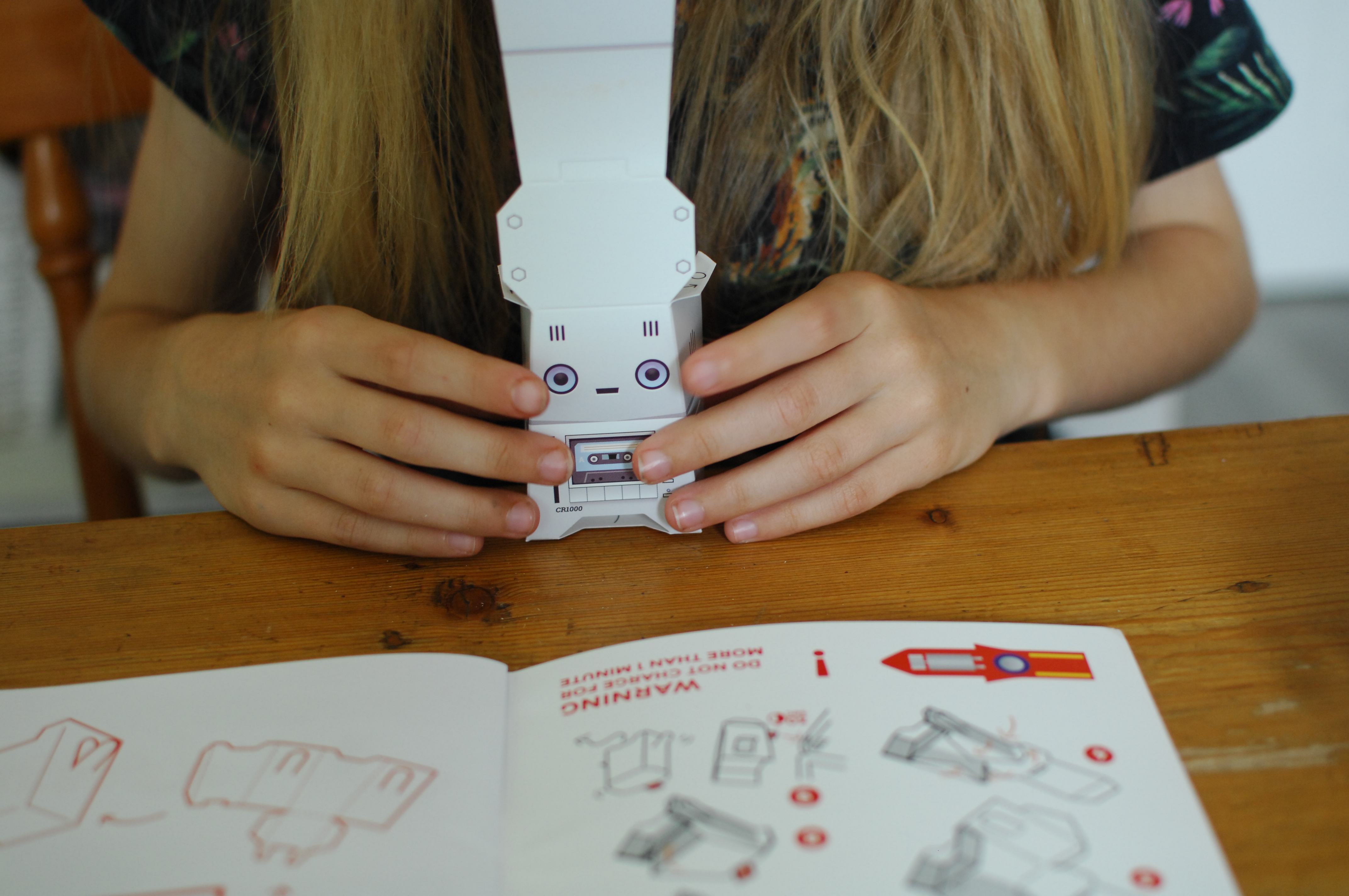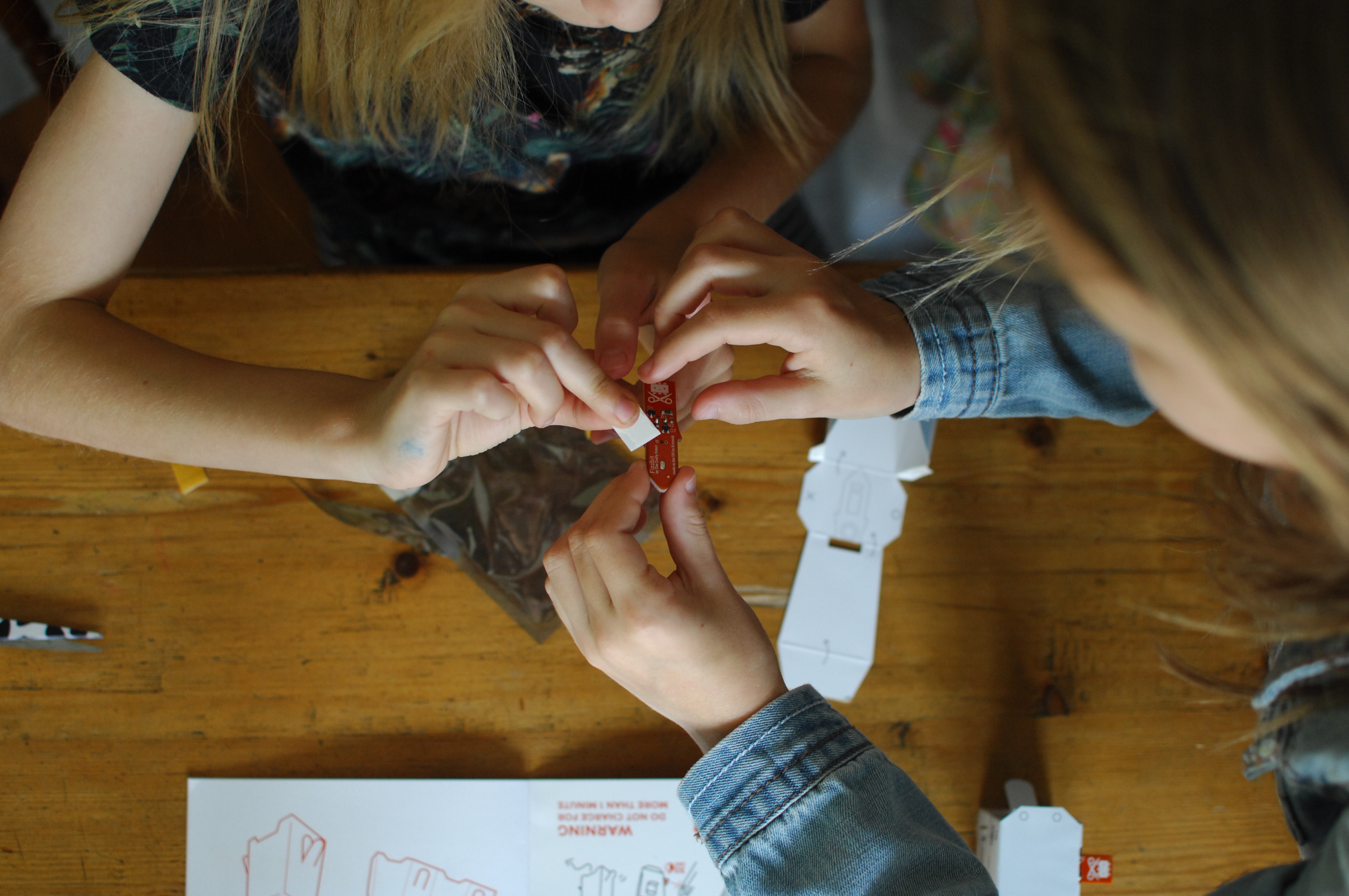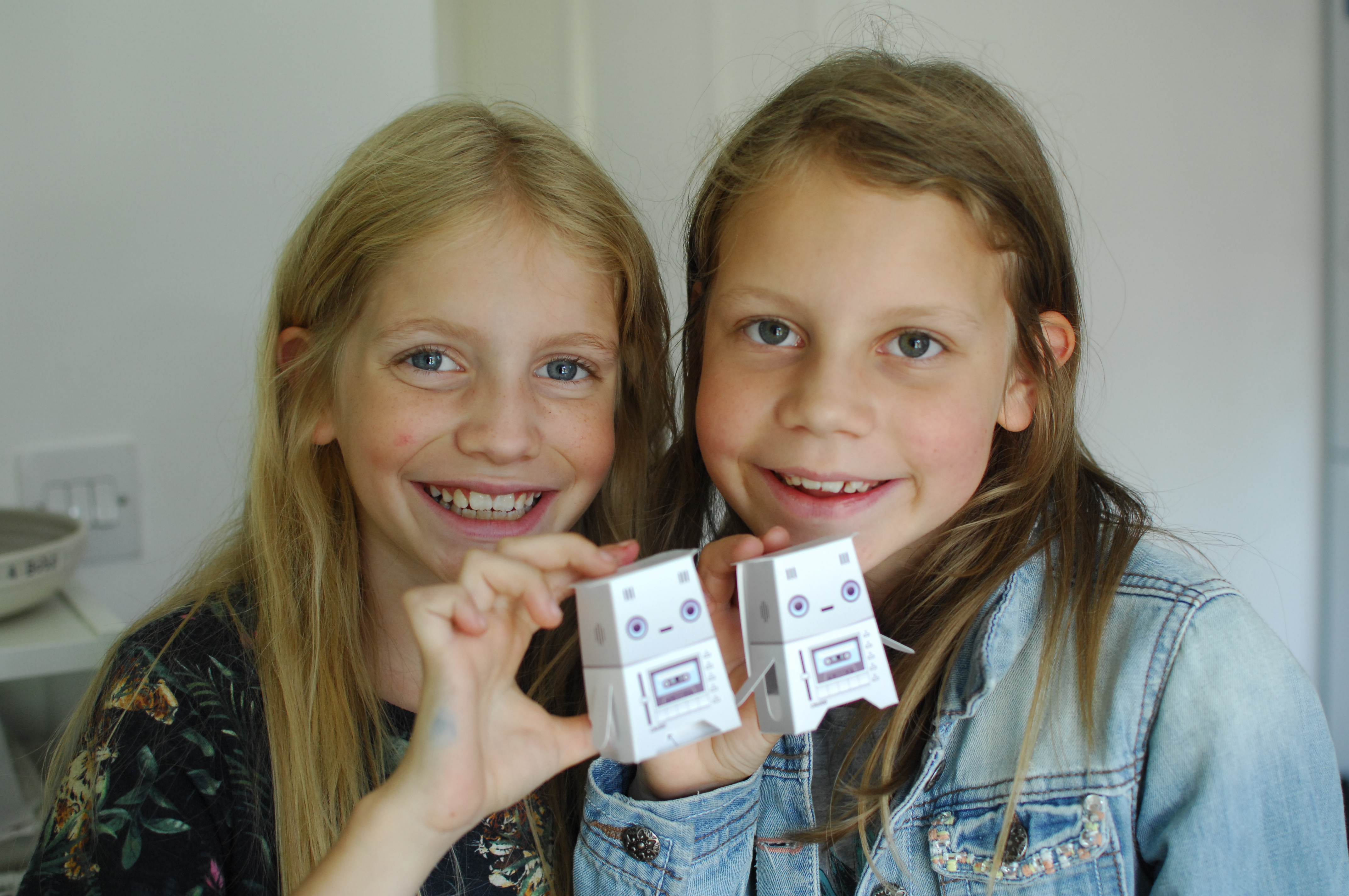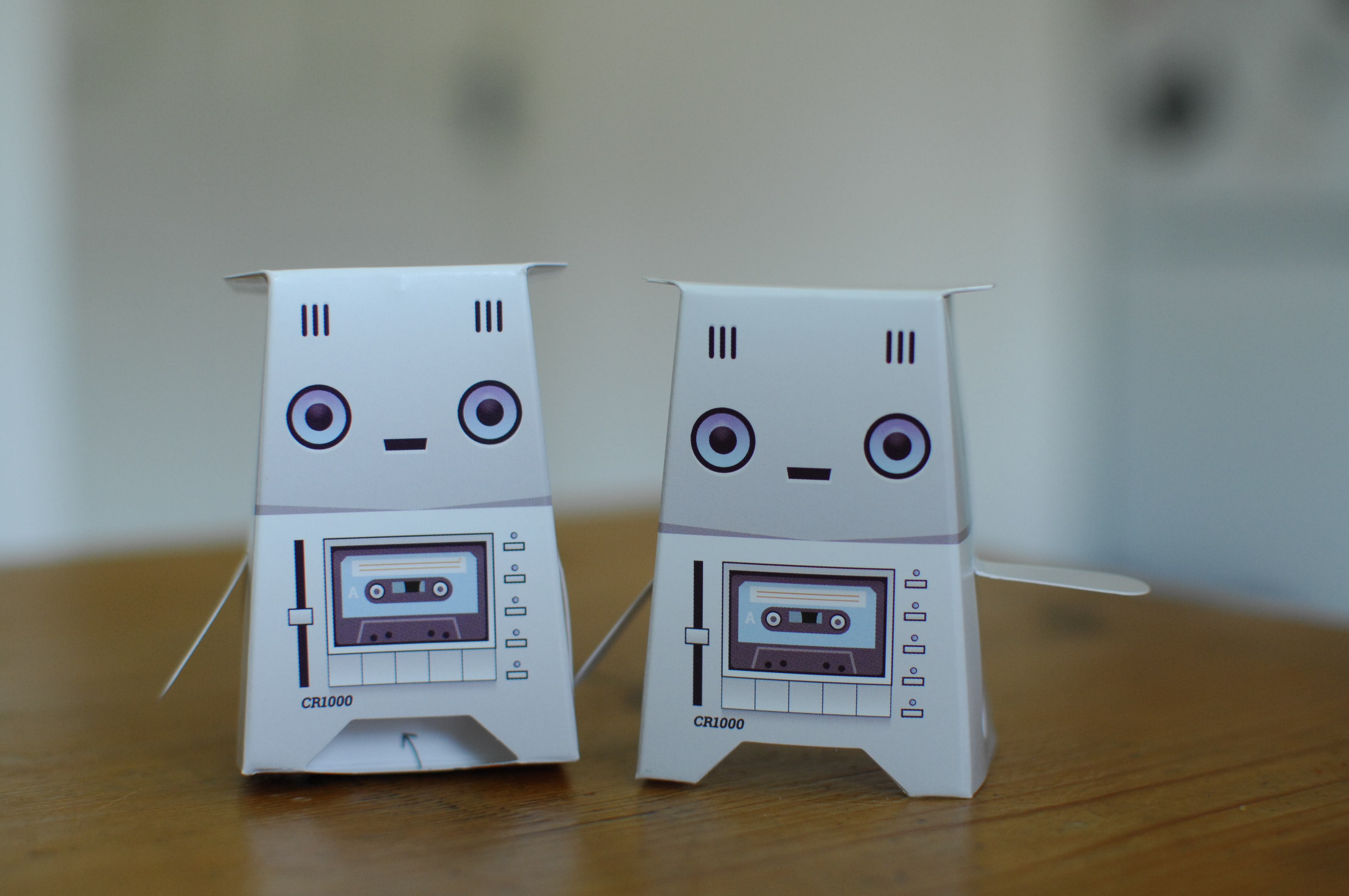 I can honestly say that the Lucky Gecko Discovery Boxes are brilliant.  I've deliberately left it for a few weeks before writing up this review post as I wanted to see whether the girls would only be interested on the day we received the boxes or whether they'd go back to them further down the line.  I'm delighted to say that they have repeatedly gone back to them, especially on rainy days.  I'll often find Lola frowning in concentration at her Smart Egg puzzle, or Ella with her nose in the book (she's read it twice already), or Mimi making notes in her create your own comic notebook.  And we've all found the 'Cortex' game to be great fun (and quite challenging!) – it would be perfect for taking way on holiday as the whole family can join in and it's a pretty portable size too.  I'll definitely be popping it into our suitcase when we go away later on in the year.
I asked my girls to tell me what their favourite thing was from their box and why they liked it so much.  Here's what they said:
Ella:  "My favourite thing was the book because I love to read and it was really funny"
Mimi:  "I had two favourite things.  I liked the robot because it was cute and funny, and I loved the Cortex game because it was fun to play"
Lola:  "My favourite thing was the invisible ink pens.  I'm going to use them to write secret messages to my best friend"
I can really see how a monthly subscription to Lucky Gecko Discovery Boxes could help children really engage with learning in a different way, fuelling their desire for knowledge and curiosity in the world.  They'd be perfect for those of you who homeschool your children as well – the monthly theme could spark so many other ideas for projects or discussions of offshoot topics to explore.
The Lucky Gecko team have very kindly offered my readers a discount code, so if you want to try out a subscription box all you need to do is head to http://www.luckygecko.com/ to place your order and then enter the code PTMM15 at the checkout.  This will give you 15% off for the lifetime of your subscription.  The code is valid until 15th September so you'll need to be quick because the summer holidays are fast disappearing and the children will be going back to school before we know it!
Please note:  We were gifted these items to review.  All opinions and images are my own.