A little while ago I published Part One of 'Our Top Ten things To Do In Bude', promising that Part Two would follow in a couple of days time.  Those couple of days have ended up turning into a couple of weeks – the summer holidays have been busier than I expected them to be so far and as I started putting the post together I realised how much more I still had to say about how awesome Bude is, so it's taken me a little longer to write than I anticipated!  Apologies for that – I hope it's worth the wait 🙂
In Part One I talked about walking over the top; searching for shipwrecks; crazy golf; the best place to get ice cream; and treasure trails.  This post covers even more of Bude's hidden gems, so, without further ado…
6. EXPLORE BARREL ROCK AND THE PEPPERPOT
On the southern side of Summerleaze Beach is the Breakwater, a structure designed and built in the mid 1800's to protect Bude Canal and the Sea Lock a little further up the beach.  It stretches out towards a series of jagged rocks which defiantly jut out into the ocean, creating spectacular displays of sea spray as the waves break over them.  The Breakwater itself is safe enough to walk along and it offers impressive views across Summerleaze Beach back towards Bude Sea Pool and the town itself.  We love to walk along it all the way out to Barrel Rock right at the end.  There is usually more than a little bit of rock-scrambling and feet-getting-wet-in-unexpectedly-deep-rock-pools involved, but if you've got a sense of adventure it's well worth the effort.  Our girls occasionally need a little bit of a helping hand from time to time up the steeper, more uneven areas, and they're always really proud of themselves when they make it all the way out to the end where there's nothing between them and the ocean.
Once we're back where we started on the Breakwater, we sometimes head up the grassy headland of Compass Point – at the very top is Bude Storm Tower, known locally as The Pepperpot.   It was originally built as a shelter for the coastguard and it has the points of the compass engraved around it's upper circumference.  The views back across the town and it's glorious beaches are even more special from this high up (and it's super-fun rolling and cartwheeling back down the hill!)
7.  WATCH THE SUNSET
Even though Bude is on the northern coast of Cornwall, it has a unique position in that it actually faces west (confusing I know but if you check a map you'll see what I mean).  This means that you get the most INCREDIBLE sunsets over the ocean.  I love sunrises and sunsets – there is something magical about seeing the dawn and close of a day.  I make sure that watching the sunset is something we do together as a family every year when we visit.  I remember the very first time the girls saw the sunset over the ocean – they were in utter awe at how beautiful it was.  We have two favourite places to watch the sunset in Bude (though I'm sure here are probably plenty of others too).
On the very rare occasion that we've had someone to look after the girls for us for an evening, the husband and I take the opportunity to sneak off for a walk 'over the top' (see Part One) and watch the sunset from the clifftops between Crooklets and Summerleaze beaches.  Neither of us are particularly romantic, but walking hand in hand and quietly taking in the view is a pretty special memory for me.
The other best place we've found for perfect sunset viewing is from our favourite restaurant – The Bay View Inn at Widemouth Bay.  It's a great place to go with kids as there's an outdoor adventure playground and fantastic food.  The girls request dinner there every time we visit Bude and we make sure we time our reservation (it's essential to book in advance – it gets busy!) so we can watch the sunset afterwards.
8.  GO FOR A DAY TRIP
Bude is an excellent gateway for exploring further into Cornwall and so each year we make sure we have a 'big day out' and visit somewhere new on a little mini road trip.  There are sooooo many cool places to visit – we've been to a different place every year and we still have a big list of other towns and attractions we haven't explored yet.  Our favourites so far have been as follows:
The Gnome Reserve:  about half an hour (ish – we got a bit lost trying to find it!) from Bude, near Bradworthy in Devon, is a quirky little place that is home to hundreds of gnomes, fairies and pixies.  It's compulsory to wear gnome hats when you visit (cheesy photos galore!) and I definitely recommend having a chat with the woman who runs the place.
Tintagel:  the legend of King Arthur, Merlin's Cave, hundreds of steps and the most amazing views of the coastline.  Definitely pay a visit to this magical place.
Boscastle:  I really loved Boscastle – more than I was expecting to.  The Museum of Witchcraft was fascinating in so may ways and the walk to Pentargon Waterfall is beautiful. 
The Eden Project:  a must visit.  It's about an hour and a half away from Bude, but you'll spend the whole day there as thee is so much to see and do and explore.  We used Tesco Clubcard vouchers to pay for our entry fees.  If you want to know more I wrote this post all about it when we visited last year.
The Lost Gardens Of Heligan:  a little bit further south than the Eden Project but well worth the extra time in the car.  I had high hopes of Heligan – I'd been looking forward to visiting for such a long time and it more than met my expectations.  It's beautiful there, and the Burma Rope Bridge was the highlight for me.  You can find out more in this post I wrote after we visited at Easter.
Hidden Valley Discovery Park:  near Launceston, about half an hour away from Bude.  A really fun day out full of puzzles and missions to complete – if you've got slightly older kids (7+) they'll really enjoy it.  I wrote this post about it after our visit earlier on this year.
9.  WALK DOWN THE CANAL
Something that has become a bit of a tradition whenever we visit Bude is to go for a walk along the canal with my Aunt and cousin, who both live in Bude.  I love having the opportunity to catch up with them and have a good natter and the girls love to take their scooters, watch the kayakers and peddalo riders, and see what wildlife they can spot along the way.  We start at the Tourist Information Office and end up at The Weir Café and Bistro, which has excellent ice cream, an awesome adventure playground for big and little kids, a good selection of lunchtime and evening meals, coffee and cake and lovely views across the lake where you might spot a heron or two.  These photos are a selection from our last few years of visiting (hence the different outfits!)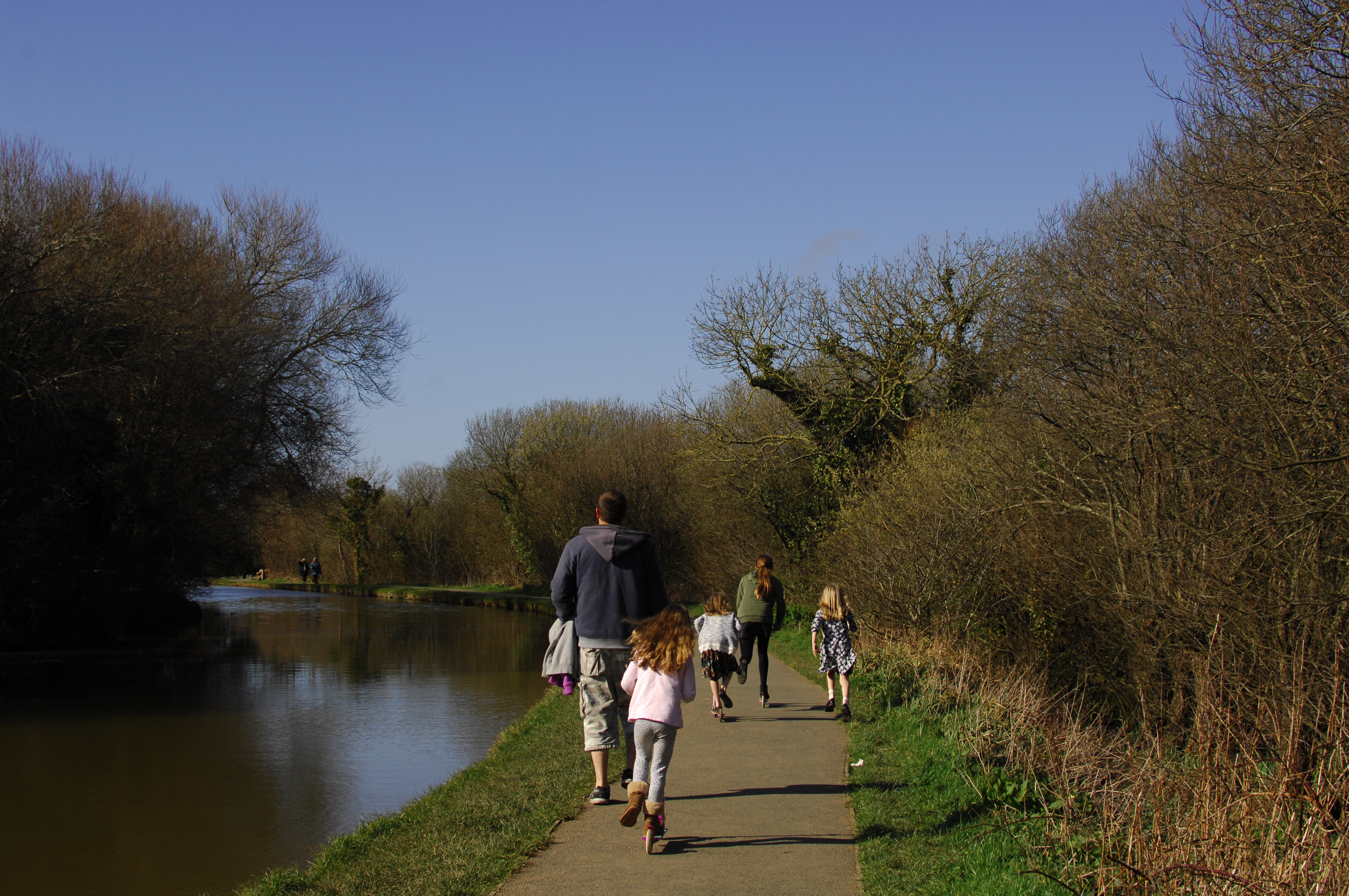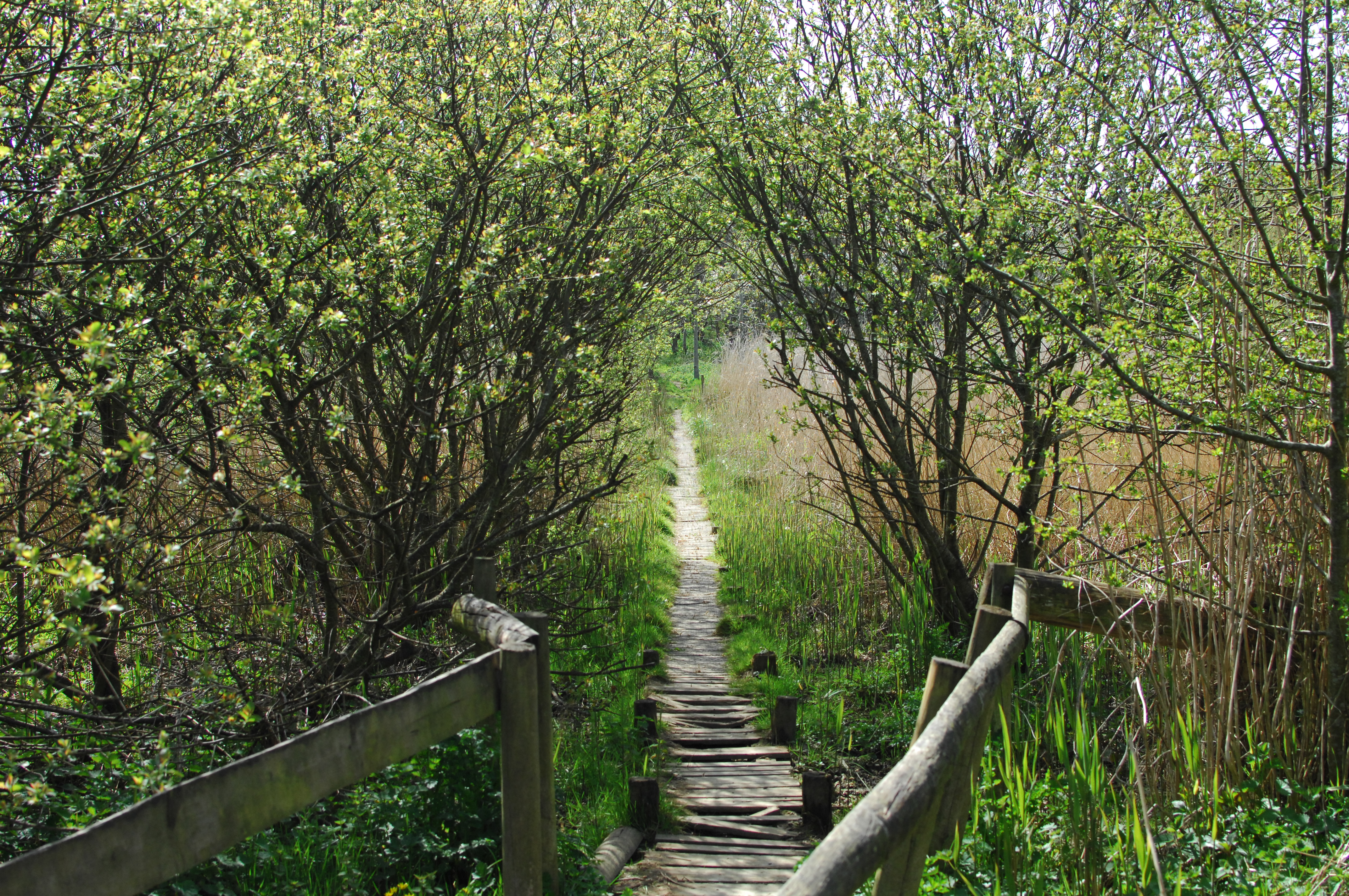 10.  EXPLORE THE BEACHES
Last, but by no means least, how could I create a top ten list without including time at the beach?!  As I've mentioned before, Crooklets is our favourite beach (mainly because it's the closest to where we stay), with Summerleaze coming in a close second.  There are many others in and around Bude to explore as well.  Widemouth Bay is just three miles or so away – I have many fond childhood memories of building sandcastles, bodyboarding, and eating sandwiches behind the windbreak there.  I've also heard good things about how beautiful and secluded Sandymouth and Duckpool are, though we've not visited them personally yet.
We visit the beach whatever the weather and go rockpooling, play 'catch', hunt for shells, build sandcastles, jump over the waves and play beach cricket – there's always something to do.  These photos are a selection of my favourites from the past few years.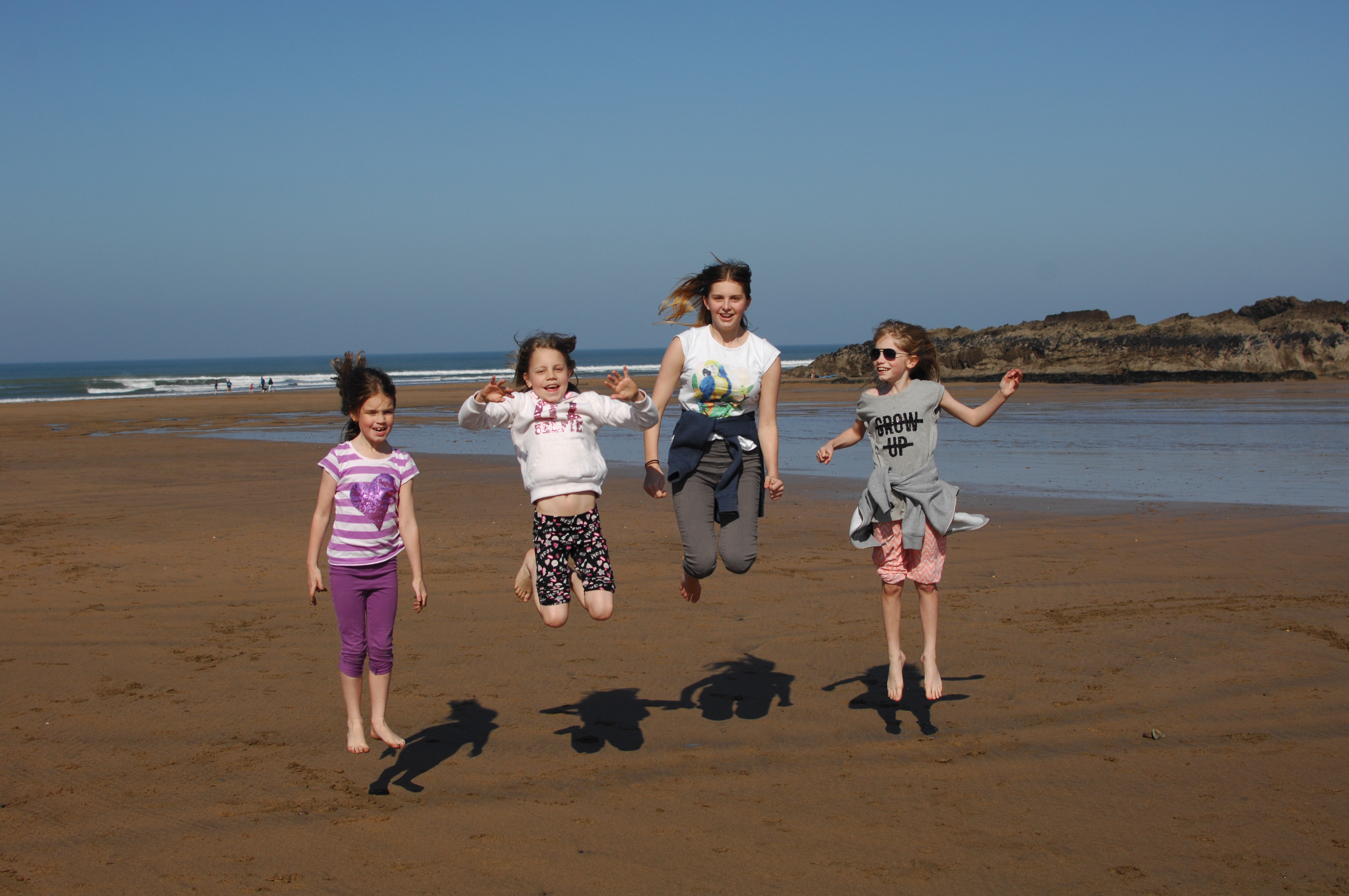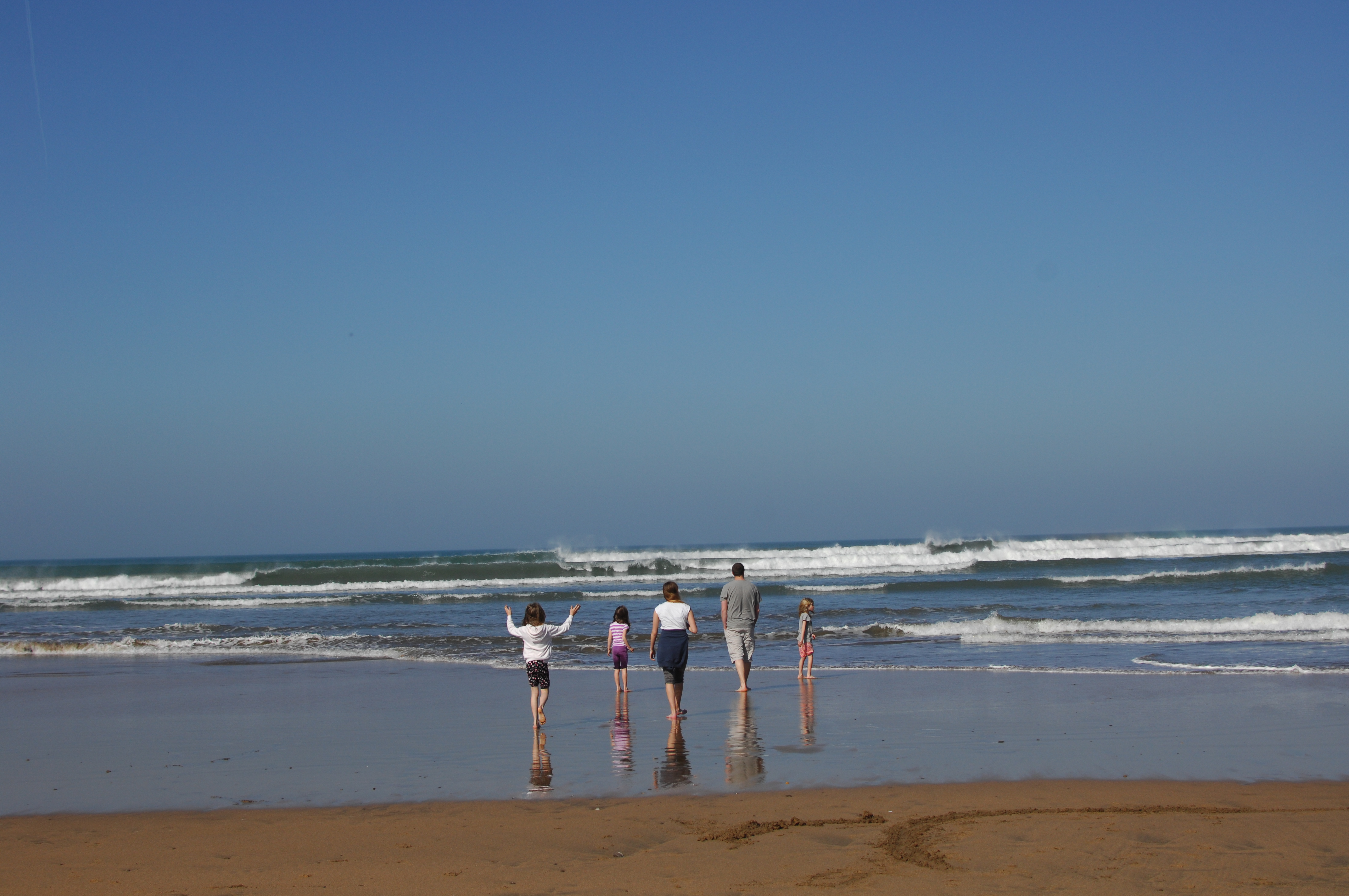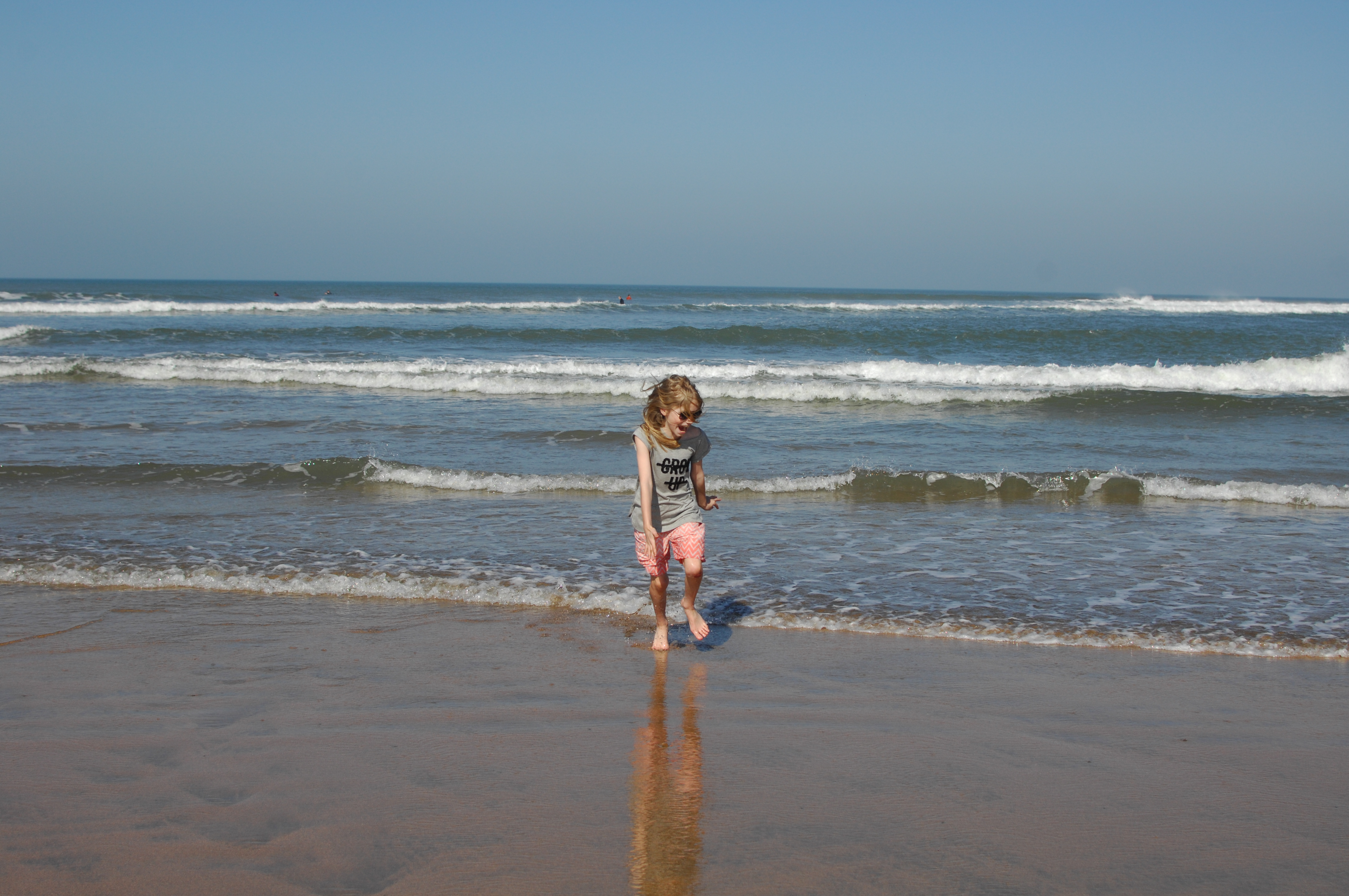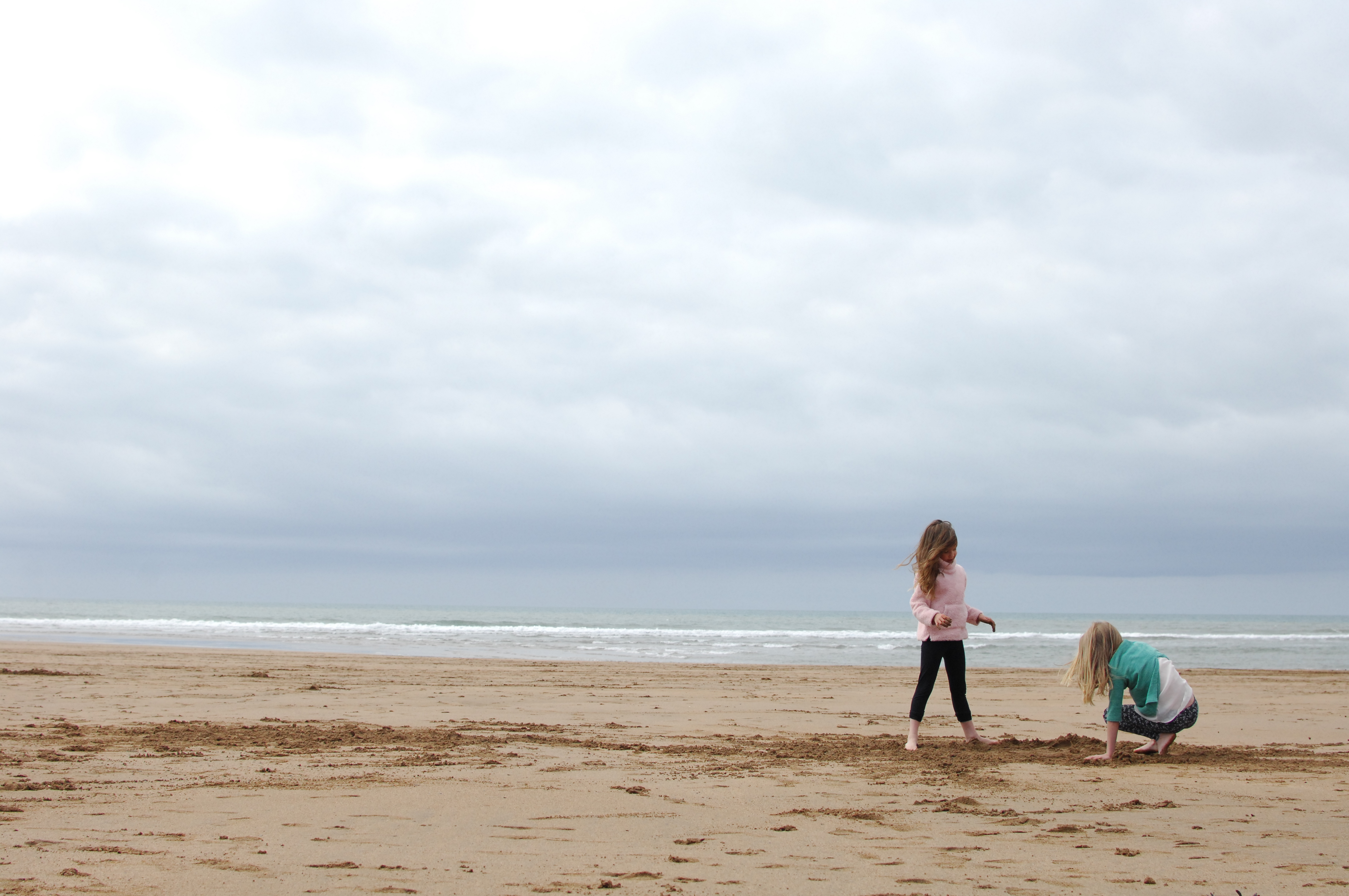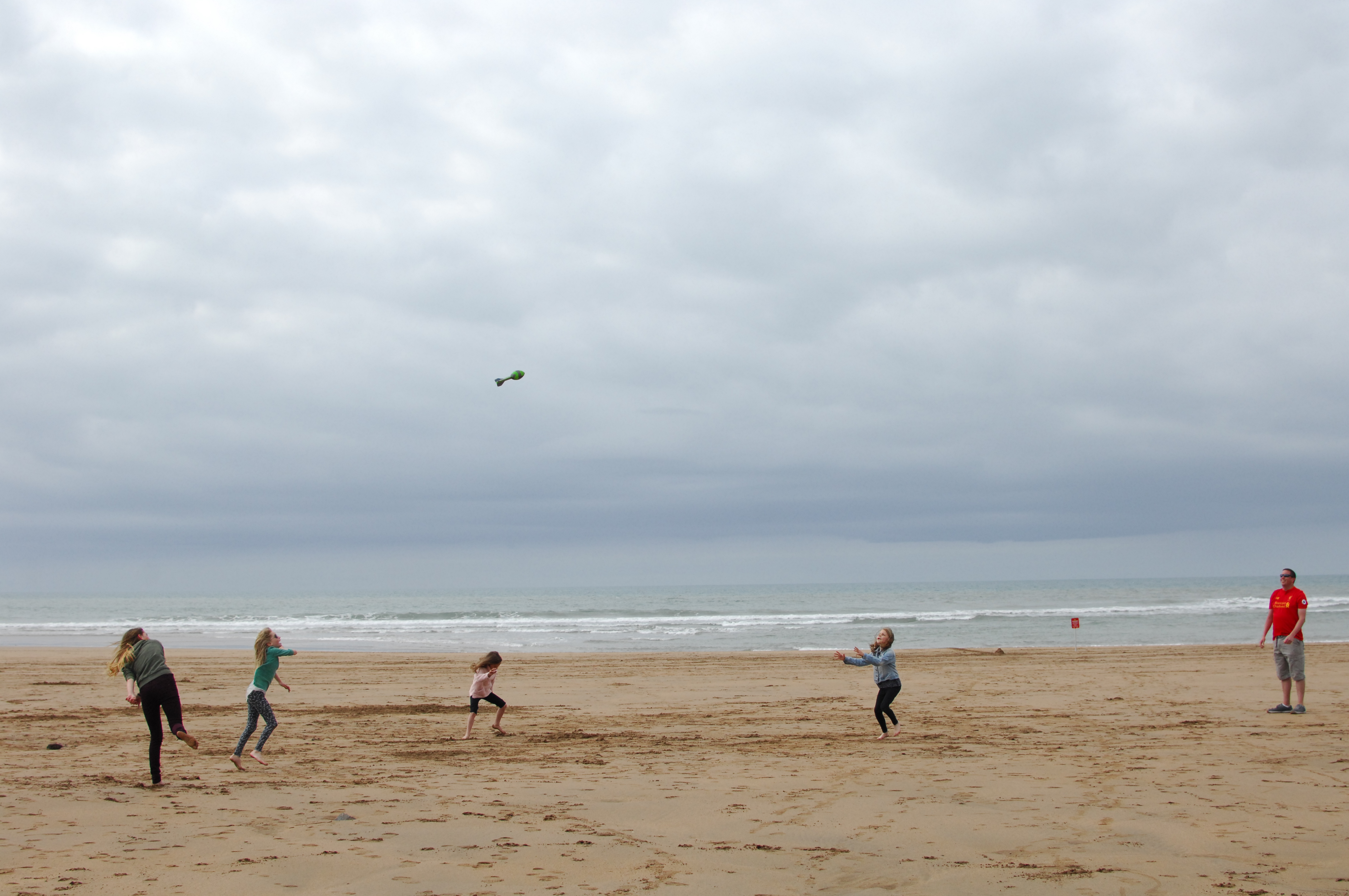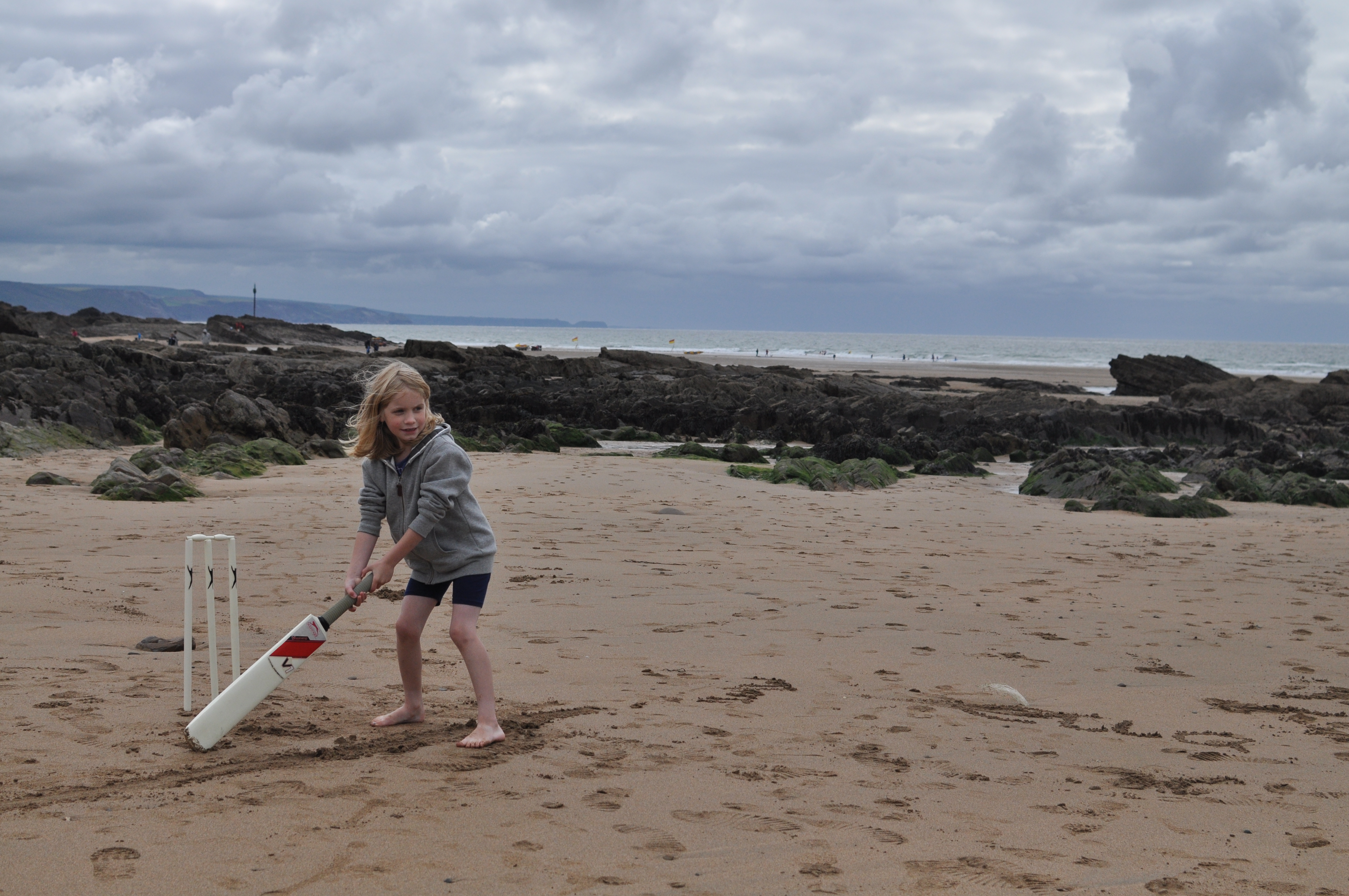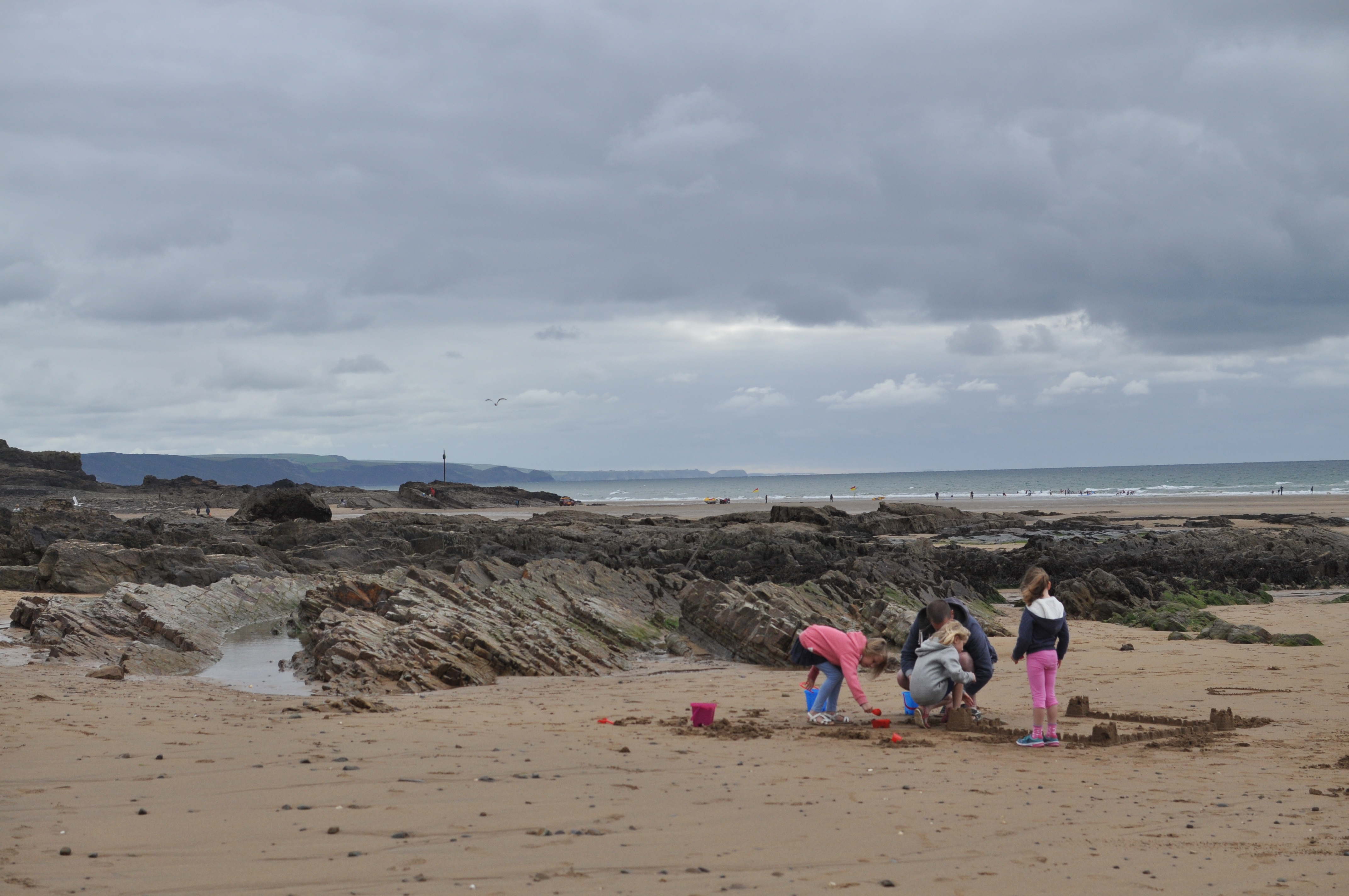 There are plenty of rainy day activities in Bude as well, so if you do get a day or two of less-good weather you can still keep busy.  There's bowling, a soft play for little ones, swimming, funky little shops to look around (we like Spencer Thorn bookshop and WildWood), The Rebel Cinema… and if you're staying somewhere ace like The Beach Haven (which is where we stay) there will be an extensive library of CDs to listen to, DVDs to watch and board games to play as well.  Or you could just go to the beach anyway!
Writing all of these tips has made me desperate to be back in Bude – I feel a bit sad that we have to wait until May for our next visit  as that feels like forever away.  Looking back at all of these photos – a mix from our last four years of visits – is making me feel more than a little bit nostalgic.  Our girls look so small in some of them!  Magical memories get made whenever we visit this wonderful place and I know we'll keep coming back year after year because even if we do everything on this top ten list every year there are always new things to discover.  Still on our list of places to explore are St Ives, Port Isaac, Padstow, and St Michael's Mount.  We also want to head east into Devon to visit Lydford Gorge, Ilfracombe/Woolacombe, Croyde, and Saunton Sands.  We want to hire a peddalo on the canal, watch a film at The Rebel, visit some beaches we haven't been to yet and so much more.
I hope you've enjoyed reading these lists as much as I have enjoyed writing them.  I'd love to know if you do any of the things I've suggested and what you thought of them.  And if you have any questions about anything I've mentioned or want a bit more detail, please do feel free to leave a comment below or email me at hello@picturetakermemorymaker.co.uk – I'd love to hear from you!
Please note:  no one has asked or paid me to write this post.  All thought, ideas, opinions, feelings, words and images are my own.