When I bought my ticket and booked my classes for ClickAway 2020 in Atlanta, I deliberately made sure that I left plenty of space in my schedule so that I could get out and about and explore the city in between lessons.  I did my research and it turns out that there are tons of fun things to do in Atlanta.
Visiting new places is one of my most favourite things to do.  It doesn't matter whether it's a tiny village by the sea or a sprawling urban city, at home in the UK or abroad. I just love finding cool things to do, learning interesting things about a place, meeting people who live there, seeing the sights, discovering off-the-beaten-track locations and (of course) documenting it all on camera.
Usually we travel as a family.  There is something infinitely magical about experiencing a place coming to life through your children's eyes, seeing them light up inside at the prospect of a new adventure, watching the wonder on their face as they realise just how small they are and also how connected we all are to each other no matter the colour of our skin or the language we speak.
However, this visit to Atlanta was a solo trip, just for me.  I really enjoy travelling by myself on the very rare occasions I get to do it, even though I miss my girls and my husband enormously whilst I'm away.  There were many moments in Atlanta where I had to catch myself from saying "Oh look at this!", suddenly remembering that there was no one with me.  It felt weird taking photos and video footage without them in it.  Really weird. It was also wonderfully liberating being able to go wherever I wanted, whenever I wanted, and to get there however I chose (I walked EVERYWHERE).  I did my best to squeeze in as much as I possibly could in the time that I had and I'm pleased with how much I managed to see and do.
Atlanta, Georgia
The US state of Georgia sits just north of Florida, in the south eastern corner of the States.  It's known as the 'Peach State' and Atlanta is it's capital.  Atlanta is an interesting and quirky blend of southern charm, history and cuisine mixed with urban city life and a touch of Hollywood too thanks to the numerous movies and TV shows (The Walking Dead, Stranger Things and Hunger Games to name a few) that have been filmed there.
I honestly loved it there – it's like nowhere else I've ever been before and I could have spent far longer there than the time that I had.
After doing some research it looks like the rest of Georgia is rather spectacular too and I have a feeling I'm going to have to make a return visit with my husband and girls so we can see more of what it has to offer.  There are plenty of interesting things to do in Atlanta itself (see below!), and even more opportunities to explore if you venture further afield – the cherry blossom festival in Macon, waterfalls and mountains in the north, plus wild and expansive beaches to the east are just a few examples.
Top Ten Things To Do In Atlanta
There are TONS of cool things to do in Atlanta whether you're travelling solo, as a couple, as a family, spending a whole week there or, as is often the case, just passing through the airport with a few hours to spare.  (Fun fact:  Atlanta's Hartsfield-Jackson airport is actually the world's busiest airport by passenger traffic.  It's used as a main hub for both domestic and international connecting flights.  To give you some idea of it's size, it has 192 gates in total and over 1 million flights per year!)
This list of top ten things to do in Atlanta is just a sample of what you can get up to – there were so many more places I could have explored, attractions I could have visited and sights I could have seen.
In no particular order, here's my list of some of the best things to do in Atlanta…
#1:  Atlanta Botanical Gardens
Whenever I visit a new city, I try and spend some time at the Botanical Gardens.  I much prefer nature to city-life, so I really enjoy exploring whatever slice of greenery I can get amidst the high-rise buildings and busy roads.  My trip to Georgia's capital was no different and a visit to the Botanical Gardens was top of my list of the things to do in Atlanta.
It was early March when I visited, so the gardens weren't in full bloom and the trees were still mostly bare.  It didn't matter – the Atlanta Botanical Gardens were beautiful and I could easily have spent a whole day there just wandering quietly through all the different sections and displays.  As it was, I only had a couple of hours so I did my best to make the most of it and it was 100% worth the $23.90 entry fee.
I started off by meandering through the Canopy Walk in Storza Woods, then discovered the Earth Goddess sitting peacefully in the Cascades Garden.  She reminded me a little of the Mud Maid at the Lost Gardens Of Heligan in Cornwall or Te Fiti from the Disney movie 'Moana'.
From there I looped back through the Seasons Garden, the Japanese Garden, the Rose Garden and past the Great Lawn to visit the Fuqua Conservatory and Orchid Centre.  I love tropical greenhouses so this was probably my favourite part and the orchids were so beautiful.  It's the largest orchid centre in the whole of the USA and it definitely deserves the title – the array of different varieties was immense!
I emerged into the Skyline Garden which (at the time I was there) had an Alice In Wonderland theme as well as impressive views of the city.  The walk back to the entrance/exit took me through the Anne Cox Chambers Flower Walk, which was a cheerful cacophony of rainbow coloured tulips happily nodding their heads in the sunshine.
It was a really lovely way to spend a morning and you could easily make a full day of it too.
#2:  Tiny Doors Atlanta
Tiny Doors Atlanta is a unique art project "bringing big wonder to tiny spaces in Atlanta" and best of all, it's completely free to follow the trail.  There are about twenty 'tiny doors' hidden in plain sight all over Atlanta.  Each door is about seven inches tall and completely individual in design, usually tied in with the location they're found in.  They're dotted in numerous places throughout the city and there is a map on the Tiny Doors website if you want some clues as to where to look.
The doors are quite spread out over several different suburbs so I concentrated on finding the ones that were in areas I already knew I'd be exploring.  Even so, I only managed to find three of them!  One at the Woodruff Art Centre in Midtown, near(ish) to the hotel I was staying in, one at the start of the Atlanta Beltline Eastside Trail and one at the Fox Theatre in Downtown.
I really wish my girls had been with me as this kind of activity is the sort of thing they love to do.  I'd definitely count it as one of the best, family-friendly things to do in Atlanta – I got so excited every time I found one, even though I was on my own!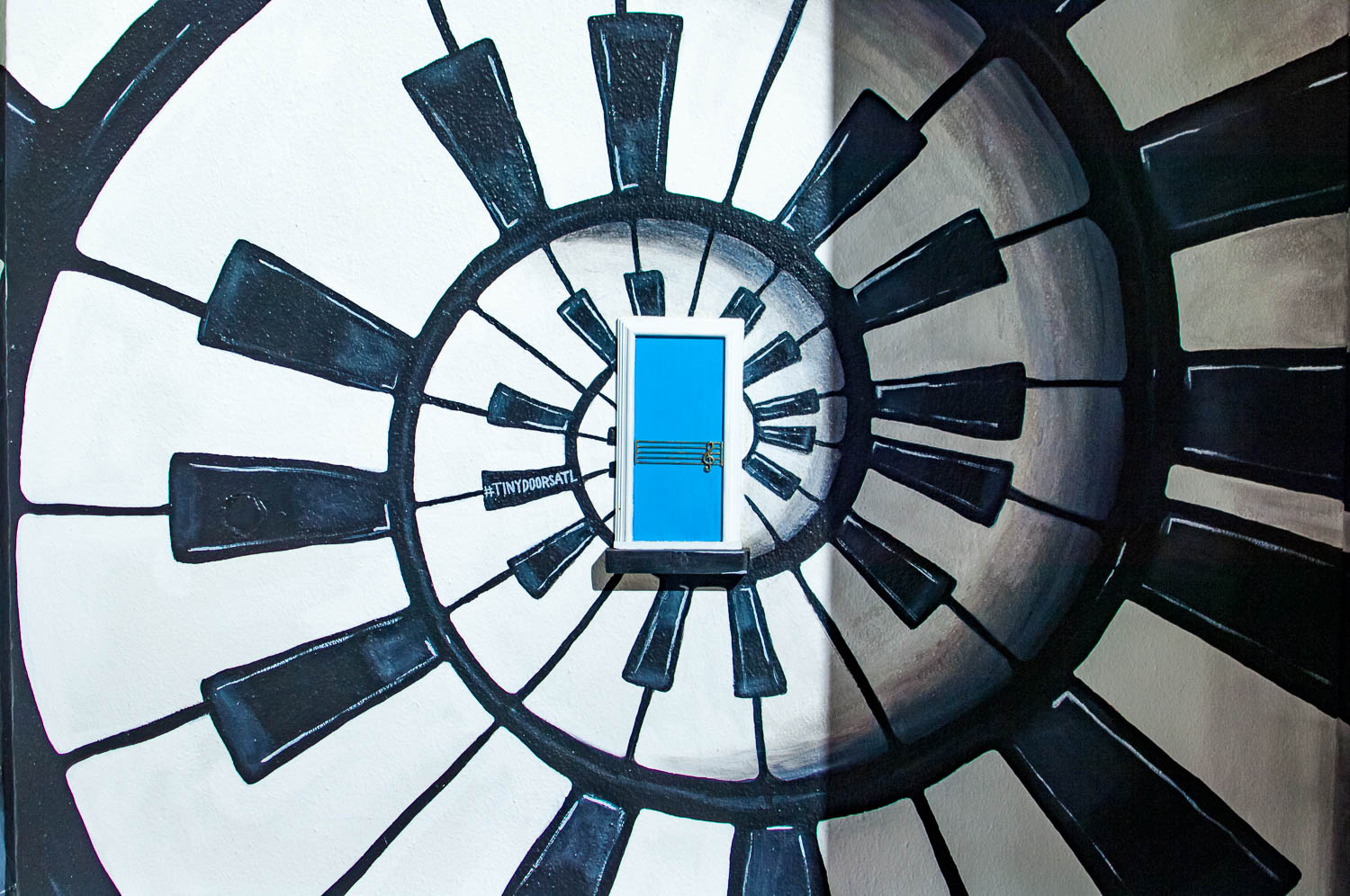 #3:  Atlanta Beltline
The Atlanta Beltline is a huge network of trails within the city that are designed as public spaces for people to walk, run and cycle in the fresh air.  There are four main trails (Northside, Eastside, Southside and Westside) plus multiple interim trails and numerous parks scattered along the routes too.  As well as being used for fitness purposes, the trails are also utilised as spaces for community art exhibitions and special events.  You can even take a tour of the beltline by bus or bike.
I decided to explore the Eastside Trail as I knew it was the best way to get to Ponce City Market (see the next section below).
The Eastside Trail runs roughly 3 miles from the south-eastern corner of Piedmont Park in Midtown to the Krog Street Tunnel in Reynoldstown (a 6 mile round trip) via the Old Fourth Ward and Cabbagetown.
The weather was absolutely glorious whilst I was in Atlanta and as a result the Eastside Trail was busy with people taking advantage of the warm sunshine.  I took my time, enjoying the walk and gazing at the numerous art installations, painted murals and blooming magnolia trees that lined the trail.  I even had to dodge someone riding a Penny Farthing bicycle at one point!
I imagine the other Atlanta Beltline trails are just as interesting and scenic – they're a great way to get your bearings around the city and perhaps see it from a different angle than you would if you stick to the city streets, plus they're continuously being developed to be even more user-friendly.  A stroll along one of the Beltline Trails is an essential thing to do whilst in Atlanta.
#4:  Ponce City Market
Ponce City Market is located inside an enormous abandoned and disused, old, brown, multi-storey factory building and can be accessed from the Atlanta Beltline Eastside Trail.
It's not much to look at from the outside but inside is another story – it's fantastic!  It's been transformed into a vibrant community hub and it's now become a destination in it's own right.  Ponce City Market is home to multiple floors of cool urban décor; creative artwork; funky boutique shops selling anything and everything from clothes to jewellery to home products; independent coffee shops and a huge variety of food outlets covering cuisines from all around the world.
It smelt heavenly and was a feast for all of the other senses too.  It's a popular meeting point and bustling melting pot of people from all walks of life – families, friends, couples, kids, teens, solos, tourists and locals.  I could have spent hours and hours there just soaking up the colourful atmosphere, never mind wandering around all the shops and trying all the food.
Whether you're a foodie, a people-watcher or a creative, even if you're only in the city for a short amount of time, make Ponce City Market a priority thing to do in Atlanta for sure.
#5:  Street Art
Atlanta is FULL of amazing street art and I spent much of my time in the city walking around open-mouthed at the incredible creative talent that people have.  Going on a street art 'treasure hunt' is truly one of the best things to do in Atlanta as you'll never run out of having more street art to find.
There are huge murals dotted all over the city and I happened upon most of these ones in the most surprising of places quite randomly as I was on my way to somewhere else.  It was on the backs of run down old warehouses, the sides of car parks, on the protective walls surrounding construction sites, in tunnels, under bridges… anywhere that would usually be considered 'ugly' had been turned in to a spectacular work of art.
Some of it had a particular message to share and some of it was just created to look pretty.  I have so many more photos that I could have shared – I did try to restrain myself, I promise.  I'm sure there were many, many more art walls in addition to these ones that I either didn't spot or didn't have time to get to – the famous Krog Street Tunnel being one of them.  I'm planning to write a separate blog post within the next few weeks as a bit of a guide dedicated to where to find the best street art in Atlanta.
#6:  Dr Martin Luther King Jr Memorial
I hadn't originally planned to visit the Martin Luther King Jr memorial site but found myself in the area whilst on the hunt for street art so figured I may as well stop and explore it whilst I was there.
There are actually quite a lot of different sections to it: Martin Luther King Jr's birthplace; the International World Peace Rose Garden; the Ebenezer Baptist Church (where he was baptised, became co-pastor of and eventually where his funeral was held);  The King Centre; the International Civil Rights Walk of Fame; his tomb and the Eternal Flame.  Collectively these different parts form one of America's 2,600 National Historic Sites, managed by the National Park Service.
I didn't visit all of the places as I was a bit pushed for time.  You could easily spend a whole morning or afternoon there if you were to spend time at all of the different exhibits, whereas I only had an hour before I needed to get back to my hotel.
I found seeing Martin Luther King Jr's tomb surprisingly moving and stood for quite a while just quietly reflecting on various things.  Quotes from his speeches were everywhere you looked – embedded in the pathways, on the walls, on information plaques, in the water surrounding the grave.
I enjoyed wandering down the International Civil Rights Walk of Fame.  Seeing the actual footprints of famous individuals who changed the course of history in some way, including Rosa Parks, Desmond Tutu, Maya Angelou and Stevie Wonder was pretty cool.  The International World Peace Rose Garden wasn't in bloom yet as it was too early in the year when I visited (the beginning of March), but I know for sure it would look spectacularly beautiful in the summer.
The Martin Luther King Jr memorial site is completely free to visit and it's one of the most popular things to do in Atlanta.  It's definitely worth stopping by to soak up some of the pivotal history of the area (and, indeed, the world).
#7:  Jackson Street Bridge
If you're a fan of the TV show 'The Walking Dead' you'll recognise the impressive view from Jackson Street Bridge immediately.  It's a now iconic shot from one of the early scenes of the very first episode of Season One of the show.  The main character, Rick, rides his horse into Atlanta along an empty highway, with abandoned and overturned cars on the opposite side of the road where people have desperately tried to flee the city.
My husband is a huge fan of the show and put in a special request that one of the things I had to do in Atlanta was to go to the bridge and take a photo for him. Of course I obliged – after all, I wanted a good shot of the city too.
Jackson Street Bridge can be found south of the city centre (it took me about 45 minutes to walk there from my hotel in Midtown) and thankfully there were no zombies there when I visited which I was grateful for – I'm not a fan of the show!  It really is a great view of the city (worth the trek whether you're a Walking Dead fanatic or not) and because of it's location, I imagine it would be pretty spectacular to see in the evening with the city skyline lit up by the sunset.
The metal safety railing bordering the bridge was covered in stickers and I found them to be just as interesting as the view itself.  Some were adverts for local businesses, some were political or religious messages and some were statements of positivity.  I spent ages there looking at them all and capturing a few of my favourites on camera.
#8:  Fox Theatre
The Fox Theatre is an historical Atlanta icon and it definitely needs to be on your list of things to do in Atlanta.
The Fox first opened it's doors on Christmas Day in 1929 with a premier showing of 'Steamboat Willie', Walt Disney's first cartoon featuring Mickey Mouse.  As a lifelong Disney fan, this was a fact that I was very excited to learn about.  It's been showing classic & vintage films, modern movies, musicals, comedy, live performances and a whole host of other entertainment ever since.
The Fox is beautiful to look at on the outside, taking inspiration in it's design from Spain, Egypt and even the Far East.  It's pretty mesmerising – I stood for ages watching the giant letters light up and then turn off again in an endless cycle.
It's even more spectacular inside with a red-carpet entryway, detailed gilt décor, turreted ceilings and stained glass windows, all leading to a vast and spectacular cobalt blue "sky" in the main auditorium, complete with twinkling stars.  The Fox is also home to the 'Mighty Mo' – the second largest theatre organ in the world.  Sadly I didn't get to see the interior as I ran out of time to take one of the theatre tours or watch a show/movie there but I really wish I had been able to.  I love the theatre so it's definitely a priority for when I make a return visit to Atlanta one day.
Tours of The Fox last for 60 minutes and are available on Mondays, Thursdays and Saturdays.  Adult tickets are $18 and children (age 10 and under) are $5.  Tickets go on sale two weeks in advance of the tour date.
#9:  Rainbow Crosswalks
One thing I was adamant that I wanted to see whilst I was in Atlanta were the famous Rainbow Crosswalks.  Conveniently, they happened to be only a five minute walk from the hotel I was staying in during my visit.  The Rainbow Crosswalks can be found at the intersection of 10th Street NE and Piedmont Avenue NE in Midtown, which is the heart of the city's LGBTQ+ community.
The Rainbow Crosswalks were installed in 2015 just before the annual Pride Festival and they've stayed there ever since as a reminder that "love defeats hate and light defeats the darkness".
So much prettier and more interesting than the usual black and white zebra crossings we have here in England – I loved them!
#10:  Centennial Olympic Park
In 1996 Atlanta hosted the summer Olympic Games and over 10,000 athletes took part.  Centennial Park, once a run down block of old buildings and car parks, was developed specifically to be a 'gathering place' for visitors to Atlanta and residents of the city to enjoy the celebrations.
The 1996 Olympics made history for many wonderful reasons – new sports were introduced as events to compete in for the first time and numerous world records were broken.  The games also made history for an incredibly sad reason too when a terrorist bomb exploded in Centennial Park, killing two people and injuring 110 more.
Following the Olympics, Centennial Park was turned into a public area that is now hosts multiple events throughout the year including the Atlanta Marathon, festivals, music concerts, patriotic 4th July celebrations and Christmas holiday fun.  It also has lots of family friendly attractions nearby (keep reading for more information on which ones!) and as a result it's become a real hub of activity in downtown Atlanta.
The park has loads of open green space, fountains and sprinklers for little ones to play in, commemorative bricks that people bought during the Olympic Games that are now laid in the pathways as a legacy, and a huge Olympic Rings installation.  It's a relaxed place to hang out in and you could spend as much or as little time there as you like.
More Things To Do In Atlanta
There were loads of other things to do in Atlanta that I sadly didn't have time to visit.  Here's a list of some more sights to see, attractions to enjoy and things to do in Atlanta:
World of CocaCola
Georgia Aquarium
Atlanta Skywheel
Atlanta Children's Museum (these first four are all in the same area as Centennial Olympic Park)
Atlanta Zoo
Piedmont Park
Centre for Puppetry Arts
Movie Tours to film locations
As you can probably tell, I really loved my time in Atlanta and would absolutely go back again (with my family next time) to see all the places that I missed on my first visit.
I hope this has been a useful guide if you're planning to spend some time in the city.  If Atlanta hasn't been somewhere you've thought about exploring before now, perhaps this post has inspired you to organise a trip there one day in the future.  Finally, if you've ever been to Atlanta or even live in the city, please do feel free to leave a comment with more suggestions of cool things to do in Atlanta that I might have missed off the list!