Bude is incredibly well positioned at the gateway to North Cornwall, providing easy access to a vast number of beautiful locations both further down the coast and inland. We love using The Beach Haven in Bude as our base for a week and tend to go on a fair few day trips where we venture further and deeper into Cornwall.  We've journeyed west, hugging the dramatic coastline to Boscastle and Tintagel.  And we've travelled south to the Lost Gardens of Heligan and the Eden Project.
This time we decided to do something different and roam eastwards instead, beyond the Cornish border and into Devon for a day to visit Clovelly.
Clovelly is somewhere I'd heard of but didn't really know much about.  Curious to find out more as so many people have suggested it to me in the past as somewhere to visit, I did a little bit of research into it.  Because as much as I love spontaneous let's-pack-a-picnic-and-see-where-we-end-up kinds of excursions, I do like to be able to make the most of a new place by knowing what there is to see and explore.  That way we can choose to do those things and we can also choose to go off the beaten track a bit to adventure to places away from the main tourist spots, where we might just discover something special and unexpected.  It quickly became clear that Clovelly would be different from all the other places we'd visited and that's what really sold it to me – I love experiencing something new and unlike anything we've ever seen or done before.
Clovelly Village is privately owned by one family.  Indeed, throughout the centuries of it's existence it's only ever been associated with three families in total, passing down through the generations as time has gone by.  Because of this, there is a small charge to enter the village.  For us as a family of five, it came to a total of £24.50 (a family ticket covering two adults and two children for £20 and then an extra child entry for £4.50.  Under 7s go free – just in case you have smaller little ones and are interested in visiting).  At first I thought it was a bit cheeky to have to pay to walk around a village but once we were in I realised why (the entrance fees go towards the upkeep of the village) and actually, when you think about it, just under £5 each is barely anything considering what you can pay to visit some other places!
Clovelly Village is so beautifully preserved and it's exactly as authentic and genuine as I imagine it was back in Elizabethan times.  It's still very much a working village – people live there, own businesses there and raise families there.  No vehicles are allowed in Clovelly and it wouldn't actually be possible to drive a car there anyway – this tiny village tumbles haphazardly down the side of a 400 foot cliff and is riddled with steep cobbled streets, narrow paths and dizzying views across the bay.  All supplies still transported in and out of the village with sledges which were originally pulled by donkeys.  Now the donkeys are mostly for show for the tourists and the sledges are determinedly hauled up and down the precipitous walkways by the villagers themselves.
Because it was the Easter holidays we were fortunate that there was an Easter chick hunt event going on.  We wandered the streets, peering into shop windows and scrutinising secret corners in search of fifteen fluffy, yellow, cuddly toy chicks that had been hidden around the village, tucked away in concealed recesses and occasionally hidden in plain sight.  It was this that kept the girls entertained as we slowly made our way down to the quay, stopping for an inevitable ice cream on route.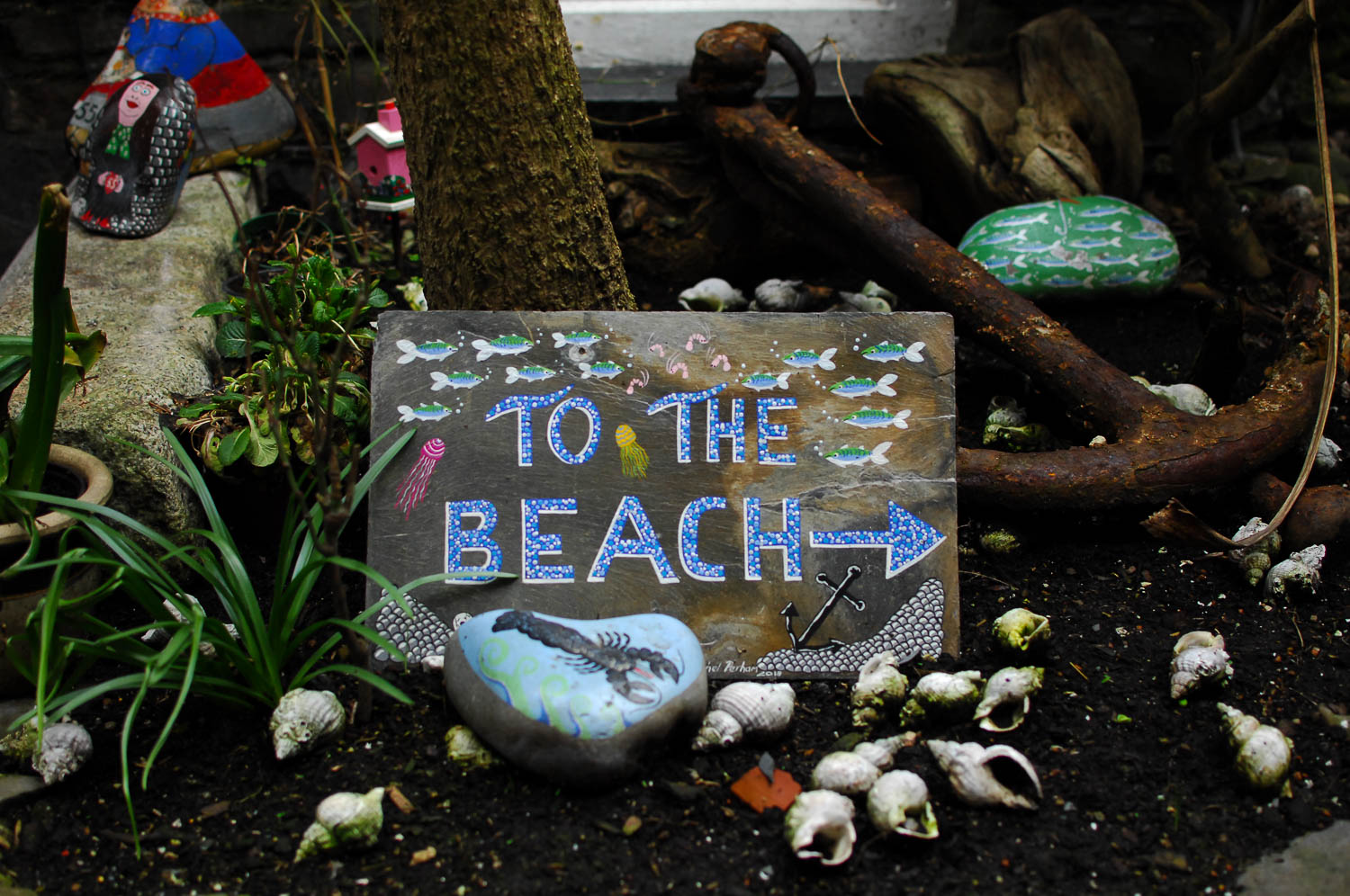 The quay curves around the bay like an old, weather-beaten, comforting arm, sheltering the shore from the perilious wind and waves, creating a safe haven for boats and fishermen.  The jaunty, colourful lifeboat station sits facing the water, keeping watch.  It wasn't open when we visited, though we did peer through the windows and see the lifeboat patiently waiting to be called into action at a moments notice.  Fishing boats bobbed merrily in the shallow waters whilst others were pulled up to rest on land and the girls skimmed stones into the water whilst I gazed back up the towering cliffs to where we'd just come from.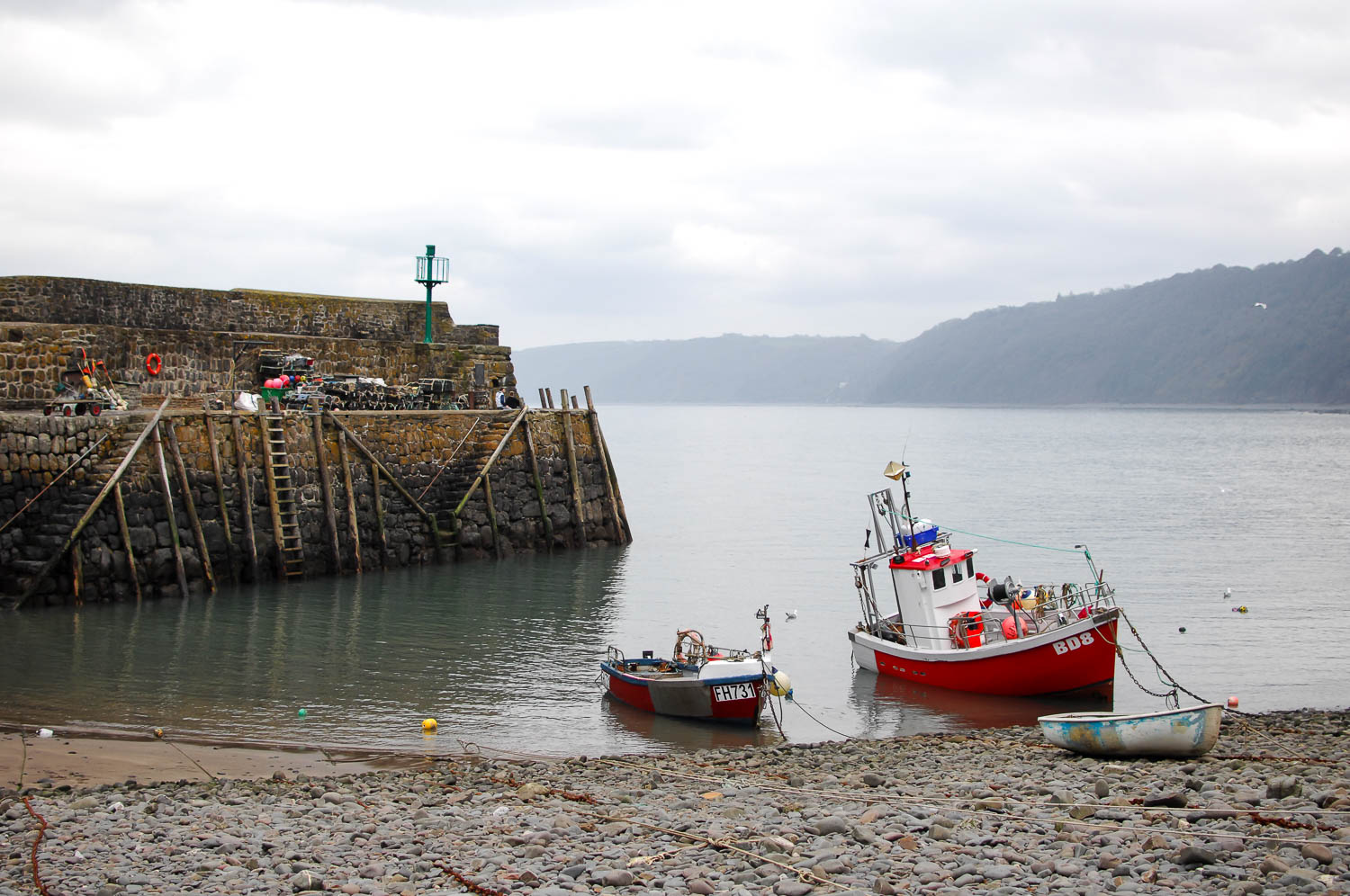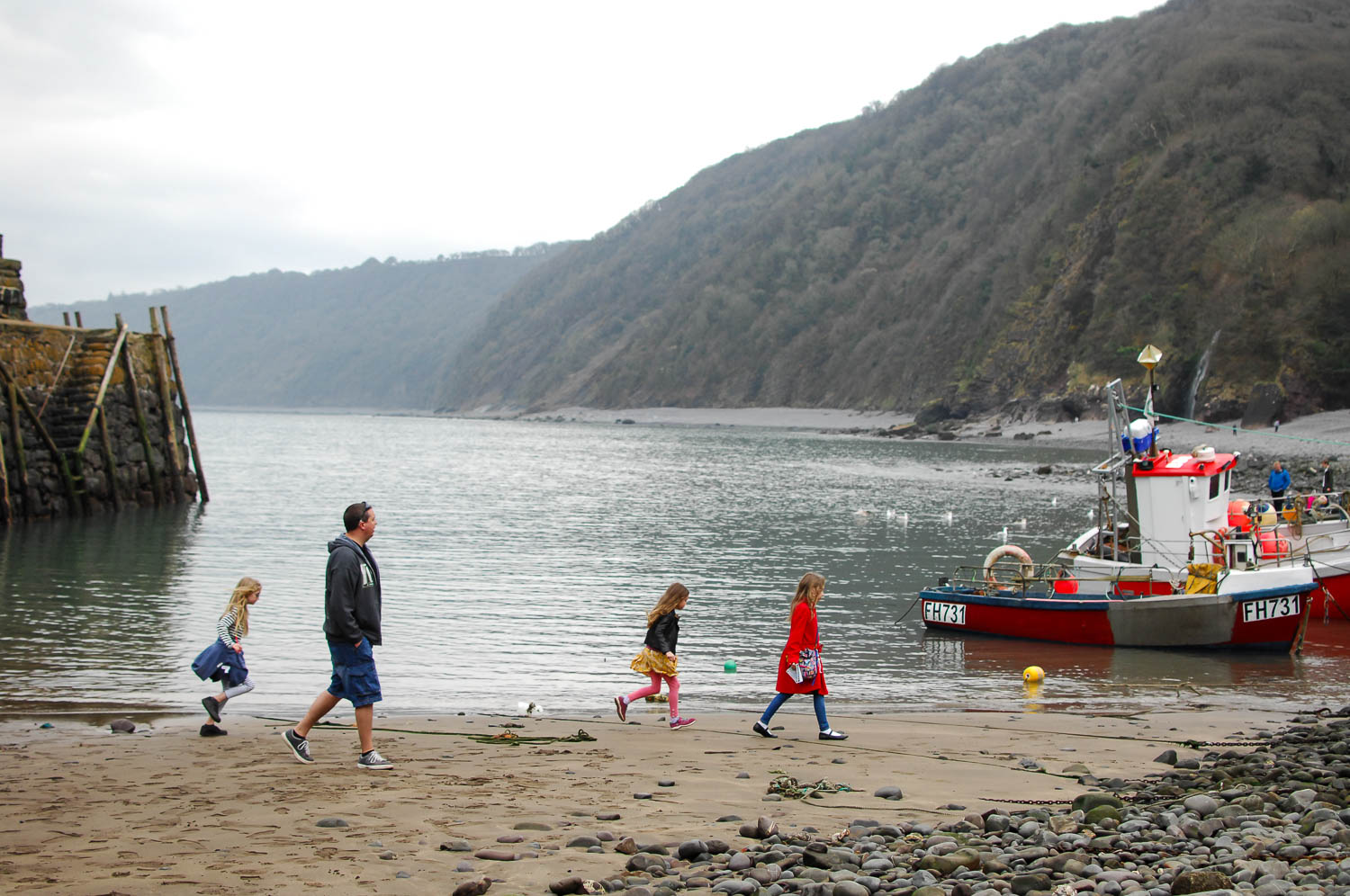 We headed out along the rock-strewn 'beach', stumbling doggedly over boulders and losing our footing multiple times.  The gentle waves ebbed and flowed peacefully as the seagulls cawed and swooped their way across the sky, laughing at us as we made our way to our destination: Clovelly Waterfall.  We took our time, taking in the sounds, the scent of the salt in the air, the vastness in front of our eyes.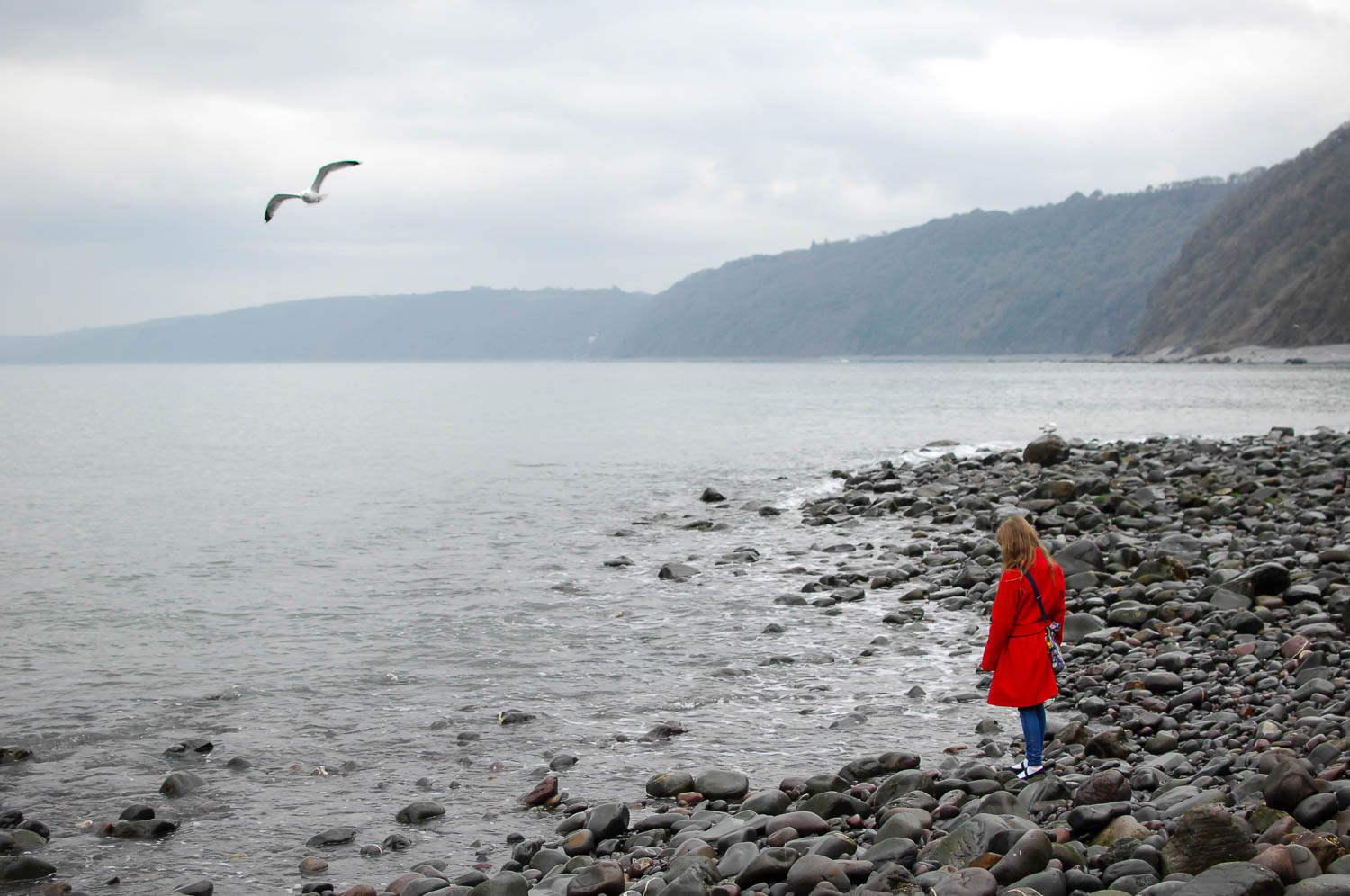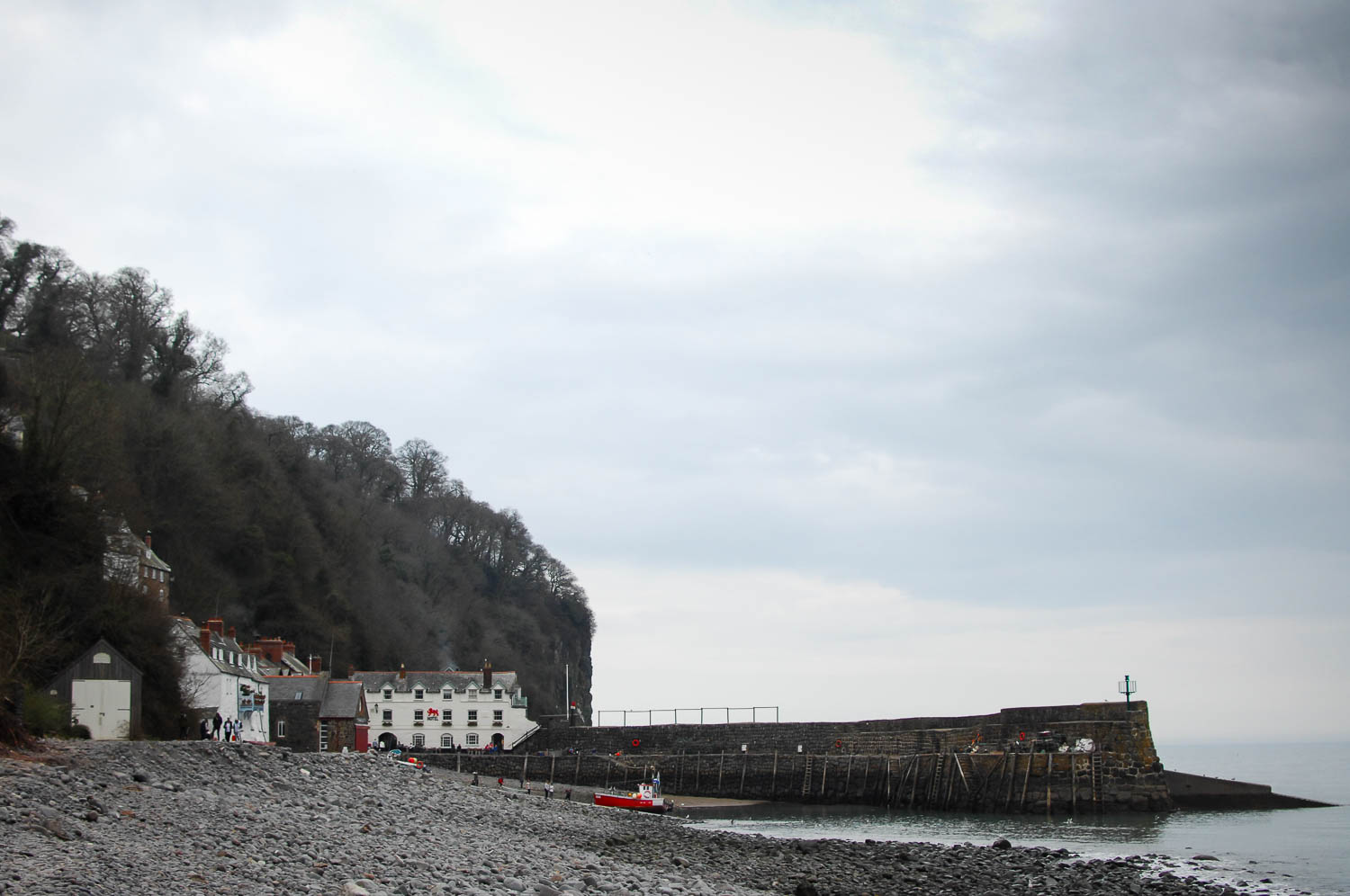 Clovelly Waterfall was definitely the highlight of my day.  A barrage of water pulsing off the clifftop and tumbling down to the beach below, crashing into the rocks and sending up a fine spray that belied it's power.  It's well worth scrambling over the rocky beach to reach it.  We stayed there a while, admiring the scene and doing our best to take it all in, before turning our backs on it and gazing out over the estuary where the sea met the sky and the two blended almost into one.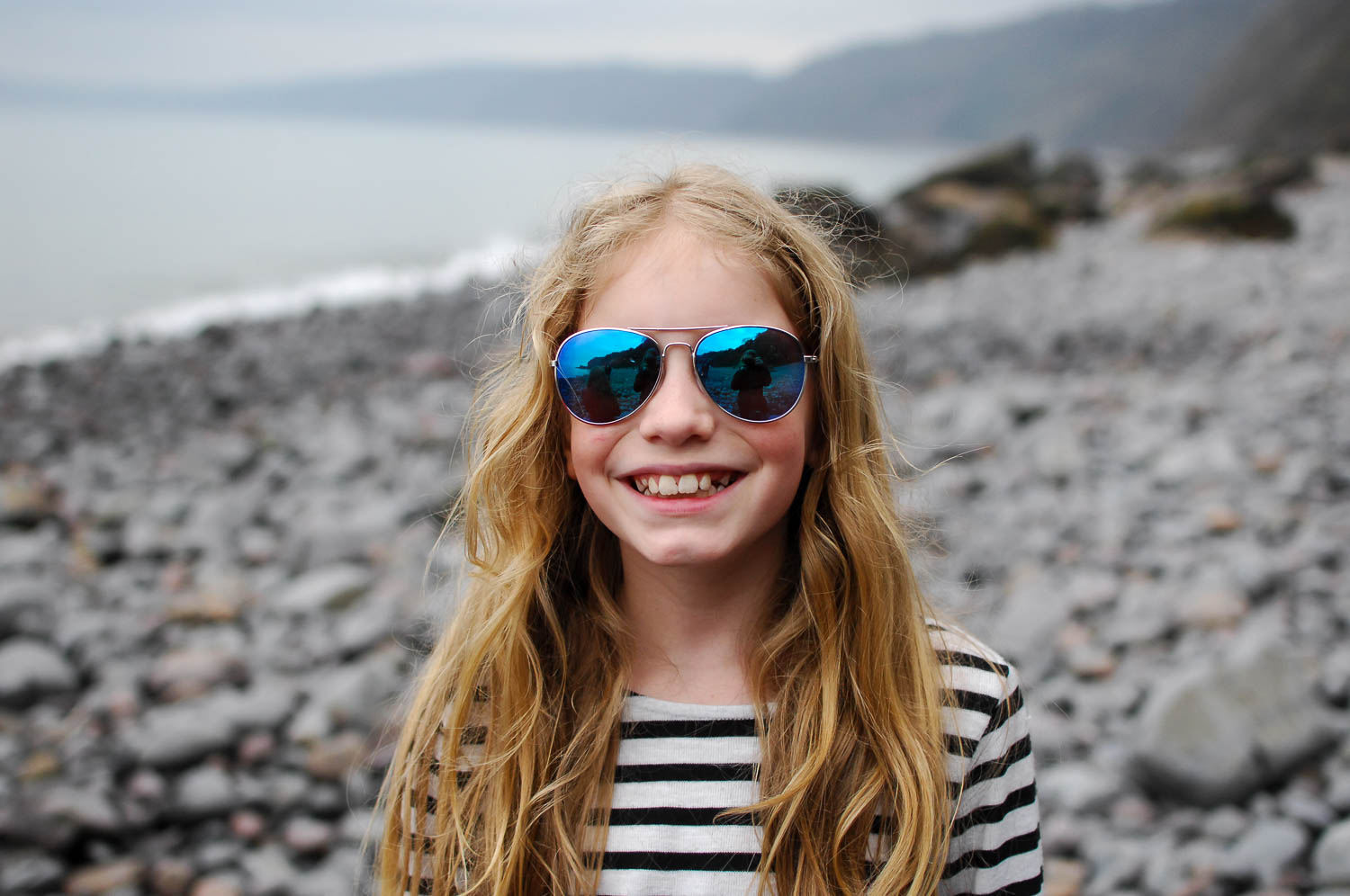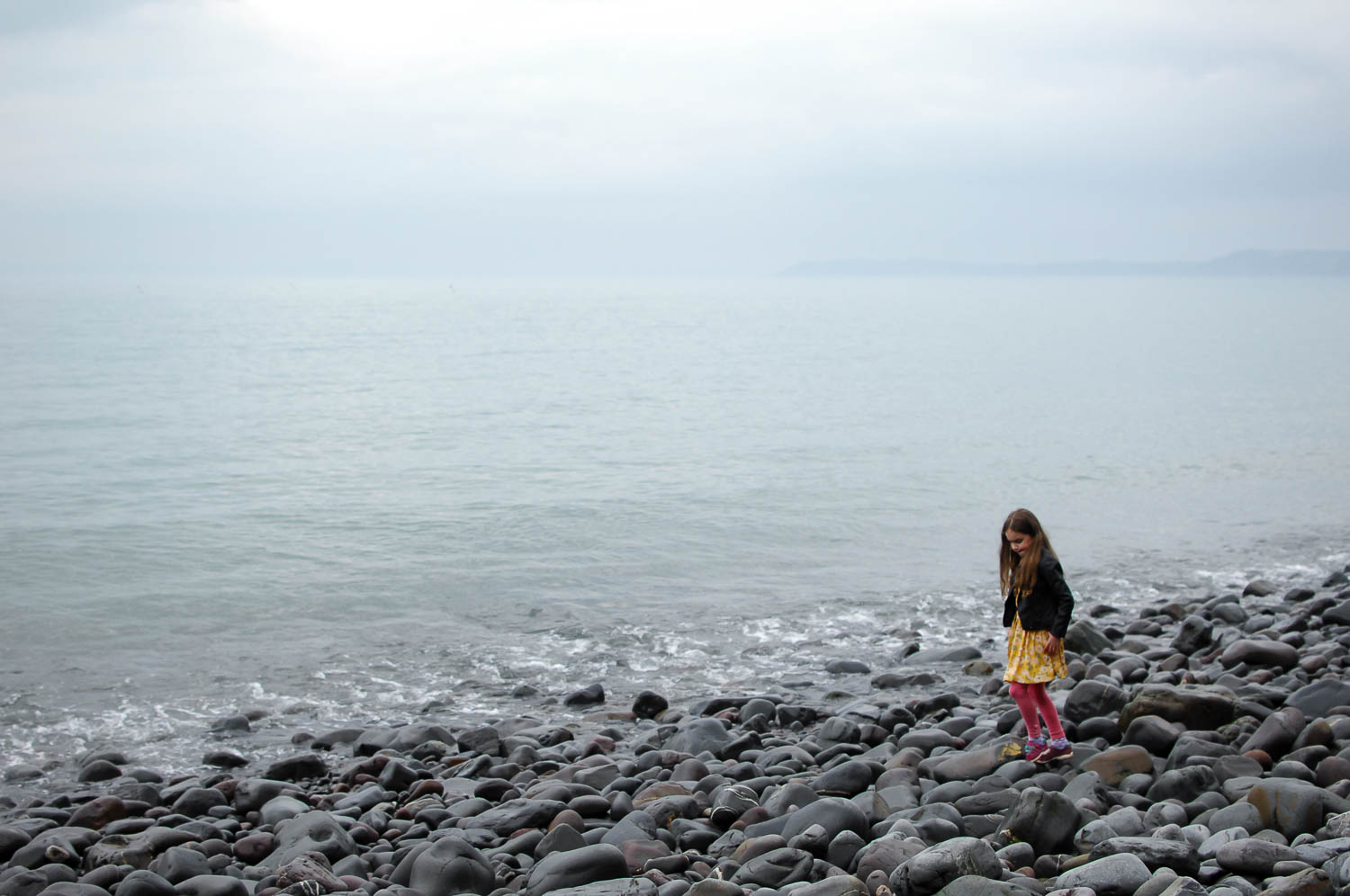 We carefully picked our way back towards the quay, our eyes searching for heart-shaped rocks as we went (though we didn't find any).  I quite like going back the same way we came when we're on an adventure because you see the same scene from a different perspective, gaining an entirely new viewpoint of what you thought you already knew.
Stepping out onto the quay itself was quite something.  Reassuringly solid, you could imagine what it would be like in the middle of a storm – waves battering it, spray being flung high in the air as the wind howls and the lightning illuminates the sky.  I bet it's an incredible thing to be able to witness.  Fortunately there was no storm whilst we were in Clovelly, just moody skies.  We explored the quay extensively, clambering down narrow staircases carved into the stone walls, inspecting the lobster pots and searching back along the beach with our eyes to see the waterfall we'd just visited.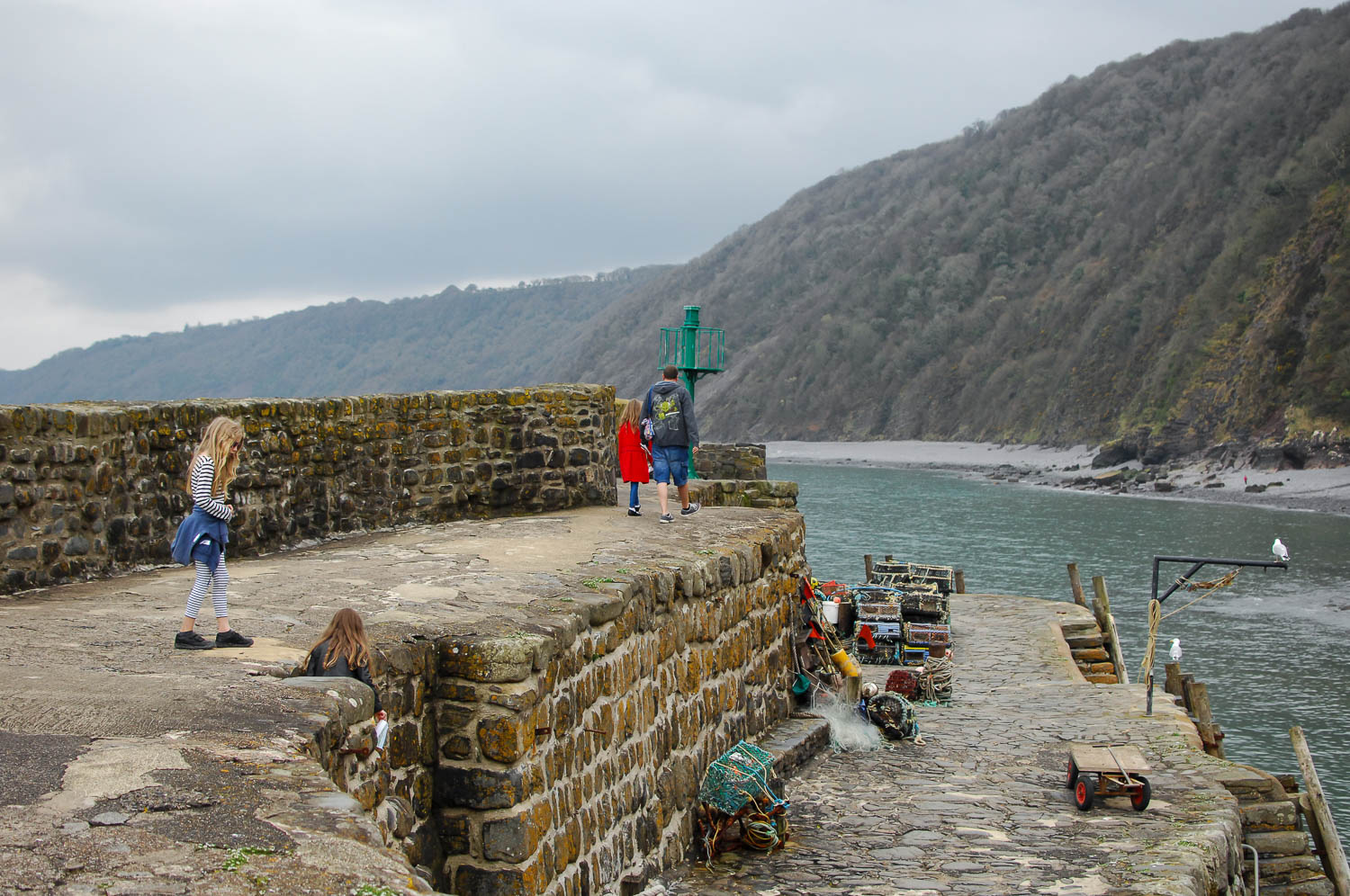 By this point it was nearing teatime, and little legs were starting to get tired. We made our way slowly back up the steep streets through the village, pausing every so often to take in the views one last time.
Somehow we managed to miss seeing Clovelly Court Gardens, which was a real shame as they're supposed to be beautiful. I would have loved to have seen them with their riot of colourful spring blooms and fruits. A reason to come back for another visit next time when I think we'd also make time to stop and look in the craft workshops which produce silk, pottery and soap.
Clovelly Village was certainly an altogether different experience and we all really enjoyed our time there.  You can see a little bit more of it in the video below, which will show you just how special a place Clovelly Village is.