This post, all about Hollywood Studios, is Part Four in a travel diaries series about our trip to Walt Disney World in Florida in October 2017. You can read Part One, all about where we stayed and our first ever visit to The Magic Kingdom, here. Part Two, covering the fun we had at Pirate Island Adventure Golf in Kissimmee plus what we got up to at Epcot, is here.  And Part Three, when we visited Celebration and returned to The Magic Kingdom to watch the Happily Ever After fireworks display, is here.  And if you want to read Ella's take on our holiday, you can find her Top Ten Tips post here.
SUNDAY – LAZY DAY
After an epically long day and a ridiculously late night last night watching the 'Happily Ever After' fireworks display at The Magic Kingdom, it was essential that today was a quiet one.  As it happened, the weather gods had the same idea and we literally didn't leave our villa all day, spending the morning playing in our pool before the heavens opened and we experienced a proper Florida downpour which made us take cover and play cards, read books, and get a bit of holiday homework* done.  A couple of people may even have snuck in a cheeky 'accidental' nap 😉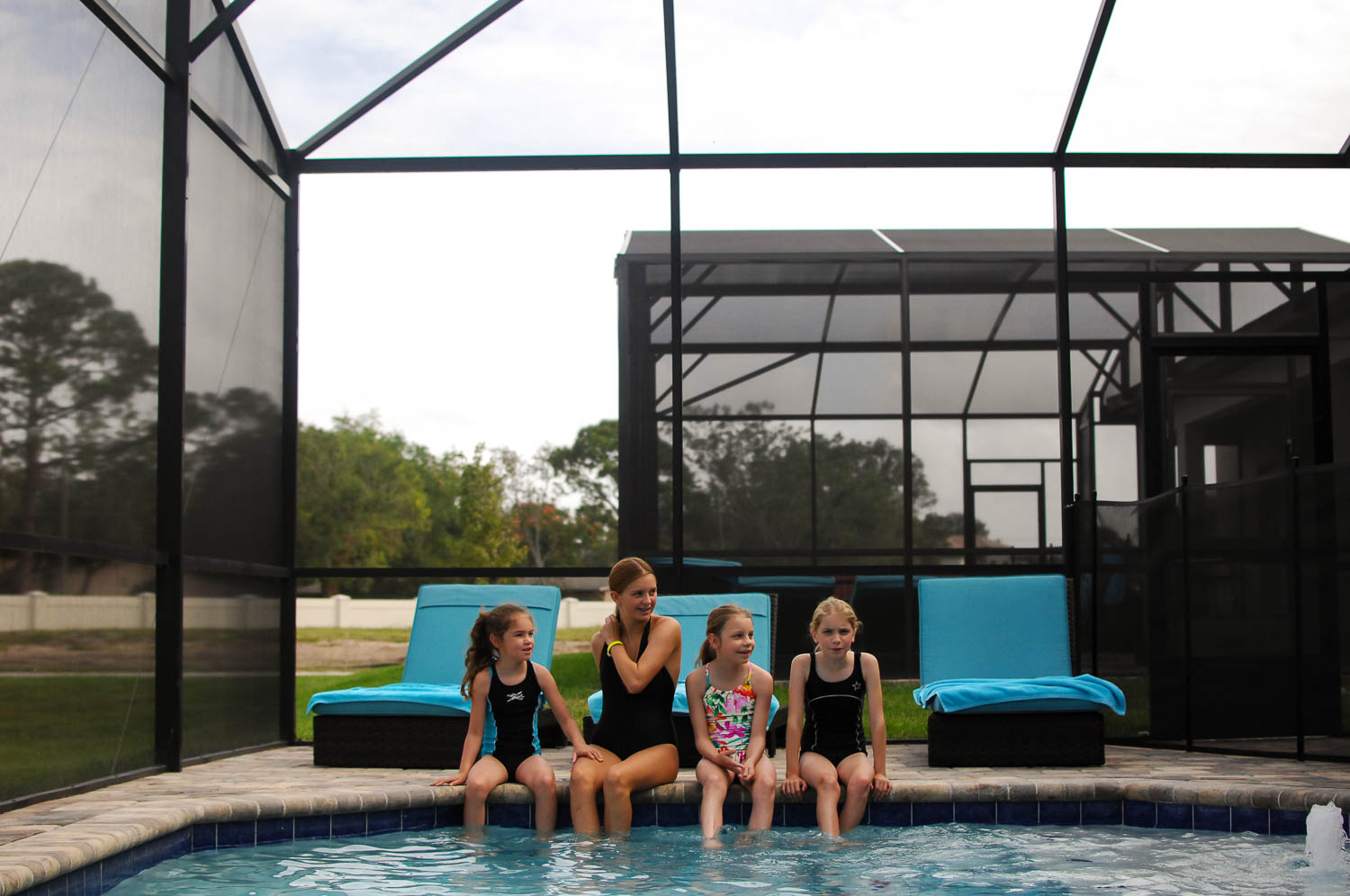 *We chose to take our girls out of school for a week in the lead up to October half term.  It meant that we could have a slightly longer 10-day holiday rather than being limited to just a week; we could save ourselves a bit of money; and it allowed the girls a few days to recover from the jet lag once we got home before having to launch back into the school routine.  It's the first time we've ever done it and we did think long and hard about it before making the decision.  They all have over 95% attendance, no unauthorised absences at all until this trip, and they work hard at school, either on track with their age-related expectations or well above them.  We asked for some holiday homework to take with us and their teachers gave each of them a decent-sized pack of worksheets to do.  Ella did all on hers on the plane journey on the way, bless her, whereas the other two waited to do it on our rest-days in between the parks. It worked really well and because we didn't go over the maximum unauthorised absence limit of 10 session (5 days) we haven't been fined (well, not yet anyway so I think we're ok).
The rules around taking children on holiday during term-time are tightening now and I don't know if we'll be able to do it again because Ella is approaching the start of high school and Mimi will be doing her SATs next year but we definitely wouldn't rule it out if the right opportunity came along.  I firmly believe that quality family time in a new environment where we can all experience different things and be shifted out of our comfort zones is far more valuable for the girls than spending a week sat at a desk learning about subordinate clauses and how to divide fractions.  Controversial perhaps for some people, but I know my girls and what we need as a family and I don't regret our decision in the slightest – in fact, it might be one of the best things we've ever done.
MONDAY – HOLLYWOOD STUDIOS
As usual I was up before dawn and I was treated to this INCREDIBLE sunrise.  Honestly, the skies in Florida are just beautiful and I'm assuming this stunning display was the result of all the rain we had yesterday.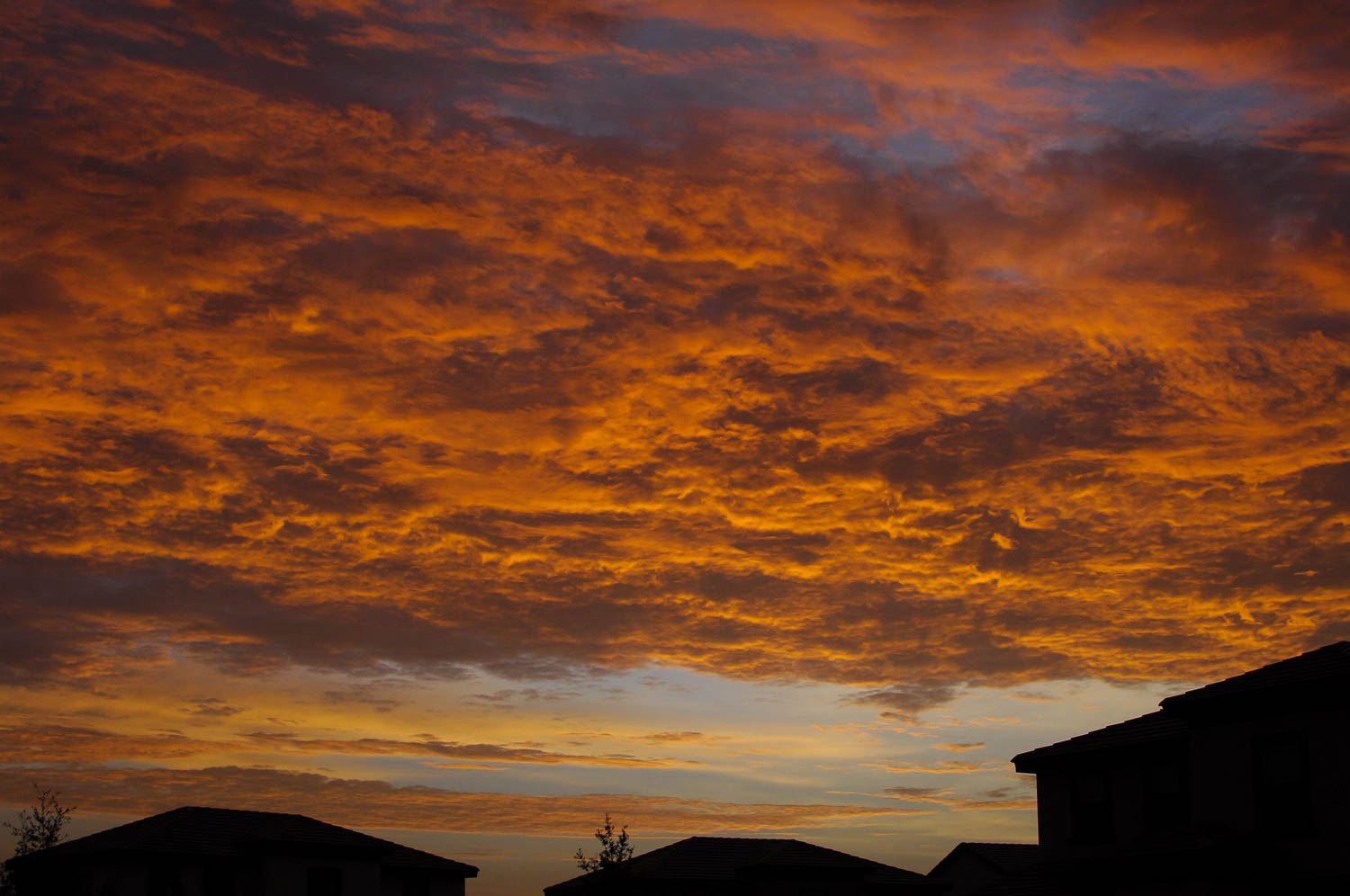 Today we decided to head for Hollywood Studios.  Out of all the parks I think it was the one I was most looking forward to (though I'm not really sure why as there are of course so many exciting things to see at all the parks!) and I know the husband was the same because it's the home of all the Star Wars related attractions.  I'm really glad to say that my hopes were realised – I absolutely loved it there!
It had a 1950's style vibe to it – fun and relaxed – and although it was still busy, it didn't seem to feel quite so overwhelming as The Magic Kingdom can sometimes be.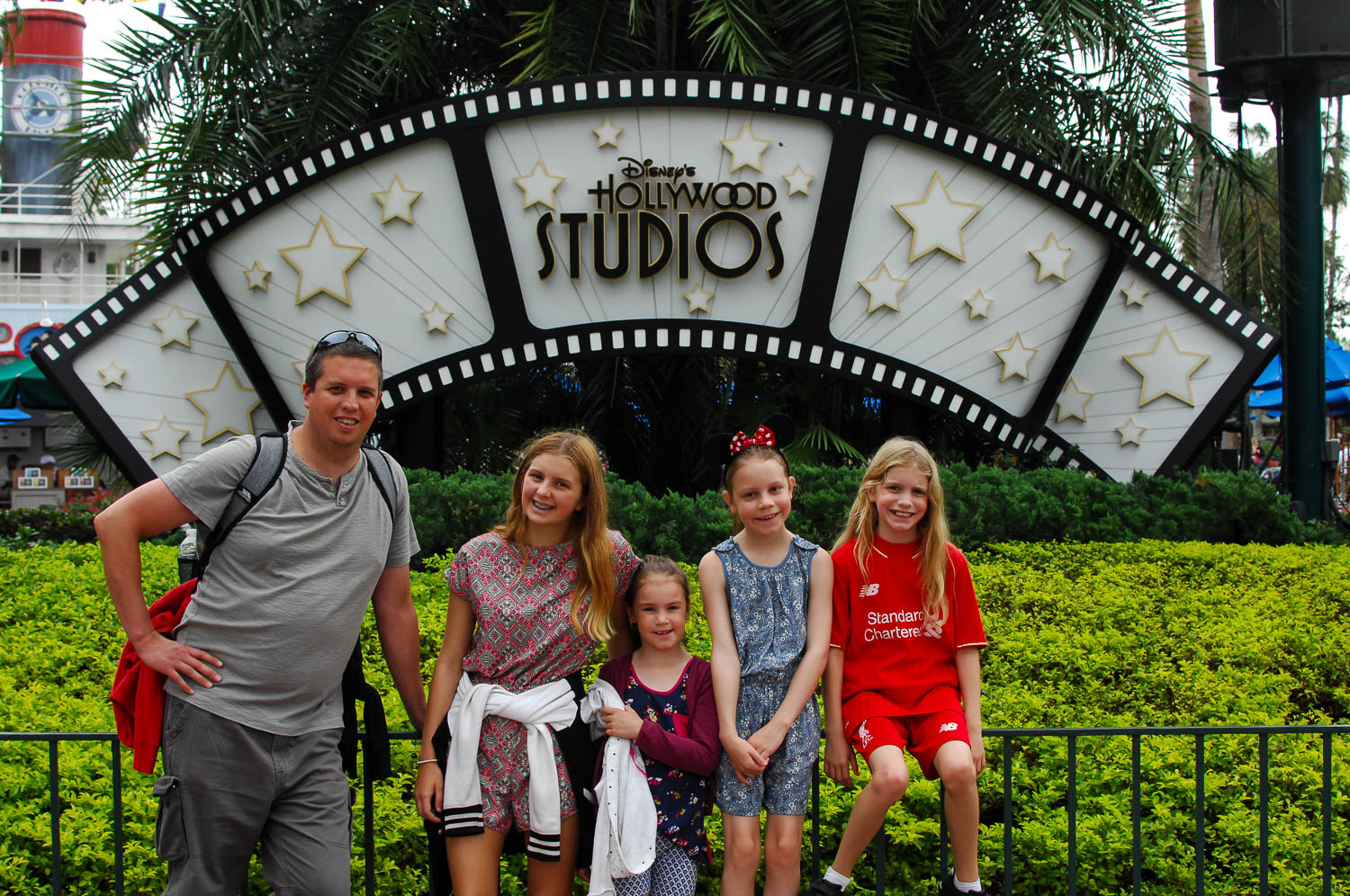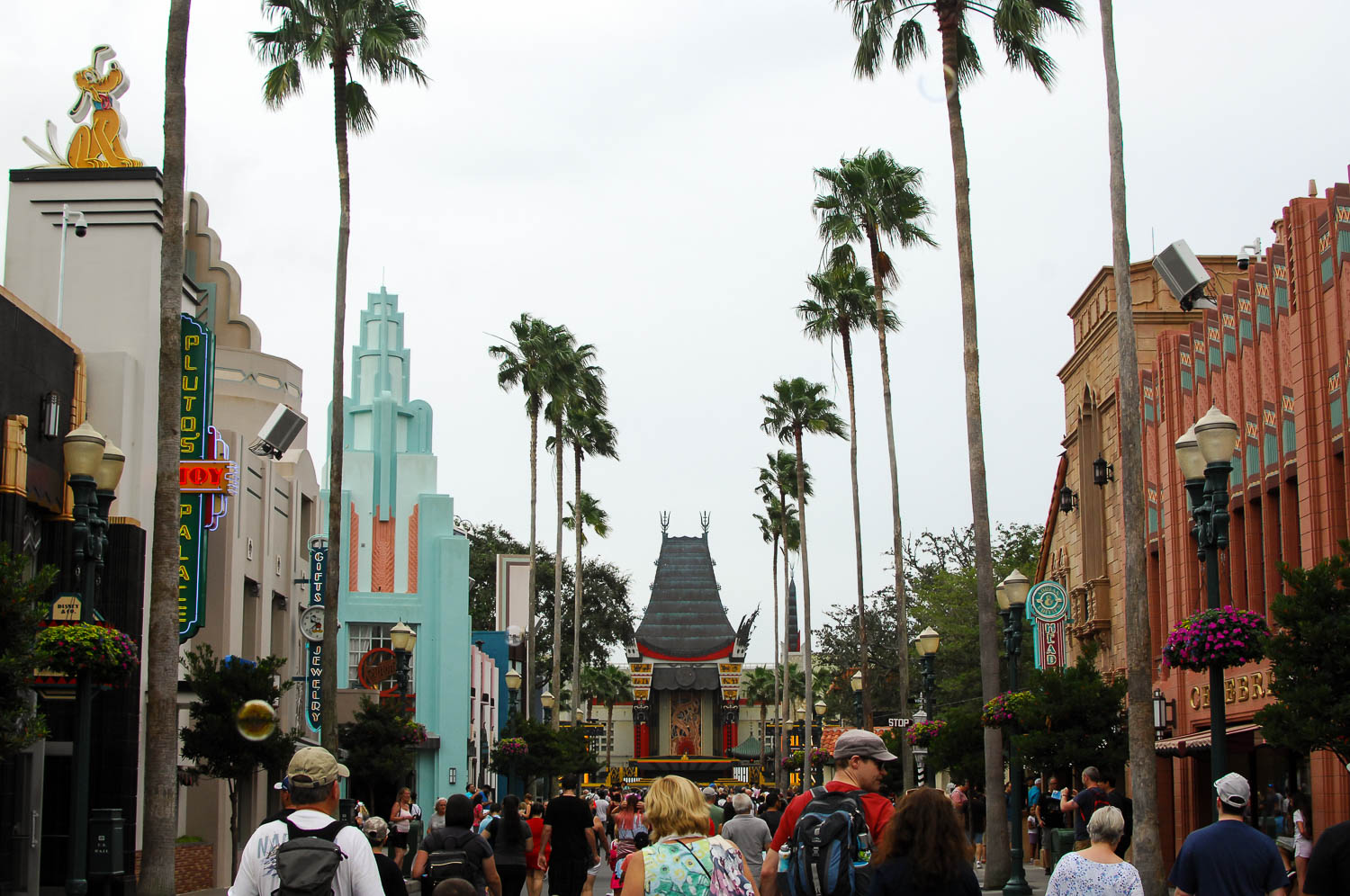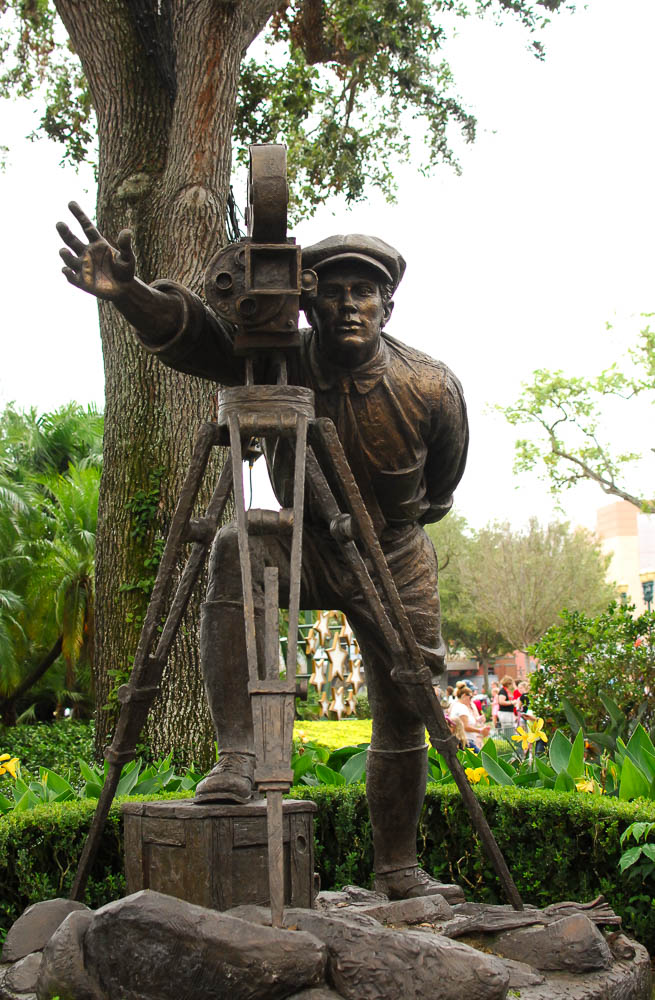 We wandered down the main street, Hollywood Boulevard, taking in all the sights and the shops before heading to Echo Lake to watch 'For The First Time In Forever: A Frozen Sing-A-Long Celebration', or, as we called it, 'The Frozen Show' – a bit easier for the little ones to say. Certain members of our group were slightly more enthusiastic about it than others (ahem, the husband is a BIG fan whereas Mimi is about as anti-princess as you can get) but I have to say it's definitely worth a watch even if you're not that into Frozen – it was really good.
Two Royal Historians re-tell the Frozen story (they were hysterically funny!), with excerpts of the film in the background and the lyrics of the songs on the screen for you to join in with. Anna, Kristoff and Elsa all put in appearances (the husband got a wave from Anna which pretty much made his day) and there's a special surprise at the end which I won't spoil because it's really lovely when it happens. It's only about half an hour long but I really enjoyed it and think it was worth using a FastPass for. After the show we'd planned to meet Olaf but everyone else had the same idea and the queue was huge so we grabbed some lunch first and went back afterwards, which meant we only had to queue for about 15 minutes.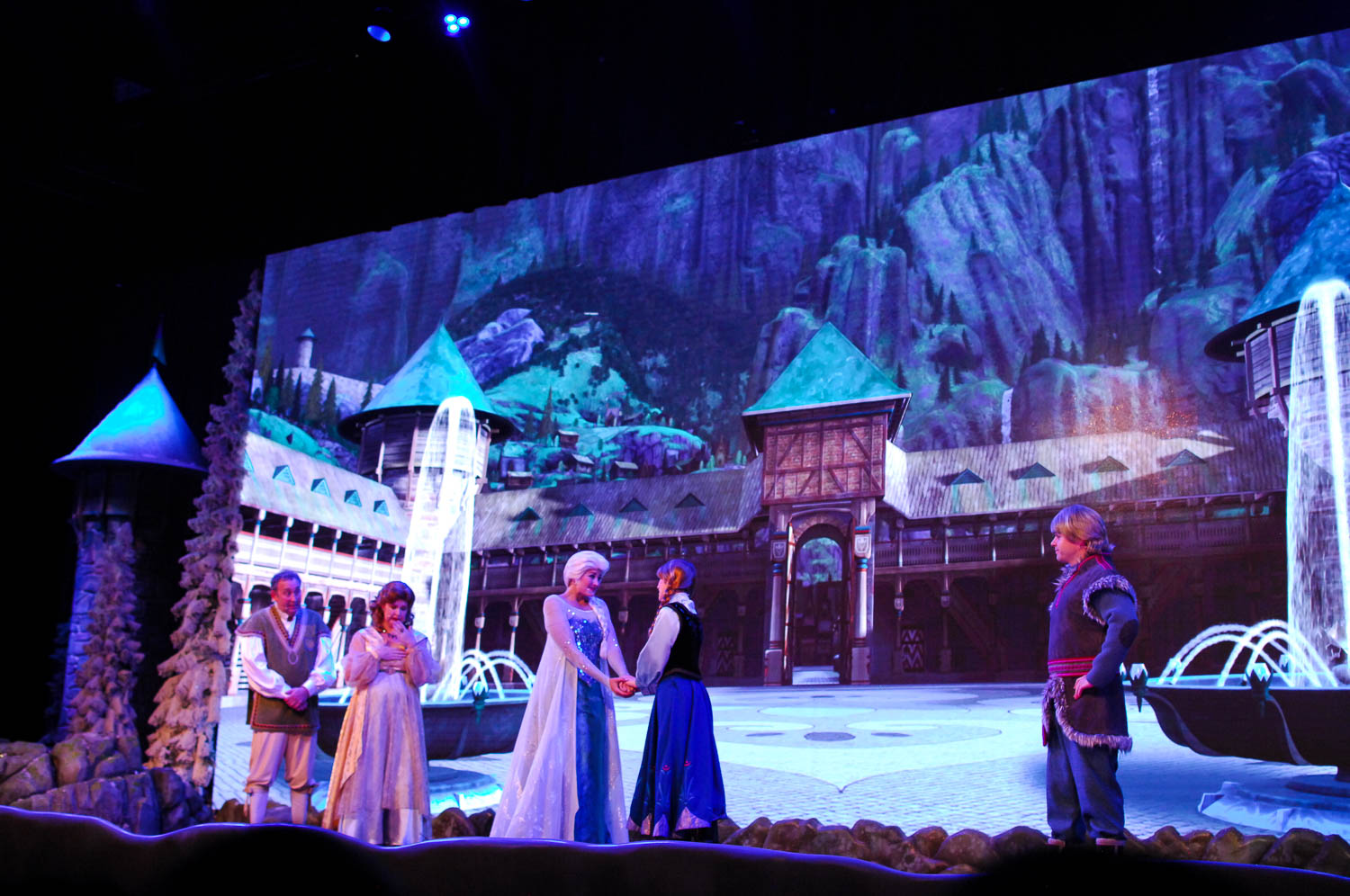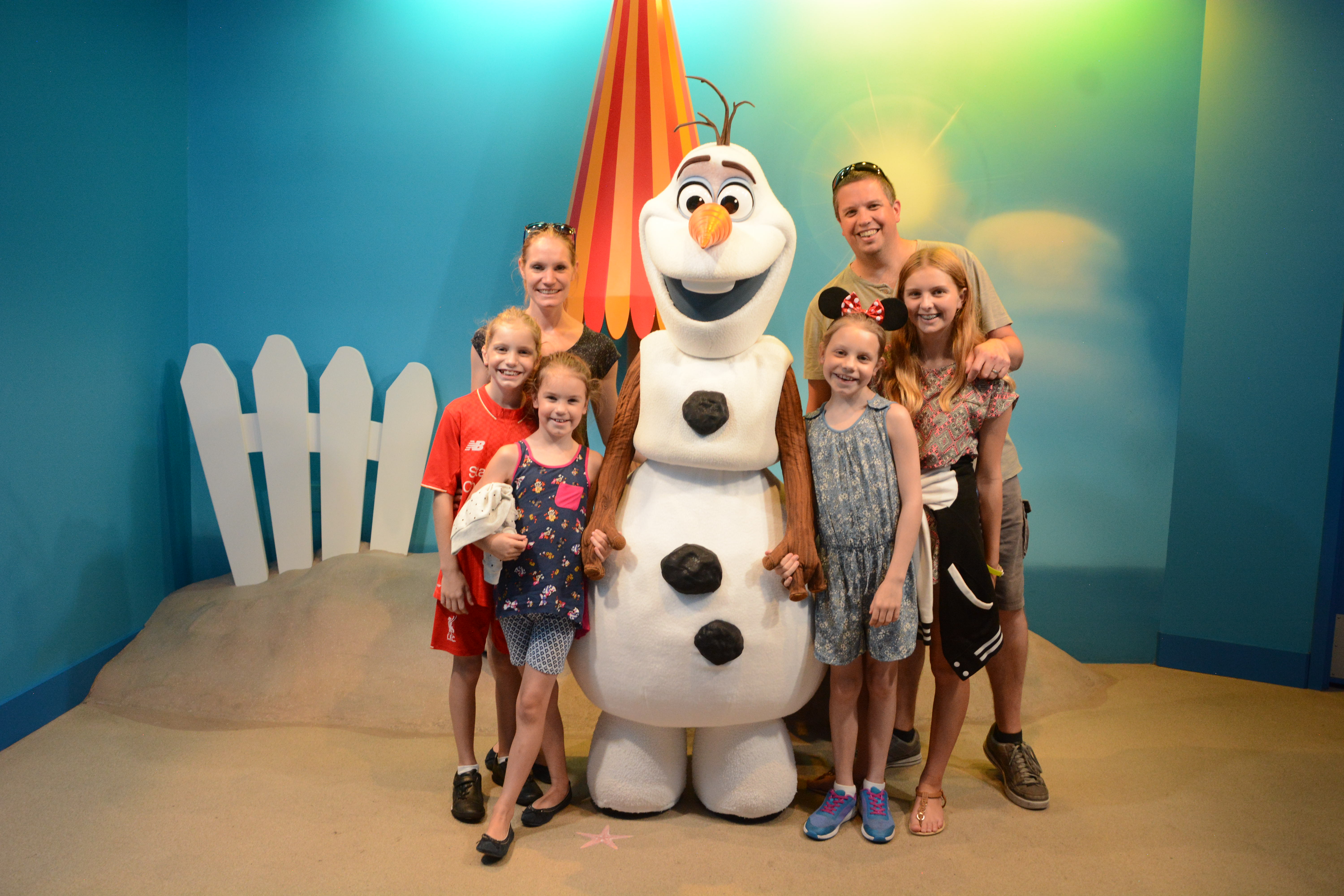 Next up was Star Wars.  We were making our way to the stage to watch the live show of 'Star Wars: A Galaxy Far, Far Away' when a legion of Stormtroopers, led by Captain Phasma, came marching uniformly towards us.  I'm not really a Star Wars fan – I've seen the films and can probably name most of the characters – but even I had to admit that it was pretty impressive to watch.  They were absolutely identical in every way – height, movements, everything.  The husband was absolutely overjoyed at this unexpected bit of entertainment – he's a bit of a Star Wars geek.
The live Star Wars show itself was brilliant – we managed to snag a spot right at the front so we had a great view.  The jetlag and heat caught up with Mimi, bless her, and she fell asleep on the floor at our feet for a power nap whilst we waited for the show to start.  The iconic music, the dramatic smoke, the characters (R2D2 and C3PO, Darth Maul and Chewbacca to name a few) made for a fantastic experience – for a Star Wars fan it was ace.  Sadly, Lola panicked when a pretend gun fired out a shower of sparks (see my previous Disney post about how she reacted to fireworks) and ended up completely hysterical and shaking again, so I took her for a wander around the shops whilst everyone else stayed to watch the show and they reported back that it was fantastic.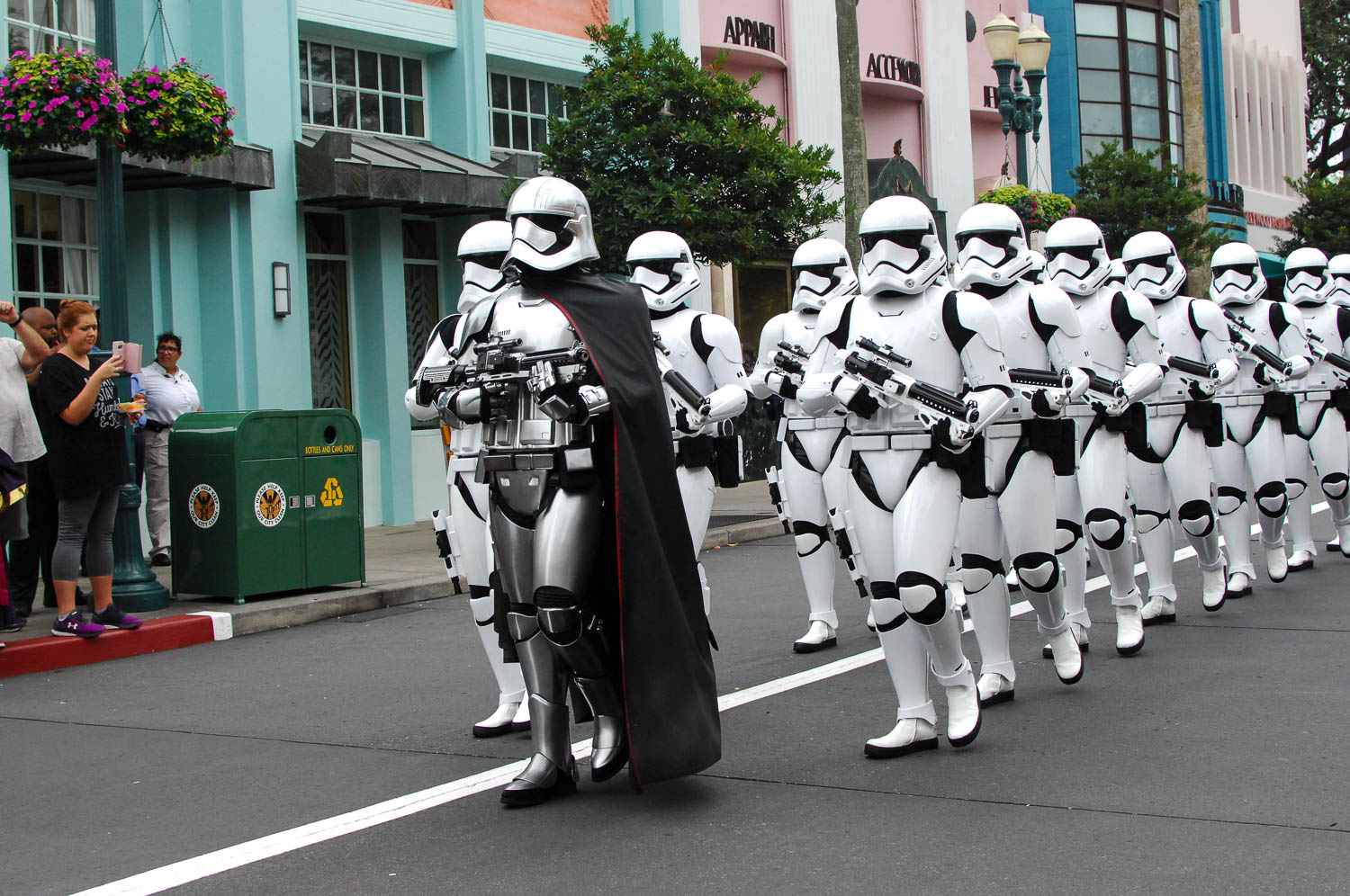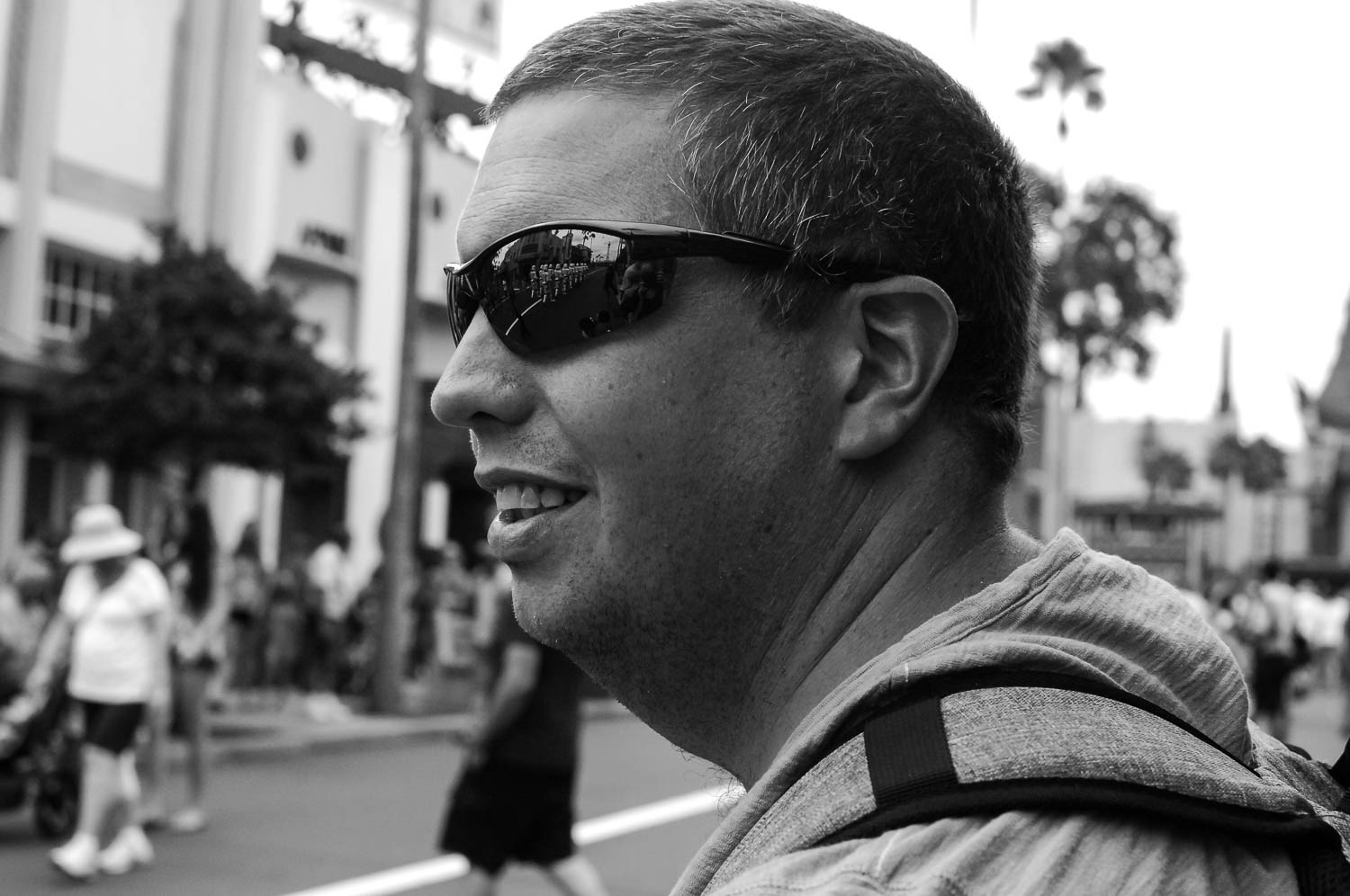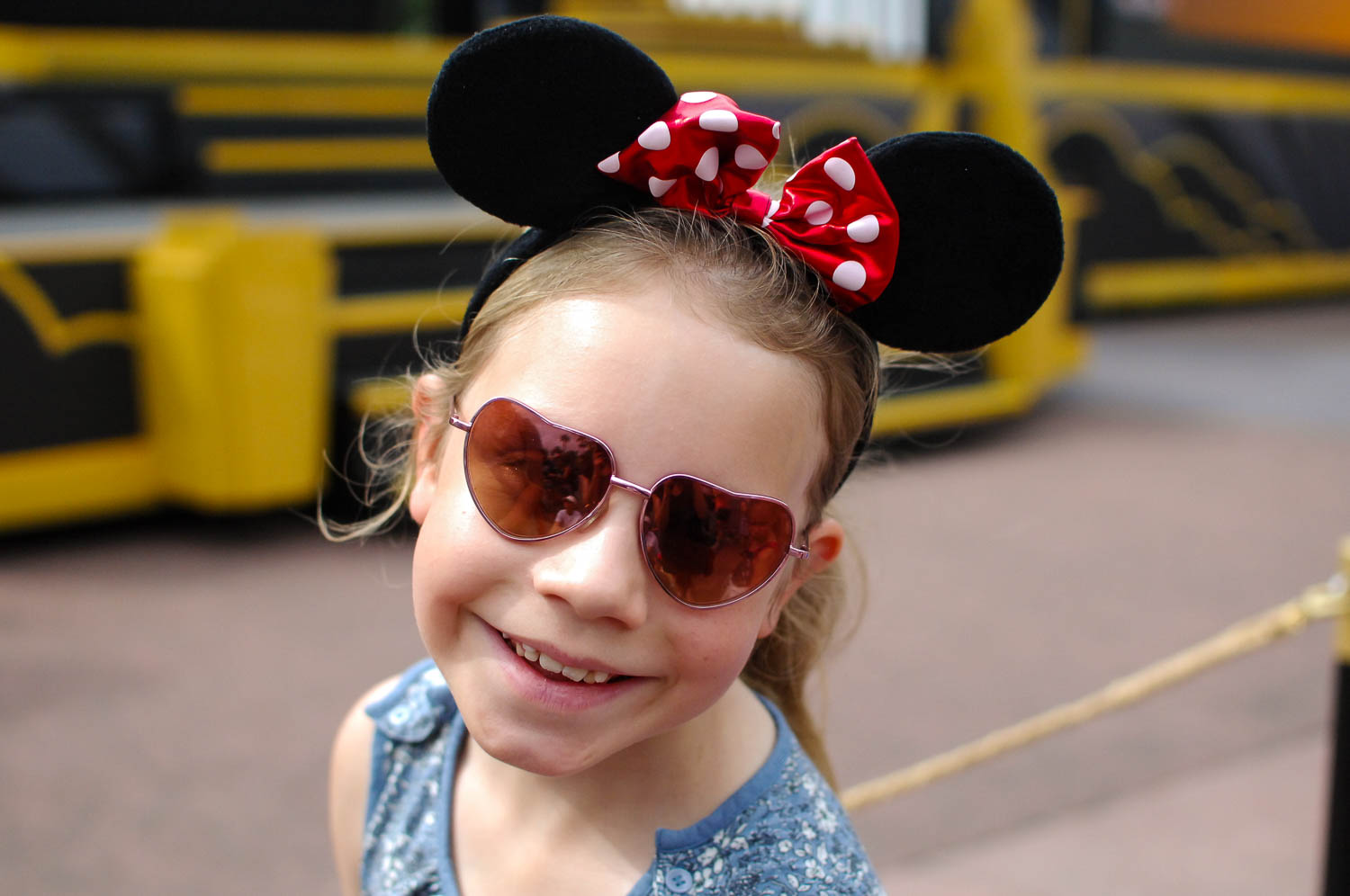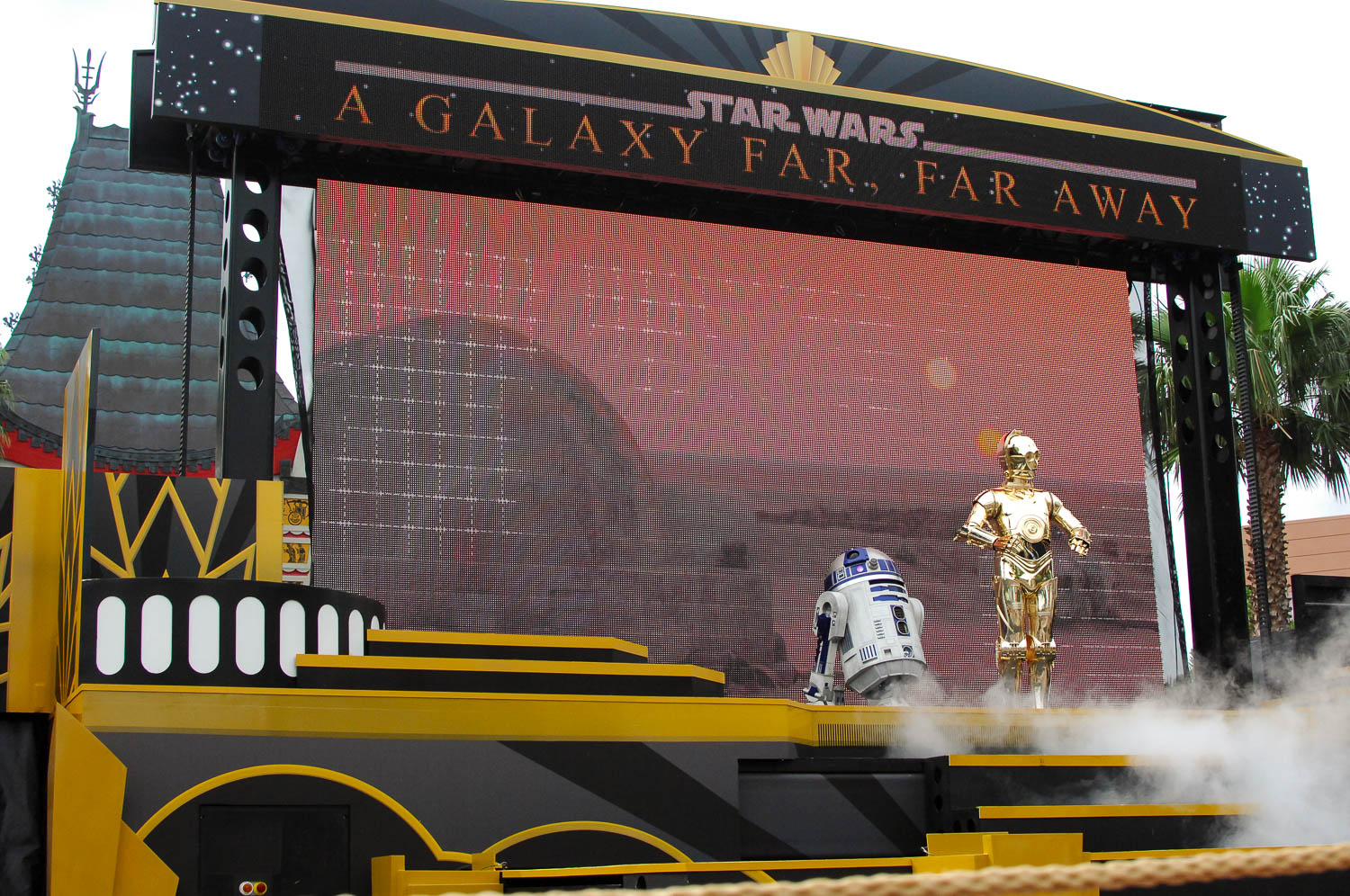 Next up was my favourite part of our time at Hollywood Studios: a completely impromptu show in the middle of the street!  We were just walking along when a little car pulled up tooting it's horn and ushering pedestrians out of the way.  People leapt out, a mini-stage was set up and the crowds started to gather.  There was singing, comedy and audience participation and it was just wonderful.  I could have watched it for hours but it was over as quickly as it began, everything and everyone piled back in to the car and off they went!  The guy in the photo below spotted me with my big camera and was really playing up to it, blowing kisses and posing, which gave me such a fit of the giggles.
I love things like that, something completely unplanned and unexpected that ends up being the highlight of the day. And essentially that's what Disney is all about.  Everything is just so fantastic that it takes something really special to reach that top spot in your memory banks, and you never know what it's going to be until it happens – it's all part of the Disney magic.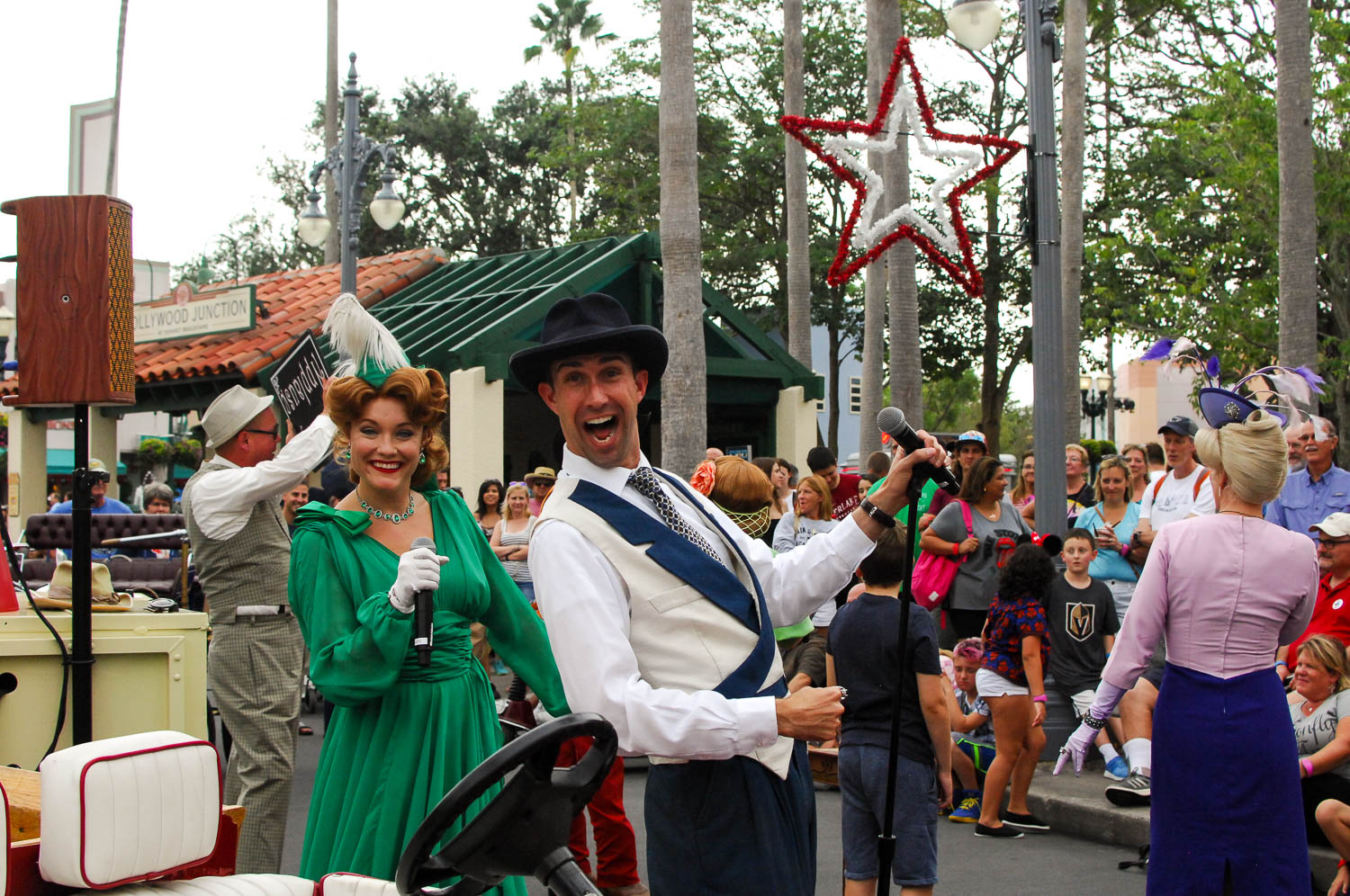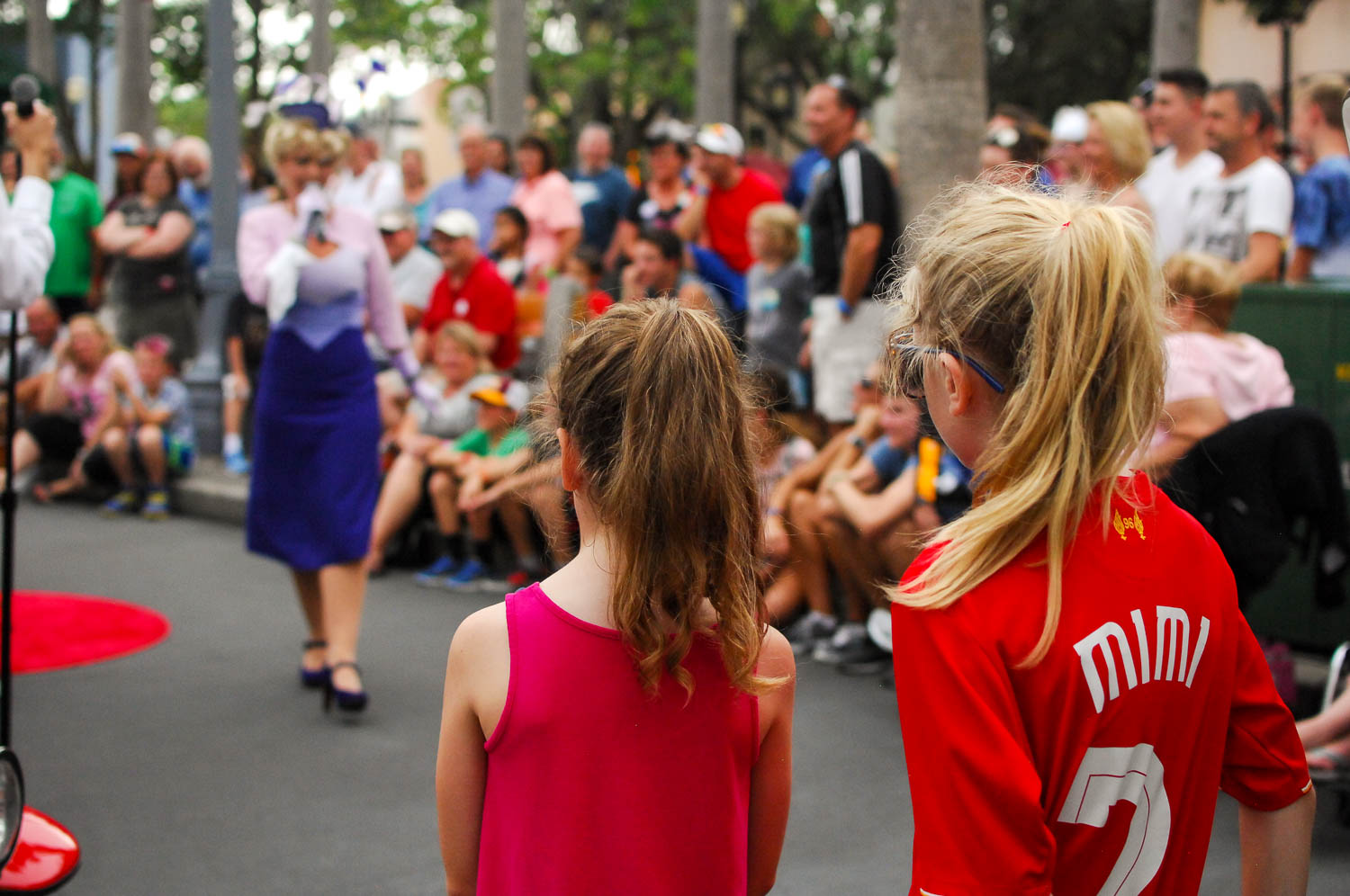 By this point an ice cream was called for, so we stopped off at Hollywood Scoops at the Sunset Ranch Market (an awesome food court) on Sunset Boulevard and ate the biggest ice creams I've ever seen.  Believe it or not these were only single cones!  I dread to think what a double cone would look like.  Tummies (and sweet tooths) satisfied, we made our way over to the Star Wars Launch Bay in the Animation Courtyard, where the husband was in his element.  We wandered through galleries full to the brim of costumes, props, models and artwork from the Star Wars films, some replicas and some originals.  The detail in everything was incredible and even for me, a not-particularly-big-fan of the franchise, I could appreciate just how special these items were.  We came face to face with more Stormtroopers (actually quite intimidating when you're up close!) and joined the short queue to meet BB8.  Even though the girls haven't ever seen any of the films, they were ridiculously excited about meeting BB8 and I'm pleased to say he fulfilled their expectations.  From there we lined up to meet the iconic Chewbacca, who looked my husband up and down before enveloping him in a big Wookie hug.  I think he was pleased to meet someone almost as tall as him!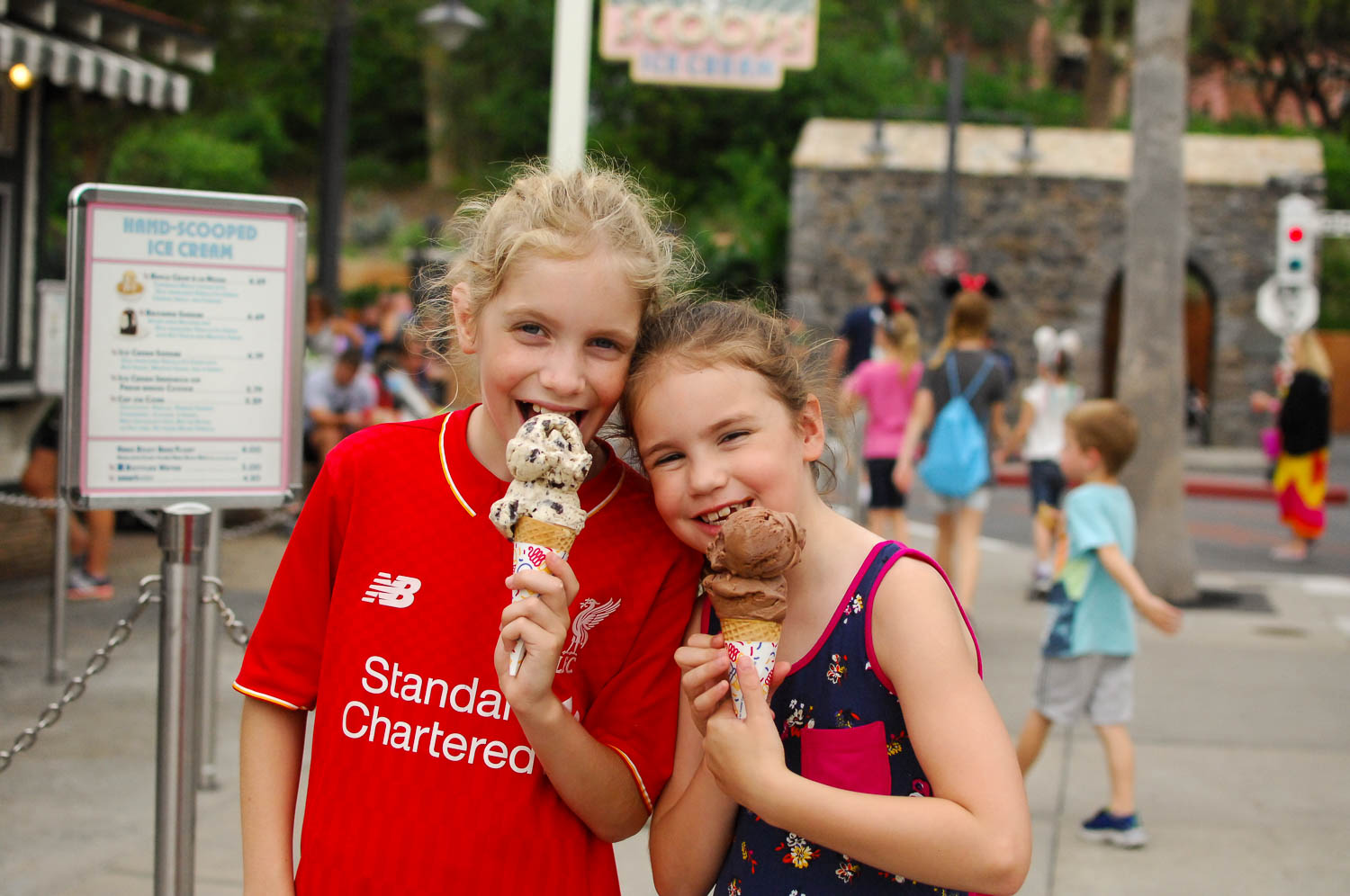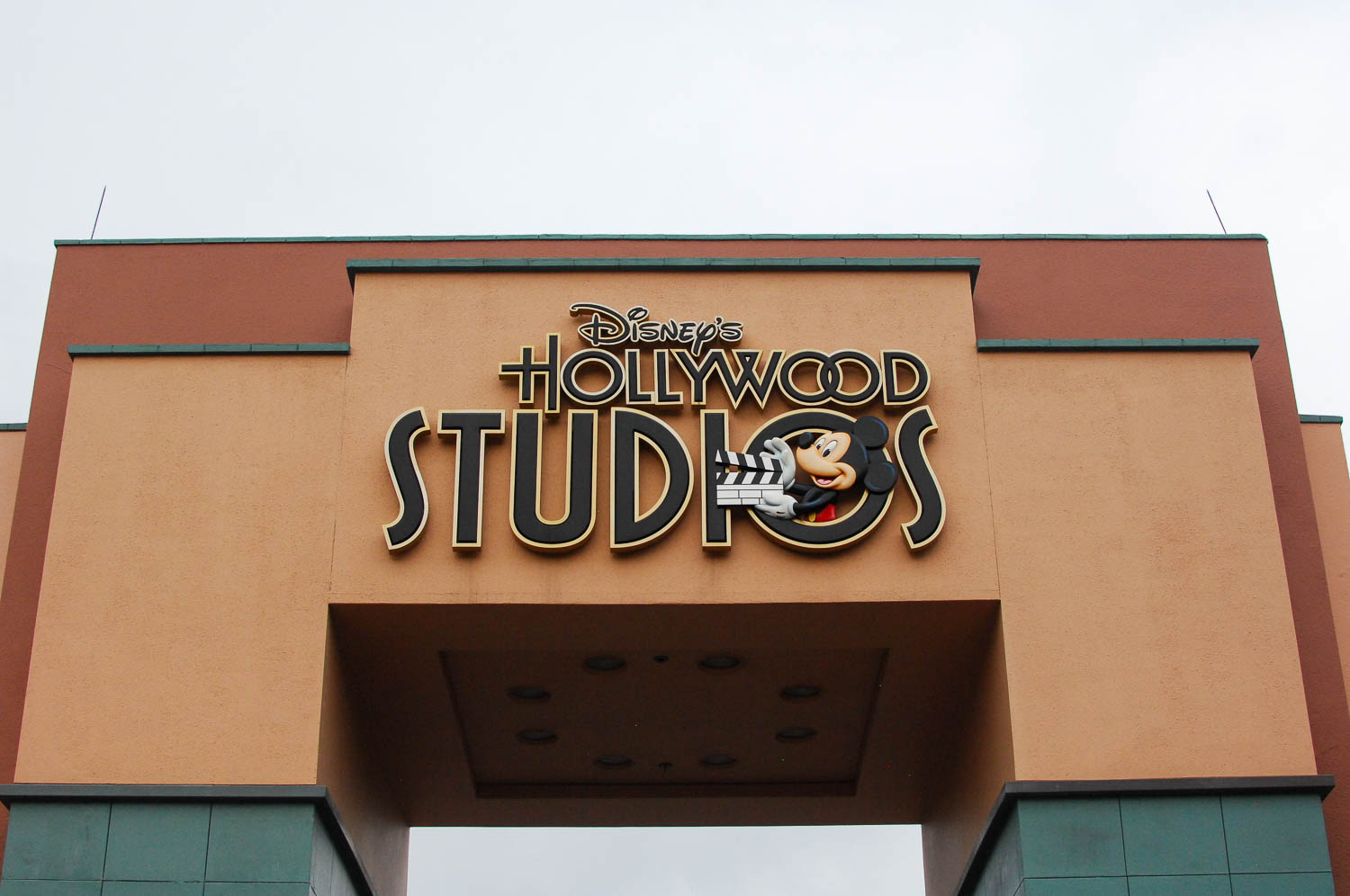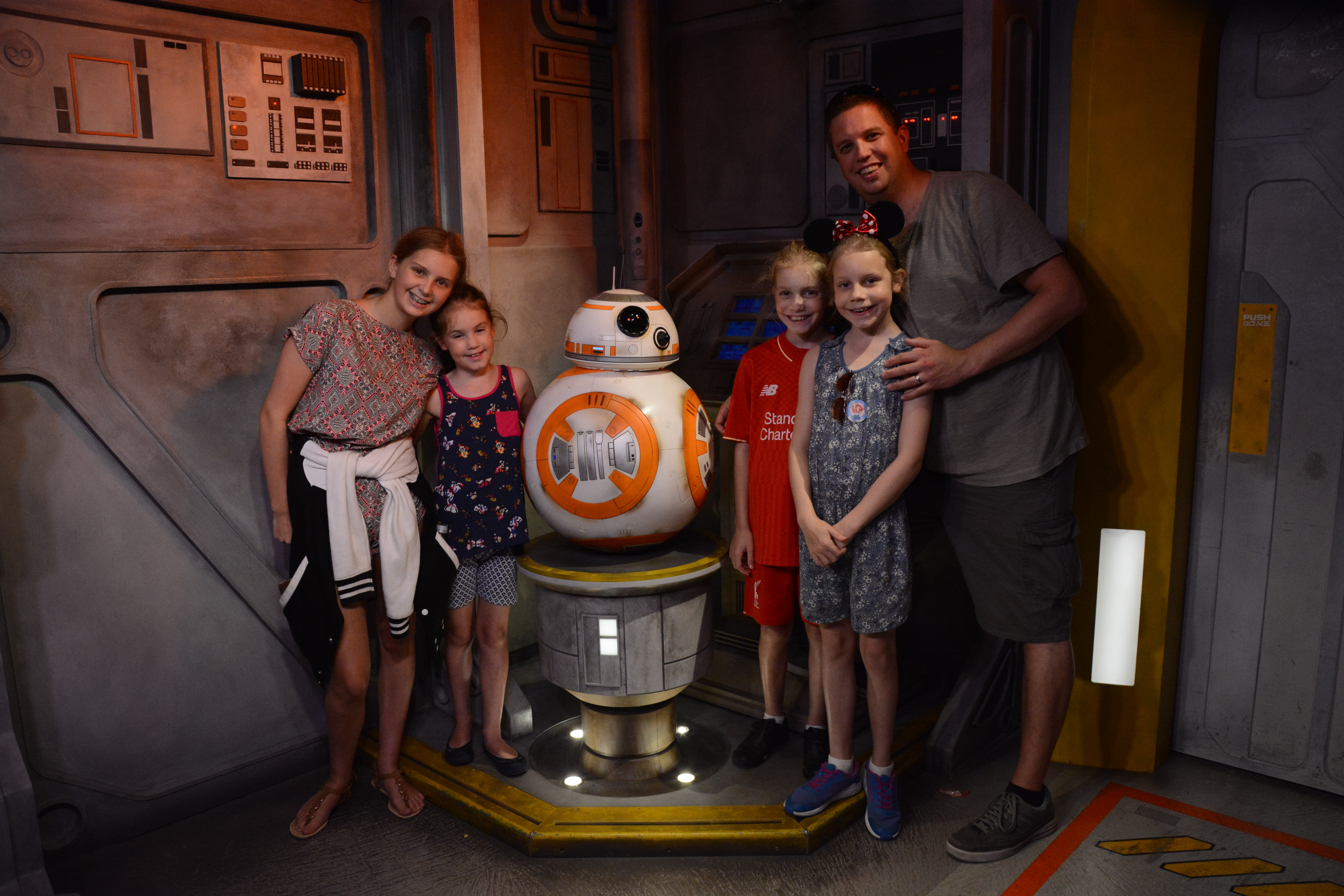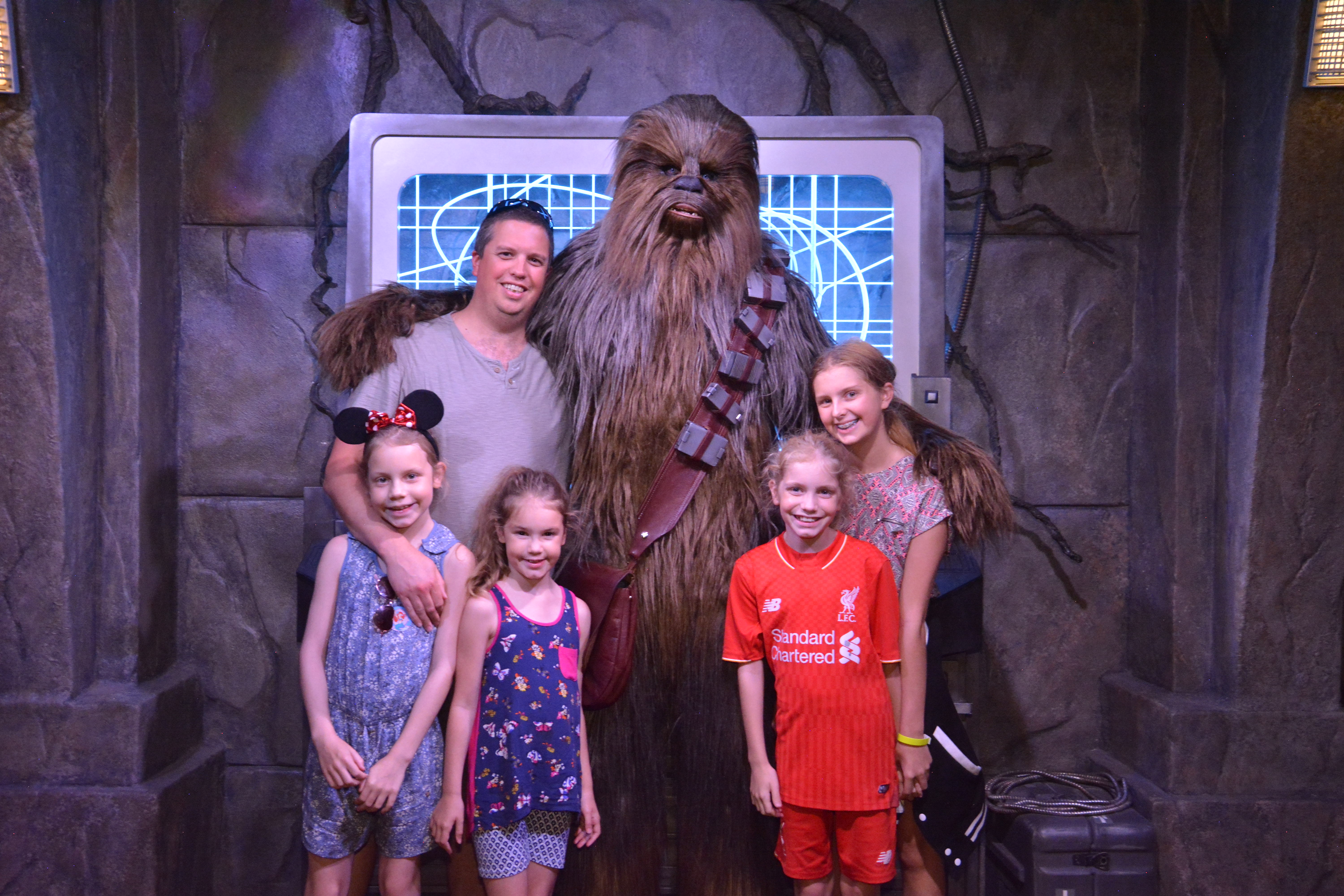 The husband and the teenager were desperate to ride Rock 'N' Roller Coaster so they went off to do that just as the heavens opened, whilst the girls and I mooched around 'Walt Disney Presents', which told the life story of the great man himself.  I really enjoyed learning more about Walt Disney: his humble beginnings; his inspirations; his ambitions; his vision for what he wanted to create.  His writing desk was there, plus a whole host of other personal paraphernalia.  It was wonderful.  The girls had had enough by this point though, so we called it a day and headed back to the entrance to meet up with the husband and the teen, happily exhausted from another busy day and wondering what the next (and final) two days of our holiday would involve.
There was SO much more we could have seen and done at Hollywood Studios.  That's the thing with the Disney Parks, there is so much choice and never enough time to get round all of the characters, rides and attractions, so it's really key that you prioritise the things you really want to see and do. Toy Story Land pens at the end of June this year and I'm so gutted we weren't able to see it – I LOVE Toy Story!  I guess it means we'll have to make a return visit to Florida in the not-too-distant future.