This post, all about Animal Kingdom and Disney Springs, is Part Five in a travel diaries series about our trip to Walt Disney World in Florida in October 2017. You can read Part One, all about where we stayed and our first ever visit to The Magic Kingdom, here. Part Two, covering the fun we had at Pirate Island Adventure Golf in Kissimmee plus what we got up to at Epcot, is here. Part Three, when we visited Celebration and returned to The Magic Kingdom to watch the Happily Ever After fireworks display, is here. Part Four, which talks about how much we all loved Hollywood Studios, is here.  And if you want to read Ella's take on our entire holiday, you can find her Top Ten Tips post here.
TUESDAY – ANIMAL KINGDOM
Tuesday was our penultimate day in Florida.  I honestly couldn't believe how quickly the time had gone – ten days really isn't long enough.  In fact, I'm not sure two weeks would even be enough time considering how much there is to see and do.  If we ever do make it back to Orlando (and I'm determined that we will!), we'll be looking at an absolute minimum of a fortnight I think, preferably three weeks if we can manage it.
Today was all about the Animal Kingdom – the only one of the Disney Parks we hadn't yet been to.  I wasn't really too sure what to expect from Animal Kingdom.  Before I did any research on it I just assumed it was a sort of zoo and couldn't figure out how that fitted in with all the other Disney parks and characters.  But once I started reading up on it I realised how wrong I'd been.  Animal Kingdom is SO much more than 'just' a wildlife park.  Sure, there are animals there to see, but there is a whole heap of other cool stuff that you'd be crazy to miss out on.
Animal Kingdom is divided into five different areas: in the centre of it all is Discovery Island, home to the Tree Of Life; and then circling that there is Pandora; Africa; Asia; and Dinoland.  We'd managed to book two fast passes in advance for Animal Kingdom – the 'Festival of the Lion King' show (in Africa) and the 'Rivers of Light' evening show (in Asia), so we knew we had to be in certain places at specific times and tried to plan our day accordingly.
First up we headed for Pandora.  I loved the film Avatar when it first came out (9 years ago!) and although I've only ever seen it once, I found the whole concept of being connected to the earth and living in harmony with nature quite fascinating and was keen to see how it had manifested in Walt Disney World.  Simply put, Pandora was beautiful and actually incredibly realistic – you were never quite sure which of the plants were real and which had been created as part of the set.
We all really wanted to ride the Na'vi River Journey as from the description it sounded like a really cool experience to have (exotic glowing plants and a shaman of songs!), plus I knew it would be a tame enough ride for the littler/more nervous members of our party.  We weren't able to book a Fast Pass for it though and the queue time was over two hours (it's a very popular ride) so we sadly decided to give it a miss.  One for the next time we visit for sure.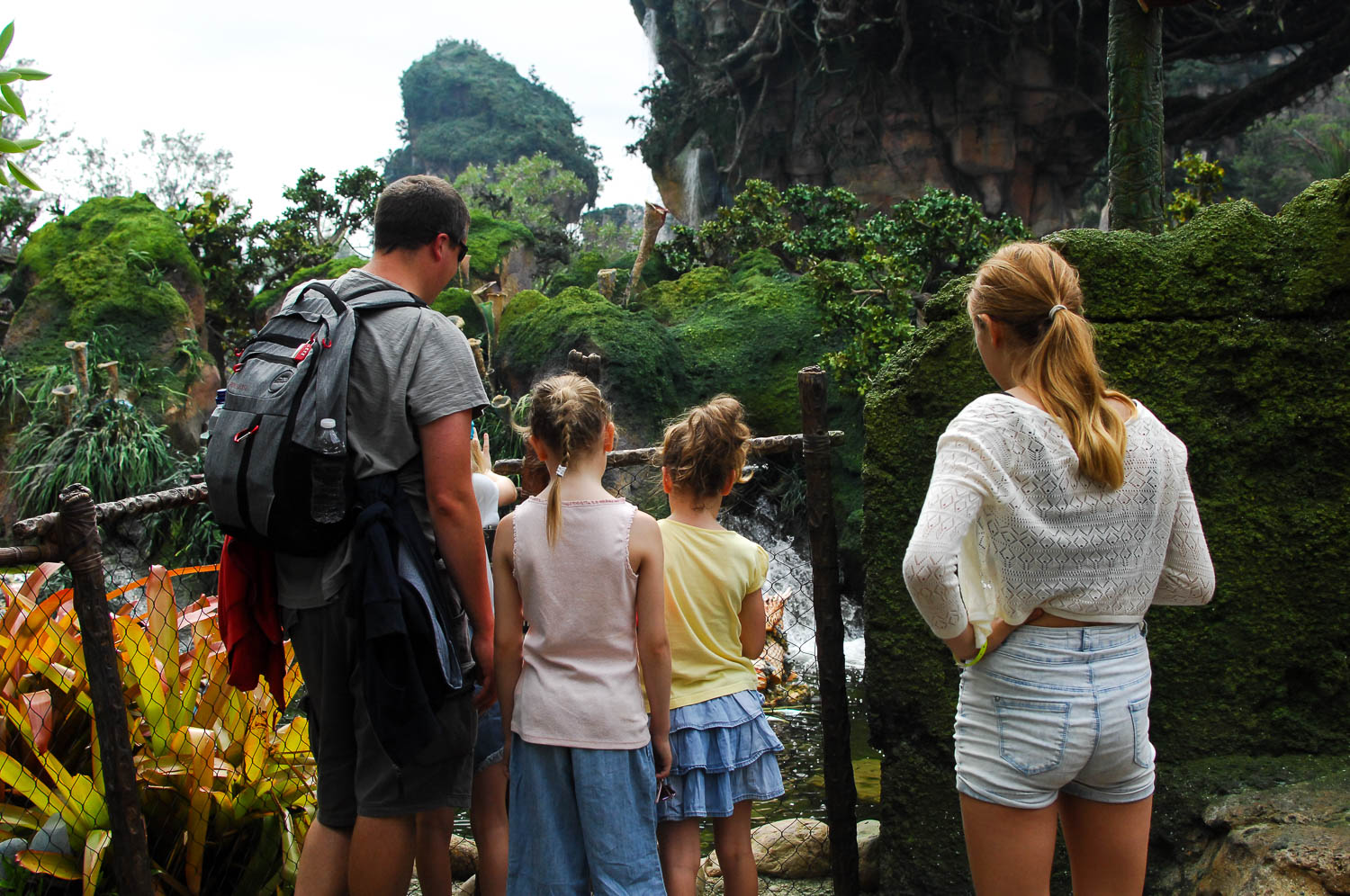 Next up was Africa.  I've never been to the real Africa myself, though my best friend has visited several times and I've soaked up all the stories she's told me.  Plus I've read blogs from Karen at Mini Travellers who took her three daughters to Rwanda last year and had the most incredible time.  As a result I already had an image in my head of what it 'should' look like.  Let's just say that every single expectation I had was completely surpassed in the very best of ways.  I've said it before but I'm going to say it again anyway, the attention to detail was absolutely phenomenal – you could easily believe you were actually in Africa.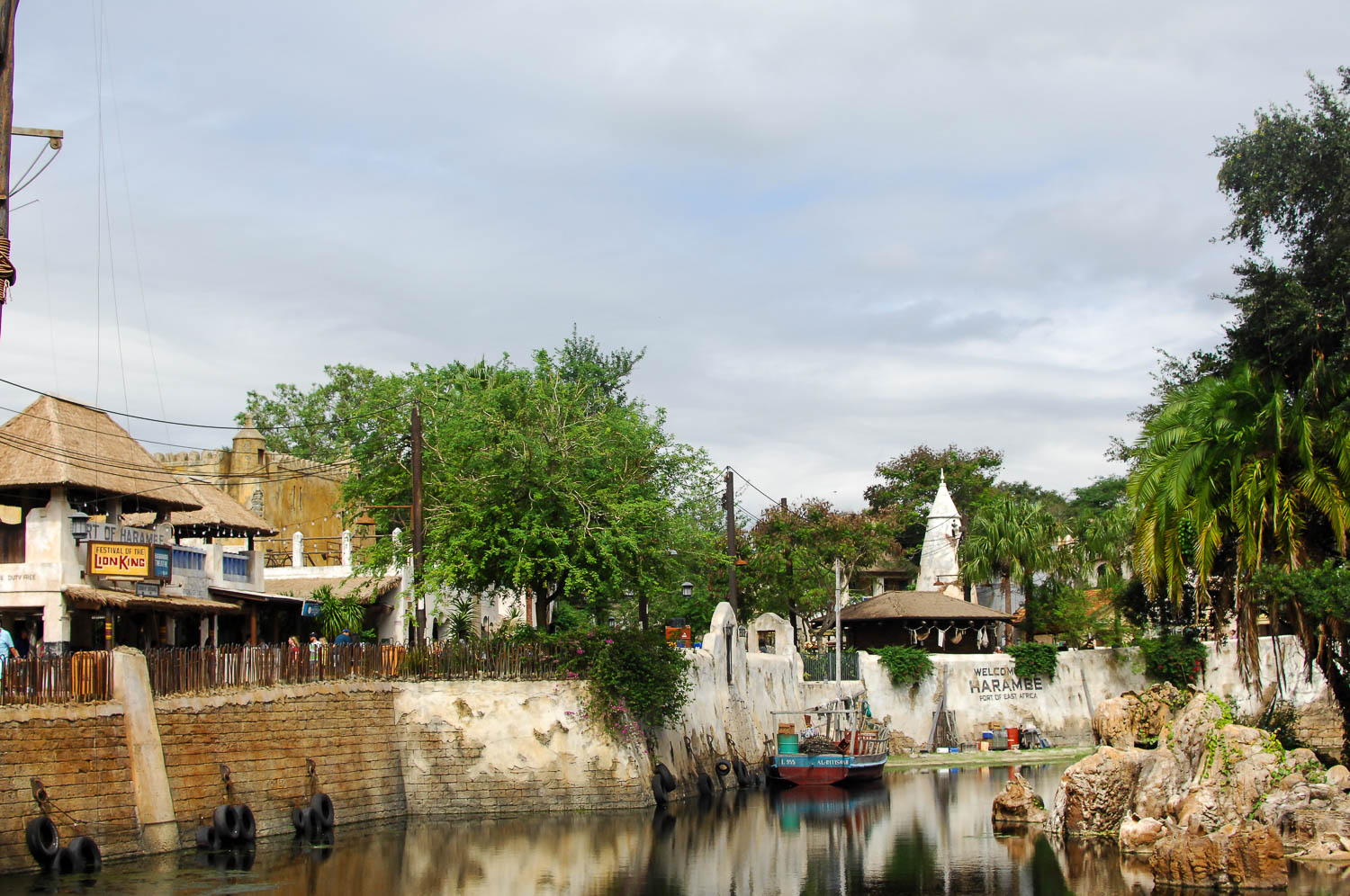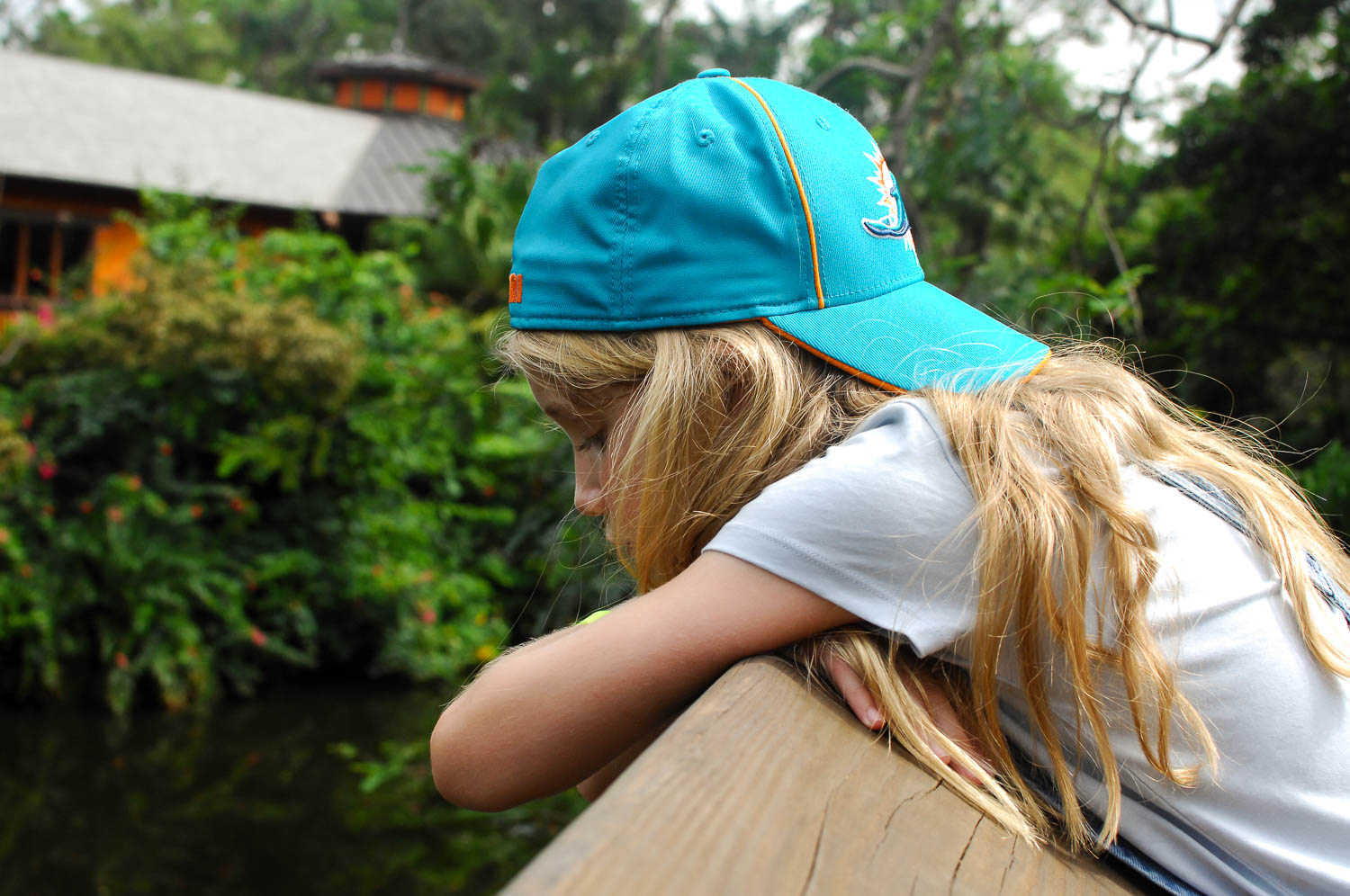 We wandered through the dusty streets absorbing the atmosphere, stopping briefly to watch some turtles in the water, before coming across the Flight of Wonder bird show, which was just about to start.  We quickly dived in, found a seat and subsequently sat open mouthed as a huge variety of birds of all shapes and sizes flew in and out of the arena, some so close to the audience that their wings brushed the tops of people's heads and some which sang 'How much is that doggy in the window' pitch perfectly!  The presenter was fantastic (and funny) and he had a huge wealth of knowledge to share about his beloved birds and the conservation of them – something that was clearly very close to his heart.
Somehow we completely managed to bypass the area where you could take a safari ride out to see loads more animals which I'm a bit gutted about now – another one to go on the list for our next visit.  The girls and I did, however, stumble across a troop of awesome dancers performing some incredible feats of acrobatics to some very funky drumming music whilst the husband and the teenager went off to ride the Kali River Rapids.  We also took to opportunity to eat a Mickey Mouse shaped ice cream and have a wander around the shops.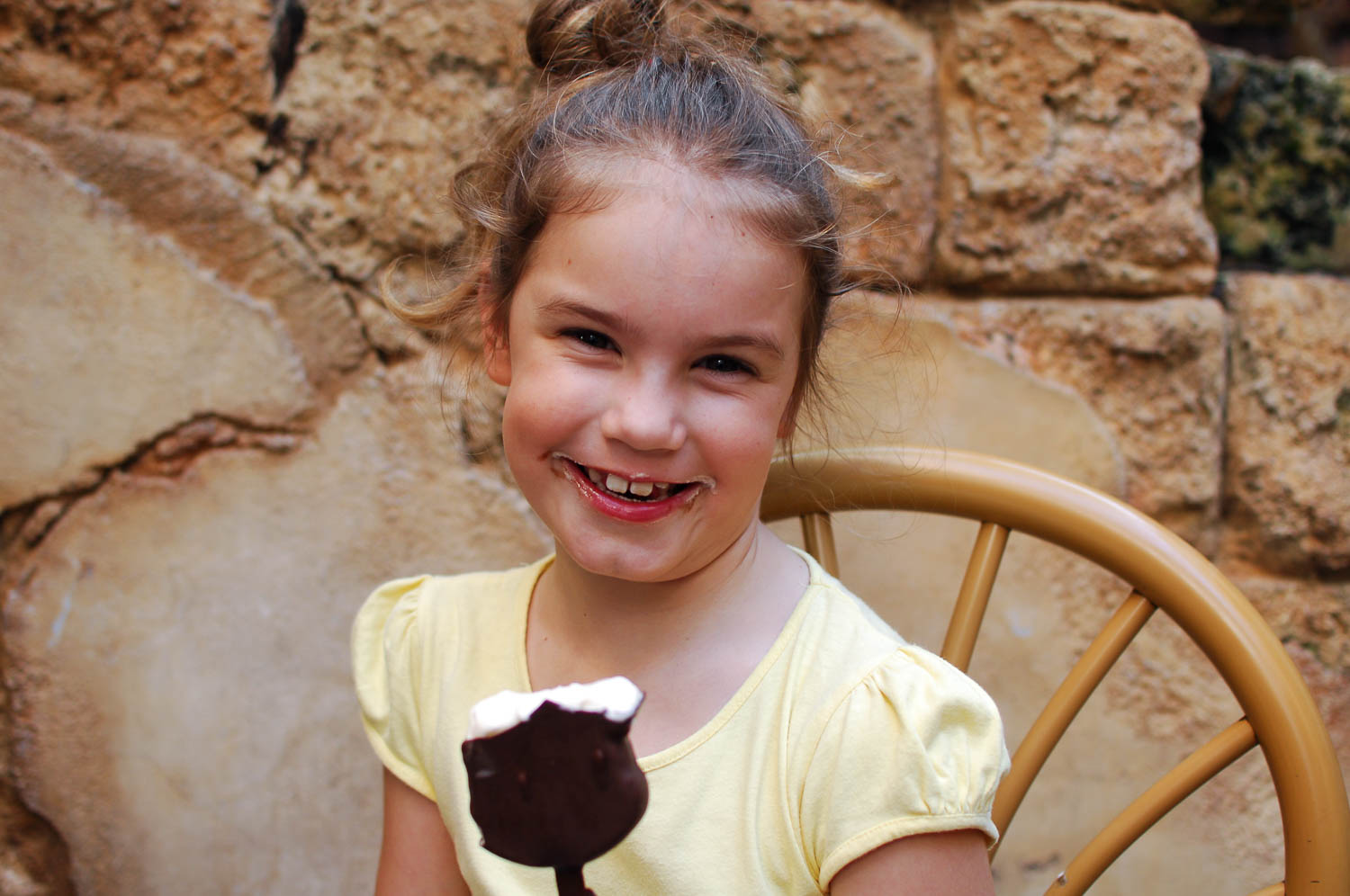 Once reunited (with two members of our party slightly soggier than they'd anticipated!) we headed for the Gorilla Falls trail, which meandered through a series of forest paths and led to a viewing station where there was a troop of gorillas with their playful babies!  There was loads of information about gorillas dotted around – the girls loved measuring their hand spans against that of an adult male gorilla.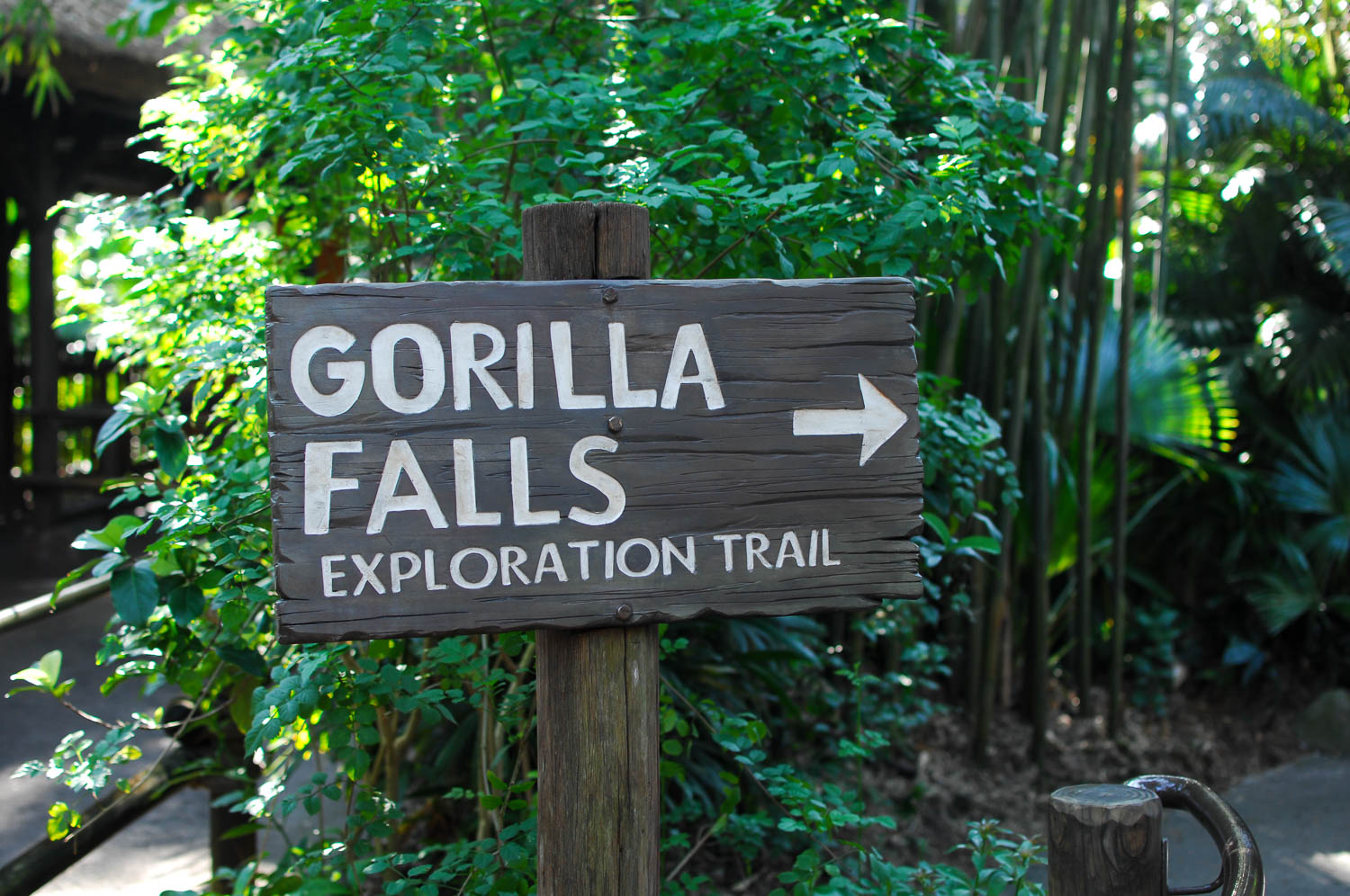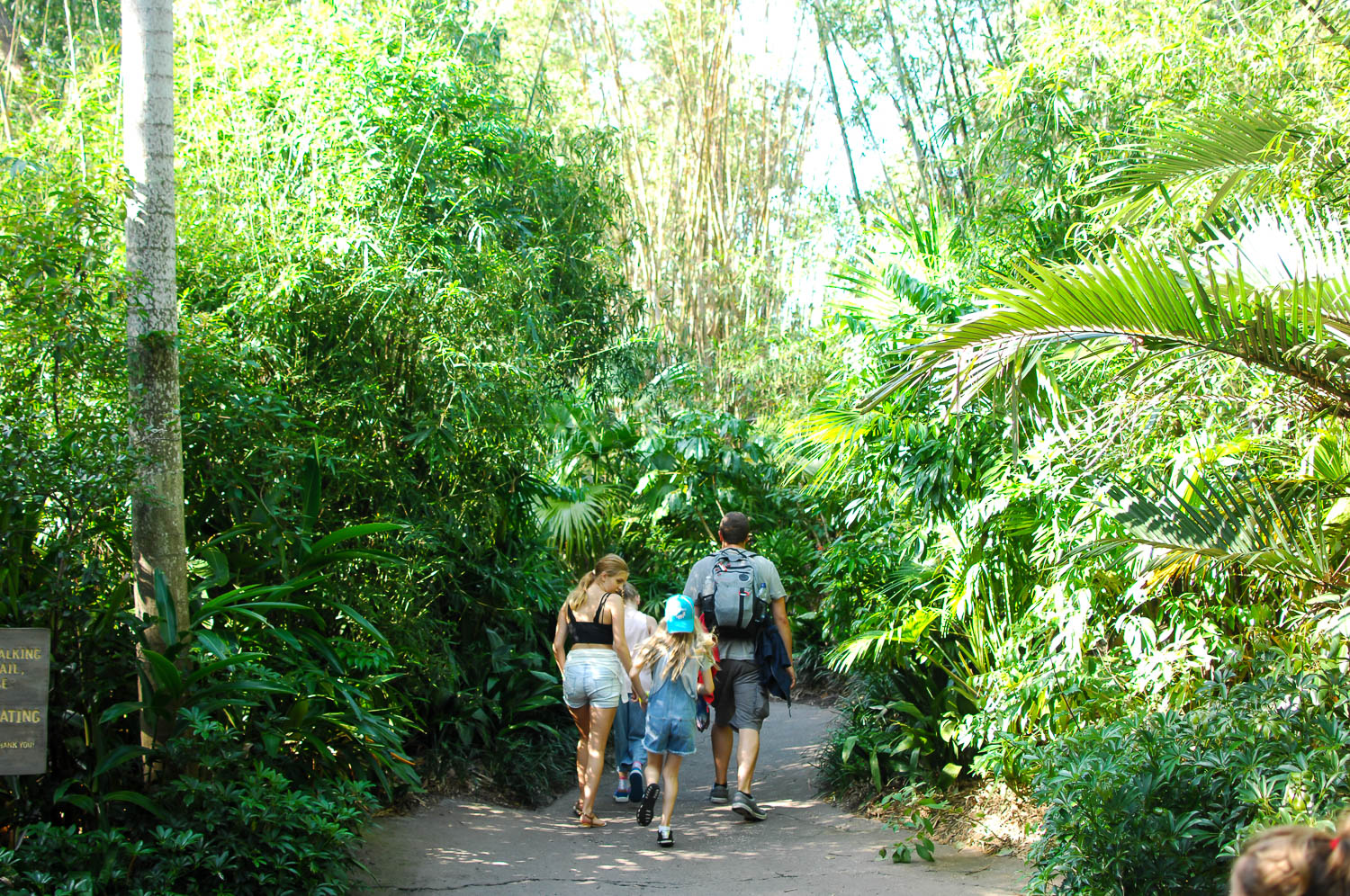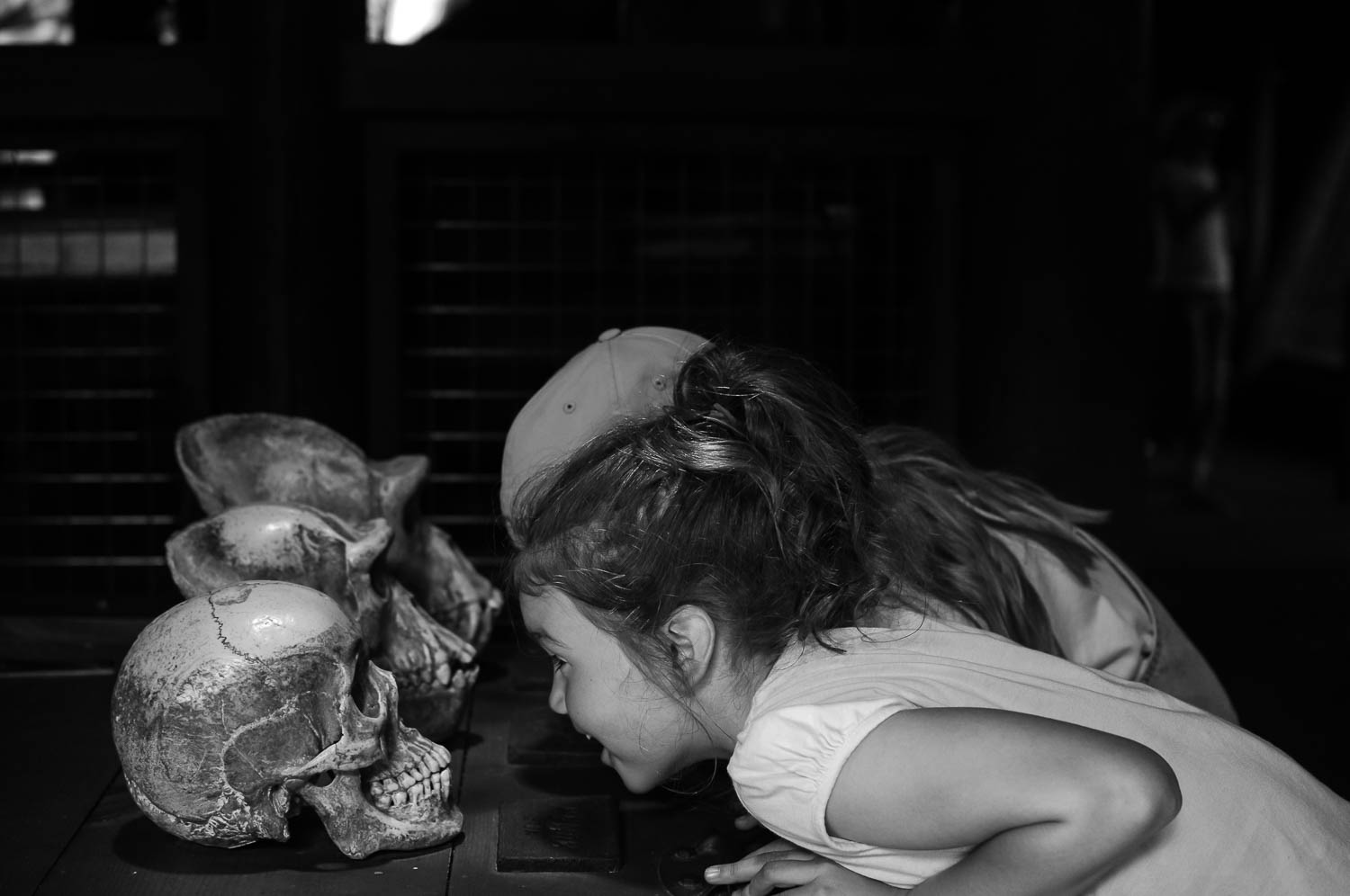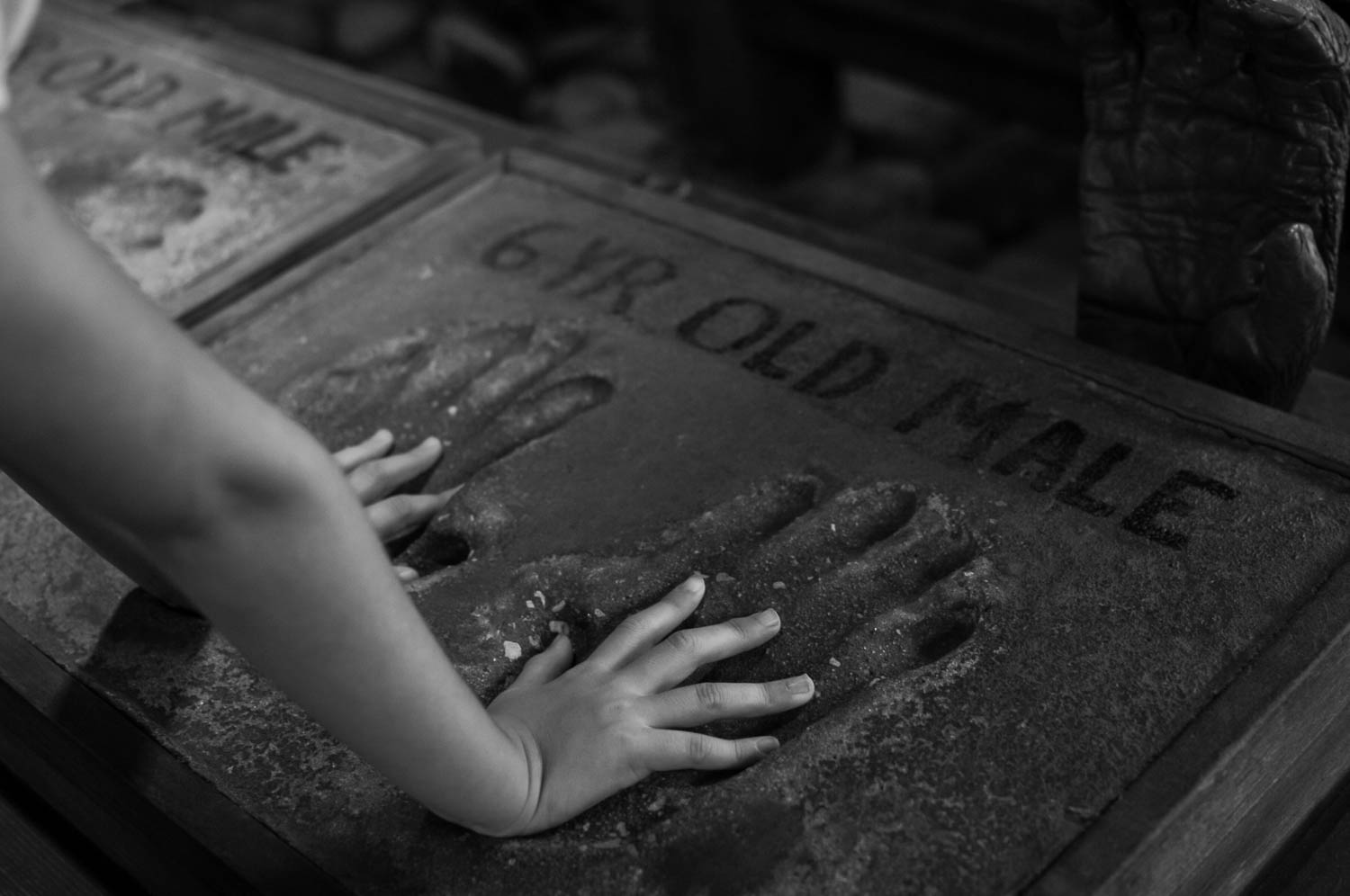 By the time we emerged at the other end of the trail, it was time for our first show of the day – The Festival of the Lion King.  I have wanted to see The Lion King at London's West End for years and haven't managed to make it down there yet, so I was hoping that this highly acclaimed version of the show would whet my appetite a bit.  Honestly?  It was beyond spectacular!  I had no idea what to expect really and the whole thing was so utterly wonderful that I sat there spellbound for the entire performance.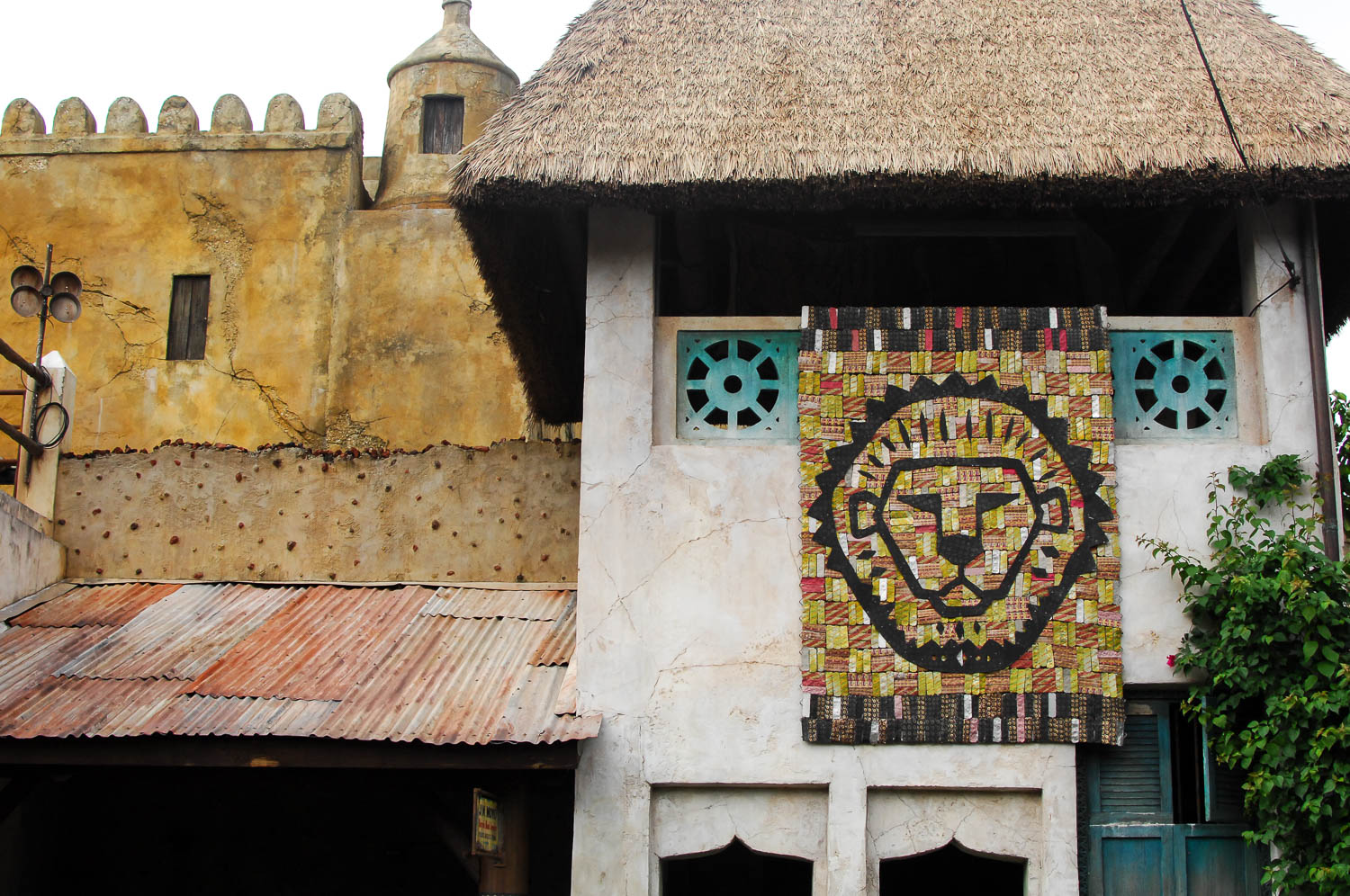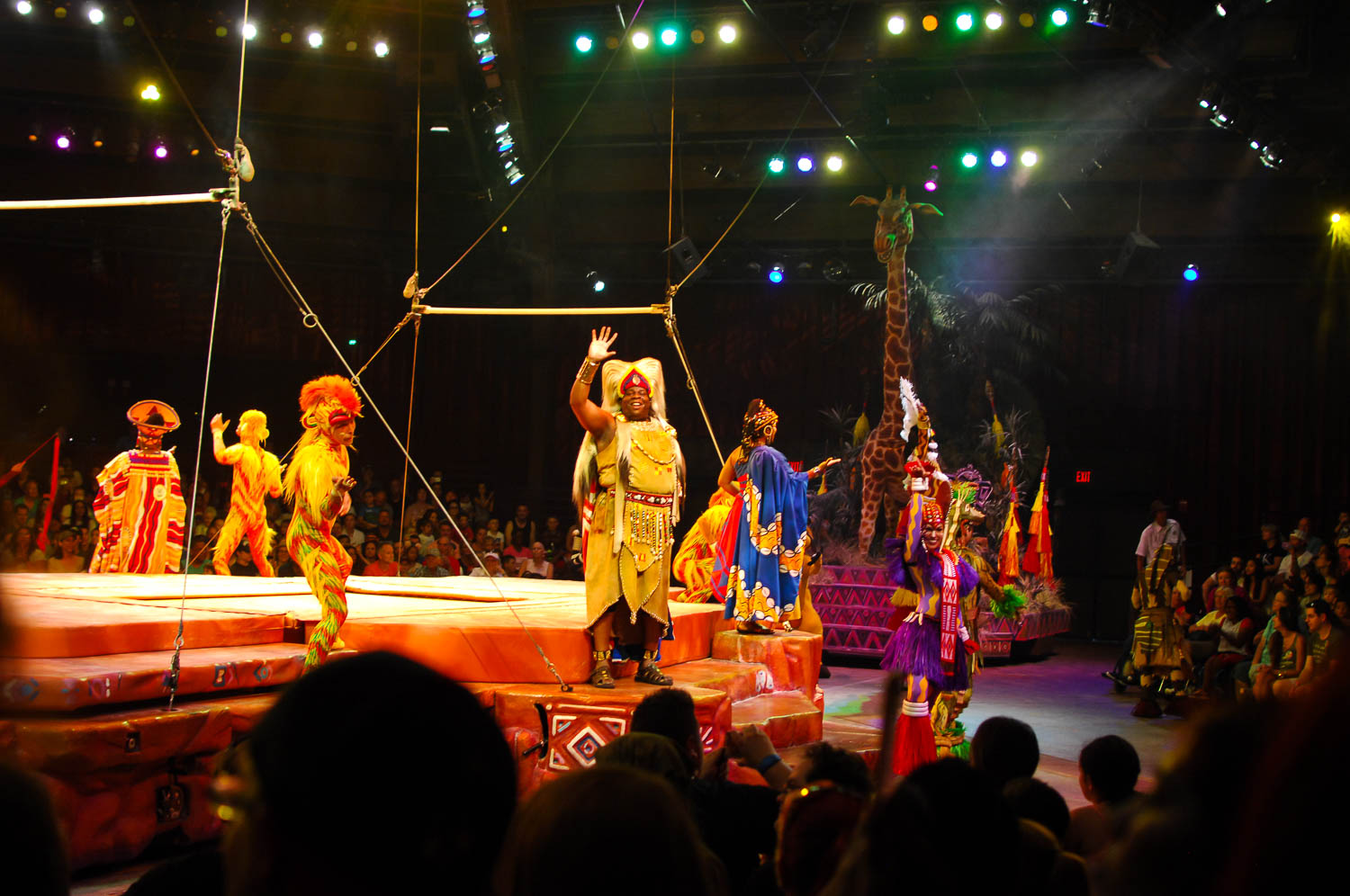 After the show, blinking in the still-bright sunlight despite it being late afternoon, we moved round to the Asia section of Animal Kingdom.  Again, the detail was incredible – I know I keep going on about it but you have to see it to believe it really.  The prayer flags, the 'ruins' – all absolutely authentic looking.  Our first port of call was the Maharajah Jungle Trek, which I'd been excited about all day because I knew we'd get to see some tigers.  I love big cats and tigers are my favourites so this was a must-do for me.  We did get to see the majestic male tiger stretched out in all his glory in the sun having a snooze, but the female and her cubs were nowhere to be seen.  According to one of the guides, they were inside the shelter in the cool and she showed us a live feed of them playing together on the tablet she was carrying with her, which I thought was a really lovely touch.  There were plenty of other exotic animals on the trail too, which drew lots of impressed "ooh"s from the girls.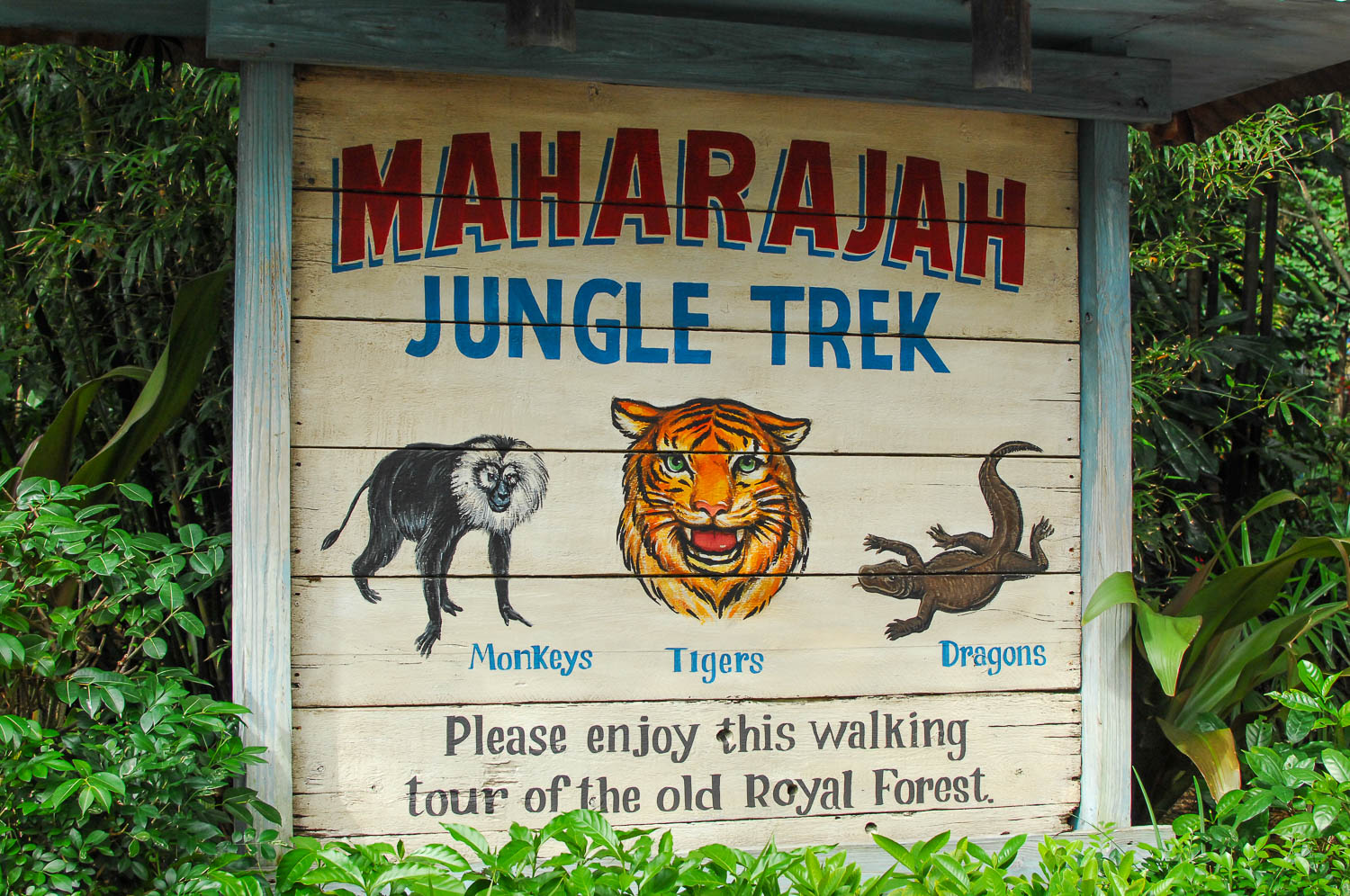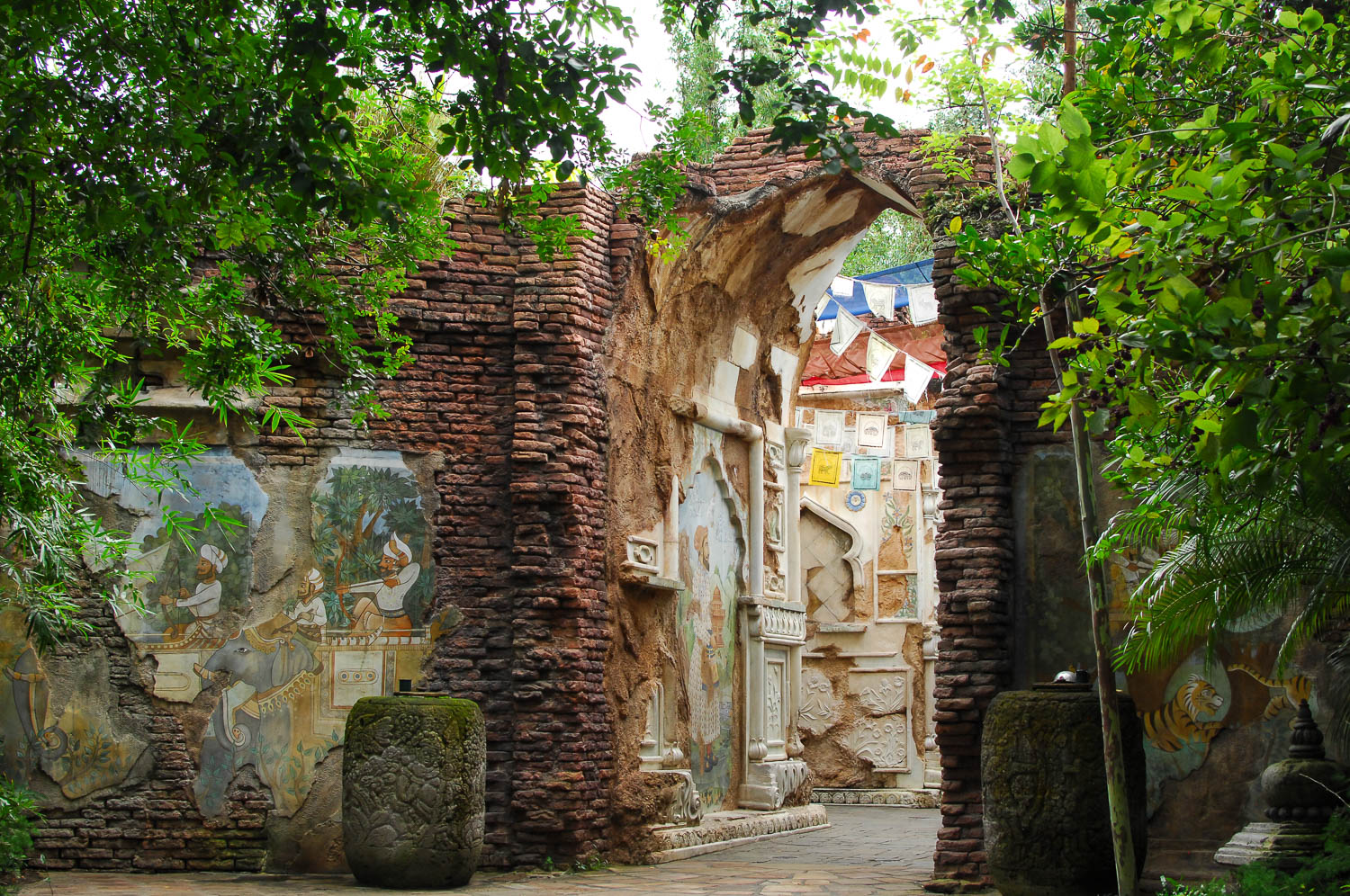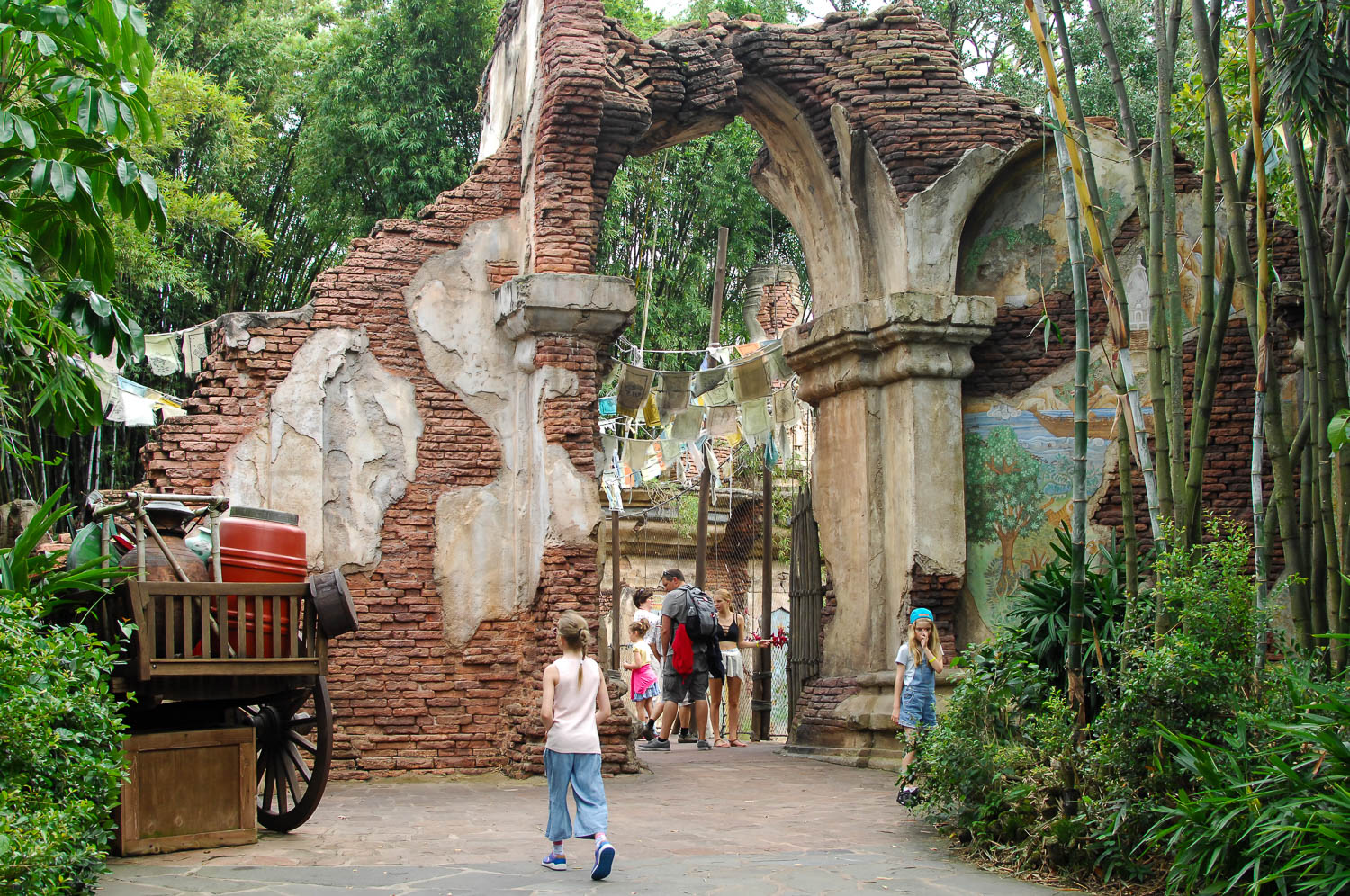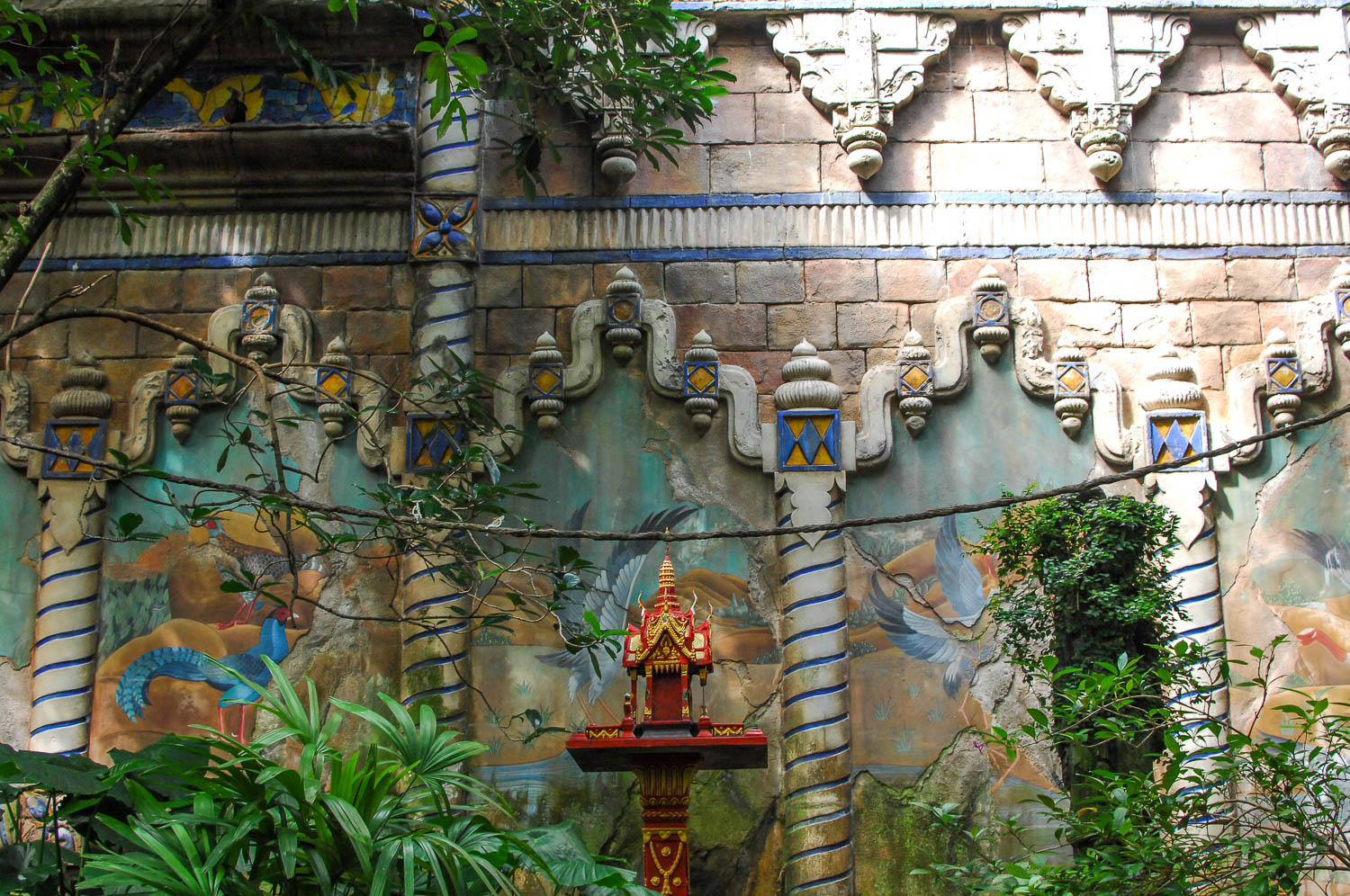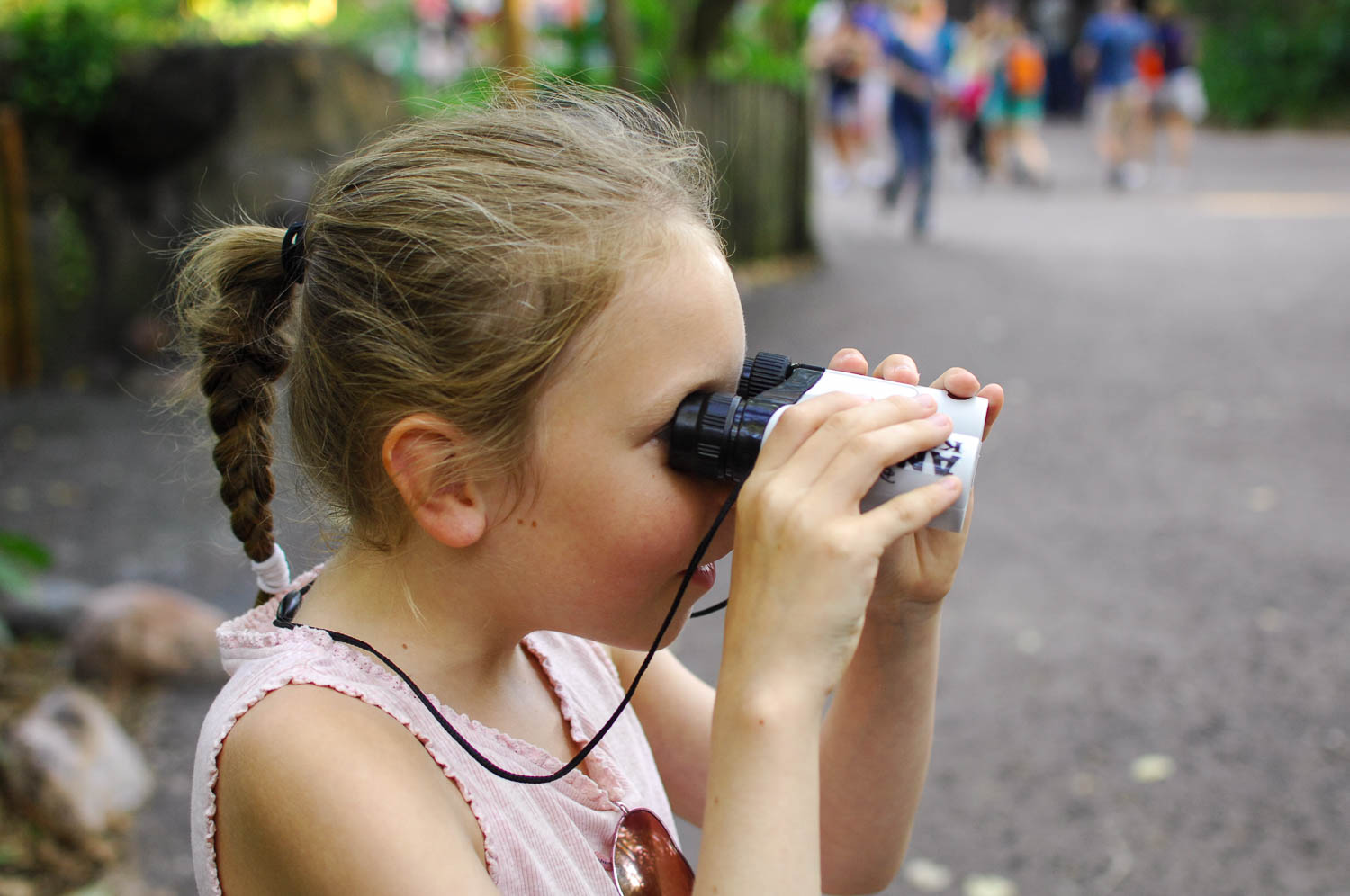 Although the Rivers of Light night-time spectacular takes place in Asia, we had made sure to leave enough time to eat dinner somewhere very special: The Rainforest Café.  I know there is a branch in London and I've been wanting to go there for the longest time, so when I spotted the distinctive logo as we were first entering the Animal Kingdom I immediately popped in and booked us a table without hesitation.  I'm so glad I did because the place was heaving when we arrived – I highly recommend booking in advance if you plan to go there (and you definitely need to plan to go there – it's awesome!).  The brightly coloured tropical fish in floor-to-ceiling tanks kept everyone occupied until our table was ready and once we were sat down it was almost too distracting to browse the menu because of everything that was going on!
The girls opted for the standard nuggets and chips, the teenager had a burger, the husband had ribs and I chose salmon with sticky rice and stir-fried veggies and oh my goodness it was delicious!  I'll say one thing about Disney – the food in the parks isn't great. It's either fast junk food or sweet treats and we struggled to find basic sandwiches or salads anywhere.  I'd been craving some vegetables for the last week so to finally be able to have some made them all the more delicious.  We also got a Volcano to share as a dessert which was as delicious as it was enormous – we couldn't finish it even between the six of us!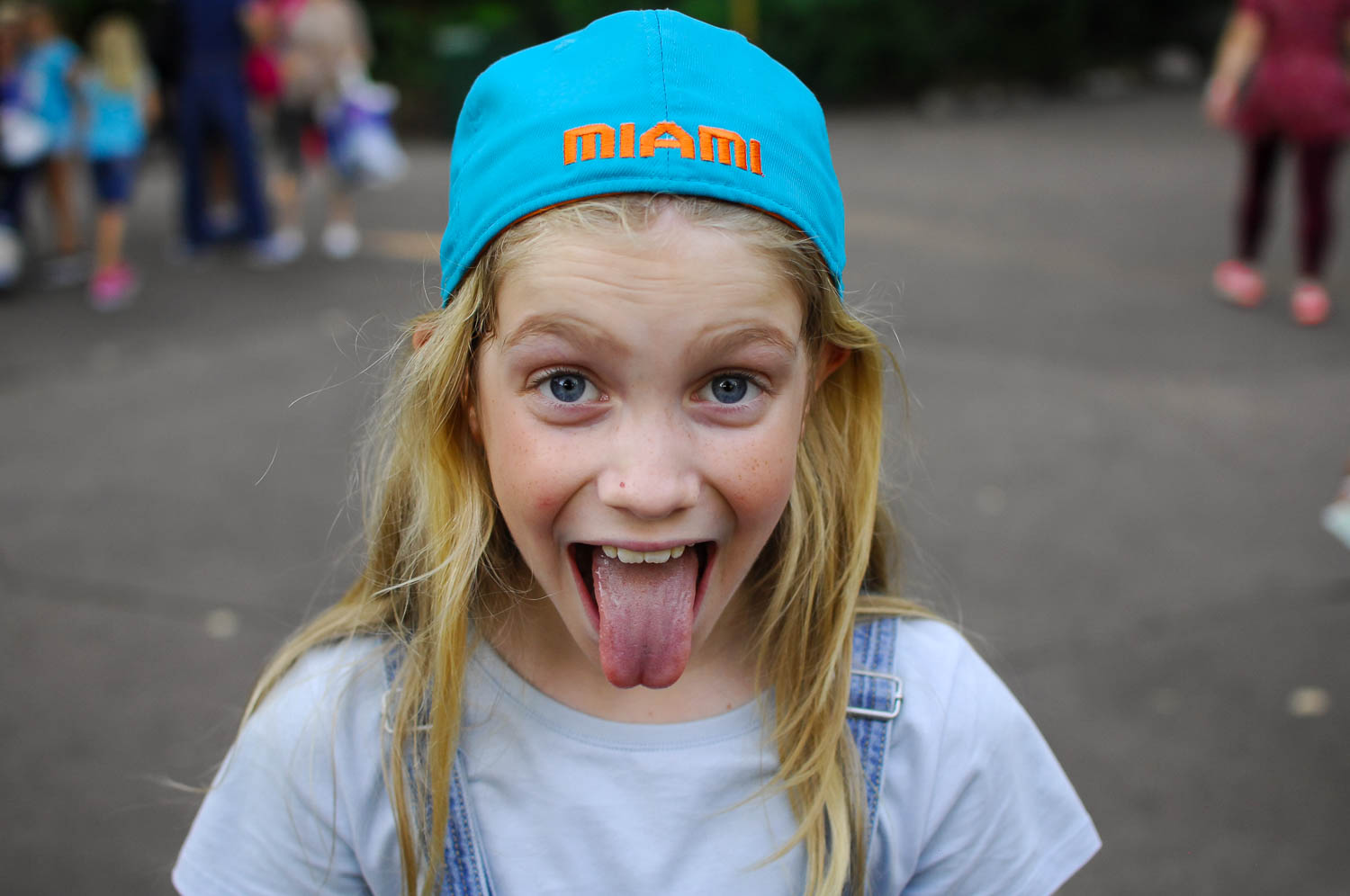 By the time we were finished with our meal (and had bought some souvenirs in the shop), the light was fading fast and we made our way all the way back to Asia to take our seats for the Rivers of Light evening show.  It's described as 'a fusion of sound, water and light' and that's exactly what it was – it was beautiful!  The intricate use of colours and shadows, combined with fountains of water and cleverly placed lights told a story without the need for words and the girls all loved it.  I peeked over at them at one point and they all had their mouths open in awe.  It's definitely worth adding to your itinerary (and there are no fireworks, so the littlest one was happy!).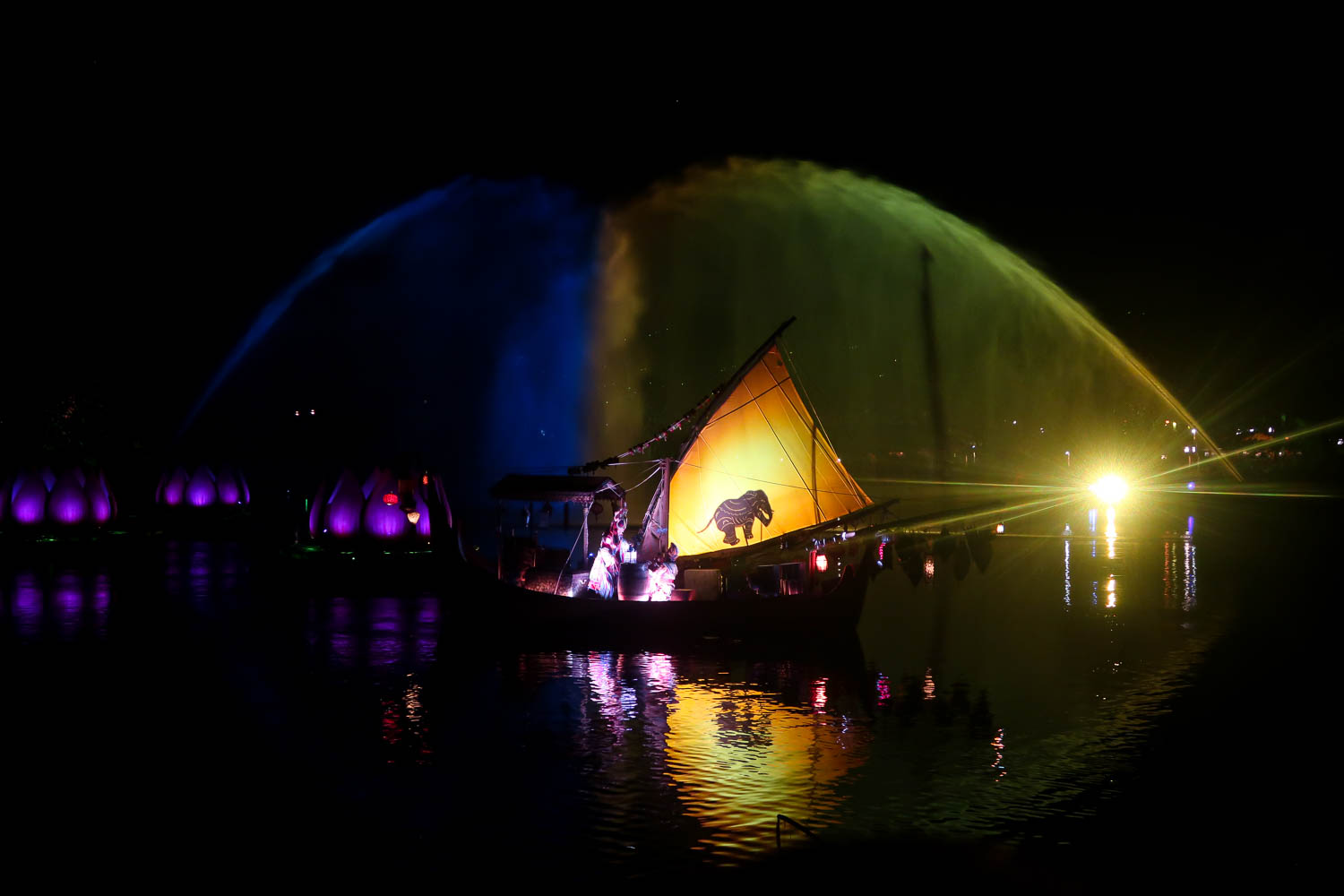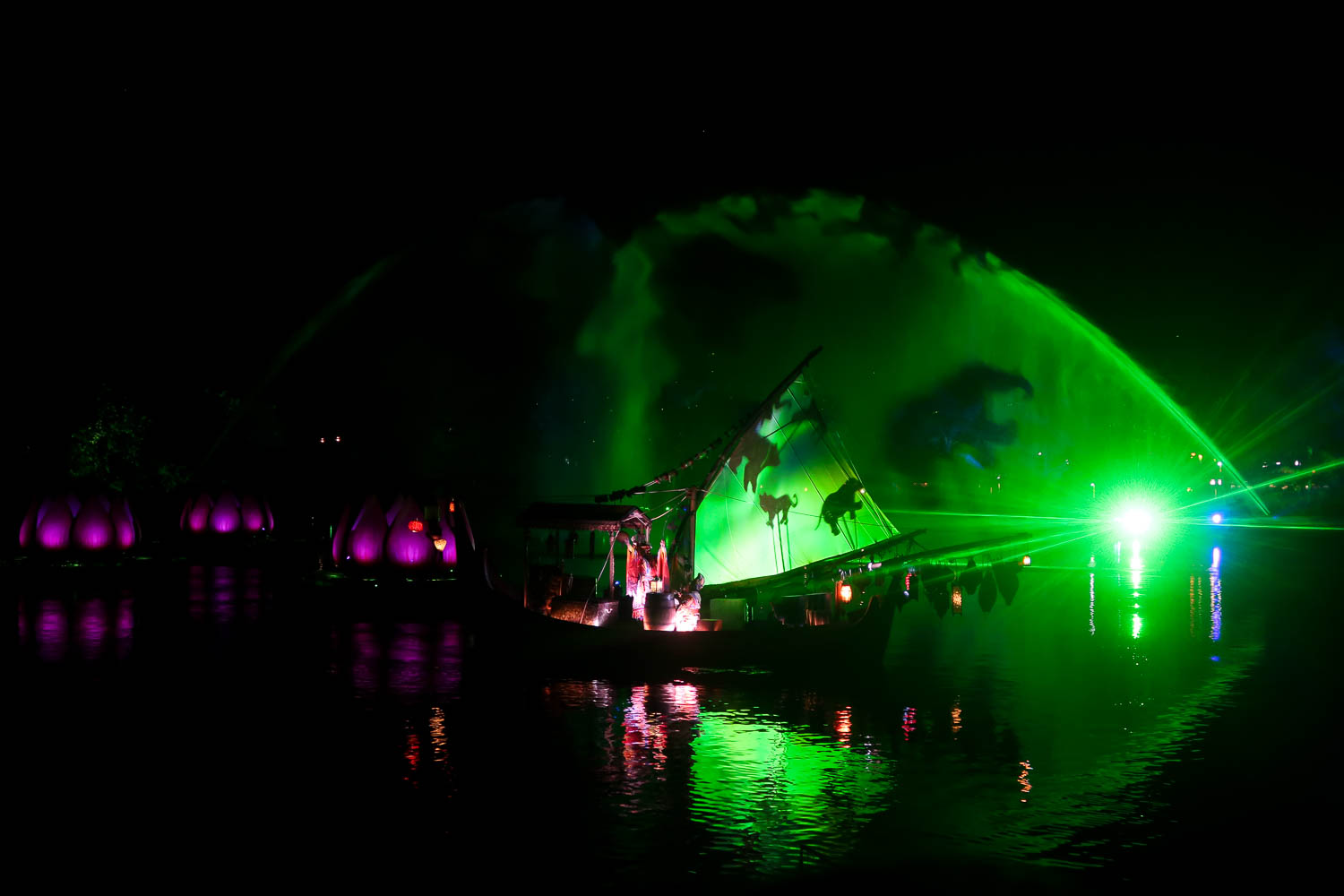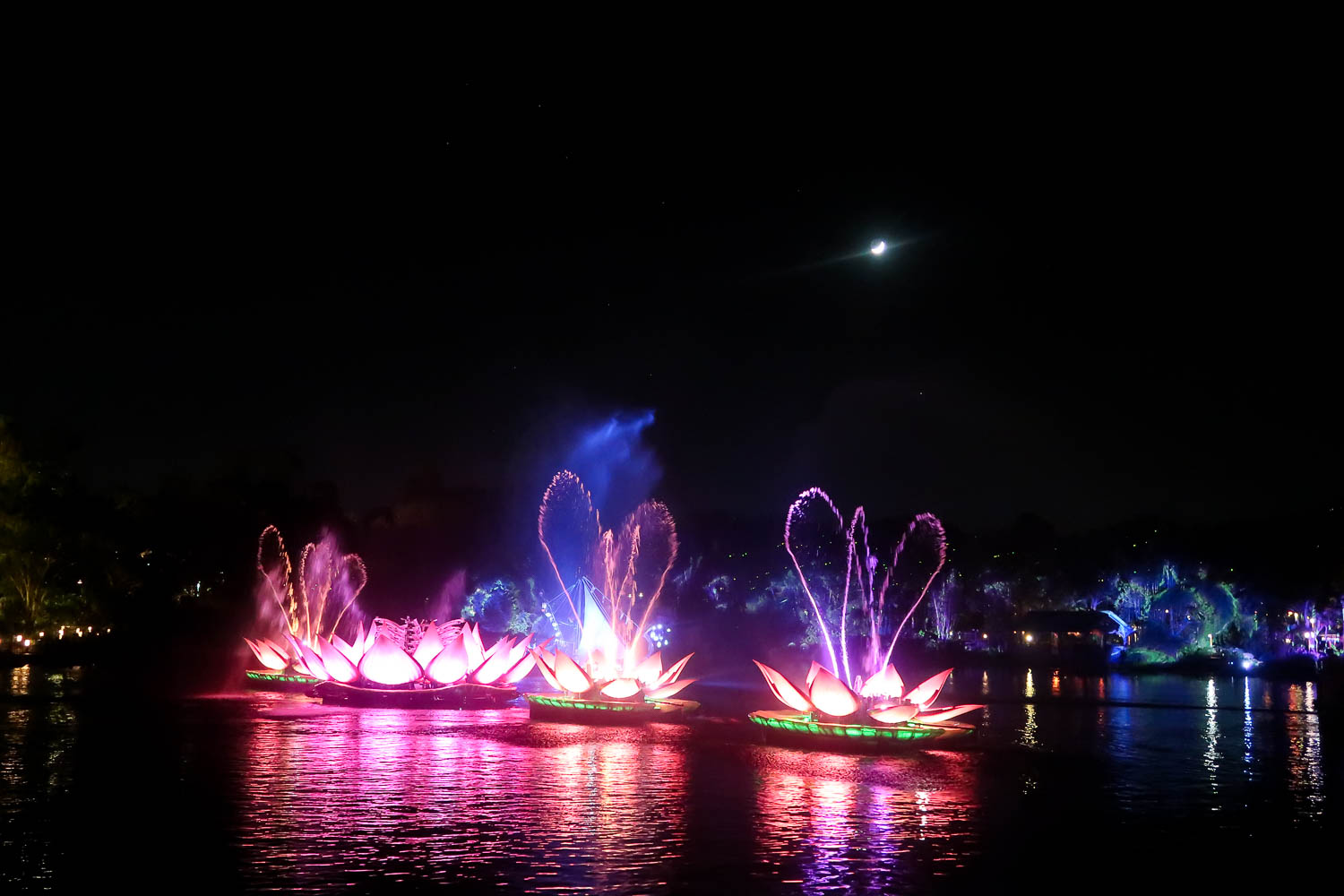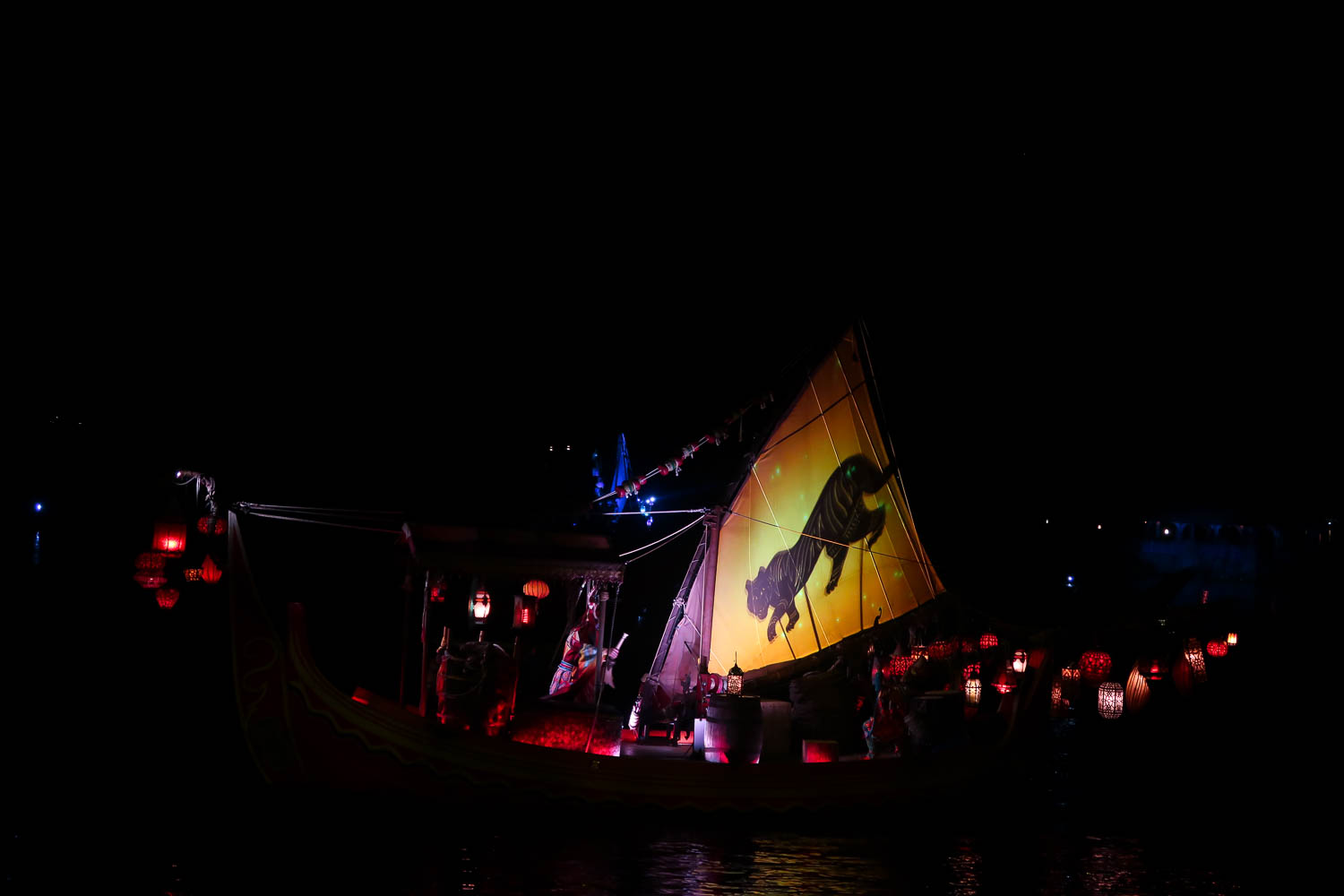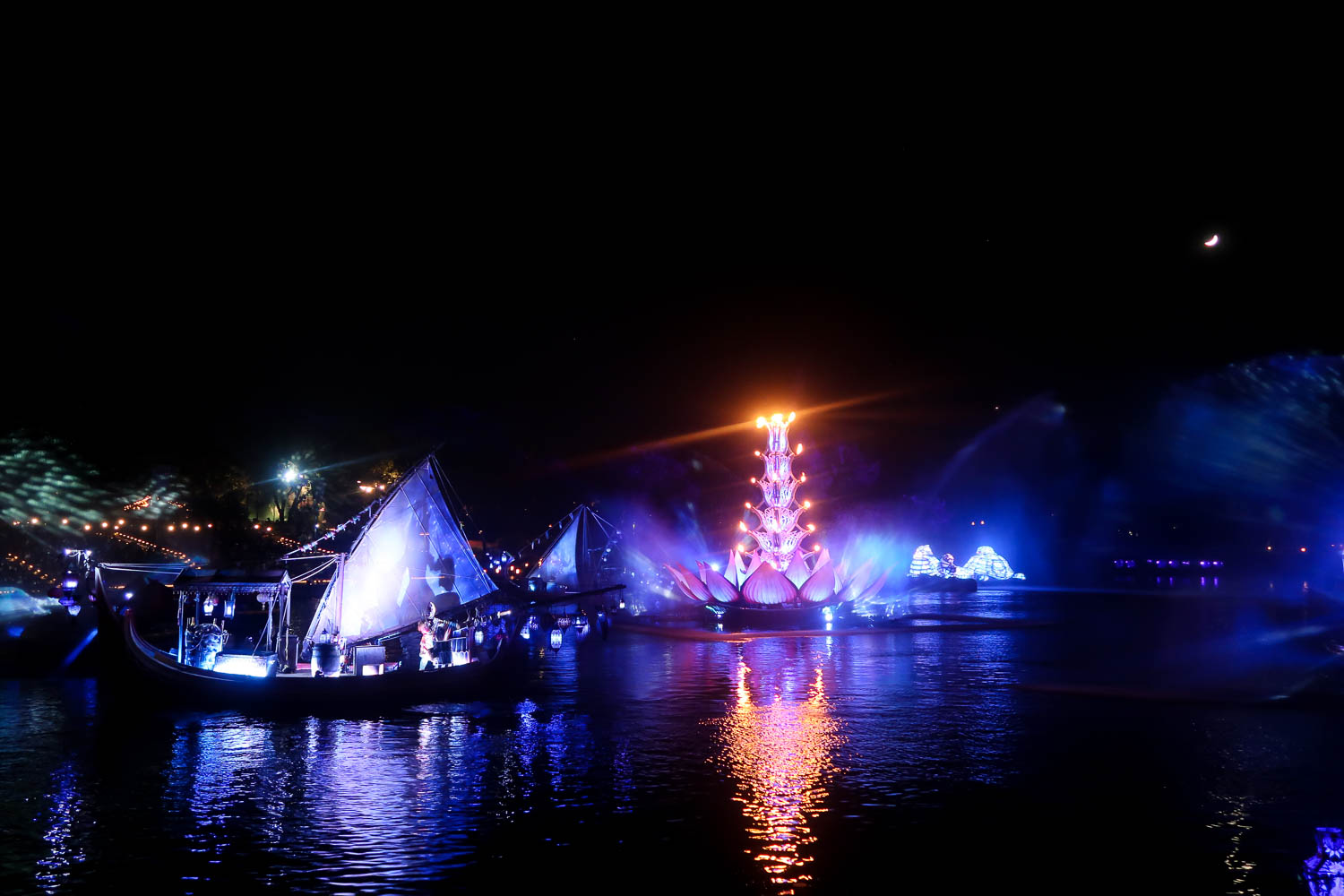 WEDNESDAY – DISNEY SPRINGS AND FLYING HOME
Despite having a late night last night after watching the Rivers of Light show, we had to be up early in the morning in order to pack, for today was the day we had to check out of our beautiful villa at Balmoral Resort and make the long journey home to the UK.
Fortunately Virgin Holidays, who we booked with, offer the opportunity to check all your luggage in at Disney Springs, a bustling hub of shops and restaurants surrounding a beautiful aqua-blue lake.  This is such a fantastic opportunity to take advantage of – it means that the whole check-in process is done so that all you need to do once you get to the airport is clear security, plus you don't have to worry about leaving all your luggage in your car in plain view whilst you shop.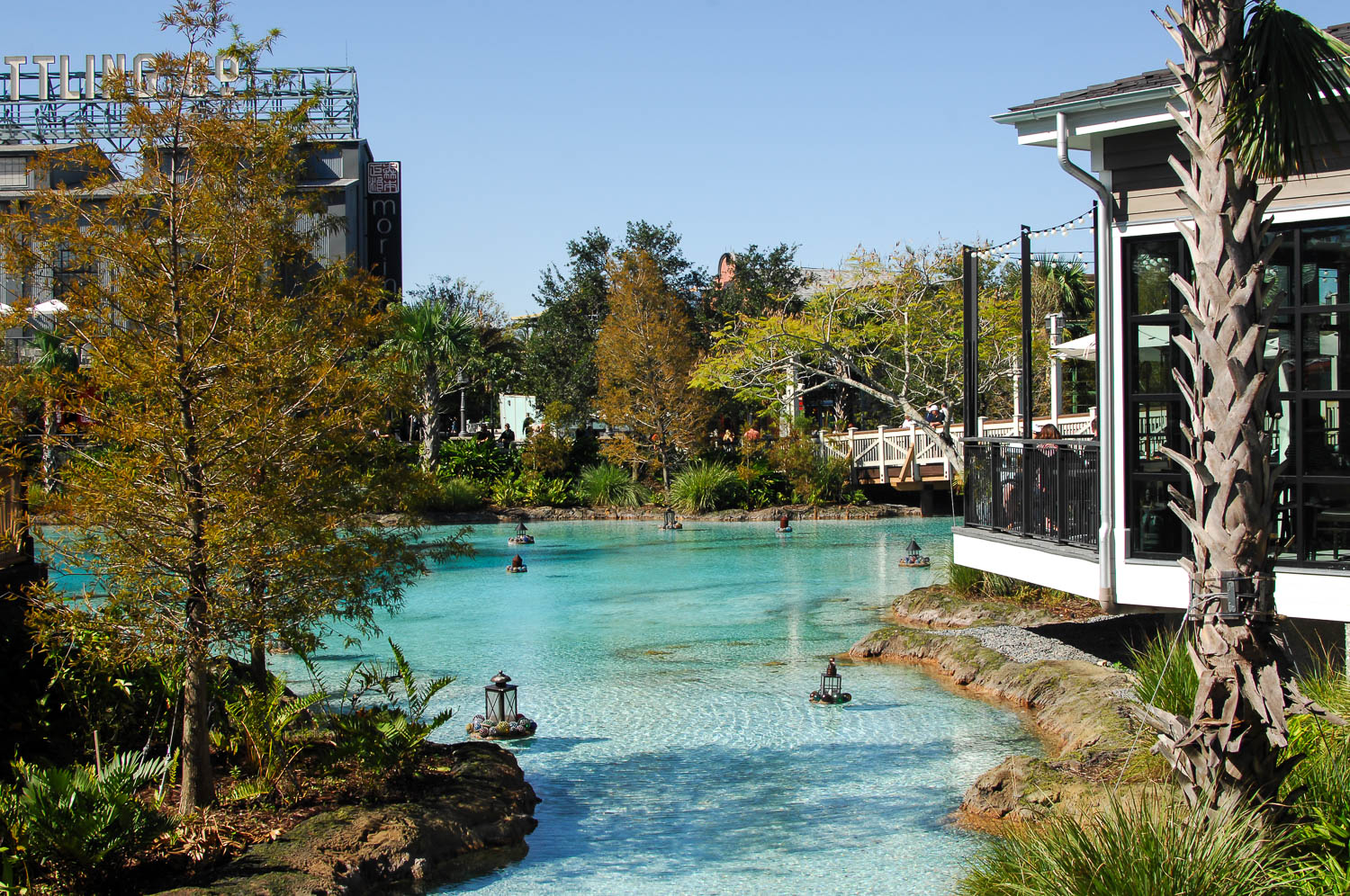 The girls all had holiday money burning a hole in their pockets and wanted to buy a couple of small souvenirs for themselves, and we also wanted to send a few last-minute postcards to our families (which, curiously, we hadn't been able to find anywhere in any of the Disney parks).  We grabbed some lunch at Earl of Sandwich, shopped some more and then set out to find the legendary Sprinkles Cupcake ATM machine.  The girls were desperate to have a cupcake from the ATM but sadly it was out of order and so we couldn't fulfil that particular wish, which was such a shame although of course there was nothing we could do about it. I have to say that I felt a little bit disappointed too!  Another one to add to the list for next time.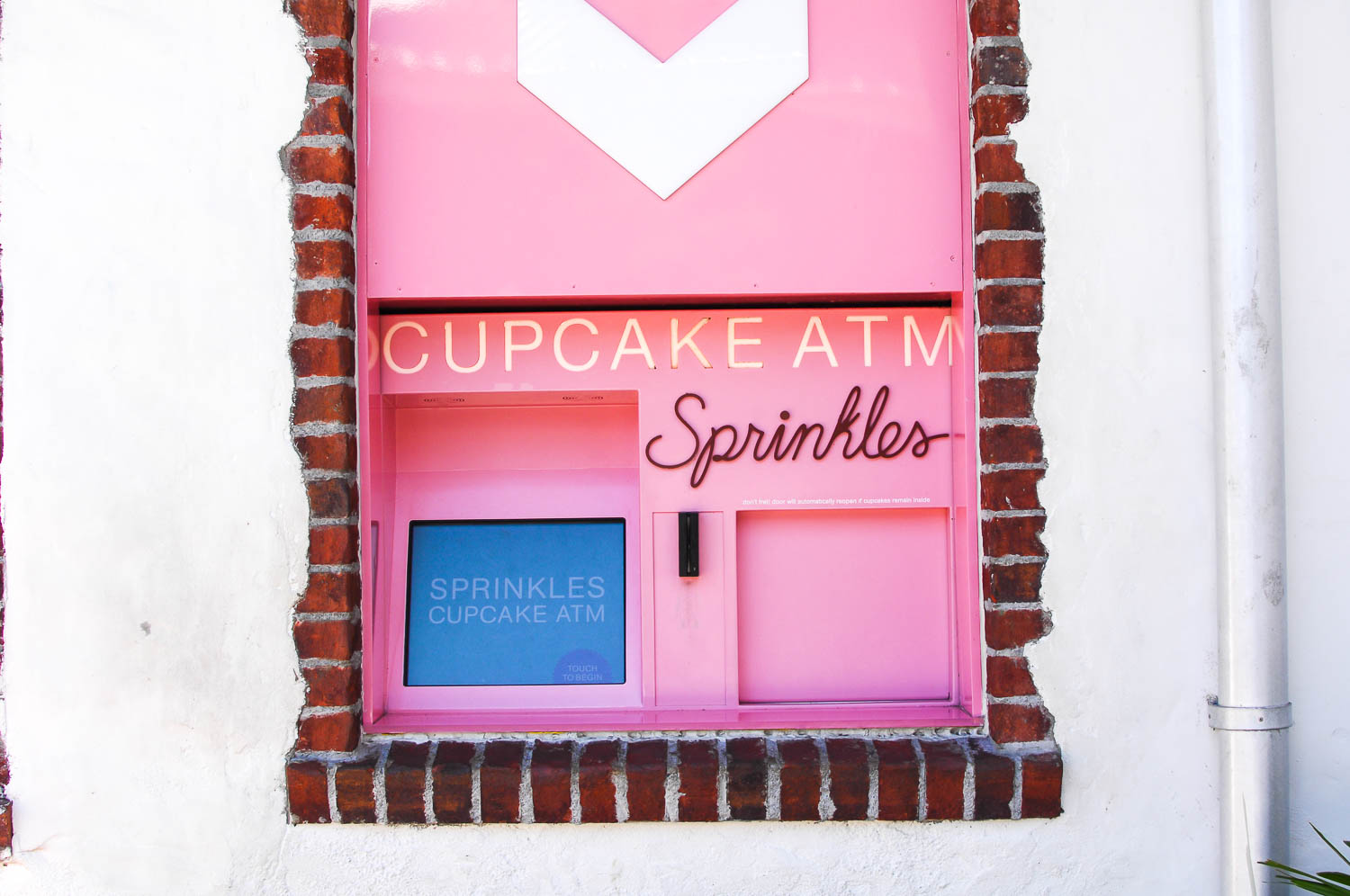 Disney Springs is such a lovely, laid back place to spend some time before heading to the airport and we took the opportunity to just sit on some benches in the sunshine, people-watching and each quietly reflecting on our time at Disney.  As we headed back towards the car there were some notices on a wall, which, upon closer inspection, were quotes from Walt Disney himself.  The one below was my favourite, because once upon a time the very thought of being able to go to Walt Disney World in Florida seemed impossible.  We worked so hard to be able to save up enough money and I'm really proud that we did it.  And now that we know we can do it, it means that we can do it again and come back for round two so we can do all the bits we missed out on this time!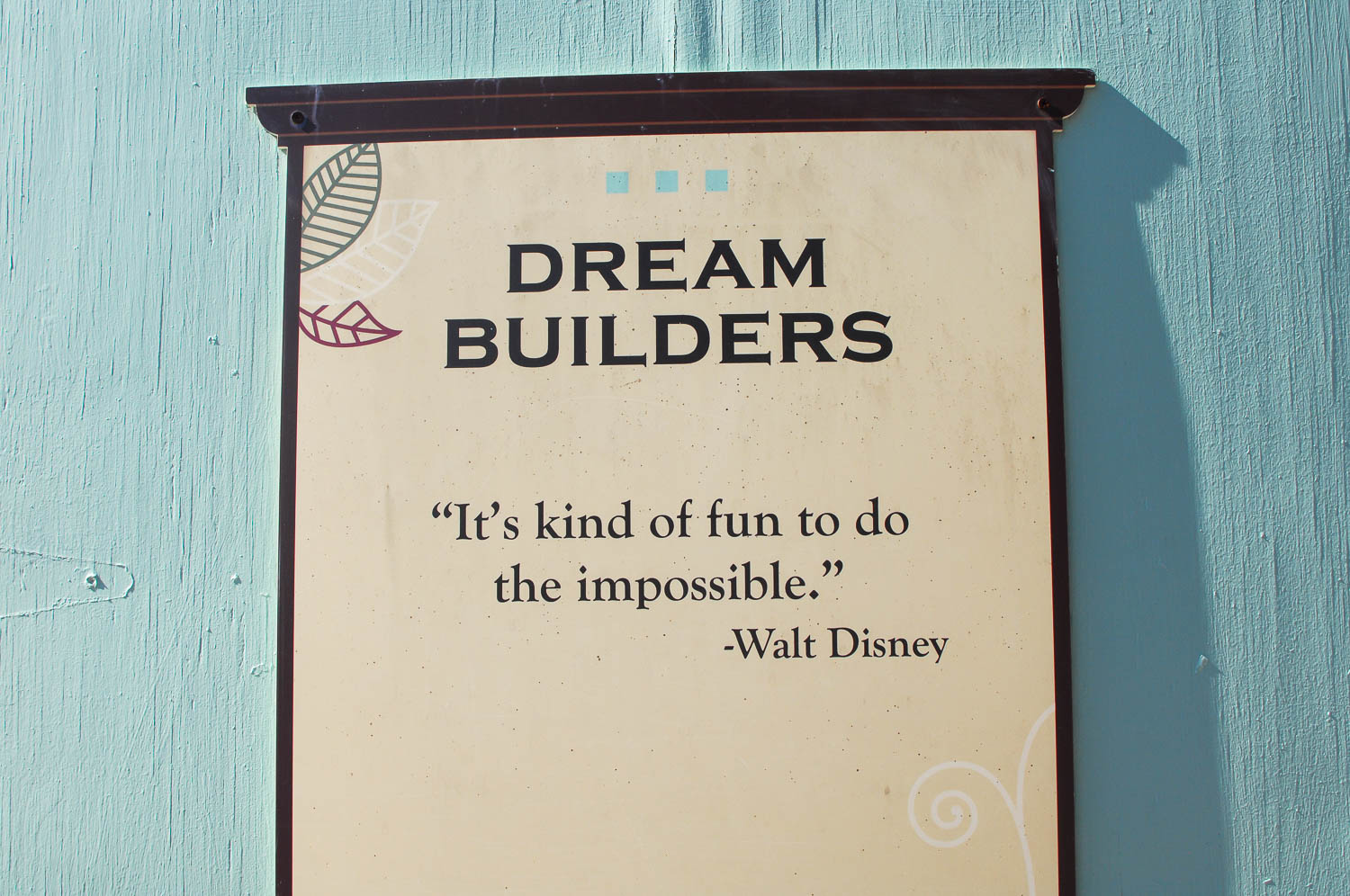 As it got closer to our departure time we reluctantly said goodbye to Walt Disney World, gazed one final time at the palm trees stretching up into the idyllic azure blue sky, and headed for the airport.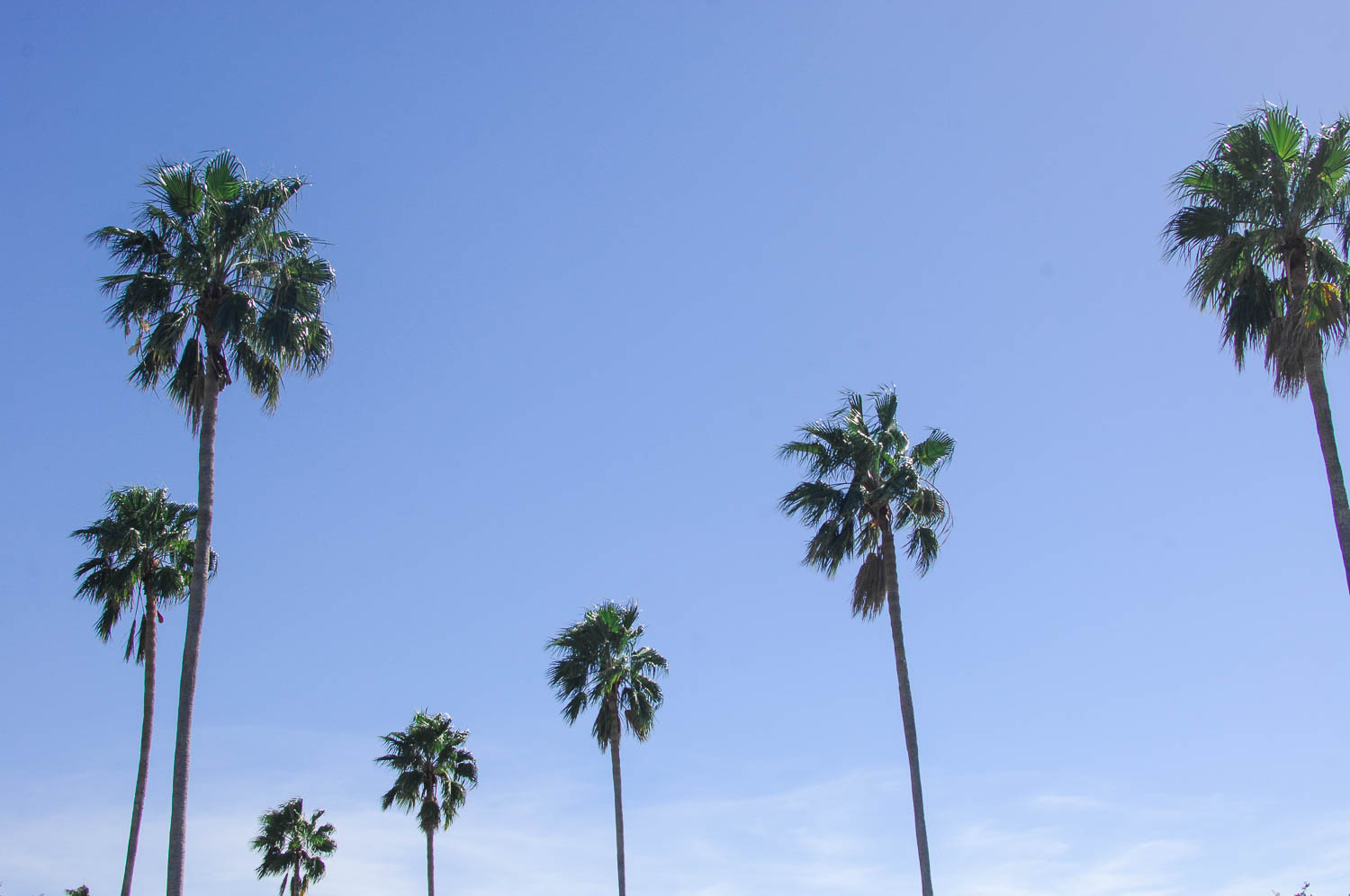 The night-flight home was thankfully relatively uneventful despite no-one really being able to sleep and Lola struggling a bit with pain in her ears, and as I watched the sunrise over the wing of the aeroplane I thought back over our holiday of a lifetime and smiled to myself.  Yes, there had been tricky moments, mainly due to a combination of jetlag, heat and hunger.  Yes, we'd all had to compromise on certain things.  But we'd honestly had the best time, made so many incredible memories and had reconnected with each other in a way that we'd all been needing to for a long time.  The magic of Disney really does exist and once you've experienced it, you can't help yourself but want more.  There are so many other things within the parks that we want to do, and a vast number of places we want to visit outside of the parks as well.
We'll be back Florida.  We'll be back.
I hope you've enjoyed reading all about our trip-of-a-lifetime to Walt Disney World in Florida and have found useful bits of information in the posts.  There will be a couple more blog posts to come full of tips and suggestions which I hope will be helpful for anyone in the process of planning their own Disney holiday.  In the meantime if you have any questions, feel free to email me at hello@picturetakermemorymaker.co.uk – I'm by no means a Disney expert but I'm more than happy to share our experiences if there's something you'd like to know more about.
I'll leave you with this video of our trip, which covers aspects of all five blog posts.  The girls and I love watching it – it brings back so many joyful memories.