Hi, everybody! Over the Easter holidays we were on holiday in Bude, North Cornwall, so I thought I would do a couple of blog posts on our home from home holiday. This is the first part.
ENJOY!!!
Saturday
On Saturday morning I woke up at 5:30. We all got dressed and set off at about 6. We got in the car and soon Lola and Mimi were fast asleep. I like to stay awake to watch the world and listen to the music, but it was very hard not to! At about 8 o' clock we saw the most glamorous sunrise ever! The mist and fog mixed with the sun and created a dazzling sight. We actually saw the sun! It was like a massive ball of fire! I was awestruck.
When we arrived at about 10:30, we parked the car and walked up to Crooklets Beach. We skimmed some stones at the stream and then walked down to the sandy beach. I love the feeling of sand in my toes. We played in the sand as we walked, writing names and messages. When we got to the sea we paddled for a bit and Mimi and Lola got very wet!
Then we went back to the car so Mimi and Lola could change, and then walked over the cliff top into town to have some fish and chips for lunch. It was very yummy! After that we went into town and for snack we had some ice cream. It's our mission each year to have an ice cream every day, even in the rain!
After snack we walked back to the car and Mummy texted the owner, Tim, to see if the bungalow was free yet. When it wasn't, we drove to Mummy's aunt's house and played in the garden for about half an hour.
Then Tim texted that the Beach Haven was ready and we set off. He was there to meet us and then went home. Mummy, Sophie and I did a house tour to show all you guys the bungalow. It's a really nice little place, full of ornaments and cosy features. Tim's wife, Maria, always bakes us something. Last year it was a delicious lemon drizzle cake, and this year were some scones. Because it's Easter, we were also left a fruit cake with marzipan, some Easter activities and an Easter egg packet each.
Sunday
On Sunday we went to the Lost Gardens of Heligan.We got in, had some lunch at the Heligan Kitchen and started. We started with the fun but simple Giant's Adventure Trail, made entirely out of logs. Then we walked on a little more to the Mud Maid who looked a lot like Terfiti from Moana. After that we saw the Grey Lady sculpture, almost impossible to see because she was camouflaged.
After that we went into The Jungle, a raised boardwalk trek. First we went into Fern Gulley , a mystery of ferns and giant leaves. Then we went on the Burma Rope Bridge, a swinging bridge of ropes across a view of plants. The Jungle made me feel a bit like Tarzan! Then it was through Lost Valley, via Diagonal Path (very steep but there is an easier path next to it) which had a playground at the end.
After we'd had a lot of fun in the playground (which includes a rope swing), we trekked up Higher Sunken Path to the Easter Marquee with a few entertainment games, then onto Home Farm where we saw some piglets and sheep with ADORABLE baby lambs. Afterwards we went to the Steward's House Café to get some ice cream, though there is an ice cream stall nearby. Next we hurried through Flora's Green with all the gardens, although we did stop to gaze in wonder at the massive and glamorous rhododendron trees bursting with gorgeous flowers. Finally we went to the Heligan Shop where I brought a small teddy bear for £6 and Mimi brought a chick teddy for £8.
When Lola was in bed, Mummy called Mimi and I and we saw one of the most beautiful sunsets ever.
Monday
On Monday, we visited family. Sophie, Mimi and Lola all made daisy chains in the massive garden, while Daddy tried to break them!
In the afternoon, we went into town via the cliff-top to play some crazy golf. It was very close, but I won! I was really happy! Then we went to have some delicious ice-cream.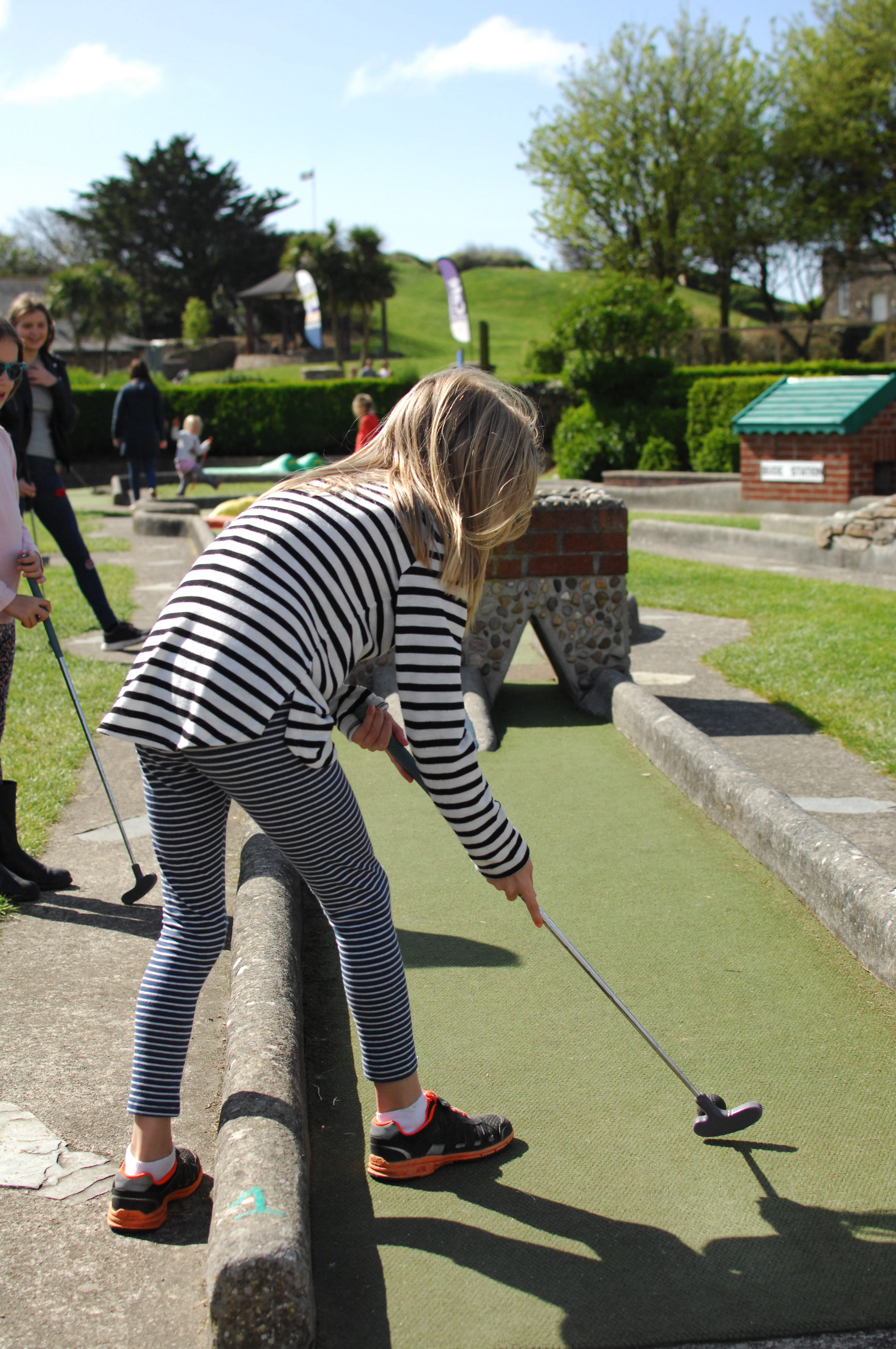 Thanks for reading, and for more photos, head over to my mum's posts!