I've been blogging for about nine months now and even though I've connected with as many people as I can in the blogging community, (everyone has been so incredibly lovely and welcoming – thank you all!) I still feel a little bit like 'the new girl'.  I'm an introvert by nature, so I'm not that great naturally at joining in with things, preferring to sit on the sidelines for a while, just observing, before I decide what action I'm going to take to get involved.
Many of my favourite bloggers host 'linkys' on their sites and hashtags on Instagram and I've been eager to be a part of some of them for a while now but haven't really had the courage to do so yet – I'm not sure why.  Silly really.
The main ones that I want to join in with to begin with are 'Me and Mine' (hosted by a group of five or six different bloggers) and 'Little Loves' (hosted by Morgana from Coffee Work Sleep Repeat).
'Me and Mine' is a family portrait at the end of every month.  I really enjoy reading the posts written by other bloggers and seeing their families change and grow over the months and years.  And I LOVE that the bloggers themselves get in the frame too – I have so few photos of the five/six of us (and the odd ones that I do have are usually blurry phone selfies), so to have a monthly record of ALL of us as a family would be something very special indeed – a way of documenting everyone over time (including me!).  Trying to get everyone to co-operate is going to be a challenge though, and I'll need to get my head around using either the self-timer on my camera or a remote shutter, so it might be a little while before I get up and running with this one.  I'm determined to do it eventually though!
'Little Loves' is a weekly round up of the little things that each blogger has loved that week: things they've read, watched and heard; stuff they've made (food, crafts); what they've worn and anything else that takes their fancy that they want to share about.  I like reading all the Little Loves posts because it's a fun way of finding out about new music to listen to, different books to try, or a fresh style to try out – it's lighthearted and explorative at the same time.  I want to participate in this one because I think it will be pretty cool to have a record of all the little things I did that I really enjoyed.  So much of life passes by in a bit of a blur of appointments and work deadlines and school terms and to-do lists and it can be easy to lose sight of the small things that make a difference to our levels of happiness and contentment.  I think if I put together a blog post documenting it all, it'll become easier to appreciate the little things that make me happy 🙂  I'm not sure I'll be able to keep up with a weekly link-up, but monthly is probably do-able, so that's what I'm aiming for!
So, without further ado, here are my Little Loves for the month of January…
Read
This month I have been reading 'The Horse Whisperer' by Nicholas Evans – my all-time favourite book in the world, ever.
I lent my only copy to someone years ago (I can't remember who it was now) and I never got it back.  I was sad at first but knew that I'd be able to buy myself another copy and I figured that if they loved it as much as I did then it was worth lending it to them 🙂  I mentioned this to the husband and, bless him, he bought me a brand new copy for Christmas.  (He does listen sometimes!).
It's so lovely re-reading it (I'm currently about halfway through) – I'm rediscovering all the bits I loved and unexpectedly coming across details that I didn't remember from before.  I don't really get much time to read at home as daytimes while the girls are at school is spent with clients and supervisees and evenings are spent blogging, so it's mainly on the train on my way to and from London on a Wednesday that I make sure I pick it up (if I don't fall asleep!).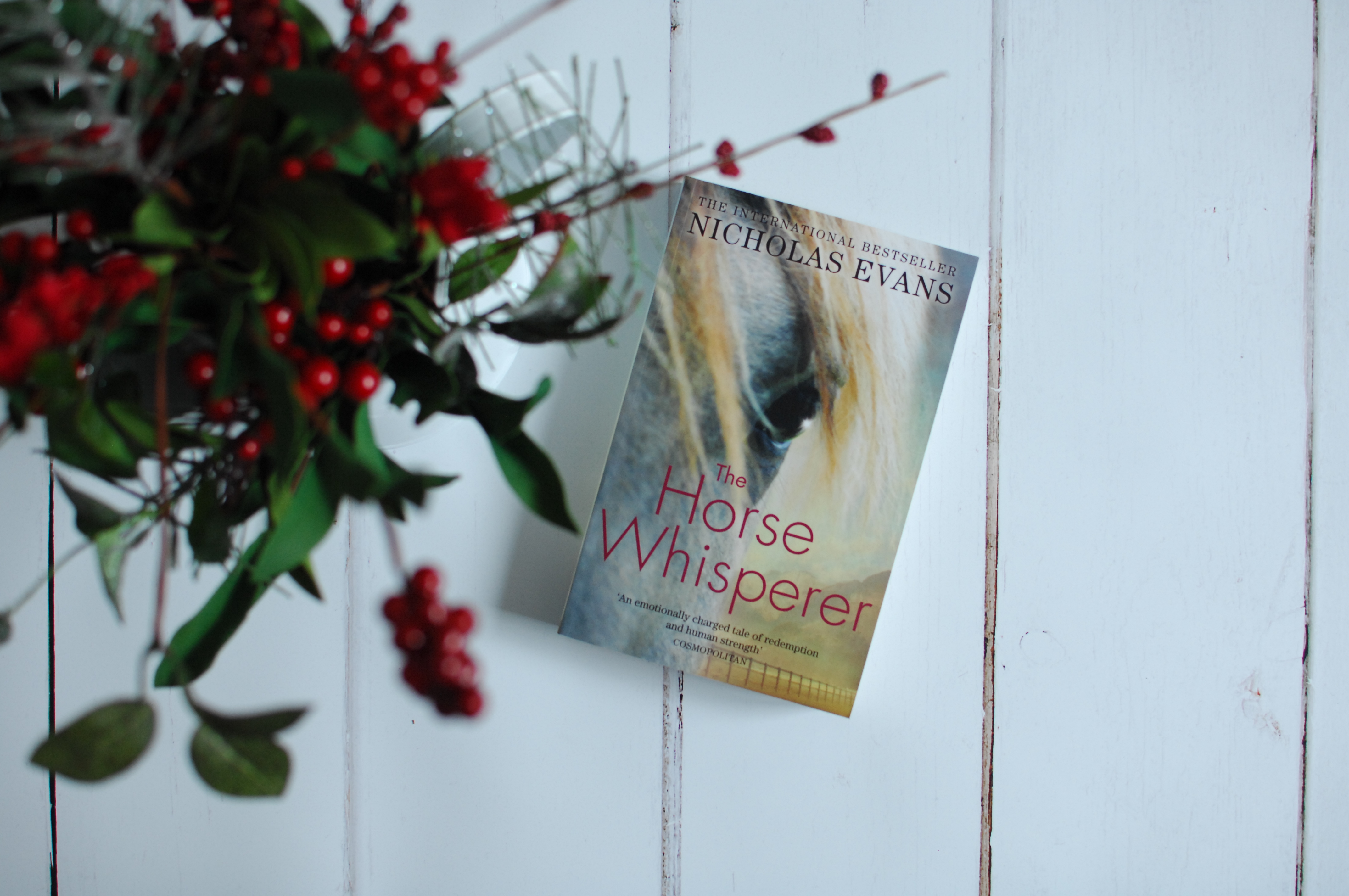 Watched
At the start of January I won a photography competition to go on an intensive retreat to Colorado, USA in September to learn from someone who has inspired me for several years now.  I'm so excited!  However, I know I have a lot to learn in advance of going as it's not really a beginners training course, so this month I have mostly been glued to my laptop immersing myself in YouTube tutorials about Photoshop and Lightroom, trying to soak up as much information as I can before I put it into practice!
Heard
I am more than a little bit obsessed with this song by James Arthur at the moment – it's the first song on a compilation CD that the girls gave me for Christmas and it has literally been on repeat every time I drive anywhere!
Made
One of Ella's tenth birthday presents back in December was a subscription to Jacqueline Wilson magazine – she was so thrilled bless her and now she waits by the letterbox on the day it's supposed to arrive until the postman delivers it quite literally into her waiting hands.
It's full of crafts and ideas for things to make, do and write about and in the January edition there was a recipe for 'proper' hot chocolate.  She begged that we make it one weekend and as it's been so very chilly lately I couldn't really say no!  It was super easy to make and the girls loved it – as you can see 🙂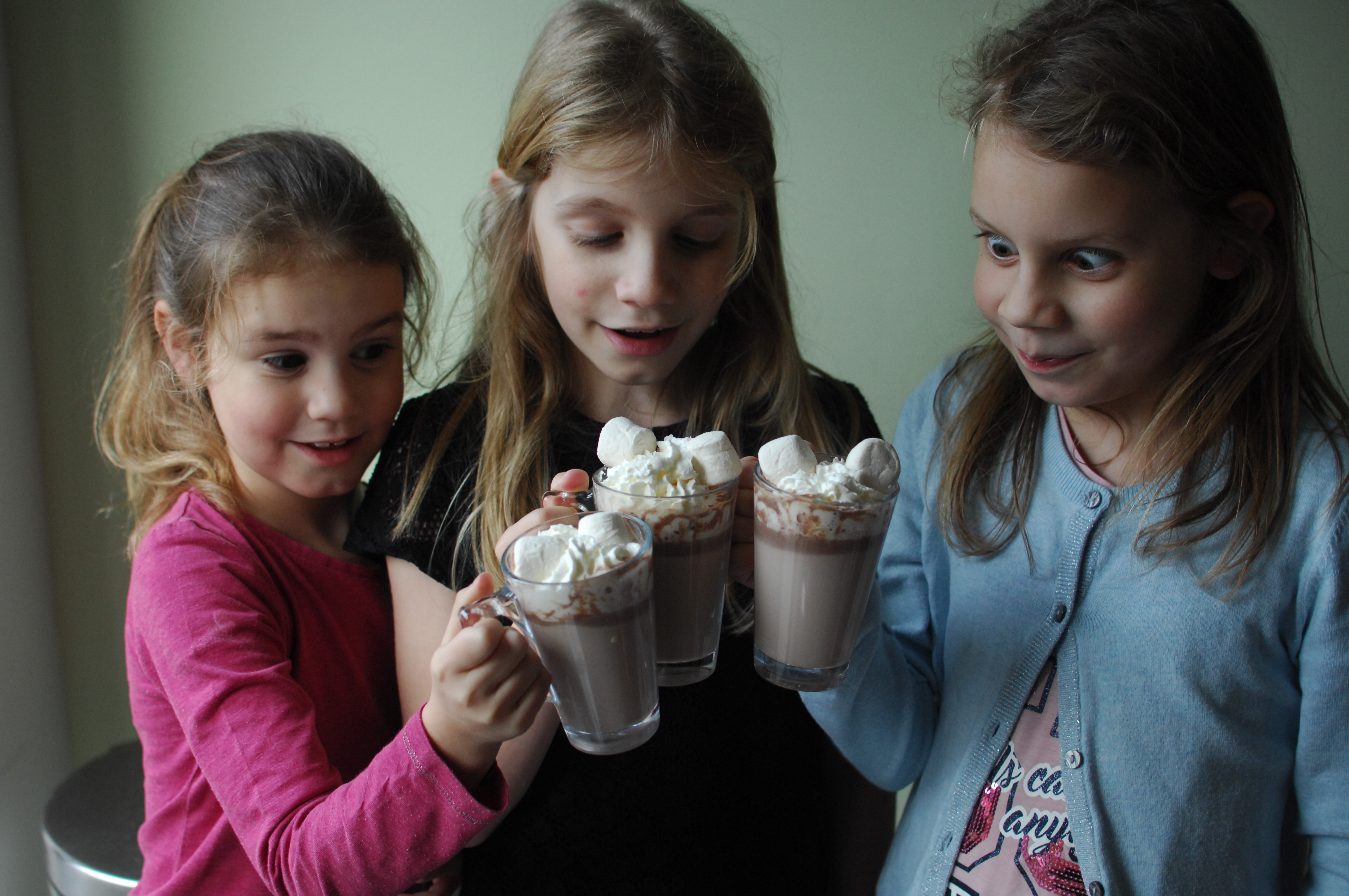 Wore
I pretty much wear the same thing most days so I'll warn you in advance that I'm not sure how interesting this section is going to be from month to month!  Maybe it'll inspire me to change things up a bit and try out an outfit that I wouldn't normally choose…
This month has very much consisted of my standard winter 'uniform' of jeans, a warm jumper, boots and a bobble hat!  I got this cosy knit on sale in Gap for £9.99 reduced from £34.99 – what a bargain 🙂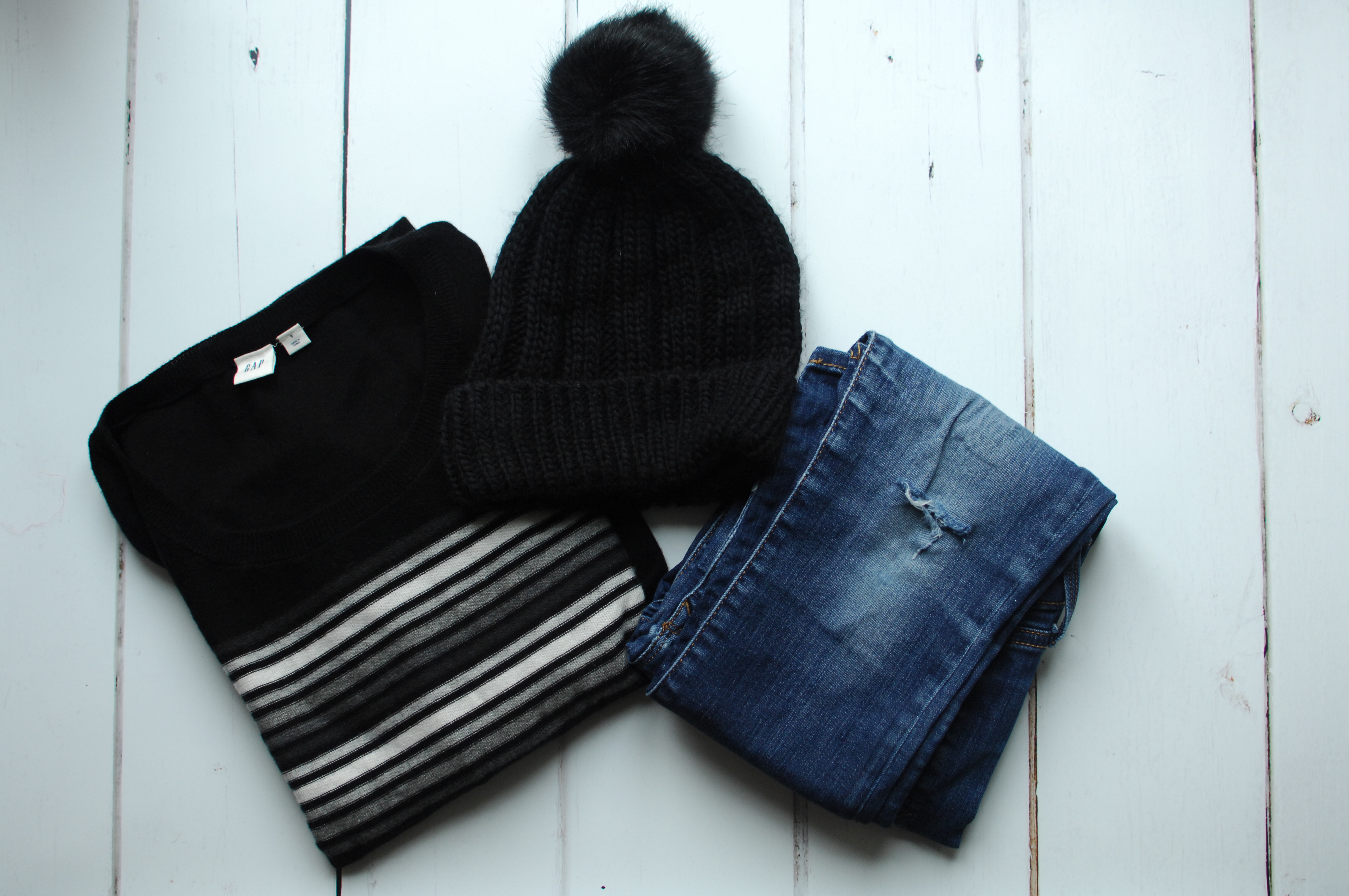 And lastly…
Is anyone else super-excited by the appearance of tulips and daffodils in the supermarkets?!  January always seems like such a grey month and although it's whizzed by this year I have to say I am very much enjoying having a little splash of colour in my kitchen.  I love fresh flowers and make sure I buy myself a small bunch every week as they really cheer me up and make me look forward to Spring.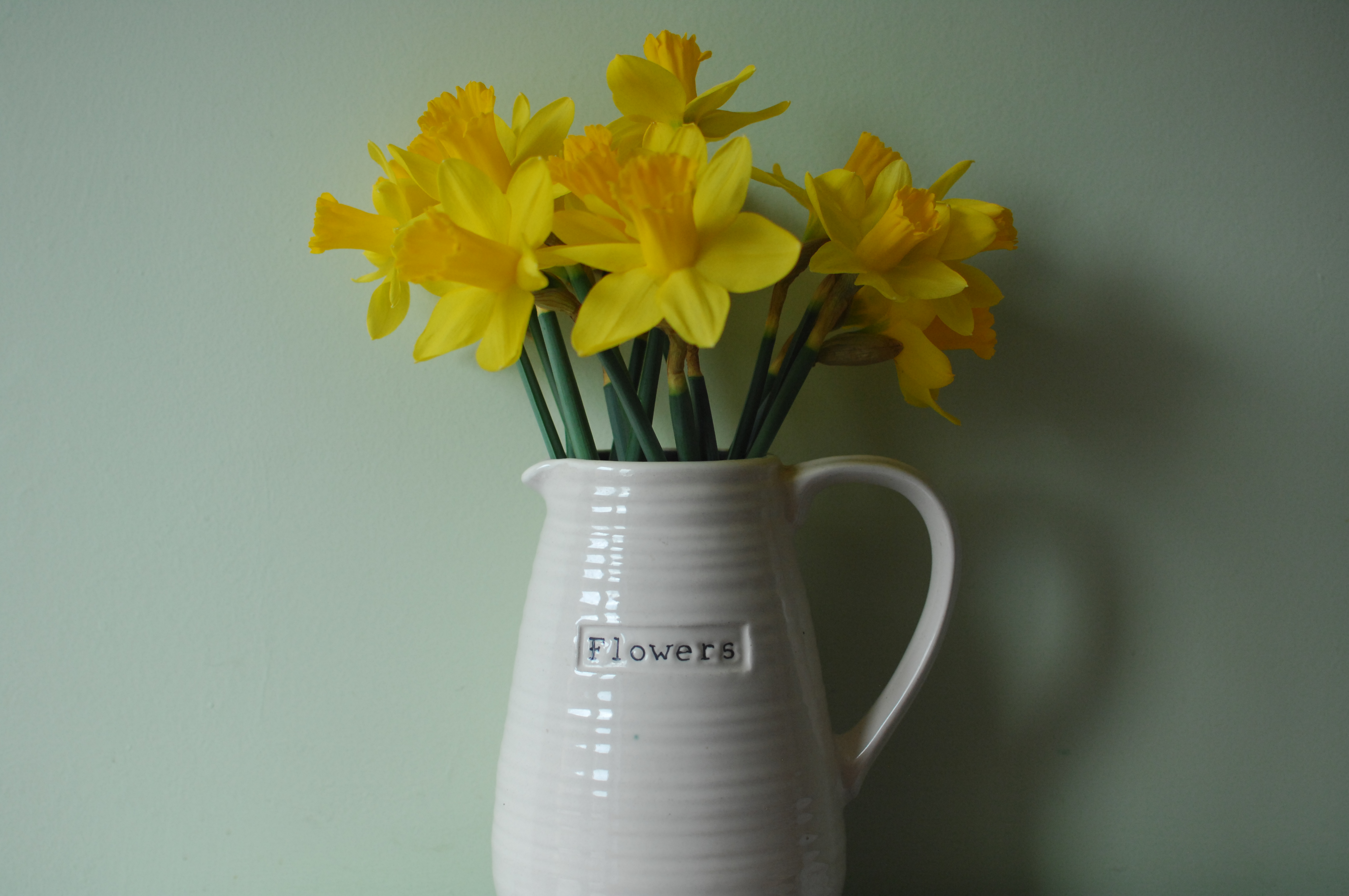 I've really enjoyed putting this together and I'm already looking forward to what February will hold.
Note: This post is linked to: